---
*Links in this article may be affiliate links, from which we may earn commission. See our
Privacy Policy
for full details.
---
Connecticut certainly has its charms and any visit to the Nutmeg State is sure to satisfy, especially if you know the best places to check out. Whether you're looking for a relaxing, wind-down-all-weekend-long kind of stay or an activity-filled visit that keeps you on the move, you'll find it here on this list of the 5 best places to visit in Connecticut!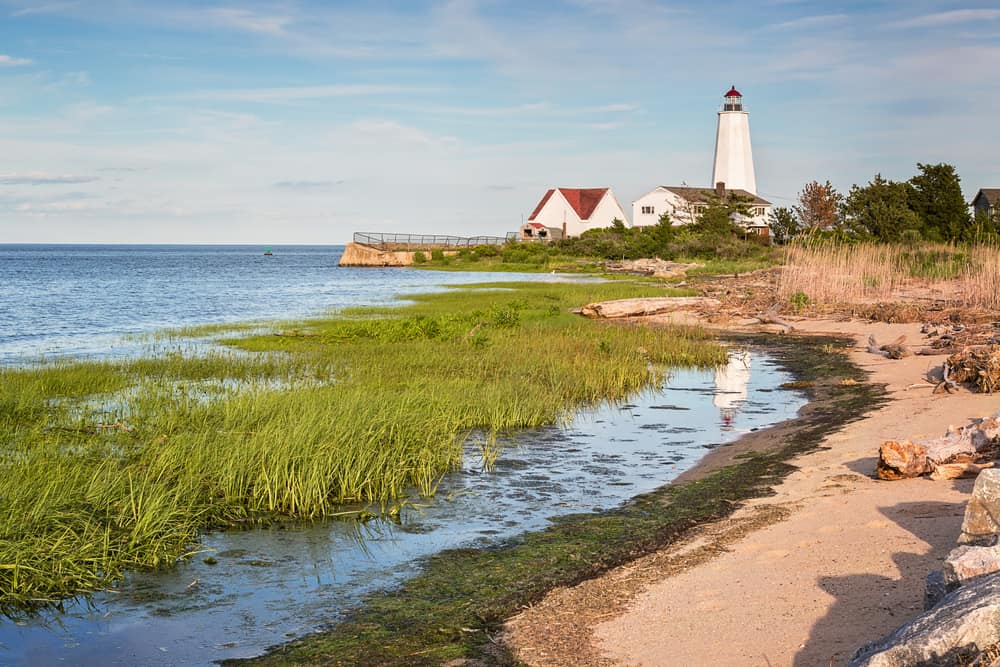 If you're looking for a relaxing and restorative visit where you can quietly explore the loveliness of coastal Connecticut, Old Saybrook is for you. This historic coastal community offers plenty to do and is even included in this Essential CT Travel Guide as a must-visit small town. Visit the Katharine Hepburn Cultural Arts Center, where you can catch everything from ballet performances to magic shows, and plenty in between. There are several antique stores in Old Saybrook that are well-stocked with marvelous vintage finds for you to while away the afternoon hunting amongst for that perfect piece, and if all of this treasure hunting has left you feeling a little thirsty, you can head over to 30 Mile Brewing Co. to slow down and sample some Connecticut craft beer.
Harvey's Beach is a public beach that is lovely for cooling off a bit in the summer and enjoying the marvelous view of the Long Island Sound, and one of the top beaches in Connecticut! If you'd like to get a truly stellar view, get a room at the Saybrook Point Resort & Marina. Private balconies, fireplaces, and a spectacular on-site full-service spa will leave you rested and reinvigorated.
In fact, Saybrook Point Resort & Marina was included on this list of wonderful weekend getaways because it is an ideal location for a weekend reset, and let's be honest, don't we all need a great weekend of pampering to destress from time to time? The on-site restaurant Fresh Salt is a local favorite, offering expertly prepared cuisine with a stunning view of the water , but there are plenty of options for places to eat and stay in Old Saybrook. No matter where you set your bags, Old Saybrook is a great place to visit to slow down and take in the remarkable scenery of coastal Connecticut.
Explore Lovely Litchfield Hills, CT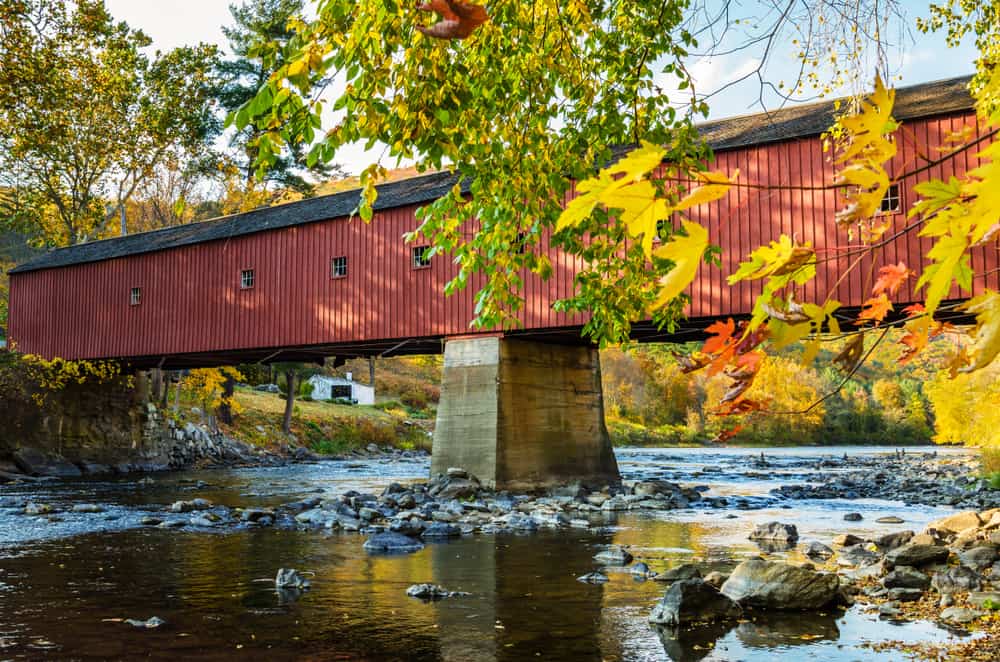 Rolling hills and charming towns dot the countryside in Litchfield Hills, one of Connecticut's most sparkling assets in both scenery and style! There are historic inns, museums, covered bridges, and so much to do in this area that is all so very quintessential New England. If you're visiting in autumn, you'll see spectacular fall foliage (great apple-picking, too), and in the winter, the rolling hills blanketed in white turn the area into a real-life winter wonderland; head over to Mohawk Mountain if you'd like to get out and play in it! Litchfield Hills is also home to some of the best hiking in the state, but don't worry if outdoor activity isn't what you're looking for during your Connecticut getaway; Litchfield Hills has a little something for everyone!
In addition to the historical sites and museums in this region, there is plenty of entertainment, like touring the beautiful Haight-Brown Vineyard or checking out Infinity Music Hall, the lovingly restored music venue built in 1883. One-of-a-kind Litchfield Hills shopping and restaurant options give plenty of great choices, and most restaurants' emphasis is on fresh ingredients; for example, you can check out Arethusa Farm in Litchfield and "meet" the cows providing all the award-winning milk for Arethusa's products, café, and restaurant. Arethusa's restaurant, al tavolo, has even been named a Top 100 Restaurant in America by OpenTable! Litchfield Hills is home to fantastic inns and hotels, including the inn that is the inspiration for the Gilmore Girl's Dragonfly Inn, Mayflower Inn; clean and elegant charm, a fabulous restaurant, and a health and wellness spa that is out of this world would make for a pretty great landing spot on a Connecticut getaway, right?
Have a Blast in Hartford, CT
While Hartford may not already be on your radar as a fun vacation spot, this capital city definitely should because it has so many awesome things to do! First, there's the history. Two important historical figures and authors lived and worked here and their homes are museums you won't want to miss: the Mark Twain House & Museum and the Harriet Beecher Stowe Center. For art lovers, there's the Wadsworth Atheneum Museum of Art, and if you're more of a science enthusiast, there's the Connecticut Science Center with well over 100 exhibits for hands-on exploration! Once you've satisfied your thirst for knowledge, you'll be able to satisfy your thirst for outdoor beauty at Elizabeth Park, the 100-acre+ green space on the national register of historic places that includes picturesque ponds and bridges, elegant gardens, and plenty of walking trails. The other must-visit park in town is Bushnell Park, home of the historic Bushnell Park Carousel that is a lovely (and functional!) testament of a time long past.
Hartford has plenty of shopping, but it's the restaurant scene that will have you raving. One stand-out is the First & Last Tavern, the Zagat Rated, award-winning Italian restaurant that will have you fawning over the incredible sauces, breads, pizzas, and, well, everything! Hartford has all the usual suspects when it comes to hotels, but right in the "Heart of Hartford" is The Goodwin, a lovely boutique hotel that is a great spot to set up shop for the night. However, if it's something a little more tucked away you're looking for, the Silas W. Robbins House is a stunning historic B&B located about 10 minutes out of town in Historic Old Wethersfield (an adorable town for a perfect side trip!) and very well worth the short drive. There's plenty of capital city coolness to be explored in Hartford so be sure to add it to your list of places to visit in the Nutmeg State!
Make Way for a Good Time in Mystic, CT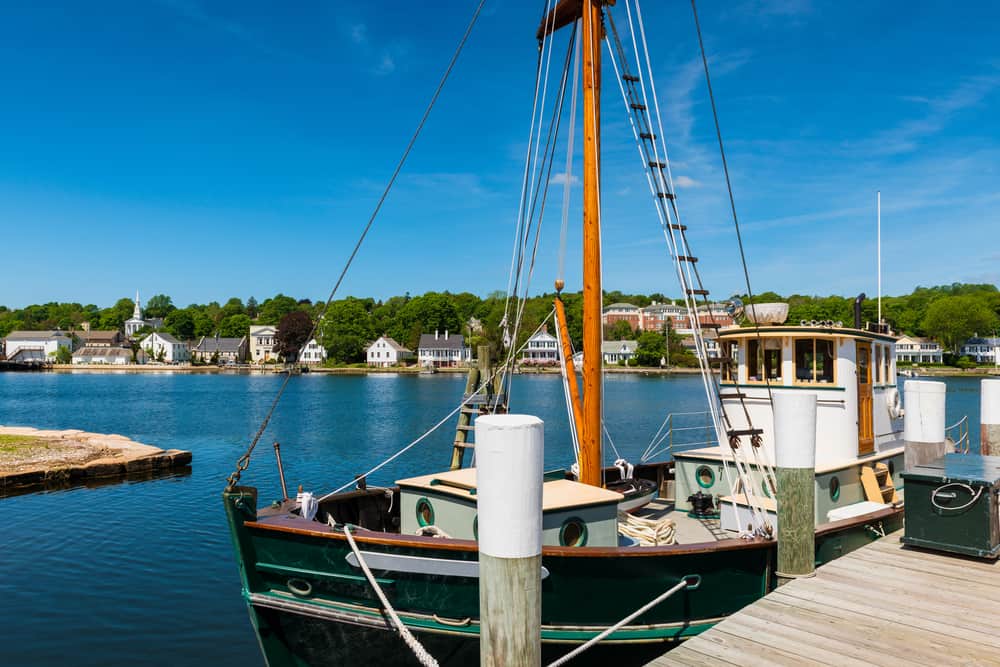 Mystic is a beautiful waterfront town along Connecticut's southern shore and a favorite New England destination; one visit there yourself and you'll see why! There is just so much to do in lovely Mystic, like visiting the Mystic Aquarium (included in the Ultimate New England Bucket List!) or going on one of the Adventure Mystic offerings, including paddle boarding or kayaking the gorgeous Mystic River. There's also B.F. Clyde's Cider Mill, the last steam-powered cider mill still in use in the US today, which is a must-visit, even if just to sample their signature apple cider donuts; bonus points if you visit during the fantastic fall foliage season! If you end up visiting during winter, you'll find plenty to do and see then, too. In fact, Mystic's lighted boat parade is a celebrated Christmas event that attracts visitors from all around the region who come to see Santa arrive by tugboat!
There's some very cool shopping in town where you can score some unique finds, like a handmade nautical bracelet from Mystic Knotwork, a very quintessential New England memento from your Mystic trip. There are lots of great options for food and drink, too, but while you're in town, you'll definitely want to swing by Mystic Pizza– yes, that Mystic Pizza from the Julia Roberts movie of the same name, to take a few selfies with the sign and grab "a slice of heaven" or two for yourself! There are several options for where to stay while you're in town, too, but the Steamboat Inn will put you in a great location. Select rooms offer views of the harbor, wood-burning fireplaces, and whirlpool tubs, but they all put you right in the awesome downtown location that has won "most unique setting" 2 years in a row by Llannier Bed & Breakfast! Mystic, CT is one of those places that you'll visit once and then immediately make plans for "next time" because there is so much to do, see, and explore, and the views never get old at this must-visit Connecticut destination!
Unwind in Whimsical Woodstock, CT
Some places in this world are so idyllically charming that you'll feel like you've stepped onto the pages of a storybook. Woodstock is exactly that kind of place! Located in Connecticut's "Quiet Corner," this whimsical little town is quaint and tranquil, and the perfect spot to go to unwind and leave all your stress behind. Tour the splendidly ornate Roseland Cottage, and marvel at the gothic revival architecture of this elegant 19th century home. If it's performance art you're in the mood for, Loos Center for the Arts is the go-to spot, and their second-floor gallery hosts exhibitions throughout the year as well. To fully embrace the bucolic charm of Woodstock, stop by Woodstock Orchards to pick-your-own apples and blueberries (in season, of course!) and swing by the retail store and bakery for some of their handmade delights, including the locally famous apple cider donuts that are always made to order, hot and fresh just for you when you arrive!
Woodstock has some nice restaurant options, but if you're in the mood for a handcrafted brew or a Quiet Corner vintage, then check out Taylor Brook Brewery and Taylor Brook Winery, located just next door to each other! Everywhere in Woodstock is lovely, but if you're looking for an especially scenic escape, look into staying at one of the town's beloved inns: The Inn at Woodstock Hill is delightfully well-kept, offering carefully manicured grounds and breakfast service, and Woodstock Sustainable Farms offers a B&B experience that is historic, yet still unbelievably comfortable, almost luxurious, with beautiful views of the Connecticut countryside and tours of lovely Woodstock Farm available. Plus, their delicious and hearty breakfast features homemade bread from their beehive oven! Whimsical Woodstock is the kind of vacation destination that feels like a big breath of fresh air; if you're looking to unwind, this might just be the perfect place for your Connecticut visit!
Don't forget to check out some of the unique Airbnbs and charming cabins around the state, too. Wherever you choose to visit, Connecticut charm and Connecticut cool will welcome you!
---
Read these next:
---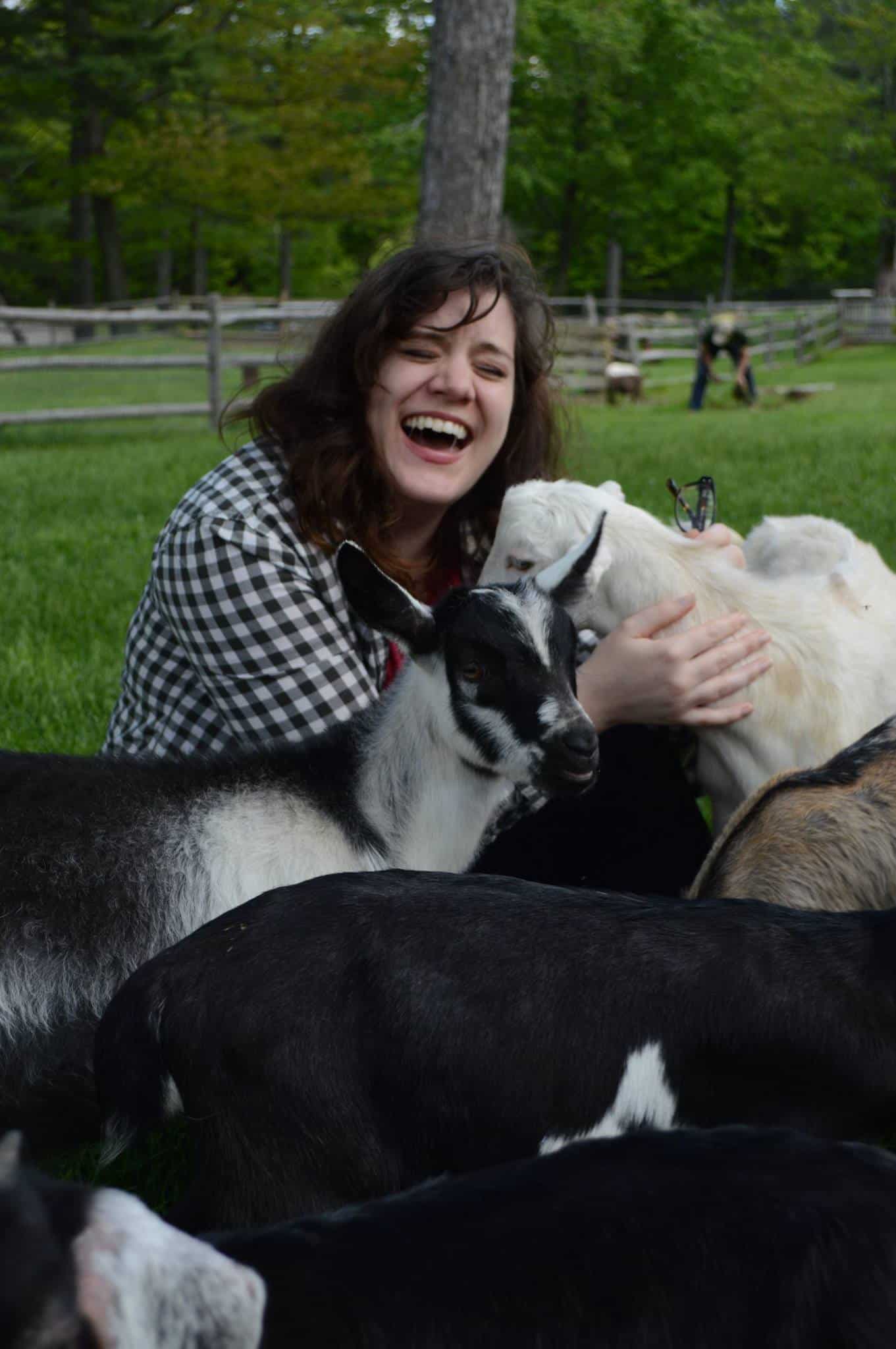 Amy is the founder of New England with love. A proud Vermonter, she hopes to share her love of New England and help you find the best adventures in the region. Amy is also blogger/founder at Two Drifters, where she writes alongside her husband about romantic and couples travel, relationships, honeymoons, and more. When not working on websites, Amy is probably reading, cuddling with her husband, son, and cats, & drinking a maple latte.