Connecticut certainly has its charms, from beachy coastal fun and beyond. There are big cities and small towns, beautiful scenery and lots to see and do all around. Any visit to the Nutmeg State is sure to satisfy, especially if you know the best places to visit in Connecticut.
Whether you're looking for a relaxing, wind-down-all-weekend-long kind of stay in a cute CT beach town or an activity-filled visit that keeps you on the move, you'll find it here on this list of the best places to visit in Connecticut!
Places to Visit in Connecticut
Old Saybrook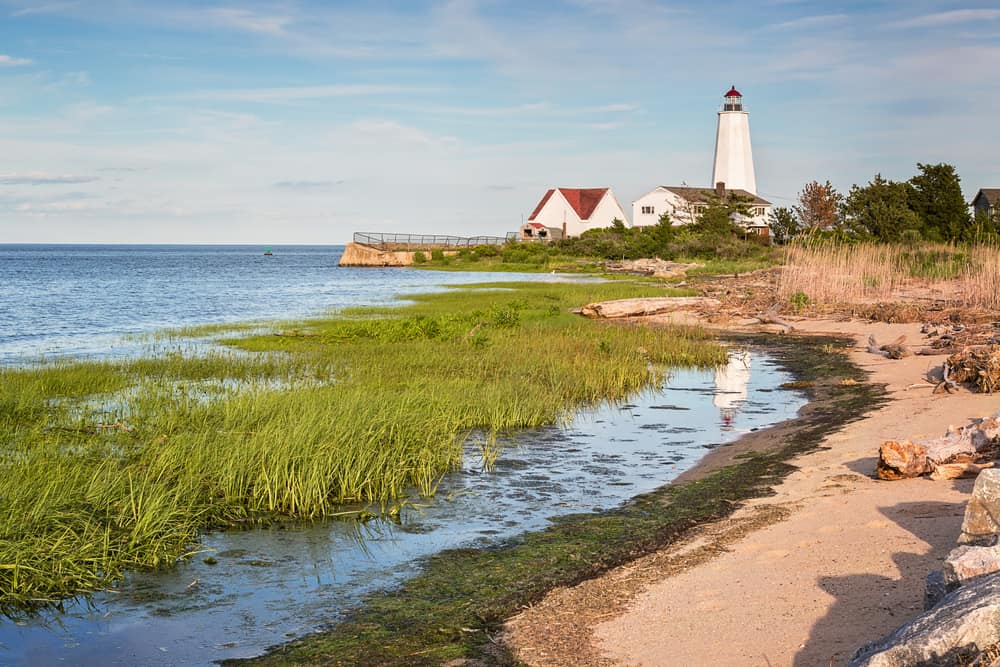 If you're looking for a relaxing and restorative visit where you can quietly explore the loveliness of coastal Connecticut, Old Saybrook is for you. This historic coastal community offers plenty to do and see!
Visit the Katharine Hepburn Cultural Arts Center, where you can catch everything from ballet performances to magic shows, and plenty in between. Or perhaps you'd rather go treasure hunting for unique vintage finds at Old Saybrook's antique stores, then head to Myrcene Ale's Taproom to refuel with some Connecticut craft beer!
Also popular in Old Saybrook is Harvey's Beach, a public beach that is lovely for cooling off a bit in the summer and enjoying the marvelous view of the Long Island Sound.
If you'd like a room on the water, book a stay at the Saybrook Point Resort & Marina. Private balconies, fireplaces, and a full-service spa will leave you rested and reinvigorated. The on-site restaurant Fresh Salt is a local favorite, offering expertly prepared cuisine with a stunning view of the water.

Click Here to Check Prices & Book!
Milford
Absolutely adorable, Milford is one of the cutest towns to visit in Connecticut, and its location on the coast certainly doesn't hurt! Milford is home to Silver Sands State Park, open year round but in the summer, you can walk the exposed sand bar at low tide all the way to a small nearby island; how cool is that!
Milford Green is said to be one of the most beautiful historic greens in the region, and you can find community events like fairs and markets held there often. Downtown is particularly picturesque with its lovely waterfall at Milford Duck Pond and lots of quaint shops and restaurants to explore.
Looking for where to stay in Milford? The Hilton Garden Inn has an indoor pool!
Click Here to Check Prices & Book!
Litchfield Hills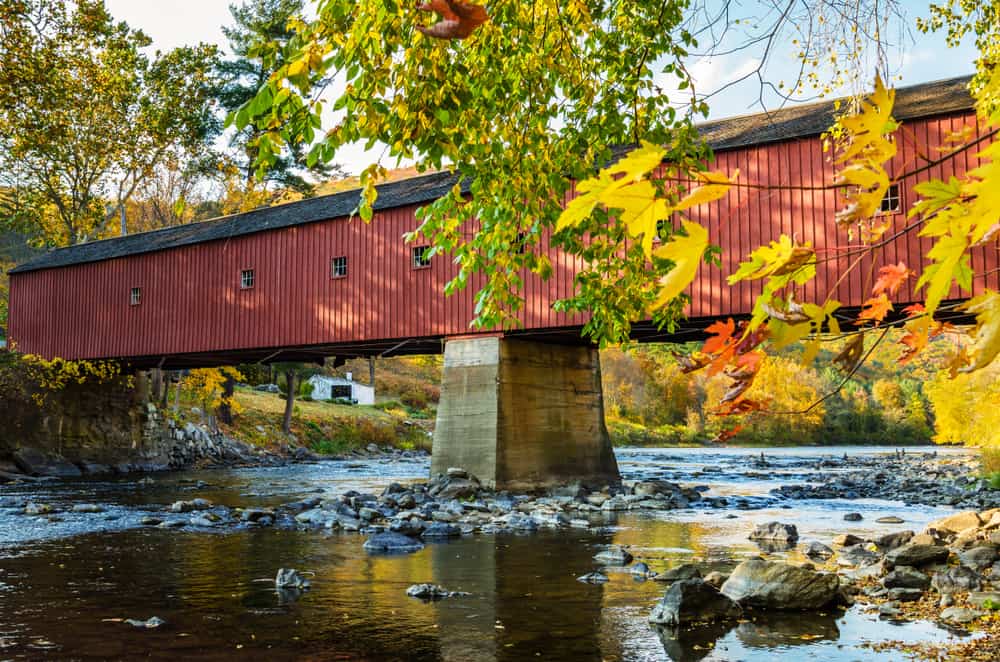 Rolling hills and charming towns dot the countryside in Litchfield Hills, one of Connecticut's most sparkling assets in both scenery and style! There are historic inns, museums, covered bridges, and so much to do in this area that is all so very quintessential New England.
If you're visiting in autumn, you'll see spectacular fall foliage (great apple-picking, too), and in the winter, the rolling hills blanketed in white turn the area into a real-life winter wonderland; head over to Mohawk Mountain if you'd like to get out and play in it!
Litchfield Hills is also home to some of the best hiking in the state, but don't worry if outdoor activity isn't what you're looking for during your Connecticut getaway; Litchfield Hills has a little something for everyone!
In addition to the historical sites and museums in this region, there is plenty of entertainment, like touring the beautiful Haight-Brown Vineyard or checking out Infinity Music Hall, the lovingly restored music venue built in 1883.
Litchfield Hills is home to fantastic inns and hotels, including the inn that is the inspiration for the Gilmore Girl's Dragonfly Inn, Mayflower Inn; clean and elegant charm, a fabulous restaurant, and a health and wellness spa that is out of this world would make for a pretty great landing spot on a Connecticut getaway, right?
Click Here to Check Prices & Book!
New London
Did you know that Connecticut has a soft, sugar sand beach? This is not common for this region, but you'll find exactly that in New London at Ocean Beach Park! Couple that with the great boardwalk, arcade, mini golf, and the Olympic sized pool, and it's one of the best places to spend a summer day in Connecticut!
New London is definitely one of the top CT places to visit for beach lovers, but there's more to do in this lovely coastal town than splash around in the Sound, too. There are museums, state parks, art galleries, great restaurants, and more. When it comes to staying the night, just outside of New London is Stonecroft Country Inn, one of the most romantic places to stay in Connecticut.
Click Here to Check Prices & Book!
Essex
Essex is where to go in Connecticut for small town charm, especially if you're a fan of castles! That's right, castles.
Gillette Castle State Park is home to a 184 former estate that is now open to the public, revealing the 24 room mansion that was built in the style of a medieval castle for all to see, and it is certainly an impressive sight.
Hartford
If Hartford isn't already on your radar as a fun vacation spot, this capital city definitely should be! First, there's incredible history and museums to be explored, like the Mark Twain House & Museum and the Harriet Beecher Stowe Center. For art lovers, there's the Wadsworth Atheneum Museum of Art, and if you're more of a science enthusiast, there's the Connecticut Science Center with well over 100 exhibits for hands-on exploration!
Once you've satisfied your thirst for knowledge, you'll be able to quench your thirst for outdoor beauty at Elizabeth Park, the 100-acre+ green space on the national register of historic places that includes picturesque ponds and bridges, elegant gardens, and plenty of walking trails. The other must-visit park in town is Bushnell Park, home of the historic Bushnell Park Carousel which is a lovely (and functional!) testament of a time long past.
Hartford has plenty of shopping, but it's the brewery and restaurant scene that will have you raving. One stand-out is the First & Last Tavern, the Zagat Rated, award-winning Italian restaurant that will have you fawning over the incredible sauces, breads, pizzas, and, well, everything!
Hartford has all the usual suspects when it comes to hotels, but right in the "Heart of Hartford" is The Goodwin, a lovely boutique hotel that is a great spot to set up shop for the night.
Click Here to Check Prices & Book!
Kent
Located in lovely Litchfield Hills, Kent is one of those storybook Connecticut towns that are chock full of cute small town things to do. Kent Falls State Park leads out to a beautiful waterfall, and is one of the most popular waterfall hikes in the state, and historic Bulls Bridge is one of the most popular covered bridges in Connecticut.
Kent is also home to an adorable downtown and cute novelty shops like the House of Books and Kent Coffee & Chocolate. For those 21 and up, you'll find Kent Falls Brewing Co, the working farm brewery, a fantastic way to refresh in this quaint Litchfield Hills town!
Book a room just outside of town at Cornwall Inn, one of the coziest little inns in Connecticut.
Click Here to Check Prices & Book!
Mohegan Sun
Located in Uncasville, Mohegan Sun is one of the most popular casinos in New England, and for great reason! With plenty of opportunities to get lucky with the 4000 slot machines and over 300 table games and huge live entertainment acts coming through on the regular, this is a one stop shop for fun in Connecticut!
Try your luck, then pamper yourself with the full service spas, incredible onsite dining, and live shows. Mohegan Sun has it all!
Click Here to Check Prices & Book!
Mystic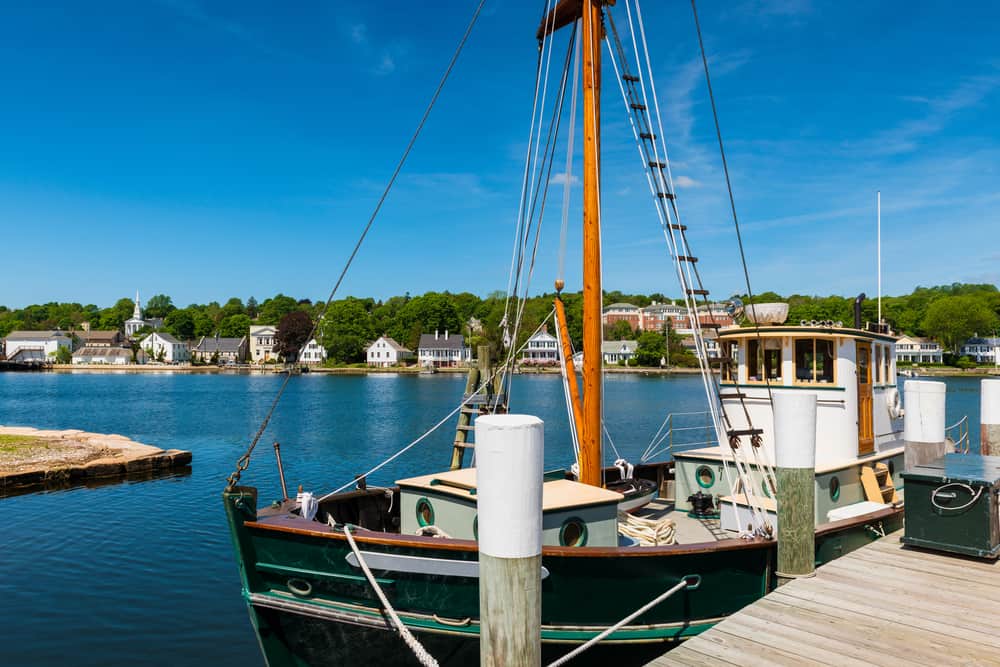 Mystic is a beautiful waterfront town along New England's southern shore and a favorite Connecticut destination; one visit there yourself and you'll see why! There is just so much to do in lovely Mystic, like visiting the Beluga Whales at the Mystic Aquarium or going on one of the Adventure Mystic offerings, including paddle boarding or kayaking the gorgeous Mystic River.
There's also B.F. Clyde's Cider Mill, the last steam-powered cider mill still in use in the US today – you've got to sample their signature apple cider donuts! If you end up visiting during winter, you'll find plenty to do and see then, too.
There are lots of great options for food and drink, too, but while you're in town, you'll definitely want to swing by Mystic Pizza– yes, that Mystic Pizza from the Julia Roberts movie of the same name, so take a few selfies with the sign and grab "a slice of heaven" or two for yourself!
There are several options for where to stay while you're in town, too, but the Whaler's Inn is a beautiful hotel that is full of historic charm.
Click Here to Check Prices & Book!
Lake Compounce, Bristol
Looking for the best family friendly places to visit in Connecticut? Lake Compounce in Bristol is one of them! Lake Compounce is the largest water park in New England, so if you're looking for summer fun in CT, it absolutely delivers. It's fun for the whole family!
Historic Wethersfield
Located just outside of Hartford, historic Wethersfield is Connecticut's "Most Auncient Towne," and you'll find many gorgeously preserved historic buildings there.
In fact, you can stay in one! The Silas W. Robbins House is a stunning historic B&B that boasts lots of incredibly innate interior and exterior details. It's a definite must stay for anyone who appreciates Victorian architecture!
Click Here to Check Prices & Book!
Woodstock

Some places in Connecticut are so idyllically charming that you'll feel like you've stepped onto the pages of a storybook. Woodstock is exactly that kind of place!
Located in Connecticut's "Quiet Corner," this whimsical little town is quaint and tranquil, and the perfect spot to go to unwind and leave all your stress behind. Tour the splendidly ornate Roseland Cottage, and marvel at the gothic revival architecture of this elegant 19th century home.
If it's performance art you're in the mood for, Loos Center for the Arts is the go-to spot, and their second-floor gallery hosts exhibitions throughout the year as well. For small town fun, stop by Woodstock Orchards to pick-your-own apples and blueberries (in season, of course!) and sample the locally famous apple cider donuts that are always made to order, hot and fresh just for you when you arrive!
Woodstock has some nice restaurant options, but if you're in the mood for a handcrafted brew or a Quiet Corner vintage, then check out Taylor Brook Brewery and Taylor Brook Winery, located just next door to each other!
Everywhere in Woodstock is lovely, but just outside of town is the Watson Boutique Bed & Breakfast, a gorgeous little inn that is perfect for a romantic getaway spot.

Click Here to Check Prices & Book!
New Haven
Of course, one of the top places to visit in Connecticut is New Haven, home of Yale! This cerebral and artsy college town could not be skipped over. There are museums, art galleries, and parks, to stimulate your mind and soul, and breweries, restaurants, and coffee shops to tickle the taste buds, and because it is such a dynamic and intellectual college town, there are always community events happening!
If you're looking for a great place to stay in New Haven, consider booking a room at The Blake, a boutique luxury hotel that hosts popular art and music events throughout the year, and is a very trendy place to stay.
Click Here to Check Prices & Book!
Dinosaur State Park
If you're traveling to Connecticut with kids, or heck, even if you're not, you're going to want to plan to visit Dinosaur State Park in Rocky Hill. One of the coolest state parks, you'll delight in the carefully preserved 200-million-year-old fossil trackway, interactive exhibits, arboretum, nature trails, and so much more. This is one of those unique Connecticut places to visit that should be on everyone's bucket list!
Madison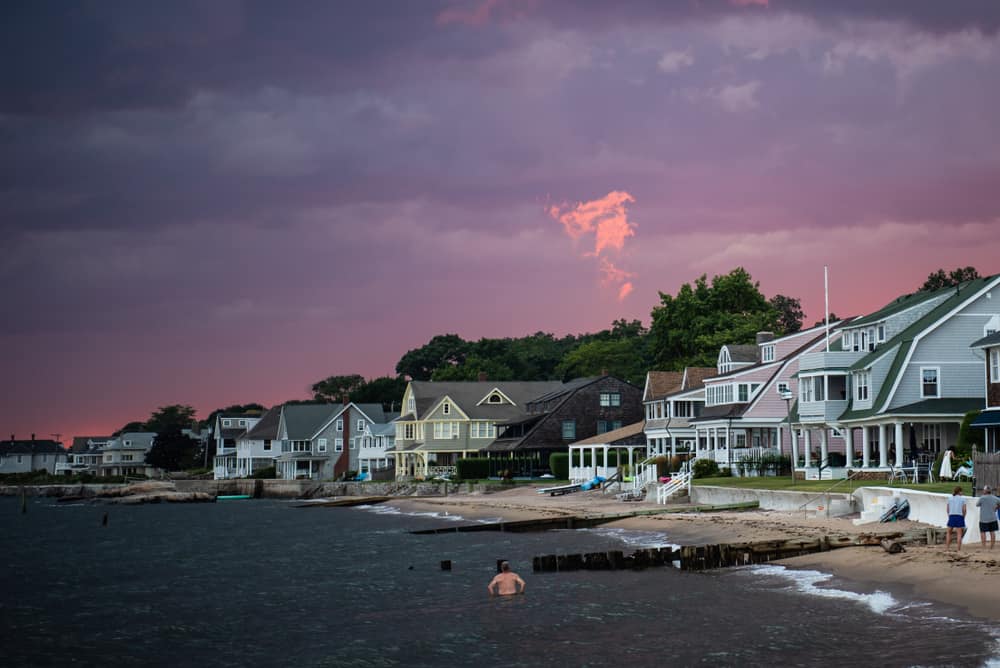 One of the best beach towns in Connecticut, Madison should definitely be on your list of CT places to visit in summer. With three public beaches and beautiful Hammonasset Beach State Park with its lovely boardwalk and Meigs Point Nature Center, Madison is a great place to go to both get out and enjoy the coastal charm of Connecticut and to learn about it!
If you're looking for a coastal inn to cozy up in at night, book a room at Scranton Seahorse Inn. It's one of the dreamiest B&Bs in Connecticut.
Click Here to Check Prices & Book!
Don't forget to check out some of the unique Airbnbs and charming cabins around the state, too. Wherever you choose to visit, Connecticut charm and Connecticut cool will welcome you in any of these CT vacation destinations!

---
Read these next:
---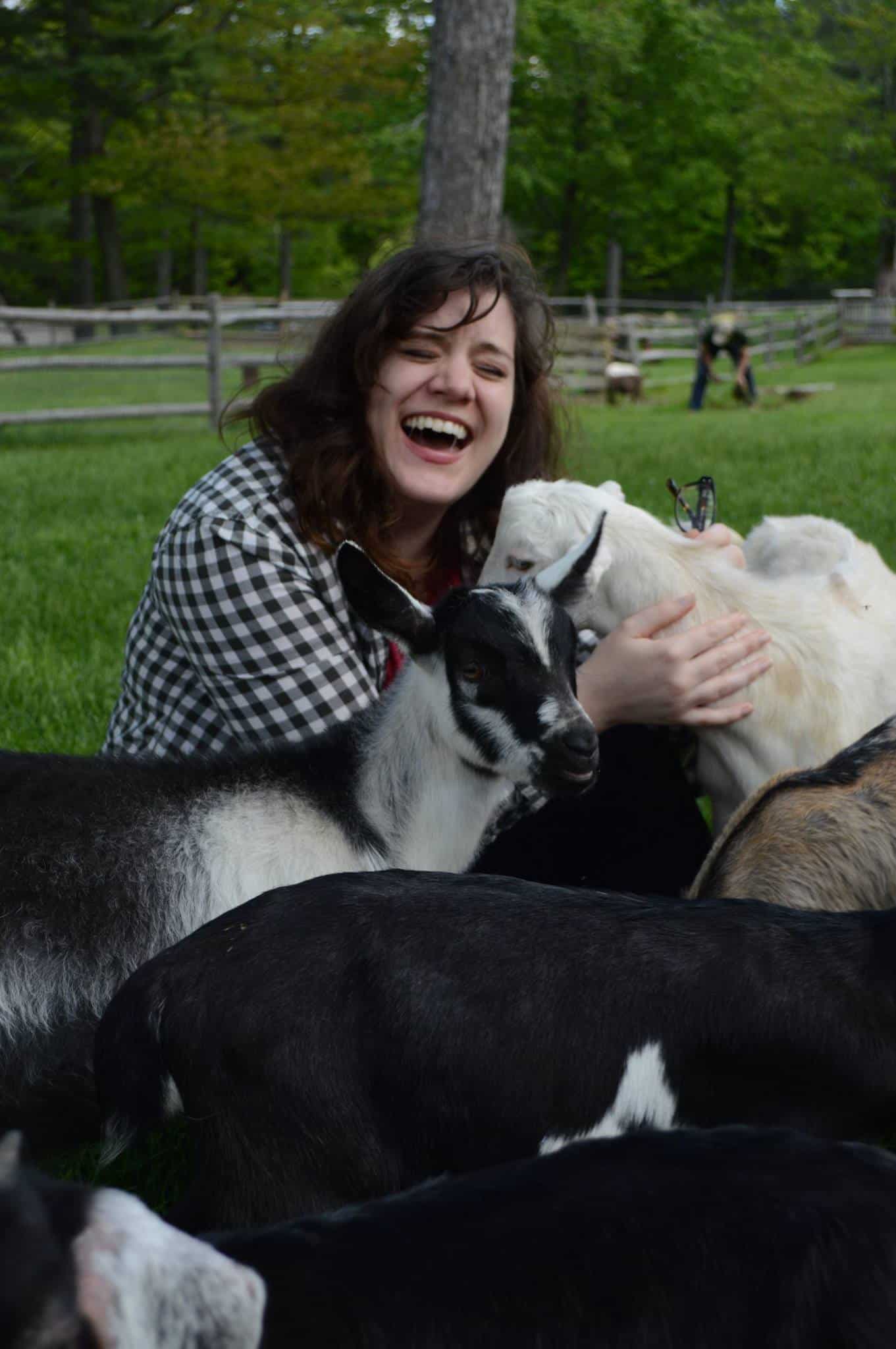 Amy Hartle is the founder and Editor-in-Chief of New England With Love, a comprehensive resource for travel in the New England region. Amy has been exploring New England since 2001. She lived in Vermont for many years and is a graduate of Plymouth State University in New Hampshire. On this site, Amy aims to share her love of New England and help you to have the best possible adventures!
Amy has been writing about travel for over a decade, and is a full time blogger, publishing both Two Drifters and Let's Adventure Baby. When not traveling the world or creating epic blog content, Amy can be found cuddling with her husband, son, and cats, & drinking a maple latte.