If you're visiting New England, you absolutely must stop by some of the most beautiful castles in Connecticut during your trip! From towers to mansions, there are many unique castle-like structures that can be found throughout the state.
We've taken the time to round up some of the most breathtaking castles throughout Connecticut so that you can save yourself planning time. Just grab a notebook and pen, and paper and start planning out the trip of your dreams!
Keep reading to learn more about the best Connecticut castles.
Gillette Castle, Lyme
First up is Gillette Castle in Lyme, Connecticut, located in Gillette Castle State Park, one of CT's best state parks. It was created in 1919 by a man named William Gillette, who was prominent in theater, especially for his portrayal of Sherlock Holmes. That's why many people also refer to the castle as Sherlock's Castle. He was from Hartford.
In addition to being prominent in theater and the arts, Gillette actually designed the castle and the surrounding grounds on his own. It truly looks like it was taken from Scotland or Ireland and placed in the United States!
Today, the castle is still in fairly great shape and is open to viewing from visitors who head to Gillette Castle State Park. Be sure to book a tour where you're able to learn more about it and also explore the grounds. It's genuinely one of the top places to visit in Connecticut!
Saint Clements Castle, Portland
Yes, there's a Portland in Connecticut (not to be confused with Portland ME) that has its own castle: Saint Clements Castle! It's located on 90 acres of land and is actually one of the most breathtaking castles on this list.
The castle was built back in the 19th century by a man named Howard Taylor with his wife (they were farmers). Many parts of the castle look like they were copied and pasted from European castles back in the 16th century, and it's meant to look like that!
Today, Saint Clements Castle serves as one of the top event spots in the state. It's most often used for theater shows, fundraisers, reunions, meetings, and of course, glorious New England weddings. The grounds are truly something to marvel at, which is why it's such a beautiful event space.
Sleeping Giant Castle, Hamden
Another castle (though not in the traditional sense) is Sleeping Giant Castle in Hamden. It was built around 100 years ago and has also been a state park since 1924. Sleeping Giant Castle is easily one of the top castles to visit in the state.
In order to get to the castle, you'll have to walk up a hill, so it is a little bit of a trek, but again, it's worth it! It was built having ramps that lead up to it, instead of stairs, by the architect who built it. Once you're at the castle, you'll be able to look out and get some of the best views of the area since it's situated pretty high up.
Once you're done, be sure to explore and enjoy the rest of Sleeping Giant State Park.
Chris Mark Castle, Woodstock
Chris Mark Castle is one of the most classic castles on this list! It was actually built in Woodstock by a man named Christopher Mark, who built it for his two daughters, because they always had dreams of becoming a princess. So he made those dreams come true for them!
One of the things that makes Chris Mark Castle so unique is that it was built using pieces from all over the world. Stones are from forests far away, and so are the wooden pieces. The castle was built with Mark's own machines since he has his own manufacturing company.
While the castle isn't open to the public, you can book an event at the castle. You'll just want to fill out the form on their website and let them know what you're inquiring about, and they'll get back to you!
Bill Miller's Castle, Branford
Another great castle found in this state is Bill Miller's Castle, which is in Branford. It's a beautiful rustic estate that truly has a medieval atmosphere to it. It was built as a barn for horses back in the 1880s but was turned into a castle in the 1960s. It's truly undergone quite the renovation to get to where it is today!
Bill Miller's Castle is most often used for events today, like weddings and other special occasions. For someone wanting a medieval or historic-themed wedding, this is truly the perfect location. The interior is just as marvelous as the exterior, with fireplaces, cathedral ceilings, and stained glass windows throughout.
If you won't be planning an event but would still like to enjoy the beauty of this castle, be sure to attend one of their special events throughout the year. They usually host them on holidays like their Valentine's Day Dinner or Mother's Day Brunch. Click here to learn more about those events!
Castle Craig, Meriden
Castle Craig in Meriden, Connecticut, is another castle-like structure! It's just a tower and historical landmark, but it's reminiscent of the ones you'd expect to see in Ireland (very much like the one by the Cliffs of Moher)!
It was built in 1900 by a man named Walter Hubbard who was a manufacturer in town, which is how he made a ton of money. The tower is a part of Hubbard Park and offers some of the best views of the area.
In order to get up to Castle Craig and revel in the beauty, you will have to go on a 3-mile scenic hike, but it's more than worth it. The trail itself is out-and-back, so you can enjoy the scenery both ways, and it's moderate in difficulty because there is a bit of an elevation gain, but it's nothing too hard.
At the top, you'll reach the castle. Be sure to take the time to look around at the view around you and maybe even take a panoramic photo. Visit in the fall to experience fall foliage in Connecticut; it'll make the view even more breathtaking.
Hearthstone Castle, Danbury
Next is Hearthstone Castle, which is located in Danbury. It was built in the 19th century and is situated on 7 acres of land. It's built in the classic shingle style of architecture, which you'll find at many castle-like structures throughout New England.
Hearthstone Castle is unfortunately abandoned now, and it looks like something you'd expect to find in Scotland. Greenery has now overtaken it, and it grows up the sides and top of the castle. It's located in Tarrywile Park in Danbury but is, unfortunately, all shuttered up now, with fences that shouldn't be crossed along the exterior.
Historically, it was built to be a summer home to the Danbury family. They lived there for a few years only before they ended up selling the home in the early 20th century, and it's switched hands quite a bit since then. The town of Danbury bought the land back in 1985, and the castle has since decayed.
Marion Castle, Stamford
Marion Castle in Stamford is a glorious castle-like structure. It was built in the early 20th century, and many people also referred to it as Terre Bonne. It's only an hour outside of New York City, and actually went on sale in 2020, featuring nine bedrooms with a great ocean view.
The home itself was built in the Neo-French Renaissance style of architecture by Frank Marion in 1914 who was well known for his work in cinema and other motion pictures. He lived in the home up until his death in the 1960s, and the home was then sold again. Because it's a private residence, it can't be visited, but it still deserved a spot on this list.
Bonus: Yale University, New Haven
Last but not least, and this is just a bonus, is Yale University in New Haven! It deserves a spot on this list because not only is it a historic Ivy League university from 1701 (it's the third oldest school in the USA) but also because many of the buildings are castle-like.
Luckily, Yale's campus is open, so anyone can visit and just explore the grounds a bit from the exterior. If you have a child looking to go to school, you could also consider joining in on one of the tours to learn more about the school and some of the buildings during your visit. Keep in mind that this is an active school, and you'll want to be respectful of the students attending class.
As you can see, there are so many lovely castles in Connecticut! We hope that you've enjoyed this post and found some new places to add to your bucket list. Don't forget to share this post with other travelers in the area who also love Connecticut or will be exploring it soon!
---
You might also like: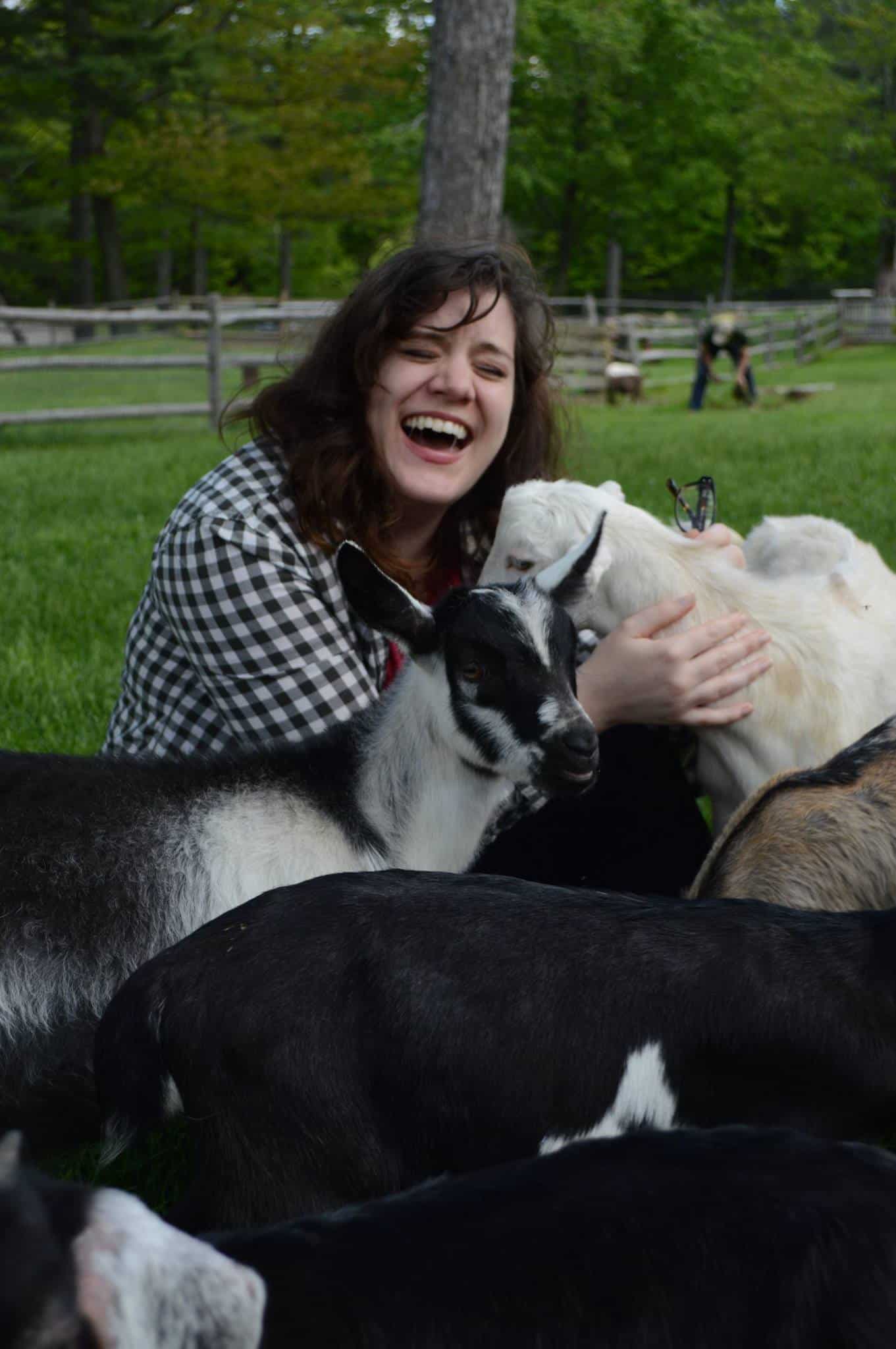 Amy Hartle is the founder and Editor-in-Chief of New England With Love, a comprehensive resource for travel in the New England region. Amy has been exploring New England since 2001. She lived in Vermont for many years and is a graduate of Plymouth State University in New Hampshire. Amy has been writing about travel for over a decade. On this site, Amy aims to share her love of New England and help you to have the best possible adventures!
Amy has been a full time blogger since 2012, and is also the publisher of Two Drifters, where she writes about couples travel and relationships, as well as Let's Adventure Baby, a family travel site. When not traveling the world or creating epic blog content, Amy can be found cuddling with her husband, son, and cats, & drinking a maple latte.