*This site uses affiliate links; if you make a purchase through these, I may receive a small commission at no cost to you.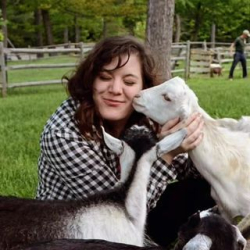 Latest posts by Amy Hartle
(see all)
Even though it's such a small state, there are quite a few famous people from Connecticut! From famous actresses to fashion designers and everything in between, some of them may even shock you.
To save you time researching all of these famous people on your own, we've rounded up some of the most well-known CT celebrities in an easy, skimmable post. Keep reading to learn about some of the most famous Connecticut people, and see how many of them you already know about!
Katharine Hepburn
Easily the most well-known celebrity from Connecticut is Katharine Hepburn, who is actually from Hartford. She passed in 2003 in Old Saybrook. Hepburn was most well-known for her work in Hollywood.
Katherine Heigl
Another famous actress is Katherine Heigl who is from DC but she grew up in New Canaan, Connecticut. Heigl made a name for herself portraying Dr. Izzie Stevens on the hit TV show Grey's Anatomy and has been in many other movies and shows like 27 Dresses and Firefly Lane.
J.P. Morgan
J.P. Morgan was a prominant banker in the USA during the Gilded Age who very much had a heavy influence on Wall Street. He was born in the 1830s in Hartford, though he passed away in Rome, Italy.
Dylan McDermott
Actor Dylan McDermott is from Waterbury, Connecticut, where he was born in the 1960s. He has been in many TV shows and media over the years, including The Practice where his work got him a Golden Globe Award. He's also been on hit shows like American Horror Story.
Betsey Johnson
The famous fashion designer Betsey Johnson hails from Wethersfield in Connecticut! She's sknown for her super colorful quirky designs that are extremely different from what one might expect in fashion.
Gaten Matarazzo
Known for his portrayal ofo Dustin Henderson in Stranger Things, Gaten Matarazzo is another Connecticut celebrity, from New London! He's also done a loot of work on Broadway over the years.
Casey Neistat
Yes, there's actually a well-known YouTuber from Connecticut; Casey Neistat. He's also founded a collaborative space called 368 in 2018. Neistat is from Ledyard, Connecticut, and is extremely well known for his filmmaking and unique vlogs.
Mariette Hartley
Hailing from Weston, Mariette Hartley is an actress who is most remembered for her work in The Incredible Hulk. She's also been in many other films over the years.
James Van Der Beek
Known for playing Dawson in Dawson's Creek, James Van Der Beek is from Cheshire, Connecticut. He's played in many other television shows over the years as well and is currently married with a few children.
Jeff Porcaro
Jeff Porcaro is from Hartford, Connecticut, and was part of Toto! He was a drummer but has also been a producer and songwriter over the years. He unfortunately passed in 1992 in Los Angeles, California.
Dixie D'Amelio
Hailing from Norwalk, famous TikTok star and singer Dixie D'Amelio is also from Connecticut! She's the sister of Charli, the most followed TikTok star as of 2022. She has also performed in a show called Attaway General.
Vinnie Vincent
Vinnie Vincent (Vincent John Cusano) is from Bridgeport and was part of Kiss, the famous rock band that gained lots of traction in the 1980s. He's a guitarist who has performed a multitude of heavy metal and glam metal music.
Christopher Lloyd
Actor Christopher Lloyd is from Stamford, CT, and is most well known for his portrayal of Doc in the Back to the Future movies, which have since become cult classics. He has also won two Emmy Awards over the years.
Camille Kostek
Model and TV host Camille Kostek hails from Killingworth, Connecticut. She's been on shows like Wipeout and movies like I Feel Pretty with Amy Schumer. Kostek is married to Rob "Gronk" Gronkowski.
Edith Roosevelt
President Theodore Roosevelt's wife, Edith, is from Norwich! Though she was his second wife, she was First Lady between 1901 and 1909. She was also the first First Lady to ever have a social secretary who was full time and on salary.
George Springer
MLB player George Springer is from New Britain, Connecticut. He's played for the Toronto Blue Jays and the Houston Astros since his debut in 2014. Springer plays outfield!
John Ratzenberger
John Ratzenberger is from Bridgeport and is both an actor and director. To this day, most recognize him from Cheers where he played Cliff Calvin. He's also written a book among other accomplishments.
Justin Long
From Fairfield, Justin Long is an actor and screenwriter. He's been involved in many movies and television shows, including Tusk, Jeepers Creepers, and Alvin and the Chipmunks. Long attended Vassar College.
Matt Ross
Matt Ross hails from Greenwich and is an actor who has been in media like American Psycho, The Aviator, and more. He has also screenwriter and directed during his tenure in Hollywood.
Michael Bolton
Michael Bolton is another of the famous people from Connecticut, from New Haven. He was part of a band called Blackjack and is known for his heavy metal music, and also had a solo career for a time.
Mike Porcaro
Another member of the band Toto is also from Connecticut, Mike Porcaro! He was born in South Windsor and was a bassist. Porcaro unfortunately passed in 2015 in Los Angeles.
Annie Leibovitz
One of the most well known portrait photographers of all time, Annie Leibovits, is from Waterbury, Connecticut. She's taken portraits of many celebrities over the years and has won awards like the Glamour Award for The Visionary and the Honoroary Clio Award for her work.
Thomas Ian Griffith
From Hartford, Thomas Ian Griffith is an actor but he is also known for his martial arts. In fact, these two came to the forefront when he was involved with hits like The Karate Kid Part III and Cobra Kai.
Nancy Dow
Actress Nancy Dow was from New Britain, Connecticut, and was involved in lots of Hollywood media during her time such as The Wild Wild West and The Beverly Hillbillies. Her daughter is Jennifer Aniston.
Jenna Dewan
Jenna Dewan, known for her dancing, is from Hartford. She was married to Channing Tatum for a time and also starred in Step Up as Nora Clark. With her dancing, Jenna has been backup for big time celebs like Pink and Christina Aguilera, among others.
Harriet Beecher Stowe
Abolitionist Harriet Beecher Stowe is from Litchfield. She also authored Uncle Tom's Cabin which is read in many high schools across the United States.
Caitlin Cahow
From New Haven, Caitlin Cahow was an Olympian who won a bronze medal as an ice hockey player. She's also dabbled in many other sports, ranging from field hockey to lacrosse and even soccer for a time while in school.
Stephanie McMahon
Former professional wrestler Stephanie McMahon is from Hartford, Connecticut. She is now a co-chief executive officer as part of WWE and owns about 2.5% of the company.
John Mayer
Singer John Mayer is from Bridgeport and even went on to attend Berklee College of Music for a time in nearby Boston in Massachusetts. He's written many hits over the years and even famously dated Taylor Swift, who wrote the song "Dear John" about him.
Suzanne Collins
Well-known author Suzanne Collins, who wrote the famous The Hunger Games trilogy with Katniss and Peeta, is from Hartford, Connecticut. She's also authored The Underland Chronicles.
Christy Carlson Romano
Actress Christy Carlson Romano, known for her roles on the Disney Channel in the early 2000s, is from Milford, Connecticut. She's most well known for her role as Ren Stevens in the TV show Even Stevens as well as her portrayal of Kim on Kim Possible.
Stephenie Meyer
The author behind the hit Twilight Saga, Stephenie Meyer, is from Hartford, Connecticut! She's sold more than 100 million copies worldwide and her series is known for being one of the best in the teen paranormal romance genre.
Charli D'Amelio
TikTok star Charli D'Amelio is also from Norwalk, like her sister, Dixie, mentioned earlier on this list. She gained immediate TikTok fame (and is now the most followed TikTok star as of 2022) for her dancing, since she has a history in competitive dance. She's also dabbled in singing and has a fashion line with her sister at the popular teen store Hollister called Social Tourist.
George W. Bush
President George W. Bush is from New Haven, Connecticut. He was president between 2001 and 2009, making him the 43rd POTUS. His father is president George H. W. Bush who was president from 1995 to 2000.
Nolan North
Actor Nolan North hails from North Haven and is most well known for his role on Port Charles, a soap opera that aired on ABC. He's also been involved in other media like Rick and Morty and Uncharted.
Meg Ryan
Famous American actress Meg Ryan is from Fairfield and is most well known for her work in When Harry Met Sally, Sleepless in Seattle, and You've Got Mail. She has also written a few books, including A Hat for Markie.
There you have it; these are some of the most famous people from Connecticut. How many of these did you already know? Don't forget to share this post with a friend and see how many they know, too!
---
You might also like:
11 Must-Visit Museums in CT
14 of the Best Hikes in Connecticut for an Outdoor Adventure