Spoiler alert: there are many ghost towns in Connecticut, and some of them even have remains that can still be seen today!
Connecticut may be known for its charming small towns and fun bucket list activities, but it does have quite the history. Many towns from back in the day that once stood strong in this state have since fallen, and their stories are very fascinating. Luckily, this post was put together with you in mind, so you can learn all about them!
Here are the stories of some of the most interesting Connecticut ghost towns.
Gay City
Located in Hebron, Connecticut, Gay City, or Gay City State Park, is one of the ghost towns that saw its demise in the state. The village of Gay City was built back in the 18th century by a man named John Gay, and the city had a background of religion.
Gay and his family, who was pretty much everyone that moved to the new village, did have a lot of fights stemming from religion with nearby Hartford's community. Due to their differing beliefs, Gay City was born, and they even created a mill. It was fairly popular and thriving up until the Civil War's end when it was officially abandoned.
The abandonment came when the town's mill was burned down. This was the third time that it had happened, so they just decided that was enough. In fact, people left much of their belongings to leave to other towns and cities nearby.
The town was left to the rest of Gays who were still alive, namely a woman named Emma Foster. Eventually, the area was just given to the state but only if it were to be a state park named after them.
Gay City is one of those ghost towns that quite literally could be called a ghost town, as it is said to have lots of paranormal activity thanks to its rough past. In the past, there was a skeleton found inside a charcoal pit, as well as some other ones that were found. These appeared to be brutal findings, as in, someone did something to them to cause their passing.
Today, this is now Gay City State Park, and some ruins and remains can be found by hiking throughout the park. The park is also home to a pond, places to camp, and beautiful spots to have a picnic.
Bara-Hack
Bara-Hack is one of the ghost towns in Connecticut that some even say maybe haunted to this very day. The town was first settled back in the late 18th century by two Welsh descendants named Jonathan Randall and Obadiah Higginbotham.
They moved their families to the area as well from Cranston, Rhode Island, and before long opened up Higginbotham Linen Wheels with the help of the local Nightingale Brook. With the new company, they created flax spinning in nearby communities and towns.
The town was eventually named Bara-Hack after the Welsh word, which means breaking of bread in English. Bara-Hack rose, and many fancy homes were eventually built throughout, along with a graveyard.
Not much is clear about how Bara-Hack's demise came, but eventually, Randall and Higginbotham passed away, and business began to go on a decline, unfortunately. Before long, many other residents decided to up and leave to other places that were thriving, which is completely reasonable. By the time the 1900s began, Bara-Hack was already a ghost town.
Soon enough, Bara-Hack gave the words "ghost town" a whole new meaning, as many people were convinced that it was actually haunted. Paranormal hunters often visit to see the ruins and investigate, and many claim that they have seen ghost children, orbs, and interesting noises, including voices and the sound of buggies from the 19th century.
The property today is completely closed off to visitors because so many people keep visiting it. There are now signs all around the property that tell people not to visit unless a visit has been arranged with the owners of the property.
Dudleytown
Some say that Dudleytown is one of the most haunted ghost towns in New England! Many people are even scared to go near it because of the curse that many say haunts the remains.
While it's hard to tell exactly when Dudleytown was first inhabited, it's believed to have been sometime in the early 18th century. This is when Thomas Griffis, the original owner of the area, came to the area. Before long, Gideon Dudley came, and the town was named after him.
Two of his brothers also came to the area, but it's said that they're the ones who brought a curse over to Connecticut.
You see, there was a Dudley family that had a curse dating back to the 1500s that supposedly everyone in the family was going to be plagued by horrors. However, some scholars have said that the family didn't actually have a connection to the ones in Connecticut.
While Dudleytown may never have been an "actual" town because not many people lived there, it did become pretty well known for timber thanks to its forested location. However, furnaces and other industrial technological advances eventually made it, so it was no longer needed.
Unusual events are what ended up with Dudleytown's demise. Many people supposedly vanished or began to lose touch with reality, and many people eventually left. Flash forward to the 1900s; it was said to be an evil and haunted area.
Bloomfield
Located not far from Windsor, Bloomfield was eventually abandoned as well. Not much is known about Bloomfield and how it met its demise, but it does have a pretty interesting road nearby that many called "Evil Knievel Road" because there has been a ghost car supposedly driving it and causing many accidents.
It's most likely that the town ended up being abandoned because of this road and how hard it was to get to and from Bloomfield.
It's assumed that everyone up and left to find a place that was more easily accessible, and today, there is a sign that just says the pavement is ending when people try to visit. It can only be visited on foot.
Johnson Village (Johnsonville)
Johnson Village was near where East Haddam is today. It has roots dating back to the early 19th century and became a mill town with Emory Johnson who was able to use the nearby river for the mill.
A man named Raymond Schmitt bought the mill from Johnson's family in the late 20th century and really wanted to take it and turn it into a tourist destination in Connecticut. However, just a few years after he purchased it, the area burned to the ground because of a lightning strike and was shut down due to East Haddam.
A hotel company purchased the area in early 2001 with the very same idea; to basically redo the area, reinvigorate it, and turn it into a tourist spot, but once again, it didn't work.
Most recently it was purchased in 2017 by a group in the Philippines with plans to turn it into a Christian worship area. It's currently closed to the public.
Little People Village
For some reason, many of Connecticut's ghost towns have a very creepy past, and another is Little People Village! It's in Middlebury, and the stories about its past are very jumbled; as in, there are mixed stories about what actually happened there.
Some people say that a man and his wife built many small homes and a giant throne only to cause his wife's demise. Another says it's because the wife was actually a witch. Some even say that he only built the houses because he started to hear voices that told him he had to, or else.
Today, the area is owned by a private owner and nobody can visit the village, but people can still learn about it by reading online. The throne has since been destroyed because too many people kept trying to go and see it in person due to its creepy history. However, one of the small houses is supposedly still fairly well preserved, which proves how much effort the man put into building them in the first place.
A part of the actual bigger home that the man (and possibly his wife) lived in, which can be seen without trespassing and going onto the property. Please be sure to follow all signs though and don't try to see a ghost town like this by trespassing.
As you can see, there are many ghost towns in Connecticut, though most of them do have very dark and fascinating demises. Of course, there are more that you can learn about, but these are truly some of the most interesting.
Do you know anybody else who would love to learn about these? Be sure to share this post so others can learn more, too!
---
You might also like: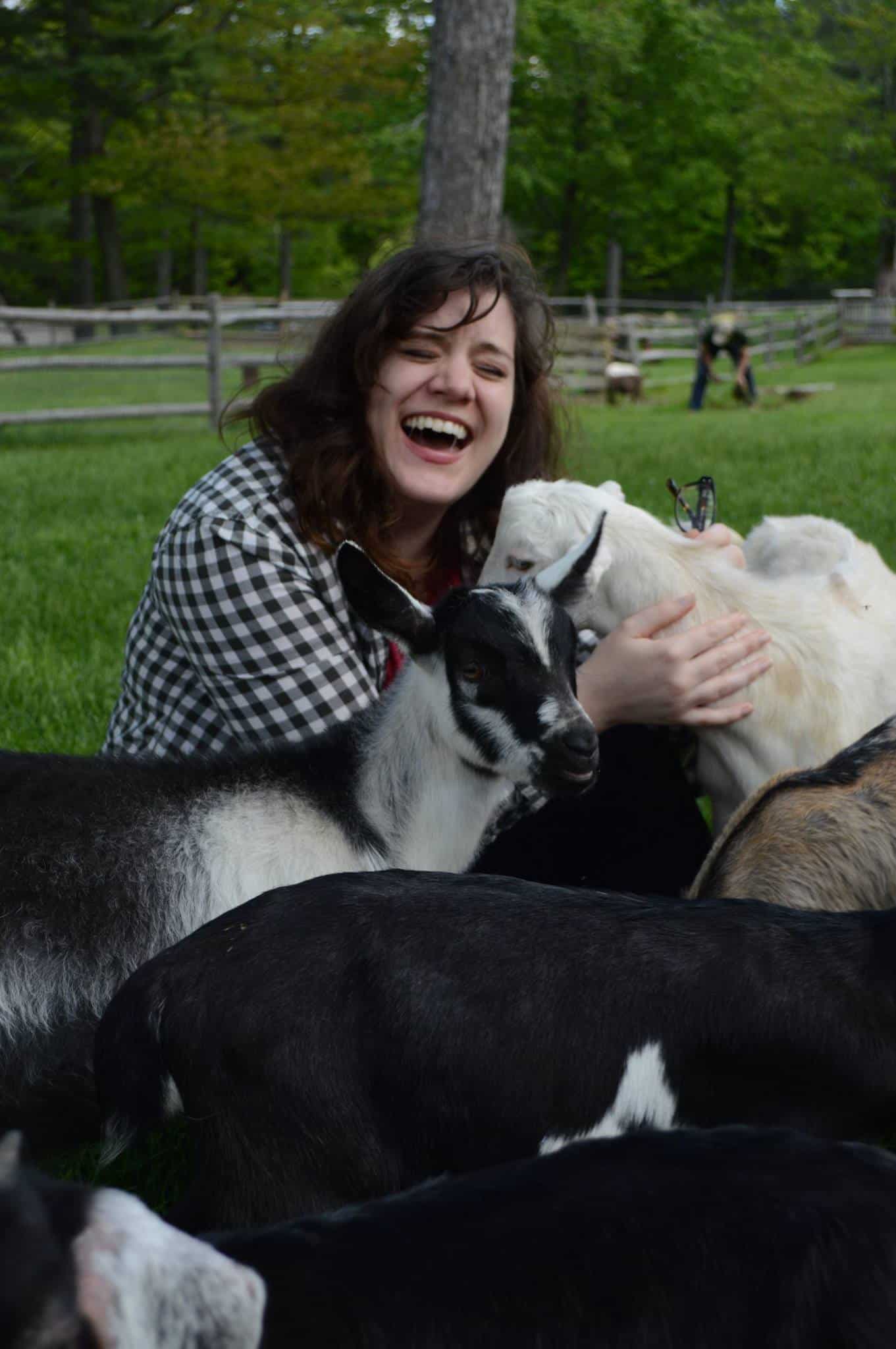 Amy Hartle is the founder and Editor-in-Chief of New England With Love, a comprehensive resource for travel in the New England region. Amy has been exploring New England since 2001. She lived in Vermont for many years and is a graduate of Plymouth State University in New Hampshire. Amy has been writing about travel for over a decade. On this site, Amy aims to share her love of New England and help you to have the best possible adventures!
Amy has been a full time blogger since 2012, and is also the publisher of Two Drifters, where she writes about couples travel and relationships, as well as Let's Adventure Baby, a family travel site. When not traveling the world or creating epic blog content, Amy can be found cuddling with her husband, son, and cats, & drinking a maple latte.