As one of the oldest sections of the United States, it's no surprise that New England has its fair share of ghost stories and haunted spots. History abounds in this region, and legends and tales of ghosts have sprung up from Connecticut to Vermont.
Whether or not these tales are true….well that's something you might have to decide for yourself. And if you're brave enough, consider visiting one of these spooky haunted places in New England, whether at night or in the safety of daylight…
Haunted Places in New England
Danvers State Hospital – Danvers, MA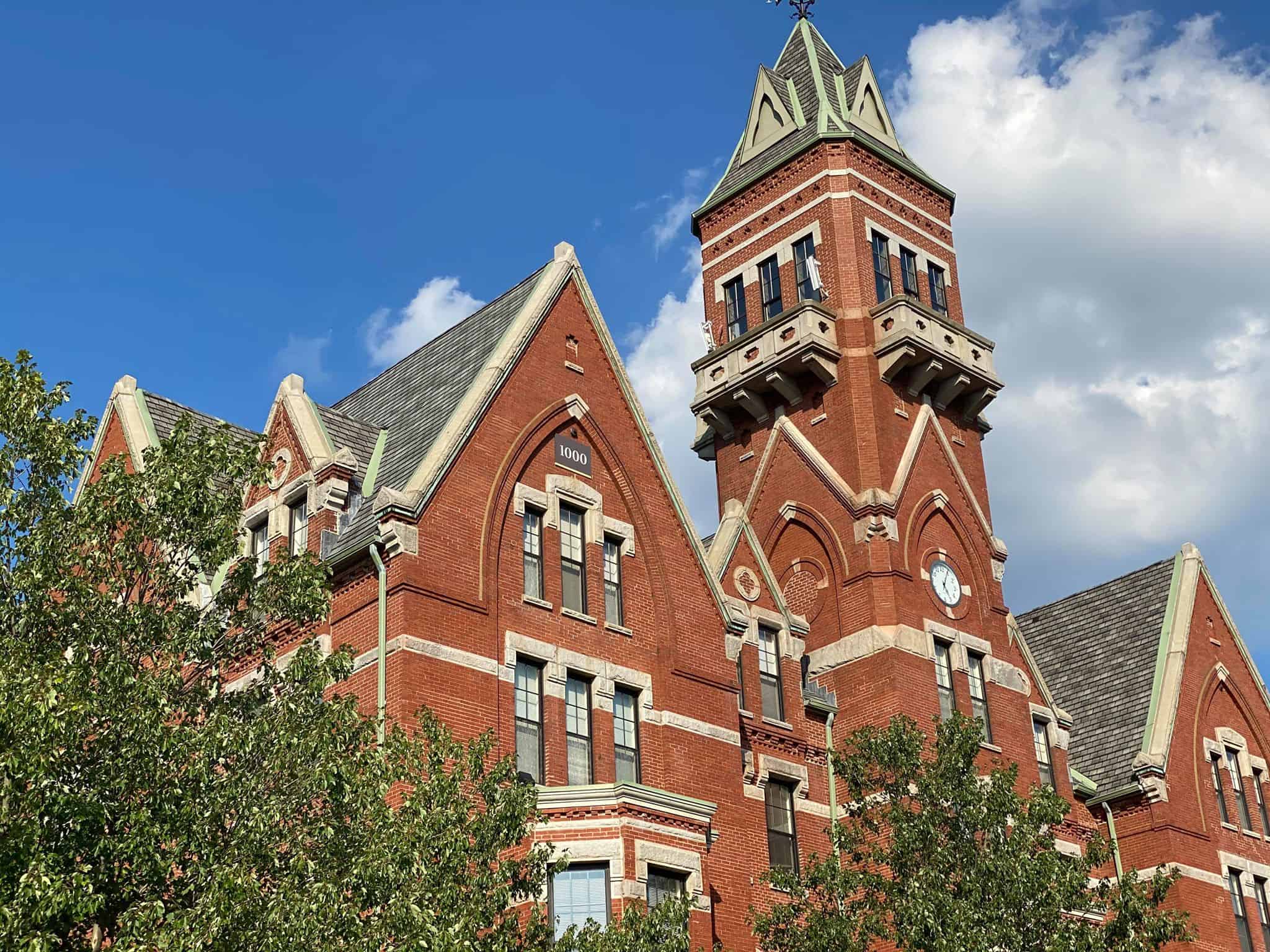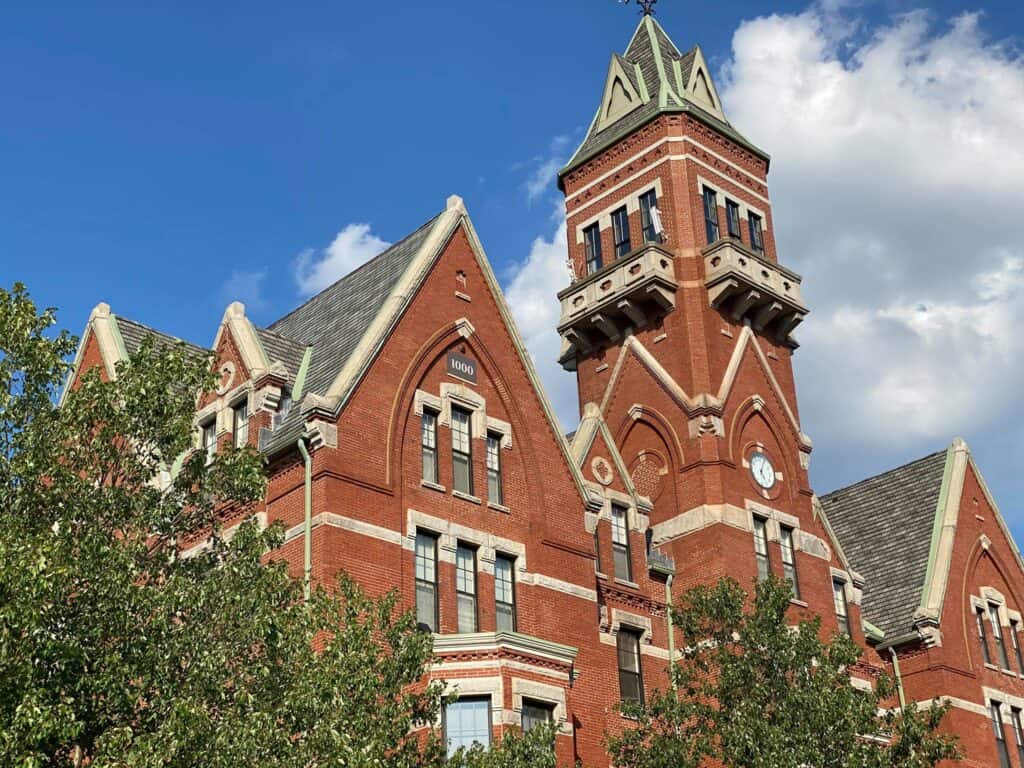 When you think of scary places to visit in New England, right away everyone thinks of Salem, MA. However one of the scariest places I have come across is in the neighboring town of Danvers: the Danvers State Hospital, which is also known as the Danvers State Insane Asylum. The hospital opened in 1878 with impressive Gothic architecture which is also chilling and eerie. From an aerial view the building is shaped like a bat with expanded wings. It was made up of more than one building which all were connected by creepy underground tunnels.
The hospital housed more patients than they should have causing poor treatment and overcrowding. The patients were not treated kindly – unfortunately they were exposed to inhumane treatments such as shock therapies, lobotomies, drugs and straitjackets. In fact experts call Danvers State Hospital the birthplace of the prefrontal lobotomy.
The hospital closed in 1985 and was left completely abandoned. People interested in the paranormal would try to enter the building but with no success. According to one ghost expert, "you may not see a patient's ghost, but the building could manifest your inner fears, doubts and agony."
Now you can live on this property if you are brave! In 2005 they renovated and tore down some of the dilapidated buildings constructing beautiful apartments and condos. That being said there are still graveyards for patients that passed away with no family or forgotten. If you walk down a hill you will come across many markers, and sadly, most of them remain nameless.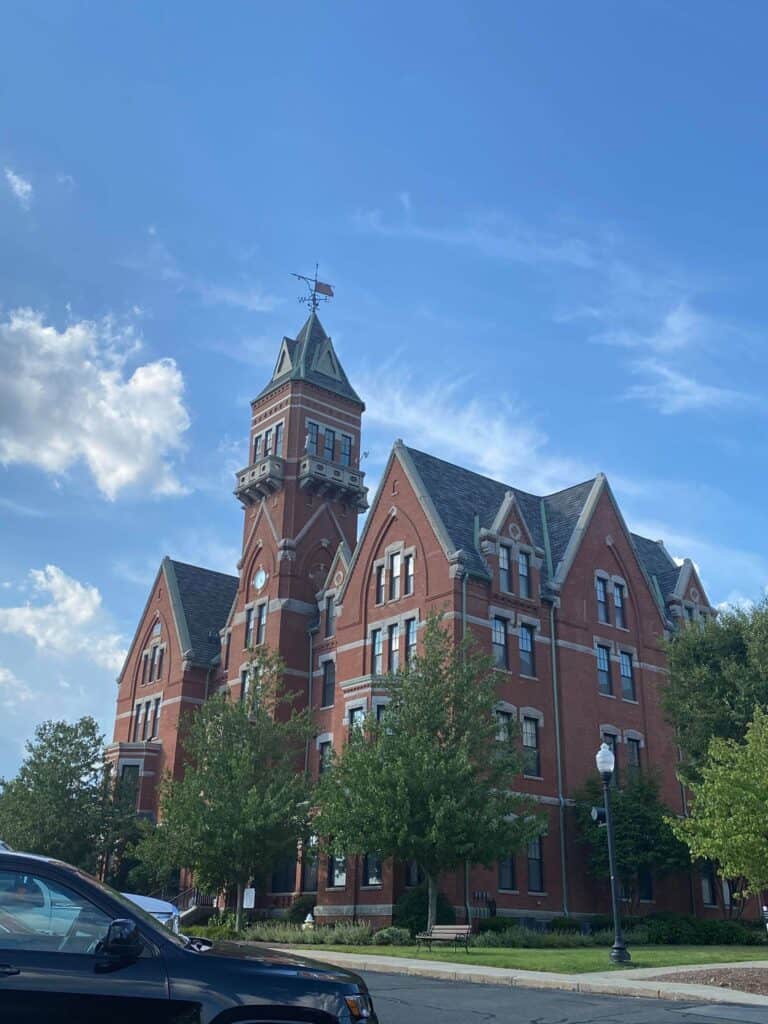 Danvers State Hospital is an interesting place to visit and read about. I for one don't know if could walk around there at night not feeling scared by so much haunting history.
-Contributed by Jessica Taylor, Your Dating Stylist
Stratford Shoal (Middle Ground) Lighthouse – CT
You knew there was bound to be at least one haunted lighthouse in New England. Turns out there are several, but this one is especially creepy.
Known as Middle Ground lighthouse or Middleground Light, this 60-foot granite structure is set on a shoal in Long Island Sound. There are at least two creepy tales attached to this place. The first involves multiple suicide attempts by an assistant lighthouse keeper. The isolation of such a job took its toll on Julius Koster in 1905. After his attempts, he was taken to a sanitarium in New York, where he finally succeeded in killing himself just a few days later. Reports of chaos such as loud grinding and crashing noises, mysteriously slamming doors, and even pots of hot water being tossed onto the floor from the stove make some think that Koster's spirit is still hanging around Middleground Light.
The 2nd haunted tale connected with the lighthouse is about the wreck of the ship Trustful, which struck the shoal and sank, killing all onboard. Interestingly, this ship's cargo was a load of church bells. Today, it is said that you can sometimes hear the sound of muffled church bells in the area when a storm is nigh.
The Olson House – Cushing, ME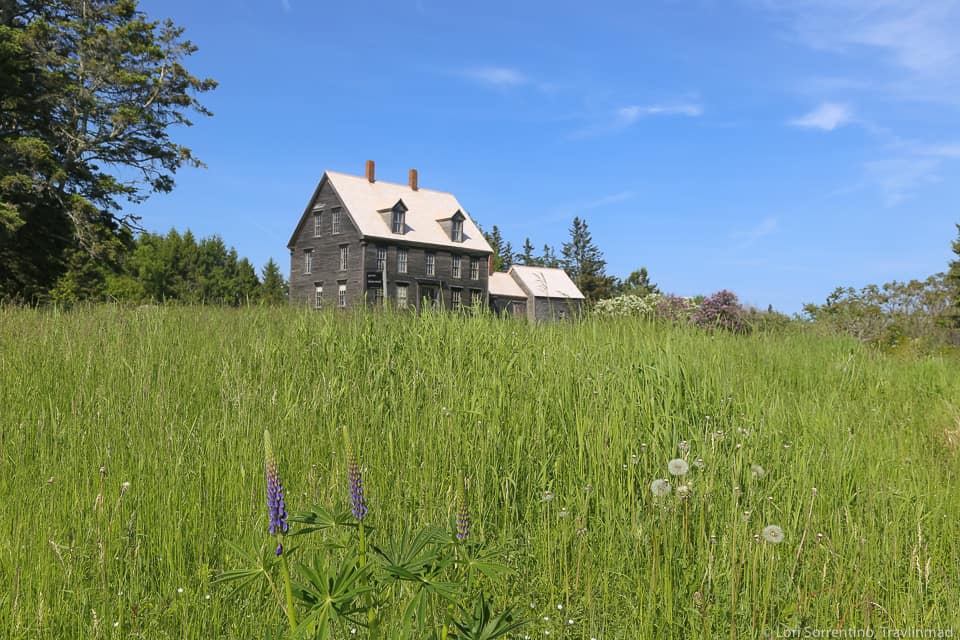 The state of Maine has an eerie feel about it especially in the small towns that dot the Midcoast around Penobscot Bay. The
Olson House
in Cushing, Maine is such a place. Originally built in the late 18th century, the colonial farmhouse became the home of Christina and Alvaro Olson in 1929.
From 1939 to 1968 the house was also a central theme in the works of American artist Andrew Wyeth, and whose poignant and haunting masterpiece
Christina's World
was an homage to his longtime friend Christina, who'd been paralyzed most of her life from a childhood illness.
The house is open to the public and a docent will guide you from room to room bringing to life the stories of the Olsons and their friendship with Wyeth. They've even reported hearing footsteps in the rooms above and doors being opened or closed late in the day. Many folks believe their spirits are still around and stay clear of the house once the sun sets.
Alvaro, Christina, and Wyeth are all buried in the family plot just down the hill. Look back toward the house and you can almost see Christina lying in the grass, immortalized forever on the canvas by Andrew Wyeth.
-Contributed by Lori Sorrentino, Travlinmad
Madame Sherri's Castle – Chesterfield, NH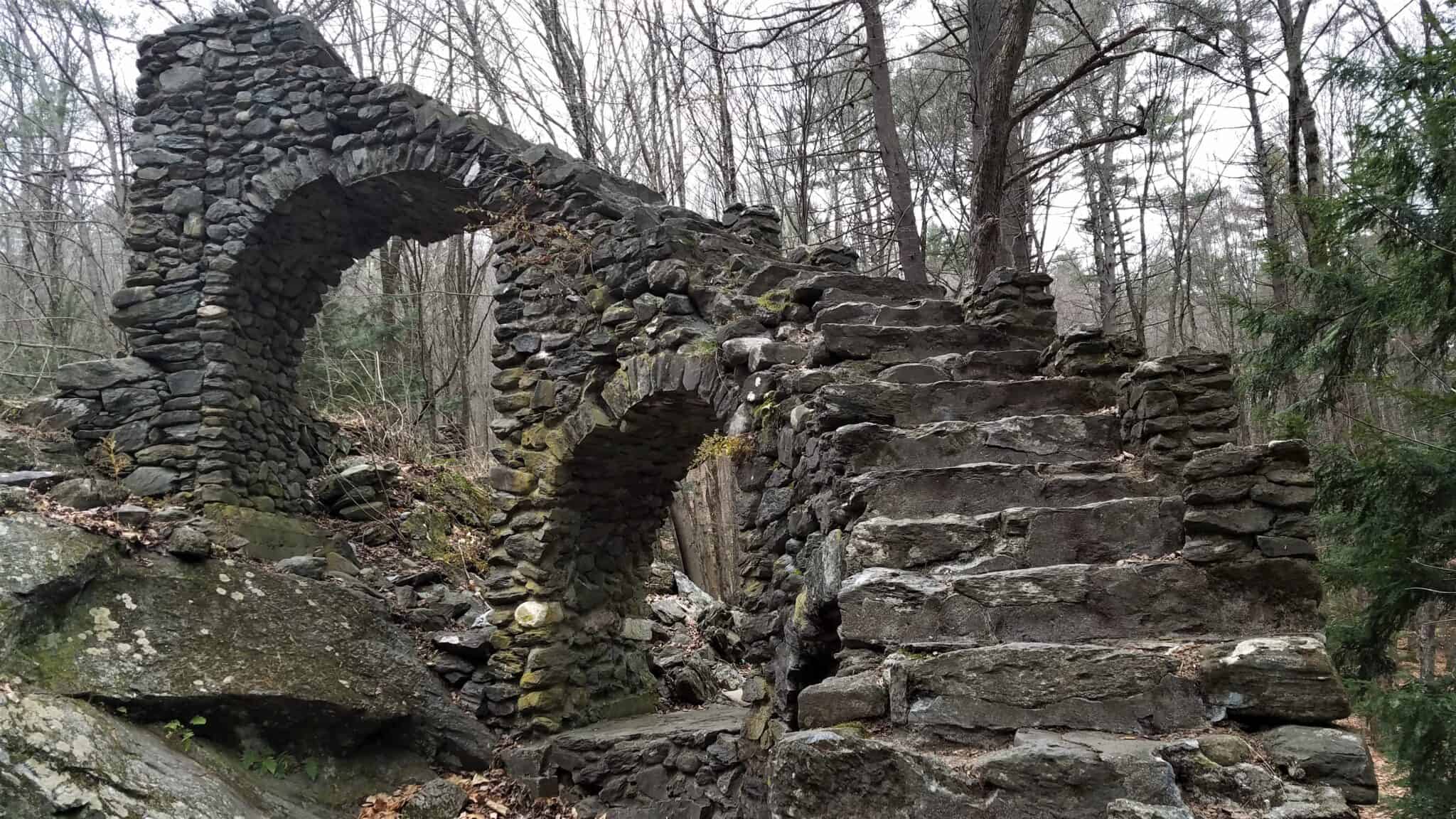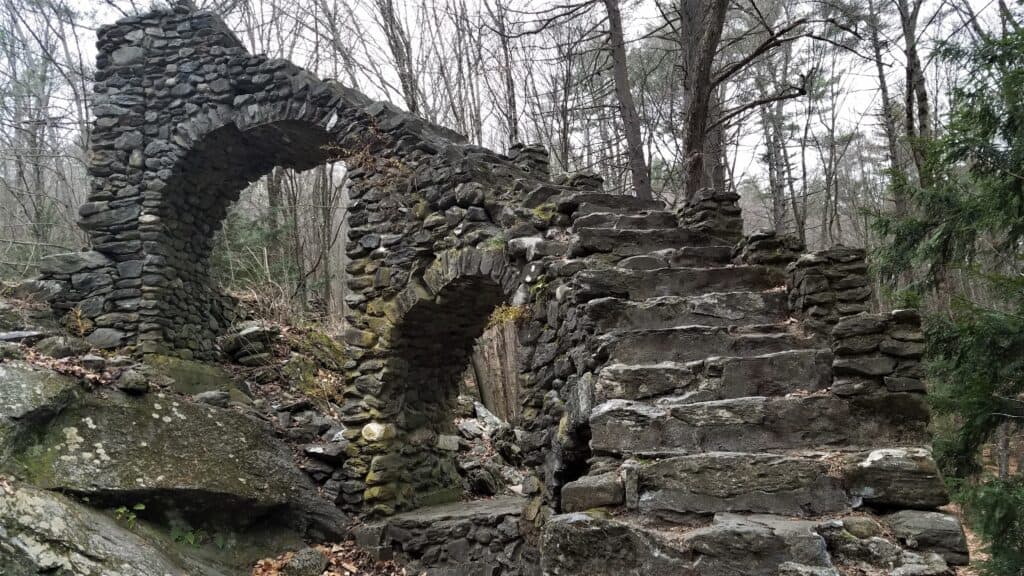 In the woods of Chesterfield, NH stands a ghost from a by-gone era. There, eccentric socialite Madame Antoinette Sherri built a mansion (her "Castle") where she hosted grand parties during the 1920s. This magnificent structure featured old-world stonework throughout.
Sadly, after years of neglect Madame Sherri's castle was destroyed by a fire set by vandals. All that remains today is the stone foundation and the elegant stone spiral staircase Madam Sherri would descent to greet her visitors.
Approaching the skeleton of the castle, you can't help feeling the eeriness of the surroundings. The still standing staircase dubbed "Stairway to Heaven" draws you in. Many people who have climbed the staircase recall feelings of dread and there have been reports of seeing misty-human figures around the grounds of the castle. Even skeptics like ourselves immediately felt that feeling of dread. Only the bravest venture here after sundown.
Check out more haunted New Hampshire hikes!
-Contributed by Frank Parrott, NothingButNewEngland.
Emily's Bridge – Stowe, VT
Stowe, Vermont is a popular tourist town, but one of its local covered bridges is a place fewer visitors dare to come.
This may look like an ordinary covered bridge, like the many hundreds of others seen all over New England, but a dark legend is attached to the Gold Brook Covered Bridge, most commonly known as "Emily's Bridge."
A brokenhearted girl named Emily had planned to meet her lover at the bridge, where they would then run away together to elope. Apparently, the man never showed, and a heart-stricken Emily hanged herself from the rafters of the bridge.
Visitors today have reported scary happenings such as big, long scratches appearing on the outside of their vehicles after crossing the bridge. Even pedestrians crossing on foot have been said to experience scratches along their skin.
Read Next: 15 Haunted Places in Vermont: Ghosts & Paranormal Activity
The Chase House – Portsmouth, NH
The Chase House in Portsmouth, NH is one of the most haunted places in New Hampshire, and has a very creepy story. Tales state that a young girl hung herself years ago in this building, which was a former children's home. It is said that she may appear late at night in the hallway. Other times, blood-chilling screams are heard coming from the room where she killed herself. This is definitely one of the spookier haunted places in New England.
Judge Corwin House – Salem, MA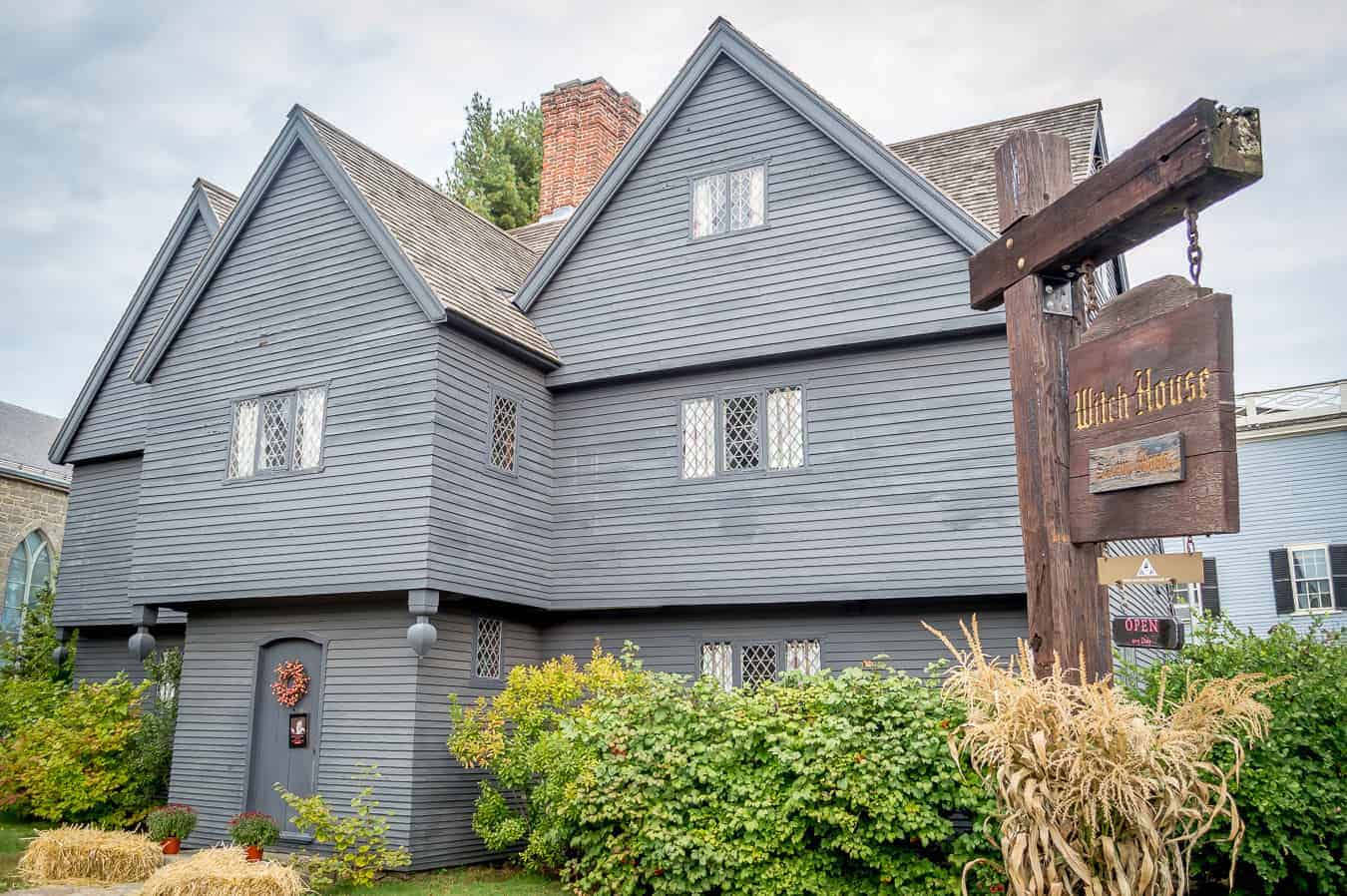 You can't have a list of haunted spots in New England without including at least one from the dark town of Salem. While many spots might qualify, including many purportedly haunted hotels, one of the creepiest is the Judge Corwin House.
Also known as The Witch House, this spot, home of Judge Jonathan Corwin, is the only structure still standing in Salem that has direct ties to the Witchcraft Trials of 1692. It's age may be one of the reasons it is so chilling, but it's also likely because of Corwin's role in the trials themselves: he oversaw the execution of 19 accused victims.
Aside from that connection, other tragedy occurred in this house. Corwin and his wife had 5 children, all of which died young.
Paranormal experiences include visitors feeling cold spots in the house, ghostly touches on the skin, and even the occasional disembodied voice, including one which sounds like a little girl. Salem is said to be a very haunted New England town.
See this and other haunted places in Salem on one of these many Salem ghost tours, or book a haunted Salem hotel to stay in… if you dare!
Read Next: 13 Haunted Places in Massachusetts: Paranormal Hot Spots 👻
Colby Sawyer College – New London, NH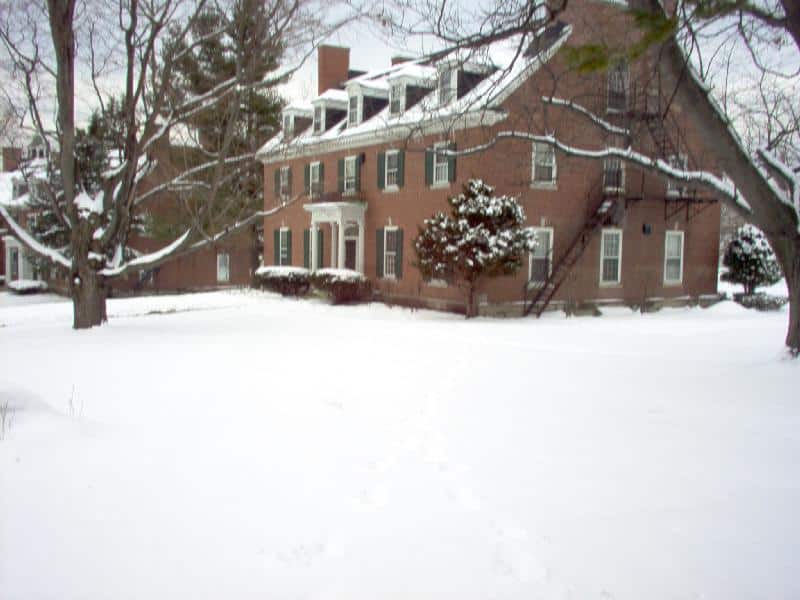 I went to Colby-Sawyer College in New London, NH which is known for having some haunted places around campus – Susan's Swamp, the library, the cupola on Colgate Hall, etc.
One in particular was McKean Hall which was my dorm for three years. In McKean there was a dumb-waiter elevator for the cleaning lady to send supplies, vacuum, etc from floor to floor when she was cleaning. It only ran with a key and when she wasn't using it, it was always locked and off. However, it would still run randomly in the middle of the night on it's own. One year my room was right next to it and it was always spooky to hear it run when no else in the building was awake.
–Contributed by Sarah Pelletier from Birch Landing Home
Union Cemetery – Easton, CT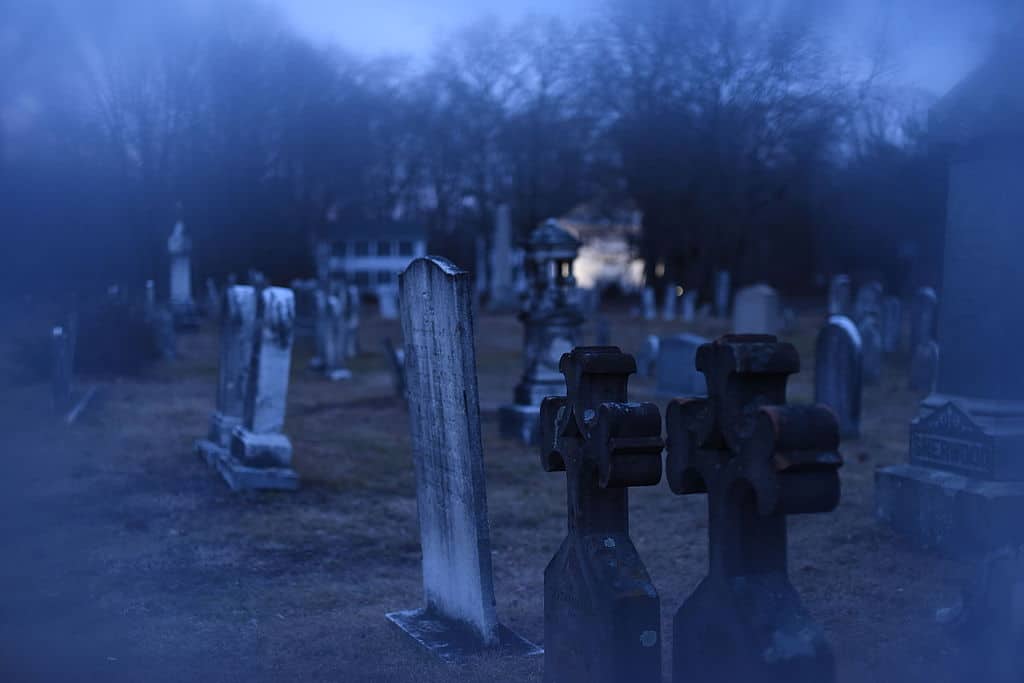 Cemeteries have always held a certain eerie fascination for many. This one, in Connecticut, may be creepier than most. It is frequently named one of the most haunted graveyards in America.
A ghost known as the White Lady is the most often-reported spectral sighting. She may be wearing a wedding dress or white nightgown as she wanders between the gravestones.
Other visitors have talked about a sensation of "being watched" with some seeing a pair of glowing red eyes gazing at them from a distance.
There are many other paranormal goings-on in this cemetery. There has even been a book written about the graveyard by well-known demonologists Ed and Lorraine Warren.
Read Next: 13 Most Haunted Places in Connecticut: Ghosts & Ghastly Tales 👻
Battery Steele – Peakes Island, ME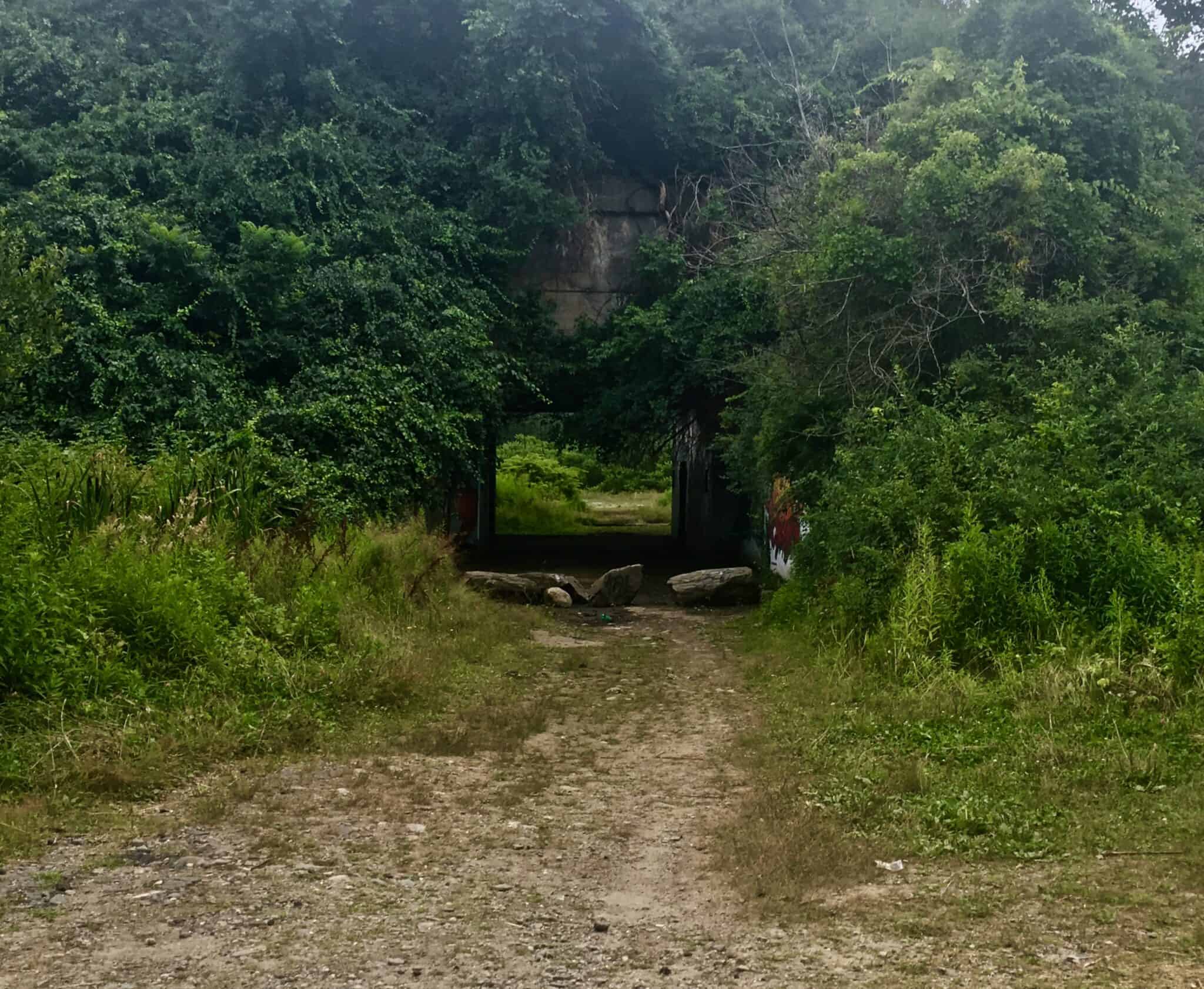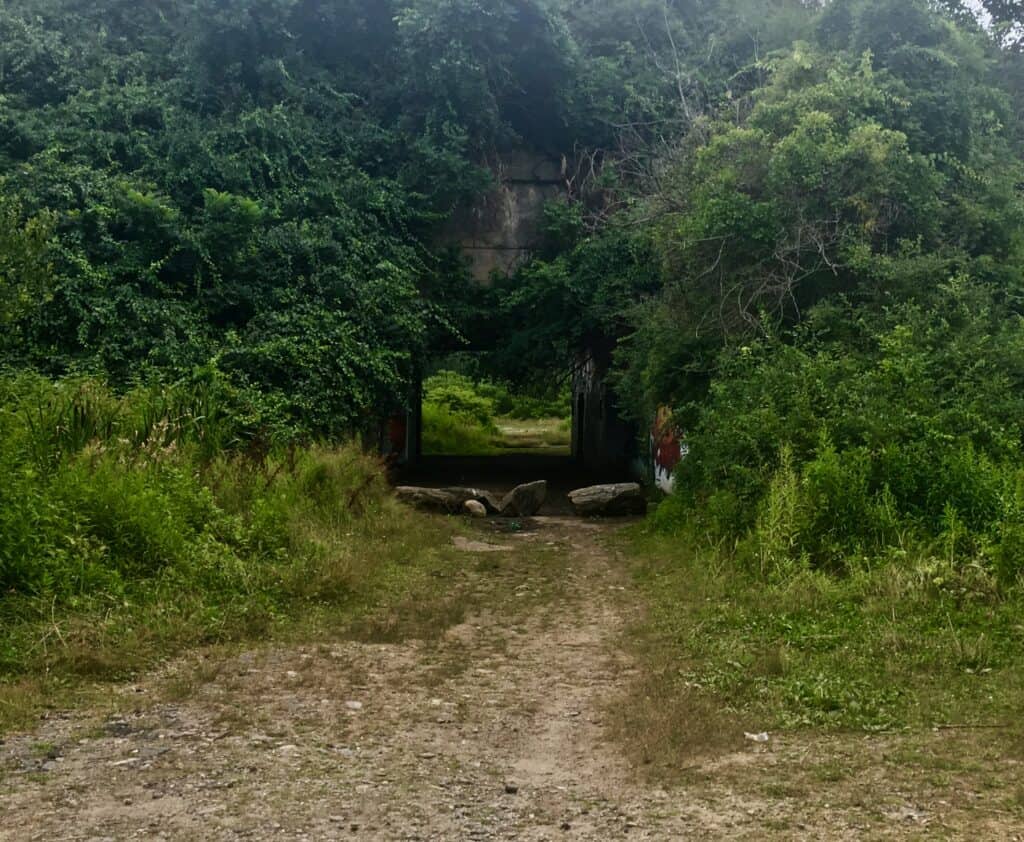 On the southeastern side of Peaks Island sits Battery Steele Military Reserve, the largest gun battery ever built in the United States. The tomb-like structure was originally built in 1942 as part of a coastal defense system meant to defend the mainland against attack during WWII. Its concrete walls are 18 inches thick, blanking out all light and requiring a flashlight to explore the rooms jutting off to the sides of the two tunnels.
The cold, dark corridors are said to be haunted by former soldiers. Many of the island's 858 permanent inhabitants have stories of ghostly encounters inside Battery Steele and the surrounding marshland.
Visitors have reported their cell phones freezing and batteries suddenly draining upon stepping inside the structure. Many also talk of piercing screams coming from inside the tunnels and visions of soldiers in uniform.
Lizzie Borden Bed & Breakfast – Fall River, MA
"Lizzie Borden took an ax, And gave her mother forty whacks; When she saw what she had done,She gave her father forty-one."
Growing up south of
Boston
in southeastern Massachusetts I heard this rhyme a lot. This was what Lizzie Borden, a young women who was accused of killing both her parents with an ax in 1892, was taunted with her entire life.
The house where Lizzie may or may not have killed her parents (she was never convicted) is in Fall River, Massachusetts. Now a Bed & Breakfast and Museum, it is said the house is haunted.
Guests lucky enough to get reservations can sleep in John V. Morse room, where Lizzie's mother was murdered. Downstairs visitors can see the couch where her father died. Overnight guests get an extensive tour that lasts about an hour and half of the house, full of history and the murder case. This tour includes the basement too!
Can't get an overnight reservation? No worries, they offer 50 minute tours to non-guests as well. When your tour is over decide for yourself if Lizzie was guilty or not.
-Contributed by Retha Charette, The Roaming Nanny
Captain Lord Mansion – Kennebunkport, ME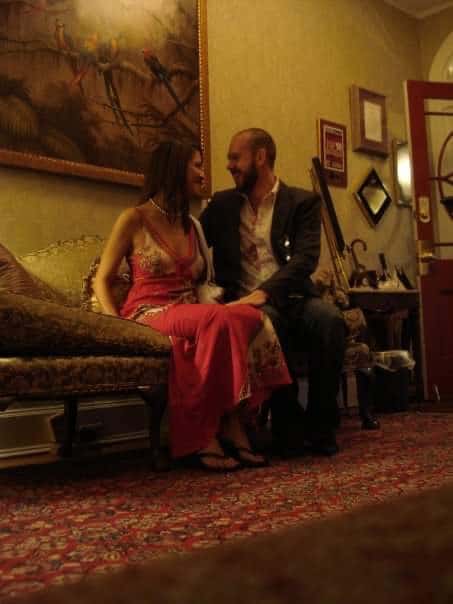 I visited Captain Lord Mansion in Kennebunkport Maine for my husbands birthday.
It was a complete surprise and I wanted take him there for the historic antique decor. It was regal, gorgeous and the hotel has won many awards.
They offered bikes for cycling around town and we took countless pictures. It was a picture perfect day until night time came and we both got an uncomfortable creepy vibe. We both couldn't sleep and when I found the guest book filled with ghost stories. I needed out.
We actually left the hotel. We drove around town and watched the sunrise together. While nothing spooky happened directly, I think you know when something just doesn't feel right.
-Contributed by Jordana Santos Wilson
PS: Apparently there is some spooky history in this place!
Read Next: 13 Creepy Haunted Places in Maine: Ghost Stories & Legends 👻
The Bennington Triangle – Bennington and Southwestern VT
Less of a haunted place and more of a mysterious one, the Bennington Triangle is an area in the southwestern corner of Vermont where many people have gone missing. You can read here about a few of these unexplained disappearances.
The term Bennington Triangle was coined by supernatural author Joseph A. Citro. The wilderness area, which comprises a vast area including the ghost town of Glastenbury.
Perhaps the most well-known disappearance in the Triangle is that of Paula Welden, a student at Bennington College. In December of 1946, the 18-year-old Weldon went off to hike a bit of the Long Trail near Glastenbury Mountain. Despite a huge search party, that was the last time she was seen and there are no traces as to what happened to her.
You might also like:
---
Pin this post to save for later!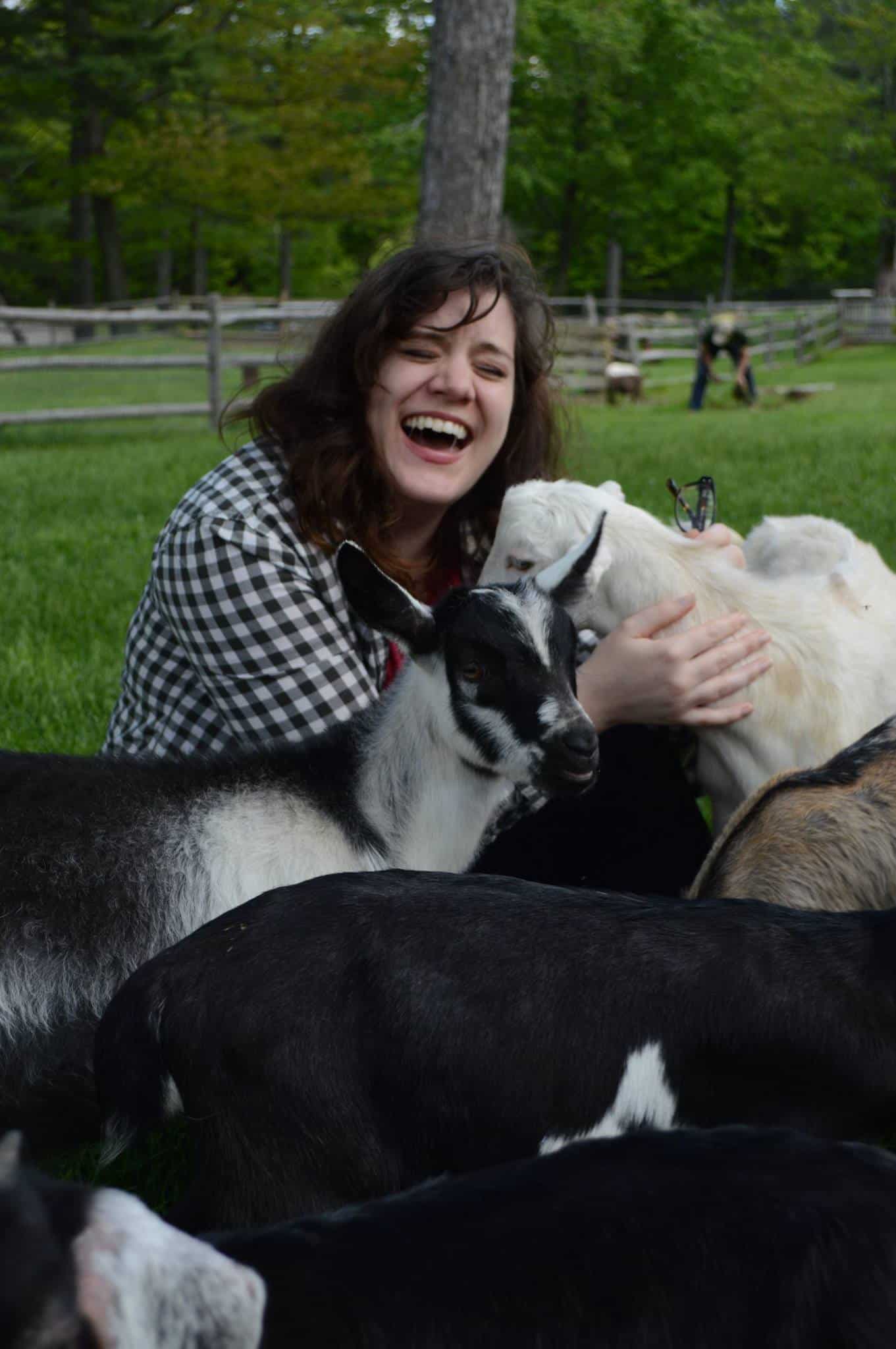 Amy Hartle is the founder and Editor-in-Chief of New England With Love, a comprehensive resource for travel in the New England region. Amy has been exploring New England since 2001. She lived in Vermont for many years and is a graduate of Plymouth State University in New Hampshire. On this site, Amy aims to share her love of New England and help you to have the best possible adventures!
Amy has been writing about travel for over a decade, and is a full time blogger, publishing both Two Drifters and Let's Adventure Baby. When not traveling the world or creating epic blog content, Amy can be found cuddling with her husband, son, and cats, & drinking a maple latte.