Located in southern Maine, the coastal town of Ogunquit is the perfect destination for a family vacation or romantic getaway in New England. From relaxing on the beach to exploring local museums, there are tons of great things to do in Ogunquit Maine, during your trip.
Ogunquit has a small population of fewer than one thousand people, so if you want more of a peaceful getaway compared to a city, this is the ideal place for you. Plus, Portland is only a day trip away.
Here are some of the best activities in Ogunquit that you won't want to miss!
Oh, and if you're looking for things to do in Ogunquit this weekend or what to do in Ogunquit Maine today, be sure to check out this local events calendar to stay up to date on what's happening in Ogunquit!
Best Things to Do in Ogunquit Maine
Walk Marginal Way
One of the best things to do in Ogunquit Maine is to go on a coastal cliff walk along the Marginal Way. This is one of the most peaceful and serene places to explore, and it's an excellent way to spend the morning on a hot summer's day in Ogunquit.

Along the walk, you'll be greeted with breathtaking views of the ocean. There are more than thirty-five benches along the walk for you to sit down and take in the beautiful sights.
For a sweet Ogunquit date idea, pack a picnic lunch and pick a particularly scenic spot along the walk to sit and enjoy a lovely meal together by the sea!

Golf at the Wonder Mountain Fun Park
While technically located a five-minute drive outside of Ogunquit, Wonder Mountain Fun Park is a great way to have some outdoor fun. This park's main feature is the golf courses; there are two, and each one has eighteen holes.
This is a great thing to do with kids in Ogunquit, or even without!

In addition to the golf courses, there's also an arcade filled with fun games and a go-kart track.
Explore Perkins Cove
Perkins Cove is a small village located inside Ogunquit. In fact, if you do walk the Marginal Way, it ends at Perkins Cove. This small village used to be only for fishing but has since grown into its own destination.
In Perkins Cove, you can find lots of quaint shops, restaurants, galleries, and more. One of the top things to do in Perkins Cove is to try salt-water taffy, so be sure to be on the lookout for it while shopping around.
Relax and refresh at Ogunquit Beach
This list of the best things to do in Ogunquit Maine would not be complete without mentioning Ogunquit Beach! This is easily one of the top attractions in Ogunquit. If you're visiting in summer, you can brave the chilly Maine waters for a dip!

At Ogunquit Beach, you can partake in lots of fun outdoor activities. There's swimming, kayaking, and of course, relaxing on the sand. The beach is also pretty long, so even if you're visiting Ogunquit during peak season, you'll likely still be able to find a spot at this beautiful place in Ogunquit!
Learn at the Ogunquit Heritage Museum
It can be a lot of fun to learn more about a place you're visiting, and that's entirely true at the Ogunquit Heritage Museum. This museum, in particular, has exhibits that inform visitors about the history of Ogunquit, and it's located inside of a historic home from the eighteenth century.
Wake up with morning coffee from Bread and Roses Bakery
One of the most incredible things to do in New England (and anywhere, really!) is supporting local businesses. So, when you wake up, and you're ready to have your morning pick-me-up, head to Bread and Roses Bakery.
They have two locations; one right in Ogunquit and a takeout location in Wells, a seven-minute drive frown downtown Ogunquit.
The Bread and Roses Bakery opened in 1989 and has been a staple of the town ever since. They serve a wide variety of coffees and other delicious treats. On the menu, you can find options like blueberry sour cream coffee cake, whoopie pies, breakfast burritos, and even their famous quiche!
Spoil Yourself Rotten at Spoiled Rotten
Yes, that's right, Spoiled Rotten! This cute gift shop/gourmet foods shop/jewelry shop/everything shop is a must-visit while in Ogunquit! You'll find all kinds of great souvenir ideas in this adorable shop in a beautiful historic home. Maybe you'll pick up an Ogunquitfest honeycomb candle or some Wild Maine Blueberry Syrup to take home and remember your Ogunquit vacation by!
Catch the view from The Cliff House Resort on Bald Head Cliff
The Bald Head Cliff is the perfect place to get a great sunset view in Ogunquit. Head to The Cliff House Resort to grab a meal at one of their restaurants and settle in for the sunset! You don't have to stay at the resort to eat at the restaurants.
There are quite a few places to eat at The Cliff House, including The Cove Bar and Grille, The Tiller Restaurant, Bald Head Coffee Company, and Nubb's Lobster Shack. They are all great choices, but seafood, in particular, is excellent in Maine! If you're looking for where to stay in Ogunquit, it's hard to find a more gorgeous hotel than Cliff House!

Click Here to Check Prices & Book!
Visit Footbridge Beach
Beautiful Footbridge Beach is technically attached to Ogunquit Beach, but it is a definite must-visit while in Ogunquit because it is such a picturesque place. This end of the beach is veeeeery photogenic, especially if you visit at sunrise or sunset.
Have a meal at Barnacle Billy's
If one of the things you want to do in Ogunquit Maine is try a local delicacy, then you'll have to head to Barnacle Billy's. This is the top-rated seafood restaurant in Ogunquit! They are mainly well known for their lobster dishes, as well as their rum punch.
Barnacle Billy's is open daily for both lunch and dinner, though they usually see a bit of a dinner rush. Prices are mid-range, and outdoor seating is abundant, making this the perfect place to eat if you want waterfront dining in Ogunquit.

See a performance at the Ogunquit Playhouse
The Ogunquit Playhouse has been a staple in the neighborhood ever since it opened in the summer of 1933. They put on performances every year, some of which are strictly for adults and others that are kid-friendly. What better way to support local artists than by going to the Ogunquit Playhouse?
Tickets can be purchased online in advance, which is recommended because they can sell out rather quickly. They've put on an abundance of performances over the years, including Monty Python's SPAMALOT, Jimmy Buffet's Escape to Margaritaville, and Alice in Wonderland.
Have a night out at The Front Porch
For a nice restaurant in Ogunquit, look no further than The Front Porch. It doubles as a piano bar, making it the perfect place for a romantic evening. Prices are a bit higher than if you were to go somewhere else, but it's well worth it.
If a delicious dinner in Ogunquit with a side of live piano music sounds good, this is the place! They've been open for thirty-five years and counting and have a wide variety of entrees on their menu. The Front Porch is open for brunch, lunch, and dinner!
Visit the Ogunquit Museum of American Art
One of the top museums in Ogunquit Maine is the Ogunquit Museum of American Art, with thousands of artifacts that remain there year-round and other pieces that get rotated out throughout the year. Despite being a smaller museum, there is plenty of interesting art and artifacts at this lovely place to keep you entertained for an afternoon!
Ride the Ogunquit Trolley
The Ogunquit Trolley is one of the most fun ways to explore the town, especially if you're traveling with children! The Ogunquit Trolley Company has eight trolleys in total, and in addition to driving people around the town, they also offer transportation for special events.
Trolleys run from Memorial Day through Columbus Day, and this is definitely a unique Ogunquit thing to do!
Go on a boat tour or cruise
Planning a visit to a coastal Maine town, it's likely no surprise that one of the best things to do in Ogunquit Maine is to go on a boat tour or cruise! Luckily, there are quite a few different tour companies in the area that can make this happen for you.
Some of the most popular tour companies here include Silverlining Sailing Cruises, Sail the Gift, and Finest Kind Cruises. These fill up quickly, so book in advance!

—
There are so many great things to do in Ogunquit Maine, no matter your age or interest. It's the perfect vacation destination, especially during the summer.
Have you done any of these fun things in Ogunquit?
---
You might also like:
---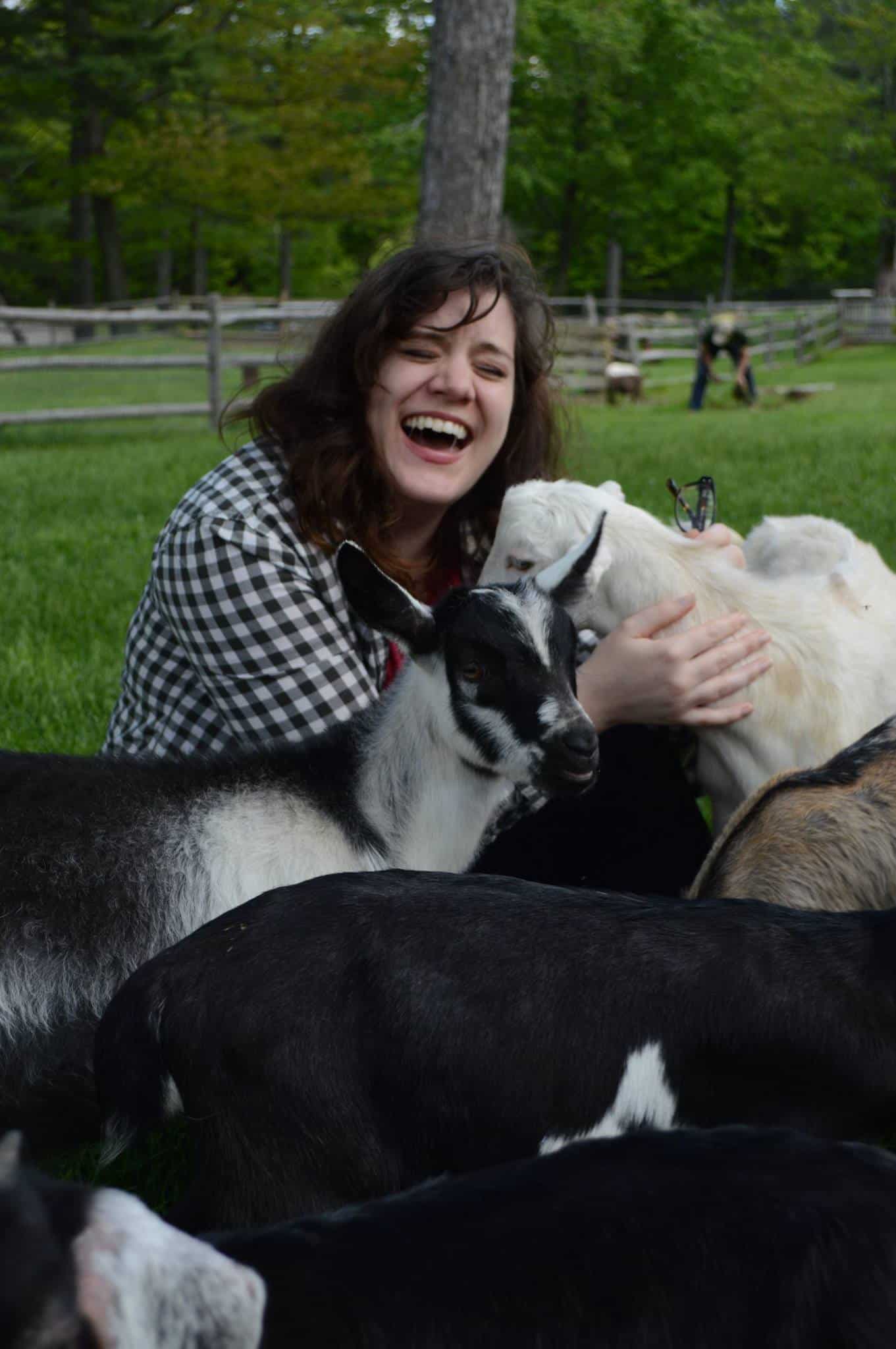 Amy Hartle is the founder and Editor-in-Chief of New England With Love, a comprehensive resource for travel in the New England region. Amy has been exploring New England since 2001. She lived in Vermont for many years and is a graduate of Plymouth State University in New Hampshire. Amy has been writing about travel for over a decade. On this site, Amy aims to share her love of New England and help you to have the best possible adventures!
Amy has been a full time blogger since 2012, and is also the publisher of Two Drifters, where she writes about couples travel and relationships, as well as Let's Adventure Baby, a family travel site. When not traveling the world or creating epic blog content, Amy can be found cuddling with her husband, son, and cats, & drinking a maple latte.