Kennebunkport is a quintessential coastal Maine town, so if you're looking for things to do in Kennebunkport Maine, you're going to find all kinds of very "coastal Maine" things to do.
Just off of 95 and about 90 minutes from Boston, Kennebunkport is easily accessible by car, plane, or train, and worth a visit in every season. While summer in Maine is pretty unbeatable, Kennebunkport is also worth a drive to experience the Maine fall foliage, and was recently named as one of the best places to spend Christmas in the U.S. as it's one of those places that looks like it's straight out of a Hallmark movie!

There's also plenty of things to do near Kennebunkport as it's just a 30 minute drive to Portland! If you're asking yourself "is Kennebunkport worth visiting?," the answer is a resounding YES! This guide to the best things to do in Kennebunkport will help explain why, so let's get going!

PS If you're looking for things to do in Kennebunkport this weekend or what to do in Kennebunkport ME today, be sure to check out this events calendar for real time info on what's happening in this coastal gem!
Shop in Dock Square
Located right on the water in the heart of Kennebunkport, Dock Square is the place to for boutique shopping and gallery browsing. You'll find shops that offer unique handcrafted goods, artisan made decor, and cool coastal Maine art, all of which could be just the right Kennebunkport souvenir for you! Plus, you can't beat those views.
Visit Colony Beach
If your idea of a good time at the beach involves seashell hunting and sunset strolling, then Colony Beach might just be the Kennebunkport beach for you! Also known as Arundel Beach, people do also swim here, but it's an especially good spot for finding neat seashells and taking in the views of boats as they come through the marina.
Colony Beach typically sees less crowds than Goose Rocks Beach, but it also has very limited parking and no restrooms, so that's partially why. If you're looking for beautiful places to go and things to do in Kennebunkport ME that aren't overly crowded with tourist crowds during the summer season, Colony Beach might be a good option for you.
Go Glamping at Sandy Pines Campground
You'll find all kinds of cool camping options at Sandy Pines Campground, including traditional spots to pop a tent, but if you'd like to have a really interesting and memorable experience, consider booking one of their glamp tents or unique retreats!
All of their campsites have their own fire pit and picnic table, and there are showers, restrooms, a general store, heated pool, and more onsite, too! If you're looking for where to stay in Kennebunkport ME, Sandy Pines is definitely a very cool option!
See the Wedding Cake House
Considered to be "the most photographed house in Maine" this light yellow house in Kennebunk has the whimsical look of a wedding cake. It's definitely worth a look and a picture!
Check out a local Brewpub

If alcohol is your thing, Maine has no shortage of craft options, and Kennebunkport is no exception. Renowned for its waterfront location, Federal Jacks Restaurant and Brewpub is host to Kennebunkport Brewing Co. In addition to stunning views, Federal Jacks offers hearty and creative pub fare and award winning beers.
Not in the mood for beer? Next door to Federal Jacks is Maine Mead Works, serving up a colorful and creative variety of fruity honey wines. Purchase a tasting to sample a variety of flavors and learn more about what goes into the process of mead making, or purchase by the can. My personal favorite is the iced tea mead and while there is definitely a healthy amount a sweetness, this isn't the syrupy wine that sometimes comes to mind with mead.
Pamper yourself at a Day Spa
Are you feeling a little jet lagged from your trip? A little achy from all that walking around, swimming, and exploring Kennebunkport? Cottage Breeze Day Spa & Boutique is within walking distance of Dock Square and offers a wide range of massages, body treatments, facials, and other beauty services to help you feel restored and refreshed on your Kennebunkport trip!
Go on a Lobster Tour

When in Rome, as they say! Or when in Kennebunkport, is more like it. Coastal Maine is all about lobster, so see for yourself what lobstering is like with a lobster tour at Rugosas Lobster Tours. Offering an authentic lobstering experience on a traditional wooden Downeast-style lobster boat, this is certainly one of those things to do Kennebunkport Maine offers that you just won't find everywhere!
Visit the Kennebunkport Historical Society
If you're a history buff at all, the Kennebunkport Historical Society will interest you with their historic places to visit in Kennebunkport Maine. Tours of properties with historical significance to the coastal Maine community include White Columns, the Victorian-era Greek revival mansion that still houses its original furnishings and a George H.W. Bush Hometown Collection!
Swim at Goose Rocks Beach

One of the best beaches in Maine, Goose Rocks Beach is beloved by locals and tourists alike for its white sand beach and offshore barrier reef that protects swimmers from intense surf. If you're looking for a good Kennebunkport beach for kids, Goose Rocks Beach is a good one because the surf stays pretty gentle.
This is one of the most popular beaches in Kennebunkport, so heads up that you will likely be battling the crowds in the summer months!
Take a Whale Watching Tour
One of the coolest perks of coastal New England is that you get to see so much marine wildlife! First Chance Whale Watch in Kennebunk is one of the top rated whale watch tours in Maine, and for good reason; Captain Gary has been taking folks out on the water to look for whales since 1998, so he certainly qualifies as an expert on where to find whales near Kennebunkport!
The whale watching tours typically last about 4 1/2 hours, but with a fully stocked galley and restrooms onboard, you'll probably find the time flies by as you spot all kinds of neat Maine marine wildlife like dolphins and of course, whales!
Go on a Guided Coastal Bike Tour
If you're looking for fun activities in Kennebunkport, consider going on a guided coastal bike tour through Coastal Maine Kayak + Bike; this 9-mile ride takes you along the coast to several Kennebunkport points of interest, like a historic Inn, the Goat Island Lighthouse, and more. They provide the bikes, helmets, and the guide, all you have to do is show up ready to ride!
Get out on the Water
Prefer to stay on, not in, the water? There is no shortage of ways to get out on the water in Kennebunkport! Kayaks and canoes can be rented right at the marina for a few hours or a half day. For the more experienced boater, they even offer powerboat rentals. A number of other rental services around Dock Square offer stand up paddleboards for rent, as well.

What better way to explore a coastal town like Kennebunkport than to see it from the sea, right?
Visit the Seashore Trolley Museum
A particularly popular spot with children, Seashore Trolley Museum claims to be the largest and oldest mass transit museum in the world. Learn more about the role of mass transit throughout history, view some beautiful restored public transit cars, and take a ride on a real working trolley. Seashore Trolley Museum also frequently hosts seasonal events. With a stop here, your visit will be both fun and educational!
Stay at the Nonantum Resort
If you're looking for a place to stay in Kennebunkport that's perfect for the whole family, check out Nonantum Resort! Not only is Nonantum Resort a great place for kids with their Kid's Fun Club that let's kids participate in fun activities with other kids while the adults get to slip away for some time of their own, but there are so many other great family friendly activities onsite, too, like making s'mores at the firepits, painting at the waterfront, going to movie nights on the lawn, paddleboarding, kayaking, going on sailing tours, and so much more!
The whole family will have a blast at the Nonantum Resort, and isn't that what you hope for during a Kennebunkport family vacation?
Click Here to Check Prices & Book!
Walk around Cape Porpoise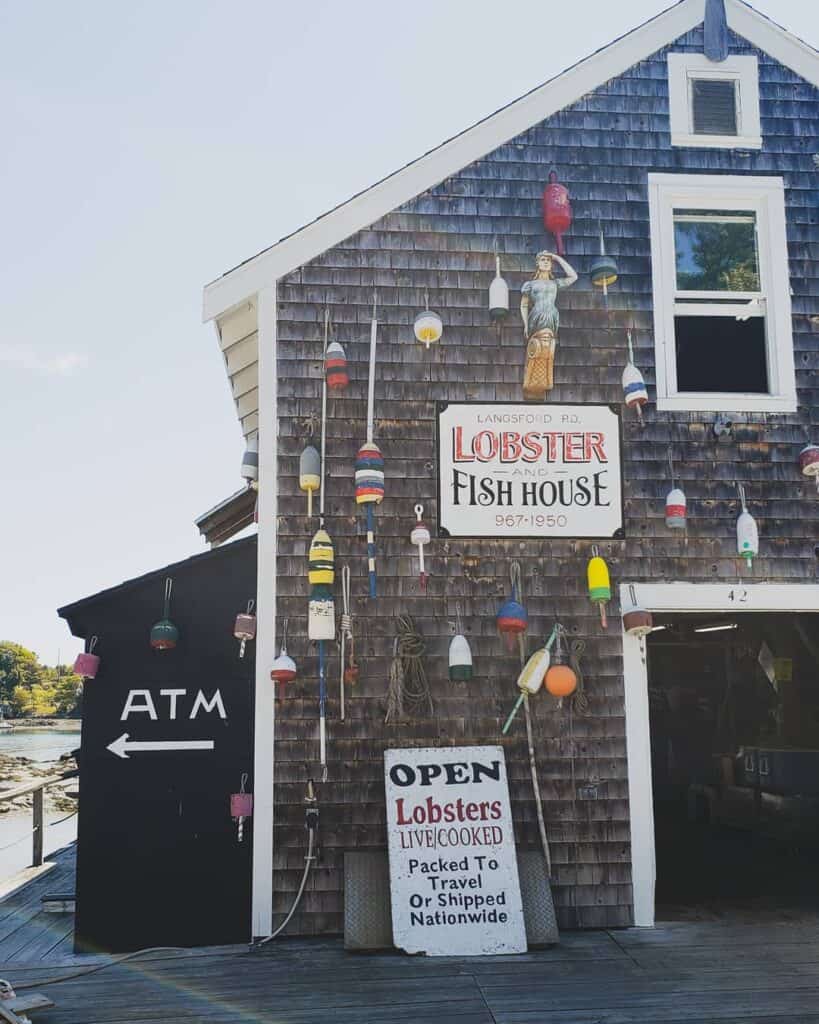 Cape Porpoise is also home to the Goat Island Lighthouse, one of Maine's oldest lighthouses. Here too, you can rent a kayak and head out on the water, even to one of the 12 islands of Cape Porpoise Harbor, maintained by the Kennebunkport Land Trust.

At Christmas time Cape Porpoise is home to the famous lobster trap fishing tree. Be sure to check it out if you are in town; Kennebunkport has some pretty fantastic Christmas celebrations!
I love living and working in Southern Maine, and I know you will love it too. With beaches, nature, shopping, and amazing food, the area truly has something for every one and all seasons. I hope that this guide helps you to get the most out of your visit to Kennebunkport!
---
You might also like:
---