Are you looking for coastal towns in Maine to explore? It takes just under three hundred miles of driving to make your way up the Maine coast from the New Hampshire state line in Kittery all the way to the Canadian border.

That slow meander up the shoreline takes you through countless coastal Maine towns and fishing villages filled with fry shacks, lobster pounds, and stunning scenery that's made Maine's oceanfront a tourist destination.
Maine's reputation as "Vacationland," however, has clearly gotten out. During the busy summer months, most of the well-known coastal towns in Maine are plagued by long lines for a lobster roll, traffic, and overbooked hotels trying to keep up with demand.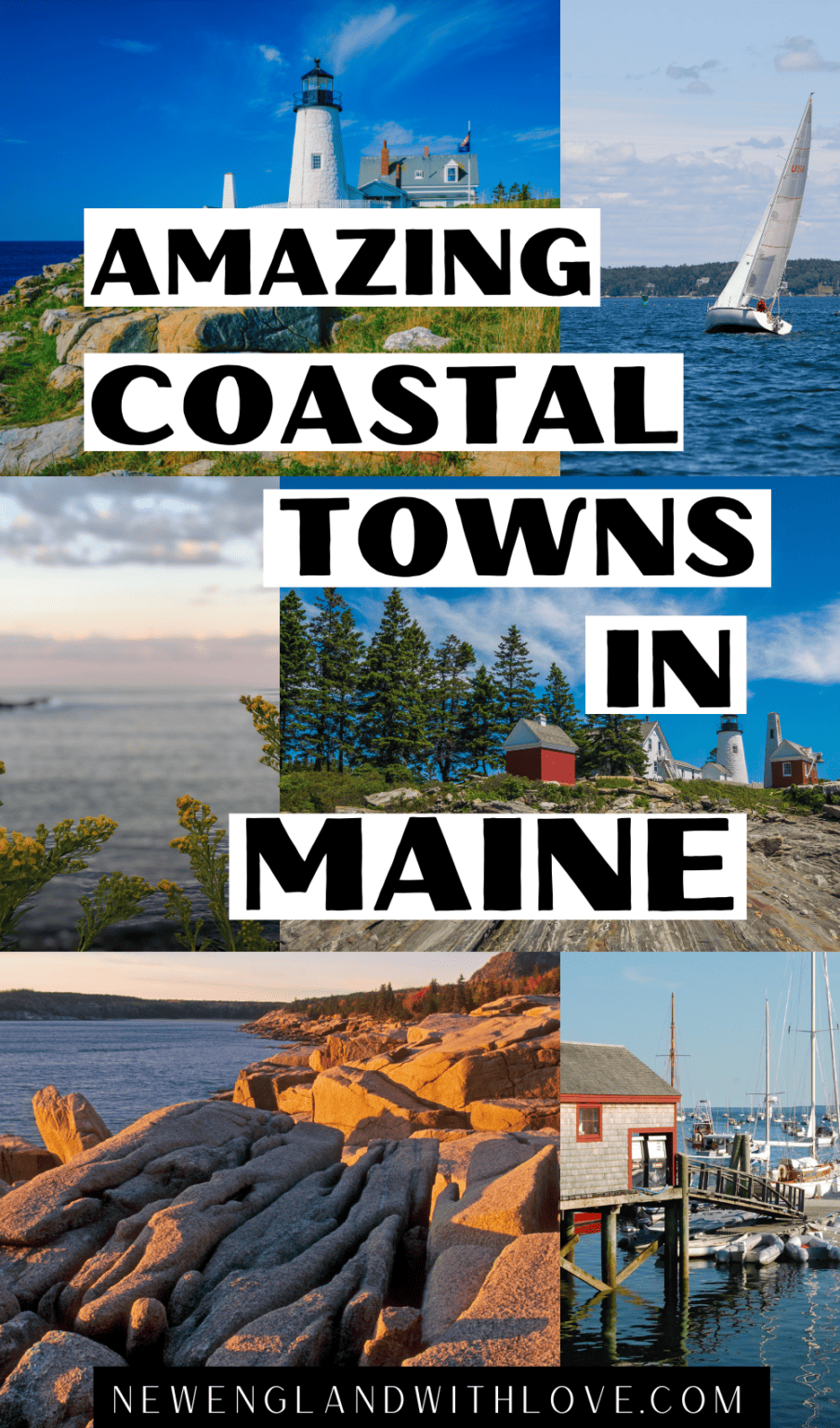 Interestingly, once you account for all the peninsulas and harbors and coves along Maine's jagged shoreline, that 300 miles of driving actually covers more than 3,000 miles of coastline. That's right: 3,478 miles to be exact, and that doesn't even count the islands.
If you're willing to take a trip off the usual route and down some small, quiet peninsulas and back roads, you'll discover Maine's hidden gem coastal towns and villages that you likely didn't know existed. You'll find fewer people, less crowds, and more fun in these quaint destinations.
And the tried and true popular coastal towns in Maine are still there for you to enjoy, too!
Beautiful Coastal Towns in Maine
Harpswell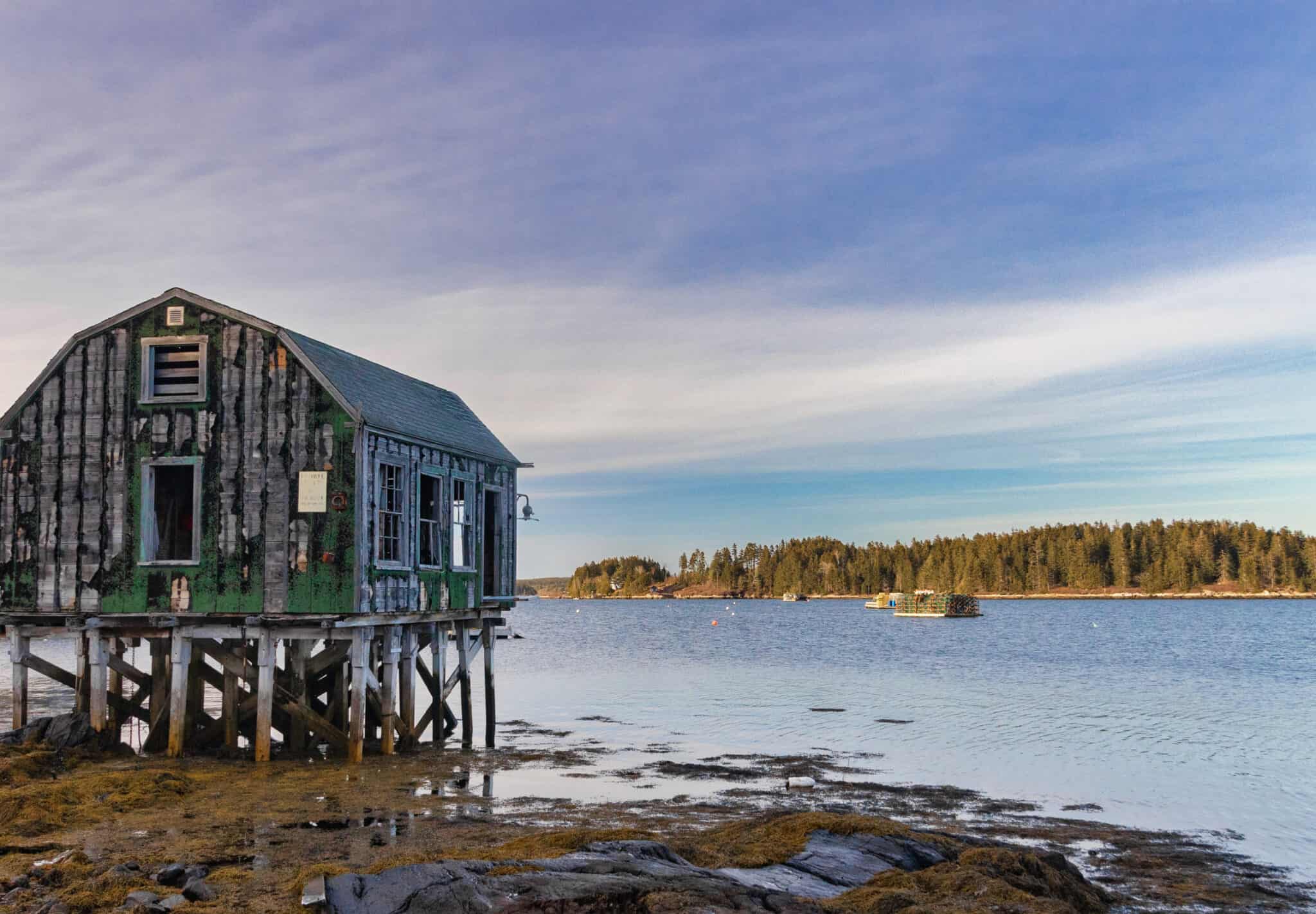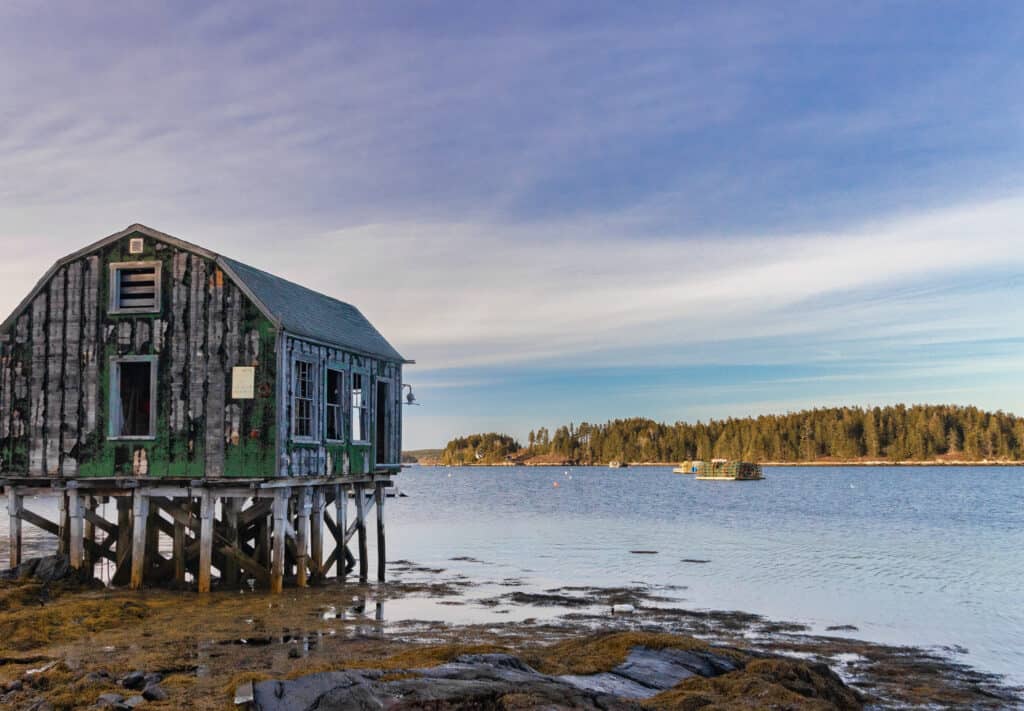 One of the sweetest Maine beach towns, Harpswell is an easy and quick drive from Portland, Freeport, or Brunswick. Despite this proximity to cosmopolitan life, its unique geography makes it the perfect spot for some quiet exploring and long, windows-down coastal cruises with far less crowding and tourists.
A vast chain of stretched-out peninsulas and islands with only two roads connecting to the mainland, Harpswell on a map looks like someone took the trimmings of holiday wrapping paper and glued them together. The two main peninsulas at their very tips are only a mile apart—yet driving between them takes somewhere around 45 minutes.
Harbors, coves, oyster farms, fish shacks on stilts, candy shops, lobstering outfits, and well-managed walking paths offer ample distractions while you explore the jigsaw puzzle of land holding back the sea. If you want a taste of Maine's unique and rugged coastline while still being able to hit the outlets in Freeport, this Maine coast town is calling your name.
Five Islands
A reality of life in coastal Maine you'll quickly discover while you make your way up the seaside: nothing is as close as it seems.
Roads from town centers to coastal vistas and harbors follow old farm routes and back roads put down long before tourists were trying to find some fried haddock.
It's a good thing, though: getting to Five Islands requires a gorgeous drive through Bath, Woolwich, Arrowsic, and Georgetown. Getting to this coastal Maine town is half the fun, as is knowing everyone else is stuck waiting in line in Portland for an overpriced cocktail.
This tiny Maine village looking out over an old guard of islands at the mouth of the Sheepscot River has a famous seafood shack, countless summer homes, and a constant quorum of painters with easels capturing the scene. There's ample parking, a working waterfront, charming shops, and picnic tables on the public wharf for you to sit and enjoy the salty air.
Across the Sheepscot River you'll see Southport Island and your first view of the Boothbay Harbor region; despite being only two thirds of a mile away you'll need an hour on the road to get there.
Christmas Cove
Located on Rutherford Island at the terminus of a stretched-out finger of land in South Bristol, Christmas Cove is a haven of quiet harbors and secret beaches.
Squeezed between the Damariscotta River and Johns River, it's also prime real estate for the delicious oysters that have put coastal Maine on the map as a shellfish lover's paradise.
South Bristol is chock full of cafes, fish joints, and working wharfs that always feel welcoming and yet authentic. The Coveside Restaurant and Marina offers quintessential Maine coastline views of moored sailboats and weathered boathouses. The single road and draw bridge onto the island limits traffic and tourism, and the old-world wharves lining the road will have you snapping pictures all day.
Christmas Cove is the perfect example of beating the crowds in Midcoast Maine by going just a bit farther than others are willing to go.
New Harbor
Just a ten minute drive from the famously photogenic Pemaquid Point Lighthouse, New Harbor is tucked into a tiny sliver of protected Maine shoreline that gets far less traffic and visitors.
With Audobon boat tours, ferries to some of Maine's most iconic islands, and every imaginable kind of seafood battered and fried on a sunny patio with the faint sounds of boats in and out of the harbor—there's no shortage of ways to experience and enjoy this slice of Maine coast.
Use New Harbor as your home base to explore Round Pond, Yellowhead, Bristol, and Colonial-era Pemaquid complete with an historic fort. Puffin cruises are a local favorite—come for the sightings of these fluffy and colorful seabirds but stay for the dramatic sunsets off their habitat on Eastern Egg Rock Island.
Want to work off those fry shack calories? The Coastal Rivers Conservation Trust has dozens of trailheads for nature walks with gorgeous ocean views.
Biddeford
If it's been a while since you've visited coastal Maine, you might not have heard or thought much about Biddeford, but it's having a serious glow up right now and won't be a hidden gem for long.
Not only does it have the gorgeous coastal Maine views that are high in demand, but downtown Biddeford is growing quickly into quite the vacation destination while still flying enough under the mainstream radar to be considered a coastal Maine hidden gem.
Check out the craft breweries and the boutique shops downtown, watch the sunset at the beach, then check out some of the incredible restaurants that are turning this coastal town in Maine into the next foodie destination.
Winter Harbor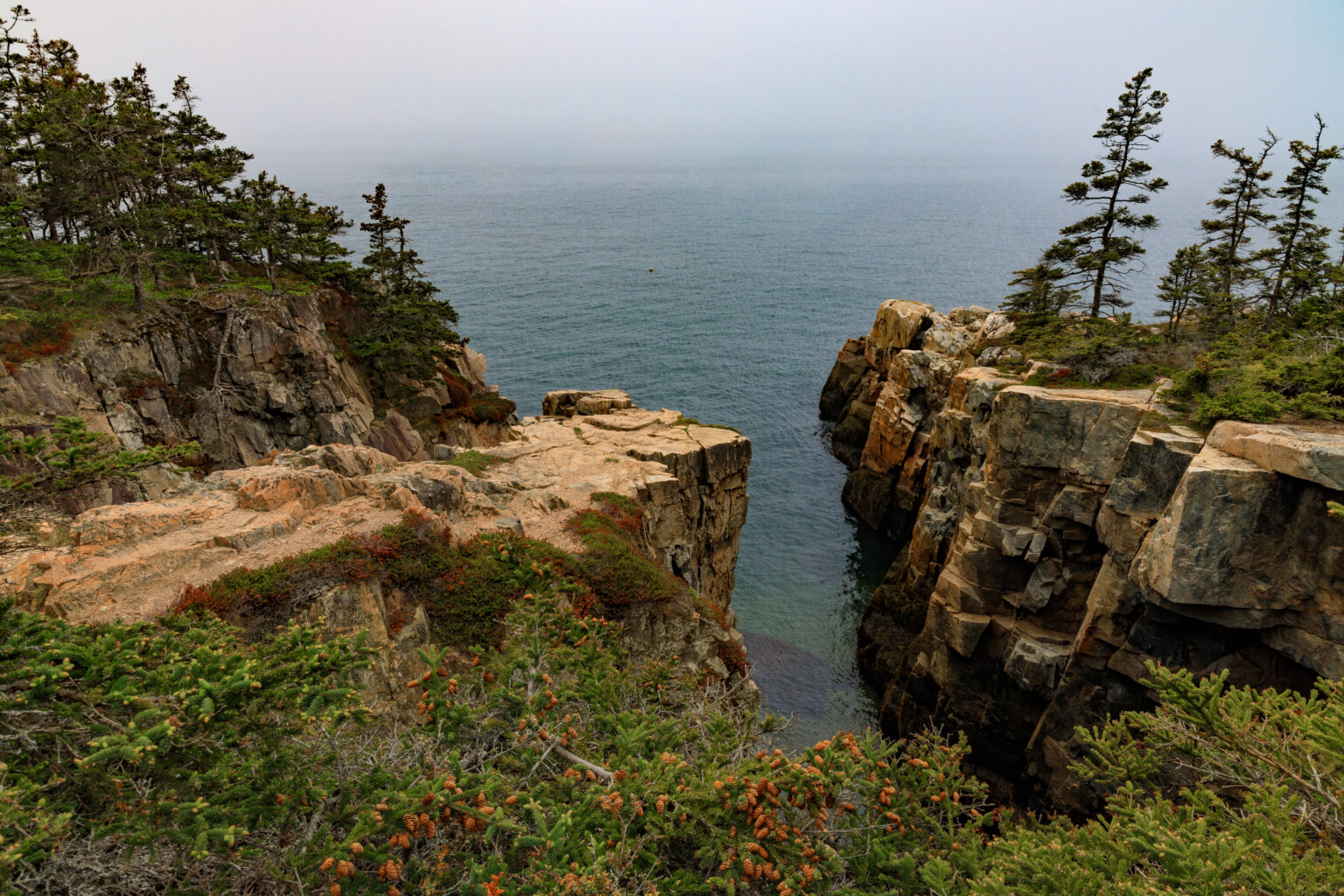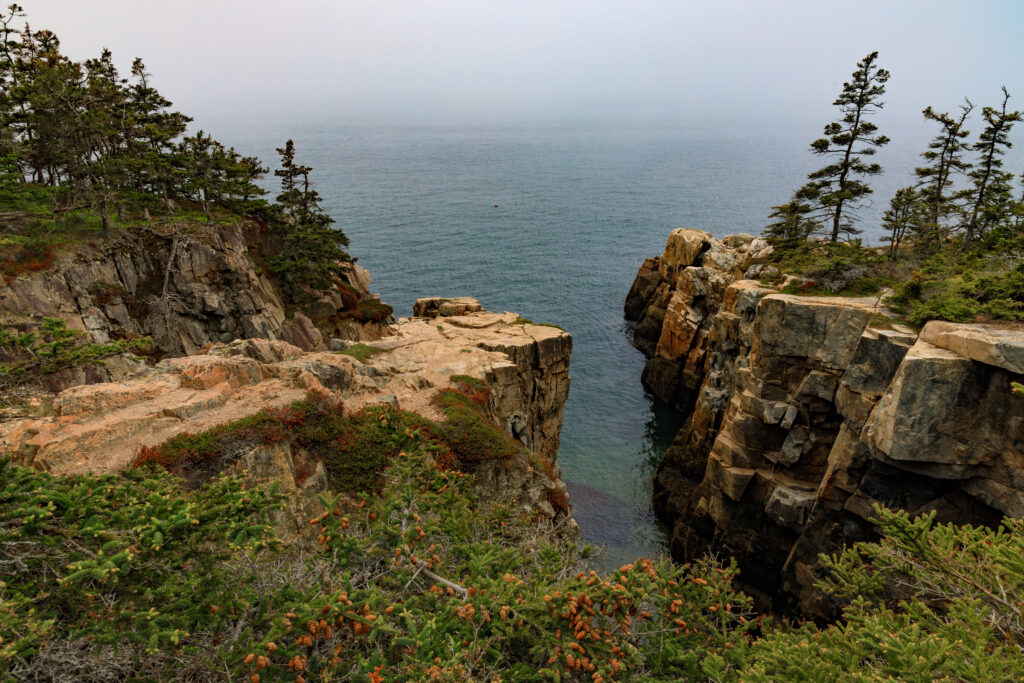 It's nearly impossible to think of coastal Maine and not immediately conjure up images of Acadia National Park and it's world-famous oceanside peaks, hikes, and drives. Yet overcrowding in Bar Harbor, the main town and tourist hub on Mount Desert Island where most of Acadia lies, has increasingly become a hot button issue with locals and tourists alike.
Avoid all this and see the newer, quieter section of Acadia—gifted to the park from private donors—with a gorgeous, hour-long drive northeast to the Schoodic Peninsula and the tiny town of Winter Harbor.
Winter Harbor has the same climate and views as Mount Desert Island with less of everything else. There are a few restaurants, a small grocery, miles and miles of biking trails, a few campgrounds and inns, and not much else.
In other words: perfect. Enjoy this quiet, sleepy section of Acadia while tourists in Bar Harbor fight over parking.
Spruce Head Island
The planning and research leading up to a coastal getaway in Maine is part of the fun: crawling through guidebooks and scrolling Google Maps looking for the smallest stretches of serene shoreline. To that end, choosing a location that's not only charming and beautiful but also strategically located makes a big difference.
Enter: Spruce Head in South Thomaston.
An easy and worthwhile drive to some of the most iconic locations on the Maine coast—Port Clyde, Tenant's Harbor, Marshall Point Light made famous from a Forest Gump cameo, and Owl's Head— staying in Spruce Head is quieter than all of those combined. Open pastures looking out over the seashore, a stunning array of tidal islands, and seaweed-covered shallows will stay with you long after you've left Maine.
A low bridge with equally noteworthy views connects Spruce Head to Spruce Head Island and one of Maine's best-known lobster pounds that locals hope you won't find: McLoon's Lobster Shack.
Enjoy the views, one of the best lobster rolls in the state, and maybe even plan a day trip from Port Clyde to Monhegan Island while you chow down. McLoon's is BYOB, too, so keep a cheap bottle of bubbles in the cooler for a proper getaway lunch.
Castine ME
One of the oldest towns in New England, this Midcoast town has had plenty of time to perfect its small town charm! Downtown is as cute as a button, featuring only a few small shops like Compass Rose Books, a cozy bookstore with a cafe.
A visit to the Castine Historical Society is certainly in order for anyone interested in Maine history, and sometimes there are historical walking tours.
The Pentagoet Inn and Wine Bar is situated in a meticulously kept Queen Anne Victorian. If you're looking for somewhere to lay your head in Castine, this would be a solid option.
Click Here to Check Prices & Book!
Blue Hill Bay
Yes, you're right: this is a region, not a town in coastal Maine. Yet it's so tucked away that you'd be forgiven for thinking it was all one small, spread-out village.
Blue Hill Bay is a sleepy peninsula of ex-urbanite retirees, artists, small farms, and families that have been fishing these cold, unspoiled waters for generations. They all share one important thing in common: they like their space, and their quiet.
Sharing the peninsula with Blue Hill and the photogenic shoreline along Blue Hill Falls—a perfect place for a picnic, mind you—are the towns of Brooklin and Sedgewick.
Tiny, family-owned campgrounds and cabin-in-the-woods rentals dot the landscape. Caterpillar Hill in Sedgewick hosts one of Maine's best views: a panoramic hilltop vista looking out over Penobscot Bay and its collection of islands.
Despite its off-the-beaten-path location and vibes, this coastal Maine hidden gem has an amazing array of high quality art galleries, restaurants, general stores, wine bars, and even a brewery. For urban amenities in a peaceful, rural setting—Blue Hill Bay is the place to be.
Rockland
Rockland is one of those classic coastal Maine towns that make for a perfect vacation destination. Not only is this town full of gorgeous coastal Maine scenery, but you'll also find art galleries, museums, and great restaurants in Rockland, too.
If you're up for an adventure on water, consider taking a traditional Maine windjammer cruise, sailing out of Rockland. You can check out what it's like here: Sailing on a Maine Windjammer Cruise: Everything you Need to Know
Stonington & Deer Isle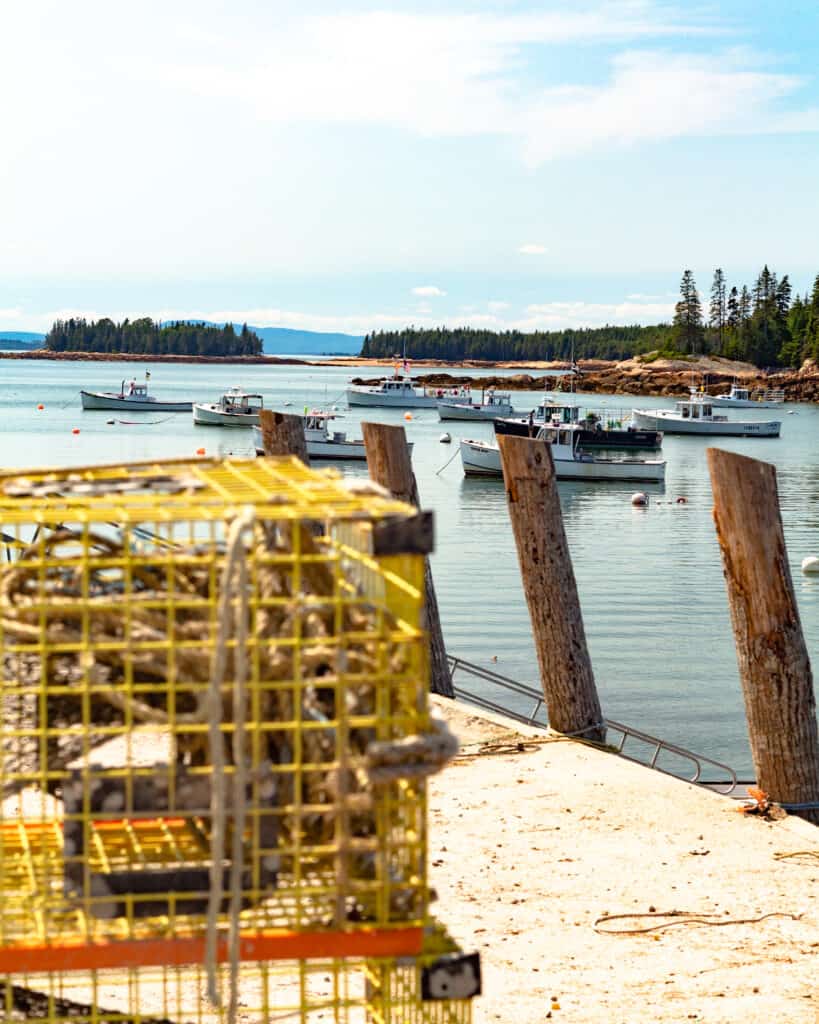 Connected to the mainland by a series of bridges, the town of Stonington occupies the southern-most tip of Deer Isle. The entirety of the island feels far-flung and hidden away, yet it's convenient enough to get to by car.
Stonington's lobster haul is consistently the largest in the state, landing tens of millions of dollars of those tasty ocean bugs you can't get enough of for summer dinners.

True to its name, Stonington was an important source of granite used to build up coastal towns with federal-style custom houses and courts and city halls; a number of historic quarry sites remain.
Stonington checks all the boxes for a Maine coastal getaway: picturesque cliffs lined with spruce and rose hips, roadside lobster pounds, miles and miles of pristine hiking with accessible trailheads, a rare sand beach, and a quiet downtown lined with shops looking out over a harbor filled with fishing boats and dories.
Saco
If you're wanting to make the very most out of your visit to coastal Maine, head to Saco in the summer. The shoreline is the place to go to rent a cottage, eat at lobster shacks, fish from the stone piers, walk the sand beaches, and enjoy the quiet parks that are made of shaded groves opening onto seaside vistas.
Conveniently nestled between Old Orchard Beach and Biddeford, there's plenty to do both outside and inside this Maine town! You've got trails to explore at Ferry Beach State Park, jet ski, kayak, and boat rentals at Camp Ellis, and two very popular waterparks at Aquaboggan Water Park and Funtown Splashtown.
Needless to say, there's plenty of fun to be had in the summer at this seaside town.
Machiasport
Nestled into the mouth of the Machias river as it winds its way through into Maine's interior woods and lakes, Machiasport is a long haul. In the words of Mainers, it's "really up there." And it's worth it. With less than 1,200 year-round residents, it's a true Downeast village that feels lost in time.
Just a few inns, rentals, cafes, and a whole lot of fishing boats and marinas. It's an easy drive from Machiasport to the state's best and most jaw-droppingly beautiful coastal hike over rugged, mist-wrapped terrain: Cutler Coast Public Preserved Land. You'll find most of the out-of-towners are resting up between big hikes.
If outdoor activity is a big priority for trip to coastal Maine, this is a great place to stay: plan to add Great Wass Island Preserve, Jasper Beach, and Roques Bluff to your itinerary. When you're this far up there, finding a quiet stretch of coastline, backing your car down towards the water, and having a picnic or cookout right out of your trunk is about as rustic and wonderful as it gets.
Damariscotta
Damariscotta has been made somewhat famous because it has two very popular annual local festivals. The Pemaquid Oyster Festival is a tribute to the oyster industry that has kept Damariscotta prosperous over many generations, and the Damariscotta Pumpkinfest & Regatta that is the perfect celebration of fall.
Damariscotta is also home to the Whaleback Shell Midden State Historic Site. This massive midden, or oyster shell heap, was left behind from the indigenous people of this area hundreds of years ago, and it's a truly fascinating sneak peek at the history of this region.
PS just a quick 10 minute drive up the road is world famous Red's Eats. It's basically an institution when it comes to lobster pounds in Maine!
Boothbay Harbor
Basically the epitome of a beautiful seaside village in Maine, Boothbay Harbor is big on natural beauty and attractions.
Home of the Coastal Maine Botanical Gardens, this is almost 300 acres of beautiful walking paths, gardens, and art installations that are the perfect place to spend a day.
Then there's Boothbay Railway Village, an outdoor history museum that shows what this area of Maine was like in the late 19th-mid 20th century. This is just a very cool place to visit for kids and adults alike.
Board the Bennie Alice from Pier 6 and attend the Cabbage Island Clambake, a great way to experience this unique Maine tradition!
Ogunquit
Known as the "Beautiful Place by the Sea," it's hard to find a prettier Maine coastal community than Ogunquit. You can wander around Perkins Cove, walk Marginal Way, visit the Ogunquit Museum of American Art, and catch a performance at the famed Ogunquit Playhouse.
This beautiful seaside town is perfect for those looking for all that pretty coastal Maine eye candy.
Lubec
Lubec's charming downtown looks right into Canada: the international border is so close to its shops, galleries, restaurants, brewery, and museum that the limited cell reception in this quiet town will often result in a "Welcome to Canada! To activate your international data plan…" text message from your carrier.
You'll learn to ignore them pretty quickly while you're busy exploring Quoddy Head State Park with it's iconic red and white striped lighthouse—at the Northeastern-most point of the United States, mind you—and miles and miles of hiking trails looking out and over seacliffs into the ocean.
Expect fog, but also expect to love it; locals call this stretch of rocky, rugged shoreline The Bold Coast, and the mist fits right in with the stark beauty of the wind-swept trees and sheer cliffs.
Fun Fact: Roosevelt Campobello International Park, co-managed by the United States and Canada, is on an island over the Canadian Border but only accessible through Lubec.
Camden
Of course, Camden isn't a hidden gem coastal Maine spot, but it's obviously popular for a reason. This is one of those spots that has a little something for everyone.
Head to Barrett's Cove on Megunticook Lake and enjoy some freshwater swimming, or go hiking at Camden Hills State Park. If you're more an inside person, spend an afternoon at the tasting room at Blue Barren Distillery or see what's happening at the Camden Opera House.
Camden is also a bit of an up and coming foodie destination, too, so keep some of these top restaurants on your radar! Book a Windjammer Classic Day Sail to round out the experience.
Of course, these aren't all the best coastal Maine places to visit, but these are some of my favorites.
York Beach, Ogunquit, Freeport, Bar Harbor, Kennbunkport—sound familiar? Of course they do; when you search online to plan a trip to Coastal Maine these are the most popular destinations that pop up.
There's nothing wrong with heading to the most popular coastal destinations in Maine, but now you've got the insider info on how to find the hidden gems, too.
---
Read these next:
---
Pin this post to save for future travel planning!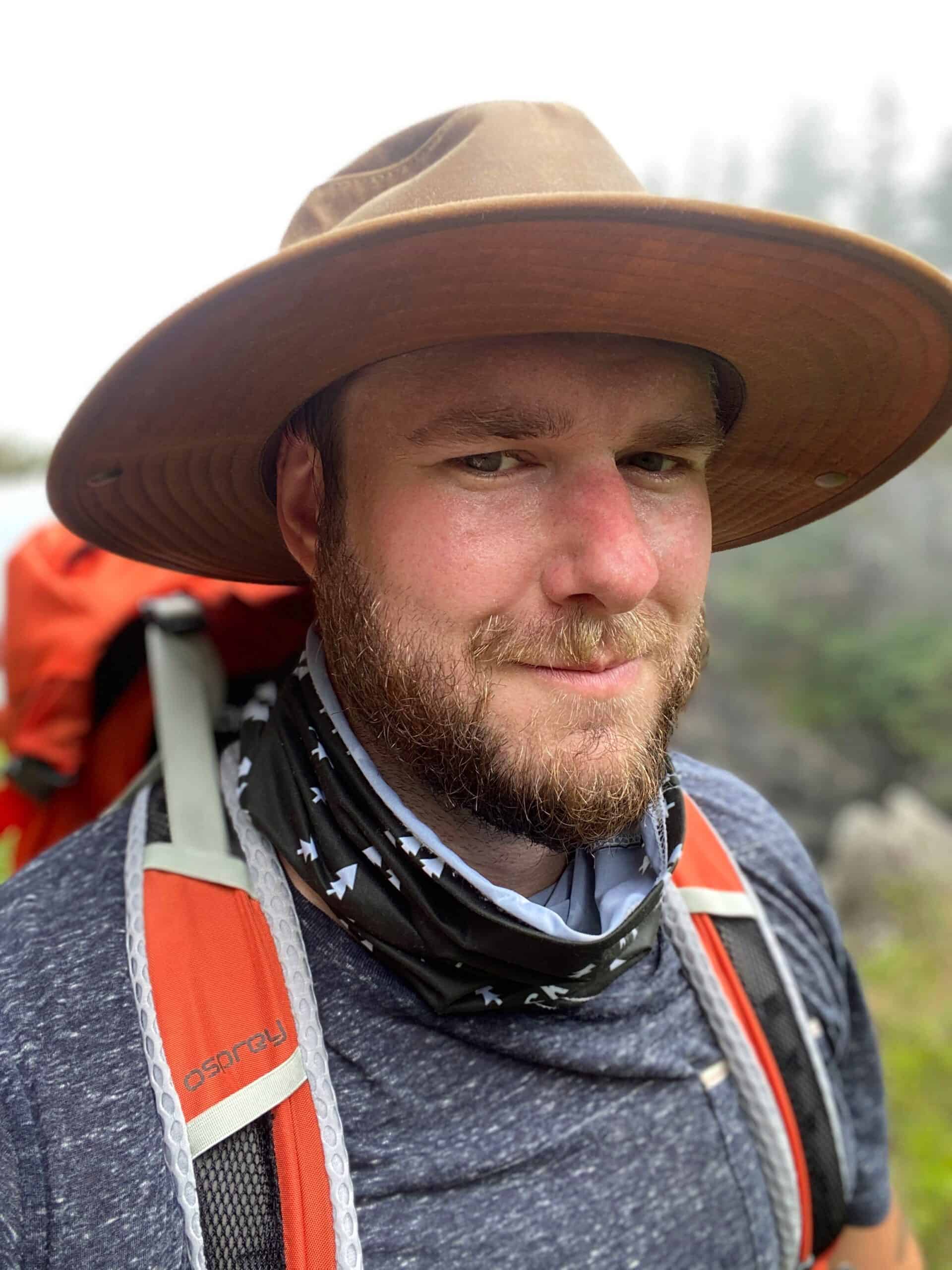 Justin is a writer and photographer based in coastal Maine.  He grew up in New Hampshire, went to college at GWU in Washington, DC, and trained as a chef at Le Cordon Bleu in Cambridge, Massachusetts. Justin has years of experience in professional kitchens, gourmet food sales, and as a wine buyer. He also co-founded Rosehips & Charcoal, a boutique social media consultancy that helps northeast getaway rentals tell their unique stories and grow their online presence.  When he's not working, hiking, or snapping pictures, you can most likely find him drinking wine in the woods in questionable footwear. You can follow along on his Maine adventures and wilderness gourmet shenanigans at @tidetopine on Instagram.