*This site uses affiliate links; if you make a purchase through these, I may receive a small commission at no cost to you.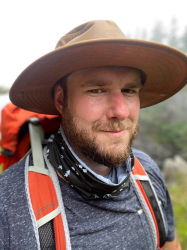 Latest posts by Justin Smulski
(see all)
Itching for a Maine vacation with lots of adventure, salty air, and open spaces? As Maine's coastal towns and villages become more popular destinations, tourists are driving farther up the shoreline for quieter getaways. We love Portland, Boothbay, and Bar Harbor, but all these well-known destinations aren't without issues—crowds, parking, and rental availability most of all.
Our advice to beat the crowds and lines: head way, way up the coast—far beyond Acadia, to a stretch of Downeast coastline so rugged that they named it the Bold Coast—all the way to Lubec on the Canadian border. So, if you're willing to commit to the drive (another four hours from Portland) we've got some tips on the best places to see and things to do in Lubec, Maine.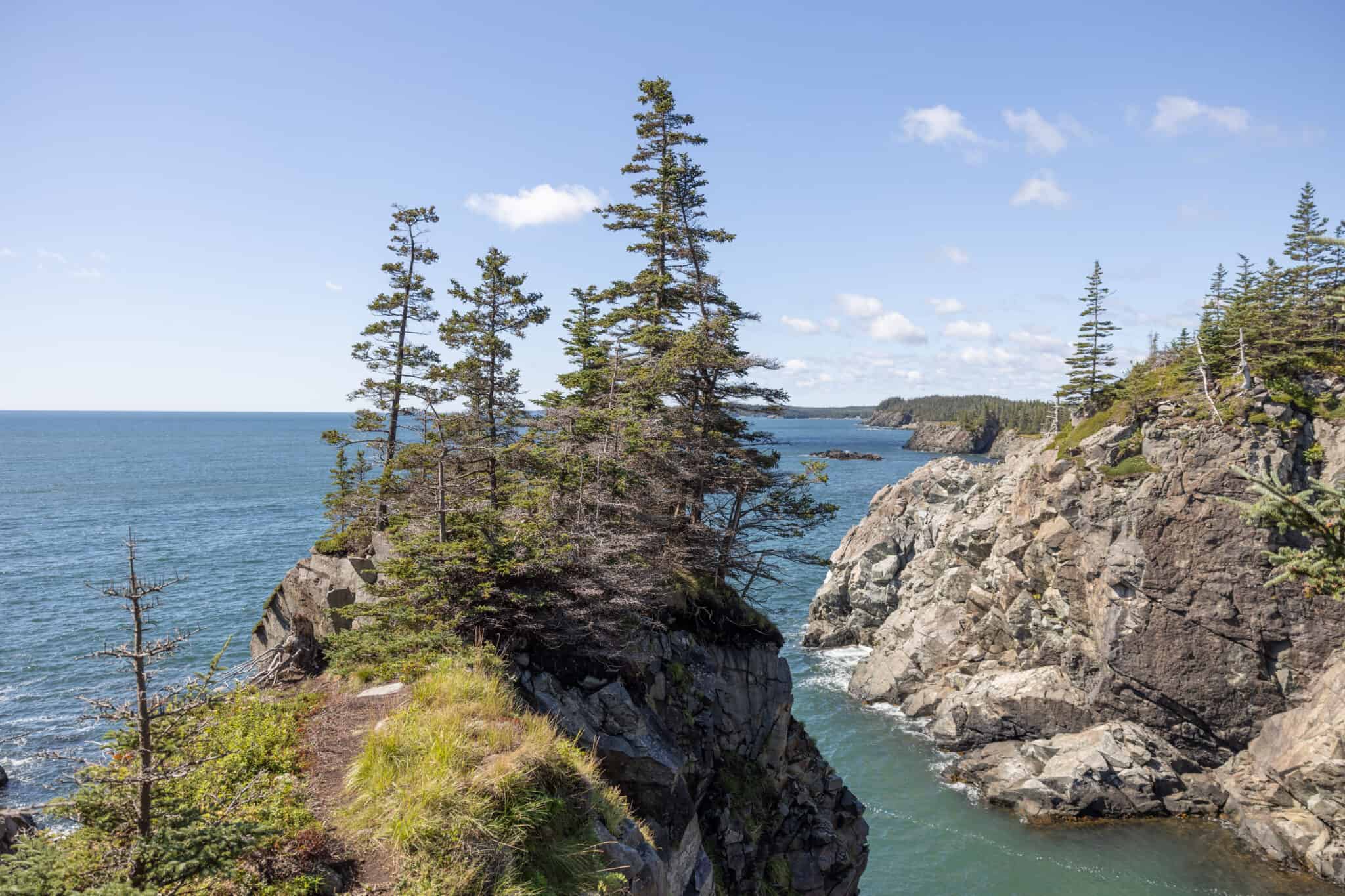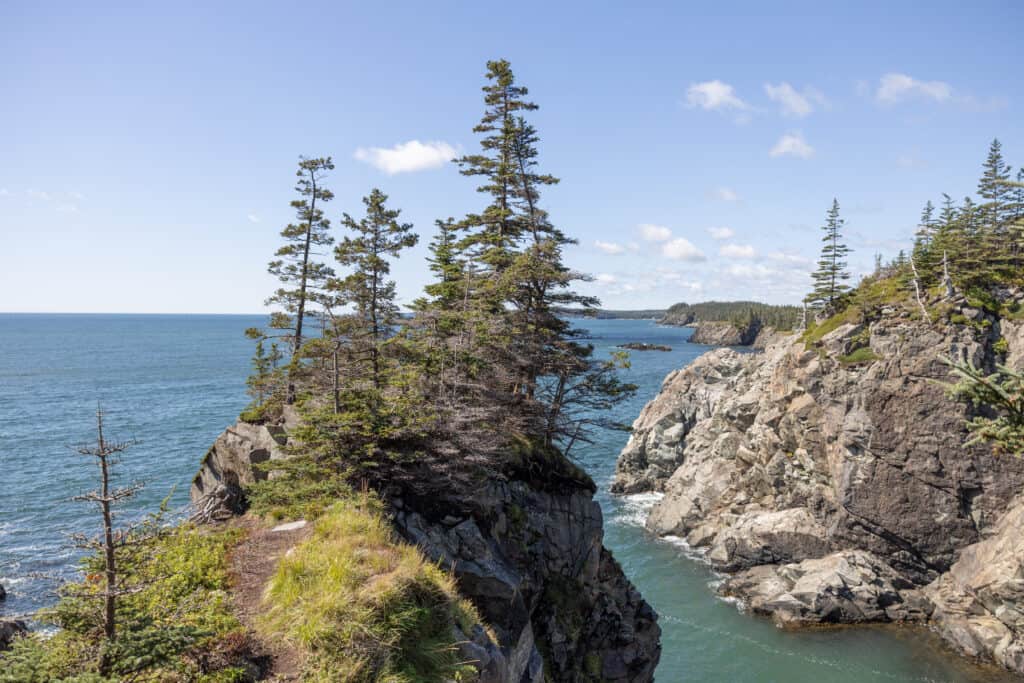 Lubec, Maine just so happens to be the eastern-most point in the United States. When driving the Maine coast, it's easy to forget that you're heading east more so than north. But take a look on a map and it'll sink in: Lubec is nearly 500 miles closer to London than New York City.
Just below the Canadian border and Campobello Island, the town sits on a set of rocky, cliff-laden peninsulas with natural coves, pebble beaches, and wind-gnarled pines dotting the shore. Don't let the imposing, jagged cliffs fool you—Lubec's interior is nonetheless filled with rolling hills and open fields. It feels like Maine and not Maine at the same time.
The downtown, on a bulbous peninsula called Lubec Neck, guards the entrance to Johnson Bay and the even larger Cobscook Bay: an enormous, biodiverse tidal bay to the west of town that's been the lifeblood of indigenous communities for thousands of years. To the north is Passamaquoddy Bay, and to the east is the vast expanse of the Bay of Fundy.
The town has more than 90 miles of coastline and every single aspect of life in Lubec is closely intermingled with the ocean. Surrounded by the ocean, four hours from Portland, and just over one thousand year-round residents: Lubec, Maine is most certainly far-flung and quiet.
All images in this post courtesy of Justin Smulski.
Downtown Lubec
Just about every notable location for dining, shopping, and lodging is in Lubec's charming downtown. There are plenty of rental cottages throughout Lubec's quiet rolling hills and coastal coves, but be prepared to head downtown for just everything you need. No need to worry—there's a surprisingly well-stocked grocery, too.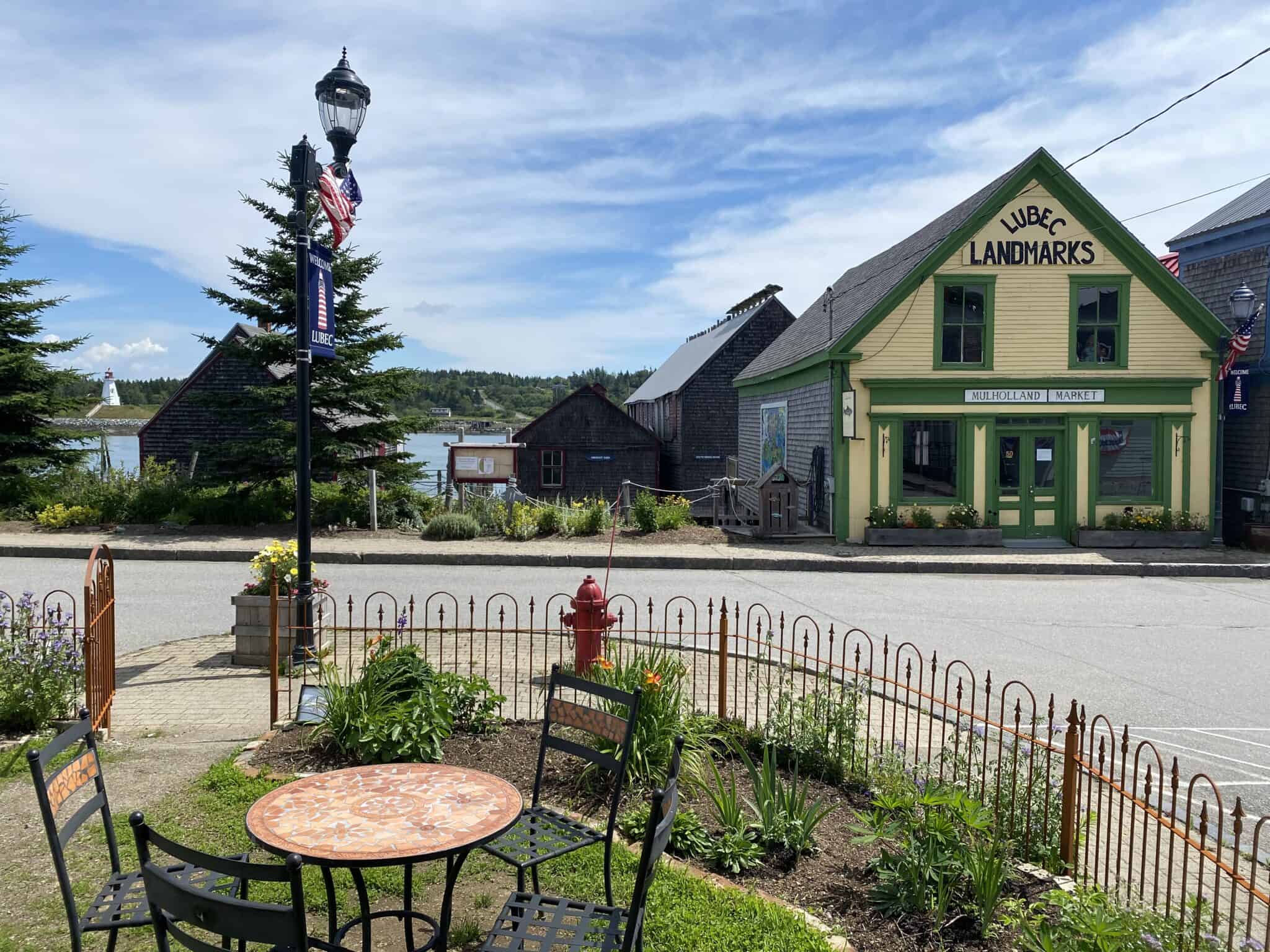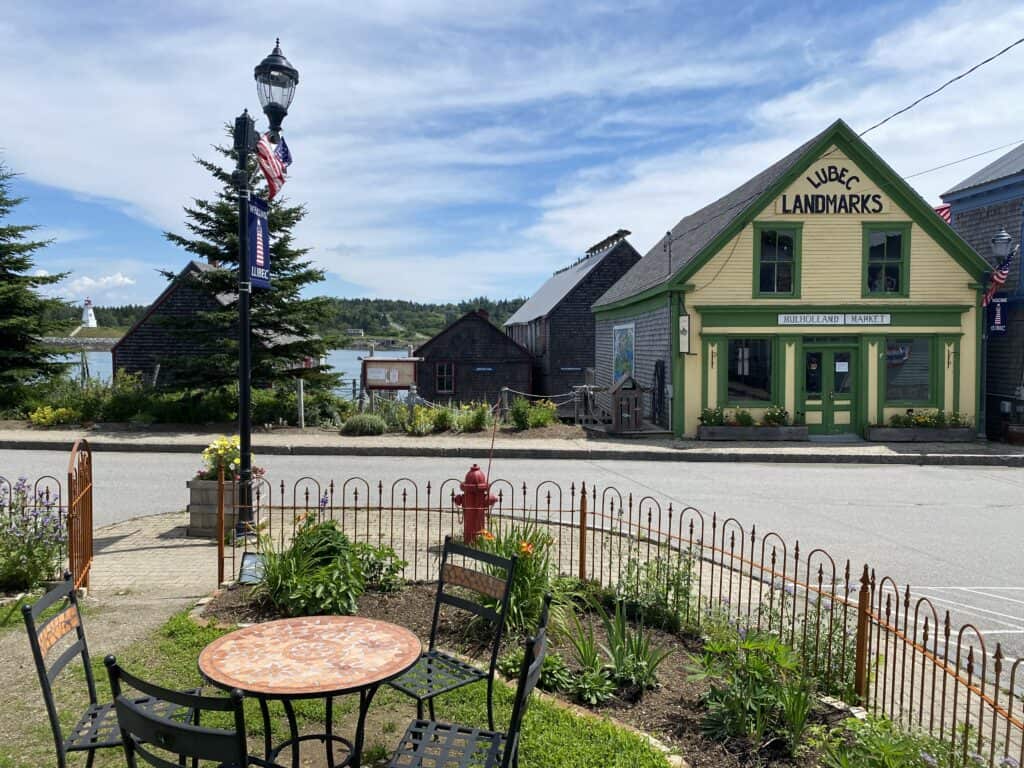 Mulholland Point Lighthouse
A narrow cut of seawater that opens into Johnson Bay is all that separates the US and Canada, with a stately bridge spanning the two; Campobello Island's photogenic Mulholland Point Lighthouse is a serene beacon just across the shore, always visible from the strip of shops and eateries along Water Street.
McCurdy Smokehouse Museum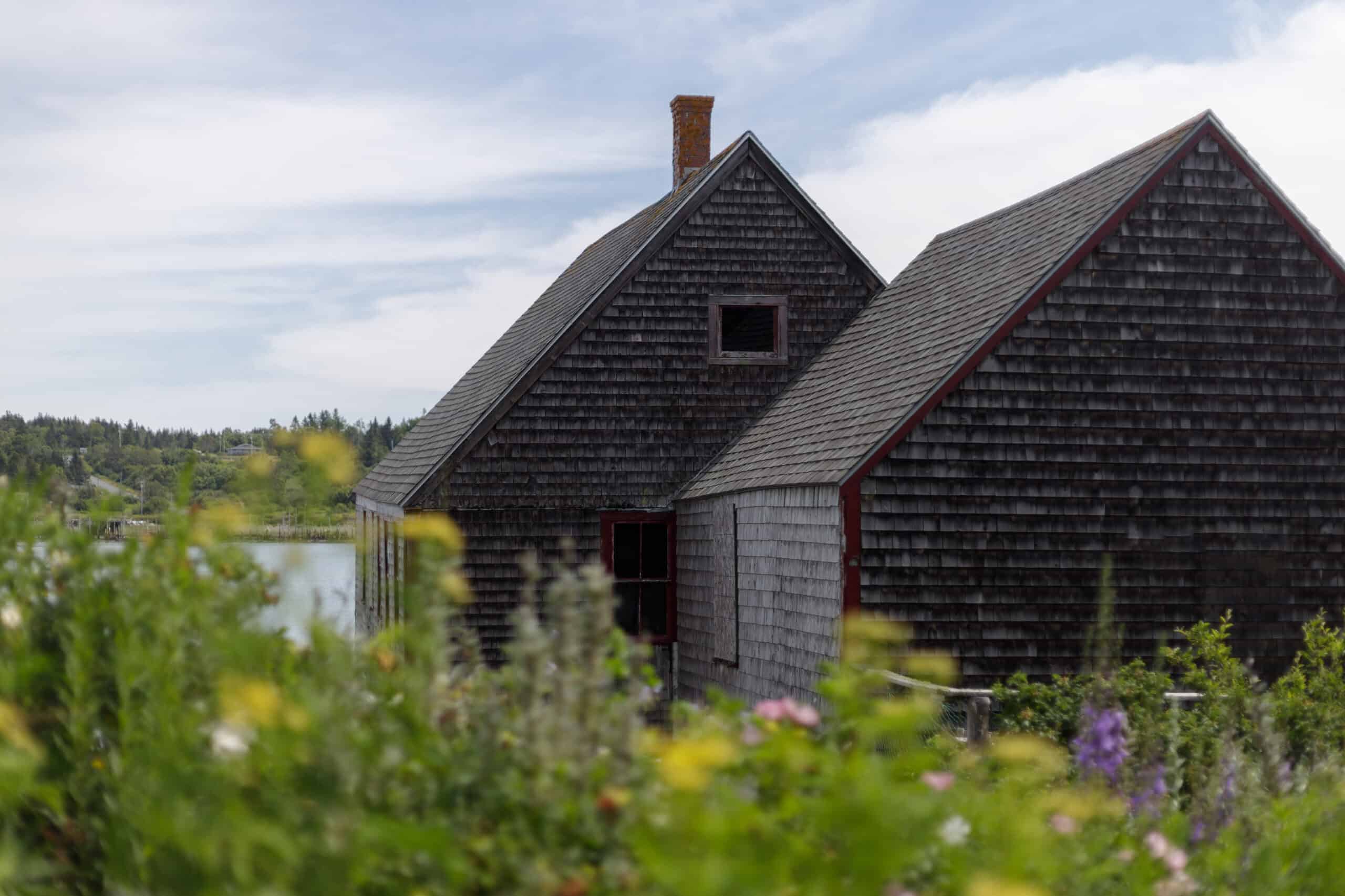 McCurdy Smokehouse Museum, halfway down Water Street, explores the town's long and intimate relationship with fishing as well as the economic importance of smoking and tinning fish. The building itself is stunning—a stoic, weather-worn, shingle-sided complex built on tall wood pilings over the water.
Farther down on Water Street, just before the international border crossing, an Instagram-friendly "LUBEC" mural offers a vibrant pop of color.
Boat Tours or Ferries
On the other end of Water Street you'll find a town pier looking out over Johnson Bay. Get there at the right time of day and you can probably negotiate the purchase of some just-dug steamer clams for a little bit of cash.
Stroll a few minutes down the street from the town pier for a diminutive wharf where you can catch a half-hour long ferry to Eastport or book a whale watching tour with Downeast Charter Boat Tours.
Food in Lubec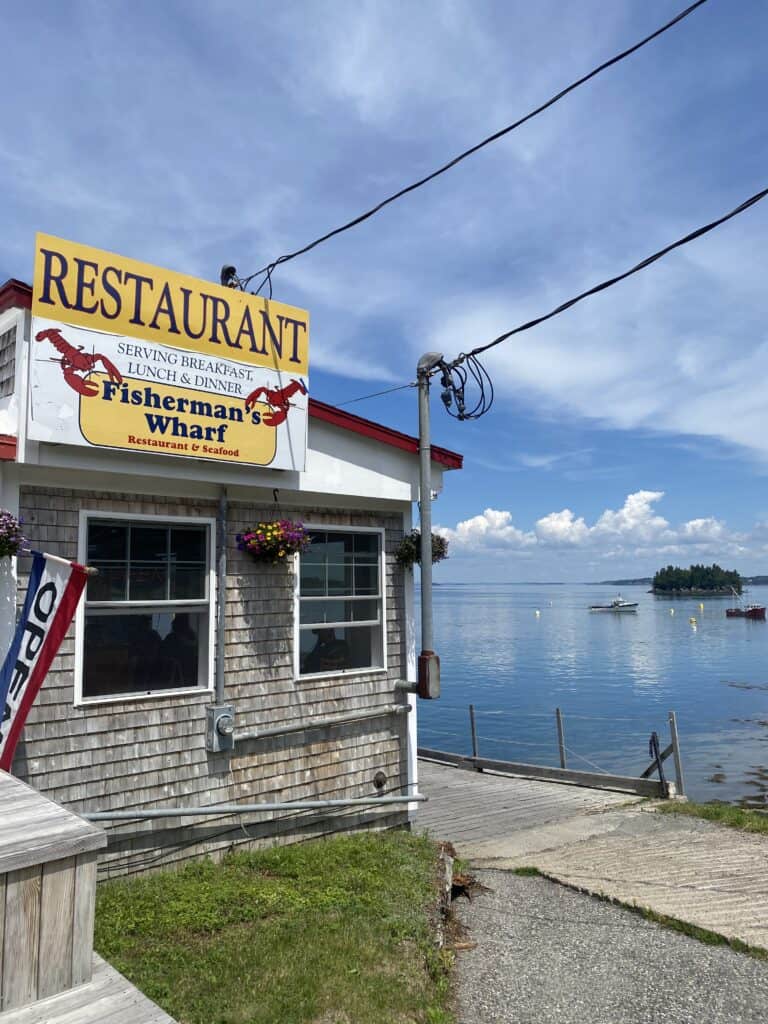 Of the inns and taverns in downtown Lubec, Cohill's Inn and Inn on the Wharf are by far the most notable. Inn on the Wharf is a bit more traditional and also happens to be attached to Lubec's best known restaurant: Fisherman's Wharf.
Watch local fishermen offload the very fish, lobster, crabs, and clams that will momentarily be your meal. For seafood, it's the place to be. Fisherman's Wharf and the accompanying inn offer no frills downeast Maine hospitality.
You might not get exactly what you ordered, but it'll be delicious. The back patio has some of the town's most stunning views and don't sleep on the lobster benedict for brunch.
Cohill's Inn is the polar opposite in many ways: sleek cocktails and bright interiors in a modern Irish Pub. Cohill's menu offers plenty of vegetarian and restricted diet choices, too. They're both wonderful places to stay a few nights.
Oh, and—for what it's worth, Cohill's just happens to be a Philadelphia Eagles bar, too. So if you're driving up from the Philly area, you can still feel right at home. Weird flex, Cohill's Inn, but okay.
Lubec Brewing Co.
No matter where you're staying or dining, be sure to check out Lubec Brewing Co. for some small-batch beers with fascinating tie-ins to the region and its history. With a one-barrel brewing system, it's one of the state's smallest breweries. But that means flexibility to explore historic recipes and experiential brews with local, seasonal ingredients.
Ask your barkeep what the name means for each and every brew and you'll get a quick history lesson on Lubec and its culture. The small patio is a perfect spot to sit.
Roosevelt Campobello International Park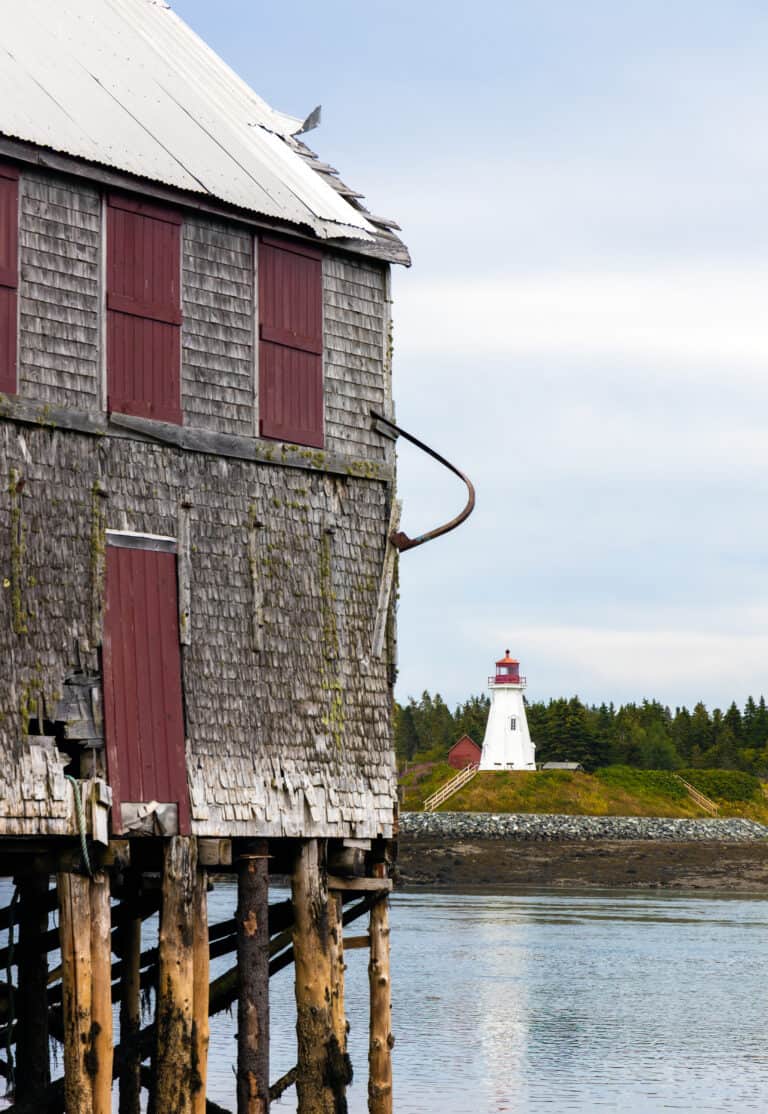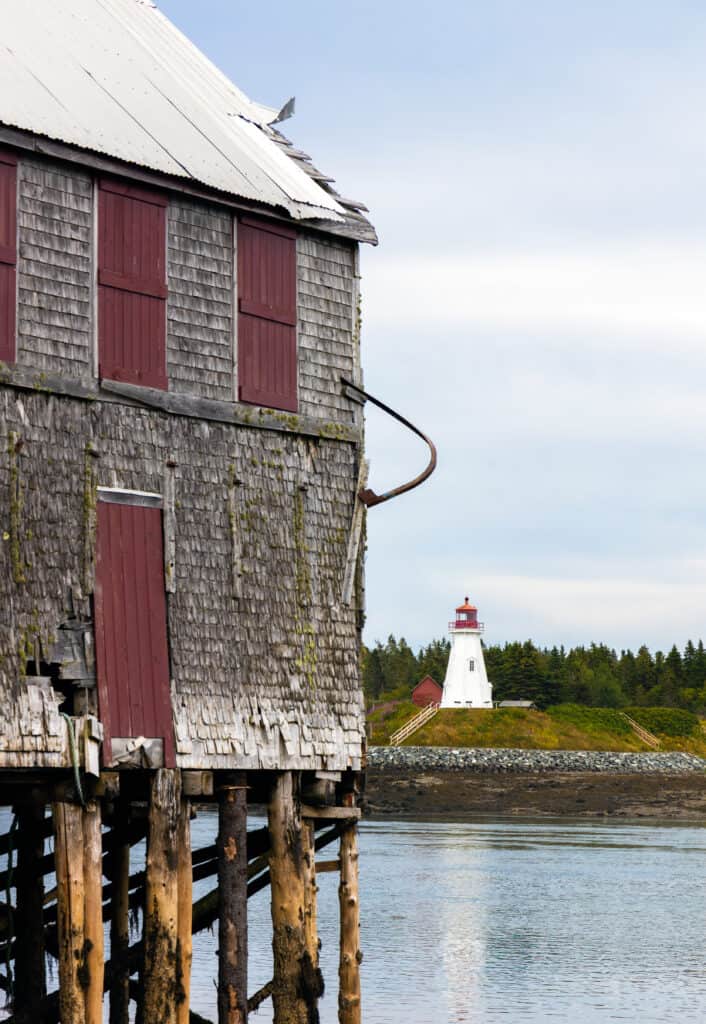 Be sure, too, to check out the Lost Fisherman's Memorial and Stockford Park while downtown, and wander out to Mowry Beach Preserve to watch the waves and beachcomb just steps from your rental.
If you've got the time (and your passport), it's worth crossing the border to Campobello Island to visit Roosevelt Campobello International Park—a stunning nature preserve with beaches, cliffs, lighthouses, hiking paths, and lots of wildlife.
Though on the Canadian side of the border, the park is jointly administered by both the US and Canada; its management is often lauded by conservationists as a model for international cooperation.
Outdoor Recreation
Downtown Lubec has charm for days, but the real draw to this downeast locale is the unbelievable coastal hiking trails and the unmatched seascapes you'll take in along the way.
Day Hikes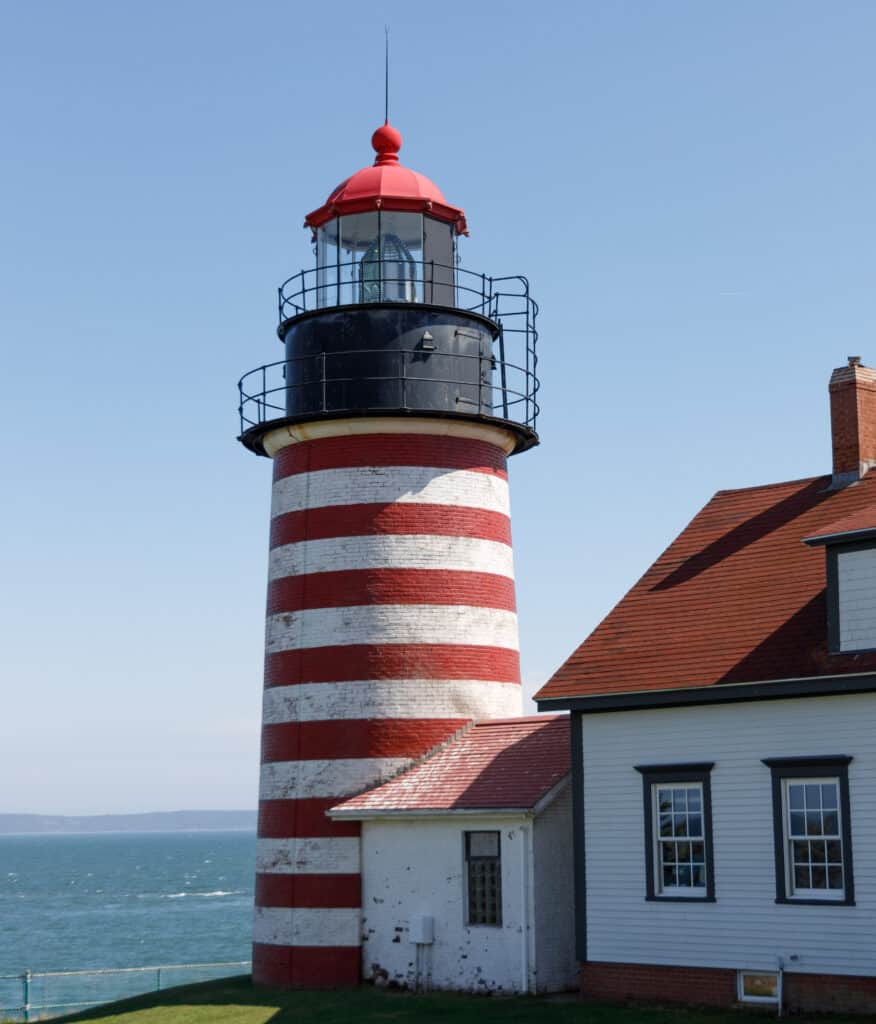 Just a short five-mile drive from downtown Lubec you'll find Quoddy Head State Park and its iconic, red-and-white striped lighthouse. West Quoddy Head Light has been aiding ships navigate the Quoddy Narrows since the early 1800s, though the 530-acre peninsula it sits on was much more recently purchased by the state for a park in the 1960s.
And with miles of forested hiking trails, stunning vistas looking out over hundred foot cliffs, and two bogs home to a diverse array of rare plants—we're certainly glad it's protected land. If you're looking for easy, family-friendly trails with unbeatable views, Quoddy Head State Park is unmissable. Your camera roll will be filled with selfies in front of the striking lighthouse in no time at all.
There's a small museum and visitors center in the base of the lighthouse worth checking out, as well as a quaint but wonderfully-stocked shop called West Quoddy Gifts about a half mile outside the state park for souvenirs and gifts.
The options for day hikes certainly don't end there. The Maine Coast Heritage Trust manages nearly twenty nature preserves in downeast Maine, many of them a relatively short drive from Lubec. Check out Western Head, Eastern Knubble, Hamilton Cove, and Boot Head Preserve.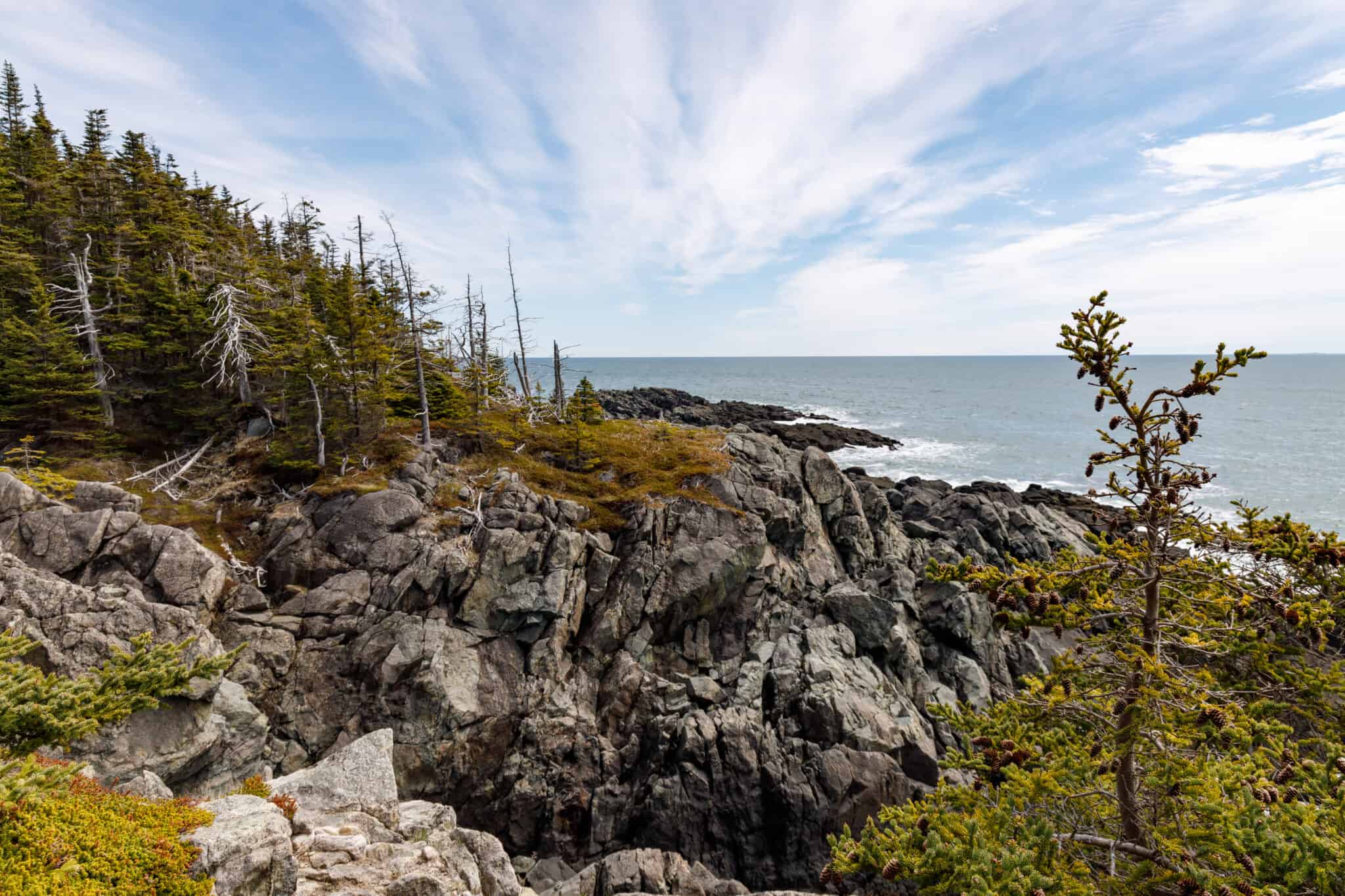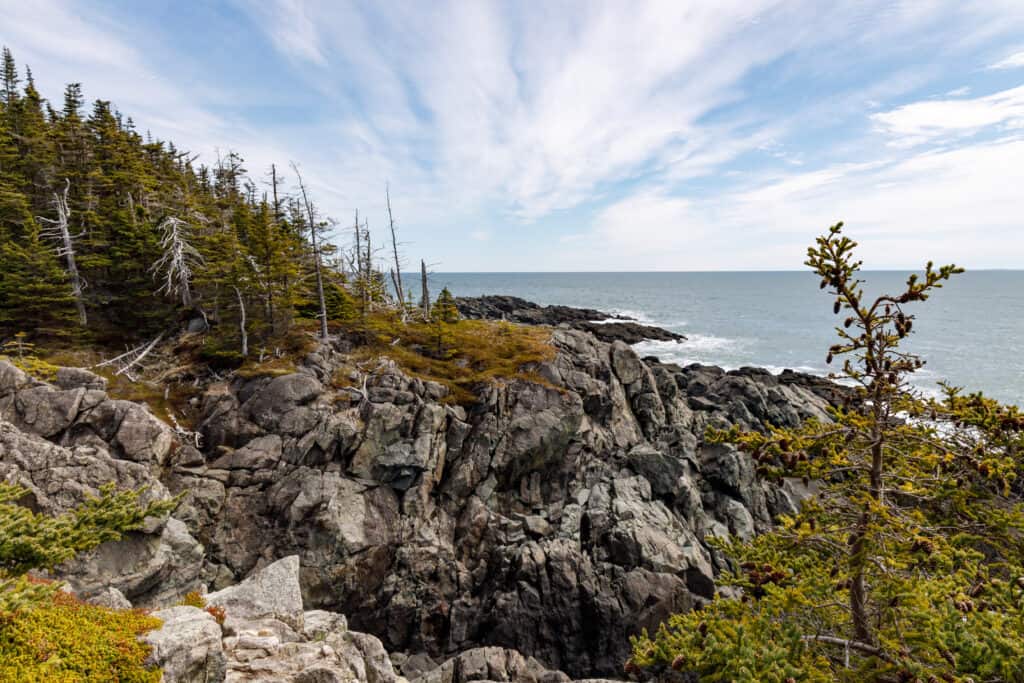 Boot Head is a local favorite: moss-lined boardwalks through a bog and dirt trails along breathtaking promontories. Tree-covered cliffs dive right into the cold ocean as you trudge through mist and scented pines. Boot Head Preserve will transplant you to the Pacific Northwest with its moody climate and stunning visuals.
Cutler Coast Trail
Looking for something as stunning as Boot Head but more challenging? Check out the Cutler Coast Trail in Cutler, Maine about fifteen minutes south of Lubec. An 11-mile loop tracing jagged cliffs and pebble beaches on an enormous 12,000 acre public land reserve, it's a local legend for quick one or two night backpacking trips.
Three established areas for tents mean lots of space for overnights, but it's also worth pursuing as a day hike: the scenery is so memorable you won't at all mind doubling back.
Local Parks
About a half hour southwest of Lubec, Cobscook Bay State Park is an excellent option if you plan to tent or RV camp on your downeast road trip. A large preserve surrounded on three sides by Cobscook Bay, it's a spectacular location for canoeing, boating, and kayaking.
There's not nearly the trail system that Quoddy Head State Park has, but it's some of the state's best coastal campsites and an easy drive to everything else worth exploring in the area, too. With a boat launch, showers, playground, and picnic area, it's certainly a camping dream.
And while you're in the area, take a scenic drive to Pembroke, Maine and check out Reversing Falls Park: when an underwater ledge just beyond Mahar Point interacts with the dramatic tides in Cobscook Bay (nearly 24 feet of difference between low and high tide!), the effect is a unique bubbling sensation. Visitors often say the phenomenon looks as if the water is boiling as the tide rushes over.
Cobscook Shores
Looking for more day hikes and outdoor activities in the Lubec area? Cobscook Shores is a unique array of parks privately owned through a family charity and open to the public along the tidal plain of Cobscook Bay. Whether it's hiking, camping, biking, paddling, or just a picnic with your family, Cobscook Shores has a vast number of options.
Some favorite waterfront parks with hiking trails include Whiting Bay Beach, Race Point, Red Point Preserve, Morong Cove, and Black Duck Cove. At Huckins Beach you can even camp at hike-in tent sites along the shore.
With tons of options for outdoor fun and a quaint downtown filled with shops and seafood, it's definitely time to start planning a downeast roadtrip to Lubec, Maine!
—
Read these next:
9 Breathtaking Maine State Parks