*This site uses affiliate links; if you make a purchase through these, I may receive a small commission at no cost to you.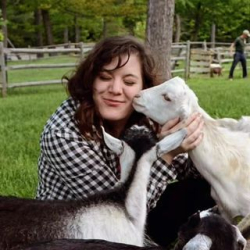 Latest posts by Amy Hartle
(see all)
When visiting Maine, one of the best things to do is to enjoy the outdoors and experience nature. That's because this state is home to breathtaking state parks, lighthouses, and Acadia National Park, but there are also so many beautiful botanical gardens in Maine!
Luckily, this post will cover all of those Maine botanical gardens that you won't want to miss out on. Some are a bit more popular, while others you may have not even heard of! Each one is worth a visit, and no matter where in the state you are, you'll be able to find an extraordinary botanical garden nearby.
Below are all of the great botanical gardens in Maine!
Coastal Maine Botanical Gardens
Location: 105 Botanical Gdns Dr, Boothbay, ME 04537
The most popular out of all the botanical gardens in Maine is none other than the Coastal Maine Botanical Gardens! This is one of the most famous places to visit in Boothbay, so you won't want to miss out on it. The gardens were opened in 2007, and the landscape there is genuinely one of a kind.
The Coastal Maine Botanical Gardens cover about 250 acres of land, though many are made up of trails. If you want to learn more about the plants without doing it yourself, consider going on a garden tour. These tours are typically held at 11 a.m. every day and cover the highlights. On special days, there are also wetlands, native plants, and trees of the trolls tours as well.
There are also two great cafes at Coastal Maine Botanical Gardens in case you get hungry during your visit. The Market is perfect for grab-and-go meals, while The Snack Shack is a summer cafe with more stack-style treats.
University of Maine Gardens at Tidewater Farm
Location: 028, r04, Falmouth, ME 04105
Located in Falmouth is the University of Maine Gardens at Tidewater Farm. It was opened to educate the community and students about local food. Much of the food grown there is given to local pantries in the area to help the community with meal programs.
The garden sare open to the public and may not be what you'd traditionally think of when visiting a botanical garden. That's because a lot of it is fresh produce instead of flowers, making it a bit more unique amongst botanical gardens in Maine.
In the garden, there are quite a few activities to partake in. You can work with the gardens, walk along the trails nearby, or even go to a class to learn more about gardening. No matter what you do, you'll truly never forget a visit to this community garden.
McLaughlin Garden
Location: 97 E Main St, South Paris, ME 04281
McLaughlin Garden in Paris, Maine, has some of the most beautiful grounds that you'll be able to explore while in the state. This garden is a more traditional one located on Main Street, so it's nearly impossible to miss.
The garden portion of the grounds is open between spring and fall, and they usually open right around Mother's Day. So, plan your trip wisely if you plan on visiting there for your Maine holiday! If you visit in winter, don't worry; this is when classes and workshops are held at McLaughlin Garden, so you can still learn while there.
There is no admission fee to enter McLaughlin Garden, though they do accept donations. These donations go back to the care of the garden. For some excellent education during your visit, be sure to attend one of the classes they hold, like their Wool Trivet Class, where you can learn how wool you've worn can be recycled.
Charlotte Rhoades Park and Butterfly Garden
Location: 191 Main St, Southwest Harbor, ME 04679
Obviously, this list of great botanical gardens in Maine wouldn't be complete without mentioning at least one butterfly garden! The Charlotte Rhoades Park and Butterfly Garden is located in Southwest Harbor and is outdoors, so it's genuinely one of the unique places to visit in the state. Plus, it dates back to the 1970s.
Similar to other gardens, this one is only open seasonally from May through October. The best thing to do when visiting is to walk throughout the trail in the park to find the different butterfly species. Children, in particular, have loved visiting this butterfly park because there are some very unique butterflies that you can find there!
Try to visit during the Annual Butterfly Release if you can time your trip wisely. During this time, you'll be able to help release new butterflies into the great outdoors. A small donation is asked for at the door for entry, including one butterfly release.
The Gardens at Pineland Farms
Location: 1 Freeport Rd, New Gloucester, ME 04260
In New Gloucester, Maine is The Gardens at Pineland Farms. This is one of the lesser-known botanical gardens to visit in Maine, but that doesn't mean you should miss out on it. It's a breathtaking place to go for a walk, and there are some benches throughout in case you just want to take in the incredible view.
As you may have guessed, the best way to experience this garden is by using the walking paths that go through it. Often, this garden isn't super busy, making it one of the more serene getaways in the area.
If you happen to be visiting from June through September, then you can also go on a free tour. This tour will bring you behind the scenes of the garden with a tour guide who knows a lot about the plants and flowers throughout it.
Hamilton House Gardens
Location: 40 Vaughans Ln, South Berwick, ME 03908
Next is the Hamilton House Gardens in South Berwick, Maine. It is at the Jonathan Hamilton House, which was built in the 1700s, so it's home to one of the more historical botanical gardens in Maine.
There is a small admission fee, but it's worth it for all that you'd be able to explore at these gardens. It's also only open seasonally between June and October, as it's closed to the public during the winter months. If you want to add this to your Maine itinerary, keep that in mind!
In addition to exploring the gardens and landscape, be sure to check out some of the collections and exhibits on display. There's a lot to explore here, and it could easily be an entire day trip in the area.
Henry Wadsworth Longfellow House and Garden
Location: 489 Congress St, Portland, ME 04101
One of the more popular and well-known botanical gardens in Maine is the Henry Wadsworth Longfellow House and Garden. It's located right in Portland, so it's very easy to visit if you're visiting that area of the state.
The house itself is a National Historic Landmark as of the 1960s and has some tranquil grounds with gardens worth exploring. It can also be a welcome reprieve from the hustle and bustle that you may find in the city.
While this garden is a lot smaller than the other gardens on this list, it's still worth visiting. There's even a small fountain that really adds a touch of peacefulness to it. The garden club also hosts some different events like poetry readings throughout the year.
Perkins Arboretum
Location: 5600 Mayflower Hill Drive, Waterville, Maine
Next is Perkins Arboretum, located at Colby College in Waterville. It covers just over one hundred acres, which is a seventh of the size of the grounds that Colby College owns. This garden and forest area mainly serves as a bird sanctuary, so it's perfect for those who absolutely love looking for unique birds.
A few different trails go through Perkins Arboretum and the surrounding Colby College campus. Usually, the grounds are used by college students and researchers who are learning more about environmental science and the birds that live throughout the area.
Because this is often used as a place for research, if you visit, be sure to be respectful of nature and the animals that live there. Leave no trace while visiting, too!
Viles Arboretum
Location: 153 Hospital St, Augusta, ME 04330
Last but not least is the Viles Arboretum in Augusta, Maine. It's absolutely massive at around 200 acres of land. This botanical garden is truly breathtaking, and it's not open seasonally, so you can visit it any time of the year.
The best way to explore the Pine Tree State Arboretum is to go through the area using the walking trails that are there. Be respectful while using the trails! There are around six miles of trails in total to explore.
The area is completely free to visit and is open from sunrise to sunset so that visitors can see the trails throughout. Be sure to be on the lookout for some of the trees that are native to Maine. There are also a few hundred different types of plants to be on the lookout for while hiking or walking through on the trails.
This post was all about the top botanical gardens in Maine, in no particular order! Which botanical garden would you most like to visit? Don't forget to share this post and save it for later!
---
You might also like:
9 Best Restaurants in Bar Harbor Maine
45 Notable Facts About Maine That Will Surprise You
8 Best Maine Campgrounds for Camping in Maine
Maine Coast Road Trip: Kittery to Bar Harbor Road Trip Itinerary