While many people visit Maine for the incredible seafood and coastal views, there's also a lot of history and culture in the state worth exploring. If you're looking for more than just delicious seafood and cute coastal towns, check out this list of the best historic sites in Maine.
Historic sites in Maine include beautiful lighthouses and grand historic buildings. Each site has its own unique draw, and many are free to visit, meaning all you have to do is get there.

Below are some of Maine's most fantastic historic sites!

Historic Sites in Maine
Maine State House
Location: State and Capitol Sts., Augusta, Maine
The Maine State House is a must-see Maine historic site that was built in the 1830s and serves as the capital building of Maine in Augusta. It was built from locally-sourced Maine granite.

This stately building resembles another New England historic gem, as the design was loosely based on the same plans that were used for the Massachusetts State House. The statehouse is open to the public on weekdays, and group tours can also be scheduled.
Kennebec Arsenal
Location: Arsenal St, Augusta, ME 04330
The Kennebec Arsenal is a unique historic landmark in Maine that covers around 40 acres of land, with 8 granite buildings of Greek and Gothic revival style that were originally used as military munitions buildings in the early 1800s.
After the arsenal closed in 1903, it became a mental health institution until the 1970s, and has since been in a steady state of disrepair and neglect. There has been renewed attention on its preservation and rehabilitation over the last decade. As of today, however, you cannot enter the buildings in their dangerously dilapidated states, but they are a very cool sight to see from the outside.
Hamilton House
Location: 40 Vaughans Ln, South Berwick, ME 03908
Hamilton House, or the Jonathan Hamilton House, is a gorgeous Georgian mansion that was built around 1785 by Jonathan Hamilton, shipping entrepreneur extraordinaire.

Over the years, the home changed hands but was always lovingly cared for and maintained, so many of the touches that you can see today are original to the home. Not only is this historic mansion an absolute delight to tour, but the gardens and riverside setting makes for an even more fantastic tour experience.
Acadian Village
Location: 879 Main St, Van Buren, ME 04785
Located in Van Buren, the Acadian Village comprises six buildings dating back to the 19th century. Throughout the buildings are artifacts and exhibits dedicated to the French Americans who moved to the area from Nova Scotia and the work they've contributed.
Today, it's on the National Register of Historic Places and is one of the biggest historic sites in the state. As you tour the village, you will get a strong sense of how the settlers of this time and place lived.
Harriet Beecher Stowe House
Location: 63 Federal Street, Brunswick, Maine 04011
The Harriet Beecher Stowe House in Brunswick is an important historical landmark for any literary lover to visit. Harriet Beecher Stowe wrote Uncle Tom's Cabin in this home!
The home was built in the 1850s and is now owned by Bowdoin College. Inside there are many faculty offices, but there's a room that's dedicated to Harriet called "Harriet's Writing Room." This public area is dedicated to her, and her life's work.
Portland Head Light
Location: 12 Captain Strout Cir, Cape Elizabeth, ME 04107
The Portland Head Light is an absolutely beautiful historic landmark. Located in Cape Elizabeth, this lighthouse is one of the most famous lighthouses that belong to the state, bringing visitors from far and wide to see its beauty in person.

It was built in the 1780s, its lamp first lit in 1791. It still stands strong today as the oldest lighthouse in all of Maine. Visit in the evening to see the sunset against the lighthouse; it's breathtaking.
Old Port
Location: Portland, Maine
This list of the best historic sites in Maine would not be complete without mentioning a historic district. Old Port is one of the most beautiful historic districts that you can visit, and it's located right in Portland.
The area is filled with old buildings and is incredibly walkable, so you can get happily lost in all of the great stores and bars. There are many excellent restaurants here as well, including DiMillos and Old Port Sea Grill & Raw Bar.
Lady Pepperrell House
Location: 24 Pepperrell Rd, Kittery Point, ME 03905
Lady Pepperrell House is located in Kittery Point and is well renowned for its incredible architecture, which New England is so well known for. The building was built in the 1700s and served as a home for Lady Mary Hirst Pepperell, who had a British architect voyage over to work on the home in person to her exacting specifications.

The home is privately owned, but it's worth a visit if you're ever in the area visiting nearby Portsmouth or York. It was sold with strict deed restrictions for everything including interior, exterior, and even the gardens and landscaping of the home, so the historic aspects of this gorgeous home remain well-protected.
Seashore Trolley Museum
Location: 195 Log Cabin Rd, Kennebunkport, ME 04046
One of the best kid-friendly historic sites in Maine is the Seashore Trolley Museum which opened in the late 1930s. The museum is located in Kennebunkport and is the first and largest museum of mass transit.
Throughout the museum, you can find many different types of motor vehicles, but the main attraction is the trolley cars. Be sure to purchase tickets to ride one of the trolleys for a truly unique experience in Maine.
The Wadsworth-Longfellow House

Location: 489 Congress Street, Portland, ME 04101

An absolute must-visit historic site for any lover of literary history in America, The Wadsworth-Longfellow House is beautifully kept and open to the public as a house museum.
Exhibits include art, artifacts, documents, and more that relate to both the work of Henry Wadsworth Longfellow and life in Portland, ME during his years there. Most well-known of his works is the poem Paul Revere's Ride, telling the tale of that fateful night that forever altered the course of American history.
Victoria Mansion
Location: 109 Danforth St, Portland, ME 04101
Victoria Mansion in Portland is also known as the Morse-Libby House, built as a summer home for the Morse family between 1858-1860.
A whopping 90%+ of the interior remains the same, and in addition to guided tours, Victoria Mansion also hosts community events throughout the year, such as seasonal holiday events like performances of The Nutcracker and a Dickens Christmas.
Cushnoc Archaeological Site
Location: Augusta, ME 04330
For any history buffs with a keen interest in archaeology, Cuschnoc Archaeological Site is a must-visit. This historic site was first the spot of a native village that became a trading post between the native people and the pilgrims between 1628 and 1661.

Archaeological exploration from the 1980s began to unearth such treasures as glass beads, pottery, ceramics, and more.
Portland Observatory
Location: 138 Congress St, Portland, ME 04101
The Portland Observatory is the only remaining historic maritime signal tower in the United States and has been a beloved Portland landmark since it was built in 1807.

Open seasonally as a museum, the views from the Portland Observatory are said to be some of the very best views you can get of Portland still to this day!
Fort Kent Blockhouse

Location: Fort Kent, ME 04743

Located along the US/Canada border, the Fort Kent Blockhouse is the historic site of the "bloodless" Aroostook War of 1838-1839. This two-story fortification is on the National Register of Historic Places and is a National Historic Landmark.
There are antique artifacts on display inside and can be accessed from Memorial Day to Labor Day, and the outside is a pleasant spot to enjoy a picnic lunch along the scenic St John River.
Old York Gaol
Location: 4 Lindsay Rd, York, ME 03909
Old York Gaol in Old York Village is a captivating historic site in York, ME. The original building from 1656 housed some of the earliest inmates in Maine, but it wasn't until 1720 that the stone-walled structure that remains to this day was erected.
There have been changes to the Old York Gaol over the years, but it still remains one of the oldest prisons still standing in the United States of America. Tours run seasonally.
Seguin Lighthouse
Location: Phippsburg, ME 04562
The Seguin Lighthouse was commissioned by George Washington in 1795 and is one of the oldest lighthouses in the state.

Tours are available and there is a tramway system that was installed in 1895 to get up to the light that remains Maine's last working tramway!
Winslow Homer Studio
Location: 5 Winslow Homer Rd, Scarborough, ME 04074
Winslow Homer was a famous artist, and his studio is a must-visit for any art aficionado! From 1883 to 1910, Homer created some of his most famous works from this studio, often utilizing the balcony facing the water as his favorite place to paint.

The best way to visit the Winslow Homer Studio is to go on a tour through the Portland Museum of Art. Tours are only offered seasonally, so be sure to check online to see if you can book one during your visit or not.
Sarah Orne Jewett House
Location: 5 Portland St, South Berwick, ME 03908
The Sarah Orne Jewett House is a great Greek architecture masterpiece located in South Berwick. It was built in the 1770s and was officially added to the National Register of Historic Places in the 1970s. Since then, it's attracted quite a few history lovers in Maine.
The home was owned by none other than author Sarah Orne Jewett. Guests are now welcome to visit the Sarah Orne Jewett House and take the tour; the visitor center often features works by local Maine artists as well.
Sabbathday Lake Shaker Village
Location: 707 Shaker Rd, New Gloucester, ME 04260
Shaker Village is near New Gloucester and is one of the very last Shaker villages that is still active today. It dates back to the 1790s, so it's been active for a few hundred years and counting.
Visitors have been welcome to explore Shaker Village since the 1930s. There's a museum filled with artifacts and exhibits, as well as a library that's open to the public.
Nubble Light
Location: Sohier Park Rd, York, ME 03909
Nubble Light, also known as the Cape Neddick Light, is one of the most famous lighthouses in Maine because of its sheer beauty. It's located right near Sohier Park and is beautiful any time of the year.
It was built in 1879, so it's technically one of the newer lighthouses in the state, despite still being over one hundred years old. The lighthouse is on an island, but the view from the park is spectacular.
There are many historic sites in Maine to visit during your next Maine getaway. Vacationland and all of its cool history await!

Read these next: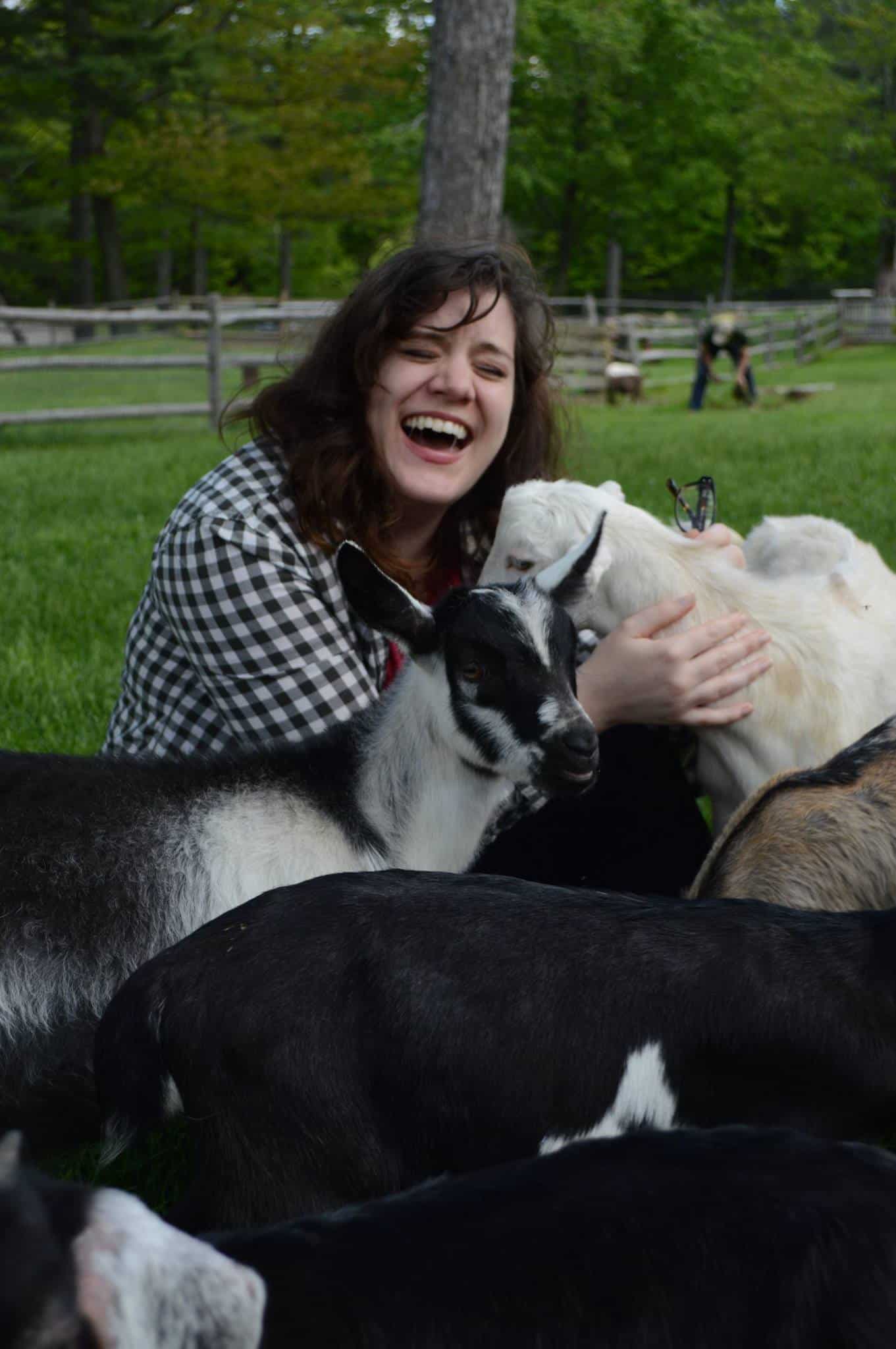 Amy Hartle is the founder and Editor-in-Chief of New England With Love, a comprehensive resource for travel in the New England region. Amy has been exploring New England since 2001. She lived in Vermont for many years and is a graduate of Plymouth State University in New Hampshire. Amy has been writing about travel for over a decade. On this site, Amy aims to share her love of New England and help you to have the best possible adventures!
Amy has been a full time blogger since 2012, and is also the publisher of Two Drifters, where she writes about couples travel and relationships, as well as Let's Adventure Baby, a family travel site. When not traveling the world or creating epic blog content, Amy can be found cuddling with her husband, son, and cats, & drinking a maple latte.