---
*Links in this article may be affiliate links, from which we may earn commission. See our
Privacy Policy
for full details.
---
There are so many incredible museums in Maine, from art museums featuring contemporary works to quirky ones about umbrella covers. What one will you visit?
Because there are so many Maine museums, it can be hard to decide which one you should visit. Luckily, this post rounds up some of the most fun ones that you can visit throughout the state, in no particular order. Plus, they're scattered throughout Maine, too, so no matter where you are visiting, you'll be able to find a great museum to go to nearby.
Here are all of the best museums in Maine!
Bowdoin College Museum of Art
The Bowdoin College Museum of Art is in Brunswick, at none other than Bowdoin College's campus. This art museum may be small, but it has unique works and interesting artifacts in its collection.
They have limited hours throughout the week, and their hours fluctuate depending on the day, so be sure to check ahead of time to make sure they are open. Many of their pieces do change on rotating exhibitions, and in the past, they've featured everything from local artists to historical ones.
Portland Museum of Art
Next on this list of great Museums in Maine is the Portland Museum of Art. Located in Portland, it's the biggest art museum in the entire state, so it's worth visiting for both history and art lovers.
The museum was founded back in 1882 and has a variety of exhibits, including special ones on location, like the 2022 exhibit "Flying Woman: The Paintings of Katherine Bradford." The museum also features fun events and programs throughout the year.
Center for Maine Contemporary Art
Located in Rockland, the Center for Maine Contemporary Art is a great place to see more modern pieces created by artists who have some sort of relation to Maine, whether they live there now or lived there once.
This museum has a gift shop and is right in the arts and culture area of Rockland, so there are more places to visit nearby. Be sure to check out their changing exhibitions, as they always have very unique ones that they rotate out throughout the year.
Maine Maritime Museum
While many of the museums in Maine are art-focused, there are museums of different types, too, like the Maine Maritime Museum in Bath! For those who are interested in boating, this museum is perfect, located right by the Kennebec River.
What makes this museum so unique is that there are a wide variety of exhibit types. Choose between visiting an old shipyard, galleries indoors featuring artifacts and exhibits on rotation, or even stopping by a boat shop.
Of course, this museum hosts a variety of fun local events, too, as most do. They have even hosted a fun Pints on the Pier event before!
Farnsworth Art Museum
The Farnsworth Art Museum in Rockland has a heavy focus on American and Maine art that's known across the nation. Those who live in Rockland can visit the museum for free, as well as those who are under the age of 16.
Visit some of their collections, including Andrew Wyeth's Early Temperas, which explores tempera paintings, or Leonard Baskin's I Hold the Cracked Mirror up to Man to see historic illustrative pieces. Many of the exhibits, like these, are temporary.
The museum is a bit smaller, and because of that, they do have to occasionally close certain exhibit rooms if they don't have enough staff. If you know there's an exhibit you don't want to miss out on; it's worth calling in advance.
Kittery Historical & Naval Museum
A quaint and charming museum located in Kittery, the Kittery Historical & Naval Museum explores the history of the town. It dates all the way back to the colonial period up to more present-day events, featuring information on everything from lighthouses to the town.
Because it's the oldest town in all of Maine, this museum is one that you won't want to miss out on. They have limited hours and are normally closed on Mondays and Tuesdays, but they fit a lot in their small building.
Maine Lighthouse Museum
Another of the great museums in Maine is the Maine Lighthouse Museum in Rockland. Like the name suggests, it's all about the lighthouses and ships! Maine has tons of lighthouses, and this is a fun place to visit and learn about them.
This is one of the museums that are open every day, but they do have limited hours. What makes this museum so unique is that it's actually the biggest museum dedicated to this subject. Most guests spend an hour or two during their visit here. Be sure to explore the rest of the town afterward!
The Brick Store Museum
One of the older museums to visit in Maine is Kennebunkport's The Brick Store Museum. It was opened in the 1930s and is dedicated to educating visitors about the area. So, it's a mixture of art, history, and more throughout the exhibits.
Most people visit the museum to go through their exhibits that are always on rotation. These galleries feature everything from paintings to sculptures and pottery and everything in between.
During the summer months, the museum has fun art night on Fridays, where the museum is entirely free to visit. These usually run between June and September!
Seashore Trolley Museum
Another of the museums in Kennebunkport is the Seashore Trolley Museum. This museum is completely dedicated to transit and has a heavy focus on, you guessed it, trolly cars! The museum opened in the 1930s and is the largest museum of its kind.
Throughout the year, they actually allow visitors to ride on one of their trolleys if they want to step (or ride) back in time. The trolley they let guests ride on is from the 1900s, and when you buy a ticket, you can ride it unlimited times! It's a fun activity, especially for families visiting the area.
Umbrella Cover Museum
The Umbrella Cover Museum in Portland is one of the most unique and quirky museums in Maine, hands-down! It's literally filled with covers of umbrellas. Most people lose these easily, yet they are all on display here.
The museum was founded by a woman named Nancy, who has collected 2000 umbrella covers and counting. Sometimes, she even displays them outside, and people love visiting from near and far to see all of the umbrella covers that she has.
The Coastal Children's Museum
Obviously, this list of Maine Museums would not be complete without including at least one children's museum. The Coastal Children's Museum is in Rockland and is dedicated to enriching children through education and play! Families visiting this area will absolutely love visiting this museum.
This is a smaller museum which is part of what makes it so fun to visit. The inside almost feels like a fun version of school. Note that as of September 2022, the museum is currently open just for reservation only. Be sure to check online to see if they are still reservations only or not by the time of your visit.
Maine Mineral and Gem Museum
The Maine Mineral and Gem Museum quite literally rocks! It's located in Bethel and will draw you in the second you drive by. The outside is covered in unique rocks, and there are even fun rock details on the windows.
The most unique part of this museum is the Arthur M. Hussey Memorial Rock Garden. It's open 24/7 and features pieces of rock from throughout the state of Maine, like basalt, gabbro, granite, and jasper.
Inside, you can learn more about rocks and gems through multiple exhibits featuring written pieces. When you're done, be sure to also stop by the store.
Tate House Museum
The Tate House Museum is a smaller museum in Portland! It's impossible to miss if you visit the area because it's located in a historic 1700s Georgian-style home. The best way to visit is to book a guided tour in advance on their website; the museum also has seasonal hours you'll want to check.
This historic home is dedicated to sharing information about the area's heritage through education. The home is still in excellent condition and features many old pieces of furniture that will leave you in awe.
Monhegan Museum
Last but not least is the Monhegan Museum in Monhegan! This museum is all about Monhegan Island and is one of the lesser-knwon museums in the state. It has seasonal hours when it's open, normally just between June and September.
The museum features an annual art exhibition that changes, so it's worth checking out whatever exhibit they currently have. Past exhibits have included "Cape Ann and Monhegan Island Vistas: Contrasted New England Art Colonies," "Seeking Eden: James Fitzgerald in Monterey," and "A Life Made in Art: Maud Briggs Knowlton."
This post was all about the best museums in Maine. Truthfully, whether you're into art, history, science, or something in between, you'll enjoy visiting any museum that the state of Maine has to offer. Enjoy whichever one you visit, and be sure to share this post with others!
---
Read these next: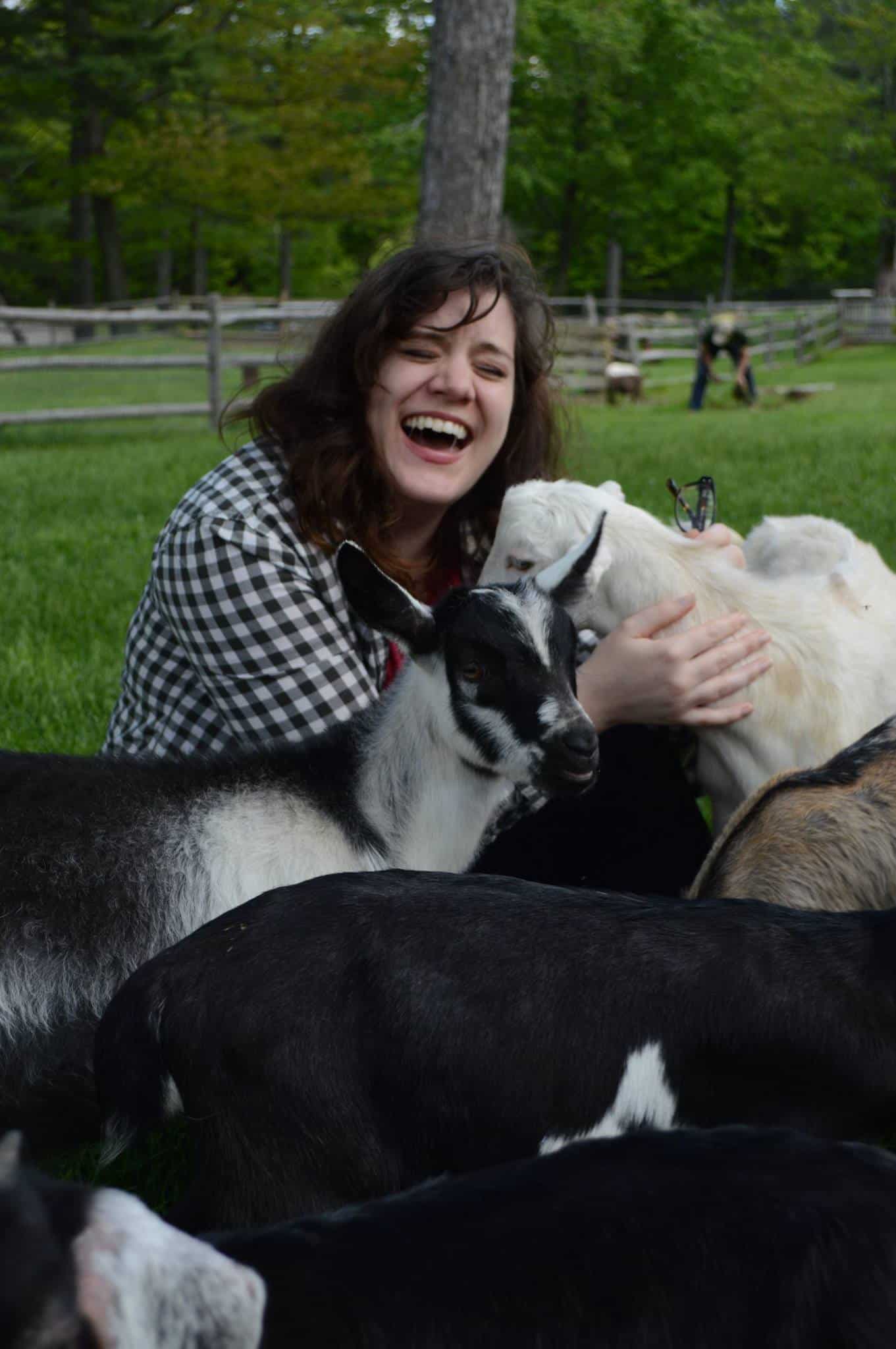 Amy Hartle is the owner and editor of New England With Love, a comprehensive resource for travel in the New England region. Amy lived in Vermont for 15 years, attended Plymouth State University in New Hampshire, and continues to travel regularly around the entire New England region. On this site, Amy aims to share her love of New England and help you to have the best possible adventures!
Amy has been a full time blogger since 2012, and is also the publisher of Two Drifters, where she writes about couples travel and relationships, as well as Let's Adventure Baby, a family travel site. When not traveling the world or creating epic blog content, Amy can be found cuddling with her husband, son, and cats, & drinking a maple latte.