York is a breathtaking town on the southern coast of Maine. It's popularly visited by those visiting New England in the summer, but there are many things to do in York, Maine year-round.
In particular, York is known for its excellent beaches, lighthouse, and for being not that far from one of the most beautiful hikes in southern Maine. It was founded in 1642 and is one of Maine's oldest towns, so there are also many historical sites that are just waiting to be explored by you.
Here are some of the best things to do in York, Maine!
Take in the incredible views from Nubble Lighthouse.
The Nubble Lighthouse is one of the best lighthouses to see in all of Maine, and it just happens to be located in York! It was opened in 1879 and has been a staple in this part of Maine ever since.
The reasoning behind the name of the Nubble Lighthouse is actually quite funny. It's because the island that it was built on was referred to as a "nub"; hence, Nubble Lighthouse!
Today, visiting one of the places nearby and parking to watch the sunset over the lighthouse is one of the most incredible things to do in York, Maine.
Visit the George Marshall Store Gallery.
The George Marshall Store Gallery is the perfect place to go for contemporary art exhibitions. It notably features artists that are local to Maine, which makes it a great place to go to support local artists as well as learn about ones that are up and coming.
In addition, the George Marshall Store Gallery hosts a variety of events throughout the year and special programs to educate locals and tourists. Be sure to check their schedule before you visit to see if there is a fun event during your trip to York!
A York trolley tour is the perfect way to get introduced to everything that the town has to offer! They are open-air and incredibly scenic. Plus, the tour guide usually goes out of their way to show a lot of the hidden gems that you probably would not have found on your own.
Trolleys were first introduced to York in the nineteenth century, but the York Trolley Company actually did not open until 2003.
Ever since it opened, it has been a favorite among tourists to learn more about York. They also offer rental services that are used for a lot of events (especially weddings!) by locals.
Soak up the sun from Sohier Park.
Located near the Nubble Lighthouse is Sohier Park. It's arguably one of the best spots to situate yourself if you want the perfect photo of the lighthouse.
The park is entirely free to visit, but keep in mind that it's known to get really busy during the summer. Everyone will fight for a parking spot here during peak season!
Luckily, Sohier Park doesn't close, so you can try to get here for sunrise, and you'll truly have your breath taken away. Nearby, there's also a delicious seafood restaurant so that you can dine with an excellent view.
Relax at Long Sands Beach.
Long Sands Beach is the perfect place to go to relax, swim, kayak, or even watch the sunrise or sunset during your visit to York. It's most frequently visited in the summer, but it can be beautiful year-round. It stretches for one and a half miles.
Luckily this beach also has affordable parking spots, so you won't have to worry about parking far away and walking to it. Plus, there's even surfing allowed at this beach.
With a short walk, you can also get to some great restaurants in case you get hungry on your beach day.
Step back in time at the Old York Gaol.
Go back in history by visiting the Old York Gaol! It opened in 1720 and is built in the American Colonial style of architecture. It's incredibly historical and is actually one of the oldest of its kind in all of the United States of America.
While visiting the gaol, be sure also to explore the rest of the Museums of Old York by the Old York Historical Society. One of the highlights is a schoolhouse that was used by locals a long time ago.
This is one of the best things to do in York, Maine, if you're a fan of history and learning more about the place that you're visiting.
Hike Mount Agamenticus.
While in York, take a trip to Cape Neddick to hike one of the most beautiful mountains in southern Maine. There are multiple trails here, so no matter your skill level, you'll be able to see the breathtaking views.
One of the most popular trails is Mount Agamenticus via Ring Trail, which is a moderate-level trail slightly under two miles. Because it's moderate, even kids are able to do this hike without much trouble.
Keep in mind that the path can get muddy after it rains, so be sure to watch the weather during your visit closely if you plan on doing one of these hikes.
Peruse the local shops – especially Stonewall Kitchen
There is no better way to spend time shopping than by supporting the locals. Luckily, there are many shops in York that are run by locals! One of the most popular places to visit locally in York is the Stonewall Kitchen York Company Store.
This shop sells many food, kitchen, and home items. In the summer, they even open up their very own cafe with abundant outdoor seating. It can be a perfect place to grab some local delicacies, like lobster rolls.
Have a blast at Fun-O-Rama.
What better way to spend some time in York than by playing games at Fun-O-Rama? This excellent family amusement building is actually an indoor arcade with over two hundred games to choose from, and some of them might bring you back to your childhood!
Fun-O-Rama is on Short Sands Beach, so it can be a great place to be competitive and take a break from swimming. The arcade works similarly to other arcades in the US. You purchase coins to use on the games. If you win tickets, you can exchange them for fun prizes or candy.
Play a round of golf at one of the courses.
If you like golfing, you're in luck. One of the best things to do in Maine is going golfing! There are quite a few golf courses here, and you can usually buy a public pass to experience the gorgeous golf grounds yourself for a day during your visit to York.
The two best golf locations here are the York Golf and Tennis Club and Ledges Golf. They both are highly rated by locals and are breathtaking. In fact, the York Golf and Tennis Club is one of the best places to host your wedding in the York area, so you can imagine how beautiful the location is!
Walk the cliff path.
One of the genuinely scenic things to do in York, is going on the cliff walk. It goes right along the oceanfront, so there are breathtaking views the whole way. The trail is relatively short and only lasts about a mile, beginning at York Harbor Beach.
The cliff walk itself is pretty easy so that any age could partake in the fun. Keep in mind that the trail does become un-paved the farther you walk, so make sure you wear sturdy walking shoes with ankle support.
Just make sure you don't forget your camera, because the views are incredible. If you wish to make your hike longer, you could walk Fisherman's Walk Trail immediately after finishing this trail. This could be a great way to spend a lovely afternoon in York!
Visit Hamilton House.
While technically a short drive away from downtown York, Hamilton House is one historical site that you won't want to miss. This eighteenth-century landmark home is situated on fifty acres of land and is a perfect example of Georgian architecture in Maine.
The house has since been turned into a famous museum that's visited by both locals and tourists. Inside, it's been kept as if it were still in the same era that it was built.
It's filled with old furniture, artifacts, and beautiful art that will bring you back in time. It's also right next to a gorgeous lake which only adds to its appeal.
—
As you can see, there are many great things to do in York, Maine. Who wouldn't want to visit here when planning a trip to New England?
Luckily, unlike many destinations around the world, most of these attractions don't even have to be booked in advance. That means that even though a lot of planning should go into finding your accommodations in York, you can have the freedom to switch up your itinerary as you please during your visit.
---
You might also like:
---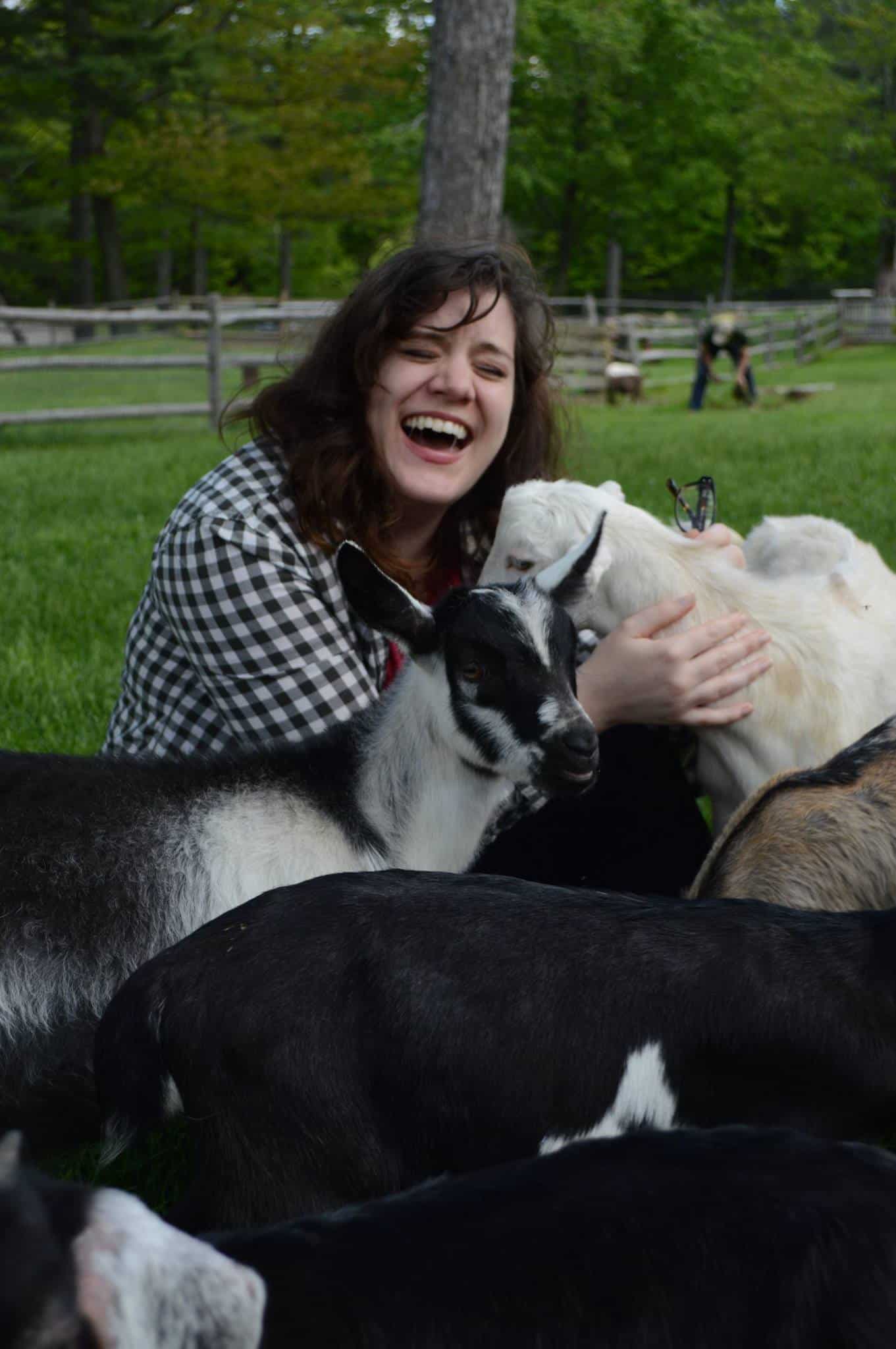 Amy Hartle is the founder and Editor-in-Chief of New England With Love, a comprehensive resource for travel in the New England region. Amy has been exploring New England since 2001. She lived in Vermont for many years and is a graduate of Plymouth State University in New Hampshire. Amy has been writing about travel for over a decade. On this site, Amy aims to share her love of New England and help you to have the best possible adventures!
Amy has been a full time blogger since 2012, and is also the publisher of Two Drifters, where she writes about couples travel and relationships, as well as Let's Adventure Baby, a family travel site. When not traveling the world or creating epic blog content, Amy can be found cuddling with her husband, son, and cats, & drinking a maple latte.