Do you want to go white water rafting in Maine? You're in luck! There are tons of spots to go rafting and many different businesses you can book through to ensure you have the best time possible.
Whether you're new to white river rafting and you want a beginner guide, or you've done this before, and you're ready for a multi-day trip, this post is here to help you. There's something for everyone here, and you're sure to find a trip that suits your budget!
Keep reading to learn all about where to go white river rafting in Maine.
Dead River
The Dead River is one of the more popular places to go white river rafting in Maine. It's 43 miles long and meets up with the Kennebec River. Even though the name Dead River may make you think that the river is relatively flat, it's not. In fact, this is a reasonably fast-paced place to go rafting!
Below, find a few great companies to go rafting on the Dead River with, as well as some details about what their trip entails.
First up is Northeast Whitewater which offers trips for those aged 12 and up. Their pricing starts at around $130, and the trip is about 16 miles long. Their dates are a bit sporadic because of the scheduled dam releases that make the river rafting rides bumpier.
Because a lot of the river's water levels are affected by the dam releases, the ride can truly vary. You never know what to expect when you go out on this trip! The best time to do this trip is between May and October.
Another great company to do Dead River with is Northern Outdoors. With class 3 and 4 rapids, this is an incredible place to go. Pricing ranges between $89 and $130ish, and it's for ages 14 and up.
Their trip starts around 8 a.m. and begins with a brief safety orientation, and ends 5 miles away from the company's Northern Outdoor Adventure Resort, where you can enjoy drinks at a brewery and classic steak and veggie burgers for lunch.
Maine Whitewater is a perfect option for white water rafting in Maine on the Dead River. It's great for ages 12 and up and begins at 8 a.m. No experience is necessary, and it's class 4, with the highest releases generally in the spring or early summer.
What's fun about Maine Whitewater is that they offer special sports rafts for those who want a more exciting ride on the Dead River.
Explore Dead River with Magic Falls and travel along 15 miles of class II and V rapids! Along the way, you'll go through popular spots like Poplar Falls and Hayden's Landing. For Magic Falls, this is one of their more popular rides, so book well in advance.
Their minimum age is 12 years old, and pricing is around $100 per ticket. Similar to Maine Whitewater, sports rafts are available for an extra fee.
With US Rafting, explore 16 miles of the Dead River! Along the way, experience surf holes and continuous whitewater. Be sure to book during one of the year's release dates to experience the water at its highest.
For US Rafting, the minimum age is 14, and their pricing starts at around $140. Some extra fees may apply, but the ticket includes necessary items like a guide, helmet, lunch, and more.
Crab Apple is one of the more well-known white water rafting businesses in the northeast! Their trip on the Dead River is 16 miles long and the minimum age is 14. Along the way, experience class III and V rapids.
They also offer rafting and lodging combo packages where you can stay at their location and enjoy breakfast the morning of. The ticket price includes a cookout with steak and vegetarian options too!
Canada Falls
One of the steeper and more fast-paced spots to go white river rafting in Maine is Canada Falls! It's definitely one of the more challenging places to go rafting and is best for those who are ready for all the excitement and quick thrills!
Here are a few of the top companies to book through to explore Canada Falls.
First up is Northeast Whitewater again! They offer a Canada Falls trip with a minimum age of 12. In total, it covers 10 miles in two runs of 5 miles. It's a class III to V, and the price is also around $130.
Throughout the ride, there are steep drops even leading up to the gorgeous waterfall, The Slide, which is 20 feet high. This trip only runs on Saturdays during the summer months and is done very limitedly.
Because they're one of the only companies that run rafting on Canada Falls, the spots fill up really fast.
Penobscot River
The Penobscot River is one of the more commonly-rafted spots in Maine, so it shouldn't be missed! It's also the second-longest river in the state at just around 260 miles in total. Don't worry, most of the rafting trips just cover a fraction of that.
Penobscot Adventures Whitewater Rafting
There are a few different adventures available through this great company. Their trips range from age 8 and up to age 15 and up, so be sure to do research if you'll be doing a trip with a child. Most of the trips are half-day trips for around $100, with a cookout lunch.
Be sure to book the upper Penobscot River adventures for more challenging rapids and the lower river for more beginner-friendly rapids. They're both fun.
New England Outdoor Center also offers upper and lower Penobscot River trips. They have trips for those aged 15+ in the upper area and age 8+ in the lower area. Their pricing ranges between $100 to $140, depending on the one booked.
The most popular trip that Northern Outdoors offers is on the Kennebec River Rafting. It's for ages 10 and up, and it's a full day trip between May and October. As a class IV river trip, this is a great option to consider doing for beginners. Pricing starts at around $80 per person.
Northeast Whitewater has tons of different rafting trips, and the Penobscot River rafting is one of them! This is their most popular trip and has class III to V whitewater along the way. Plus, you'll even pass the beautiful Nesowadnehunk Falls. It's for ages 14+ between June and September, with pricing between $110 to $125.
Starting at around $149, US Rafting has great options for the Penobscot River. Their trip is on class V and includes popular rapids like Crib Works and The Exterminator. Similar to their other trips, this one does include lunch, but they recommend bringing a tip for the guide.
Kennebec River
The Kennebec River runs all the way up through Maine at around 170 miles! It's a great place to go white water rafting and has some fun thrills. However, it's a more mid-range ride that works great for beginners, unlike Canada Falls.
For ages ten and up, Crab Apple is a great place to go white water rafting through. It covers 12 miles and starts right at Harris Station Dam. It goes pretty fast after the beginning and has some super fun rapids ranging from easy to fast-paced. Pricing is around $130, and it runs between June and September.
Next up is Three Rivers! Their Kennebec River trip is their most popular because the rapids are so much fun. In fact, beginners and those who have been rafting before enjoying this one. The trip starts around 9 a.m. and has a minimum age of 10. It runs between May and October and lasts between four and six hours.
North Country Rivers is one of the best companies for the Kennebec River for white water rafting in Maine. They run the trip nine times between April and October, and it starts around 9 a.m. Their minimum age is 5 for the lower half and 12 for the turbine test trips. The trip is about 4.5 miles long and ranges between $30 to $130, depending on the trip booked.
For a super fun time, book a trip through Magic Falls! They have a one-day trip with a minimum age of 10 and a price between $85 to $100. At the end of the trip, you can enjoy a great cookout with steak, cake, burgers, and more, while checking out photos from the trip.
Another great company to book this tour through is Northern Outdoors! Their trip starts around 7:45 and includes a great launch by the water. It's between May and October, with pricing around $83 per person. The age minimum is 10 on the upper part of the Kennebec and 8 on the lower part, and the trip covers 12 miles in total.
Multi-River
If you're seriously ready to take it up a notch, consider booking a multi-river trip!
One of the greatest multi-river trips is through Maine Whitewater. They have one that covers both Penobscot and Kennebec Rivers. The trips run between May and September, and no experience is necessary, so it's perfect for adventure seekers who really just want to explore more than one river during their trip. Pricing starts at around $300 per person!
Hopefully, this post has encouraged you to go white water rafting in Maine. There are so many incredible options for guided tours!
---
You might also like: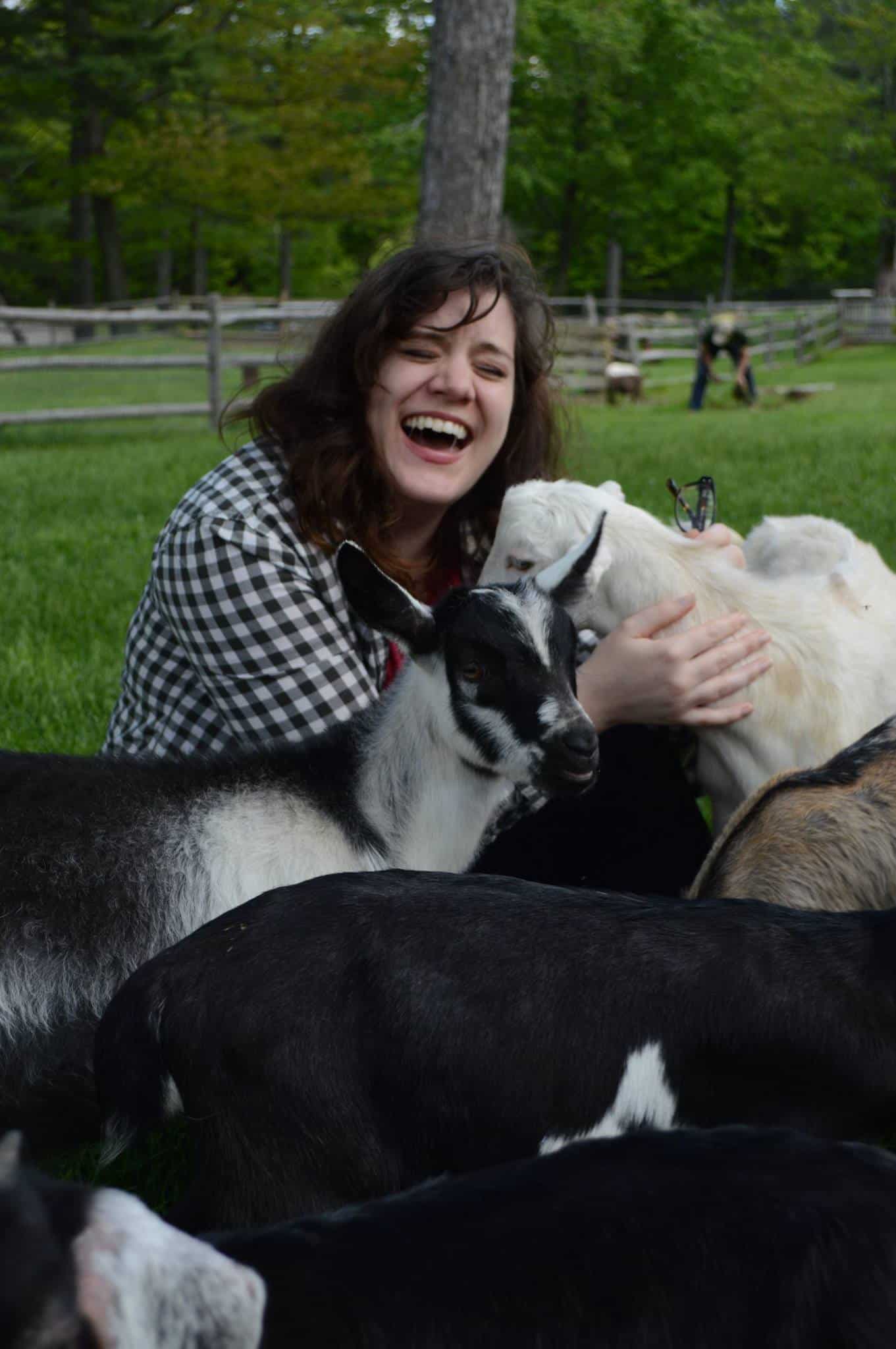 Amy Hartle is the founder and Editor-in-Chief of New England With Love, a comprehensive resource for travel in the New England region. Amy has been exploring New England since 2001. She lived in Vermont for many years and is a graduate of Plymouth State University in New Hampshire. Amy has been writing about travel for over a decade. On this site, Amy aims to share her love of New England and help you to have the best possible adventures!
Amy has been a full time blogger since 2012, and is also the publisher of Two Drifters, where she writes about couples travel and relationships, as well as Let's Adventure Baby, a family travel site. When not traveling the world or creating epic blog content, Amy can be found cuddling with her husband, son, and cats, & drinking a maple latte.