Looking for Maine winter activities?
When the temperature drops and the days shorten, a fair number of avid outdoor enthusiasts have a tough time adjusting. After a sunny summer of warm alfresco adventures, it's a difficult adjustment to feel cooped up with significantly less daylight. We feel it even more so in Maine—the Downeast coast gets the sunrise before anyone else each morning, and in the summer first light can come well before 4:30am.
The obvious fix for those outdoor junkies during the winter months is, clearly, skiing. It's likely the first thing most people think about in terms of winter sports. It's an exhilarating hobby and loads of fun, though it can quickly get pricey and it's just not for everyone. To that end, check out these Maine winter ideas to stay active, get some fresh air, and have an adventure-packed Maine winter full of experiences you'll still be thinking of come warmer weather.
Maine Winter Activities
Snowshoeing
Snowshoeing, just like skiing, shares its roots as a traditional and necessary mode of backcountry transportation during the deep winter snowed-in months when walking just wouldn't cut it. It might not be too necessary for the modern world, but it's an absolute blast for a winter outing and great excuse for a drive out to the country.
Maine has a storied history of snowshoe craftsmanship tracing back to indigenous groups inhabiting North America long before ships from Europe made the transatlantic journey—picture the large, beautiful wooden style often hung in lodges as a show piece. While the modern form is lighter, smaller, easier to use, and much more cost effective, it's worth noting that traditionally crafted wooden snowshoes are still made the same way they have been for hundreds and hundreds of years, usually as a skill passed down through each family generation.
A few inches of well-packed snow, and you're ready go rock. Snowshoeing has enjoyed a meteoric rise in popularity in the last ten years as the gear has gotten lighter and less pricey, and you'll find countless people traipsing through Maine's cross-country skiing trails strapped into a pair of lightweight snowshoes. Light enough, in fact, that you can sling them to your backpack if needed and swap between them and a pair of boots when unknown terrain makes an appearance.
Just about any flat hiking trail or even uphill trails without too many rocks can be perfect for a snowshoe outing. With its increased popularity as a winter sport, some businesses have even started catering to the snowshoe crowd. Case in point: Oxbow Brewing's newest location in Oxford, Maine has miles and miles of snowshoeing and cross-country trails just beyond its taproom. After working up a sweat on the trails, grab a cold beer, some pizza from their wood-fired oven, and hang by the bonfire outback.
Ice Fishing
There's no need to put the fishing gear away just because it's winter; Maine's ice fishing season runs from January through the end of March and you can get a license just about anywhere you'd get worms or tackle. You'll find a number of Mainers that prefer the ice fishing season: warm hot cocoa (or maybe something a big stronger…hmm) bundled up in an ice shack while you patiently wait for a nibble on your line is a pretty solid way to spend a cold winter weekend.
Maine's biggest lakes and wilderness regions that flourish with summertime tourism—Rangeley, Moosehead, and Millinocket to name a few—are just as active during Maine ice fishing season. Cabin rentals and camps filled with rustic wood beam greatrooms and roaring hearths lead their guests right out onto the lake for ice fishing derbies with licensed Maine guides. Beer and wine are flowing, grills are fired up, and everything from landlocked salmon to trout and white fish are pulled from the frigid waters.
Added bonus: the elaborate ice shacks locals drag out onto the lake have turned into their own kind of winter sport, with a playful amount of one-upmanship over stove size, build quality, and décor. It's basically a microcosm of the real estate market with tiny cabins and lots of flannel—you'll take a million pictures worth sharing. Dress warm, bring extra layers, pack your camera, and test your patience; ice fishing on a glassed-over lake while the smell of grilled lunch and local brews wafts through the air is about as Maine as it gets.
Snow Tubing
Ahhh snow tubing, always one of the top kid winter things to do in Maine, and let's be honest, everywhere there's snow. Snow tubing is a classic winter activity in Maine and beyond, and a part of its draw is that it's just such a rewarding activity… yeah, you have to climb the hill (or ride up on the fancy magic carpet in some spots) but then you get the glory of just sitting back and enjoying the ride on the way back down! No lessons needed, snow tubing is about as easy a Maine winter activity as it gets, so even if you've never done it before, consider giving it a go. Here are some of the most popular Maine snow tubing spots.
Dog Sledding
Before cars, before pavement, before electricity and trains and roads—there was Maine dog sledding. The original mode of high-speed winter transit through Maine's frost-clutched open fields remains an exhilarating option for an outdoor adventure and an important reminder of Maine's far-flung history of exploration and ruggedness. The guides offering dog sled outings have an unbelievable bond with their canine partners, and the dogs—properly trained and cared for—are likely having even more fun than you are. The breeds used for sledding live to pull that sled.
Exploding with energy as they work together, they race through the snow-covered countryside and glide over lakes and ponds encased in winter glass. Once you're back, they collapse in a happy, tired pile of dog fur and panting tongues while slurping hot soup from their bowls. The relationship between humans and animals is at its best for this glimpse into Maine's winter history, and all you have to do is bundle up and enjoy. And what's not to enjoy from that view: just inches above the snow, you've got a thrilling front row ticket as trees and shrubs whip by opening into stunning vistas around tight turns.
Some excursions are just a few hours, but some turn into an overnight stay at a cozy lodge with home cooked meals and roaring bonfires while the pups snooze after a hard day's work. Check out Mahoosuc Guide Service, Mornington Crescent Sled Dogs, and Heywood Kennel Sled Dog Adventures to name a few.
Tobagganing
Did you know that Maine is home to the US National Toboggan Championships? Well, now you do! That's right, you can head to Camden Maine in February and not only can you watch this interesting competition (competitors dress up in silly costumes, it's certainly a sight to see!) but you can participate if you sign up in time! You can check out more details here at the website for the Camden Snowbowl.
Winter Hiking
A fair number of hikers stick to just the warmer months for safety's sake, but winter hiking with the proper precautions and gear can actually be one of the safest times of year. Consider the potential hazards of spring, summer, and fall hiking—mud, slippery leaves, high temperatures, unexpected rain creating slick conditions, twisted ankles with rocks and roots. We've accustomed ourselves to those risks, clearly, but consider this: well-packed trails, micro-spikes on your feet, trekking poles for added stability, lots of layers, and plenty of cushioning from snow if you somehow take a tumble.
Winter hiking in Maine is less busy, gorgeous, and safe for all skill levels as long as you take the right precautions; an attention to daylight, hike time, and weather conditions is more important with shorter days and cooler temps. You'll also need shoe spikes as well as good trekking poles, too. But that's really it. Most Mainers keep a pair (or even an extra pair) of micro-spikes in the back of the vehicle, anyway.
One other consideration: while the trails may be safe and navigable, the roads there may not. Always take a second to do a Google search for your favorite hike before committing to a winter outing and read the comment sections for info on winter access. A great example is Tumbledown Mountain out by Mount Blue State Park near Weld, Maine—the nearly two mile long dirt access road is not paved in the winter, so keep that on the warm weather list instead.
It's an especially great hiking season for those of us with bad knees—the snow underneath our footfalls helps cushion us and makes a winter hike lower impact. Grab a friend, pack a thermos of hot bourbon cider punch, and hit a winter trail for beautiful snowy peaks and gorgeous views. For less than a day pass at a ski area you can head on down to your local outdoor gear shop and get outfitted with everything you need for a full Maine winter hiking season to stay in shape for those long summer hikes—give it a shot!
Fat Biking
Have you ever heard of fat biking? Well, you certainly can't take a regular bike out onto the snow, so if you want to get around on two wheels during a snowy Maine winter, you're going to need tires that are pretty thick to handle the snow… hence the term, fat bike.
Fat biking is one of those winter activities in Maine that most people can do, even if they've never done it before. The only real prerequisite is knowing how to ride a bike! There are several areas around the state where you can get out on a fat bike and make your way down a picturesque snowy lane, like Sugarloaf Outdoor Center and Bethel Village Trails.
Snowmobiling
Though at times considered controversial by environmentalists or simply a nuisance due to the noise, there's no doubting the importance of snowmobiling to Maine's outdoor economy and winter tourism. The Maine Office of Tourism notes 280 snowmobile clubs, 4,000 miles of uninterrupted trails connecting every region, and 10,000 miles of additional trails throughout Maine's western expanse and northern reaches.
With a cult-like following of enthusiasts and a full range of services associated with Maine snowmobiling—gas stations, diners, rentals, sport stores, lodges, guided tours—it's an entire industry and wintertime way of life. It's also a great way to reach secluded destinations and see tracts of pristine wilderness otherwise unconnected to Maine's last outposts beyond towns and cities.
You can go full in and drop a mortgage worth of money on equipment, trailers, helmets, and all kinds of gadgets, or simply rent it all by the day or half-day. Guided tours through Maine's deep winter kingdom can be just a day, or a full exploration of the backcountry over multiple days and multiple wilderness lodges. If it hasn't been obvious quite yet, Mainers have a serious cold weather obsession with cozy cabin vibes, and there's nothing like a backwoods cabin and hot toddies after a full day of touring on snowmobile.
Build a Bonfire
As noted above, winter in Maine is the perfect time for cozying up in a cabin in the woods, and what do we like to do in a cabin in the woods? That's right, build a bonfire! So maybe you don't actually need to rent a cabin in the woods to build a bonfire, but hanging by the fire is an age-old activity that's perfect for kicking back with friends or going one on one with that special someone. Either way, bonfires are the perfect way to warm up on a cold Maine winter's night. How else are those marshmallows going to get roasted?
Outdoor Ice Skating
Ice skating is a fun thing to do, but outdoor ice skating? That's basically just quintessential winter in New England right there, and Maine in winter is perfect for outdoor ice skating. There are several outdoor ice skating rinks in Maine, like Thompson's Point Rink in Portland, Frisbee Commons in Kittery, and West Brook Skating Rink in Biddeford. Get out there and get your glide on, already!
There's a time and a place for going into hibernation mode and enjoying Netflix and some good company (see the cozy cabin idea above), but for the most part? There are plenty of Maine winter things to do out there to keep you active and enjoying yourself all season long!
---
Read these next:
---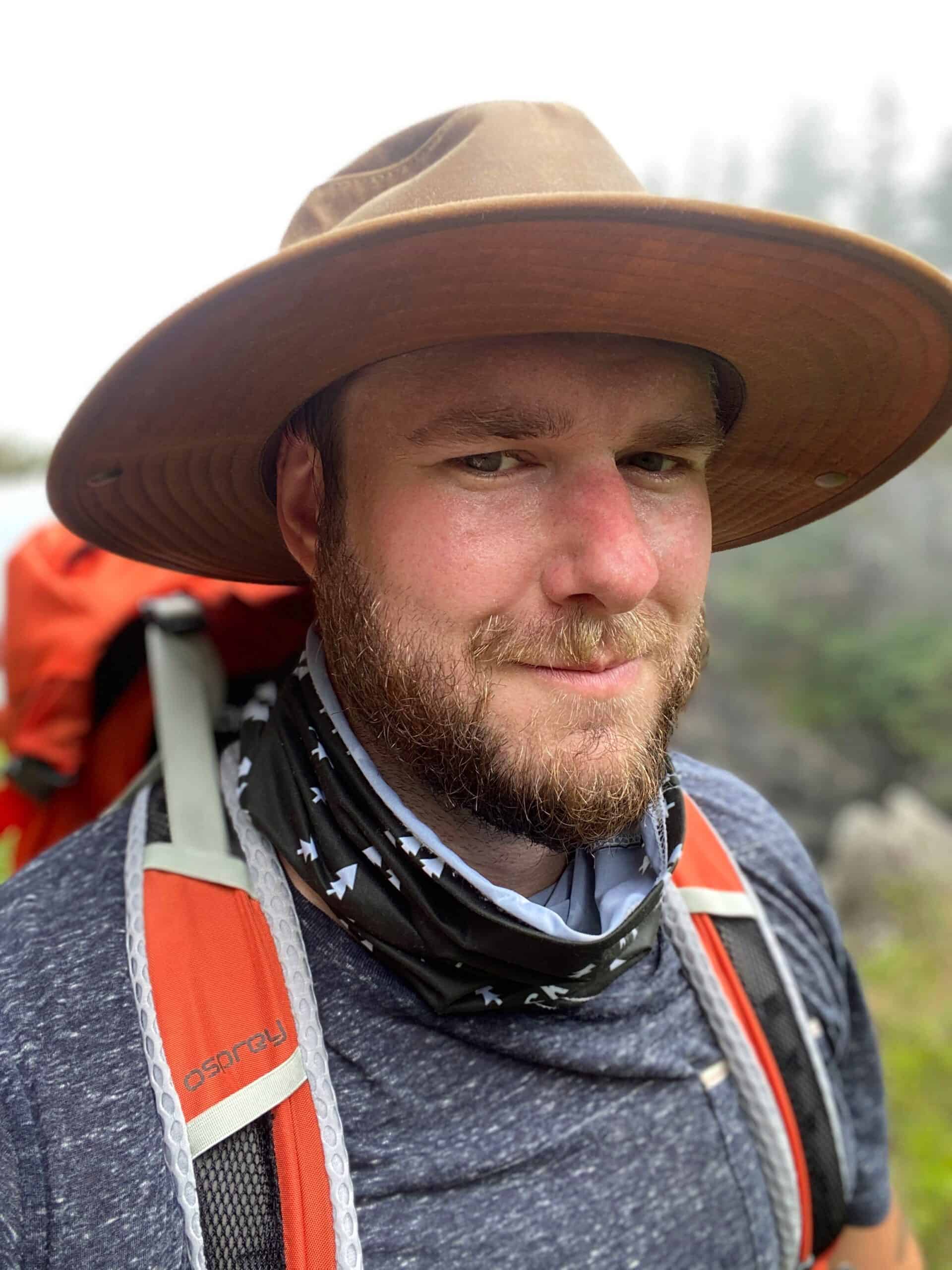 Justin is a writer and photographer based in coastal Maine.  He grew up in New Hampshire, went to college at GWU in Washington, DC, and trained as a chef at Le Cordon Bleu in Cambridge, Massachusetts. Justin has years of experience in professional kitchens, gourmet food sales, and as a wine buyer. He also co-founded Rosehips & Charcoal, a boutique social media consultancy that helps northeast getaway rentals tell their unique stories and grow their online presence.  When he's not working, hiking, or snapping pictures, you can most likely find him drinking wine in the woods in questionable footwear. You can follow along on his Maine adventures and wilderness gourmet shenanigans at @tidetopine on Instagram.