---
*Links in this article may be affiliate links, from which we may earn commission. See our
Privacy Policy
for full details.
---
What better way to enjoy winter in New England than by snow tubing in Maine? This fun winter pastime is the perfect way to get outdoors and enjoy time with family and friends while also having a blast!
The reason that snow tubing is such a popular family activity in the winter is that it actually requires absolutely no skill. That's right; it's not like skiing or snowboarding, where you have to attend lessons in order even to feel comfortable with the gear. Instead, all you have to do is literally sit on a tube and enjoy the ride as you go down a mountain! The closest winter activity to this one is sledding, except this is on a tube instead of a hard plastic piece.
While New England is scattered with places for snow tubing, there are quite a few in Maine that stick out, and they're luckily located all over the state. Some are at actual resorts, while others are at smaller ski areas and mountains. We've rounded up the best of the best to save you time as you plan your fun winter activity.
Here are all of the best places to enjoy Maine snow tubing!
Hermon Mountain Ski Area, Hermon
First up is Hermon Mountain Ski Area in Hermon, Maine. This is a great location to enjoy some fabulous winter snow tubing! Unfortunately, it was closed for the 2021/2022 season, but be sure to check their website to get an update on their 2022/2023 dates, pricing, and information.
Each ticket at Hermon Mountain Ski Area includes access for three hours as well as a tube, so you don't have to worry about bringing your own by any means. It's also a 600-foot slope, which can be tons of fun, and the slope has a slight U-shape.
One of the things that are so great about this place is that it is family owned and operated, so there's a fun local vibrance about it when you visit. Riders have to be at least 3 to enjoy snow tubing at this location, and historically, the tubing lanes were open between Wednesday and Sunday.
You could easily make a day of it, as there are tons of other activities to be enjoyed here, too, like skiing, snowboarding, and more.
BigRock Mountain, Mars Hill
Another great place for tubing in the snow is BigRock Mountain, which is located in Mars Hill, Maine. Similarly to other places on this list, BigRock Mountain is open seasonally and is normally open for two different sessions on both Saturday and Sunday.
A 2-hour tubing pass normally costs about $20, and you'll want to purchase based on the session time you'd prefer. There's normally a morning session from 11:30 a.m. to 1:30 p.m. and then an evening session from 2 to 4 p.m.
The tubing park here is 800 feet long, and it's fun for the whole family. Though it's a walk up hill (no magic carpet here!), it's still worth visiting, and you'll enjoy the thrill of the ride down even more because you'll have to work to get back up! Riders must be 42″ tall to ride and be at least five years of age.
Sunday River Resort, Newry
Another fantastic spot to enjoy snow tubing is the Sunday River Resort, which is located in Newry. Though closed for the previous season, they are expected to open up again this year if they can find a place for their snow tubing experiences.
Normally, guests are able to enjoy the thrill of this outdoor adventure on the resort's Sundance Trail, which is on the South Ridge portion of it. For more up-to-date information about their snow tubing activity, be sure to keep an eye on their website page.
Similar to other resorts, Sunday River Resort also has a variety of other fun winter activities that can be enjoyed, as well. There's night skiing (which can be really fun), snowboarding, snowshoeing, nordic skiing, and more. Sunday River Resort is always fairly lively as well, so it can be a lovely place for the entire family to get outdoors and make some memories this upcoming winter.
Black Mountain Ski Resort, Rumford
Located in Rumford, Black Mountain Ski Resort is a wonderful place to enjoy snow tubing in Maine! Yes, it's mainly a place for skiing in snowboarding, but many families also go just to enjoy the snow tubing.
One of the great things about Black Mountain is that tubing passes don't have a time limit! So, you can purchase a ticket (which was $20 in the most recent season) and then tube your heart out for the entire time that the lanes are open that day.
Hours are often on weekends and occasionally Wednesdays throughout the season. Each ticket does come with a tube, so you don't have to pay extra. Those who want to watch and not ride are also able to enter the area free of charge, so it's perfect if children want to have some fun while you keep an eye on them.
To ride at Black Mountain, you must be at least five years of age or 40″ tall, as all riders have to be able to carry their own tube. This is also because all tubes are only for one rider each. Helmets aren't required but are encouraged for extra safety precautions.
Lost Valley Ski Area, Auburn
Easily one of the most popular spots to go snow tubing is at Lost Valley Ski Area in Auburn! They open each winter season and have sessions starting every hour, normally for around $20 per session. Similar to other places to snow tube, tickets should be purchased ahead of time, and it's actually required here.
In order to snow tube at Lost Valley Ski Area, riders must be at least 42″ tall, and only one person is allowed per tube. Each snow tube area has its own rules about this, but most in Maine consistently only allow one person per tube, and it's required to use the tubes that they provide.
Should you be traveling with a larger group (so ten or more), then you can pay a lower rate per person. Those who want to go to the tube park but just watch (so adults or parents, normally) do not have to pay to enter the area. However, those under the age of 18 do need to have a waiver that's signed by a legal guardian in order to enjoy snow tubing.
Seacoast Adventure, Windham
Last but certainly not least is Seacoast Adventure in Windham, a lovely place for ME snow tubing! What makes this place unique is that they also have night tubing available, and they make their own snow, so it can be enjoyed even if the nearby town has no snow of its own.
Seacoast Adventure is open on the weekends and also holidays. When nearby schools have vacations, they will also open up so families can make some fun winter memories outdoors.
Each session ticket includes two hours of tubing, and it's $32 per person for a single ticket. Tickets do include a tube. Those traveling with children can instead opt to purchase a combo ticket for a lower, more affordable price. This includes a tube and ticket for both a child and an adult, as long as the 40″ tall requirement is met by the child. Only one person is allowed per tube, and a child must be present in order to get the combo ticket at the desk.
Well, there you have it! There are so many great places for snow tubing in Maine. No matter where you choose to enjoy tubing, we know you'll have the greatest time. Don't forget to share this post with your other friends in Maine!
---
Read these next: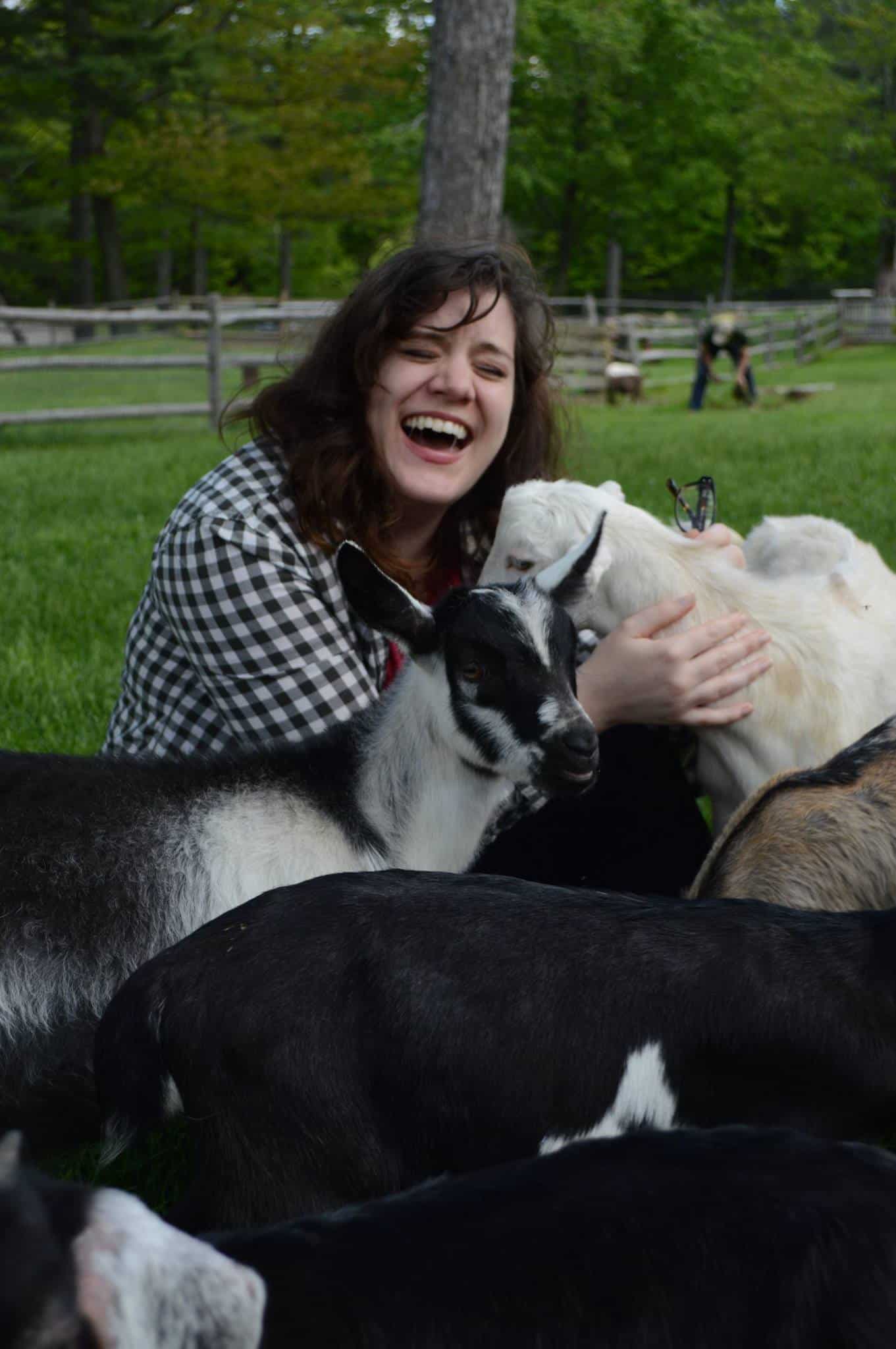 Amy Hartle is the owner and editor of New England With Love, a comprehensive resource for travel in the New England region. Amy lived in Vermont for 15 years, attended Plymouth State University in New Hampshire, and continues to travel regularly around the entire New England region. On this site, Amy aims to share her love of New England and help you to have the best possible adventures!
Amy has been a full time blogger since 2012, and is also the publisher of Two Drifters, where she writes about couples travel and relationships, as well as Let's Adventure Baby, a family travel site. When not traveling the world or creating epic blog content, Amy can be found cuddling with her husband, son, and cats, & drinking a maple latte.