*This site uses affiliate links; if you make a purchase through these, I may receive a small commission at no cost to you.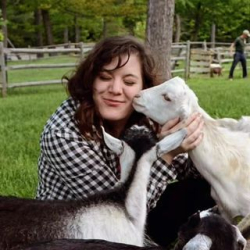 Latest posts by Amy Hartle
(see all)

Planning a visit to the rugged coast of Maine and only have 3 days to spare? My meticulously crafted 3-day itinerary for Acadia National Park is your perfect guide. This itinerary for 3 days in Acadia will ensure you see the best spots, including Cadillac Mountain, Thunder Hole, and the Bass Harbor Head Light.
Acadia, located on Mount Desert Island, is not just a paradise for outdoor enthusiasts but also home quaint towns like Bar Harbor. And this travel guide covers both. Whether you're into hiking, sightseeing, or simply soaking in the coastal ambiance, I'll help make sure your 3 days are packed with the best experiences Maine has to offer.
This itinerary is based on a trip my husband and I took to Acadia in the fall. We loved it, and hope you will too!
PS: Check out this downloadable self-guided driving and walking tour of Acadia and Bar Harbor for your phone that could come in handy for your trip!
No time to read the entire post? That's okay, these are the highlights of our 3 day itinerary in Acadia National Park:
🍁 Day 1: Explore Bar Harbor shopping, restaurants, downtown.
🍁 Day 2: Check out Acadia attractions like Thunder Hole, Ocean Path, eat at Jordan Pond House, and take a whale watch cruise.
🍁 Day 3: Catch a Cadillac Mountain sunrise, hike the Beehive Loop Trail, then head to Bass Harbor Lighthouse.
The Perfect 3 Day Itinerary Acadia National Park & Bar Harbor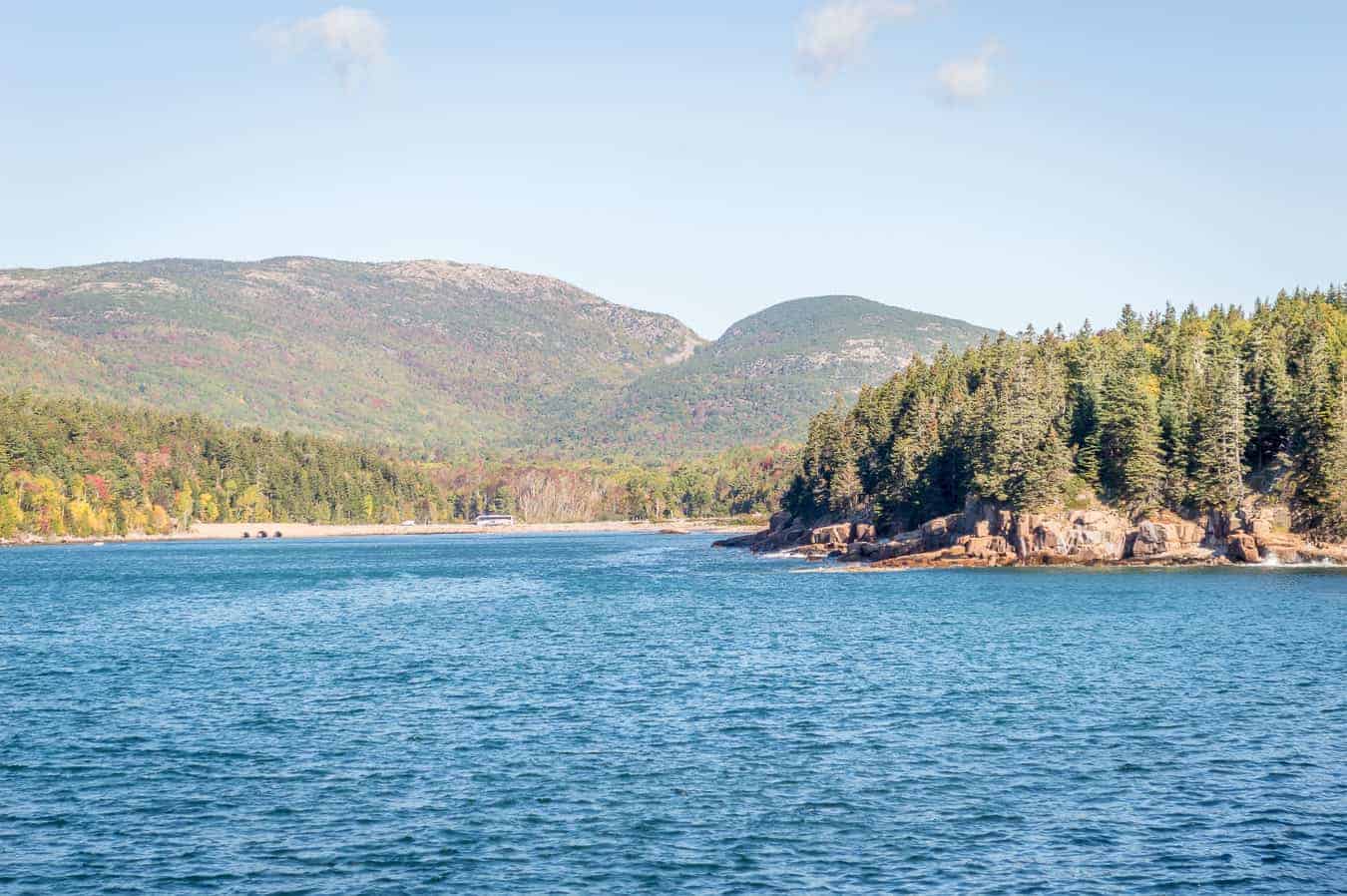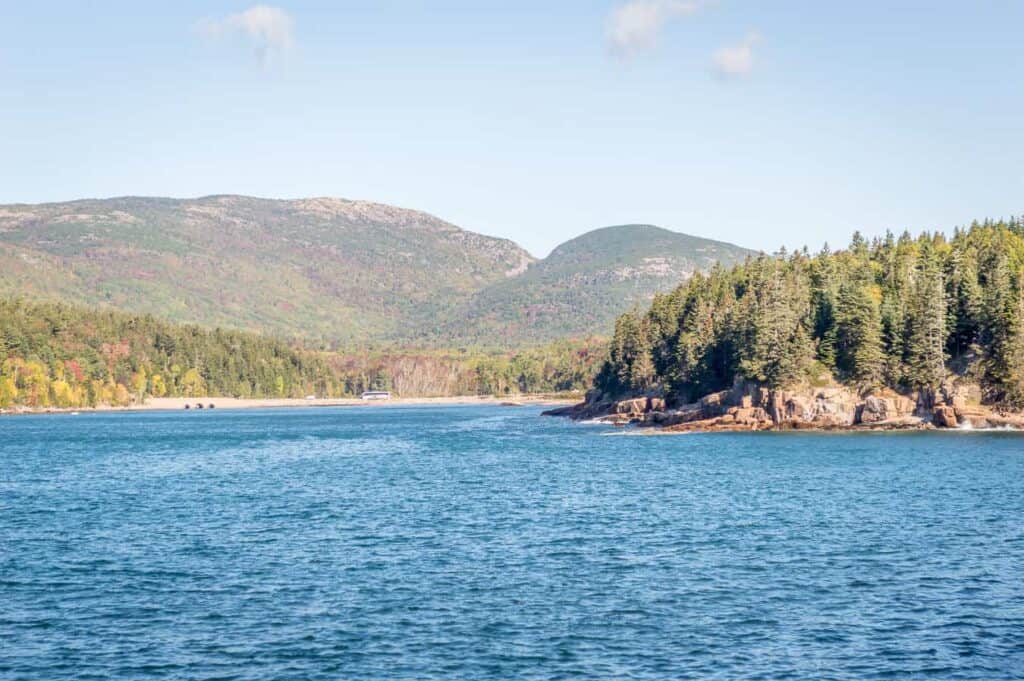 🍁 Day 1 Bar Harbor Itinerary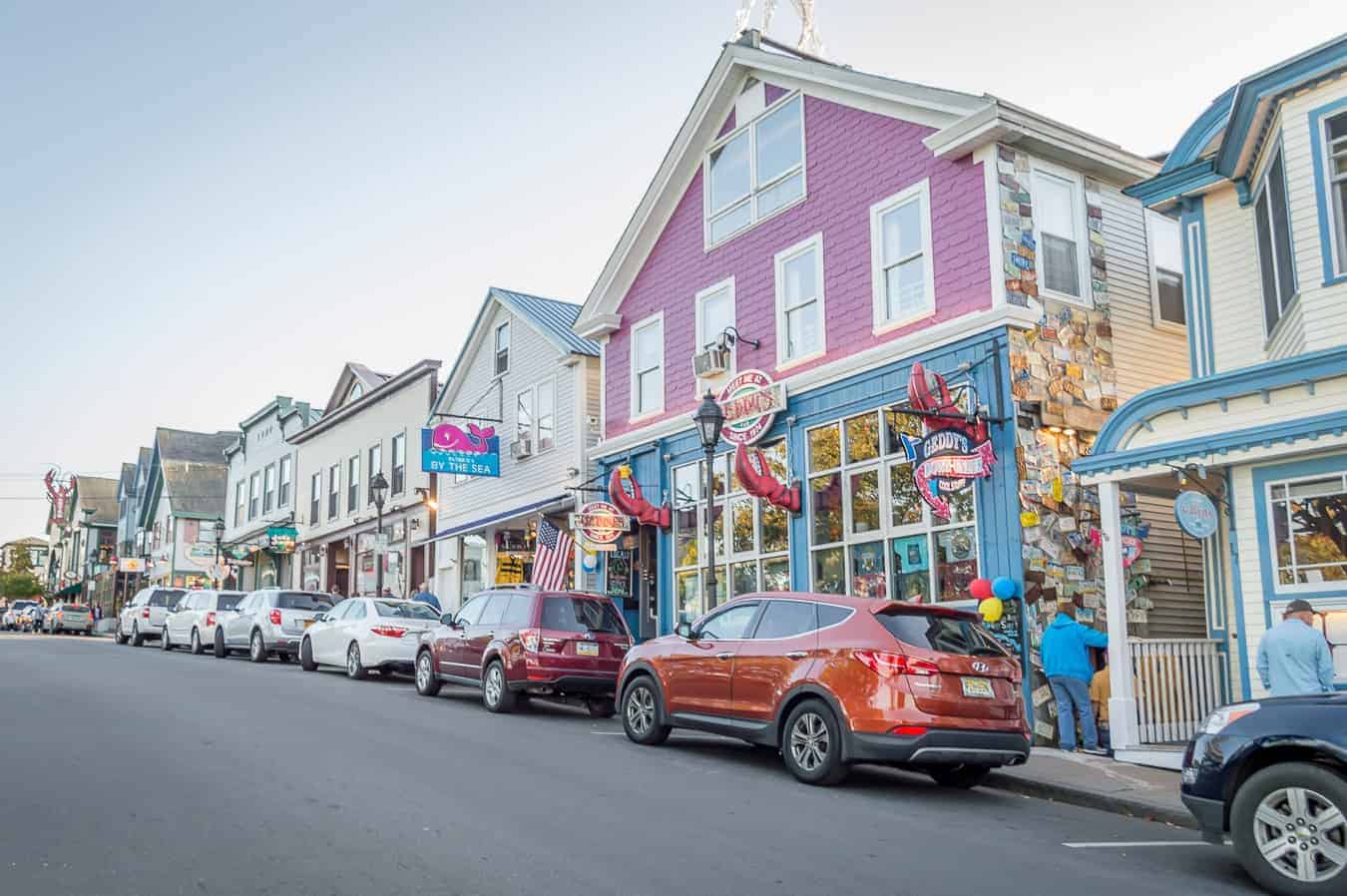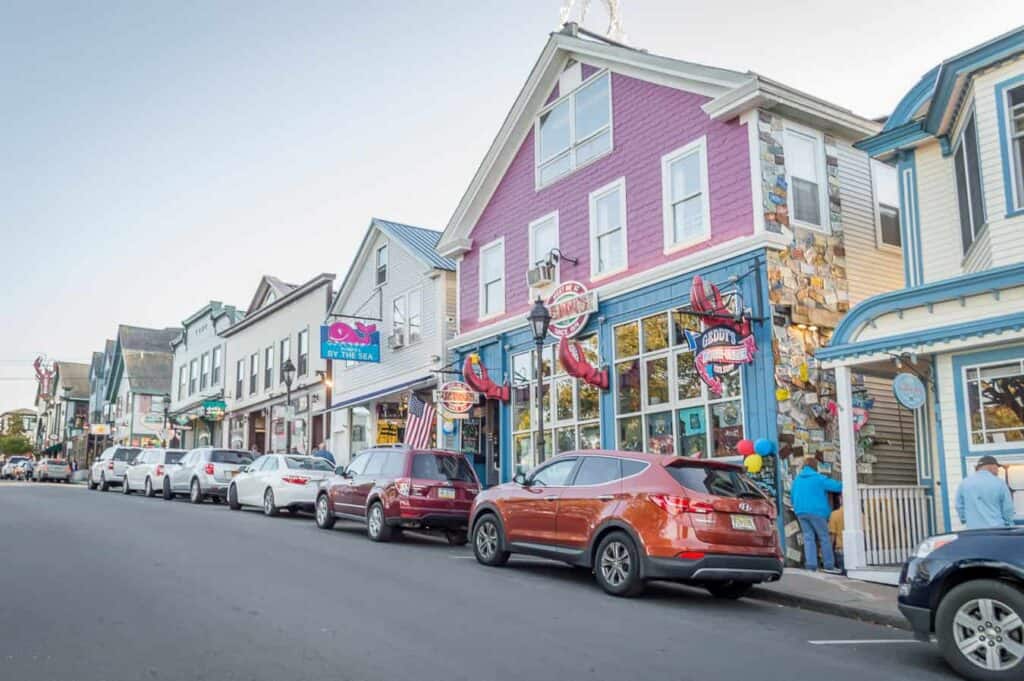 On day one, arrive on Mount Desert Island.
Right away, you'll be charmed with how cute downtown Bar Harbor is. And today, we're going to explore it!
First, check into your accommodation. We loved the Bar Harbor Inn, where we stayed, and which is in an absolutely perfect location, but check out our whole list of best places to stay in the Acadia region, as well as these cozy Acadia cabin rentals.
Now for the rest of your Day 1 activities in Bar Harbor! You'll be following a laid back schedule today, focused on exploring downtown Bar Harbor. The downtown area is made up of a small network of streets, and it's easy to get around on foot.
You will spend this evening browsing Bar Harbor shops, grabbing a bite to eat, and, if you're up for it, enjoying some of the casual nightlife.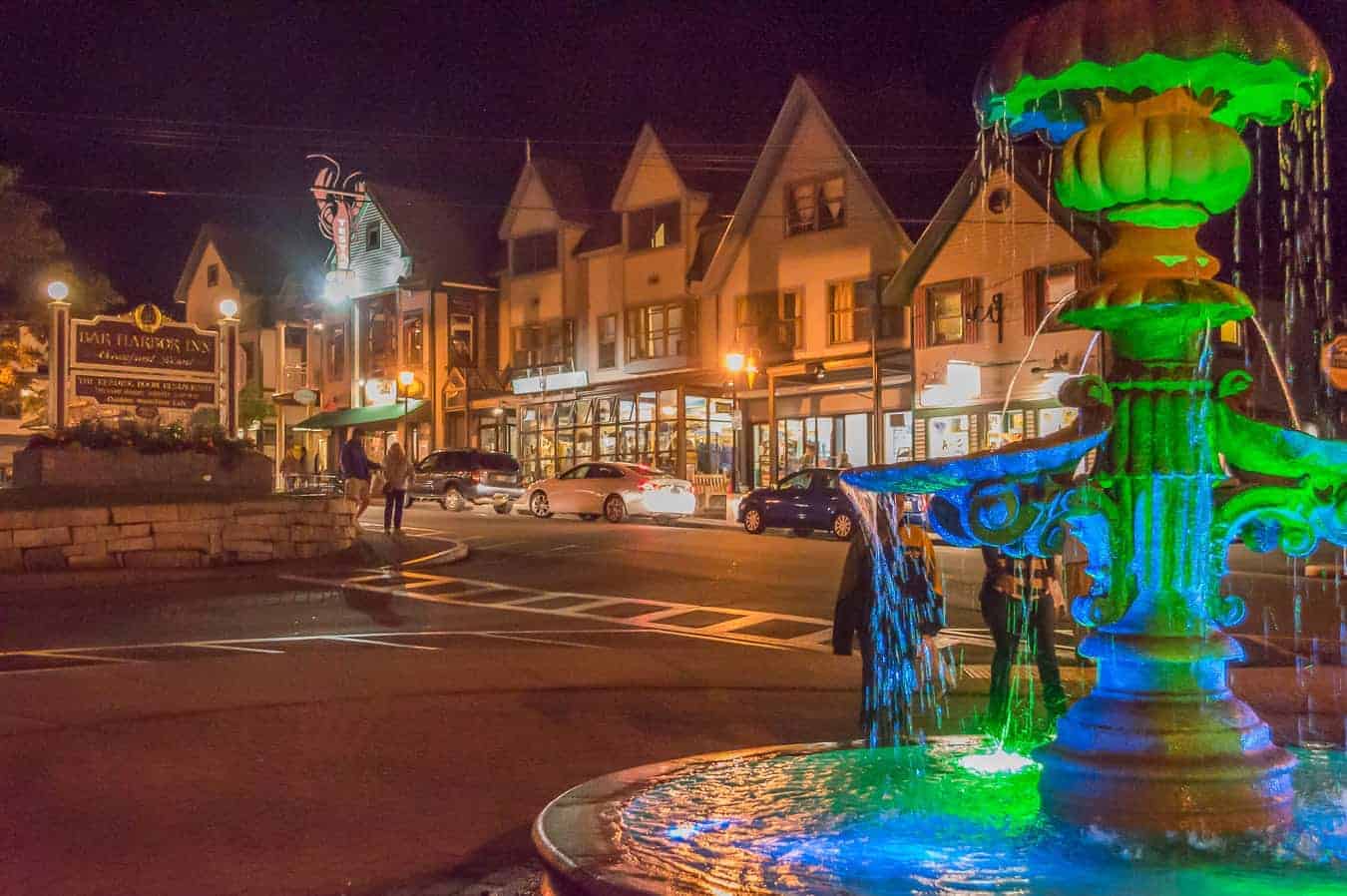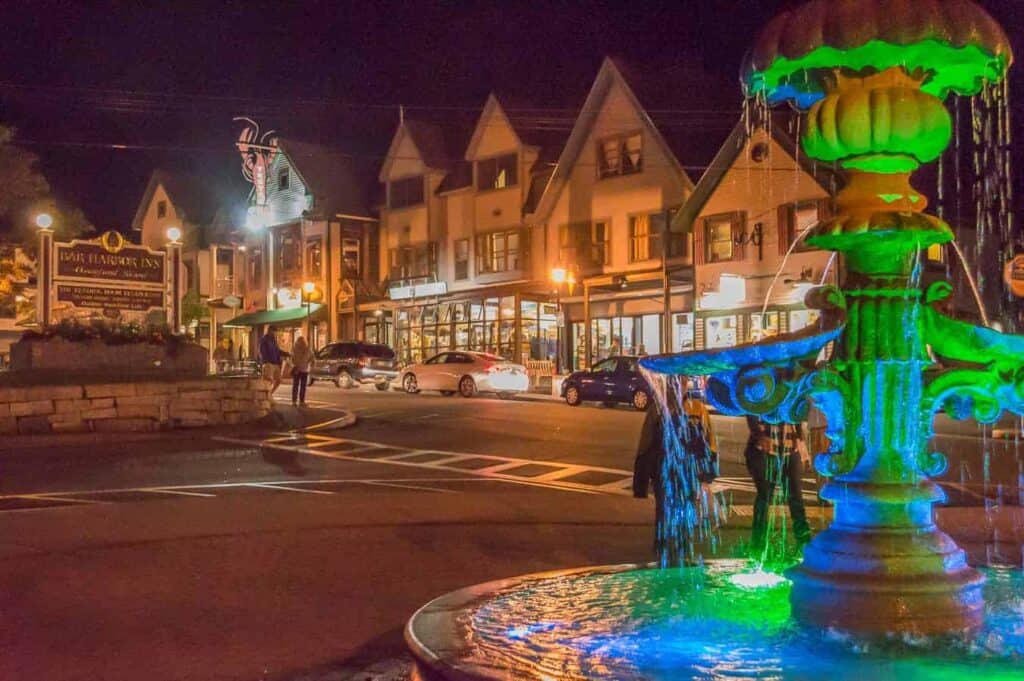 Recommendations for Downtown Bar Harbor Things to Do: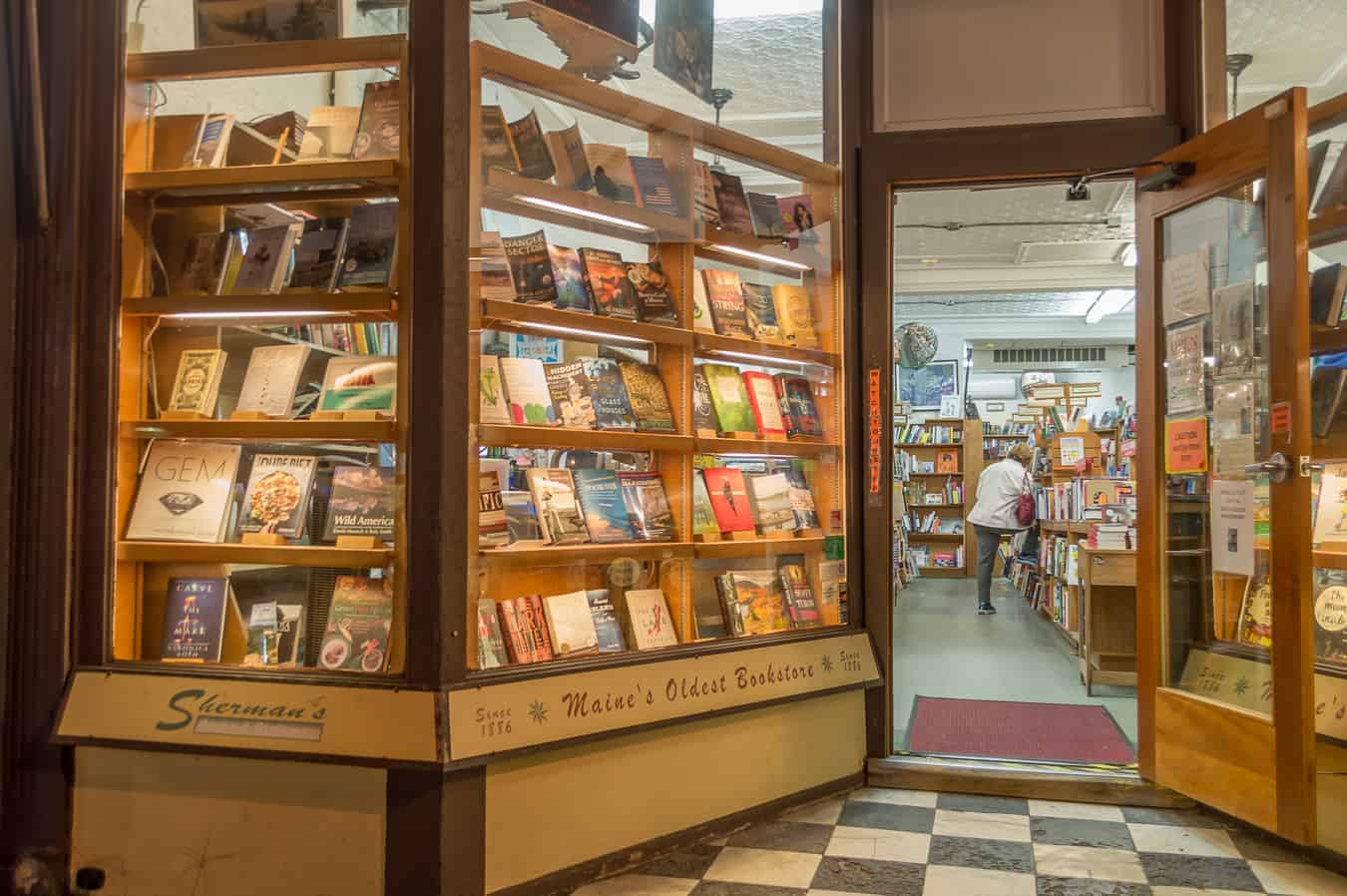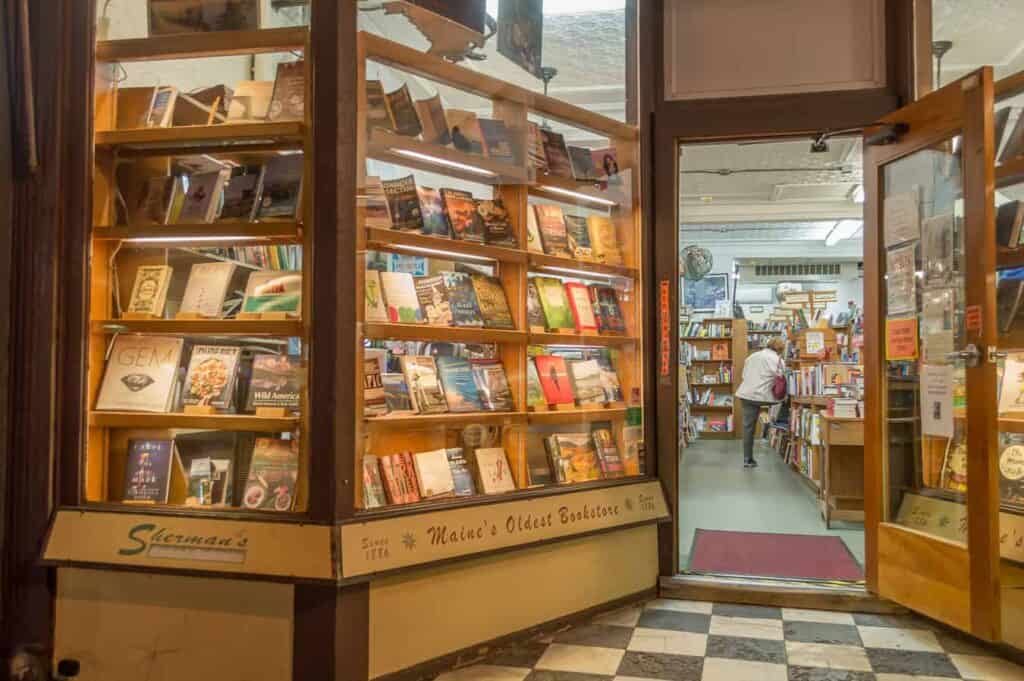 🍁 Day 2 Acadia National Park Itinerary
Good morning! Day 2 of your Bar Harbor itinerary begins early with a drive through Acadia National Park. Grab your camera because the scenery is spectacular!
How far is Bar Harbor from Acadia National Park?
One of the great things about this region is how there's so much to do within easy driving distance. Bar Harbor to Acadia National Park (and vice versa) is just a few minutes' journey. You'll be at the entrance to the park very quickly.
You'll be driving the Park Loop Road, a 27-mile route that circumnavigates a large portion of Mount Desert Island. You can stop as much as you wish during the drive.
There are multiple parking lots and pull-off points. You'll be seeing Acadia National Park views like this: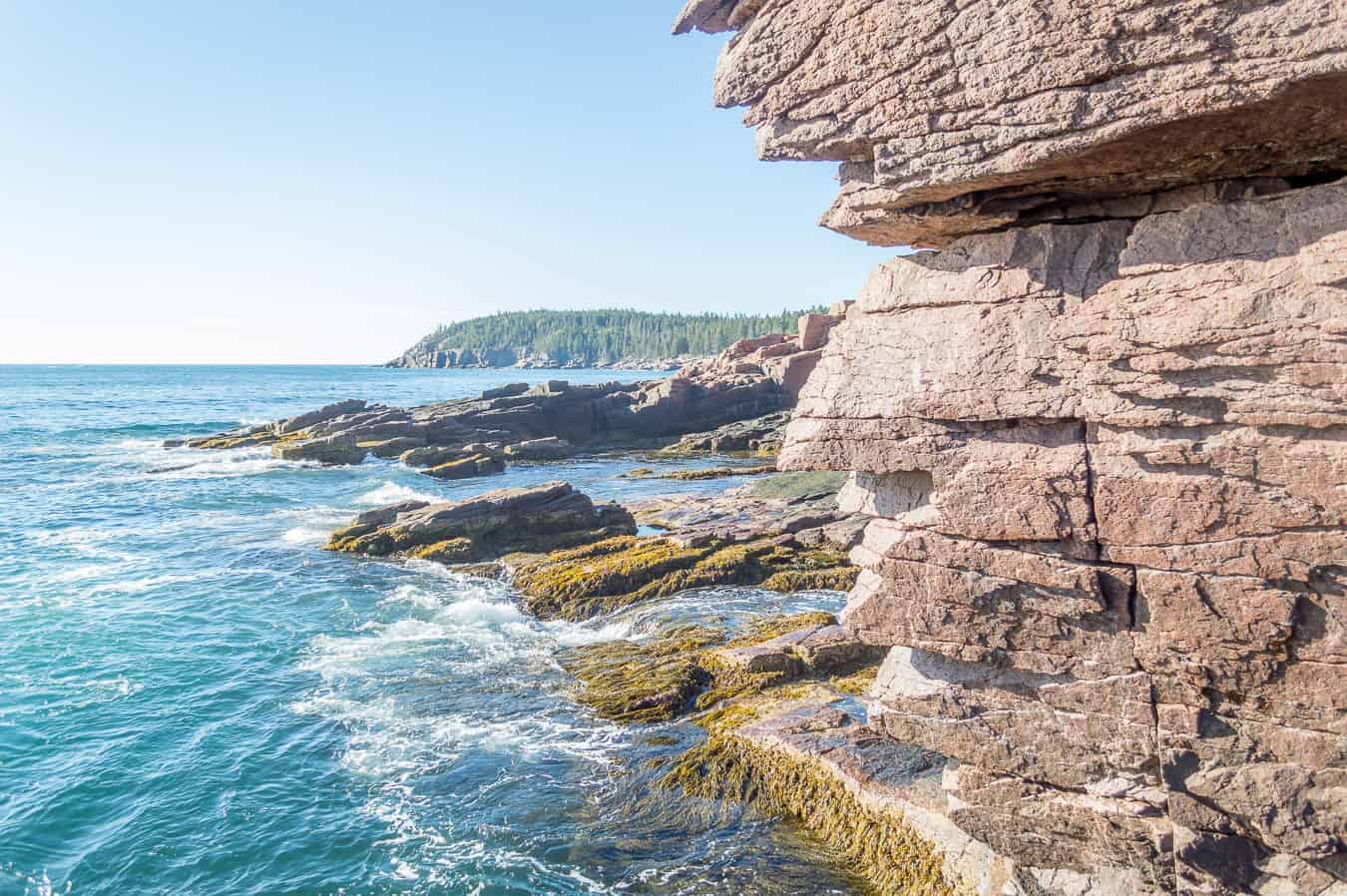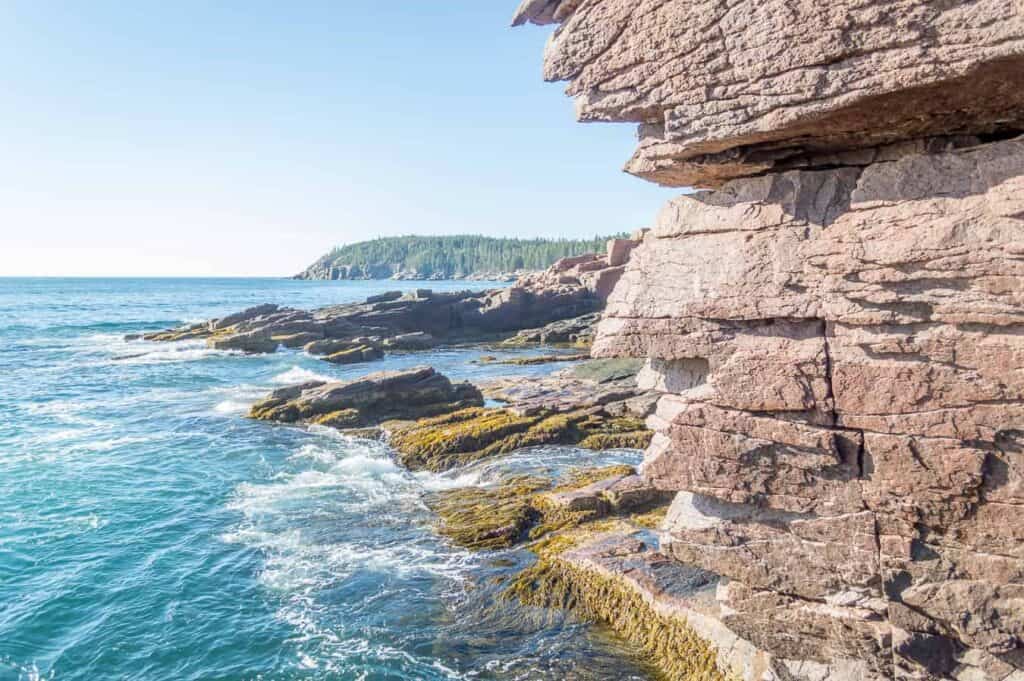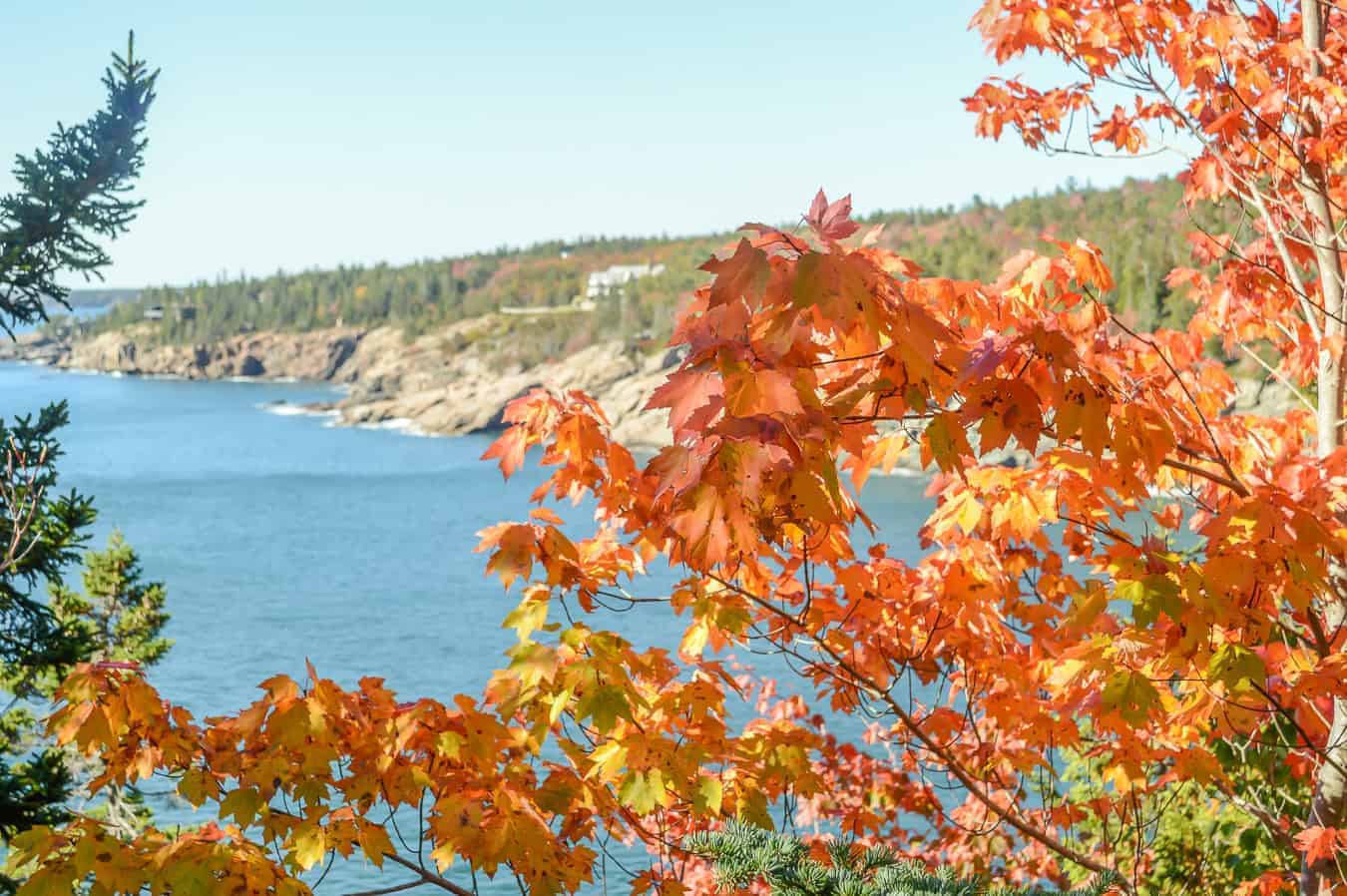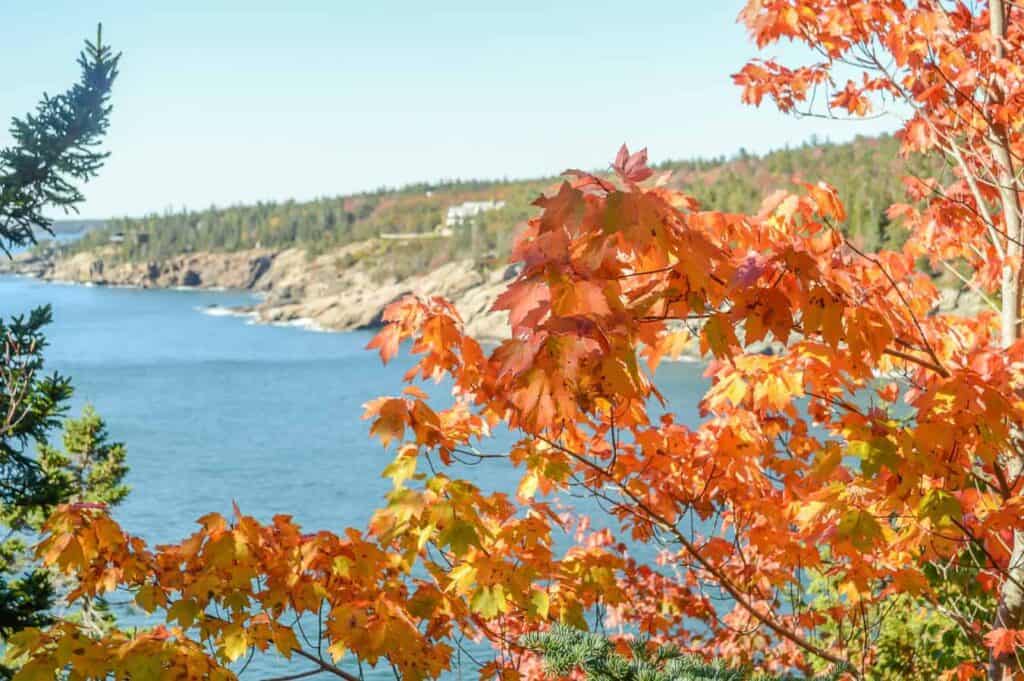 Psst: Before you enter the park, you will need to buy an entrance pass. You can find out where to buy and specific prices here or visit the Village Green in Bar Harbor. If you're traveling without a car, the Island Explorer shuttle passes through the park, or you can hop on a narrated bus tour with fellow travelers.
Planning to visit several national parks this year? The America the Beautiful Pass is an amazingly good deal, giving you access to more than 2,000 sites for an entire year. Get it here.
Thunder Hole
Your first main stop on the Park Loop Road is at Thunder Hole. This is a natural rock formation where high seas can cause a thundering boom and a huge splash. If you time it right, you can catch prime conditions for the thunder!
The best time to visit Thunder Hole is 2 hours before high tide. (Check tides here). This is when the waves are moving in and when booms and splashes are most likely.
You may not catch the massive roar that Thunder Hole is known for, but you can still get an idea of this geological wonder.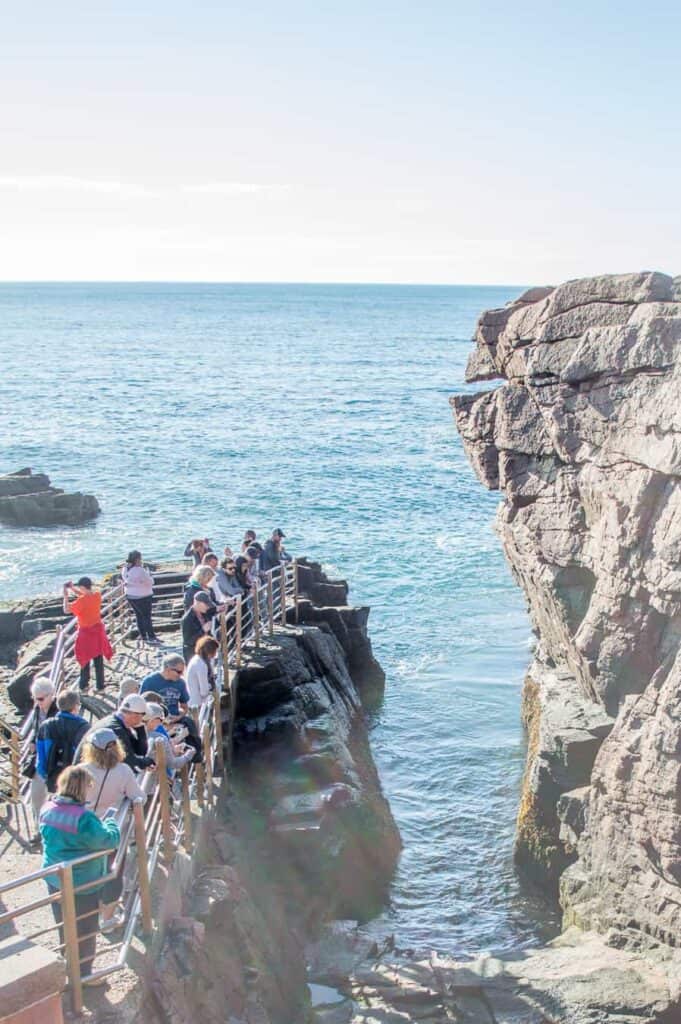 Ocean Path: Sand Beach to Otter Point
Continue along the road for more beautiful sights and great places to stop, including Sand Beach (one of the best beaches in Maine!) and Otter Point.
It's worth just stopping and relaxing and enjoying the view. Acadia National Park is a popular place, so expect some crowds, especially in the summer and fall.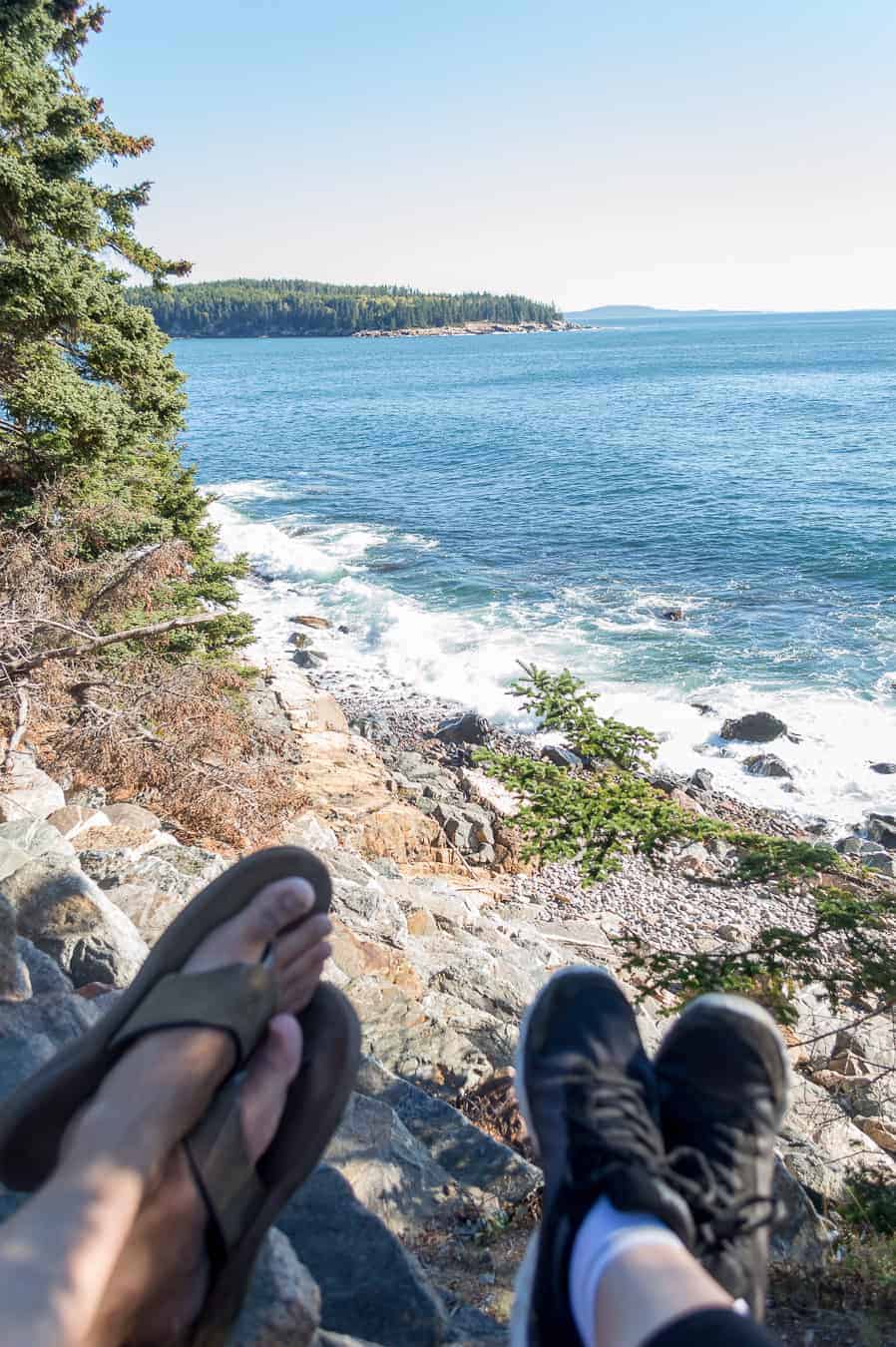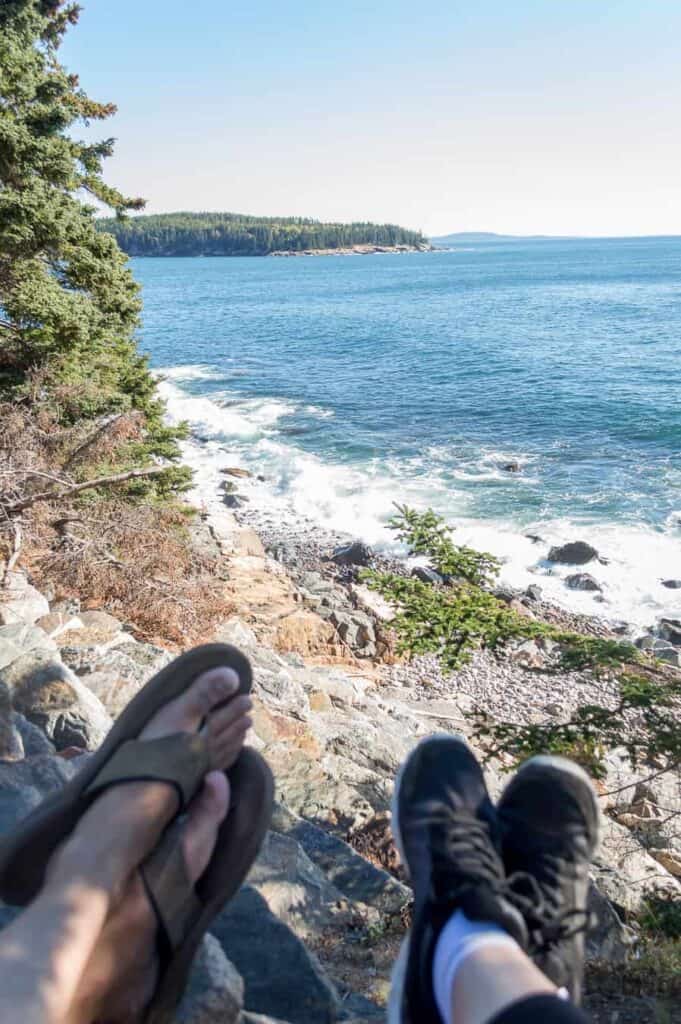 There are definitely less crowded stops along the way. Even during a busy fall week in Acadia, we were able to find a few spots all to ourselves. Hint: head down the paths and trails toward the water.
You can also opt for Great Head Trail from Sand Beach, and it offers some crazy beautiful views!
Jordan Pond House
Your next big stop is at Jordan Pond. This is a gorgeous body of water with two notable features to the rear. These hills are known as The Bubbles (and you can hike them). If time allows, go for a walk on the 3.4 mile Jordan Pond Loop Trail, an easy trail which takes you around the pond.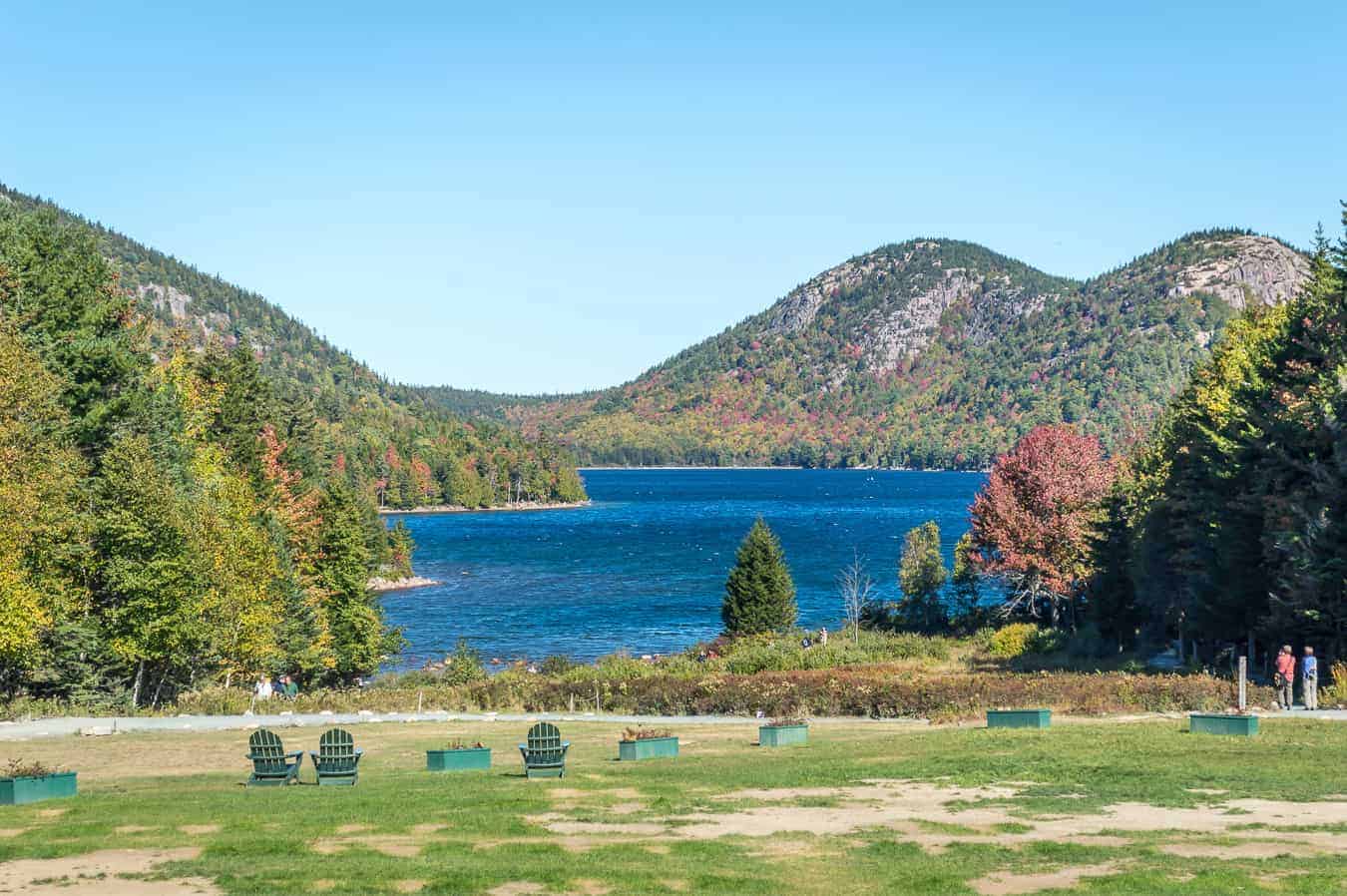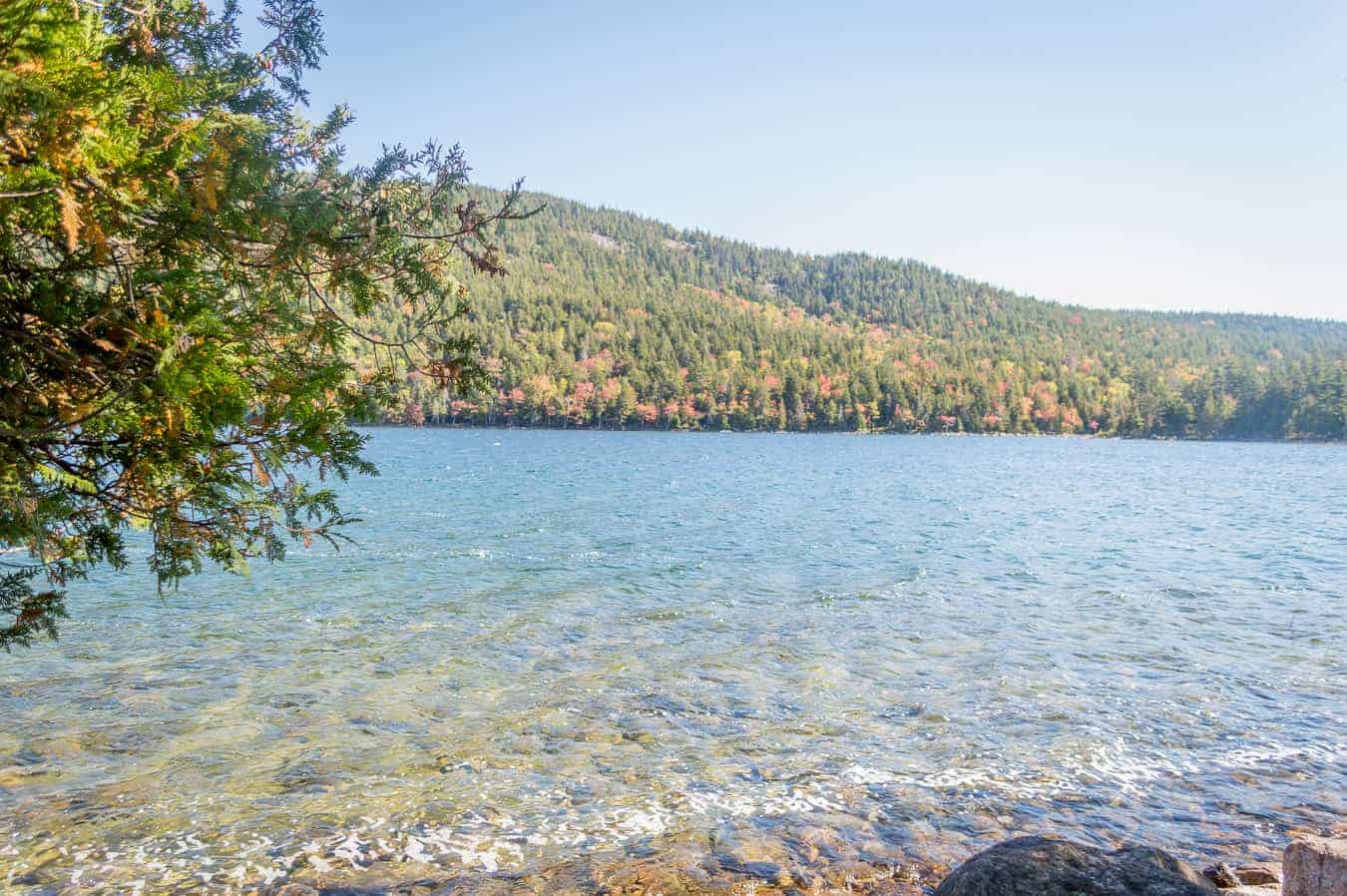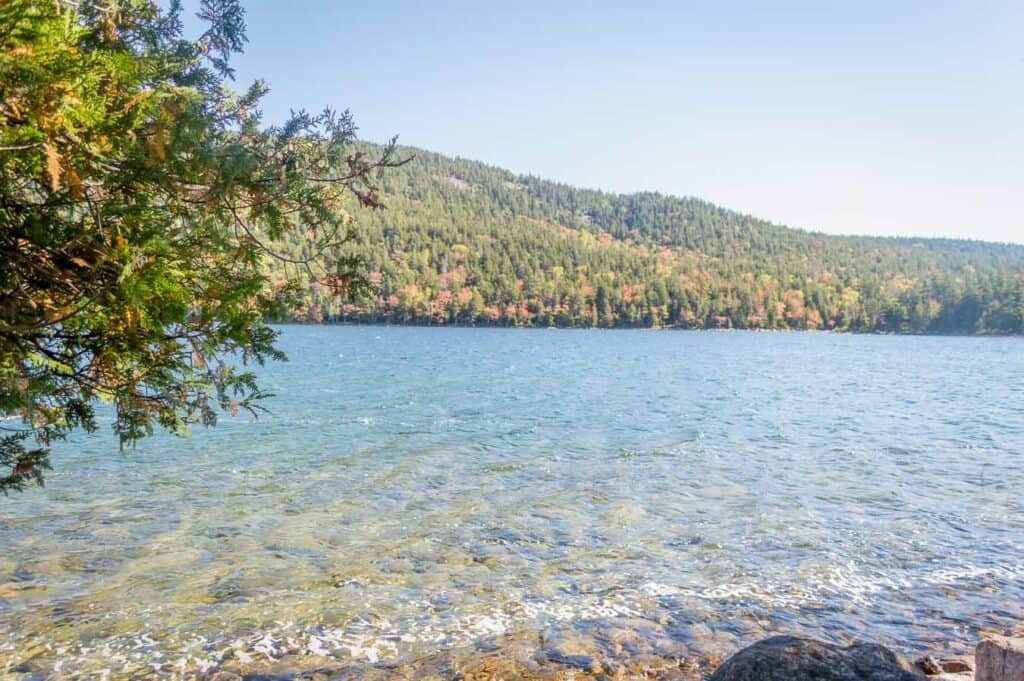 Whether you do the hike or simply stop and admire the pond, one of the top things to do in any Acadia National Park itinerary is to eat at the Jordan Pond House. The restaurant offers a full menu, but what it's famous for is POPOVERS.
Popovers are a light, hollow roll made with egg batter. They. Are. Delicious. If you've ever tasted Yorkshire Pudding, these are very similar.
Jordan Pond House has been serving popovers and tea since the 1890s, so having one (or two or three or four!) is an essential item on your list of Acadia National Park sites.
Many friends suggested we give them a try, and we were very glad we did. The popovers come in groups of two, and honestly, two are enough to satisfy you. Spread them with butter and strawberry jam, and savor!
We LOVED them. We definitely recommend adding lunch at Jordan Pond House restaurant to your Acadia bucket list!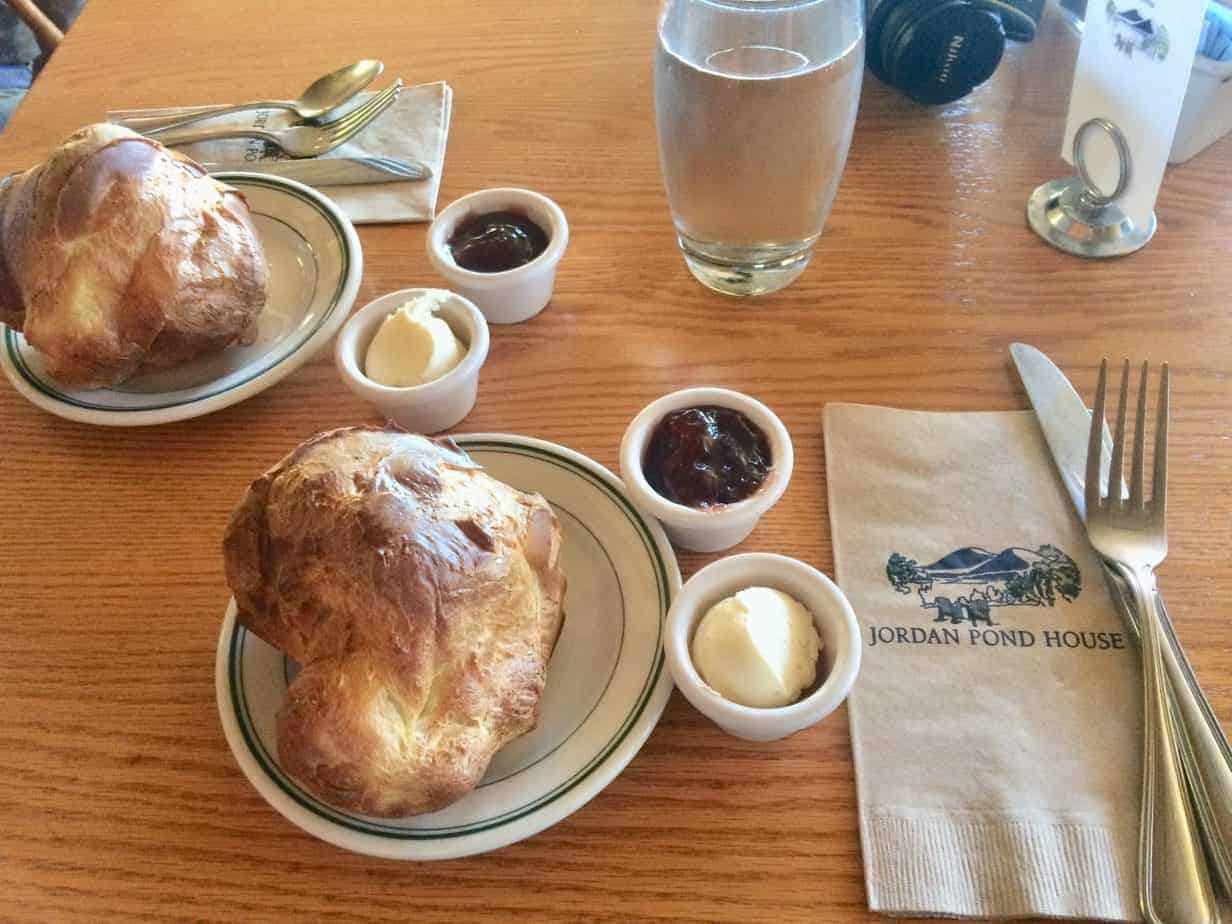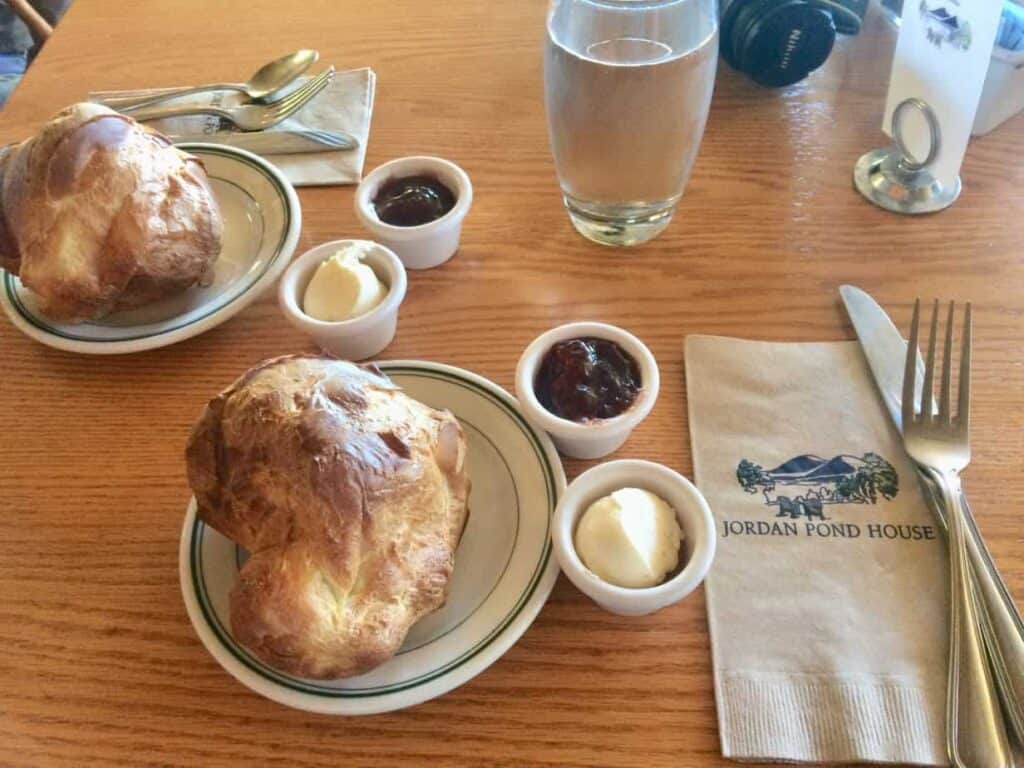 Whale Watch/Nature Cruise
Head back into Bar Harbor. You're ready to spend some time on the water! You should take a cruise with Bar Harbor Whale Watch Co.
Depending on the time of year, you'll have various options. You can see whales, puffins, seals, and seabirds, take a lighthouse tour, or take a more general nature cruise.
We took a scenic nature cruise during our visit to Bar Harbor in October, and it was a lot of fun. It was great to get out on the water and learn more about the coastline. Our guide was really well informed, and we learned a lot about the history of Acadia National Park and its residents.
Read Next: Where to Find the Best Whale Watching in Maine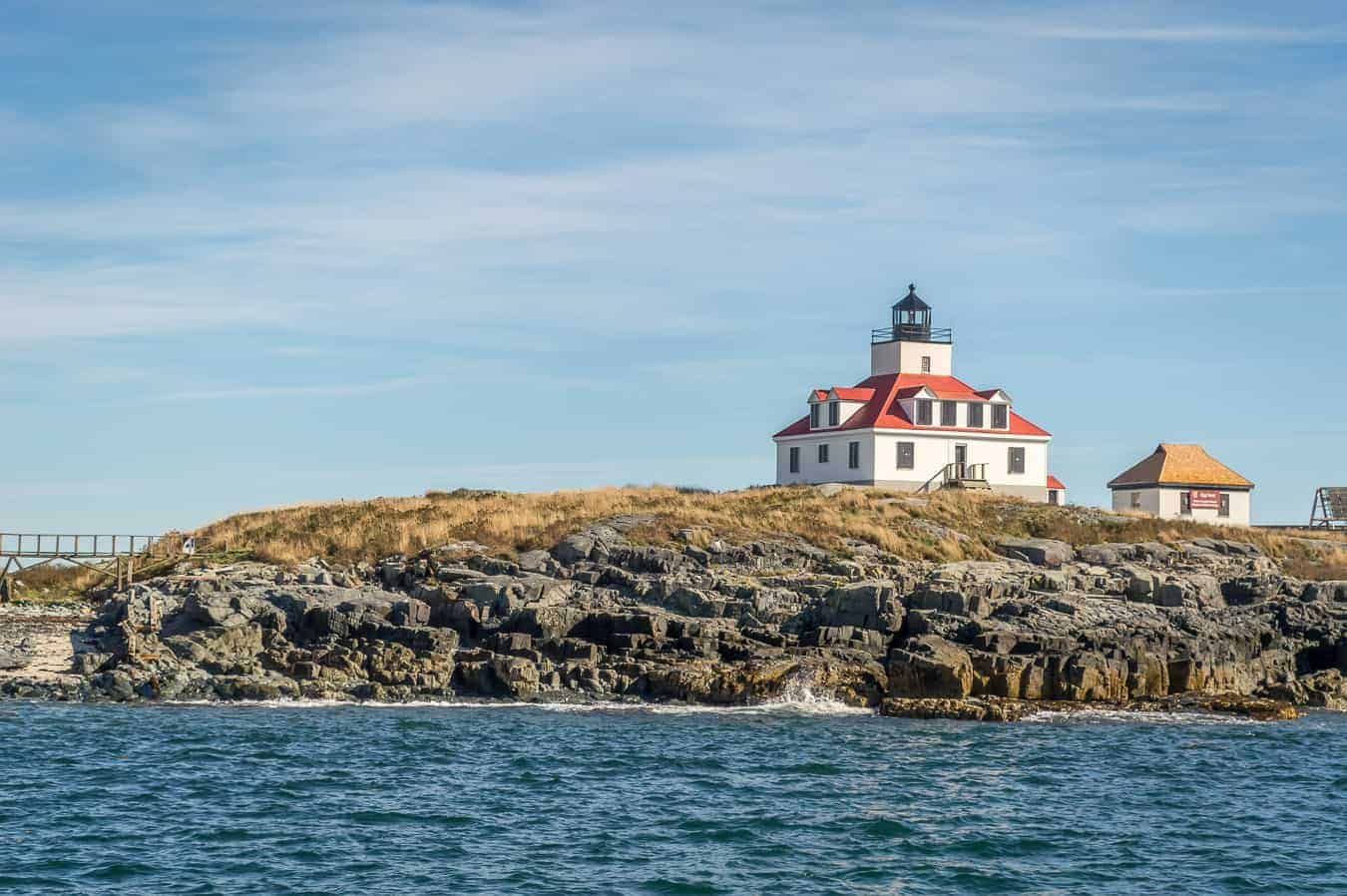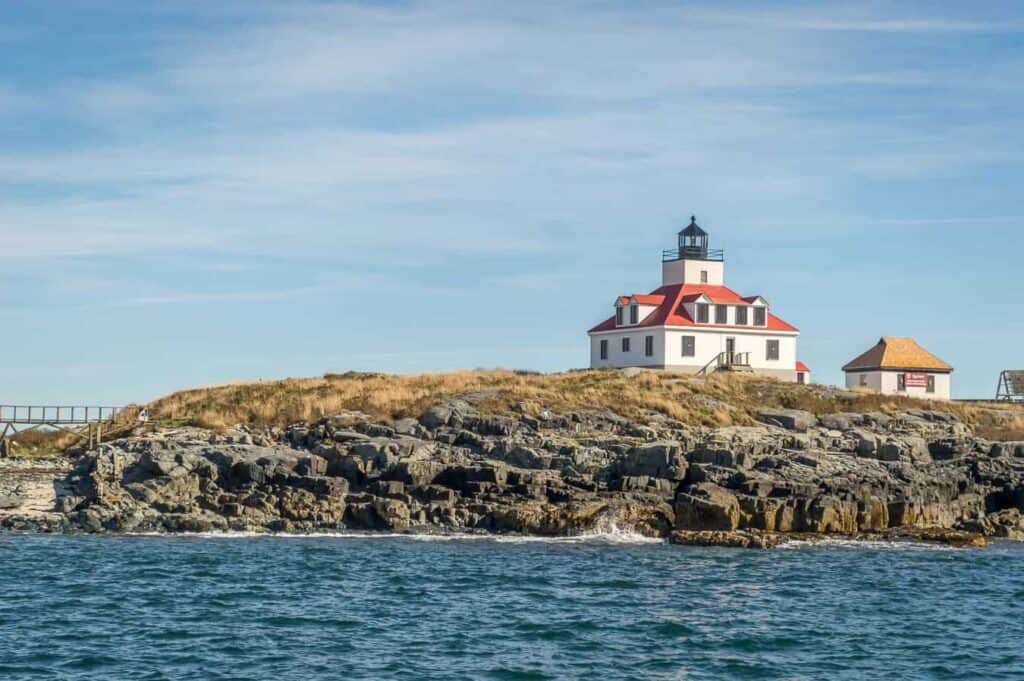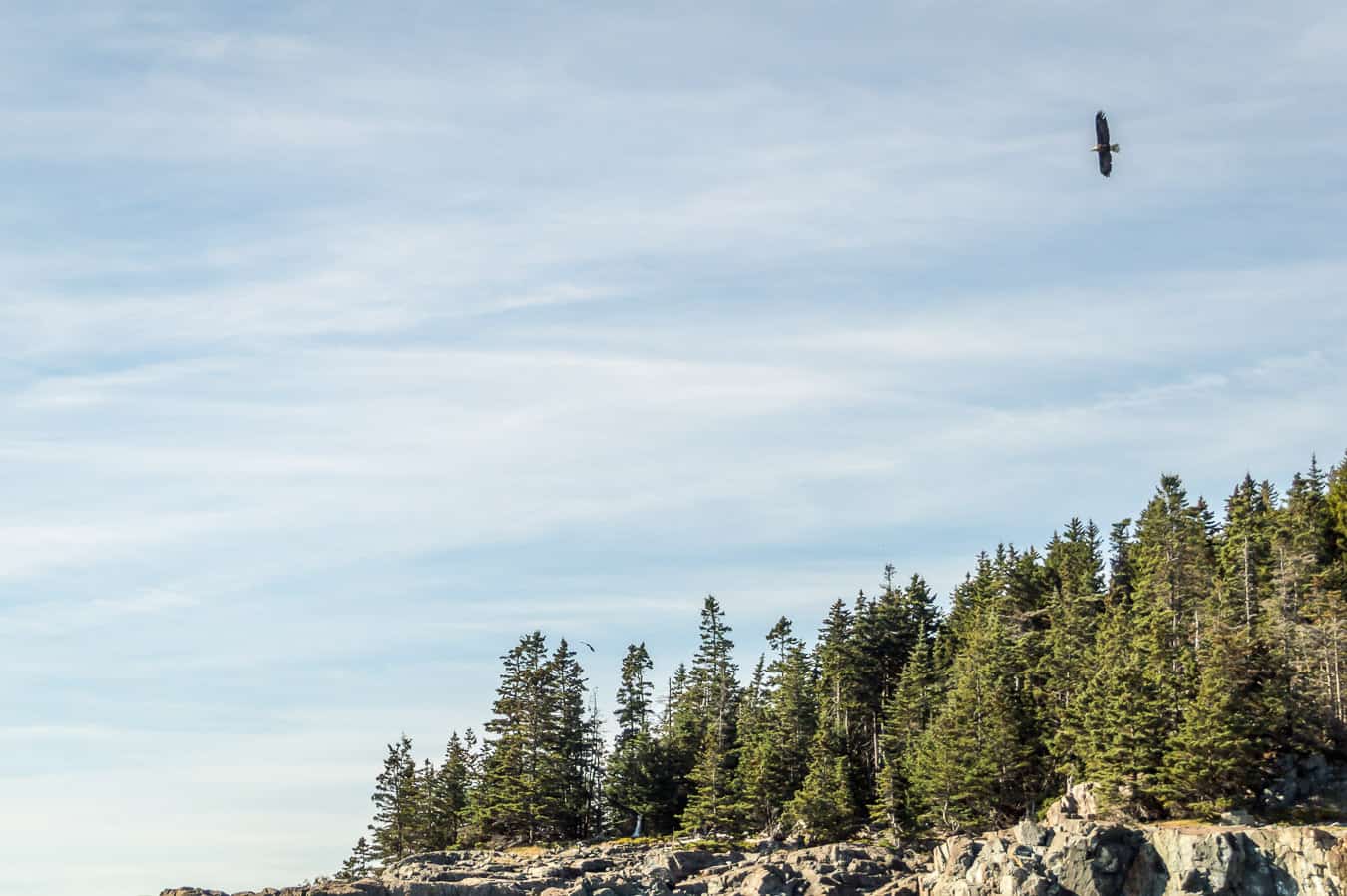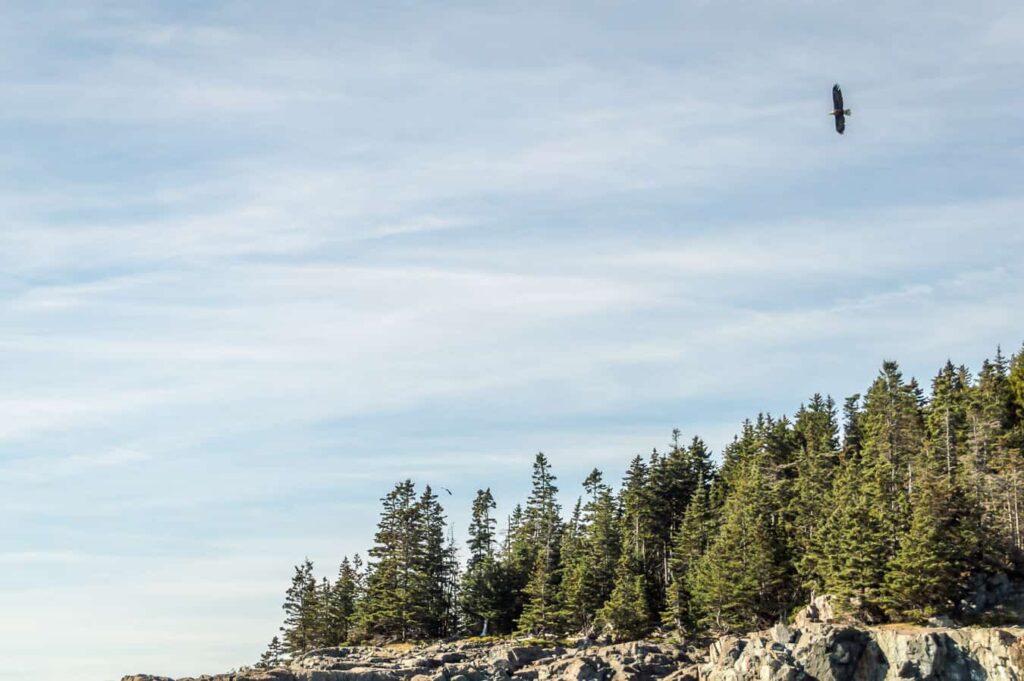 Of course, we also spotted some wildlife (our favorite part)! While you don't get super close to the wildlife on this cruise, you can spot seals and eagles from a distance. If you're there during whale watching season, we'd recommend going on a whale watch, as those are an exhilarating experience!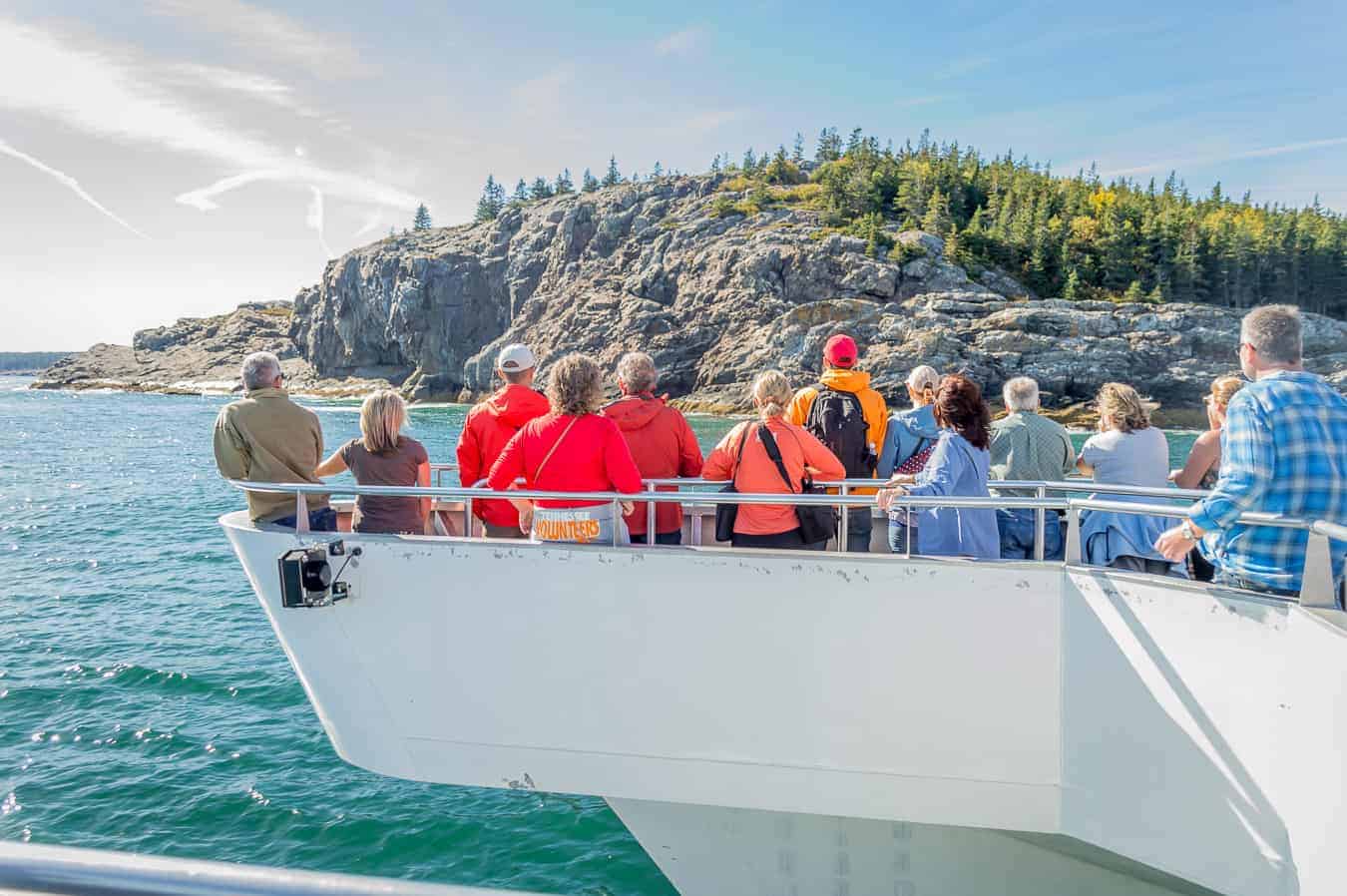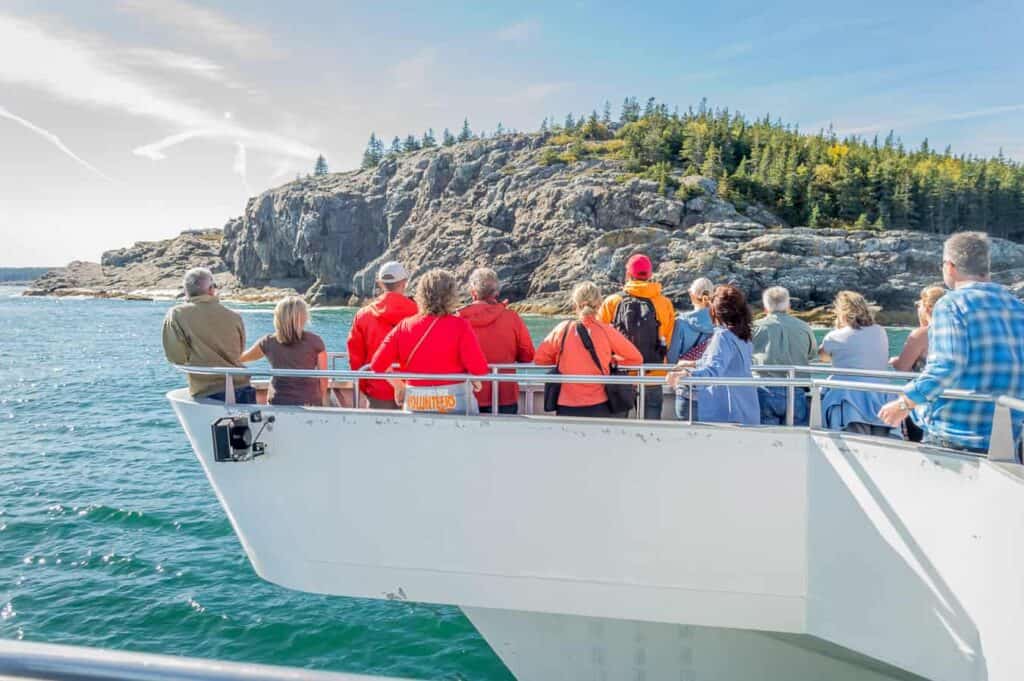 Following your cruise, it's time for dinner and relaxation. If you're up for it, head out for a sunset hike or drive to a beautiful spot along the Park Loop Road.
🍁 Day 3 Acadia Itinerary Continued
Ready to get up early? If you are, you can join the throngs of people who head up to the top of Cadillac Mountain for sunrise. We're told this is gorgeous and worth the early rise – it's considered one of the most scenic sunrise spots in Maine!
(It didn't work out for us to check out Cadillac on this last trip, but we'll definitely do so in the future…it's got to be one of the most romantic things to do in Bar Harbor, Maine).
You don't even have to hike to the summit, though you certainly can. There is a road you can take to park at the top. If you do go, plan to arrive especially early as it can be busy, making parking a challenge.
The rest of the day is dedicated to visiting Acadia National Park. People come here for the fabulous hikes. We'd love to return and do some camping and more hiking.
Since we were short on time, however, we wanted to pick the best of the best when it came to hikes. A suggestion that we kept hearing was the Beehive.
The Beehive Loop Trail
After some research, we decided to hike the Beehive Loop Trail. Honestly, this was one of the most enjoyable hikes we've ever done. It was not too long of a trip, taking only a couple hours to complete. What makes this trail so amazing is the route up.
If you have a fear of heights, you may want to avoid the Beehive Trail. Much of the trail leads nearly straight up the cliff face, and you will have to use railings and handles embedded in the rocks to help you on the way.
For us, this was so much fun! It's so awesome to feel like a climbing monkey as you scale the cliffside. This trail will require your whole body, and I'd recommend having some flexibility and comfort with supporting your own weight, but it is not as taxing as it might seem.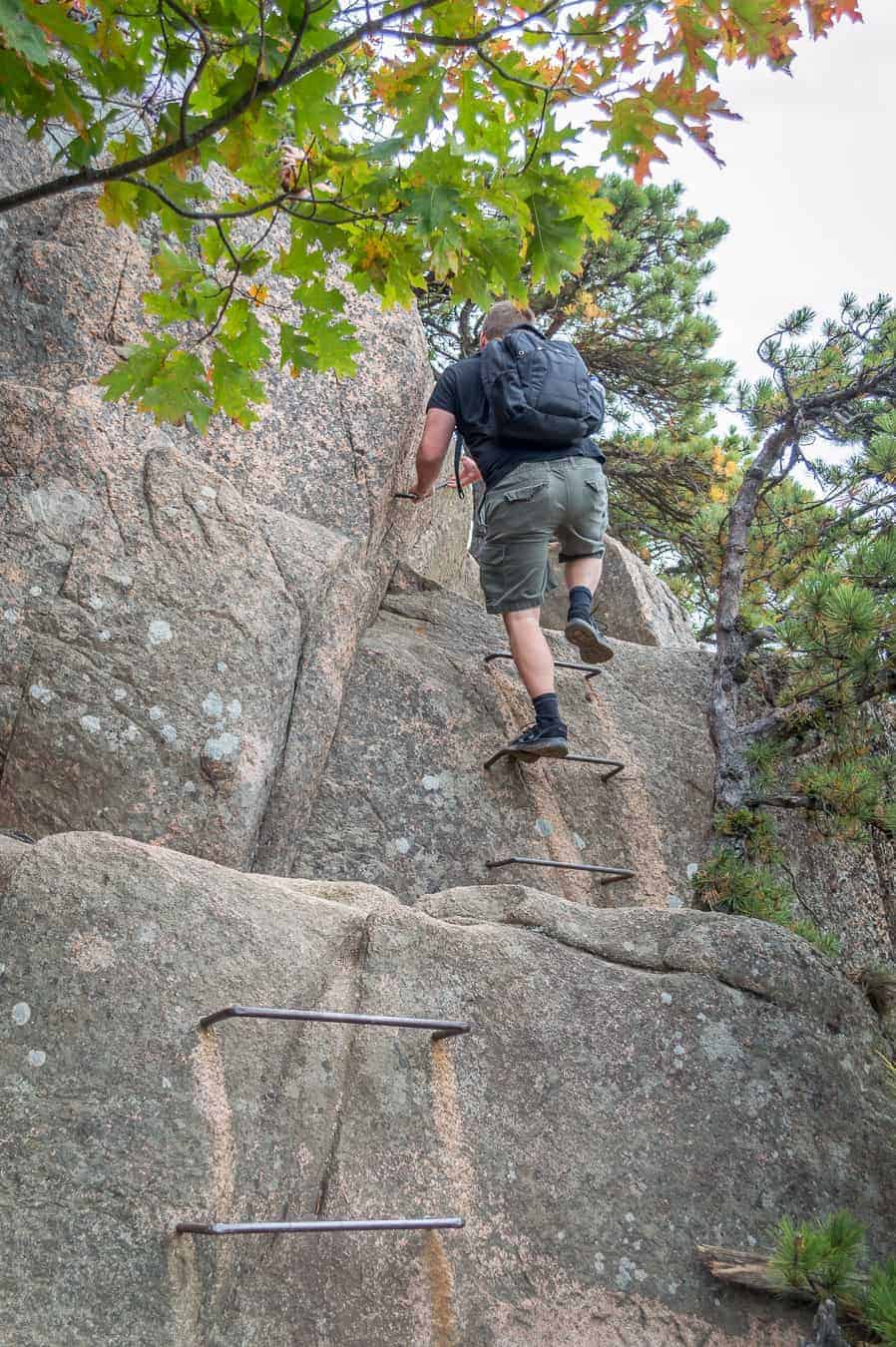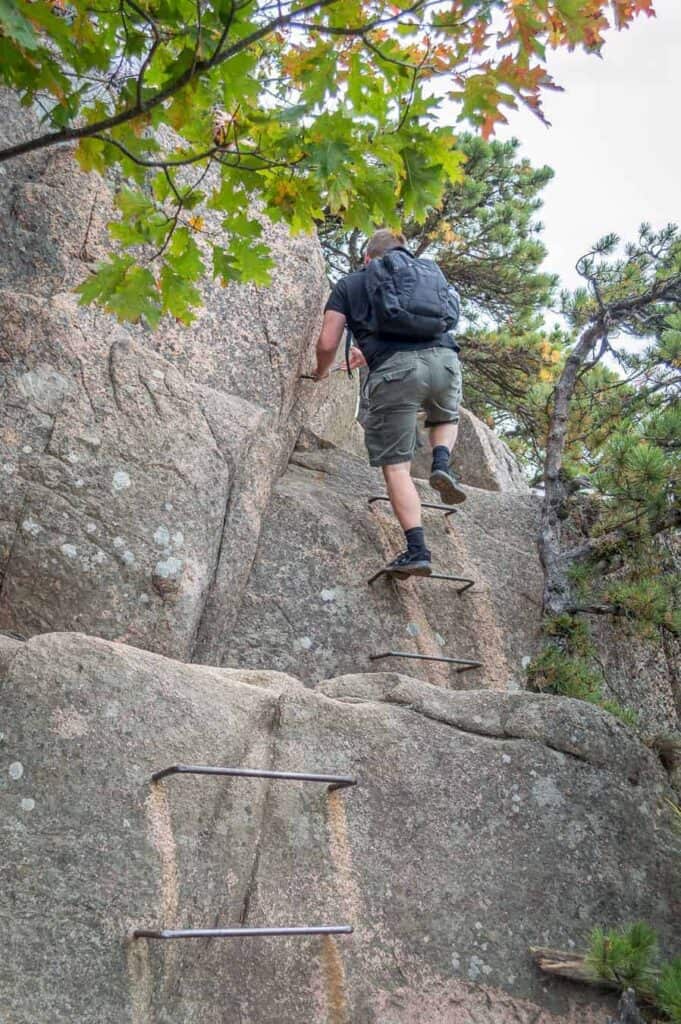 I was somewhat nervous before the hike, as I wasn't sure if it would be too strenuous. (I'm not a stranger to hiking, but I'm sliiiightly out of shape.) It turns out, I did just fine!
I felt the toughest part of the hike was the beginning, when you're heading up rocky stairs. This is the most exhausting part of the path, especially for someone with short legs like me.
But there is plenty of time throughout the hike to rest and regain your energy. And if you need an excuse to take a breather, the views are absolutely crazy!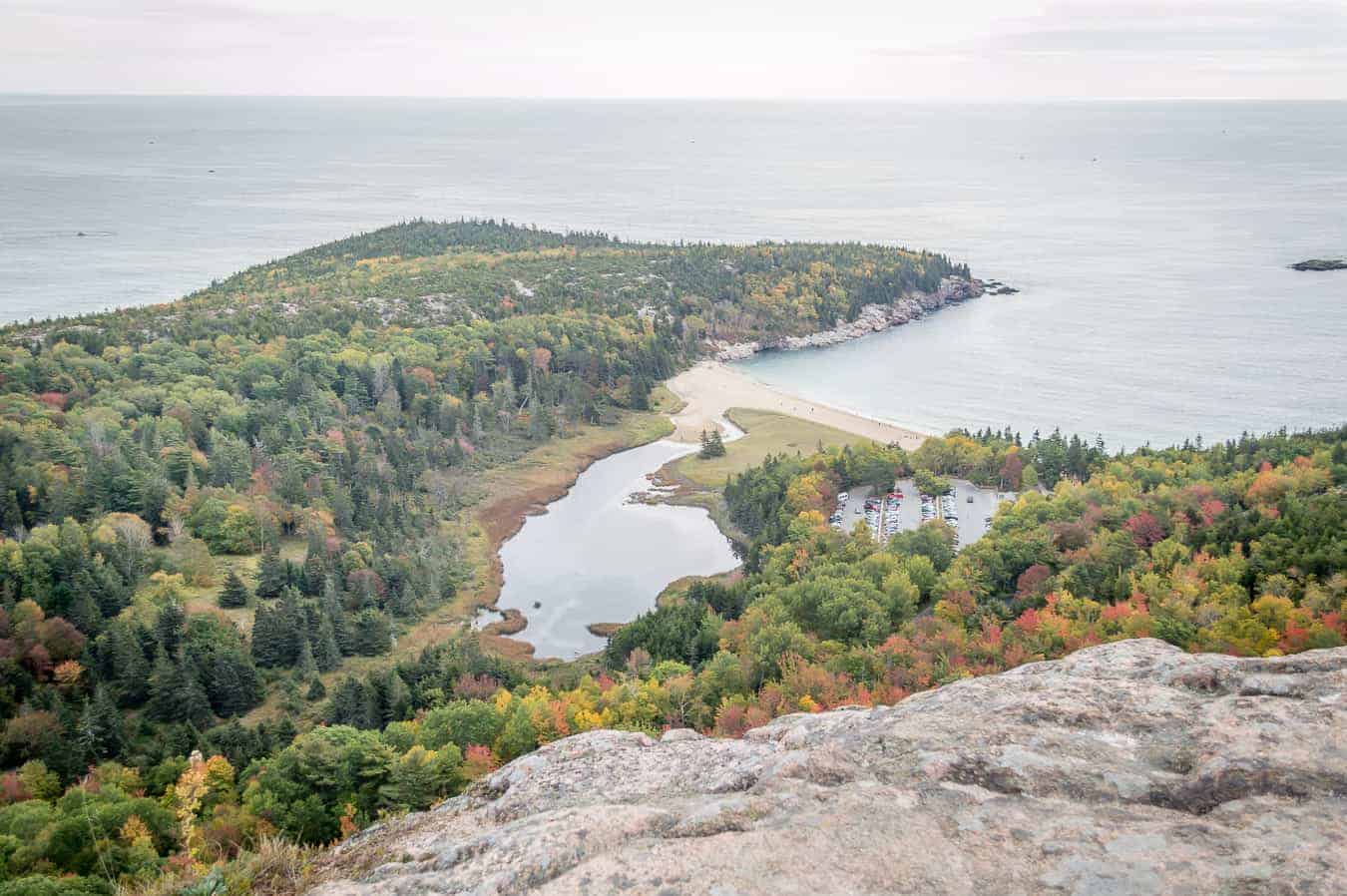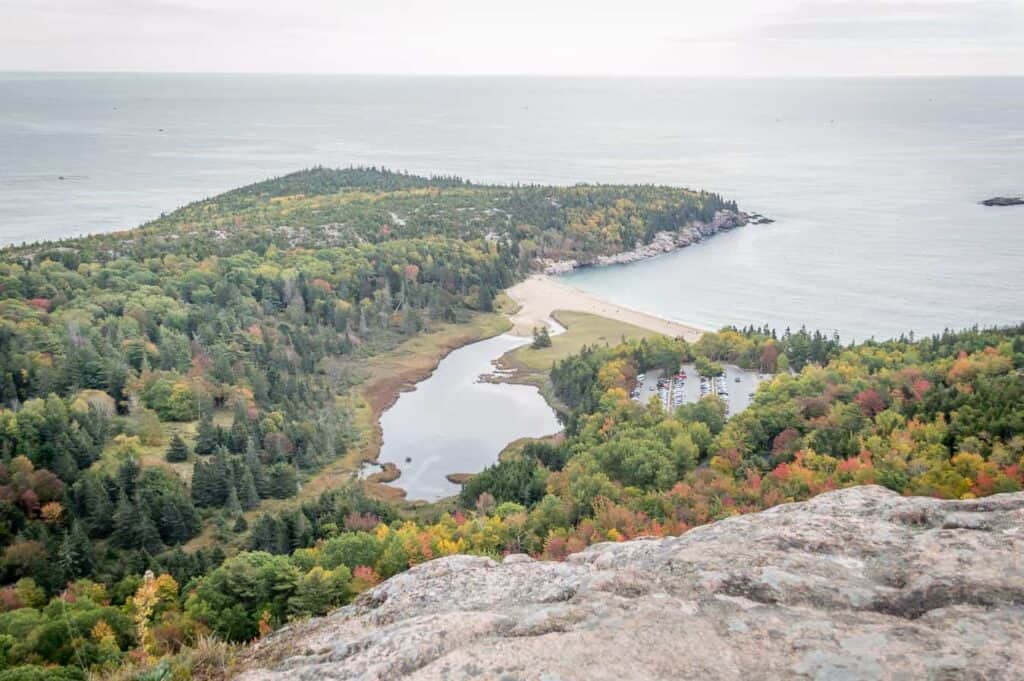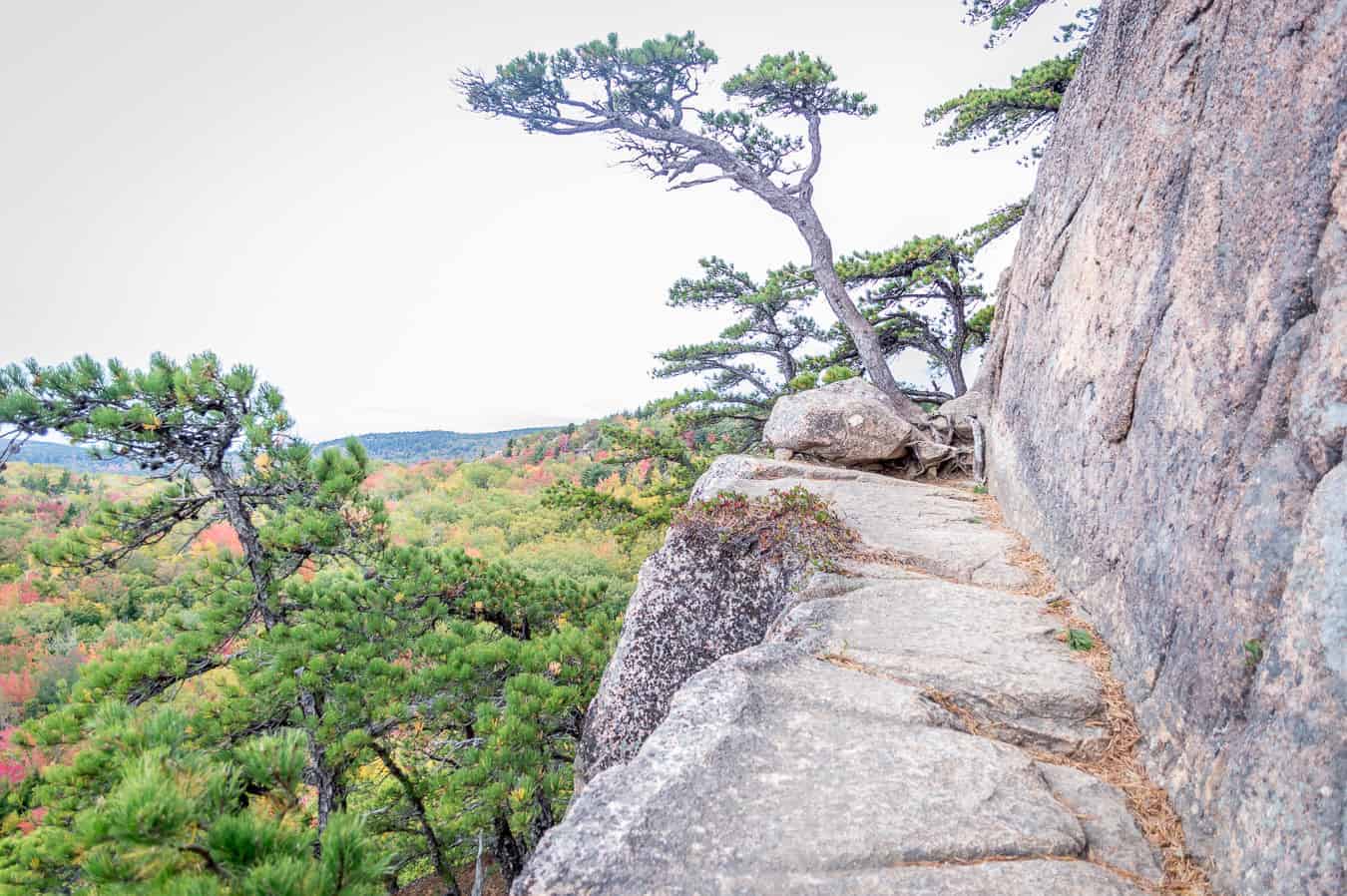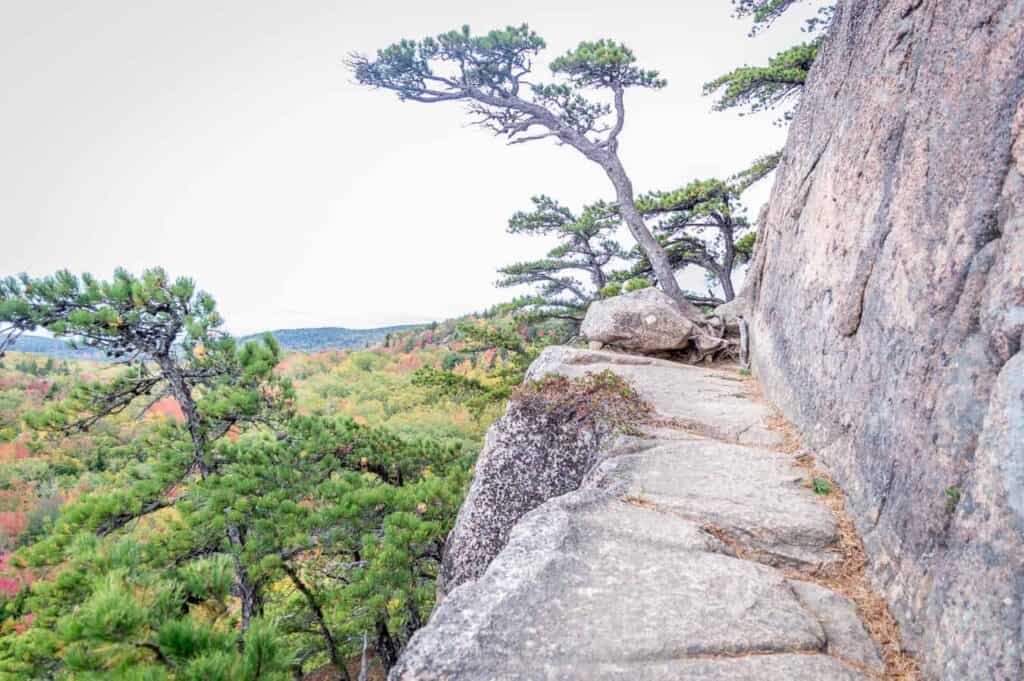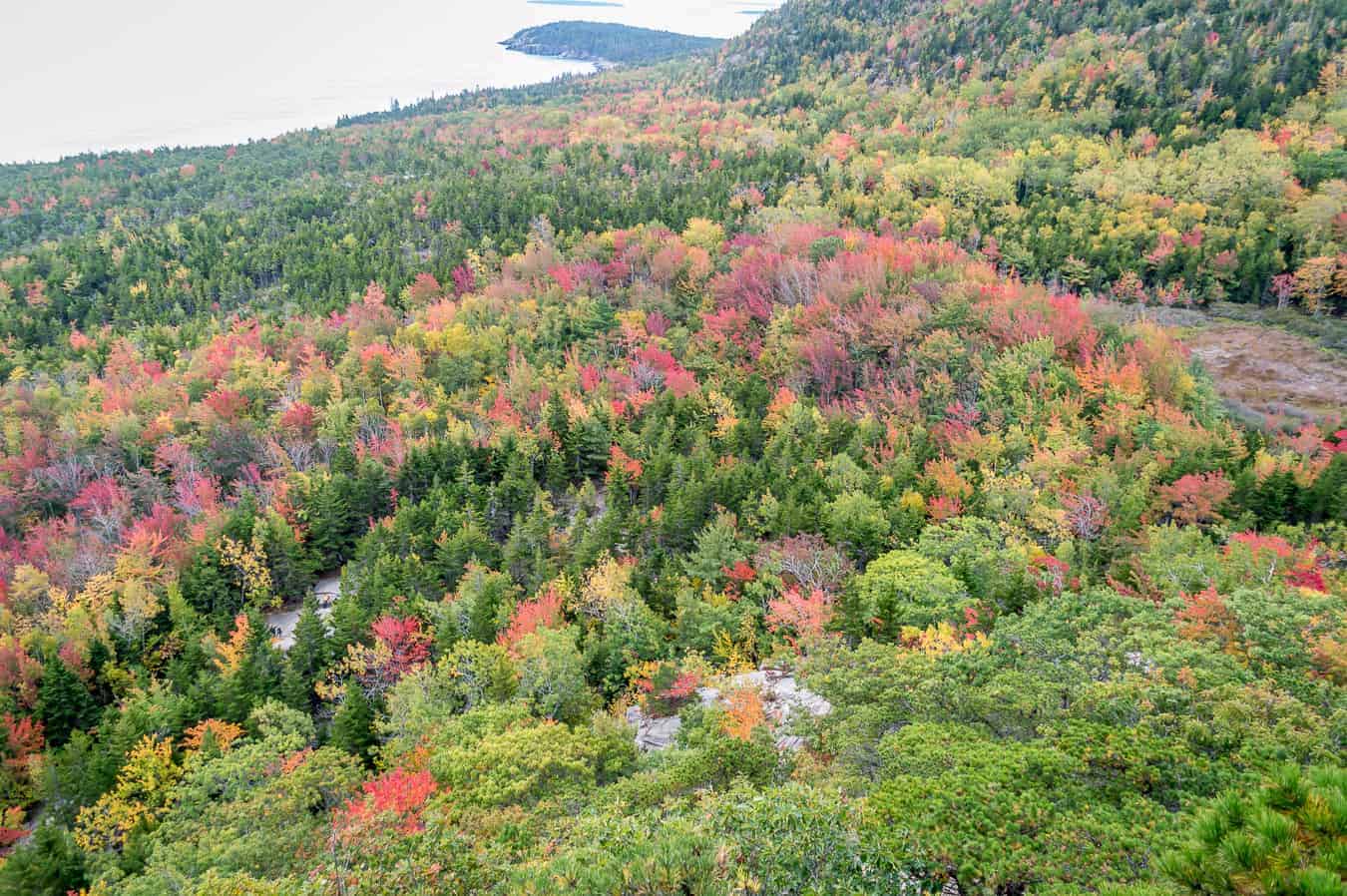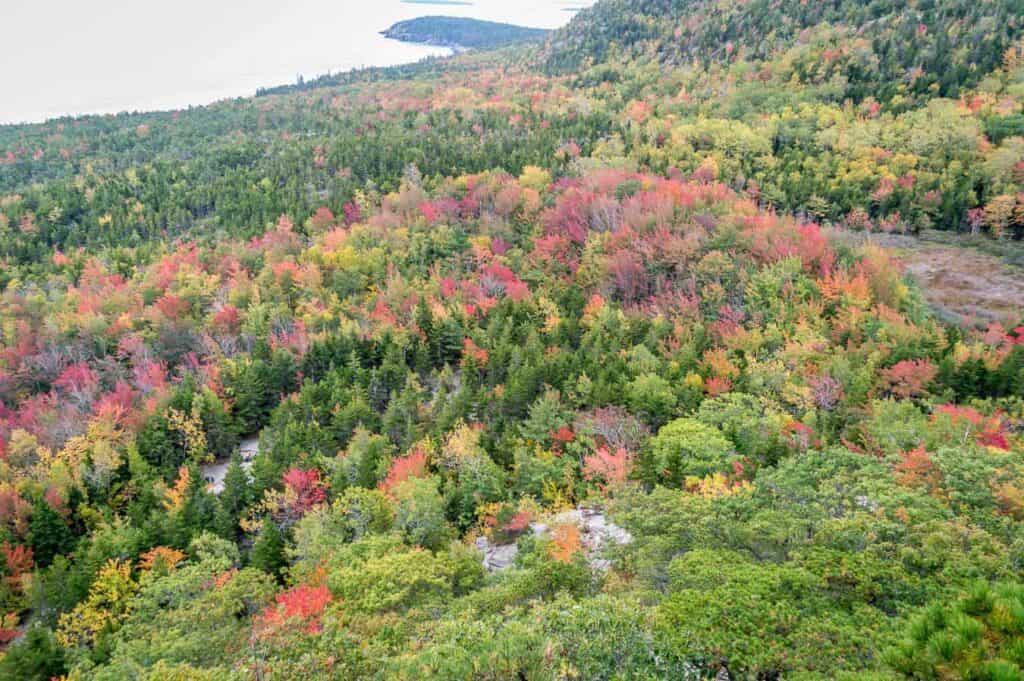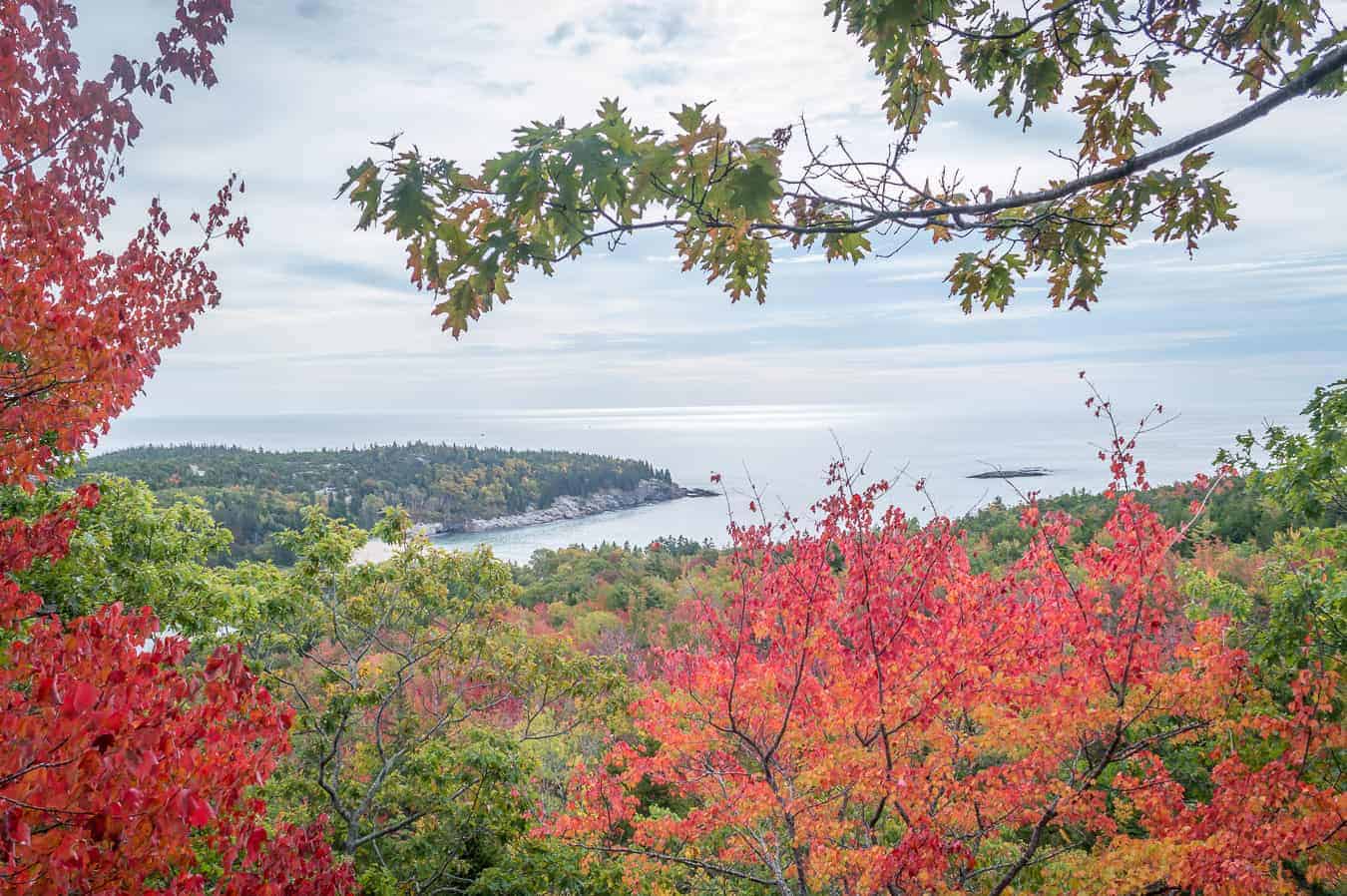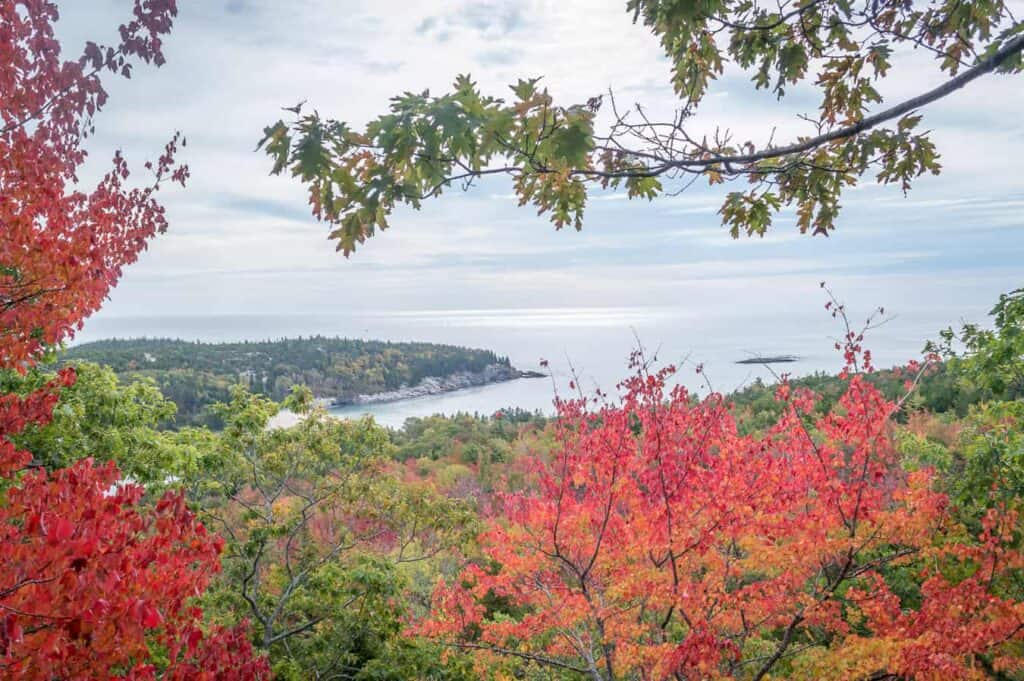 Spend time at the summit soaking up the gorgeous Acadia scenery, which is especially incredible as the fall foliage bursts into view. You can continue on to another summit called the Bowl, or head back down the Beehive Loop.
Don't worry–you don't have to go back the way you came! The route down is much more traditional!
Still have some energy? That's the spirit! If you're up for it, go out and tackle another hike! Here's a great list of trails to add to your Acadia National Park trip itinerary.
Bass Harbor Head Light
You can't visit Maine without stopping by a lighthouse. The Bass Harbor Head Lighthouse, located on the southwest side of Mount Desert Island, is definitely worth a visit. Surrounded by tall pines, it teeters on the edge of a steep cliff overlooking the sea.
It doesn't get more iconic "Maine" than this.
After your day of hiking, drive over to the quieter side of Mount Desert Island to visit the Bass Harbor Head Light.
This spot is super lovely at sunset, but if I visited again, I'd go earlier in the day, especially if you want to take photographs.
It's very, very crowded at sunset. It's tough to park, and unless you arrive super early, you won't have any space to set up a tripod and grab that sunset photo you're after.
In fact, there are very few places to stand, and the rocks are slippery and uneven. And some of the photographers who are there REALLY do not like people getting in their shots!!!
We did achieve a sunset shot of Bass Harbor Head Light, but to get this, I ended up sitting on sharp rocks among the water and seaweed itself! The things we travel bloggers will do for a photo!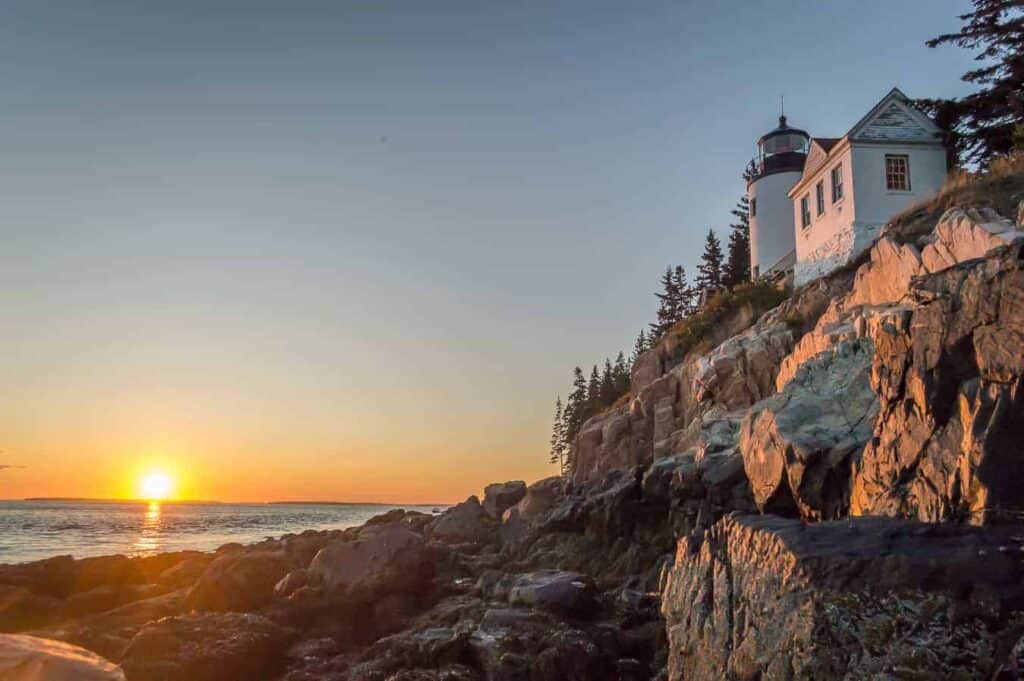 🍁 Bonus Acadia Itinerary Ideas!
Are you a lucky duck and get to spend even more time exploring Acadia National Park? Let's talk about some of the lesser known areas to visit in Acadia.
Winter Harbor
This is certainly not as popular a destination as many of the other attractions we've already talked about, but if you're lucky enough to have 4 days in Acadia, definitely consider a visit to Winter Harbor, especially the scenic Schoodic Peninsula!
The only part of Acadia that is actually located on the mainland, it's got a much quieter vibe than Bar Harbor, and is the perfect place for those looking for a much less touristy stay in Acadia.
In fact, this is the area you'll find the Schoodic Woods Campground, one of our favorite campsites in the park.
Be sure to visit Schoodic Point, with its rocky beaches, dramatic sea cliffs, and spectacular coastline views. Lots of insta worthy photo spots!
If you're in need of indoor things to do in this area, stop by historic Rockefeller Hall – yes, as in John D. Rockefeller – where you can learn about Schoodic Peninsula's naval history and get more info about the crown jewel of the North Atlantic Coast direct from the park rangers who know this area best!
Southwest Harbor
If you're fortunate enough to have had plenty of time to see all of the most popular Acadia attractions and still have time left on Mount Desert Island, there is so much to explore in Southwest Harbor!
This is the Quieter Side of Mount Desert Island, but there's still plenty to see and do.
If you're visiting with little ones, be sure to visit the Charlotte Rhoades Park & Butterfly Garden, where you can walk the quiet trails of the garden and visit and learn about butterflies!
You can go on an Aqua-Safari kayak tour and explore the area by sea, then head to Beal's Lobster Pier for some scrumptious fresh caught lobster.
Isle Au Haut
This is for the adventurers out there who want to explore Acadia at its most untamed. The only way to access this fairly remote area is via ferry, but if you are looking for the wilder side of Acadia, this is it! The views are unparalleled in this mostly unspoiled area.
FAQs Acadia National Park
Where to Eat in Bar Harbor
During your 3 days in Bar Harbor, you'll want to enjoy the local dining scene.
There are some fantastic restaurants in Bar Harbor, so you've got plenty of options. We took the advice of friends (and Yelp) and ended up at some total gems.
Side Street Cafe
Oh wow. This has got to be one of the best restaurants in Bar Harbor and we absolutely loved our meal here.
The Side Street Cafe is, predictably, on a side street. Just a few blocks from the main tourist area, this tasty place is tucked away waiting for you.
Though you might not stumble upon it, you should make plans to head here ASAP. It's where many locals like to dine, and with good reason.
Awesome food. Awesome prices. Incredible mac 'n cheese. Great beer. Happy hour. We promise it's awesome.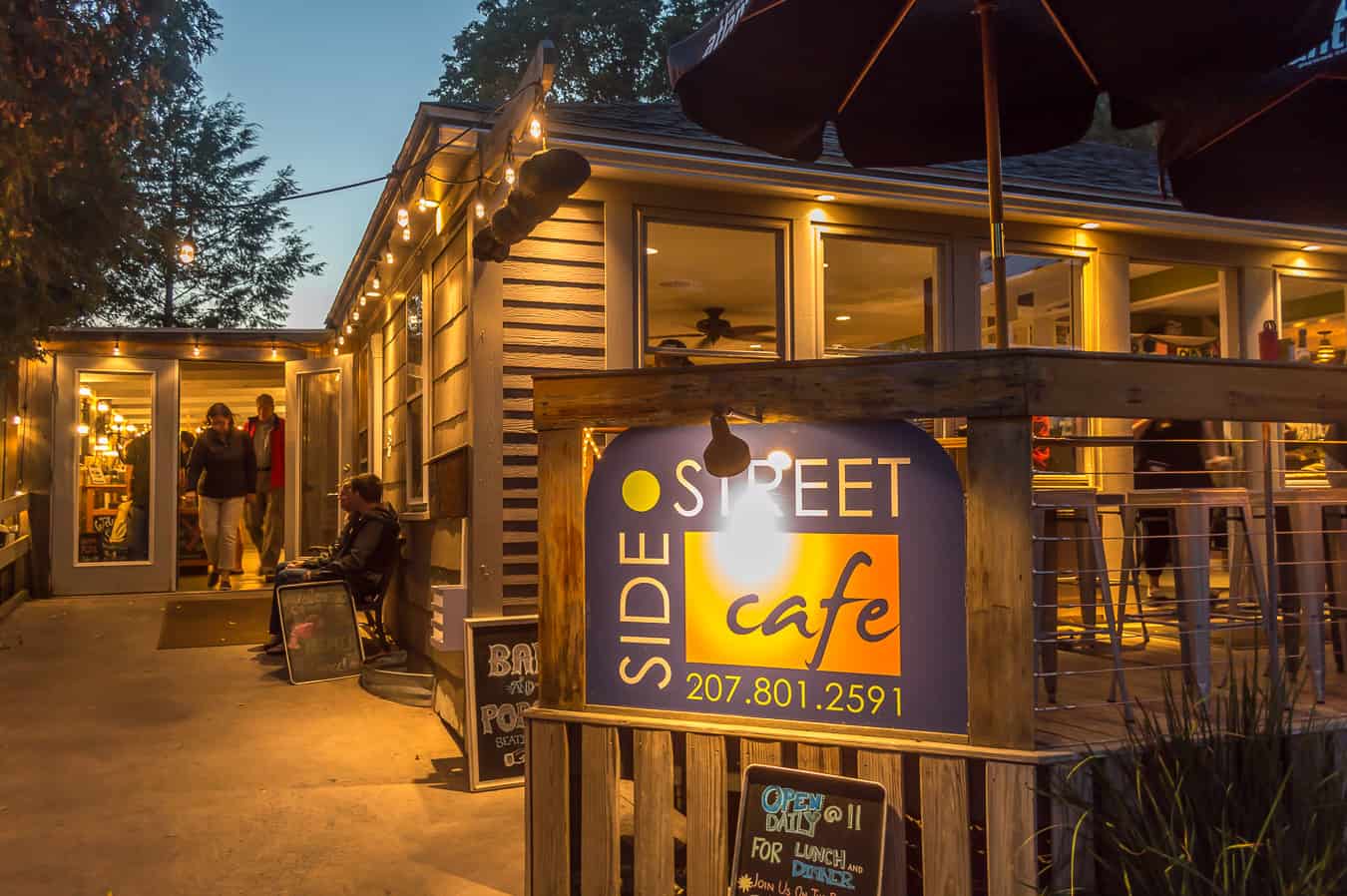 The Thirsty Whale
This tavern is relaxed and pleasant. It has the laid back, unassuming air of a sailor's tavern, with hearty dishes and good drinks. Try the lobster bisque for sure, it's absolutely delicious.
This spot also offers affordable prices. Check out more info on The Thirsty Whale here.
Other Suggested Bar Harbor Restaurants:
The Reading Room, Bar Harbor Inn
2 Cats Restaurant
C-Ray Lobster
Lompoc Cafe
Where to Stay Near Acadia National Park
Check out our article on the top Acadia and Bar Harbor accommodation here!
Want a great place to stay in Bar Harbor? Camping is lovely in Acadia, and there are tons of excellent Bar Harbor campgrounds to choose from, as well as cute and cozy cabins and vacation rentals.
But for Acadia hotels, we absolutely loved our stay at the Bar Harbor Inn. It has a wonderful location just steps from shops, restaurants, and the harbor.
You can sit outside on the lawn and enjoy beautiful views out over the water. Two on-site restaurants mean you don't even have to go far to have a good meal. There's also a spa, heated outdoor pool and hot tub, free continental breakfast, and many rooms with ocean views.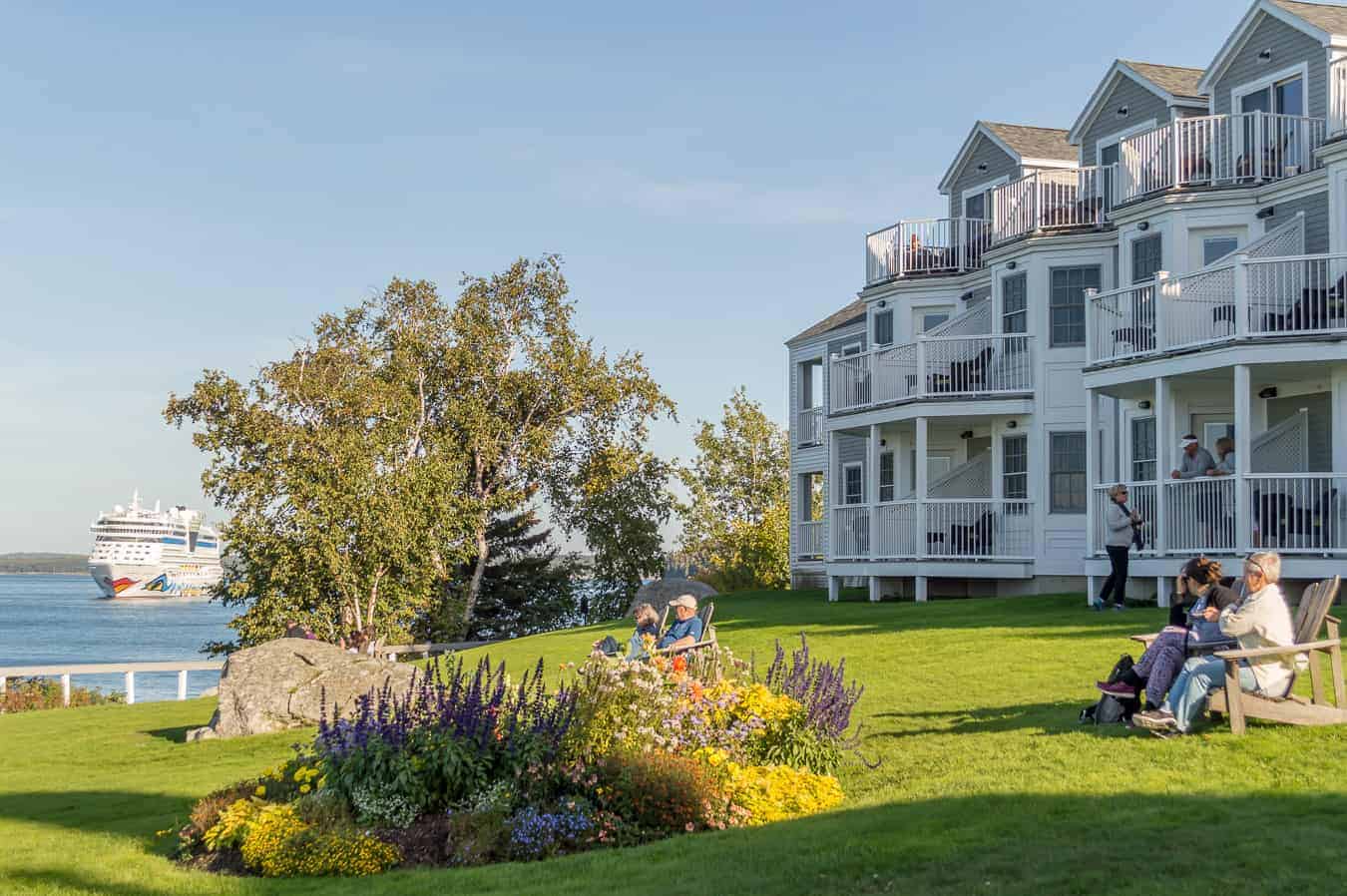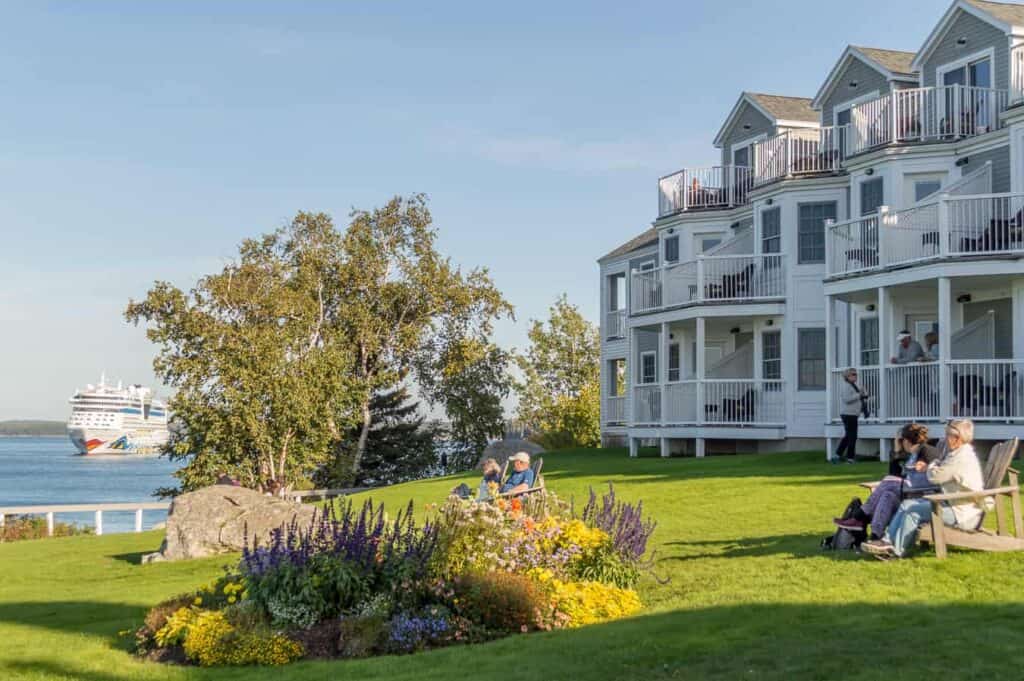 We really enjoyed our stay. The staff was extremely friendly and helpful, and the inn was perfectly cozy. If you stay here, spend some time in the lobby, where a roaring fire greets you on cold days and fresh baked cookies are waiting regularly.
We wholeheartedly recommend booking a room at the Bar Harbor Inn during your visit to Acadia!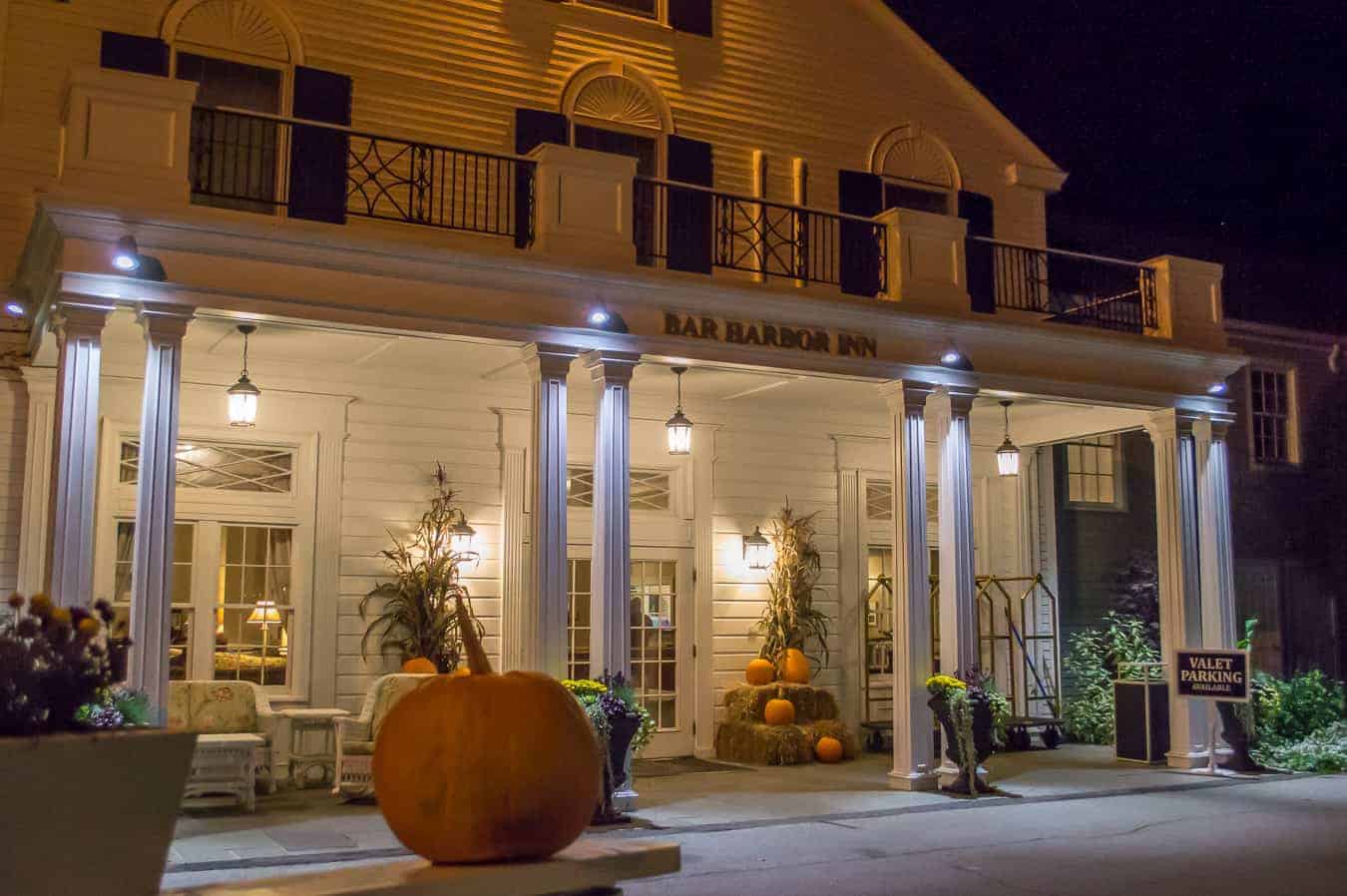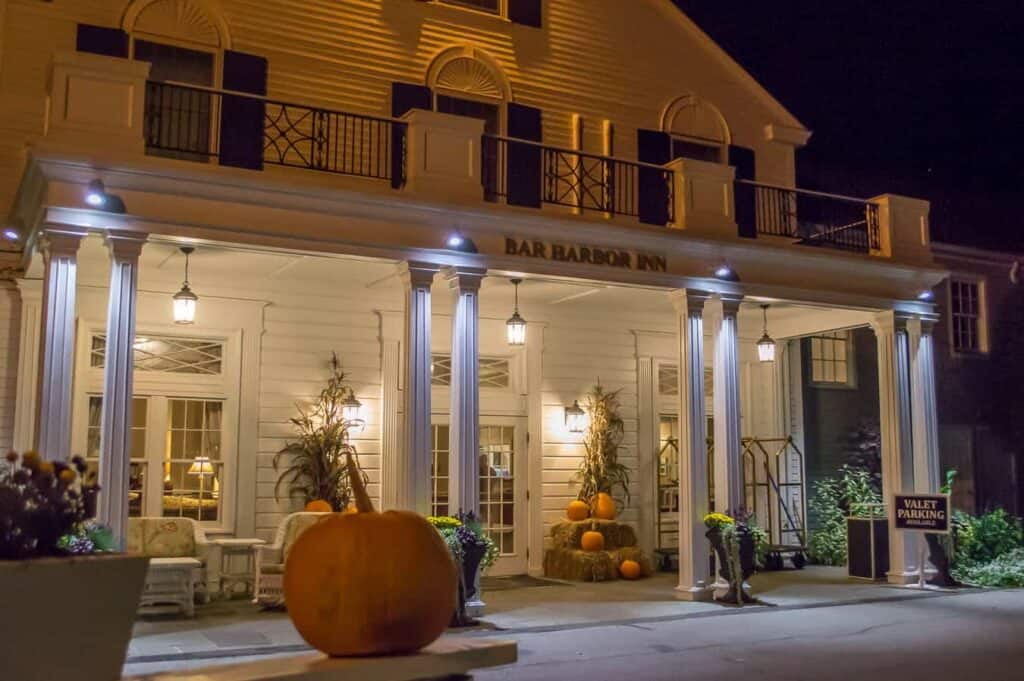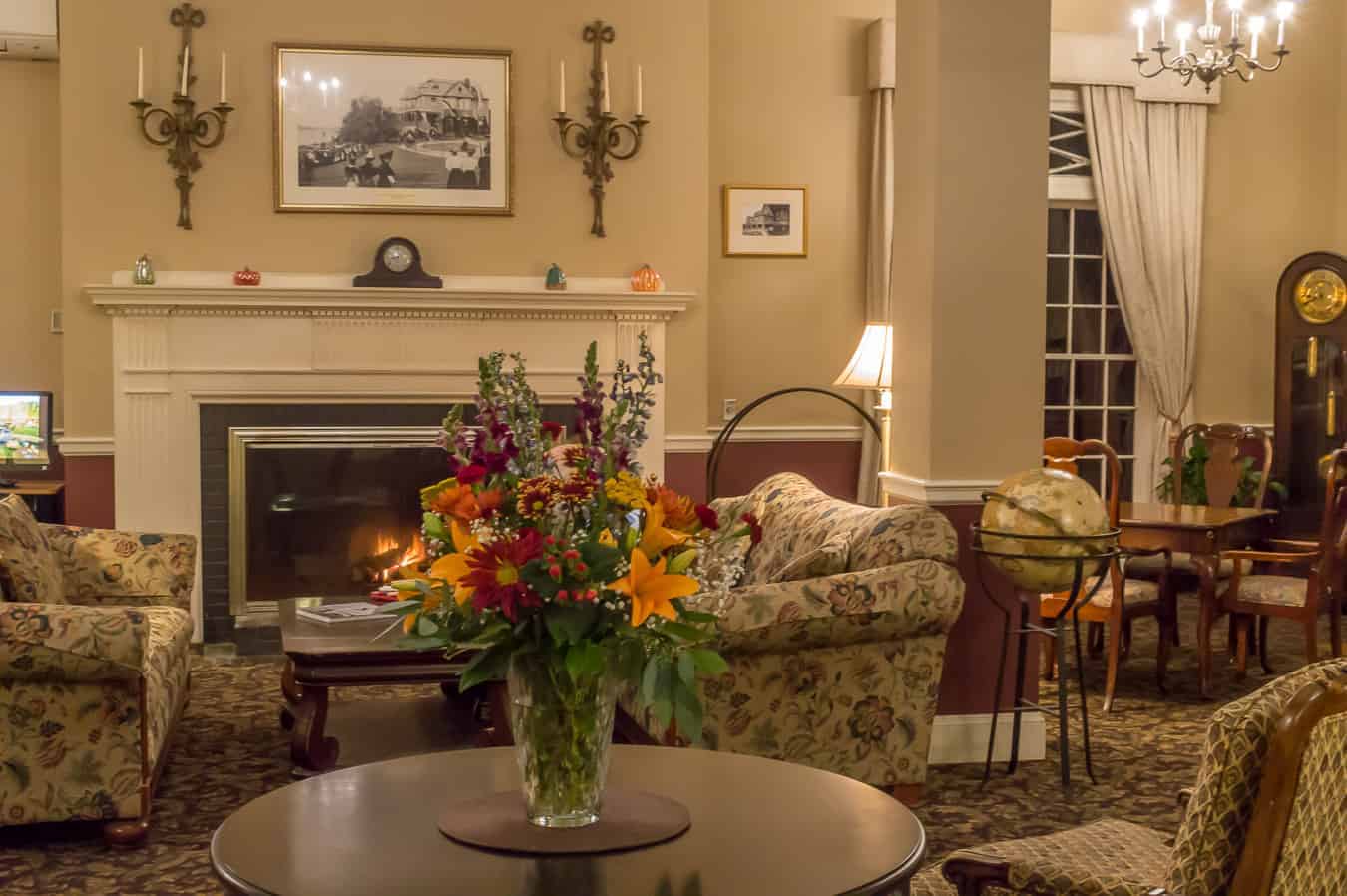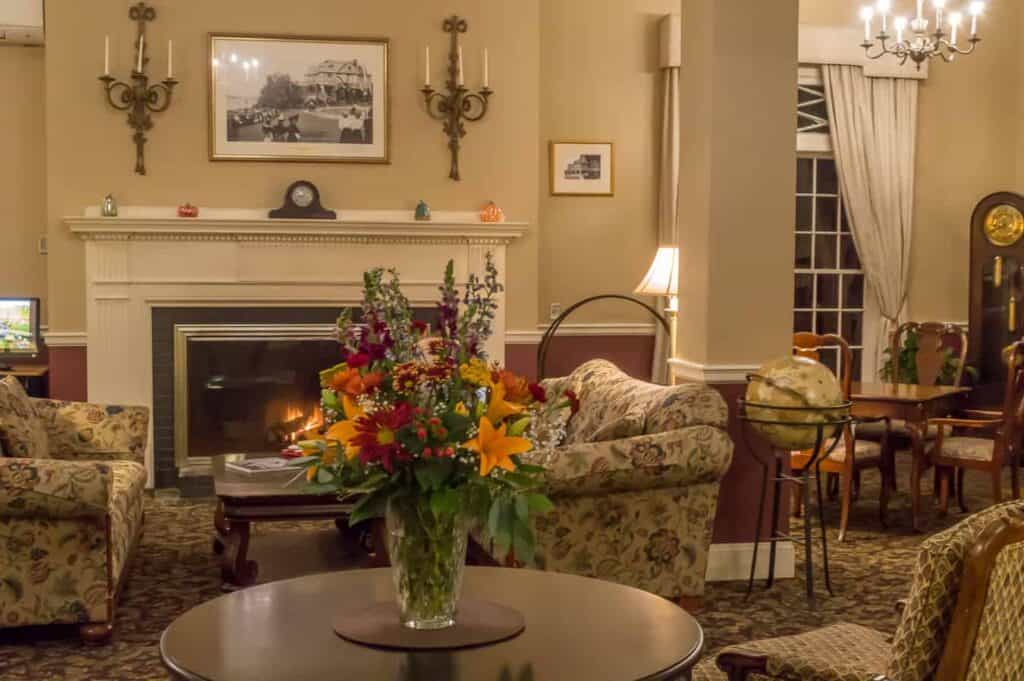 How to Get to Acadia National Park
If you're wondering how to get to Acadia National Park and Bar Harbor, you have a few options.
By Car: You don't necessarily need a car once you're on the island, as the main area of Bar Harbor is walkable and there is a free shuttle that circles through Acadia. But driving to Bar Harbor is an easy way to get there. Bar Harbor is quite far north in the state of Maine, but it's a fairly straight shot north on 95 towards Bangor.
At that point, you'll head east out to Mount Desert Island. Driving from Boston to Bar Harbor takes approximately 5 hours. Portland, ME to Bar Harbor is a drive of 3.5 hours.
By Air: There is a small regional airport (Hancock County-Bar Harbor Airport) with free bus service to Bar Harbor (available only during the summer). An alternate option is to fly into the larger airport in Bangor and rent a car or take a bus or taxi to Acadia National Park.
How far is Bar Harbor from Acadia National Park?
One of the great things about this region is how there's so much to do within easy driving distance. Bar Harbor to Acadia National Park (and vice versa) is just a few minutes journey. You'll be at the entrance to this Maine national park very quickly.
How Many Days to Spend in Acadia National Park?
There are enough hikes and other activities to fill a week, but even if you only plan to spend 2 or 3 days in Acadia National Park, the recommendations provided here will give you a good taste!
Don't forget to pack these items for your trip to Maine!
Good footwear, like sturdy boots. This is especially important in the colder months, or if you want to do some serious walking around in the outdoors. Plus, you'll look very Maine-stylish with the right footwear. PS: Don't forget the right socks.
Maine is all about LAYERS. A windbreaker or waterproof jacket will do just fine. Whether you'll be boating or camping, the temperatures can drop quickly in Maine, even in the summertime. Be prepared with the right garments, and you'll feel great in any weather! REI has some ideal sweatshirt options that are also pretty cute!
Going camping? Grab a tent and sleeping bags, plus other essential camping gear.
If you've only got a few days to explore this beautiful Maine national park, this 3 day Acadia National Park itinerary will help you plan your trip so you can enjoy the top sights in Acadia!
---
Read Next:
---