---
*Links in this article may be affiliate links, from which we may earn commission. See our
Privacy Policy
for full details.
---
Beautiful Maine!
In addition to being known for wide expanses of unspoiled natural beauty, Maine is also known for its incredible wildlife; after all, it's one of the few states in the US where you can go moose watching… how awesome is that???
And when you look out to sea, there's even more to see (pun proudly intended!) because in and around Maine's coastal waters you can find harbor seals, dolphins, puffins, and yes, that most mighty and magical sea creature, the whale.
Whale watching tours are the way to go if you want to have an encounter with one of these beautiful animals for yourself, and the whale-watching season typically lasts mid-April to October, before the whales leave Maine for warmer waters in the south.
In Maine's waters, you can see pilot whales, finbacks, humpbacks, orcas, and more, in addition to the other marine wildlife that's so plentiful in this area. The best part about taking a professional whale watching tour is that the experts know exactly how to maximize your chances of seeing these gorgeous creatures; all you have to do is show up!
So grab your binoculars, dress in warm layers (remember it's going to be significantly cooler out on the open water than it is on land), pack your just-in-case Dramamine, and be sure to have the sunscreen handy as you head out on your Maine whale watching trip!
First Chance Whale Watch in Kennebunk, ME
At First Chance Whale Watch, Captain Gary takes his role as whale watching guide very seriously as he has been Captain since 1998, learning all about the whales that can be found in the area and where to find them. The boat cruises from lovely Kennebunkport, and at 87ft from bow to stern, has plenty of space for real-time viewing and excellent photo ops with the whales, dolphins, and other marine wildlife you might end up spotting!
Restrooms and a snack galley with light refreshments are available onboard, and First Chance Whale Watch also welcomes you to bring your own snacks if you prefer. The whale watching tour is typically about 4 ½ hours long, so plan to spend the afternoon out enjoying the open sea. Reservations can be made online or by calling 207 967 5507.
Eastport Windjammers in Eastport, ME
Family-run for over 50 years, Eastport Windjammers operates out of Eastport, ME, and their 2 ½ to 3-hour whale watching tour takes visitors past the Old Sow, the largest whirlpool in the Western Hemisphere and a major Downeast tourist attraction. In addition to Old Sow, you also get to cruise on by East Quoddy Lighthouse, the Canadian lighthouse with the delightfully distinctive red and white cross.
In addition to the whales that love to play in the tidal waters of the Bay of Fundy, you're also likely to see seals sunning themselves on the rocks, porpoises playing in the waves, and a bald eagle or two soaring through the air. On the way back to port, lobster traps are brought up and passengers get a hands-on experience with the on-board touch tank, often containing starfish, crabs, sea urchins, and lobsters. A chance to see whales and hold starfish? SIGN ME UP! Reserve your spot by calling 207 853 2500.
Cap'n Fishes Whale Watch in Boothbay Harbor, ME
Passed down through three generations, Cap'n Fishes Whale Watch sails out of the lovely seaside town of Boothbay Harbor May through October and claims the title of the Original Whale Watch Cruise in the Mid Coast region of Maine. In addition to the expert guidance and narration provided by Maine's top marine biologists, you will also be riding in style in one of the fastest whale-watching vessels on the Midcoast!
Comfort comes easy with padded seats, tables, food and drink from the galley, restrooms, and speakers conveniently situated throughout the vessel so narration can be easily heard from anywhere on the boat; not only does Cap'n Fishes Whale Watch offer rain checks if you don't see whales on your cruise, but they also make sure you see them in style! Plus, you can also opt for the Whale & Puffin Combo Cruise… how's that for an absolutely perfect afternoon? Tickets can be purchased online in advance or at the ticket booth same day.
Odyssey Whale Watch in Portland, ME
May through October, Odyssey Whale Watch in Portland gears up to cruise out of Casco Bay in search of whales, dolphins, sunfish, sea turtles, and all the other incredible marine wildlife that can be found off the shores of Portland! Snacks, beverages (and bar!), restrooms, and the onboard naturalist guide make a trip out on Odyssey Whale Watch an absolute treat!
Rainchecks are given if no whales are sighted, and if that happens, it's not like you'd need another reason to come back to Portland anyway, right? Between the beautiful lighthouses, the awesome breweries, and the fun Airbnbs, there's plenty to see and do for a fun weekend in Portland; a tour with Odyssey Whale Watch is just icing on the cake, so make your reservations now!
Bar Harbor Whale Watch Co in Bar Harbor, ME
A visit to Bar Harbor during whale watching season wouldn't be complete if it didn't include a voyage out into the Gulf of Maine with Bar Harbor Whale Watch Co! Bar Harbor is one of the most charming small towns in New England, and Bar Harbor Whale Watch Co is an incredible testament to this lovely town, offering cruises for whale watching, puffin and lighthouse viewing, lobster fishing, and more.
Feel free to bring your own snacks or buy onboard from their cash-only galley (adult beverages also available) and make yourself comfortable for the 3 to 5-hour tour, enjoying the islands, lighthouses, and all the incredible scenery that makes this area of Maine so special. Vouchers for another visit are available if you don't see whales, but with a success rate of 90-95%, that probably won't be a problem! You're also likely to see dolphins, porpoises, seals, and other interesting wildlife on your cruise. Reservations are recommended and can be made online.
In addition to group whale watching tours, you can also charter your very own whale-watching expedition if you'd prefer to go that route: Downeast Charter Boat Tours in Lubec, Robertson Sea Tours in Milbridge and Seafairi Charters in Kittery are just a few of the charter boat options in Maine for whale watching that you can choose from.
—
There are so many great places to visit in Maine, and so much to see and do all year round; whether you're looking for a day on the beach, gorgeous hiking trails, or some of that fabulous fall magic that this northeastern state serves up so well, a Maine getaway has a little something for everyone.
Happy whale-watching and enjoy your trip!
Read these next:
---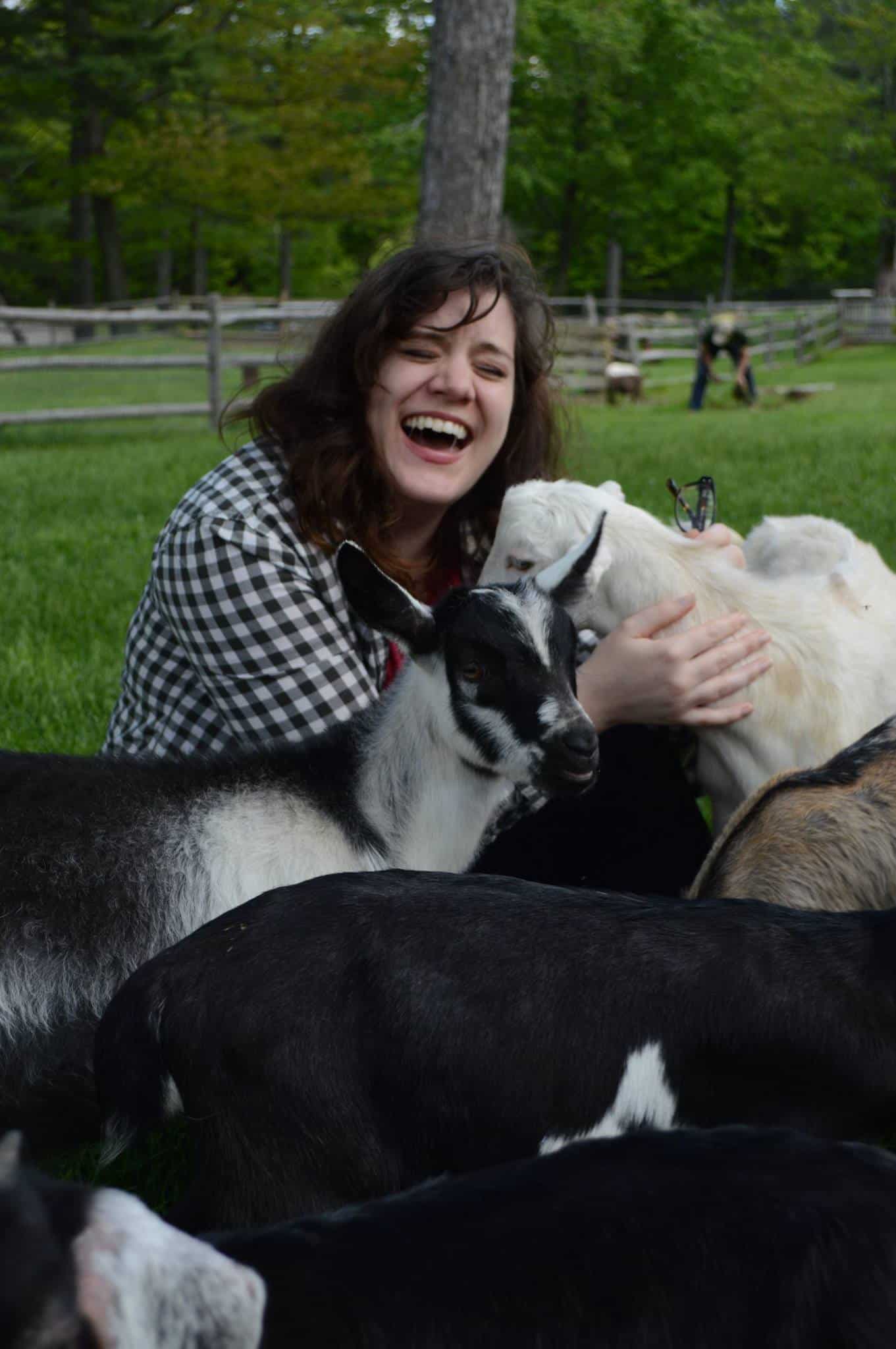 Amy is the founder of New England with love. A proud Vermonter, she hopes to share her love of New England and help you find the best adventures in the region. Amy is also blogger/founder at Two Drifters, where she writes alongside her husband about romantic and couples travel, relationships, honeymoons, and more. When not working on websites, Amy is probably reading, cuddling with her husband, son, and cats, & drinking a maple latte.