*This site uses affiliate links; if you make a purchase through these, I may receive a small commission at no cost to you.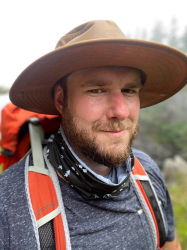 Latest posts by Justin Smulski
(see all)
When visitors start planning a trip to the Maine coast, a few things immediately come to mind—lobsters, lighthouses, diminutive fishing villages, and lots of scenic vistas. But if you time your trip just right and are up for some planning, you might be lucky enough to catch a glimpse of a rare treat: the Atlantic puffin.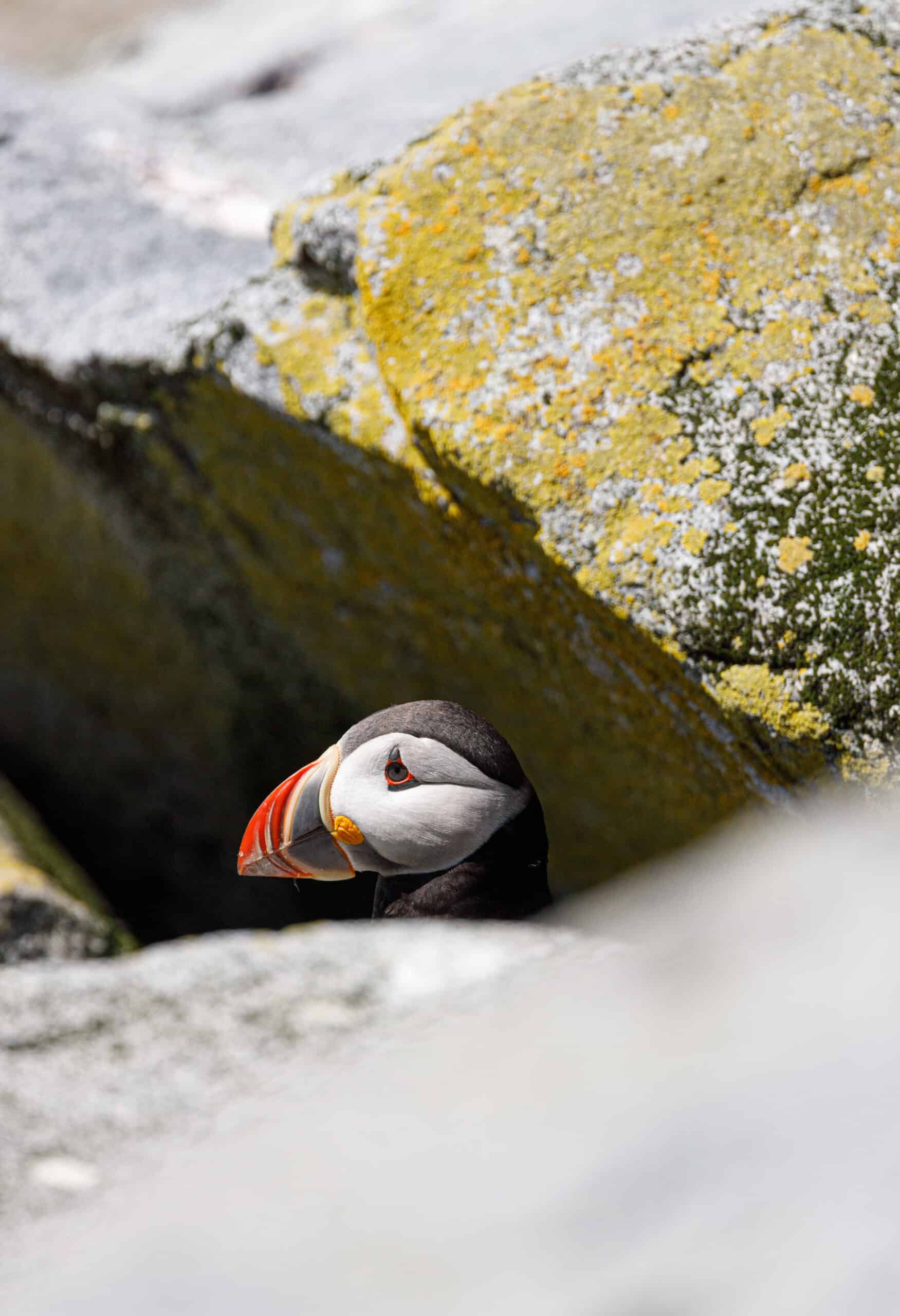 Puffins in Maine
You've likely seen puffins before in calendars, on wildlife shows, or in tourism brochures for far-flung, frigid destinations like Iceland, Greenland, and the Faroe Islands, but never in person. While most of their lifecycle is out to sea—and way far north of what a sane person would call a fun summer vacation!—a few rocky islands off the Maine coast, the southern reach of species' distribution, host summer colonies where puffins mate and rear their young in burrows.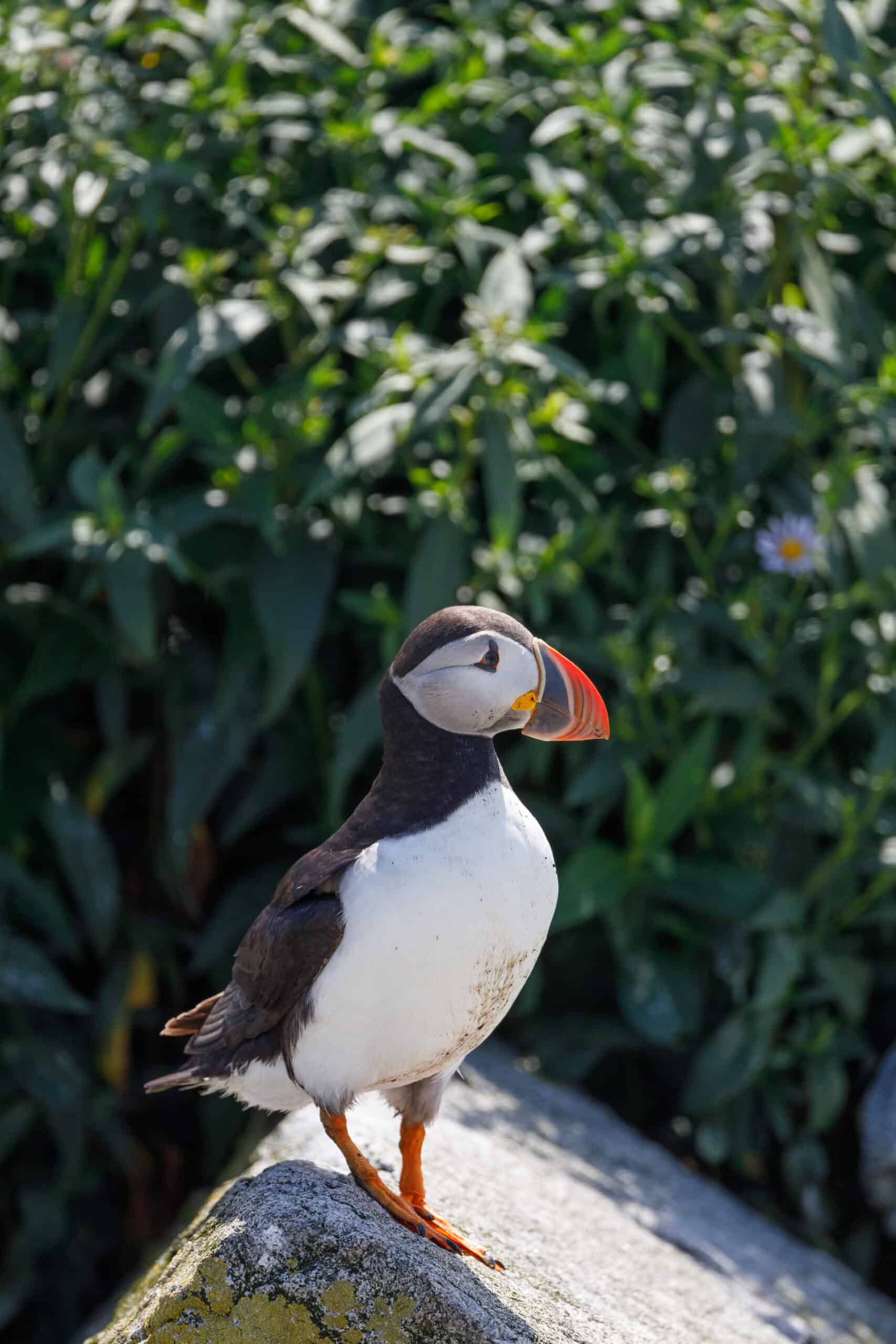 Though Iceland accounts for more than 60% of the world's Atlantic Puffin population and Newfoundland has the world's largest single colony, this small summer window of mating season (mid-May through mid-August) means you can have a lobster roll, a beach hang, and see puffins all in the same day. Take that, Faroe Islands. So here are our suggestions for the best ways to see puffins in Maine.
Puffin Cruises to Eastern Egg Rock
Six miles out to sea in outer Muscongus Bay you'll find Eastern Egg Rock. Though tiny in stature (about a tenth of a square mile), Eastern Egg Rock is hugely important to the conservation efforts of coastal bird species. Back in 1973, the Audubon Society and Maine's Department of Island Fisheries and Wildlife set out on an ambitious project to reintroduce Puffins and Terns to the island.
The birds had last been seen on the island in the 1880s when hunting for birds and their eggs essentially killed off the summer colony. Scientists used a variety of methods to entice puffins; most notably, they played recordings of puffin calls and eradicated huge numbers of predatory seagulls. The efforts worked and the project became an international roadmap for reintroducing seabirds to delicate ecosystems.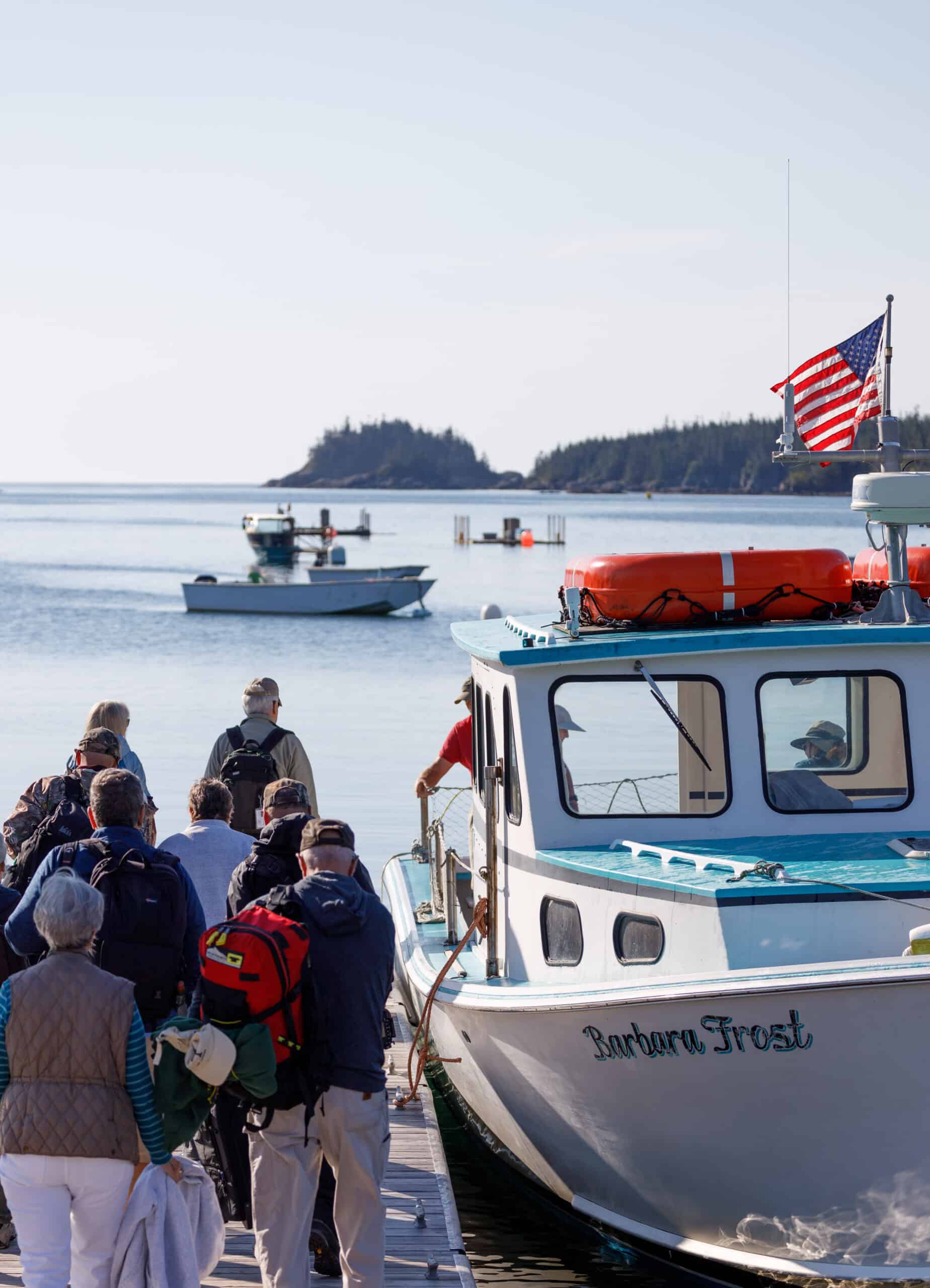 The restoration efforts have gone so swimmingly well that visitors can now responsibly observe the birds from Audubon-approved cruises to Eastern Egg Rock from both New Harbor and Boothbay Harbor.
From the comfort of a boat, you'll see puffins darting in and out of the water to feed, floating along in groups, and buzzing around in the air like brightly colored nerf footballs. You may not get close enough for a zoomed-in Nat Geo-style photograph from the boat, but you'll most certainly get some great group shots of birds and nonetheless have a stunning opportunity to watch and enjoy a unique species in the wild.
The trip to Eastern Egg Rock has a lot more to offer than just puffins—you'll pass a number of small rocky outcroppings charitably classified as islands where seals are often sunning themselves and napping on beds of seaweed as the waves crash over their bodies to keep themselves moist.
Sea birds of all kinds, too, will be visible on the trip to and from Boothbay or New Harbor with knowledgeable staff calling out species and information. The stunning and infrequently-visited Franklin Island Light will come into view, too: a photogenic navigational beacon on a small island and wildlife refuge. We sure love all of Maine's lighthouses, but there's something special about the ones that are a little harder to see.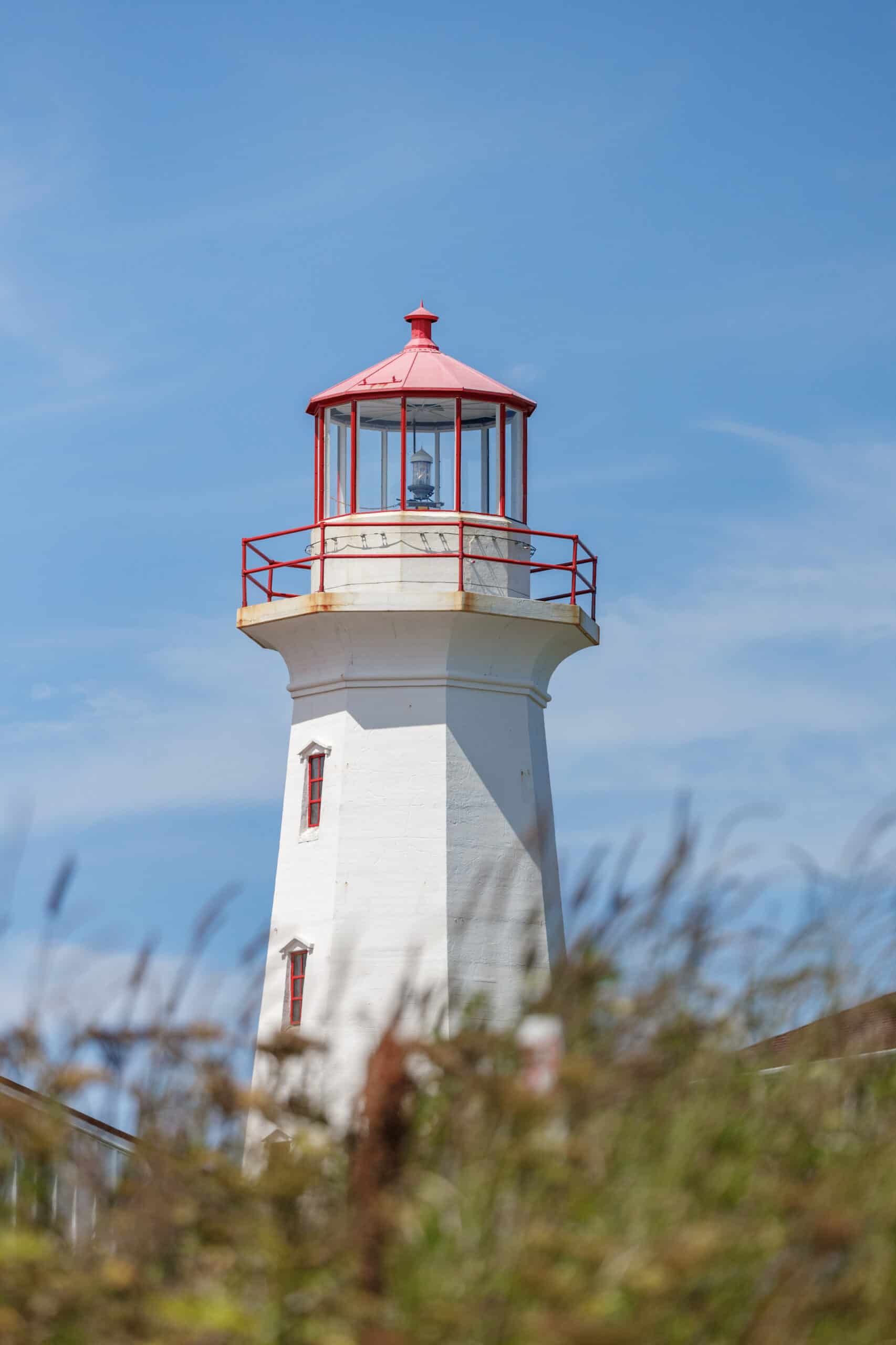 Last but not least, there's the Eastern Egg Rock "Hilton." Researchers spend weeks at a time out on Eastern Egg Rock observing and cataloging data on Puffins during mating season; an odd-looking, low-lying building called the Hilton is their only communal space for living and eating during those scientific outings. A moody shot of the Eastern Egg Rock Hilton with seabirds flying in the background is a photographer's dream.
Cap'n Fish's puffin cruises leave from downtown Boothbay Harbor, mid-May through mid-August. Tours offer enough time for a leisurely on-board lunch (and an adult beverage, if you should so wish), some puffin watching, and ample daylight afterward for exploring the region at its summery best.
Cap'n Fish's also offers daily lighthouse cruises, whale watching, sunset cruises, and regional tours. Boothbay Harbor has a number of iconic lighthouses and stunning shoreline properties worth exploring from the water as well as a burgeoning restaurant and nightlife scene.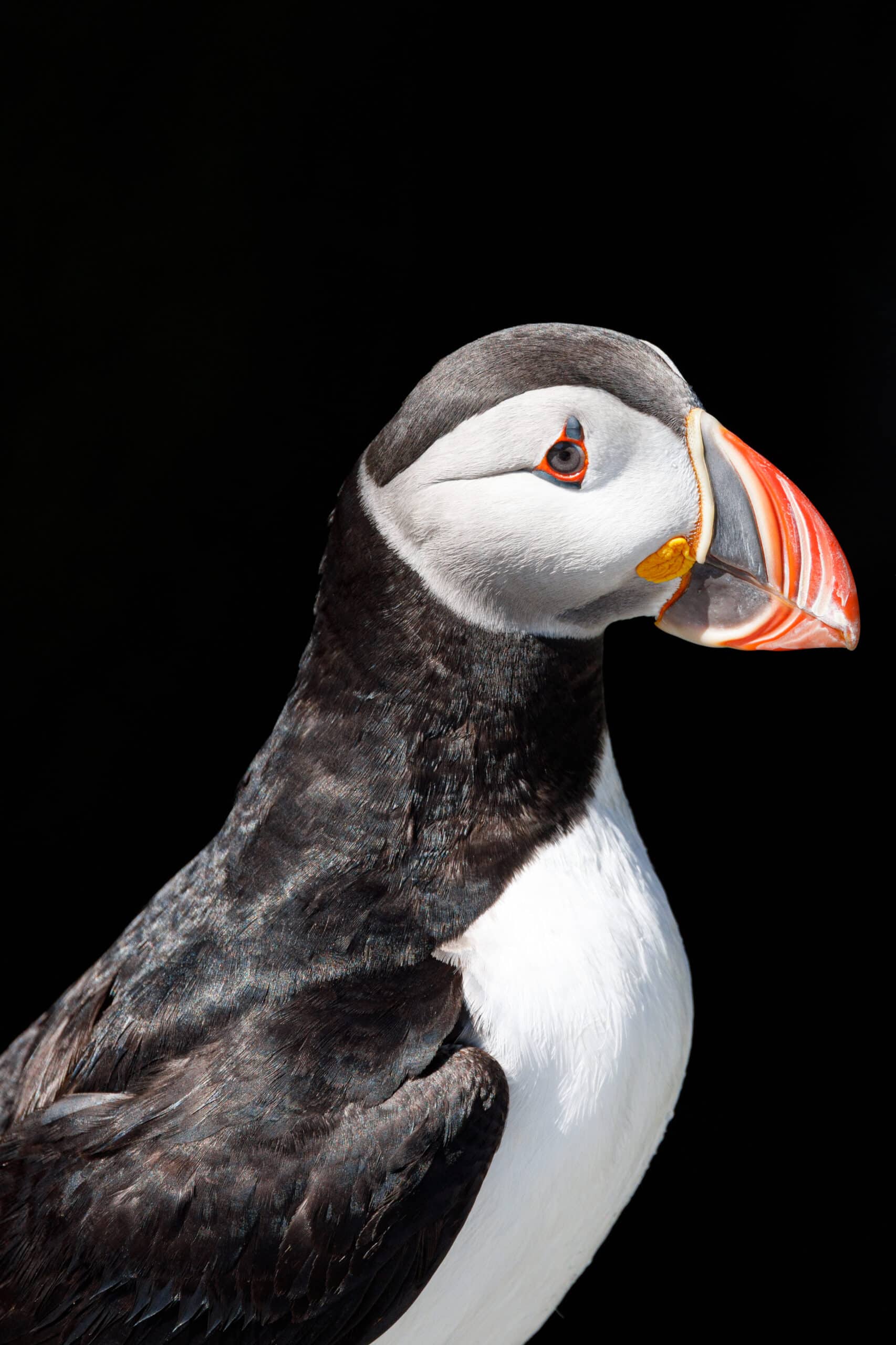 For the New Harbor cruise to Eastern Egg Rock, Hardy Boat offers daily runs late spring through mid-to-late summer. The Hardy Boat run is a ninety-minute trip, but they're geographically closer to Eastern Egg Rock—so the amount of time watching puffins is about equal to the Boothbay option.
Plus, New Harbor is a great little village to spend time in, as well.
There's Shaw's for noshing—a legendary fry shack and lobster pound with excellent food—as well as plenty of rental options for quaint coastal cottages. It's worth noting that Hardy Boat also offers daily ferry service to Monhegan: a lost-in-time island ten miles off the coast with a small yearly population, a thriving summer artists' community, and a surprising number of options for lodging and food.
Bold Coast Charter to Machias Seal Island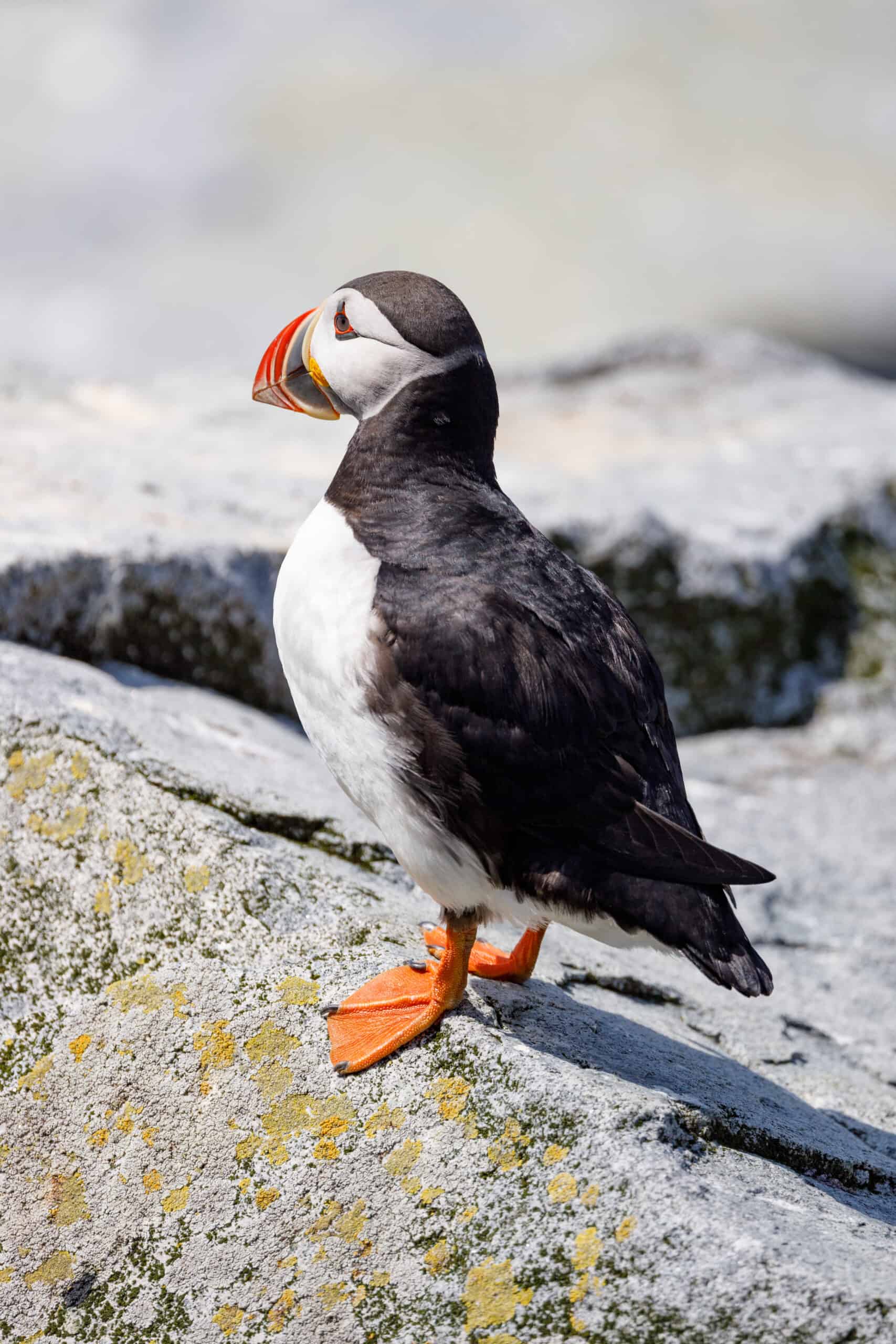 Cruises to Eastern Egg Rock are an easy, logistically-simple way to spend some quality hang time with the Atlantic Puffin. But what if you what to get up and personal—like really, really close? To get that once-in-a-lifetime Nat Geo puffin photo, you'll need to take a Bold Coast Charter trip to Machias Seal Island.
There you can get off the boat, onto the island, and into a bird blind with puffins mere feet away from you, all in a responsible way that won't spook the birds while they tend to their burrows and offspring. It all sounds pretty dreamy, but it takes some serious planning and involves a longstanding border dispute between the United States and Canada.
"Wait, what!?" you're likely asking yourself right now. Yup, you read that right. Machias Seal Island may host an enormous summer puffin colony complete with a research team, bird blinds, a lighthouse, and landing zones—but it's also got a complicated back story and some tense political history.
Ten miles out to sea at the entrance of the Bay of Fundy, the small rocky island covered in low scrub shouldn't really be all too important. Yet since the Treaty of Paris in 1763 that ended the French and Indian War, both Canada and the United States claim ownership over the island due to the inexact language in the treaty. This wouldn't matter all that much if the waters around the island weren't so important to the lobstering industry.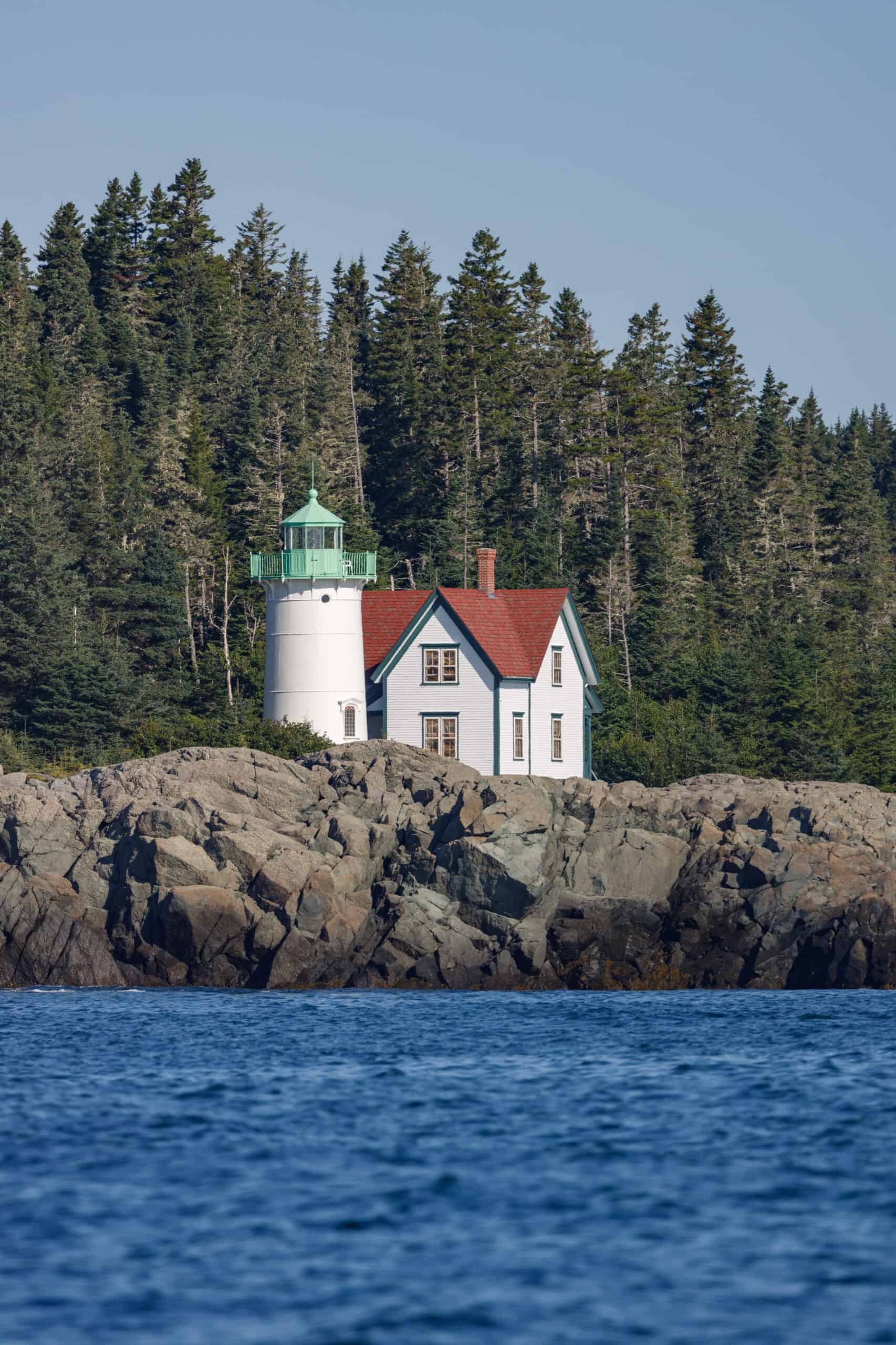 As the Gulf of Maine warms due to climate change, lobsters are migrating farther northeast for cooler temps and consistent food—all the way out to the pristine waters around Machias Seal Island. The area is currently the most profitable haul along the Maine coast. Due to differences between Canadian and US lobstering regulations (season, haul limits, gear, etc.), boats from both countries feel slighted at times. News reports of one country's fleet fishing the others traps and violent altercations are an unfortunate mainstay of Maine public radio.
To make matters worse, the commercial value of the lobstering industry around Machias Seal Island means neither country is willing to arbitrate in international court; whichever country loses the case will suffer huge economic impacts. It sure seems like a tense stalemate will remain indefinitely. Don't let the Canadian signs and the Canadian-run lighthouse fool you: the island is hotly contested.
Given the tense situation, it's no wonder that one American and one Canadian boat each have permits to bring tourists on the island. Your one option on the US side of the border: Bold Coast Charter Company in Cutler, Maine.
Cutler Harbor, nestled into a quiet stretch of Downeast coastline, is worth a visit regardless. As you leave the calm waters of Cutler Harbor you'll pass Little River Lighthouse with a bright green copper top on the light station and a bright red roof on the adjoining house.
The calm waters end there, however—the ten-mile journey through open water to an island completely surrounded by unprotected ocean can and will get choppy. In fact, Bold Coast Charter Co won't even confirm departure until the evening before, and a landing on the island is by no means guaranteed.
If you've got tickets and a reservation, make sure you have a day or two buffer for a rescheduled cruise due to rough seas. Some avid birders will go through multiple rescheduled cruises to finally get out on the island.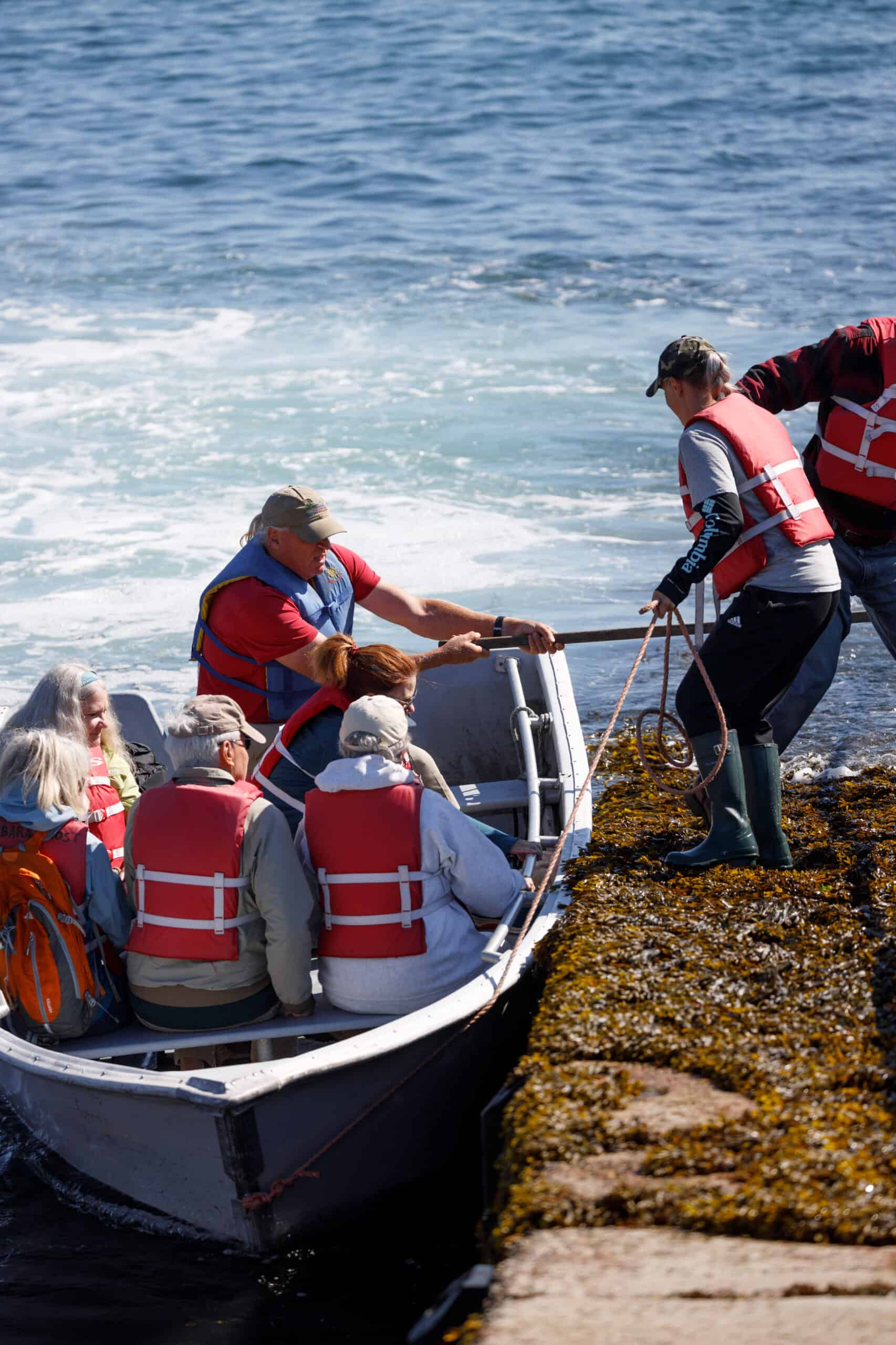 If you've got luck on your side and get out to Machias Seal Island on a calm-enough day to board the island, you'll be shuttled via skiff in small groups to an old concrete wharf covered in a few inches of slippery seaweed (have we conveyed yet how much work this whole thing is?!)
Once you're safely on the island, some important rules kick in to help keep the birds feeling unbothered and content: you can only navigate your way around the island on designated, raised boardwalks to and from the bird blinds. You'll pass the lighthouse and the residence for the researchers, but once you're in a bird blind you're stuck there until your time on the island is up.
After a few minutes in the blind, puffins will start appearing and you'll be viewing them from just a few feet away. With a decent zoom lens you'll have amazing views of their bright beaks and adorable dance-like hopping from rock to rock.
So what is the best way to view puffins in Maine? In my opinion, it's a long drive to Cutler (five and a half hours from Boston), a ten-mile boat ride through rough seas, some decent luck for good weather, a sketchy landing on a slippery old wharf, and crouching in a small wooden box with three other people for hours.
But if you ask just about anyone that's done the trip, they'll tell you the once-in-a-lifetime journey is beyond worth it.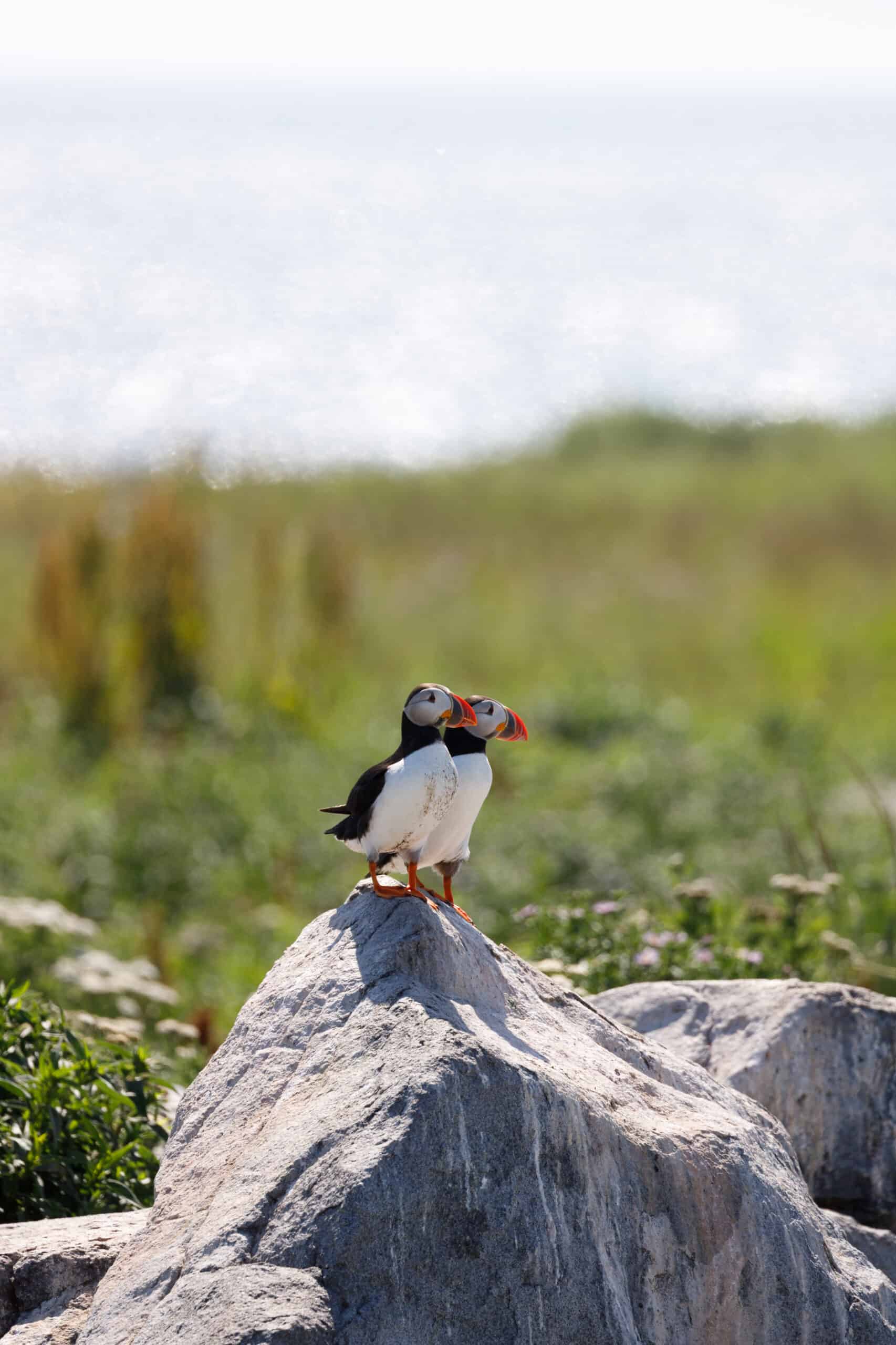 All that being said, getting tickets might itself be the toughest part. As the only American tour boat with permission to land on the island, the demand is insanely high. So set a calendar reminder, an alarm, check the website, and be awake and frosty for the ticket drop. It'll absolutely be worth it!
You can also visit 16-acre Petit Manan Island to hike, where puffins have been coming to nest since the 1970s, but if you'd like to increase your chance of seeing them there, you can book a Puffins and Seabirds Cruise through Robertson Sea Tours. Departing from Millbridge, Maine, their puffin cruise lasts about two and a half hours long and is one of the best ways to see the Petit Manan Lighthouse, the puffins' favored place to nest on the island.
To learn more about Project Puffin and puffins in Maine, be sure to visit the Project Puffin Visitor Center in downtown Rockland, Maine. The National Audubon Society provides the narration for Hardy Boat Cruises and Cap'n Fish's Cruises, as well.
Read these next:
9 Breathtaking Maine State Parks
11 Fun Maine Lighthouse Tours for All Ages