*This site uses affiliate links; if you make a purchase through these, I may receive a small commission at no cost to you.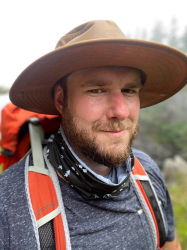 Latest posts by Justin Smulski
(see all)
There are over 3,000 Maine islands, if you can believe it. Some are large enough to accommodate multiple towns and a national park (we're looking at you Mount Desert Island, Bar Harbor, and Acadia), and others are small enough that they're reduced to a spire of rock with a few trees at high tide. Many are bridged and easily accessible, though still others require hitching a ride on a mail boat and braving a lengthy waitlist for a camping shelter (Isle Au Haut, we truly love you).
With such an enormous number of Maine islands—and completely different experiences and geography for each—it can be overwhelming to plan your first island getaway. So here are a few of our favorite islands off the Maine Coast to get your feet wet (we will not apologize for that pun) and do some exploring.
How did we choose these from more than 3000, you might be asking? One big consideration helped: we'll let you tackle the bridged islands on your own. The ease and convenience of being able to open Google Maps and hit the road with a packed car full of snacks and gear and goodies just can't be beat.
We figured a true island adventure means a ferry ride and some time on the sea, letting that briny goodness fill your lungs while you watch the mainland pull away behind you and an island come into full view. That seems like a good introduction to exploring the Maine islands: somewhere not too far, not too close, and easy enough for a day trip or a weekend but not such a time investment that you need to plan a week. So check out our list and plan a Maine island adventure!
Maine Islands
Peaks Island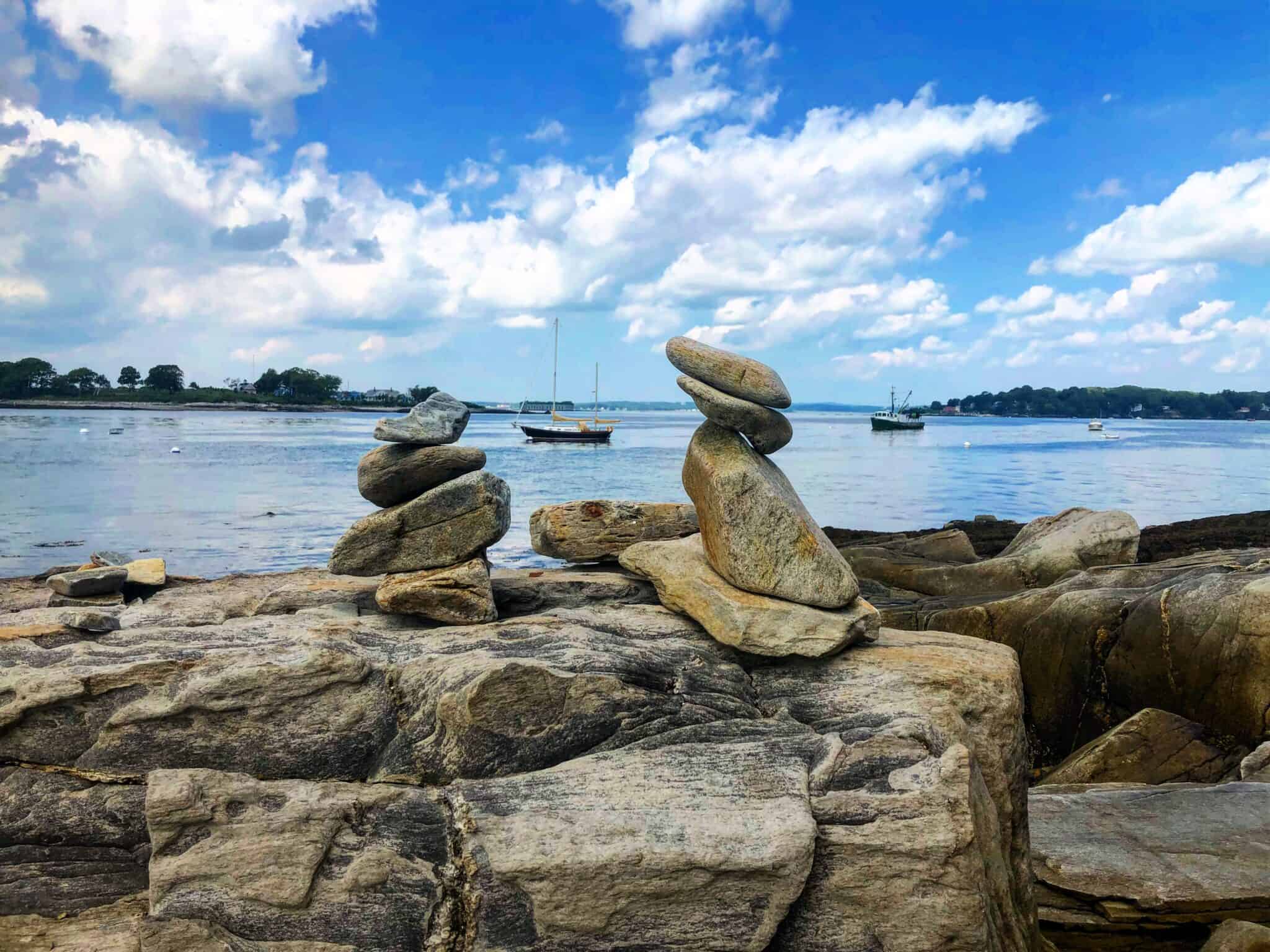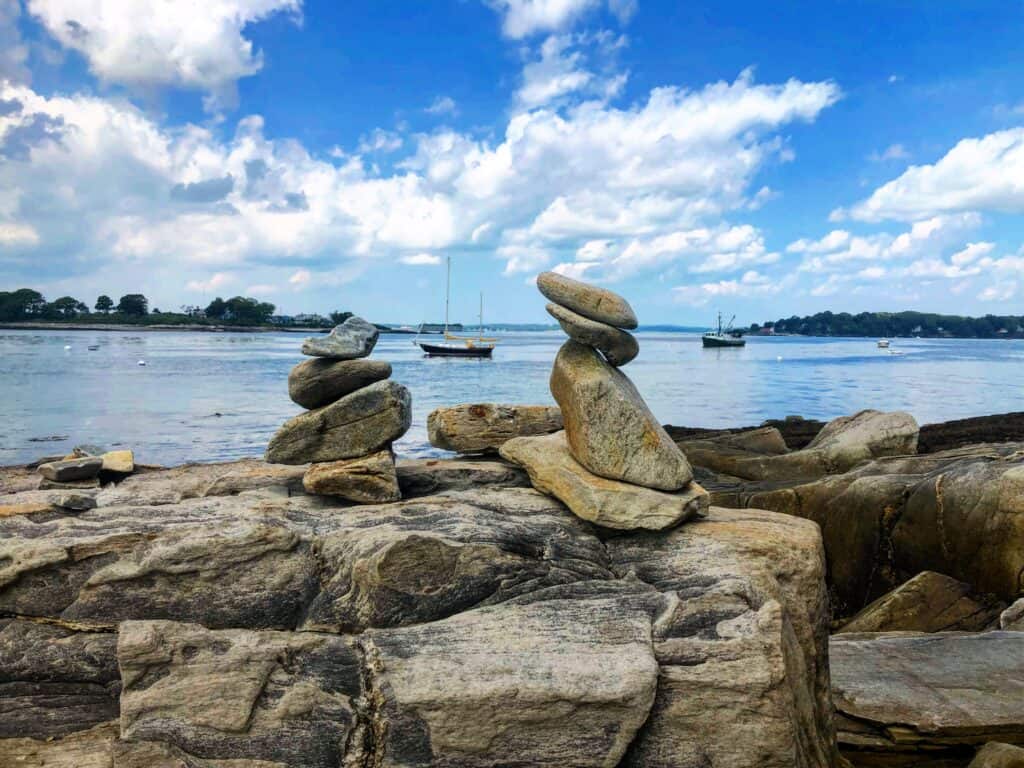 Portland's waterfront is an absolute extravaganza of shopping, restaurants, and bars during the summer. But just offshore a Vacationland paradise awaits, unseen from the mainland. As the crown jewel of Casco Bay's hundreds of islands, Peaks Island is the quintessential summer daytrip from Portland.
A ferry from Casco Bay Lines can you get out to Peaks in about a half hour with stunning views of the Calendar Islands (there are enough islands in Casco Bay to name one for each day of the year, they say) on the ride. The ferry drops you off right at Jones Wharf, the village center of Peaks Island with just about everything you could need within a ten minute walk: a beautiful Inn, a few restaurants, a small market with to-go coffee, a wedding venue (imagine the photos!), a lobster company, and a marina. And if that's not enough, there's an umbrella cover museum. Yes, you read that correctly, and no we're not kidding.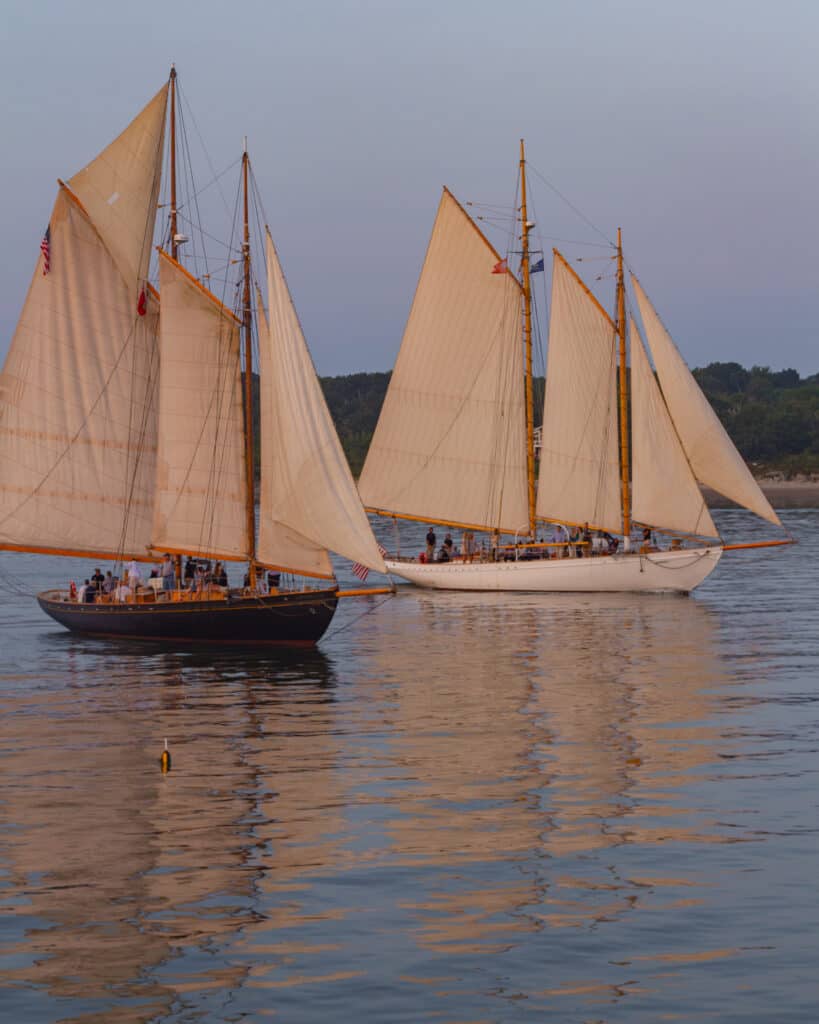 An important piece of advice for Peaks Island: leave the car at home. Though some islands are big enough that a car ferry makes sense, Peaks Island is relatively small and the rate for cars during the height of summer is both exorbitant and means a long wait as Casco Bay Lines prioritizes the droves of people on foot looking for a quick swim or hike out at Peaks. There's plenty of spots to rent bikes, kayaks, and golf carts once you're on the island, so leave the car at the attached parking garage in the Old Port.
On foot, the island is resoundingly walkable, with a dozen or so coves and swimming holes along the picture-perfect shoreline for cooling down on a hot summer day. Whaleback Ledge, Brackett Point, Picnic Point, and Ryefield Cove are all ideal spots to soak up some sun with spectacular views of Casco Bay and the surrounding islands.
Rent a kayak for the day and paddle out to Fort Scammell on House Island—less than half a mile from the town landing—or do a full tour around Peaks and pull up onto Catnip Island or Pumpkin Knob for a quick picnic and a swim. Despite the island's size, there's an ample supply of hiking trails and preserves. Don't miss out of Battery Steele, either: an overgrown World War II era fort tucked into a preserve between Florida Ave and Seashore Ave.
One last thing—though the number of people on Peaks Island is still much less than downtown Portland during the dog days of summer, it's still a lot of people. It's by far the most crowded island on this list because it's so easy to get to and has so many fun, accessible amenities. So expect a packed ferry, and be exceedingly respectful of the year-round residents and shop owners; they're all doing their best! That goes for all the islands on this list, as well. Island living is not easy. Food, commodities, building materials—basically everything—has to be brought over on ferry or private charter. It's pricey and logistically tough. So be kind.
Chebeague Island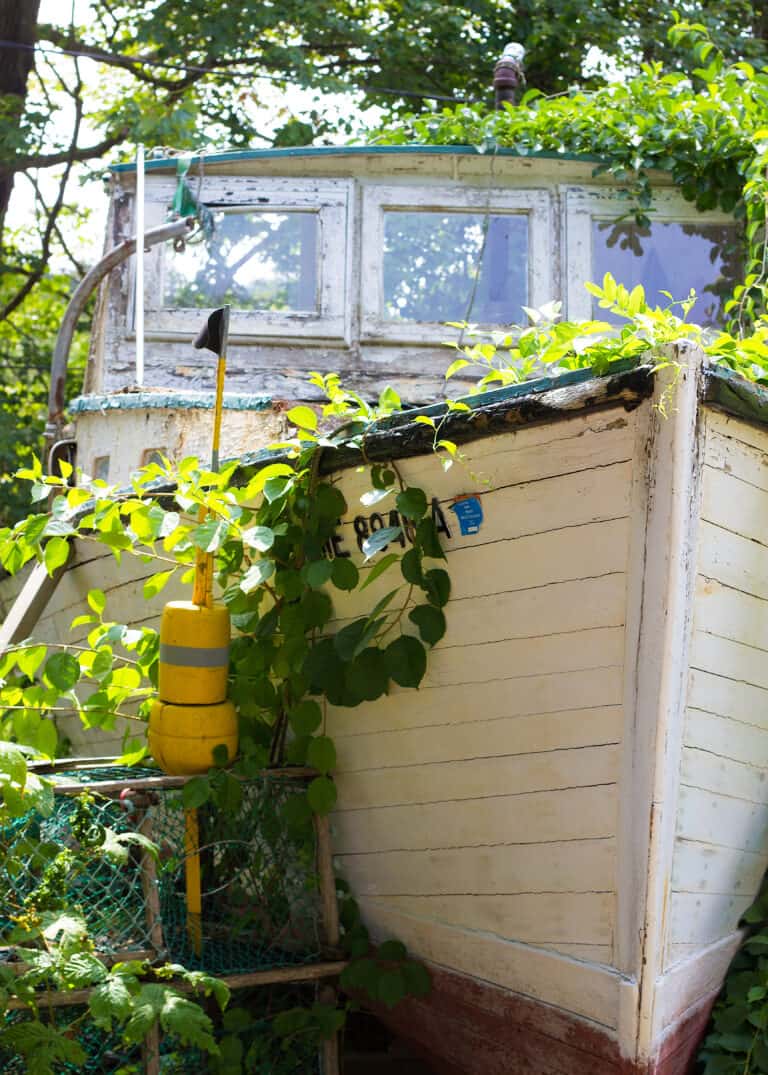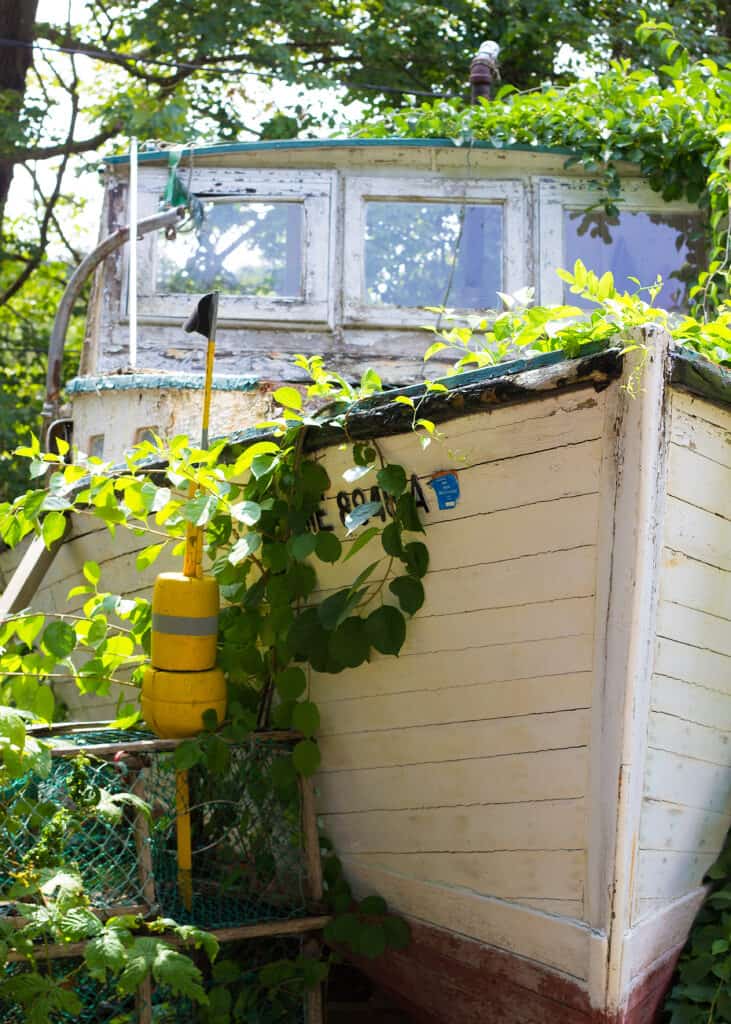 If Peaks is the intro class to Maine Islands, Chebeague is a great next step. Chebeague is about a mile from Peaks Island, and from Evergreen Landing on Peaks you can just about make out the southernmost tip of Little Chebeague's sandbars. Despite being so close, they couldn't feel more different. The summer party vibe gives way to something slower and quieter, and it's much more obvious that you're borrowing a little slice of serene island where others live year-round.

You can hitch an hour or so long ferry ride out from the Portland terminal—with stops at other islands along the way—or take a quick fifteen-minute sprint from a smaller terminal on the bridge-connected Cousins Island in Yarmouth. The kind of fun you endeavor to get into for the day will help you decide which option is best.
Though we'd once again strongly suggest not bringing your car, the island is bigger, more spread out, and less walkable than some of Casco Bay's smaller islands. Planning your day is the key to success on Chebeague. First off, if you have a bike—bring it! This is the perfect spot for a fun day of seaside cycling, and chances are you'll see a number of bikes on the ferry ride over. You'll also have an easier time getting between the two halves of the island if needed.
The ferry from Portland drops off at Chandler Cove Landing, and services the southern half of the island. If you're looking for some coastal nature walks, swimming, and beach hangs this is the place to be. Deer Point and Coleman Cove are excellent places for beach combing and cliff-side coastal exploring. Ricker Head looking out over a chain of sandbars leading to Little Chebeague is a picturesque spot to plop down beach gear for the day. With the right tides and timing, you can walk out to the small uninhabited island for a quick hike and spectacular views.
If you're looking for some pampering and hospitality, take the ferry ride from Cousins Island to Stone Warf Landing on Chebeague's northern tip. Here you'll find a golf course and a four-star hotel with a well-respected restaurant. For a night away that's still close to Portland—it just won't get any better. Even if you're not staying at Chebeague Island Inn, it's a great spot for lunch or dinner and the enormous porch beckons for you to sit in one of its rocking chairs and sip a cocktail from the lavish bar.
Chebeague is a fantastic day trip to a much less populated island in Casco Bay.
Great Cranberry Island
This gorgeous Maine Island sits just across the bay from Mount Desert Island, but it's a much slower pace. You won't find the same amount of restaurants and places to stay on Great Cranberry Island, but you will find the most beautiful hiking trails and beaches that are the perfect place to get lost – and find your peace of mind.
Accessible only by ferry, many people bring their bikes over to ride around the island, or take advantage of the local golf cart transportation services that help get you around the island. This is a true getaway island in Maine that is the perfect place to go when you need to get away from the hustle and bustle of busy city life.
Monhegan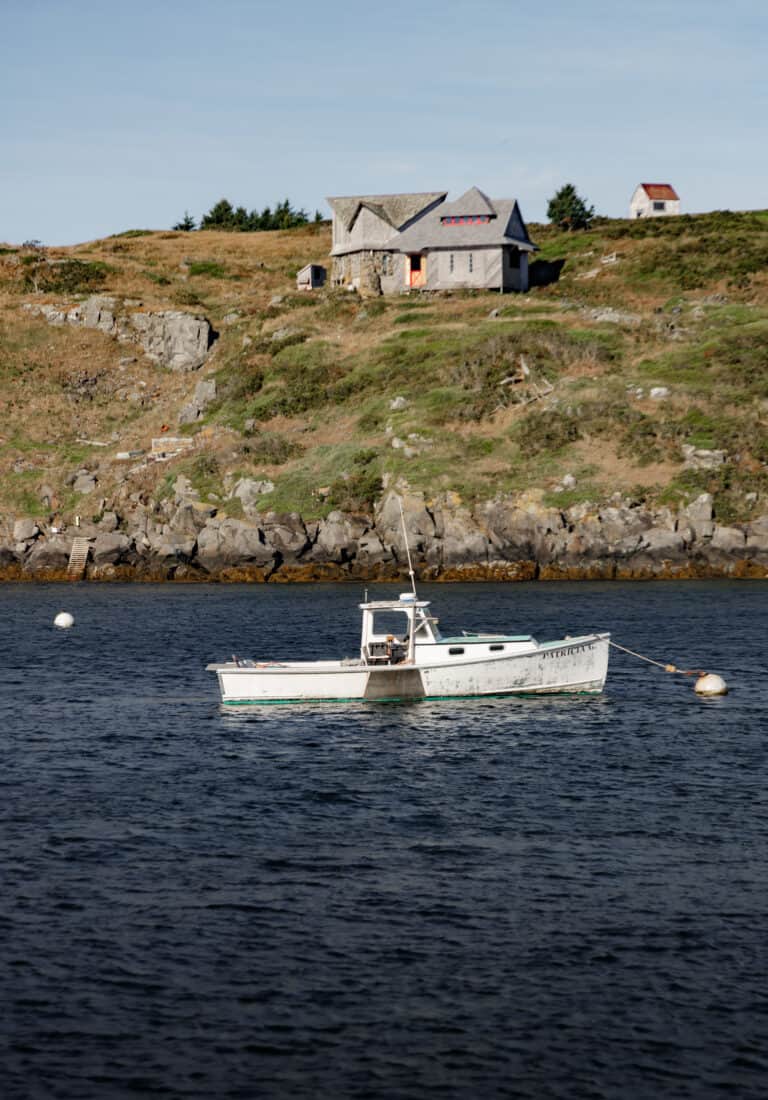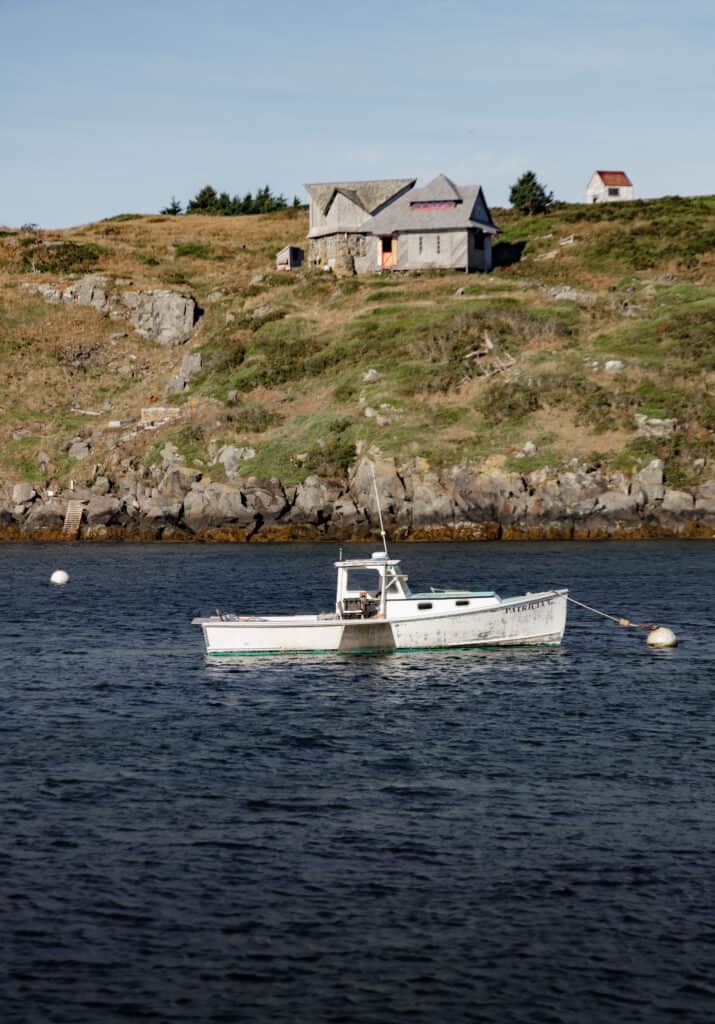 Once you've gotten a bit accustomed to Maine Islands and ferry schedules, Monhegan is a far-flung wonder of island life that's still doable for a day trip along the Midcoast region. A small fishing community with 70 full-time residents, Monhegan is nearly 12 miles from the mainland. Nonetheless, the speedy vessel Laura B makes the run with passengers and cargo from Port Clyde in about an hour. Ferry runs from Boothbay and New Harbor are available, too, but the Laura B's early morning run is the best option.
The trip is choppy and windy, so be prepared! As the coastline disappears behind you and cool air wraps around the boat, you'll soon start realizing how exceptional a place Monhegan is—and that getting there is part of the adventure. The ferry drops you at a wharf in Monhegan Harbor.

Monhegan is perfectly walkable, and the haphazard dirt roads wouldn't be doing your vehicle any favors, anyway. Most of the cars and trucks you'll see are unregistered, beat up, and never leave the island. Most of Monhegan's amenities are cloistered together within a ten minute walk of the wharf, and outside that radius dirt roads morph unknowingly into paths and hiking trails. Monhegan House, Island Inn, and the Trailing Yew are your best bets for overnight stays. Cottage rentals are coveted; they tend to have a huge wait list, the same guests every year, and are tough to set up. So if you plan on staying the night, plan ahead with considerable lead time.
Monhegan Fish House is great for seafood, and L. Bracket & Son is an excellent spot for provisions and sandwiches (don't miss the donuts, either). You'll notice an astounding number of galleries and paint shops for such a tiny island; Monhegan is a celebrated summer retreat for plein air painting and has hosted a well-established art colony since 1890.
Lobster Point, southward from the village center, has excellent views and a number of walking trails. There's a famous shipwreck still perched on the rocks beyond Lobster Point—so heed the warning and don't plan to swim here amongst the dangerous current. The walk back to the main village passes right by Monhegan Brewing Company, so might as well stop in for a frosty brew and a six pack. Next time you do a beer swap with your friends, chances are you'll have the only option that's brewed on an island twelve miles off the coast.
Beyond the village center and its undeniable old-world charm, there's a stonework lighthouse and attached museum at the island's highpoint and miles of hiking to undertake with breathtaking views from atop gorgeous granite cliffs. The sheer cliffs are among the tallest on the Maine coast, besting even the rugged shorelines of the Bold Coast region. Trail maps are available at just about every shop and restaurant on the island, so be sure to grab one. Be sure to take the Whitehead trail to Squeaker Cove, Black Head, and head back through the Cathedral Woods before hopping a return ferry to Port Clyde.
North Haven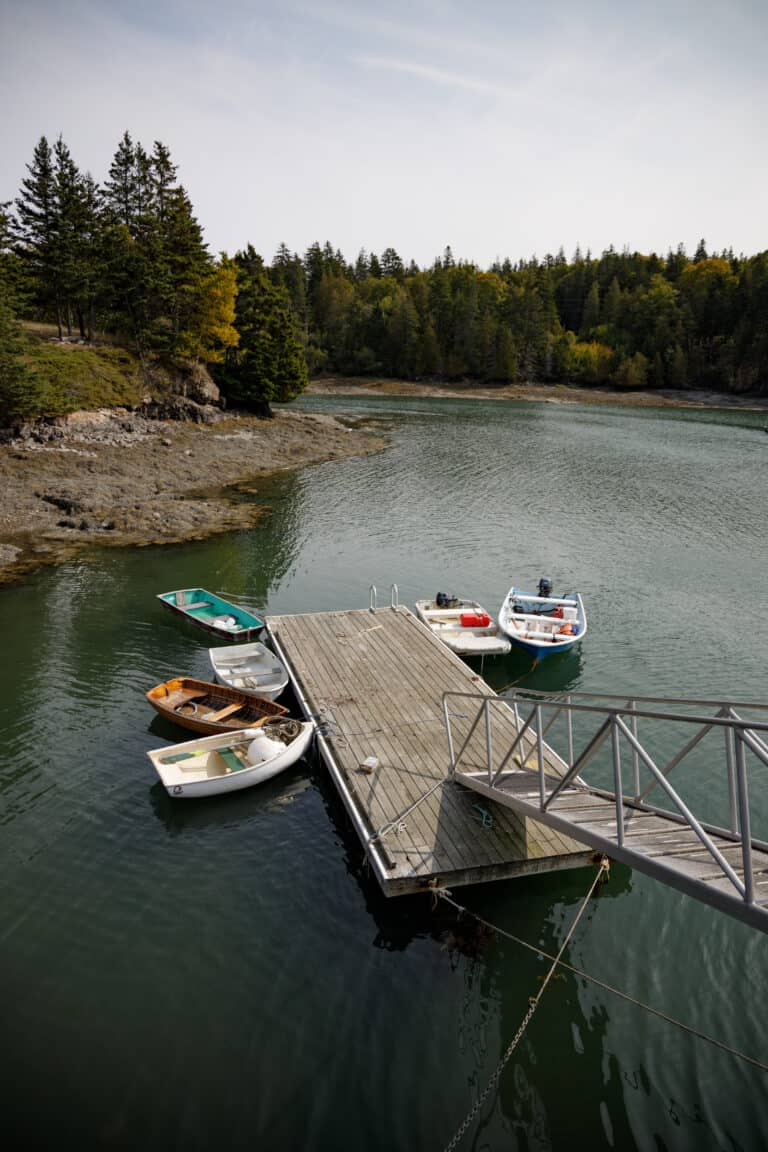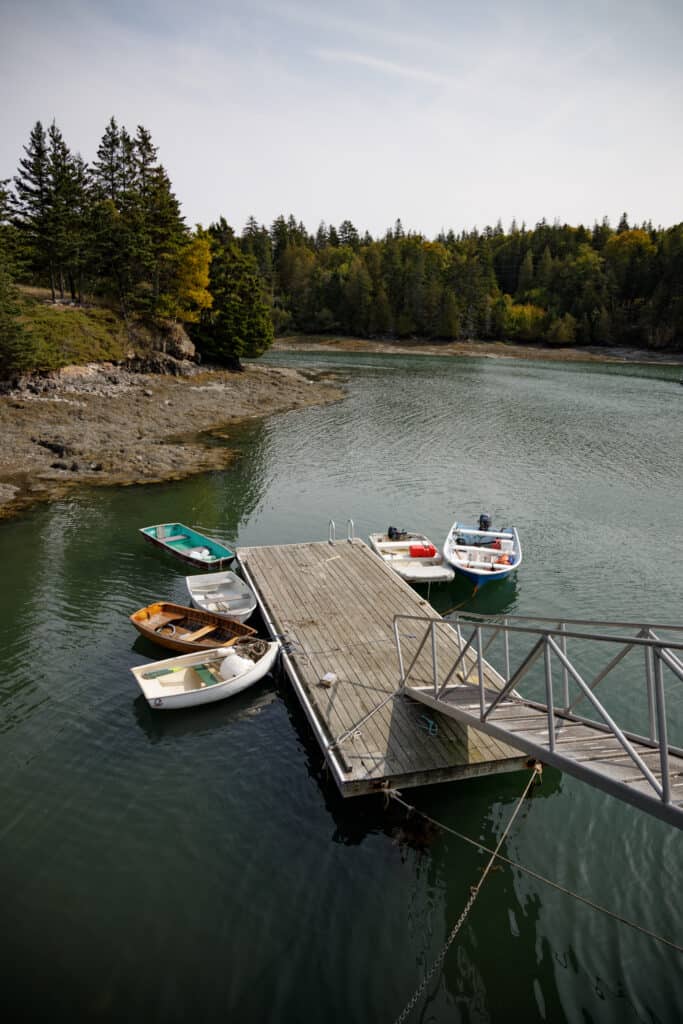 Four miles from the mainland, North Haven's serrated landmass filled with coves and bays cuts Penobscot Bay into two distinct halves. Owl's Head lies to the south west, while Deer Isle and Blue Hill Bay are north east. Vinalhaven sits just below the island, beyond the Fox Island Thoroughfare where the two islands were clearly once, long ago, connected. A car ferry terminal in Rockland serves both and acts as a regional hub for Penobscot Bay's numerous other islands.
On a map, Vinalhaven and North Haven look like a geographic unit worth considering as one. In reality, the thoroughfare between the two islands might as well be the width of the Atlantic. Vinalhaven is bigger, busier, and more well known amongst the summer tourism crowd. North Haven occupants half-jokingly call Vinalhaven Sin City, and take considerable pride in North Haven's quiet demeanor and tightly-knit community. We love both, but North Haven has a sleepy, earnest feel to it that you just won't find most other places.
A trip to North Haven definitely requires a car—luckily, the car ferry from Rockland is easy, quick, and surprisingly inexpensive. Views of the lighthouse at Owl's Head and the Rockland Breakwater along the way make the ferry trip a pleasure all on its own. You'll cruise through the thoroughfare and offload at the town landing by Main Street. This little village is the lifeblood of the island—boat access to the mainland and surrounding islands, vessel services, restaurants, and lodging.
Nebo Lodge, a quaint yet chic seaside Inn with a rich history, is the best and easiest option for staying a night or two. Calderwood Hall and North Haven Brewing offer great options for food and drink, while Watermans Community Center can point you in the right direction for the rest of your trip. Just across the street, North Haven Gift Shop and the Hopkins Wharf Gallery house an exceptional collection of art, collectibles, island crafts, and even some rare artifacts from the history of the island and Nebo Lodge.

For outdoor recreation, don't miss Mullens Head Park, Ames Knob, and Crabtree Point for gorgeous trails laced with sand beaches and tidal shallows. Last but not least, Pulpit Harbor is a hidden gem without equal: all the charm and photogenic splendor of Maine's coastal harbors with no crowds and no touristic infrastructure. Just boats, views, salt breeze, and quiet surroundings to enjoy—the true epitome of North Haven.
Of course, Maine has islands that are even more accessible and full of more touristy type of things to do, like Mount Desert Island and it's beautiful Acadia National Park, but if you're looking for Maine islands that offer a little more of that secluded, miles away from your daily life kind of feel, any one of the Maine islands on this list will do!
---
You might also like:
---