Wondering where to see moose in Vermont? You've come to the right place!
According to the Vermont Fish & Wildlife Department, there are roughly 2,100 moose in Vermont, so you'll need to know where to look if you'd like to get a peek at one of these majestic wonders yourself.
We're going to share some Vermont moose FAQs with you today, so you can have a good shot of seeing one during your next visit to Vermont!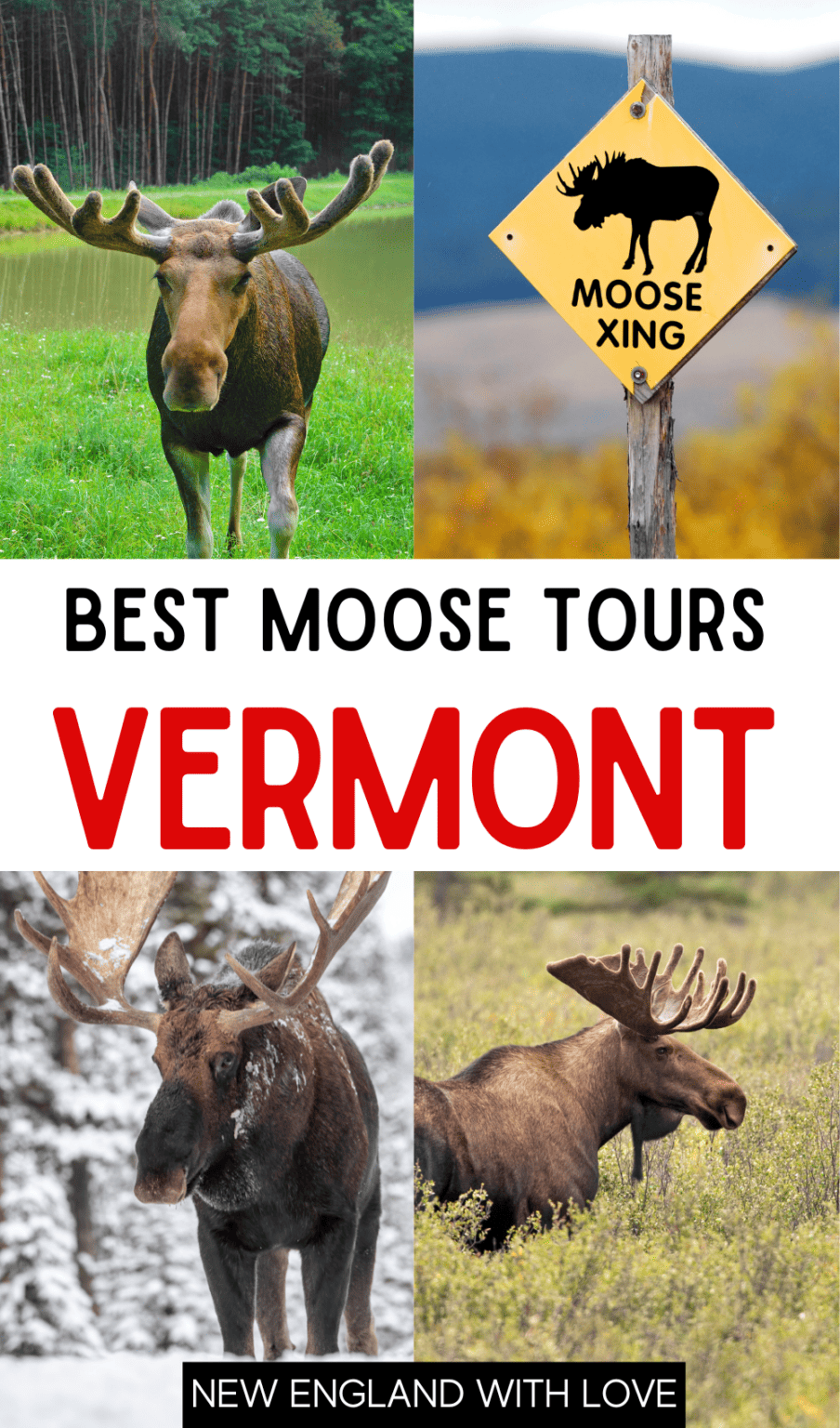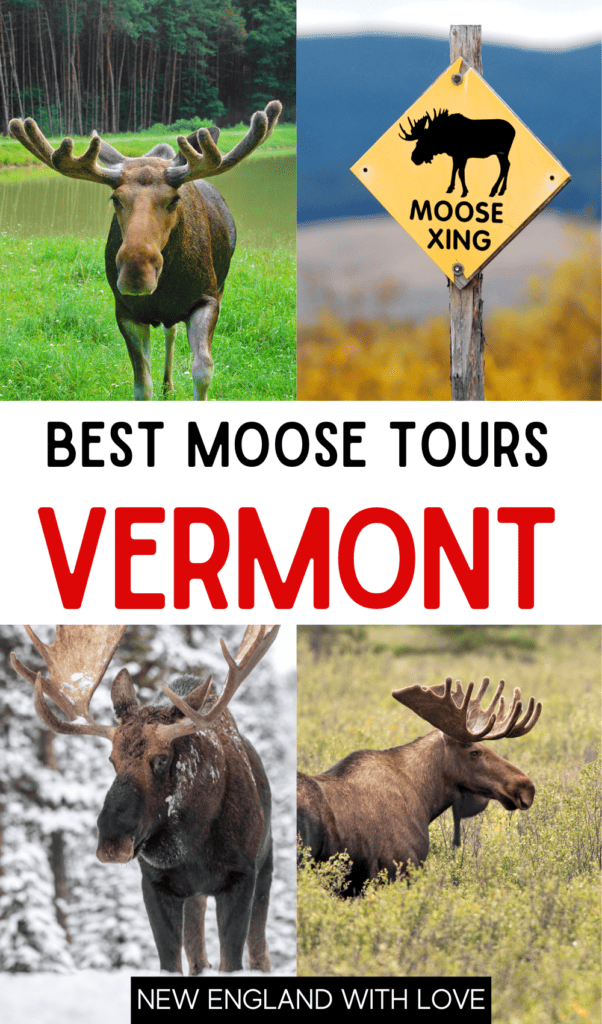 Moose in Vermont
Vermont moose are LARGE, and it can be hard to fully appreciate their size without seeing them in person. One of the things to be aware of is that due to their height (about 5 to 6 feet tall at the shoulder) and weight (typically between 600 and 1400 pounds), running into moose on the roads is often a disastrous experience, for both the vehicle and the moose.
Due to their large, bulky size, they aren't as nimble as their counterpart, the deer. If you come around a corner to find a moose directly in your path, don't expect this giant creature to be able to leap out of the way. They just aren't made for that!
That doesn't mean moose can't move fast, however. Under the right circumstances and on the right terrain, a moose can reach speeds of around 35 mph!
They are also incredible swimmers, with the ability to dive fairly deep for that tasty water vegetation they are so fond of!
All in all, moose are incredible creatures that demand respect, as their huge size, massive antlers, and lumbering frame are not something that anyone wants to go up against, on foot or in a car.
Always keep an eye out while driving in Vermont for moose on the roads, especially in early morning and at night when they are most active.
Wetlands, bogs, and thickly forested areas are the habitat of a moose in Vermont, so that's where you'll tend to see them most. The bogs and wetlands of the Northeast Kingdom are home to significant moose populations in VT.
According to the Vermont Agency of Natural Resources, these are the best places to find moose in Vermont:
Bogs along Route 114 between East Burke and Canaan
Bogs along Route 105 from Island Pond to Bloomfield
Moose viewing platform where Route 105 and Notch Pond Road in Brunswick connect
Pay special attention to moose crossing signs, always!
When to See Moose in Vermont
While technically moose can be found throughout the state at any time of year, your best bet to see a Vermont moose is in the springtime after the snow has melted. You can commonly find them along the roadside during this time of year, enjoying the salt licks.
However, many have also been spotted during the summer months in Vermont. They can usually be found at the wetter parts of the state during this time, in an attempt to stay cool during the summer heat.

When you do see a moose, remember to be as quiet as possible. These wild animals will notice you if you make too much noise.
You'll also want to keep your distance from them. Try to bring binoculars or a camera with a good zoom lens so you can keep your distance but still see this beautiful animal!
Best Moose Tours in Vermont
There aren't many guided moose tours in Vermont, but you can utilize resources like the one below and combine info about where to find moose in VT into your own DIY tour.
Island Pond's Moose View Driving Tour
Island Pond has a self-watch moose viewing driving tour that can be a great option if you want to have an itinerary but have the freedom to do it on your own time. Their driving tour covers northern parts of the state, including stops at Beaver Pond, Norton, and more.
Their driving tour page also includes lots of information about how to see moose in this area of Vermont, including visiting muddy areas, driving with caution (because headlights don't reflect in a moose's eyes), and to be respectful.
Where to See Moose in Vermont
While most of Vermont's moose can be found in Essex County and the Northeast Kingdom, there have been sightings all around the state. Here are a few of the best places to see moose in Vermont.
Silvio O. Conte National Fish and Wildlife Refuge
Located in Brunswick, VT, the Silvio O. Conte National Fish and Wildlife Refuge is one of the most popular spots to see moose. It was established in 1997 and creates a protective area for diverse wildlife, flora, and fauna.
Many have visited the refuge and spotted moose hanging out in the water or other spots throughout the park. They tend to love to be near the more wet parts of the park, so keep that in mind when visiting.
West Mountain
West Mountain in the Northeast Kingdom is another spot to see moose. They tend to come out more between spring and early fall in this area – particularly right after the snow melts in the late spring.
Again, moose love areas that are fairly wet, which is why this area is a good place to head to. You might just run into a moose here! It's one of the more popular spots to sight a moose.
Half Moon Pond State Park
Vermont's state parks are another great spot for moose spotting. They're occasionally seen here along with other animals like white-tailed deer. Half Moon Pond State Park is situated in Hubbardton, Vermont.
The park itself is filled with lots of fun things to do, like camping (the most popular activity), hiking, and relaxing along the water.
Kettle Pond State Park
Located in Groton, Vermont, Kettle Pond State Park is another of Vermont's parks. This one is right in Groton State Forest, and there's lots of lush scenery here, which is why this a good habitat for moose in VT. There have been a number of moose sightings here over the years.

Of course, there's also the pond which moose are attracted to. Pretty much everything that wild animals in the state love can be found in this park, making it a common place to see them.
Missisquoi National Wildlife Refuge
In Swanton, Vermont, the Missisquoi National Wildlife Refuge is another spot to see Moose in this state. It's located right along Lake Champlain in Franklin County, up near Canada.
Because the area is so wet, moose are attracted to it. You'll want to go out and visit the area on a boat, but be careful paddling so you don't scare any animals away. You'll also see other animals here, like turtles, beavers, otters, and more!
Ricker Pond State Park
Ricker Pond State Park in Groton has also had its fair share of moose sightings, specifically in the evening near the dam. This is one of the best spots to camp in the state, so consider spending an evening here to wake up nice and early and head out near the water to see if you might spot any moose.
Another popular time to see moose here is at sunset, so again, camping is probably the best way to up your chances of seeing a moose. Visit in late spring, right after the snow melts, for your best viewing odds.
VT Route 114
More often than not, Vermont moose sightings tend to be along VT Route 114. This highway runs throughout the state, but the most moose-heavy part of the road is from East Burke to Canaan.
When driving this road, it's best to be cautious because you never know if you'll find a moose along the way. You can also pay close attention to the news to see if there are any recent moose sightings during your trip.
Island Pond
Though it's mentioned under the tour section, Island Pond in Brighton is easily one of the best spots to go if you're looking for moose in Vermont. Whether you're camping or just want to check out the actual pond, your chances are pretty high of seeing a moose here.
That's because there's so much water in this area, and it's also fairly quiet, making for a safe haven area for moose. If you do spot a moose here, keep your distance and be respectful of the fact that many moose call this area home.
Mount Worcester Trail
Hiking is always a great way to see if you can spot moose in Vermon. Mount Worcester often has moose sightings, but heads up, this is not the easiest trail. In fact, this Putnam State Forest hike is ranked as hard and challenging, with 1900 feet of elevation gain and a length of 4.3 miles.
Despite it being a challenge with lots of elevation gain, this out-and-back trail usually only takes a little over 3 hours to complete. However, it is best for those who have hiking experience under the belt. It's not the hike to go out and do if you're a beginner hiker!
Consider hiking in March or April for your best chances of seeing a moose on this trail. It's a dog-friendly hike, too, but keep in mind that dogs must be on a leash for the entirety of the hike.
Burlington
I know what you're thinking… seeing a moose in a city? But YES, it's possible, and it has happened before. Many of those who live in Burlington have seen the rare moose appearance in this city.
Though Burlington is one of the most populated parts in the state, moose can sometimes be found unexpectedly in the surrounding area, such as near Lake Champlain. When visiting this city, there's always a small chance that you could see a moose, rare as it may be.
Bennington
Last but not least is Bennington, where you can see some unconventional moose. Back in 2009, the town of Bennington had an event called "Moose Fest" where artists painted moose sculptures that were then planted around town.
To this day, many of the moose are still around the town. Consider seeing how many of them you can find – it's quite fun for families!
This post was all about the best moose tours in Vermont. We hope that you've learned how to do your own diy moose tour!

All in all, it's typically always the best idea to head north when looking for moose in Vermont. Essex County has the most reported moose sightings per year, so if you're hoping to position yourself near moose in Vermont, head to the Northeast Kingdom!
---
Read these next: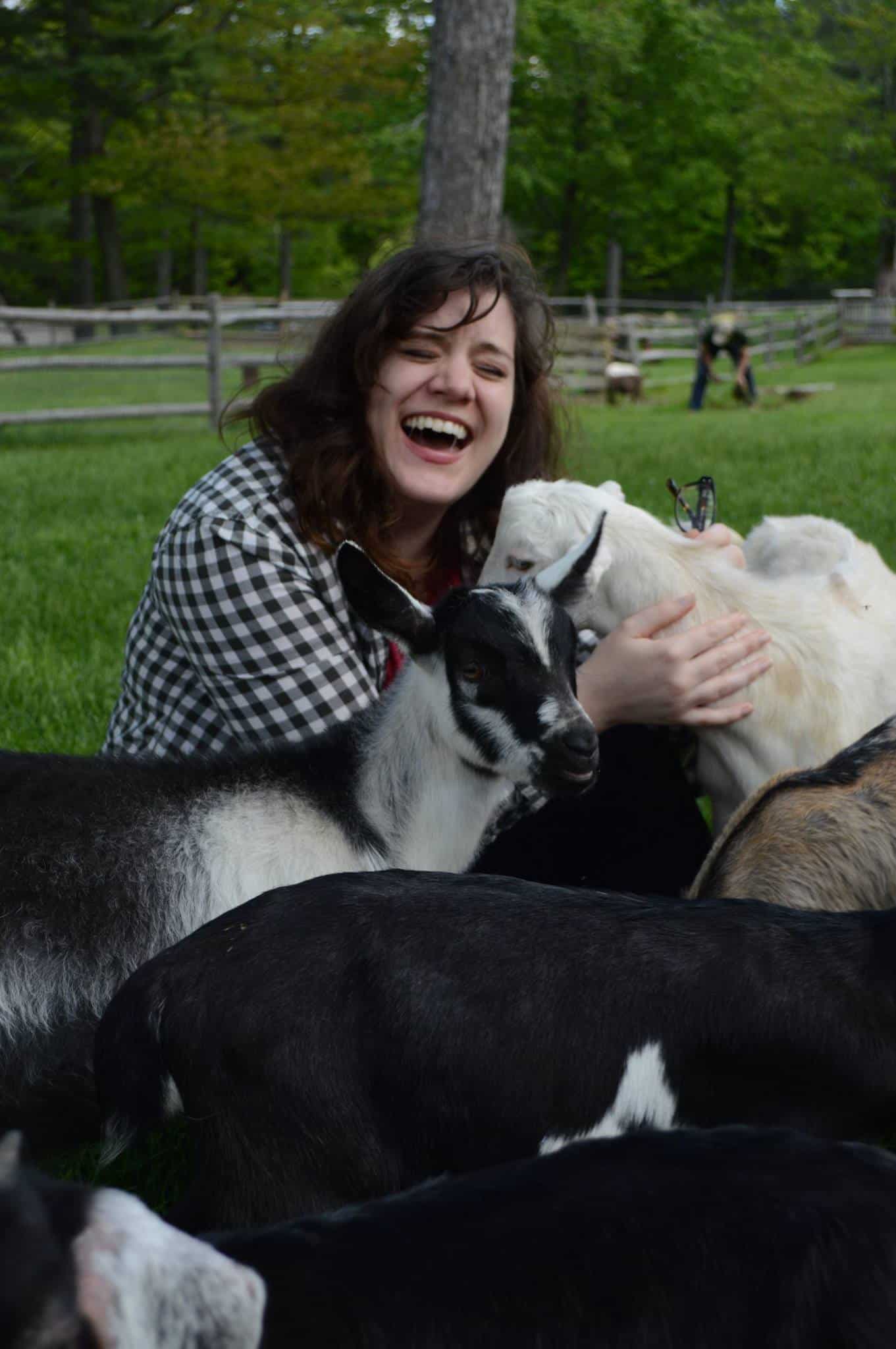 Amy Hartle is the founder and Editor-in-Chief of New England With Love, a comprehensive resource for travel in the New England region. Amy has been exploring New England since 2001. She lived in Vermont for many years and is a graduate of Plymouth State University in New Hampshire. Amy has been writing about travel for over a decade. On this site, Amy aims to share her love of New England and help you to have the best possible adventures!
Amy has been a full time blogger since 2012, and is also the publisher of Two Drifters, where she writes about couples travel and relationships, as well as Let's Adventure Baby, a family travel site. When not traveling the world or creating epic blog content, Amy can be found cuddling with her husband, son, and cats, & drinking a maple latte.