---
*Links in this article may be affiliate links, from which we may earn commission. See our
Privacy Policy
for full details.
---
Fun fact: often credited as the most photographed lighthouse in the world, Portland Head Light isn't actually in Portland. Indeed, there are exactly zero lighthouses in Portland Maine proper. The gorgeous shots of lighthouses on the front of every tourism brochure for the area sure don't make that obvious, but the 20-minute drive from Portland to the 5 closest lighthouses—with plenty of ice cream shops, restaurants, beaches, and lobster shacks on the way—is a pretty solid use of time, regardless.
So, here's a look at 5 awesome lighthouses near Portland, Maine to check out on your next getaway to the region.
Portland Head Lighthouse
Portland Head Light at Fort Williams Park isn't just a lighthouse—it's a whole lot of Maine goodness distilled into one decently size park just beyond the suburbs of South Portland. There's the lighthouse, of course—the first ever built by the US government back in 1791—but also the remains of a seaside fort, an enormous green space with athletic fields, picnic tables, grills, walking paths, stunning views, a museum, seasonal gift shop, and a rock-hewn shoreline for low-tide explorations with your family in toe.
Sunrise to sunset, it's a bastion of coastal perfection just around the corner from much of the Portland region's best accommodations and restaurants. And it's worth mentioning that they take the 'til sunset part pretty seriously: a well-intentioned but somewhat grumpy gentleman in a town truck drives through the park with a bullhorn insisting everyone leave when the sun starts getting low, so make sure you finish up that summer evening picnic on time. Some seriously tasty food trucks are camped out in the park during the summer, so if you don't feel like using one of the free grills you can grab a lobster grilled cheese to nosh on while taking in the stunning views.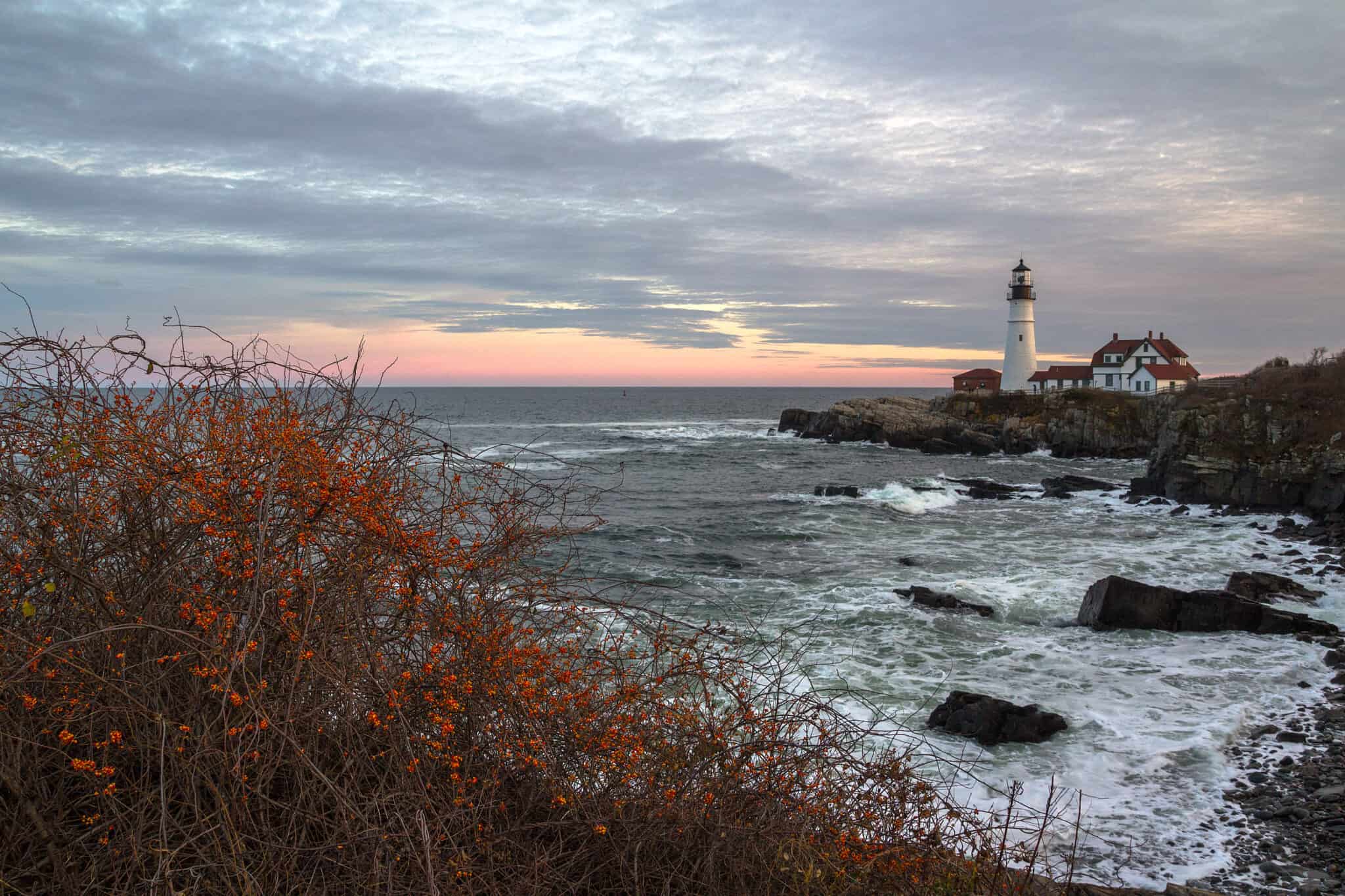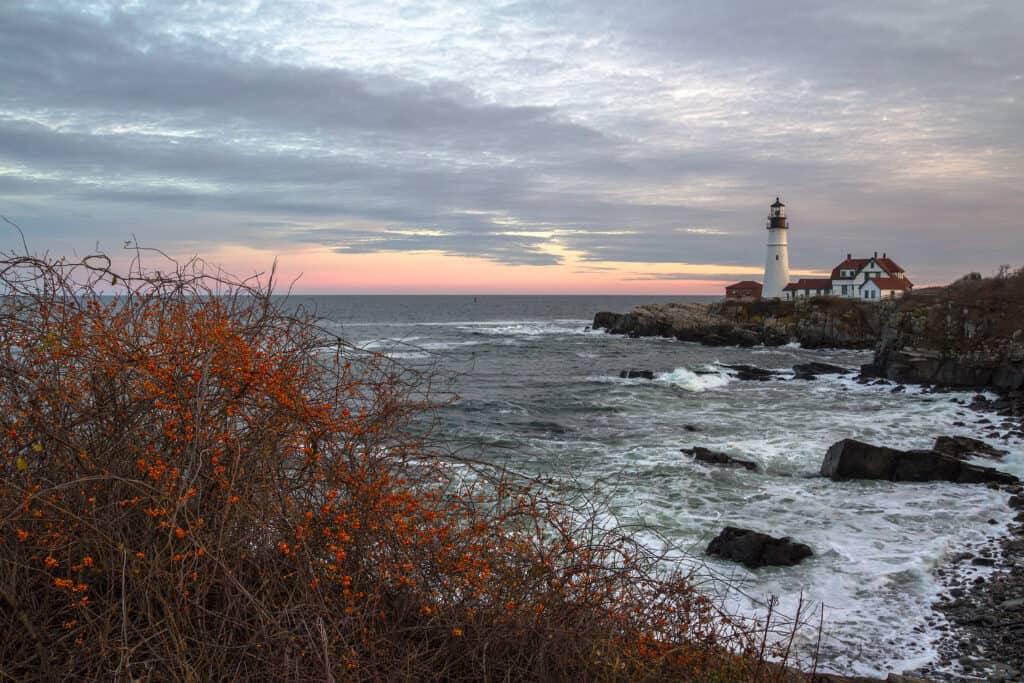 Though the crowding thins out considerably in the off-season, Fort Williams Park and Portland Head Light remain a great option for year-round recreation and, in particular, a destination for photographers looking to capture a lighthouse in inclement weather. A number of Maine's lighthouses really take some work to get to, especially in the winter or during dramatic storms; so Portland Head Light's plowed town road, reliable parking, and ease of access make it a dream for snapping breathtaking photos of stormy seas and moody skies. In the snowiest doldrums of Maine's harsh coastal winters, expect to see at least a few photographers stationed at Portland Head Light and some rather dedicated runners out for a jog along the park's trails.
Curious about the white and black writing painted on a rock right next to the lighthouse? "Annie C. Maguire Shipwrecked Here Christmas Even 1886, " gives you a general sense of what happened (spoiler alert: the ship sank), but if you're thinking to yourself isn't the lighthouse supposed to steer ships away from those very rocks? you certainly wouldn't be the first with a very reasonable set of questions. Apparently, the crew was just as confused—the three-masted barque with 13 crew members aboard plainly admitted seeing both the lighthouse and the rocks, and a cause for the wreckage was never determined. The ledge of rock the ship caught itself on was so close to the mainland that the lighthouse keeper was able to use a ladder as a gangplank to rescue the crew. It's a fun mystery to ponder, nonetheless, while sipping a lemonade and adjusting your sunglasses during much calmer weather.
Portland Breakwater Lighthouse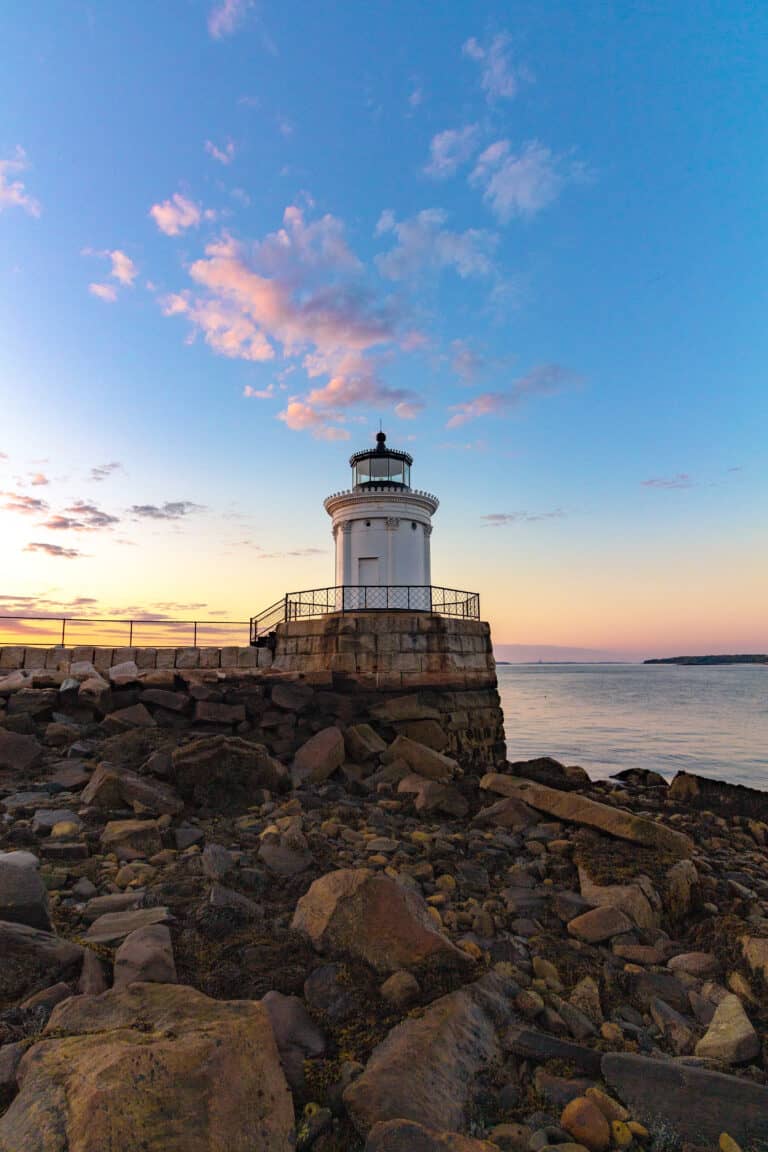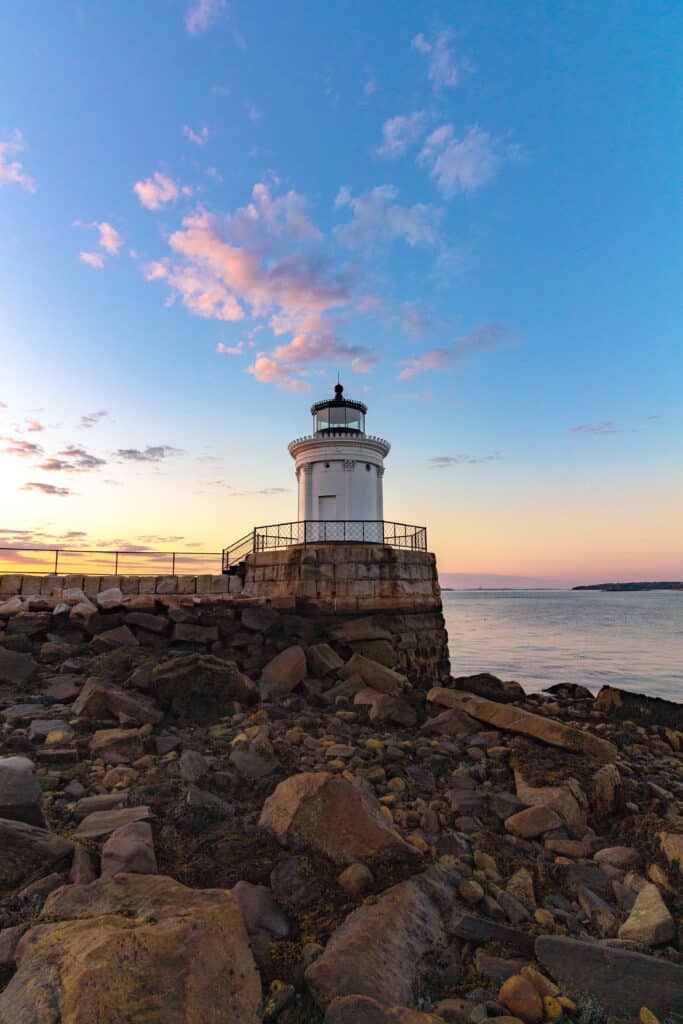 If you ask a local about Portland Breakwater Lighthouse they'll likely look back at you as if a lobster just crawled out of a bean boot and started talking. Known locally as Bug Light, it guards the South Portland side of the Fore River's enormous mouth as it meets Casco Bay. From a restaurant patio on the Portland side or as you walk through the Old Port, the Fore River is so wide—more than half a mile—that it isn't completely obvious that the entirety of Portland Harbor is actually along the river.
Bug Light sits at the end of a small breakwater once used to protect Portland Harbor from storm surges and high tides that infamously damaged ships, piers, and buildings until its construction in the 1830s. The light was added in the 1850s to warn ships from a patch of shoals just beyond the harbor entrance. The original lighthouse was wooden and deteriorated quickly before being rebuilt in its current form, alongside a small bunkhouse for the keeper. The breakwater was rendered mostly useless when a large shipbuilding facility was built nearby during World War II and protected the harbor more effectively. The bunkhouse was torn down and the light deactivated.
Though never more than minor navigational aid, Bug Light is beloved by locals for its tiny stature and a dog-friendly, rolling green park (aptly named Bug Light Park) by the breakwater. The beautiful views of Portland's working waterfront certainly don't hurt, either. It's a perfect spot for a morning stroll, a mid-day picnic, or some dramatic evening photography as the sun gets low. Its unique design—curved, cast-iron panels with decorative Corinthian columns styled after a famous Grecian monument in ancient Athens—has helped the light live on as a touristic destination and an adored local icon. So cherished, in fact, that it was fully restored in 1989 to let its unique architecture shine bright and re-listed in 2002 as a private navigational aid.
Ram Island Ledge Lighthouse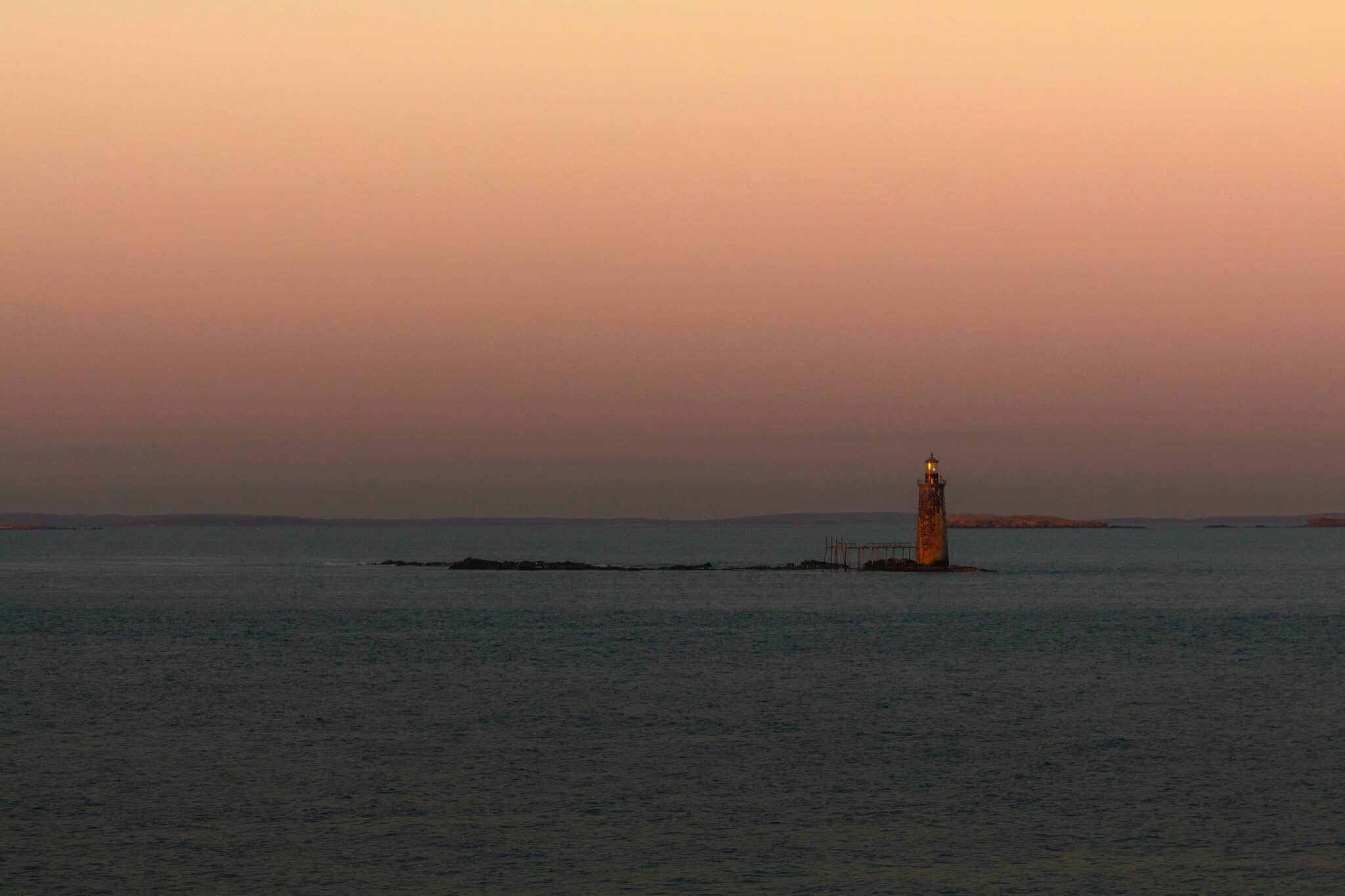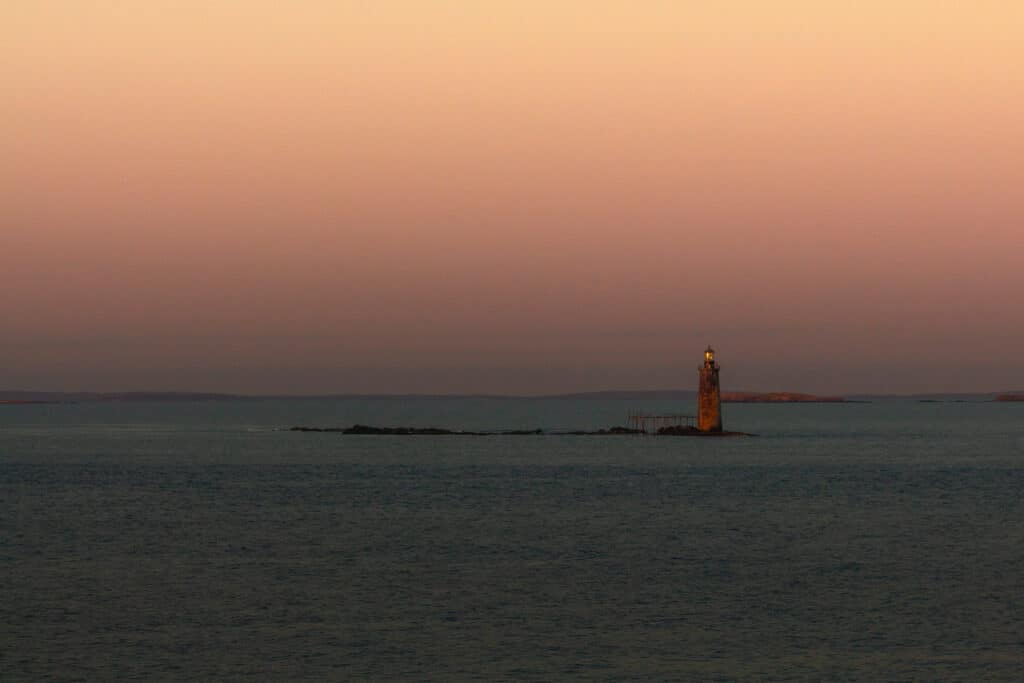 Even locals sometimes forget that Ram Island Ledge Light is out there in Casco Bay, looking pretty and doing its thing. Tucked between Cape Elizabeth's coastline and Cushing Island, the light station marks a ledge of treacherous rocks at the entrance of a well-trafficked sea lane to and from Portland's Old Port. At about a half mile offshore and accessible only by boat, this beautiful lighthouse and the attached rustic pier seemingly alone at sea tends to fade into the background of Casco Bay's photogenic seascapes. Coastal parks and beaches along South Portland and Cape Elizabeth (Fort Williams Park, in particular) are great viewpoints to snap some photos with a telephoto lens, and most Casco Bay cruises will zoom past for a closer look. If you're feeling especially intrepid and safe weather is at hand, it's a fun little adventure from a sea kayak, as well.
Ram Island Ledge was an infamous source of repeated shipwrecks despite an iron spindle erected to alert sailors. When the enormous steamship Californian ran aground in 1900 at the spot, enough was enough and the US Congress released funds for a lighthouse. Granite from quarries on Vinalhaven was shipped south to Casco Bay, and by 1905 a functioning light station finally helped end the scourge of shipwrecks that Ram Island Ledge had tallied up. Only fifty or so years later the station was both electrified and automated as the long tradition of keepers manually tending to stations quickly ended with modern technology.
The oddest chapter of this lighthouse's history came in 2010 when it was put on the market for sale to the general public. Local educational and non-profit organizations had passed on an offer to take over the lighthouse free of charge, and a surgeon based in Windham, Maine bought the property for $190,000. So far, it has not been converted into an AirBNB (and we're all pretty surprised by that).
Spring Point Ledge Lighthouse
The first time you drive to Spring Point Ledge Lighthouse, there's an inevitable wait, what? how is this the right way? moment as you cross over a community college campus and pull up to the remnants of a long-abandoned stone fort overlooking a massive rubble breakwater. It's a whole lot going on at once. Between the fort, the lighthouse, and the breakwater it's a fascinating spot for a coastal stroll and a quick drive or bike ride from a number of local beaches.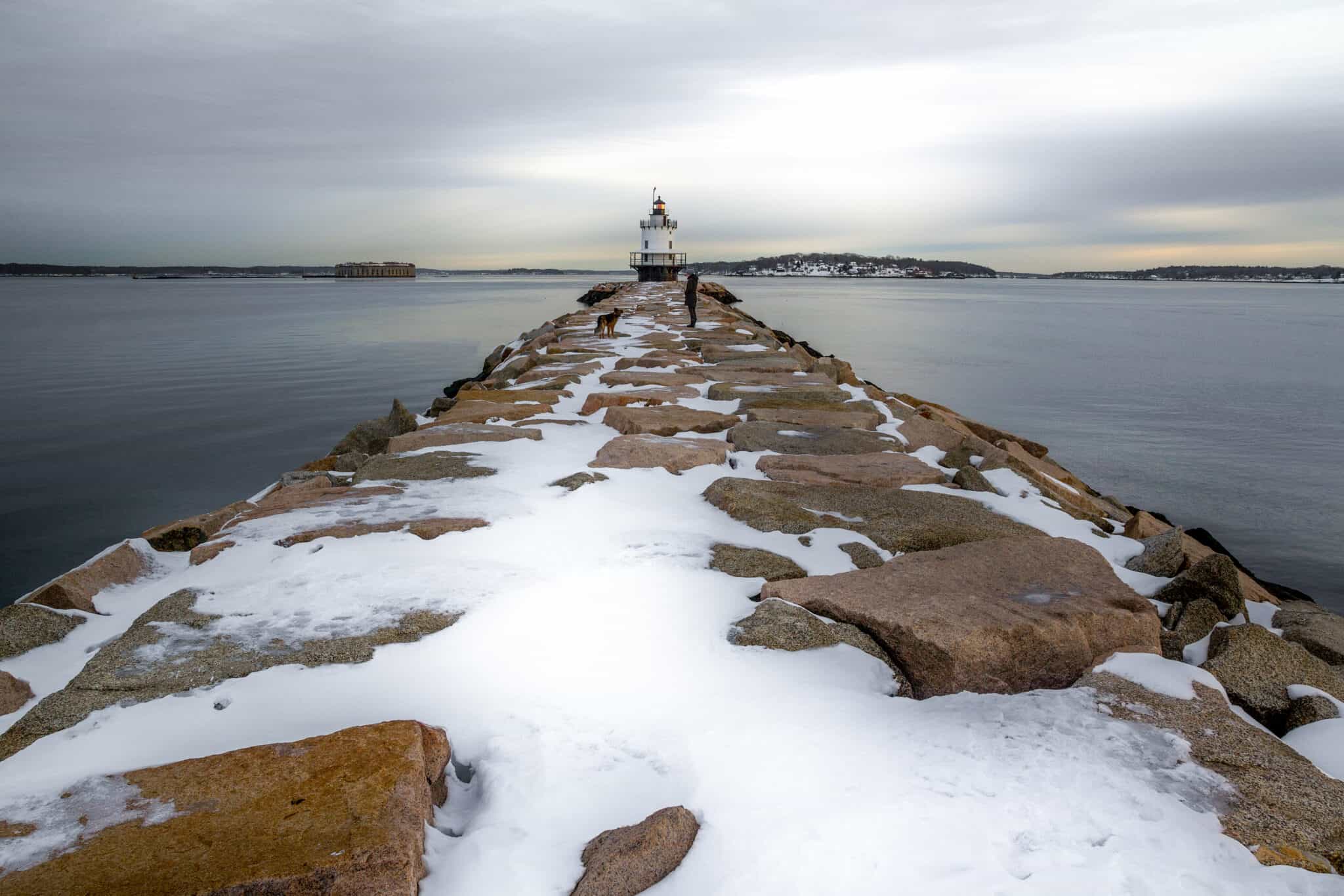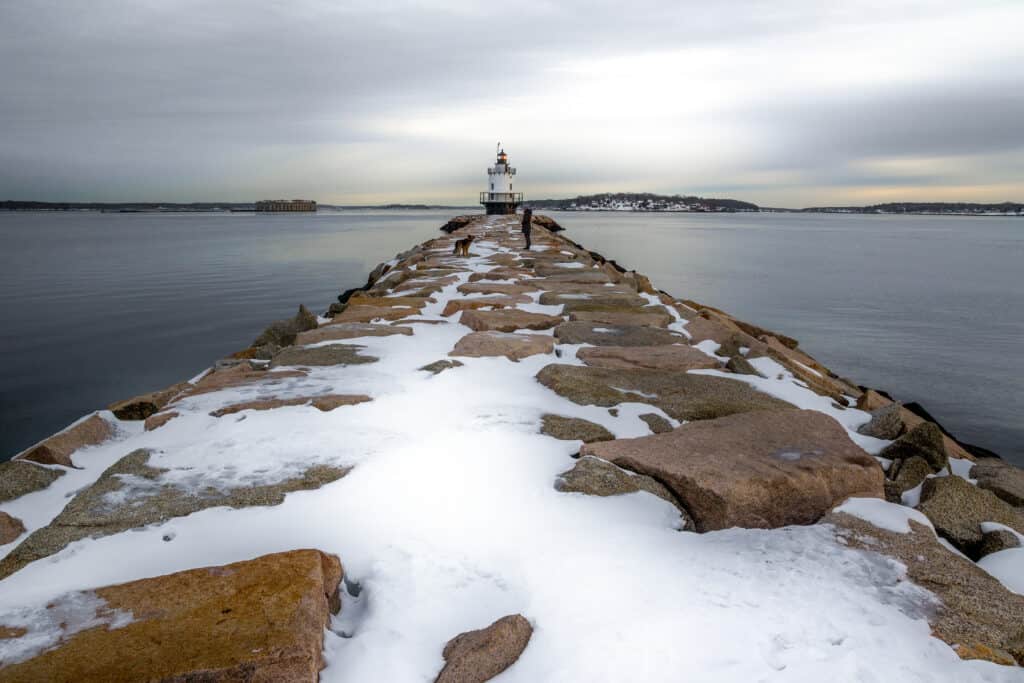 Fort Preble was a star-shaped fortification built in South Portland just beyond the entrance to Portland Harbor leading up to the war of 1812. As part of the nation's coastal defense plans, it was manned intermittently through World War II. By the 1950s it had been sold to the state of Maine and is now integrated into the beautiful, seaside campus of Southern Maine Community College. A lighthouse was added in the 1890s to help ships navigate around the perilous shallows of Spring Point Ledge. Of Maine's 65 lighthouses, Spring Point Ledge Light is one of only three in the unique "spark plug" design. Along with Lubec Channel Light (Quoddy Narrows) and Goose Rocks Lights (Penobscot Bay), the body of the lighthouse style sits on a concrete or metal caisson with a cast iron living quarter below the light station. It was an update to the screwpile design—where enormous beams were screwed into the seafloor in a complicated and expensive process to build a sturdy base. In areas with mud or sand they were practical, but for Maine's rocky coastline, light stations that needed to be built on or in the water beyond a traditional structure, the sparkplug design was a big advance and cost saver.
At first glance, the light station looks as if it's perched a top the breakwater, but the rubble breakwater was actually added separately in 1949 to calm the shoreline just beyond spring point, aiding the (now closed) shipbuilding facility at Cushing Point. This was exactly the moment when our friend Bug Light, above, became sadly ineffectual. Womp womp. Until the breakwater's addition, Spring Point Ledge Light sat in solitude a few hundred feet off the shore from Fort Preble.
To the southeast from Spring Point Ledge, you'll find gorgeous views of Simonton Cove and the rustic shacks perched atop Fishermans Point. Though the drive in may make you feel like an intruder on the college's campus, don't be shy—walk the shore, tackle the windy breakwater, and if the tide is low enough you can make your way all the way down to Willard Beach.
Cape Elizabeth Light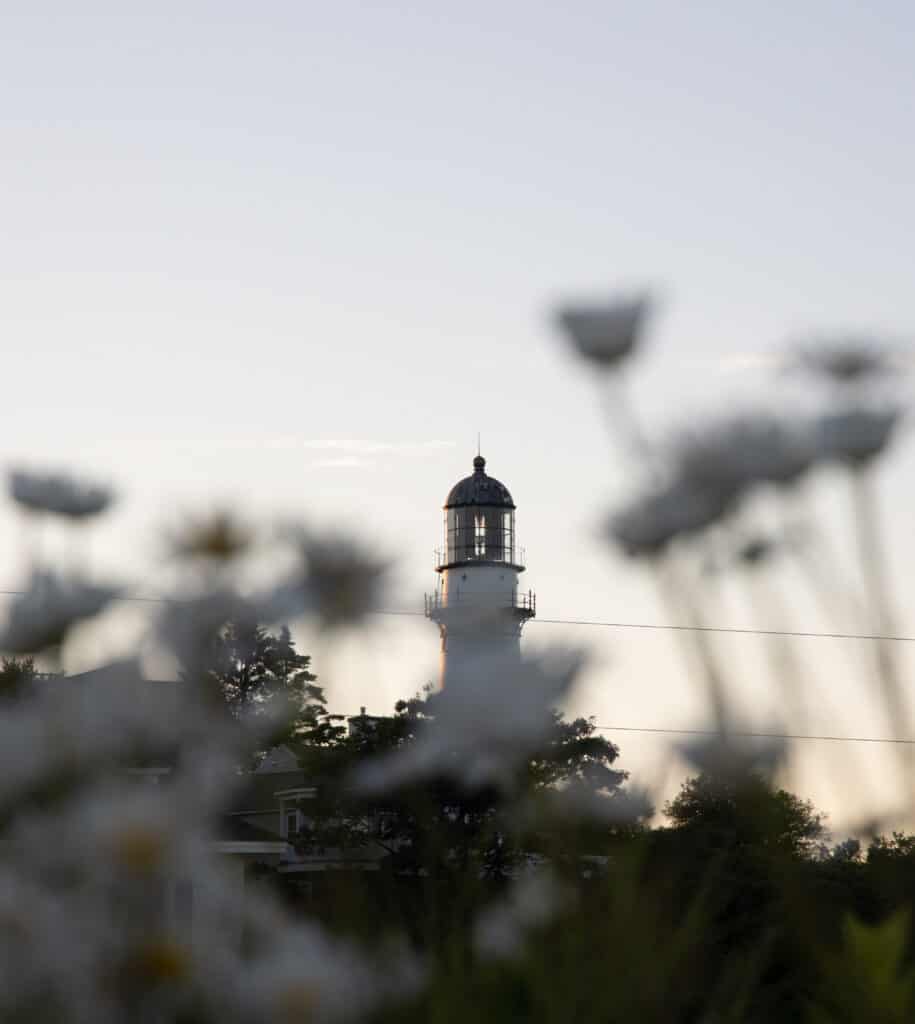 Cape Elizabeth Light baffles tourists, and we can't exactly blame them. Known locally as Two Lights, Cape Elizabeth Light is actually two lighthouses—a relic of an older, outdated coastal warning system with twin beacons standing guard over a navigationally-troubling area—with only one still actively in use. The other is now a privately owned home. To make things more confusing, neither lighthouse is accessible from the nearby Two Light State Park and the entire area is also informally called Two Lights. Confusingly, the National Register of Historic Places officially lists the station as Two Lights. So if you ask a local "where's Two Lights?" be prepared for a bunch of different answers and the possibility that none of them get you where you're looking to go. Don't worry, we've got you covered.
A series of rocky shallows, ledges, and hazardous reefs just beyond Richmond Island at the eastern-most tip of Cape Elizabeth produced more than its fair share of shipwrecks, and a twin set of stone towers were built in 1828 to help vessels safely navigate the area. In 1873 the light stations took their modern form when the rubble towers were replaced with cast-iron. Steam-powered whistles were added as well to help ships through the area's infamous fog. The use of twin beacons was discontinued in 1924 and the western tower was removed from service, eventually selling to a private owner in 1971.
The area has beautifully moody summer fog, a wonderful shoreline filled with rocks and tidal pools to explore, and one of the region's best lobster pounds and fry shacks (the straightforwardly named Lobster Shack at Two Lights, mind you). Take Two Lights Road to the very end and pull into the lot overlooking Dyer Cove. Grab some fried clams, snap a few photos of the lighthouses, and walk out onto Dyer Point to smell the waves turning themselves over on the jagged rocks.
---
Read these next:
---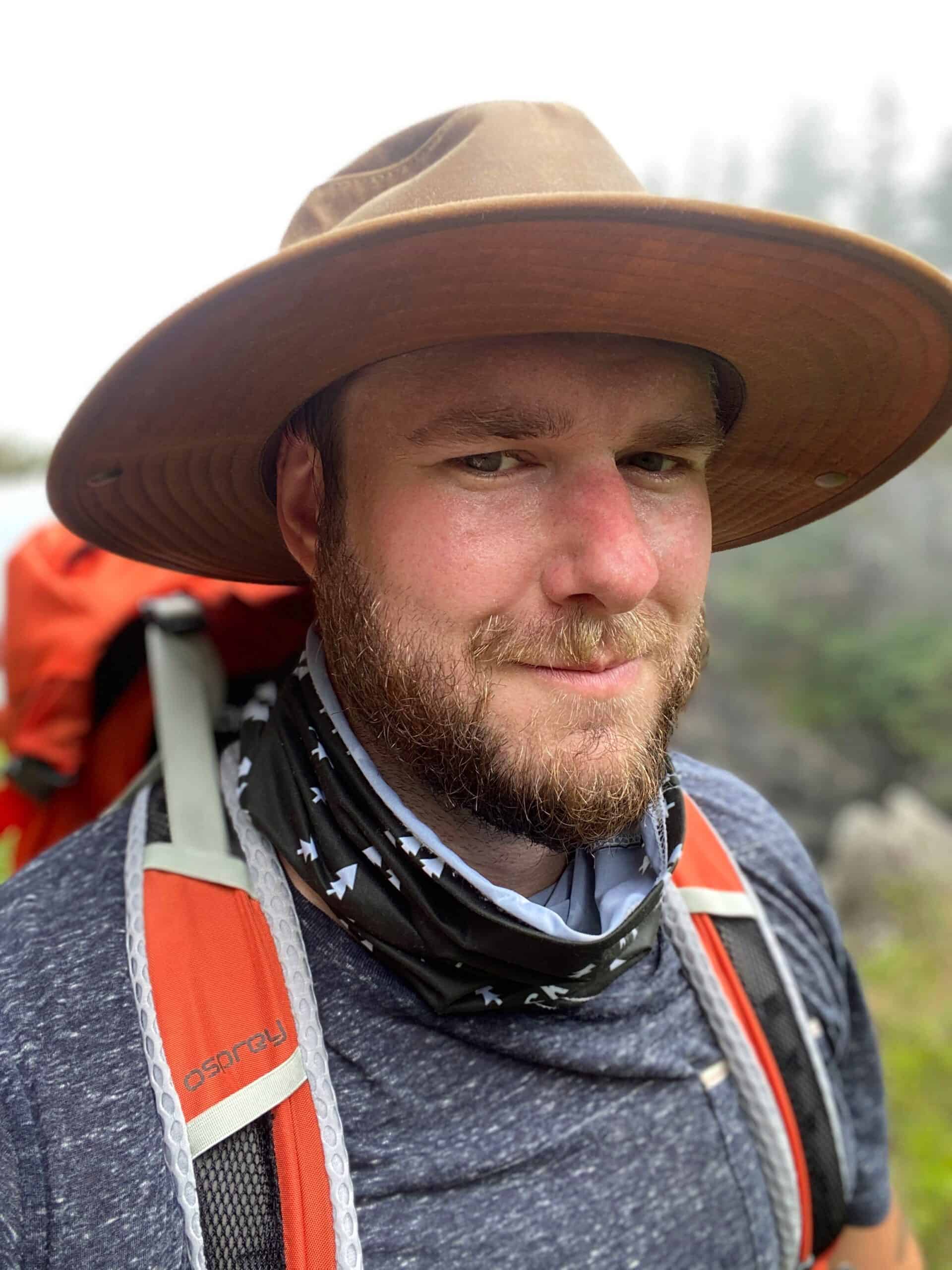 Justin is a writer and photographer based in coastal Maine.  He grew up in New Hampshire, went to college at GWU in Washington, DC, and trained as a chef at Le Cordon Bleu in Cambridge, Massachusetts. Justin has years of experience in professional kitchens, gourmet food sales, and as a wine buyer. He also co-founded Rosehips & Charcoal, a boutique social media consultancy that helps northeast getaway rentals tell their unique stories and grow their online presence.  When he's not working, hiking, or snapping pictures, you can most likely find him drinking wine in the woods in questionable footwear. You can follow along on his Maine adventures and wilderness gourmet shenanigans at @tidetopine on Instagram.