---
*Links in this article may be affiliate links, from which we may earn commission. See our
Privacy Policy
for full details.
---
Even though New England is relatively small compared to other parts of the country, there are actually quite a few celebrities who were born and raised in the area. In fact, there are quite a few famous people from Maine, in particular!
We've taken the headache out of researching these celebrities for you and rounded them all up in one easy-to-read, digestible post. Keep reading to learn all about some of the most popular Maine celebrities, from past to present!
Anna Kendrick
One of the most well-known Maine celebrities is Anna Kendrick, famously known for playing the main character in the Pitch Perfect series. She's also been in A Simple Favor with fellow actress Blake Lively and The Accountant. Kendrick is from Portland.
Stephen King
Yes, that's right, the author behind horror cult classics like Carrie and It is from Maine: Stephen King. He was also born in Portland, and you can find lots of references to Maine throughout his novels. (If you're a Stephen King lover, you'll want to visit some of the Maine locations throughout the state for die-hard fans.)
Charles Rocket
Actor Charles Rocket was born in Bangor in the 1940s and was a reporter, actor, comedian, and more during his lifetime. He was involved in media like It's Pat and Dumb and Dumber, among others. He unfortunately passed in 2005 in Canterbury, CT.
John Ford
Born in Cape Elizabeth, John Ford (aka John Martin Feeney) was a well-known director who has won many Best Director awards during his lifetime. Some of his films have included The Grapes of Wrath, The Searchers, and Stagecoach.
Erin Andrews
Erin Andrews is a newscaster who mainly focuses on sports, and she gained lots of recognition after working with ESPN in the early 2000s. She was born in Lewiston, ME!
David E. Kelley
Famous writer David E. Kelley is from Waterville, Maine, and is married to actress Michelle Pfeiffer. He's known for creating lots of great shows like The Practice, Doogie Howser, and Picket Fences.
Patrick Dempsey
Famous for portraying Derek Shepherd (McDreamy) in Grey's Anatomy, Patrick Dempsey was also born in Maine! He's from Lewiston and has also starred in many movies, like Bridget Jones's Baby and Enchanted (as well as its 2022 sequel Disenchanted).
Margaret E. Knight
Inventor Margaret E. Knight hailed from York, Maine, and was known for making a machine that could make paper bags with flat bottoms. She's said to be one of the best female inventors of her time.
Hannibal Hamlin
Hannibal Hamlin is from Paris, Maine, and was vice president under President Abraham Lincoln between 1861 and 1865. He was the first VP that was part of a Republican party.
Derek Rivers
NFL player Derek Rivers is from Augusta and has played for the New England Patriots (go Pats!) and the Houston Texans. He plays defensive end.
Nelson Rockefeller
From Bar Harbor, Maine, Nelson Rockefeller also went by the name "Rocky." He was the 41st Vice President between 1974 and 1977 and also was a well-known politician during his time. He passed in 1979 in NYC.
Caitlin FitzGerald
Actress Caitlin FitzGerald is from Camden and has starred in many shows during her tenure, including Sweetbitter. She's also been on the hit Inventing Anna on Netflix in 2022.
Juliana Hatfield
From Wiscasset, Juliana Hatfield is a singer who has been part of many bands over the years, including The Lemonheads and Blake Babies. She's done everything from vocals to bass and even just regular guitar.
Milton Bradley
Milton Bradley, the famous businessman, is from Vienna, Maine, where he was born in the 1830s. He's most remembered today for his board games – his brand was eventually purchased by Hasbro.
Joan Benoit
Joan Benoit is a marathon runner from Cape Elizabeth who went on to win the gold medal in the Summer Olympics in 1984. She currently lives in Freeport and is a cross-country coach.
Edwin Arlington Robinson
Edwin Arlington Robinson was born in Head Tide, Maine, and was a well-known poet during his lifetime. He even won the Noel Prize for Literature four times and the Pulitzer Prize for Poetry numerous times as well.
Duncan Robinson
Duncan Robinson is an NBA player hailing from York, and he's 6'7″ tall! He played for the Miami Heat as a shooting guard and small forward but also played for Michigan Wolverines when he played in college.
Aaron Lufkin Dennison
Aaron Lufkin Dennison is from Freeport and was born in the 1800s. He's well known for founding the Waltham Watch Company, among other companies, during his lifetime.
Corey Beaulieu
Corey Beaulieu is from Dover-Foxtrot, Maine, and is known for being the guitarist from the band Trivium, which is in the metal music genre. Some of their hits include "Strife" and "Until the World Goes Cold."
Jessica Meir
Jessica Meir was born in Caribou and is an astronaut with NASA! Meir was part of a few space missions, including Expedition 62 and Soyuz MS-15. She's also been a professor at Harvard Medical School, along with other positions.
Olympia Snowe
Olympia Snowe is from Augusta, Maine, and is both a politician and entrepreneur. She served as a US senator for many years, between 1995 and 2013, and has also won the Glamour Woman of the Year Award before.
General Joshua Chamberlain
General Joshua Chamberlain is from Brewer, Maine, and he was well known for reaching a high rank during the American Civil War. He was also a professor for a time in a college, among other things.
Sarah Orne Jewett
Writer Sarah Orne Jewett is from South Berwick, Maine, and much of her work is about the coastal places throughout the state. Some of her pieces include The Country of the Pointed Firs, The Foreigner, and A White Heron.
Andrew Taggart
Andrew Taggart is one of the singers who hails from Portland, Maine! He's one half of The Chainsmokers, which gained tons of popularity from their song "Closer" with Halsey in the 2010s. He's also been in some films like The DUFF.
Tabitha King
Tabitha King is an author who was born in Old Town. She's written a multitude of stories, including The TRAP, The House on Maple Street: And Other Stories, and One on One, among others.
Timothy Simons
Timothy Simons was born in Readfield and is an actor who has been in many different movies and television shows over the years. He's been in Veep, Looking for Alaska, and The Interview, among others.
Bill Swift
Bill Swift is an MLB player who has since retired. He was born in Portland, and over the years, has been a pitcher for the Colorado Rockies, Seattle Mariners, and even the San Francisco Giants.
Patty Griffin
Patty Griffin is a writer and singer from Old Town, Maine. She's also a musical artist and can play piano and guitar. Some of her songs include Heavenly Day, Long Ride Home, and Up to the Mountain.
Pauline Hopkins
Pauline Hopkins is another of the famous people from Maine who was born in Portland. She was a famous writer who has written pieces like Contending Forces, Talma Gordon, and Of One Blood.
Judd Nelson
Actor Judd Nelson was born in Portland, Maine, and he's been in some cult classic movies in the past. He's most well known for being in The Breakfast Club as John Bender, though he's also been in Empire, St. Elmo's Fire, and Billionaire Boys Club.
Henry Wadsworth Longfellow
Famous historic poet Henry Wadsworth Longfellow was born in Portland, Maine, and has written many popular poems during his tenure. Some of his pieces include Evangaline and Paul Revere's Ride, among others.
Well, now you know all about some of the most well-known famous people from Maine! We hope you enjoyed this post, and maybe you were even surprised by a few famous people who grew up in Maine.
---
You might also like: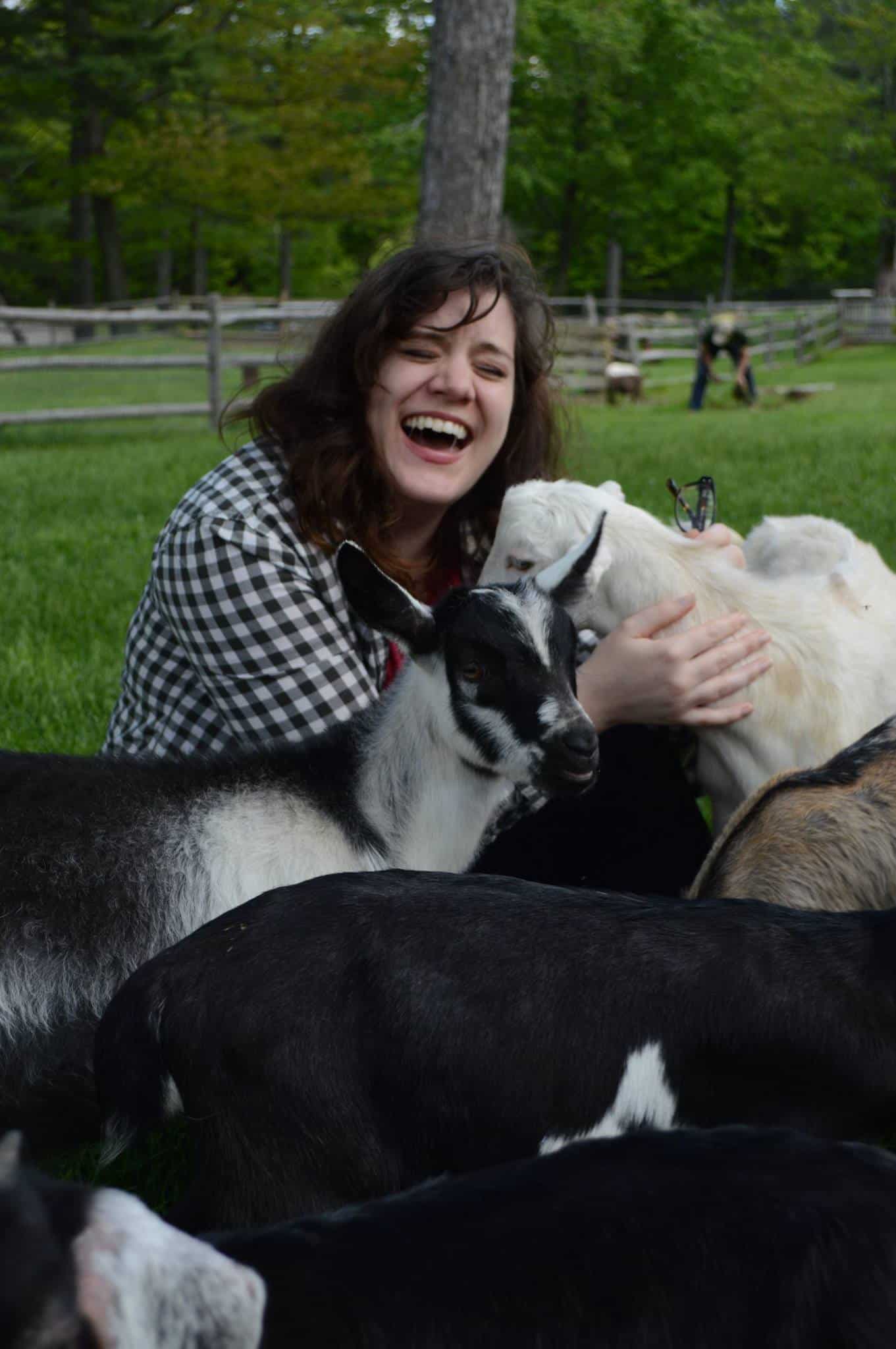 Amy Hartle is the owner and editor of New England With Love, a comprehensive resource for travel in the New England region. Amy lived in Vermont for 15 years, attended Plymouth State University in New Hampshire, and continues to travel regularly around the entire New England region. On this site, Amy aims to share her love of New England and help you to have the best possible adventures!
Amy has been a full time blogger since 2012, and is also the publisher of Two Drifters, where she writes about couples travel and relationships, as well as Let's Adventure Baby, a family travel site. When not traveling the world or creating epic blog content, Amy can be found cuddling with her husband, son, and cats, & drinking a maple latte.