*This site uses affiliate links; if you make a purchase through these, I may receive a small commission at no cost to you.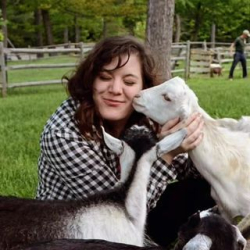 Latest posts by Amy Hartle
(see all)
Any adventurous nature lover will absolutely love visiting Acadia National Park in Maine. It covers 47,000 acres right on the coast and is filled with tons of places to go hiking, camping, kayaking, biking, and more.
While you could easily stay in a hotel in nearby Bar Harbor while visiting, you should consider staying in an Airbnb or a VRBO. The accommodations on this list will bring you a lot closer to the park, and you'll even have some of the famous hiking trails right in your backyard!
Here are some of the best VRBOs and Airbnbs in Acadia National Park and Bar Harbor; ideal for your next Maine getaway.
Acadia Airbnb: Bar Harbor & Beyond
This is one of my all time favorite Airbnb properties to share with you. I've mentioned it previously in our article on the best New England Airbnbs, and it's back again.
This rustic tiny home is just one of a few run by the folks at The Howling Woods.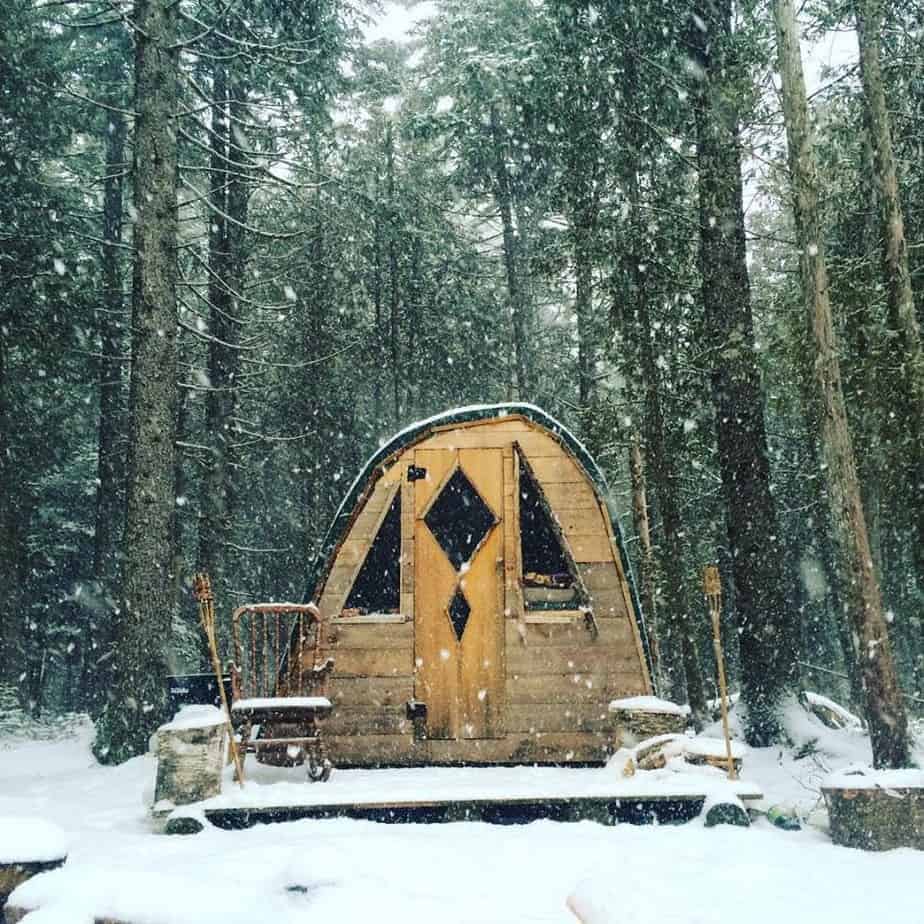 Coyote's Den has been built "with bent maple poles in the style of an Iroquois Longhouse. There are large windows that let in the morning sun, space for storage, a wood stove perfect for winter stays and a cozy twin-sized bed."
The cozy tiny house can accommodate 2 guests. When you're not hanging out in the hut, you can explore the host's grounds. They've got a seven-acre forest with trails leading past various fairy houses and art installations. If you want to get farmy, you are able to pet the goats, mini horse, and other animals, and pick your own herbs and vegetables from the garden.
---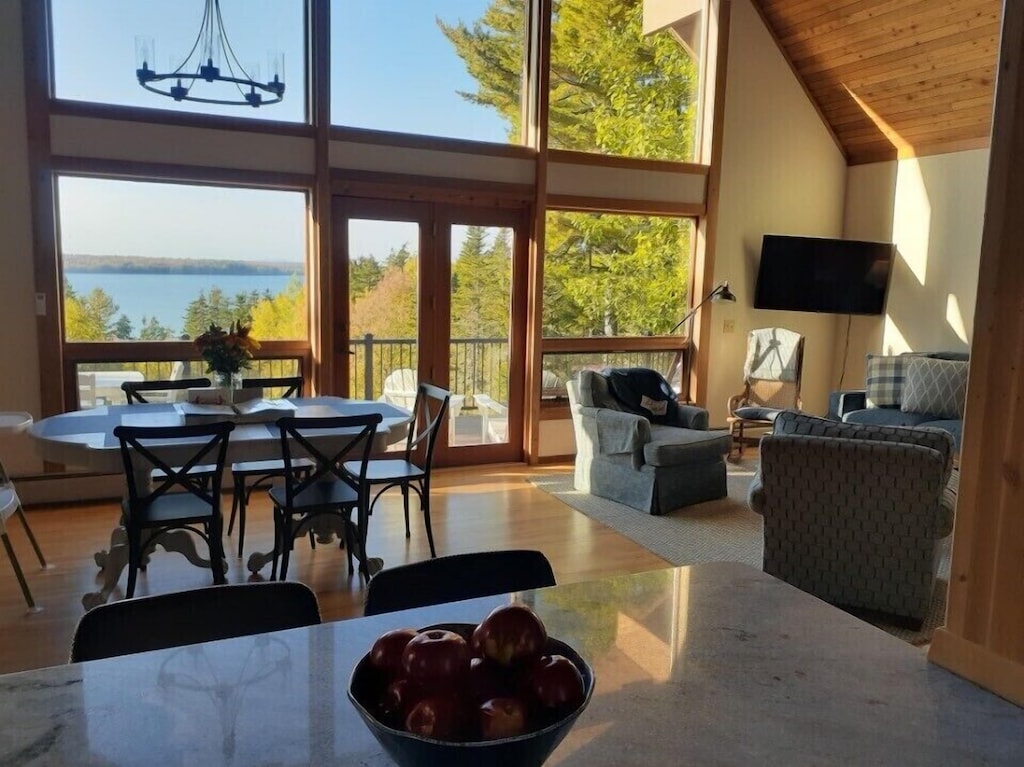 Overlooking Frenchmen's Bay, this VRBO feels like its perfectly tucked away on its own little private lot, offering the perfect place to stay for anyone looking for solitude. Ocean access is via a boardwalk shared with the log cabin across the way, but it's rented through the same property manager and it could be a nice arrangement for two families taking an Acadia vacation together.
Sleeping up to 8, there's plenty of space to stretch out at this Acadia VRBO!
---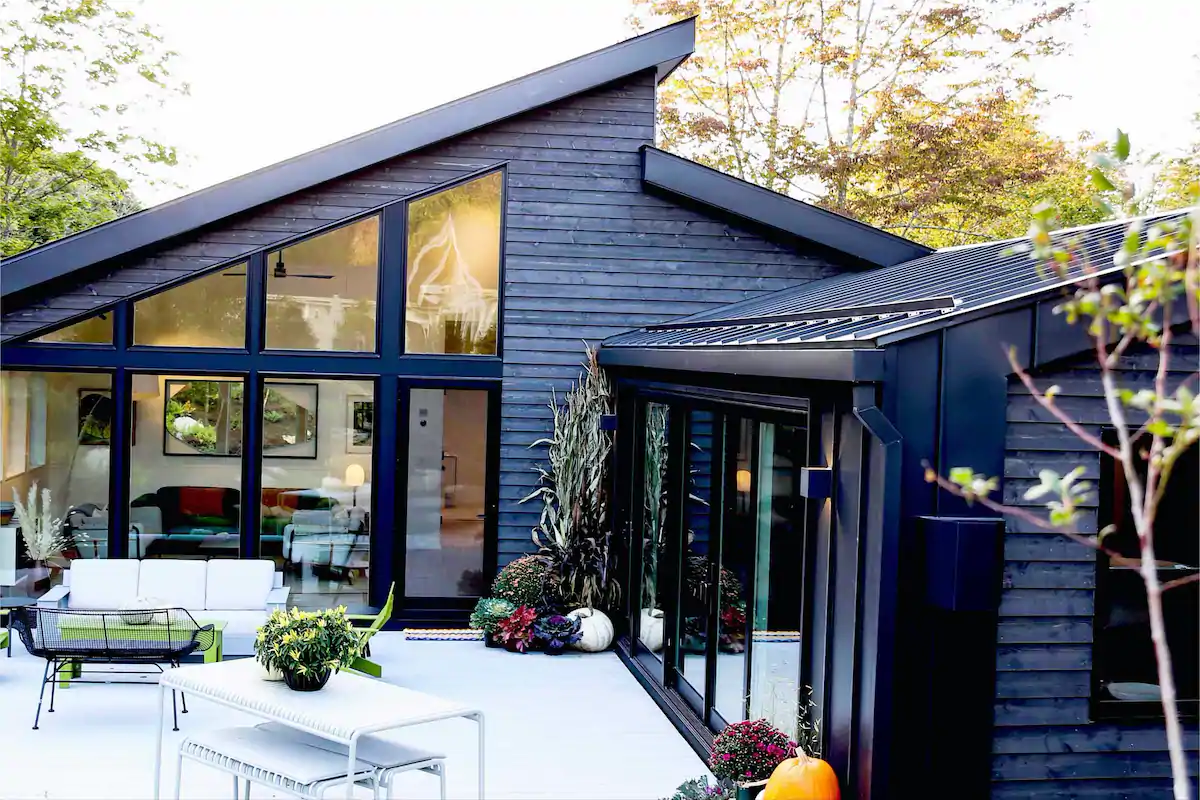 Here's a great Airbnb near Acadia National Park that is perfect for families. This luxurious home in Southwest Harbor is truly a unique place to stay. It can host up to eight guests and has four bedrooms, two and a half bathrooms, a patio, a living room, and a full kitchen.
The home used to be an industrial space, which is quite apparent by how the apartment looks. There is elaborate landscaping, birch ceilings, and interesting art throughout the house.
There are also a wide variety of amenities, including a deluxe gas grill, outdoor art, and a coffee machine. You'll truly feel like you're living inside of a museum while staying in this accommodation.
---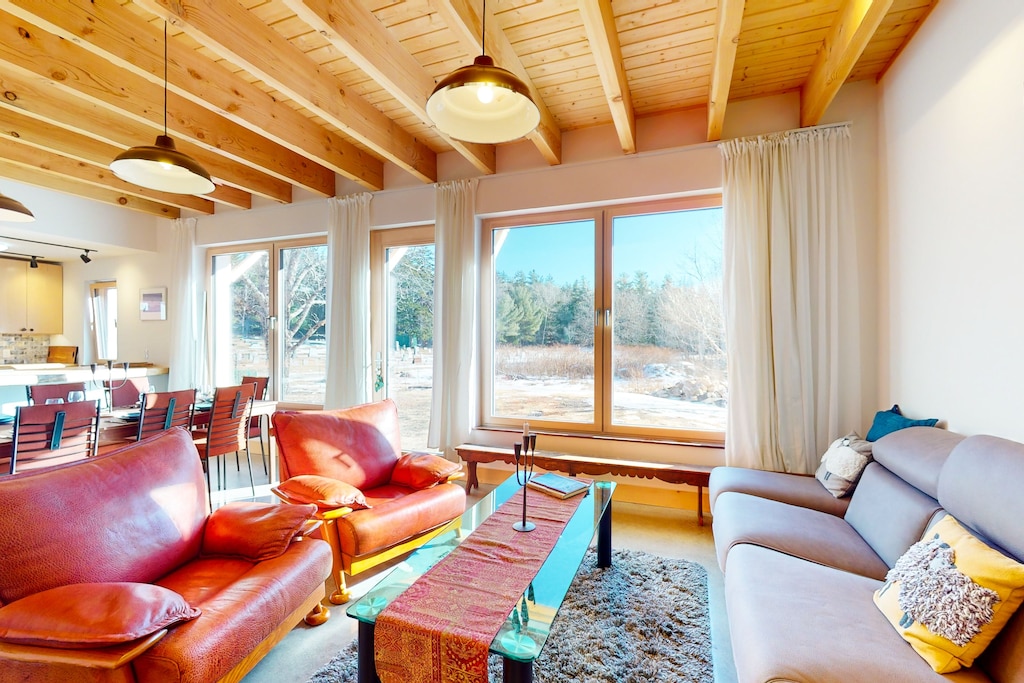 The name says it all! Located on 2 acres within Acadia National Park boundaries, this is an incredible Acadia VRBO for people traveling with their four legged friend… and the rest of their crew!
This spacious 3200 sq ft vacation home in Acadia can sleep up to 12, so this is an excellent choice for anyone looking for a great spot for a friends and family getaway.
---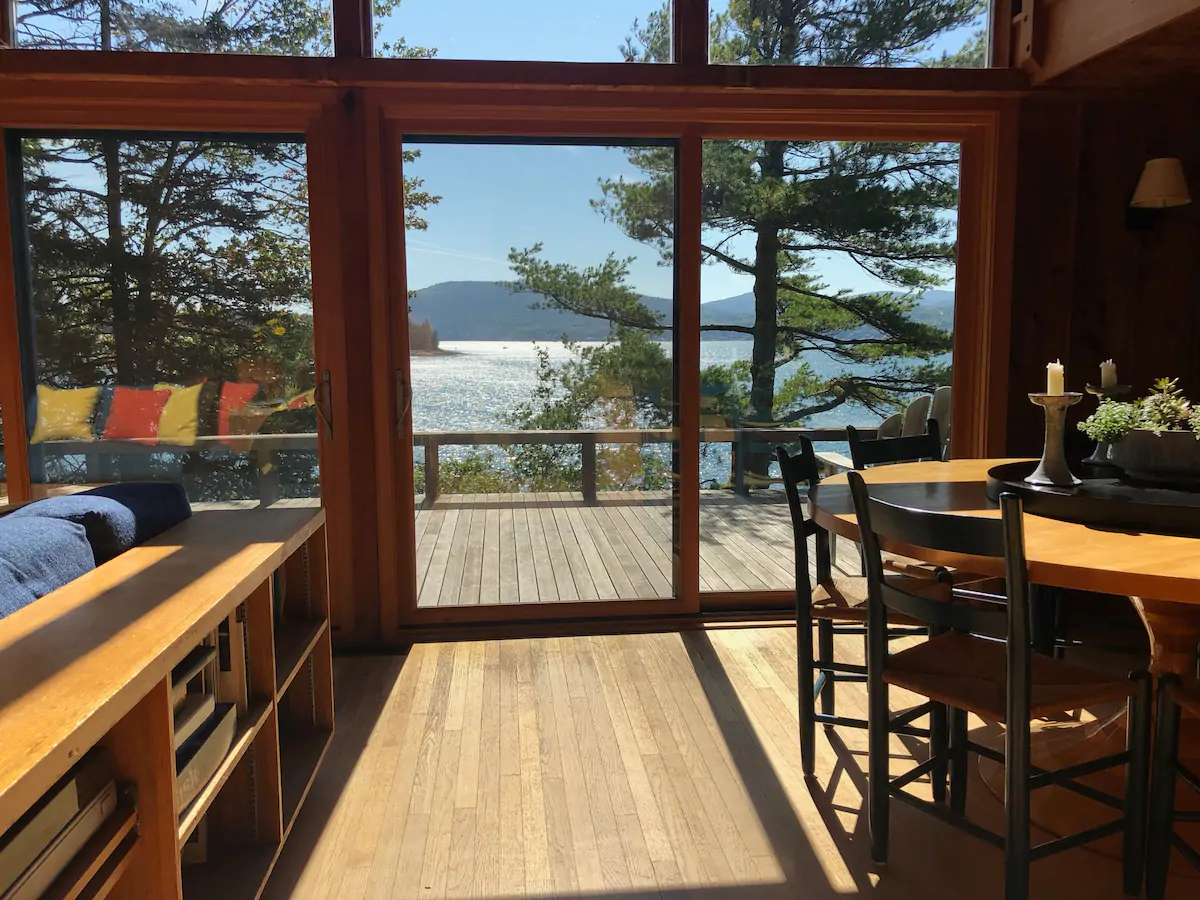 When staying in Maine, there's no better place to be than right on the waterfront. This home is perfectly located for that reason, and it's situated in Mount Desert on Somes Sound. The house can host up to six guests at a time.
Inside, there are three bedrooms, two and a half bathrooms, a kitchen, workspace, and dining area. There's even a huge outdoor patio that gives guests the best view of the waterfront. What better place is there to wake up than by taking in a great view?
The home is a mid-century cottage that has recently been updated with brand new beds in addition to other renovations. Rent a kayak to check out the rest of the waterfront!
---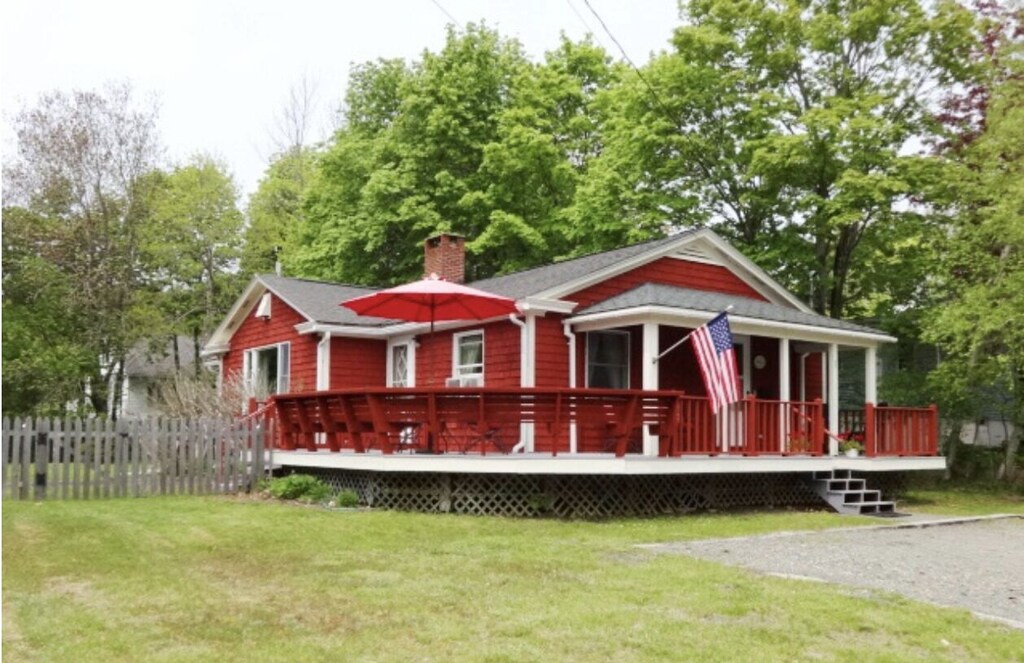 If you're looking for great Bar Harbor cottages to rent, you've got to check out Shannon Cottage. The proximity to town and fun Bar Harbor things to do is absolutely ideal for families looking to enjoy both town and the park, and there's plenty of space here to comfortably accommodate a family of 6!
This Bar Harbor VRBO is located in a quiet, residential neighborhood.
---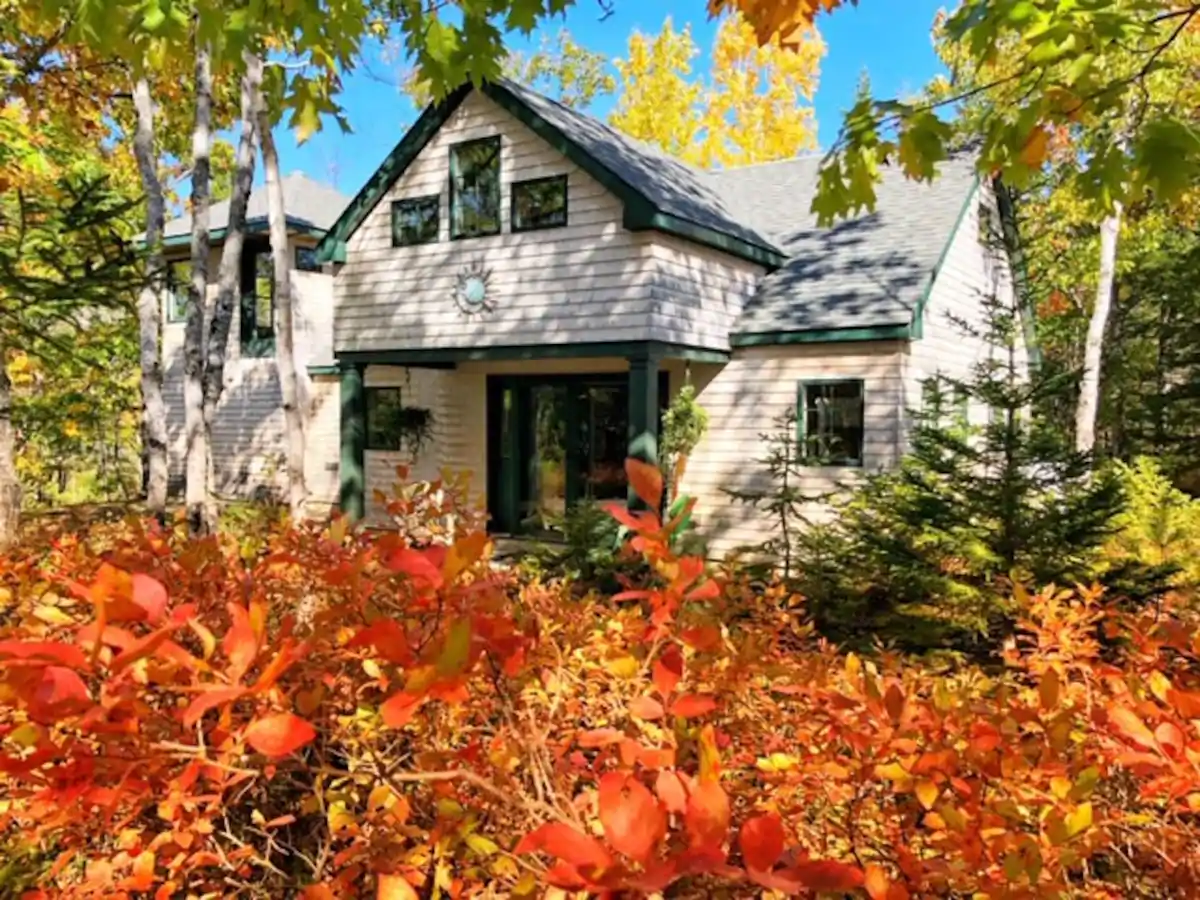 This beautiful cottage in Bar Harbor is breathtaking no matter the time of year, but especially in the fall when foliage is abundant. The home is excellent for up to three guests and is in a prime location for those visiting Acadia National Park.
The home's interior is very comfortable and cozy. There are unique art pieces throughout the house, including lots of stained glass art pieces, including the cabinetry and the windows. It features two bedrooms, one bathroom, a full kitchen, living room, and dining room.
If you are a big fan of yoga, you can even take a short walk to the host's yoga studio, where you can get your zen on!
---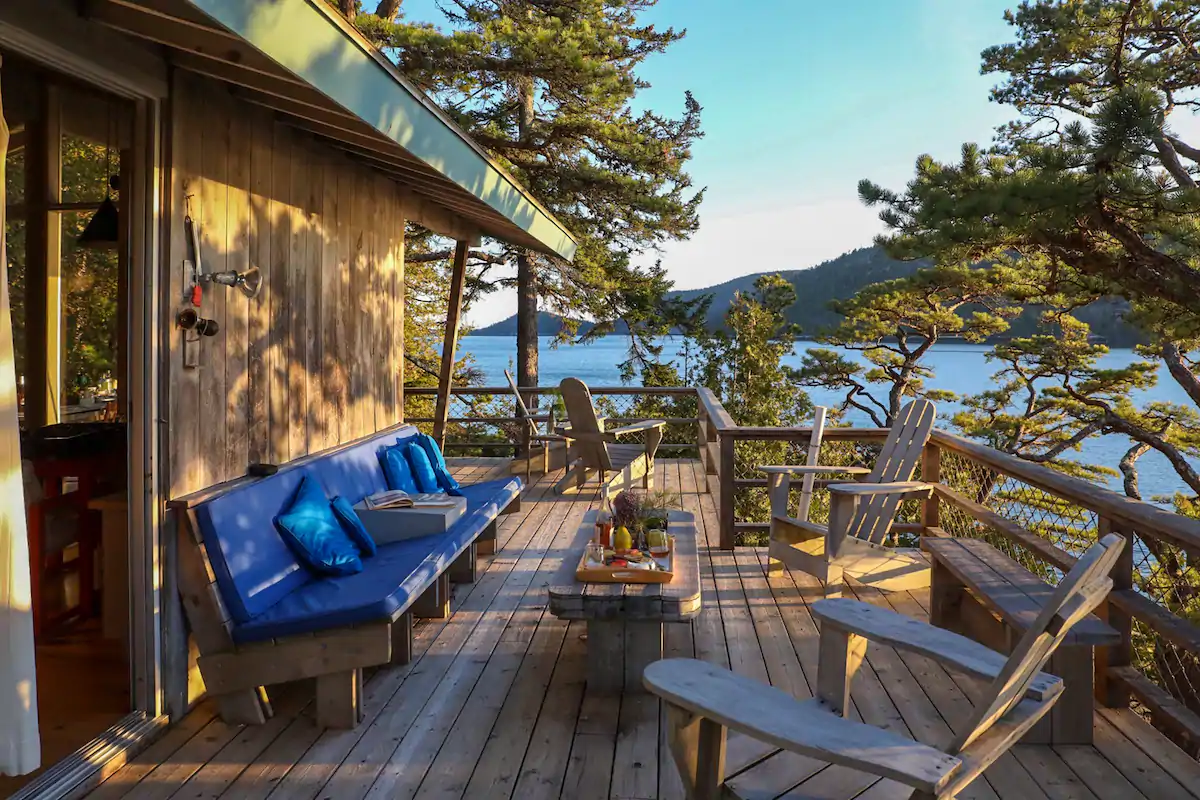 With 180 degree views of Somes Sound in Mount Desert, Maine, this just might be the prettiest Airbnb Acadia National Park has to offer. Up to seven guests can stay here, and the home has a very rustic and cabin feel that is great for escaping the city life.
The cabin has three bedrooms, two bathrooms, a living room, a full kitchen, and a big wraparound deck with outdoor furniture. While the house was built in 1972, the home's interior has a very comfortable and homey atmosphere, and the appliances were updated in 2007.
For a fun time, be sure to go biking, kayaking, or even relax in one of the hammocks in the trees.
---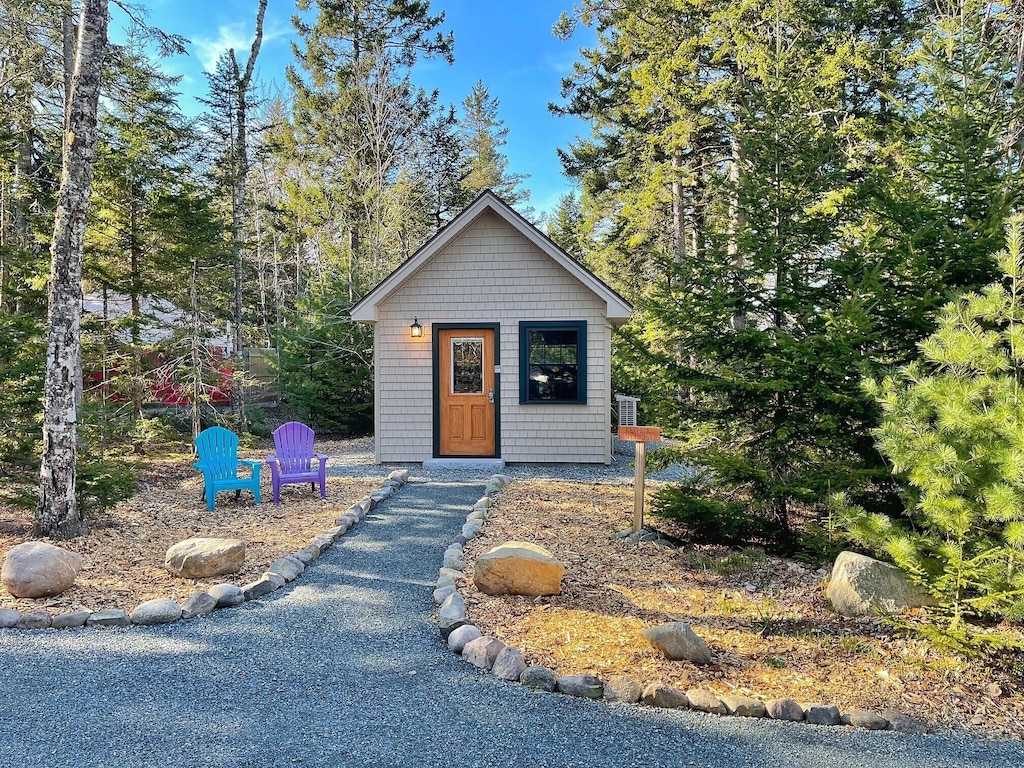 Who doesn't love staying in tiny houses? Well, maybe not large groups, of course, but if it's just you and one other person, it's so sweet and cozy!
Sleeping only up to 2, this sweet little Acadia tiny house is near the Wellness Center at Acadia Yurts, so if you'd like to incorporate a little yoga into your Acadia visit, you easily can.
---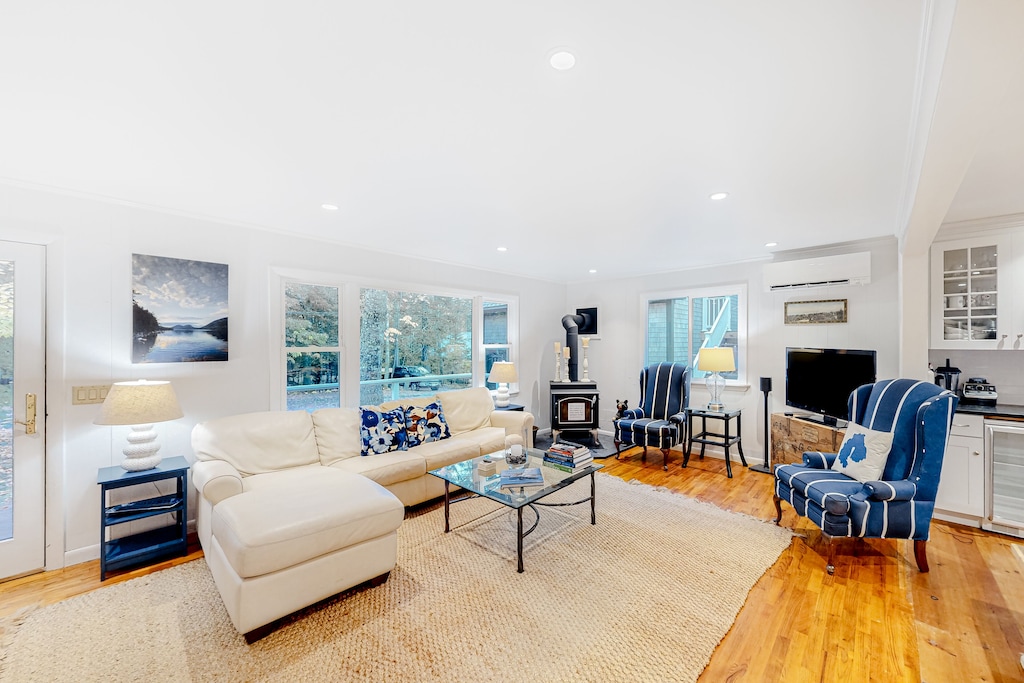 Located in lovely Seal Harbor, this Mount Desert Island VRBO is the perfect place for a small family or friend group who are looking to enjoy this quiet side of the island.
There's a woodstove inside, a gas grill outside on the lovely deck, and plenty of space for everyone to come together in this VRBO that sleeps up to 6.
---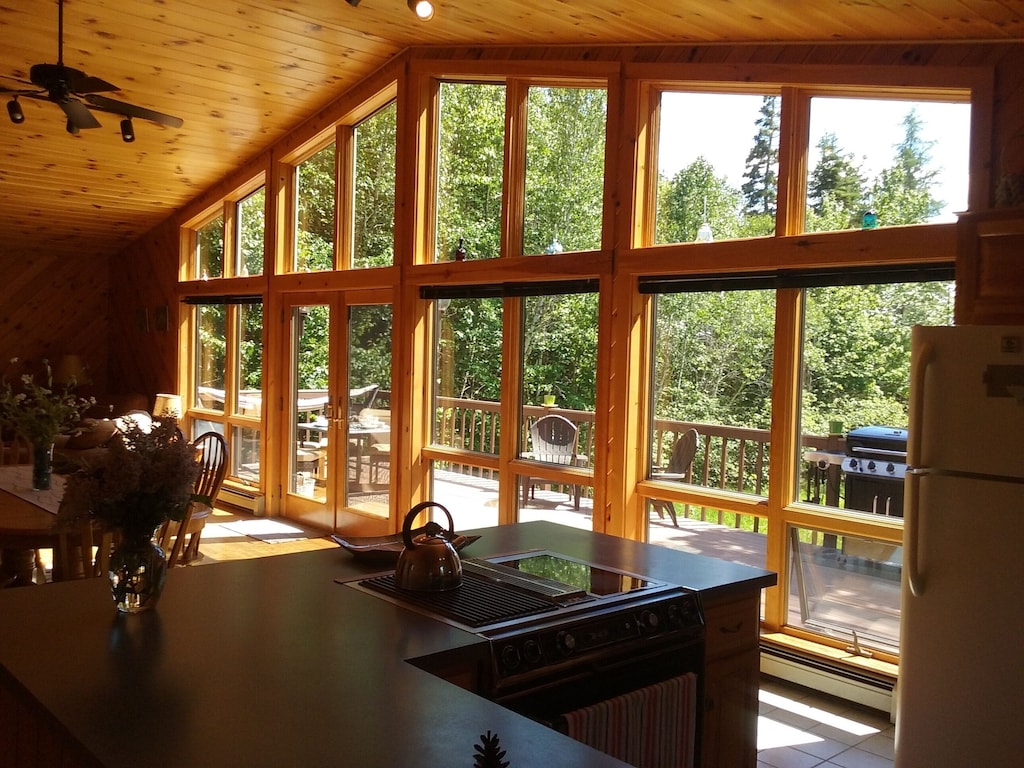 One of the highest rated vacation rentals in Acadia National Park, this particular VRBO is located in Southwest Harbor. If beautiful indoor, outdoor living spaces and privacy sounds like what you want on your vacation, check this one out!
This beautiful Acadia VRBO can comfortably sleep up to 5, so this could be a great home base for a small family or friends trip to Acadia National Park.
---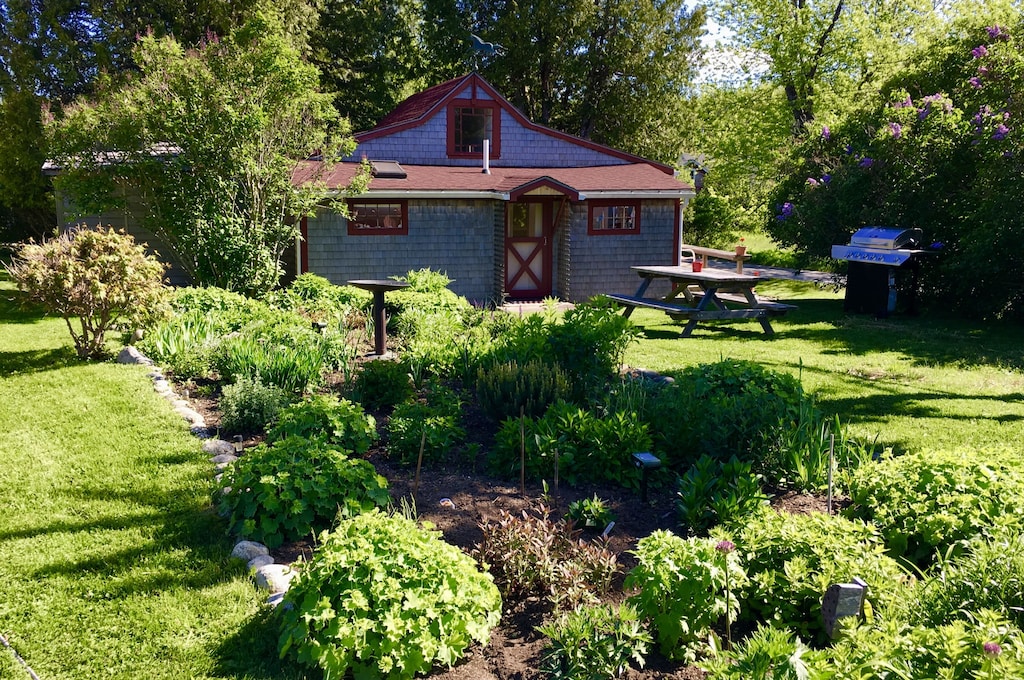 Darling. Sweet. Picturesque. Beautiful. We could go on and on and on, and the folks over at O Magazine certainly did when they featured this Acadia VRBO!
Sleeping up to 4, this cozy little cottage in Southwest Harbor is a nice, quiet place to stay for a small family or friend group, but it would also be an idea spot for an Acadia couples trip!
---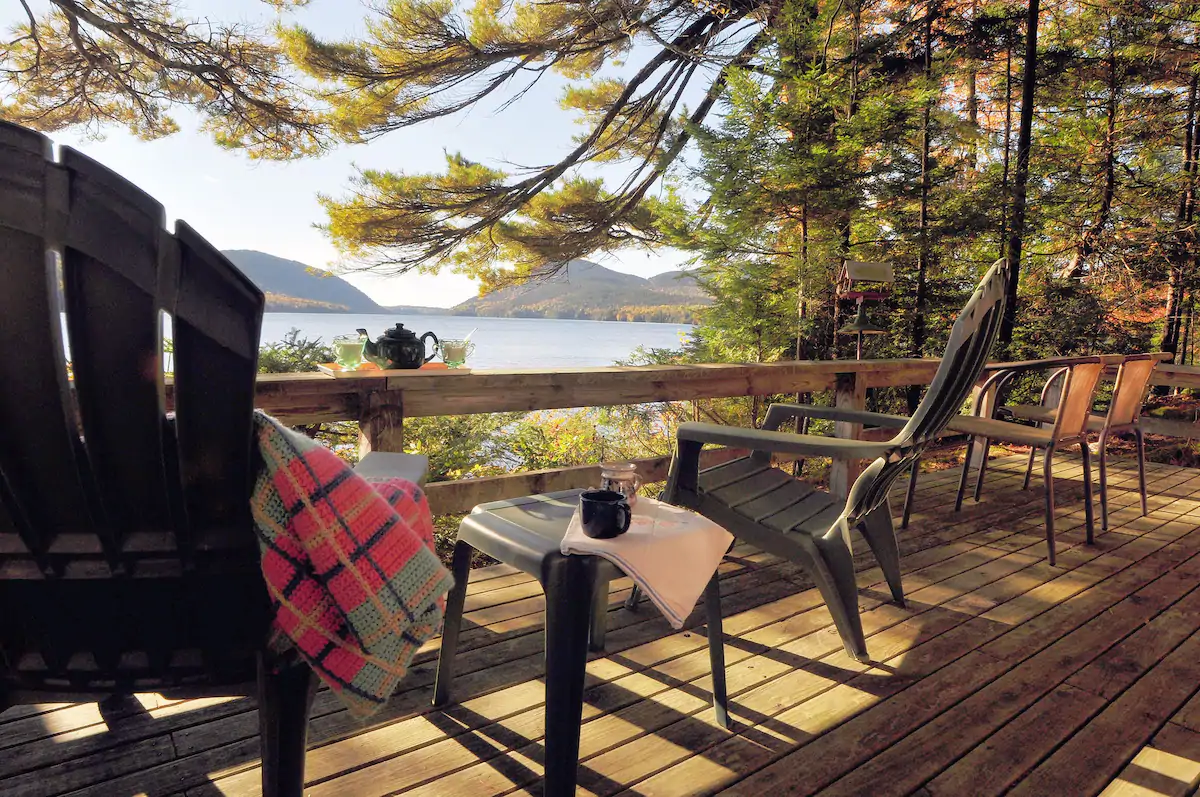 Who wouldn't want to stay at an accommodation called a little piece of heaven? Located in Mount Desert, this log cabin is perfectly situated in a beautiful forest on the shore of Long Pond.
The Acadia cabin can host up to six guests and has two bedrooms, one and a half bathrooms, a full kitchen, a dining room, a living room, and a breathtaking deck with great water views. It also has a fireplace with firewood so that you can stay warm during the cooler nights.
If you happen to be staying for a more extended period of time, you're in luck. This Airbnb also has a washer and dryer!
---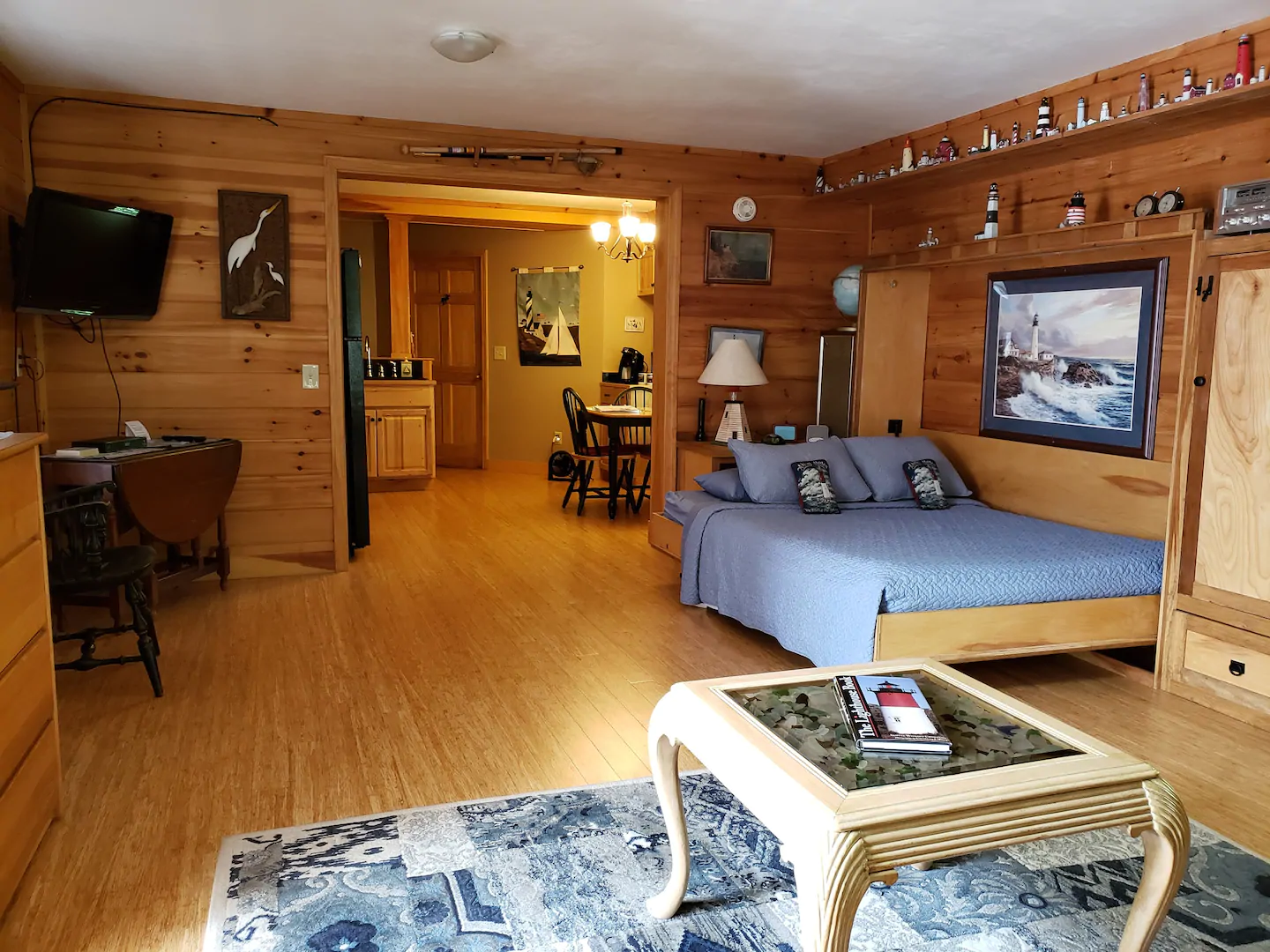 For a fun stay, consider staying at this lighthouse retreat in Bar Harbor, Maine. All of the decor inside the apartment has to do with lighthouses, so you really feel like you're in a beachy part of the country!
The home can host three guests and has one bedroom, one bathroom, a full kitchen, a dining room, and an outdoor area with a hammock. The dishware in the kitchen even has lighthouses on it.
The apartment is located just 200 feet from Acadia National Park. All you have to do is walk or rent a bike, and you'll be there.
---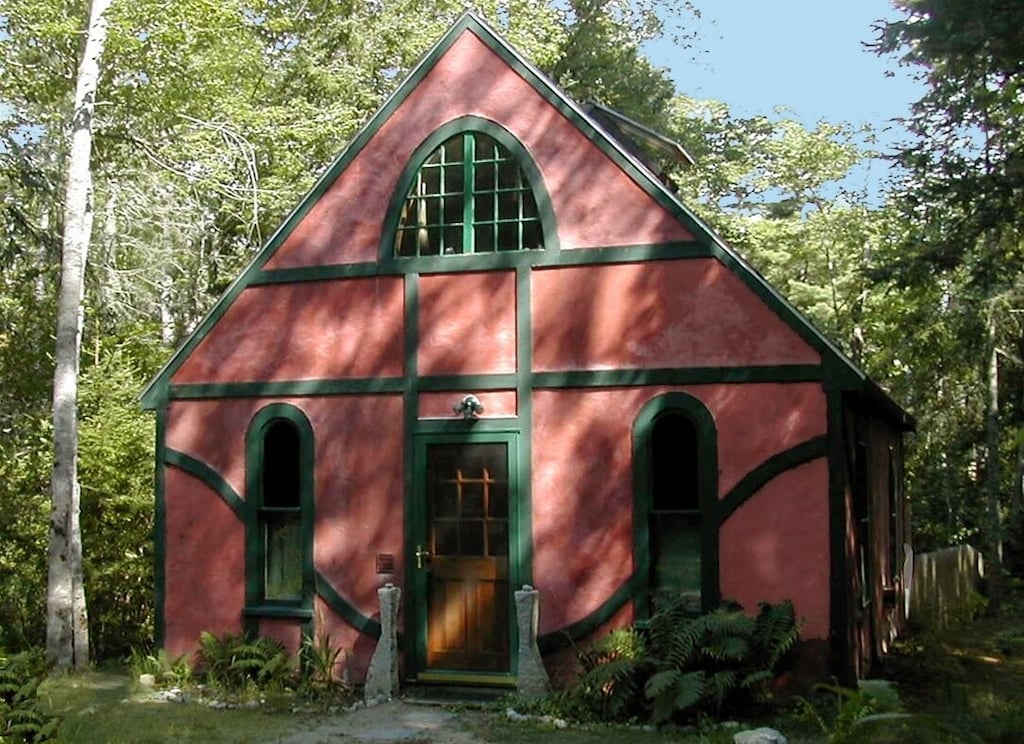 This is one of the most darling Bar Harbor VRBOs! Just five minutes to downtown Bar Harbor, vacation rentals like this one are perfect for those looking for a sweet place to stay that's close enough to the action (just a brief walk to the entrance of Acadia) yet still feels tucked away.
This cute Bar Harbor cottage can comfortably accommodate up to 4, but it is unique in that there is a completely unattached cabin bedroom which is absolutely lovely and somewhat like glamping.
---
This cottage on Mount Desert Island truly is idyllic. It's an oceanfront cottage hidden away in balsam firs, making it a perfect spot to stay while exploring Acadia National Park. The cabin is incredibly tranquil.
The cottage has a beautiful porch that offers breathtaking views, especially in the morning if you wake up early enough to catch the sunrise. There are also two bedrooms, one bathroom, a living room, and a kitchen. The patio even has a grill so that you can have a great cookout with your family and friends!
---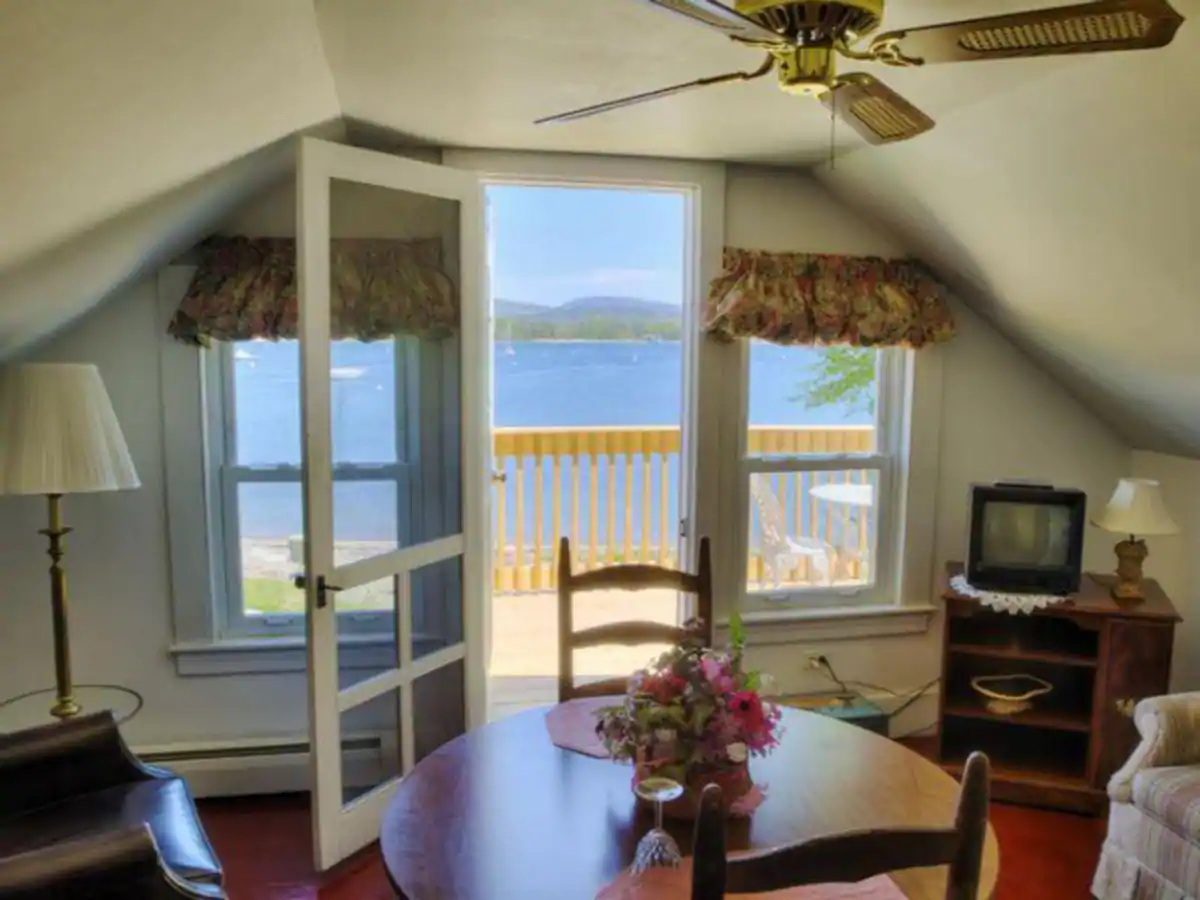 Located in Southwest Harbor, this Acadia National Park Airbnb is filled with charm. It's perfect for up to four guests and offers fantastic views of the waterfront from a private patio that serves as a great place to start every morning with a cup of Joe.
The cottage has a bathroom, living room, kitchenette, and a bedroom with a king-size bed. The living room has a sofa bed for other guests. What's even better is that pets are welcome to stay at this cottage, so you can travel with your furry friend!
It's perfectly located right next to Acadia National Park and is on Mount Desert Island. A quick 20-minute drive will get you to Bar Harbor.
---
---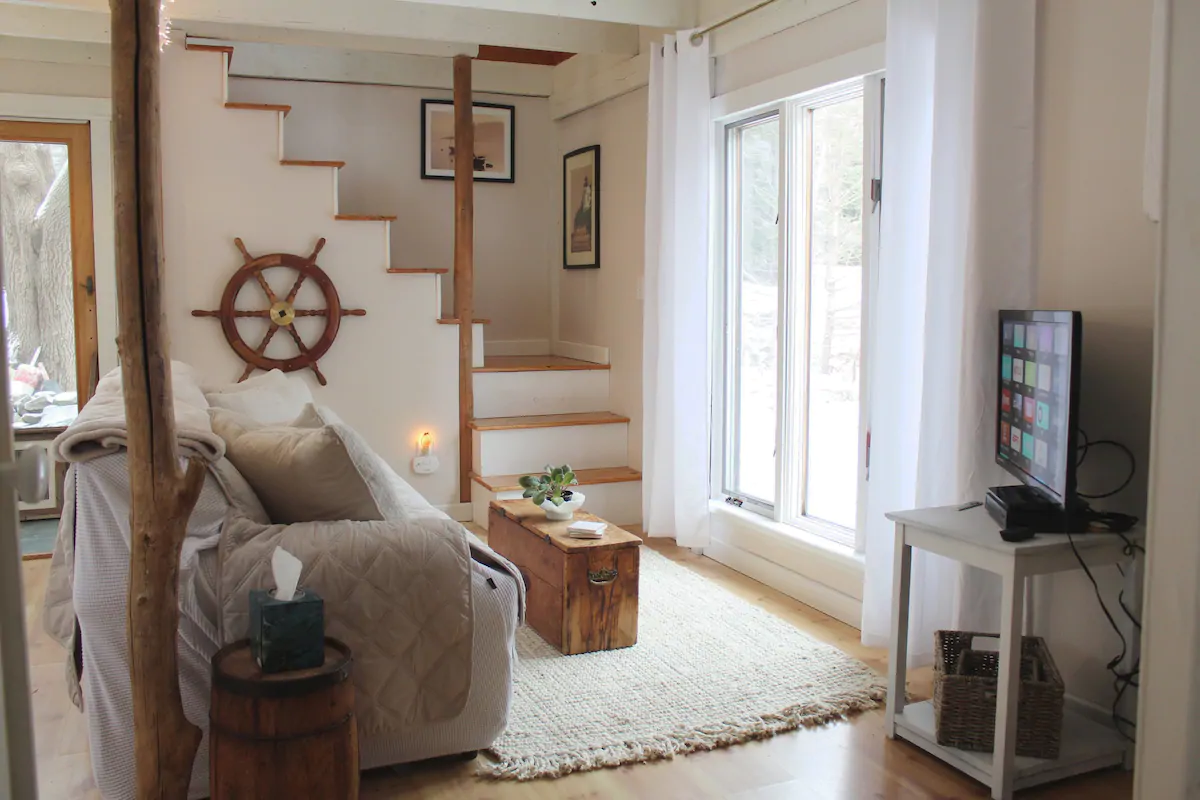 Imagine staying in a converted historic barn in Tremont, Maine. This bright apartment is filled with natural lighting and unique cozy decor throughout, including a ship's wheel in the living room.
Two guests can stay at the cottage, so it's a great romantic Acadia Airbnb. There's one bedroom, one bathroom, a kitchen, living room, and decent outdoor space so you can get some fresh air during your stay.
The barn is historic, dating back to the 19th century. The bedroom is lofted, so you can see elements of the barn still today!
---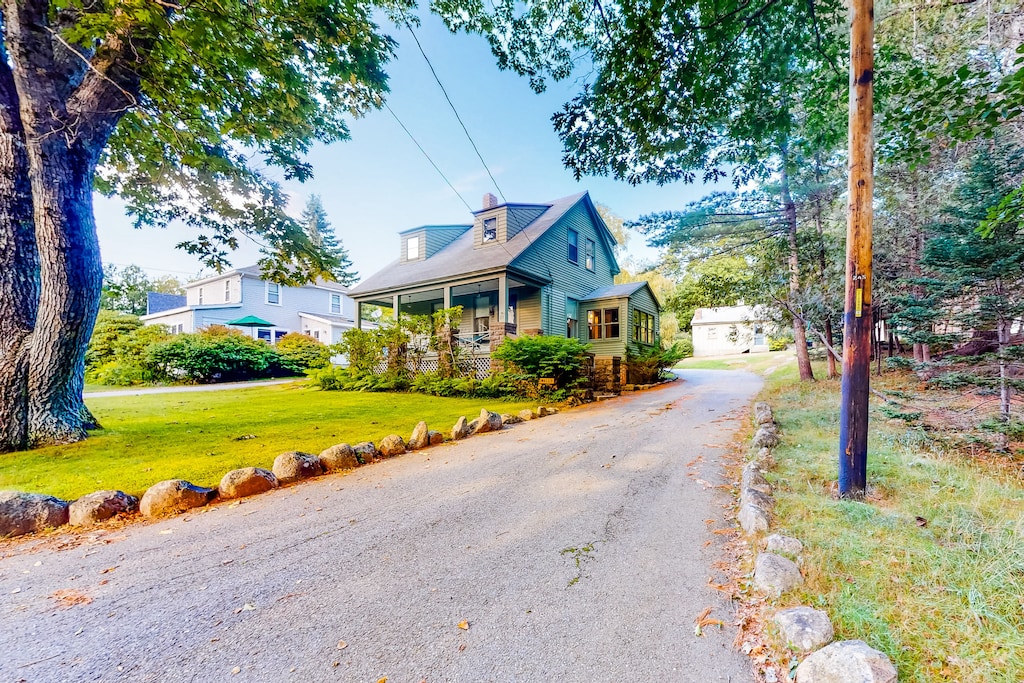 This is a very family friendly Seal Harbor VRBO, both due to its convenient location and it's great amenities. It's just up the road from lovely Jordan Pond, making it an ideal spot for Acadia National Park fun, and onsite, you'll find thoughtful amenities for those traveling with kids like books, games, and even a pack and play.
Sleeping up to 7, this Acadia National Park VRBO is a great choice for where to stay on an Acadia family vacation!
---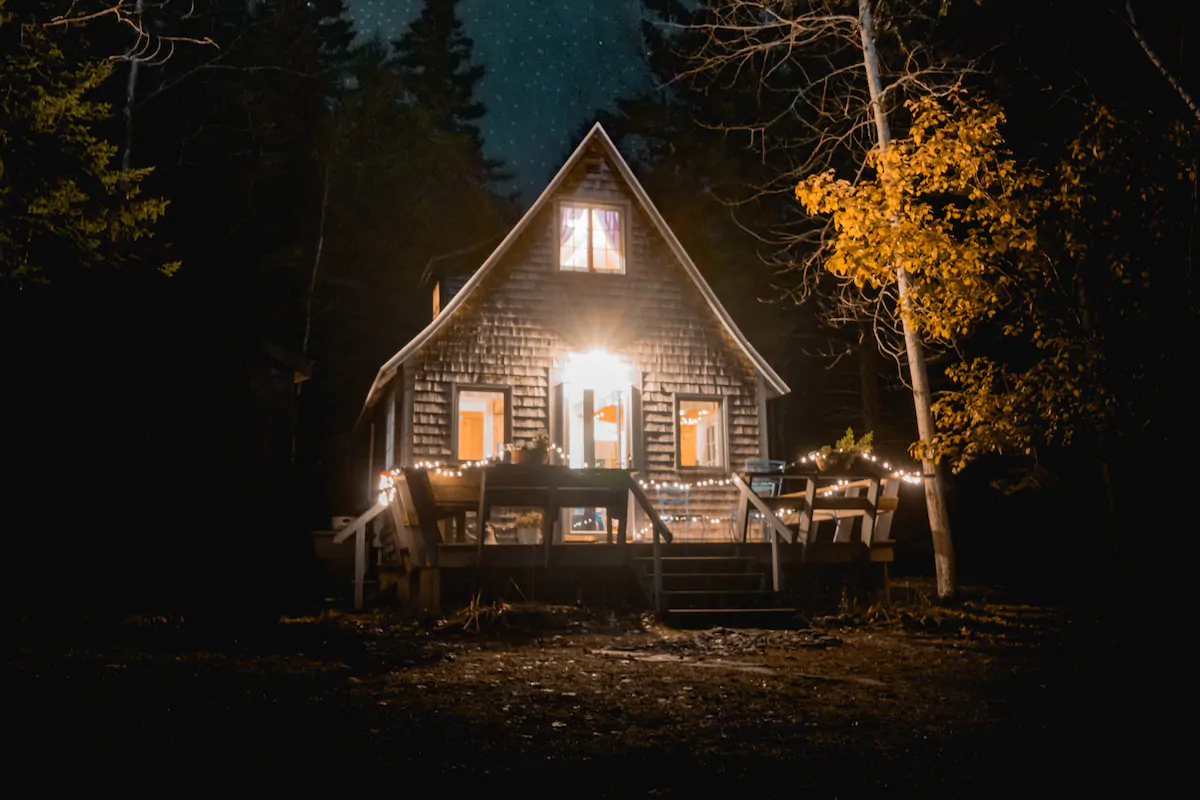 This might be one of the cutest Airbnbs in Acadia! For a unique cabin in the woods, look no further than this Airbnb in Southwest Harbor, Maine. It's incredibly tranquil and peaceful, so if you want to escape the city life and explore Acadia National Park, this is the perfect location.
The cabin can host four guests, and inside there is one bedroom, one bathroom, an outdoor patio with twinkle lights, a living room, and a full kitchen. The interior is very quirky and has many different pieces of furniture and decor that just happen to work together nicely.
Many hiking trails are right in the backyard of this Acadia Airbnb!
---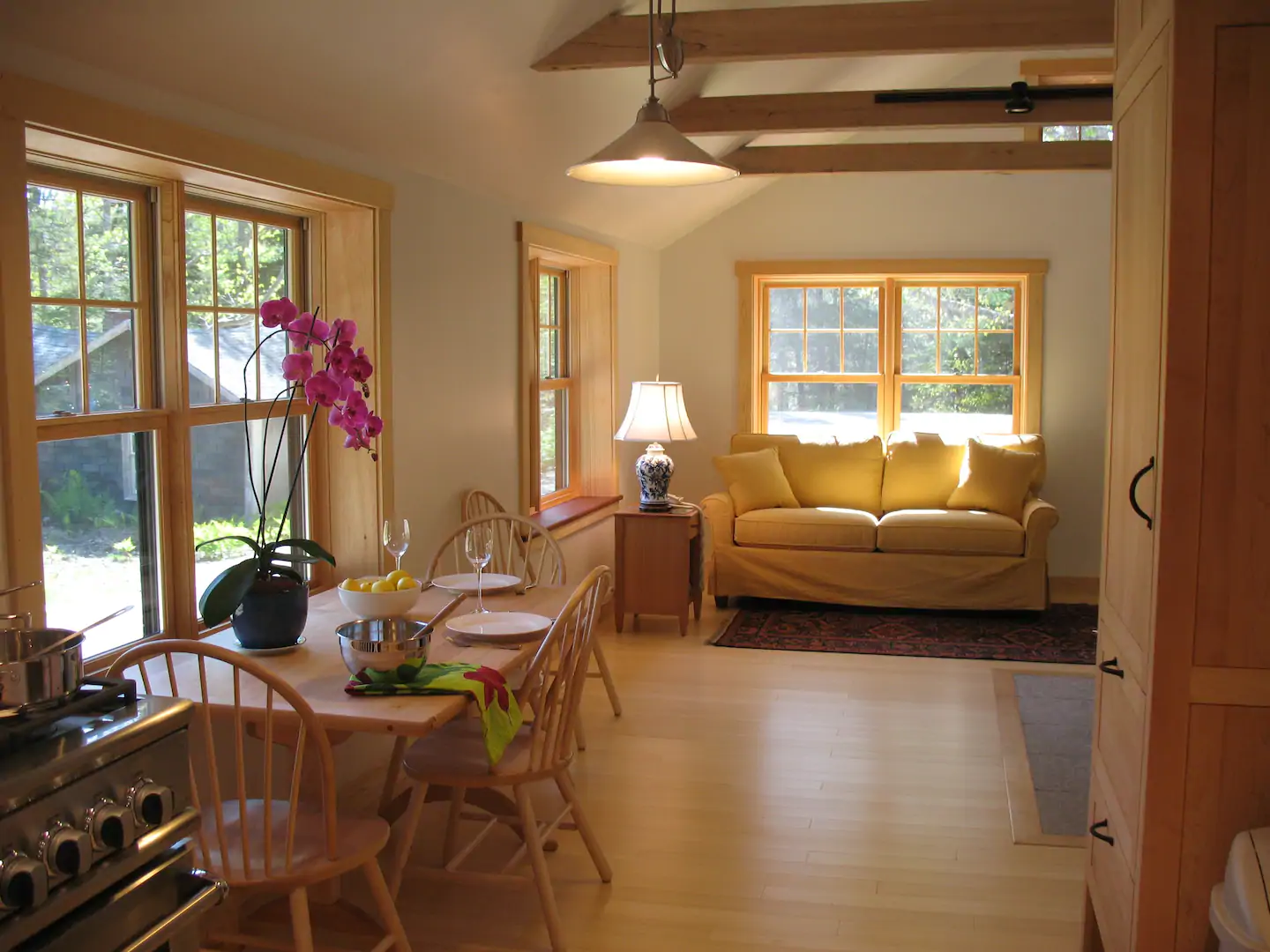 Last but not least is another beautiful cottage in Mount Desert, Maine. This is an Airbnb near Acadia National Park and nearby to the Giant Slide Trail, so nature is genuinely right at your doorstep if you stay at this accommodation.
Two guests can stay at the home, which has one bedroom, one bathroom, a full kitchen, fireplace, living room, laundry room, and ample outdoor space. The house is very cozy and minimal and genuinely feels like a tranquil getaway.
Be sure to head out to the hammocks in the trees that the host has set up for a relaxing time!
---
Now you know all of the best places to stay near Acadia National Park! There are great cabins, campgrounds, and cool Acadia vacation rentals like the ones shared above. Hopefully, this post has inspired you to plan a trip to this beautiful part of the country. I hope you love your trip to Maine.
---
Read these next:
9 Best Restaurants in Bar Harbor Maine
---
Pin me to Pinterest for future travel planning!