*This site uses affiliate links; if you make a purchase through these, I may receive a small commission at no cost to you.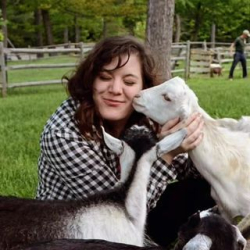 Latest posts by Amy Hartle
(see all)
Known for its vast wilderness, picture-worthy coastlines, and numerous rivers and lakes, amongst many other things, there are plenty of hikes in Maine to sate any nature-lover's fancy. Whether you're looking for a quick, easy walk along the Atlantic shore or something a little more challenging up in the hills and mountains, the Pine Tree State offers beautiful scenery for hikers of all skill levels to enjoy. That's why today we're bringing you the best hikes in Maine!
Did you know that Maine boasts 3,478 miles of coastline? That's even more than California! (3,427) Needless to say, finding a coastal hike in Maine should be no problem, especially within always popular Acadia National Park. Rise early and head up Cadillac Mountain within the park to be one of the first people in the U.S. to see the sunrise for the day!
Speaking of mountains, if that's your thing, no trip to Maine would be complete without visiting Mt.Katahdin, the state's highest point (5,269ft), and the northern terminus for a little hike known as the Appalachian Trail.
Not into touristy locations? No problem. Even though Maine is the largest state in New England, it also has one of the lowest population densities out of any state in the eastern U.S. Known for such things as the Northern Woods and the 100-Mile Wilderness, you're sure to find a secluded Maine hiking trail.
Plus, let's not forget the 6,000 lakes and ponds, 32,000 miles of streams and rivers, and the dozens of hidden gem waterfalls across the state. With 48 state parks and historic sites to explore, you're sure to find the nature immersion experience you're looking for while backpacking in Maine.
With so many options to choose from, let's take a look at some of the best hiking trails in Maine!
Best Hikes in Maine – Acadia National Park

Touted as "The Crown Jewel of the North Atlantic Coast", a visit to Maine's iconic Acadia National Park will not disappoint. Explore the rocky headlands and gentle mountains on 158 miles of Maine hiking trails. Needless to say, you won't have a hard time finding hiking in Acadia National Park that suits your preferences, but here are a few of the more popular hiking trails in Acadia.

Ocean Path
Ocean Path is a beginner-friendly Maine hike runs parallel to Park Loop Road and offers a great opportunity to see some of the most popular Acadia National Park sights, like Thunder Hole, Monument Cove, Sand Beach, and the Otter Cliffs. This Acadia hike is just a little over a four mile loop and it's all pretty straight forward, so this is a great option if you're looking for kid friendly Maine hikes.
Bass Harbor Head Light Trail
If you're looking for Maine lighthouse hikes, Acadia's Bass Harbor Head Light Trail is pretty quick and easy! Only half a mile long, this lighthouse hike in Maine is perfect for those times you just want to stretch your legs real quick but also feel like you made it to a cool destination.
Bar Island Trail
If you'd like to try out one of the more unique hikes in Acadia, check out the Bar Island Trail. This is the sand bar between Bar Harbor and Porcupine Island, and as long as you're tracking the tide right, you can actually hike across the two and a half mile out and back Bar Island Trail. How's that for a cool Maine hike?
Cadillac Mountain South Ridge Trail
If you don't mind a workout with your hike, take the South Ridge Trail to the summit of Cadillac Mountain. This out-and-back Maine trail will take you 7.1 miles from the trailhead off Champlain Drive to the 1,329ft summit. You'll pass through dense forest before the trees open higher up before finally reaching the exposed ridgeline as you ascend a cumulative 2,000ft over the course of this moderate Maine trail to one of the highlights of Acadia. Don't miss the overlook off of the Eagle Crag spur loop. Further on The Featherbed pond provides a nice area to take a break before the steeper ascent to the summit. From the top, you'll enjoy views of the forest below, the Atlantic, and the plentiful islands located just offshore.
Cadillac Mountain North Ridge Trail
If you need something a bit shorter, the moderately-rated, 4-mile North Ridge Trail may be a better hiking option for you. Bonus: You only end up gaining 1,000ft altogether due to its shorter length! This trail is also preferred by many hikers to get to the summit before sunrise. There are a lot more exposed areas on this side of the mountain, but who doesn't love that exposed pink-colored granite?
Jordan Pond Loop Trail
If you're looking for something a little more leisurely at Acadia NP, try out the Jordan Pond Trail. This easy to moderate 3.3-mile loop trail will take you across mostly flat terrain around the park's deepest and second-largest lake. A large portion of the west side consists of boardwalks to protect the fragile, boggy ecosystem here. The most "trouble" you should have is around the northwest corner of the pond, where you will have to make your way over uneven granite. However, be sure to look for a beaver lodge while you're in this area and keep an eye out for a glimpse of its inhabitants as well!
PS: Also check out the Beehive Trail for a fun, exciting challenge! We included that hike in our 3 Day Acadia National Park Itinerary.
Best Hikes in Maine – Mount Katahdin

If there's one thing you should know about hiking Mount Katahdin, Maine's highest summit, it's that it won't be easy. Many exposed areas, unpredictable weather, and steep ascents up this 5,269ft mountain will give you a run for your money. But, if you love a good physical challenge, you'll find some of the best hiking in Maine!
Saddle Trail
Although considered by many the easiest trail to get to the top of Mt.Katahdin, you will still want to give yourself ample time to tackle this 10.4-mile out-and-back hike in Maine. Although rocky right from the get-go, enjoy the more moderate section of your journey from the trailhead to Chimney Pond (a little over 3 miles in). Consider taking a break here before continuing as things get interesting from here. Expect to go from two feet to scrambling on all fours and be prepared for wind on those exposed, boulder-filled ridgelines!
Abol Trail
If the Saddle Trail didn't sound like enough of a challenging Maine hike for you, give the Abol Trail a go. Another popular hiking trail for reaching the summit of Katahdin, this 7.3-mile out-and-back hike gains nearly 4,000ft of elevation altogether and is the most direct route to the top…Which also means you can expect especially steep ascents and rock scrambling the closer you get to the summit. The good news is you start in a nice mixed forest and ascend gradually at first. A large section of trail was re-routed in recent years to avoid a rockslide-prone area and includes switchbacks before you get into the nitty-gritty parts. Don't miss the opportunity to take a breather at Thoreau Spring before the last short leg up to the true summit of this challenging Maine hike!
Best Hikes in Maine – Southern Maine

If you're wanting to stick close to the coast, there are plenty of great places for hiking in southern Maine. For hikes near Portland Maine, we've got you covered with two of the best ones in the area below!
Burnt Meadow Mountain Trail
Located just an hour from Portland, this popular Maine hiking trail offers beautiful wildflowers to enjoy on your way up to rock scrambles, finally reaching the top of the mountain for views that can't be beat! This 3.6-mile, mostly loop trail is rated as moderate, though the rocky ascents can be a little tricky. Depending on the type of hiking you're into, there are actually two different paths in the area. The blue trail is the most direct route to the top, but more strenuous. Most hikers enjoy taking the yellow trail back down as there aren't the crazy rock scrambles to tackle.
Bradbury Mountain Northern Loop
Located less than a half-hour from Portland lies perhaps one of the most popular state parks in Maine: Bradbury Mountain. Although the mountain itself is only 485ft tall, you'll love the views that seem to go on forever across the woods of southern Maine as well as Casco Bay. The 1.4-mile Northern Loop is a great hike for an easy, wide, gradual climb to the top of Bradbury Mountain. Along the way you will pass an old quarry, remains of a "cattle pound" from the 1800s, and lady slippers aplenty in the springtime. Be sure to bring your binoculars too if you're into bird watching!
Easy Hikes in Maine for Beginners

Don't let all of the hill and mountain trails fool you: There are plenty of easy hikes in Maine too! Whether you're short on time, have small children or pets with you, or your joints aren't quite what they used to be, these beginner-friendly hikes below will help you be able to still enjoy some time in the great outdoors hiking Maine!
Moxie Falls Trail
If you find yourself in near The Forks in central Maine, don't miss the opportunity to hike the Moxie Falls Trail. This easy, 1.7-mile trail leads you to one of the tallest waterfalls in Maine. (Moxie Falls plunges an impressive 100ft!) Enjoy the flat, wide gravel path along the first half of the trail before making a gradual descent to the stairs that lead down to better views of Moxie Falls. (The trail has a cumulative elevation gain of around 200ft.) Be careful as the latter half of the trail to the falls can become slippery. Make sure to bring your camera for the perfect picture of the falls from several different viewing platforms!
Shoreline Trail
Located in Lily Bay State Park, this easy 2-mile trail is perfect for the whole family. The park itself is known for being very family-friendly and the flat trail running along the lakeshore makes for easy hiking, even for little legs. Moosehead Lake, Maine's largest lake, is the highlight, of course, but keep an eye out for water birds and maybe even a moose! Don't forget to bring those fishing poles and valid licenses too during your Greenville trip.

Best Maine Day Hikes
With so much wonderful wilderness to explore, it goes without saying that there are plenty of great day hikes in Maine. Here are a few of our favorites!
Caribou Mountain
If you're looking for a mix of pleasant and challenging hiking to reach some of the best views in Maine, head to the west-central part of the state to check out the Caribou Mountain loop. This 8.5-mile Maine hike is rated as moderate to difficult and actually combines two trails: The Caribou Trail and Mud Brook Trail. The Caribou section is much "tamer" and bonus: You pass several waterfalls along the way! The Mud Brook Trail, on the other hand, takes you over a bare knob, down ravines, across rocky ledges, and more. But, the 360° views of the surrounding mountain ranges and valleys will be well worth the effort!
Poplar Falls and Hut
We've said it before and we'll say it again: Who doesn't love waterfalls? This 6.2-mile moderate out-and-back trail will take you to the beautiful cascading Poplar Stream Falls as well as a backcountry hut if you're seeking some extended time in nature! Though the Maine Hut Trail will take you directly to the falls, there are two other connecting trails in the area, all a part of the Maine Huts & Trails system, so you can take a different one on the way back to your car to mix things up a bit.
Deboullie Mountain
If you love exploring wild areas, be sure to check out the Deboullie Mountain area in the North Woods of Maine. It's rather out of the way to get to, so you're likely to encounter far fewer hikers on your trip. The highlights of the 4.7-mile Deboullie Mountain Trail include a handful of ponds and excellent views from the decommissioned fire tower at the top, from which you can even see Mount Katahdin in the distance. Plus, if you're looking for good backpacking in Maine spots, there are several campsites along the way you can spend the night at. If you're looking for a longer Maine hike, you can also turn this into a loop trail, adding a few extra miles on to your distance.
—
With such a variety of Maine hiking trails to choose from, we're confident you'll love one (or all!) of the trails on our list. Which is your favorite? Do you have another hike you would add to our list? Let us know in the comments section!
---
Read these next:
---
Pin this post to save for later!