Maine's natural landscapes—coastal granite cliffs, mountaintop rock spires, rolling farmland, crystal clear lakes, and everything in between—position the state as a touristic haven for outdoor adventure and long road trips on the hunt for scenic splendor.
There are plenty of striking Maine waterfalls to photograph and explore along its lakes, mountains, and coastal cliffs. Some are easy Maine waterfalls to access by roadside, some require a bit of courage and skill, and some are the perfect place to spend a day splashing around. Here are a few of our favorite waterfalls in Maine for your next ME adventure.
Waterfalls in Maine
Screw Auger Falls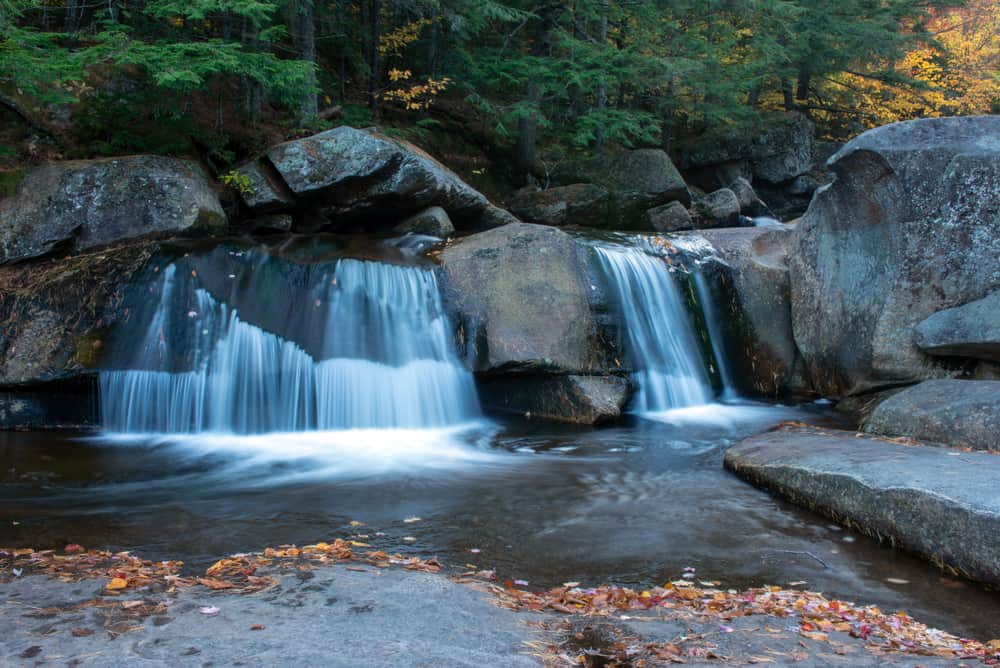 A quick and scenic 20-minute car ride from the picturesque ski town of Bethel, Screw Augur Falls is just along the roadside by a small lot in Grafton Notch State Park. Unlike so many of Maine's most photogenic waterfalls, Screw Auger Falls is delightfully easy to get to—the small walking path is even wheelchair accessible for much of the path.
Though the main event is a gorgeous 25-foot plunge fed by the Bear River, a series of small cascades and shallow pools precede the plunge and invite you to (carefully!) explore the cold water as a summer respite from the hot weather.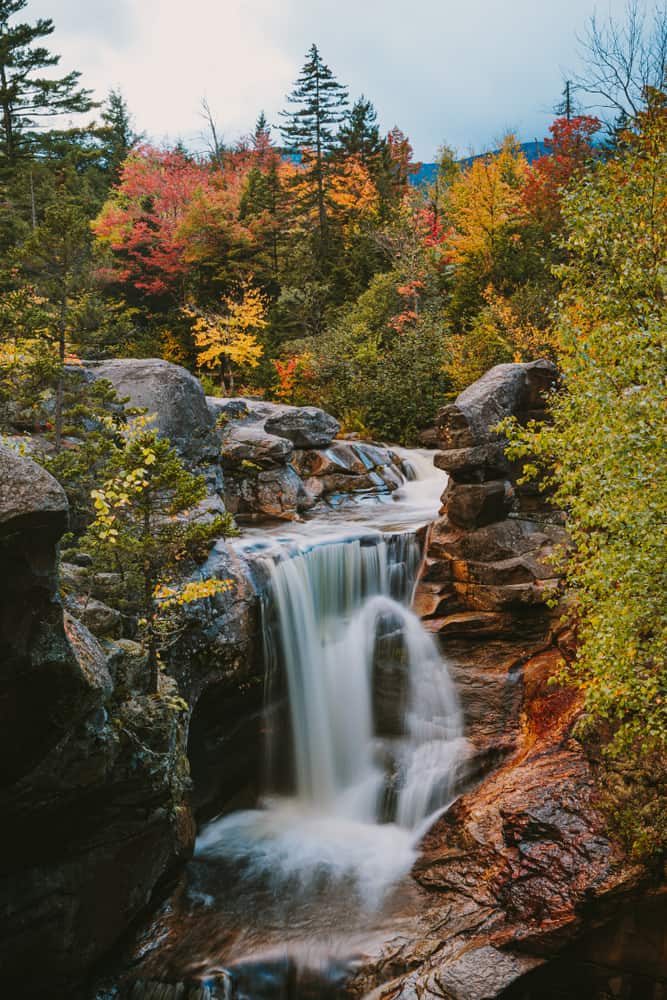 Many of the Maine waterfalls worth seeking out require a pretty serious time commitment, both in terms of driving there and then also an additional hike to a remote area. Screw Auger Falls is an easy and beautiful drive from just about anywhere in southern Maine, and an excellent excuse to spend a night in Bethel curled up by a hearth in a ski chalet.
Presumscot Falls
If you're looking for Maine waterfalls that are fairly easy to get out to, Presumscot Falls might be perfect for you. Located near Falmouth, Maine, the trail begins at Oak Nuts Park.
It only takes about an hour to complete this 2.5 mile out and back trail, and it's one of the best kid friendly Maine waterfalls out there! If you're looking for a great family friendly Maine waterfall, Presumscot Falls is a great contender.
Poplar Stream Falls
Located in Carrabassett Valley, Poplar Stream Falls consists of two drops from two different streams. Located just a few miles away from Sugarloaf Mountain Resort, this is about a two mile trail that's generally considered moderately difficult.
Snow Falls
Located in West Paris, Snow Falls is perfect for those looking for kid friendly waterfalls in Maine, especially for those with younger kids. It's extremely easy to access and you're rewarded with 25 foot cascades in the Snow Falls Gorge.
Gulf Hagas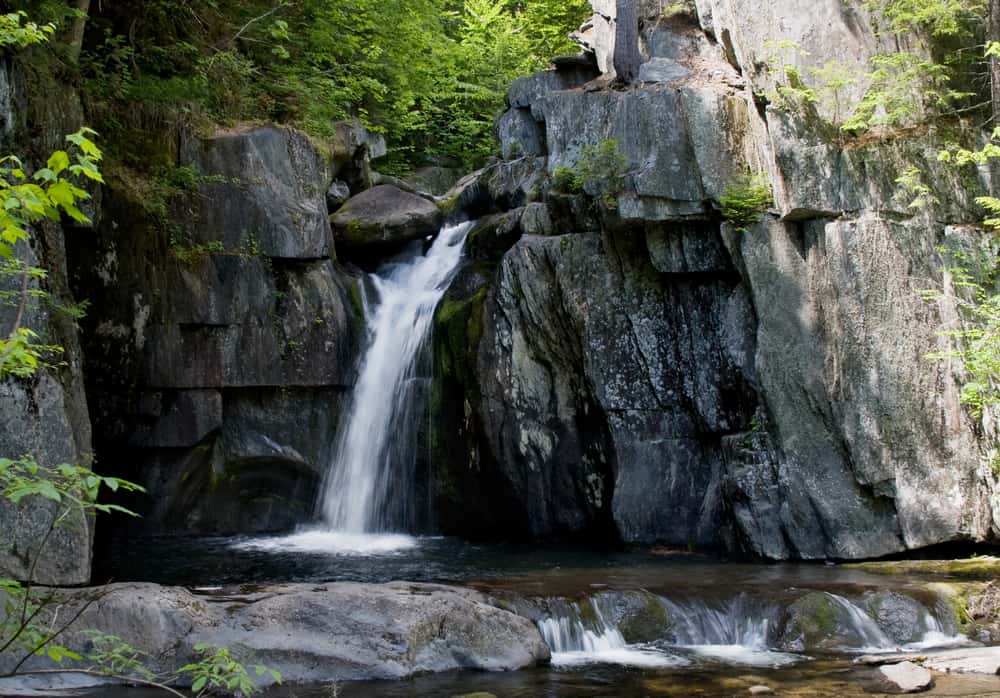 Often called The Grand Canyon of the East, Gulf Hagas certainly lives up to this ambitious nickname. It's not so much a single waterfall as it is a long chain of striking cataracts along the Gulf Hagas Brook and West Branch Pleasant River. Tucked away at the southern stretch of Maine's 100 Mile Wilderness (yes, it's really called that), it's certainly the opposite of Screw Auger Falls.
To start, it's more than a three-hour drive from Portland, and any trailhead used (down a series of questionable dirt roads, no doubt) to access the area results in an 8 to 11 mile round trip hike with slippery, steep, jagged terrain. Chances are—you're either reading this and thinking oh, wow, sign me up! or something a bit closer to hahaha no way I'll stay home for this one.
That being said, it is absolutely imperative that you do some research, map your route, and plan ahead—you'll find about as much logistical support and cell service in the 100 Mile Wilderness as you might expect (and that's very, very little).
The Cascades

It's worth pausing for a second and mentioning a unique reality of exploring western and northern Maine: there are areas so truly and wonderfully rural, that a traditional local government doesn't exist. These unincorporated areas are called townships in Maine and they're listed as TWPs when looking at a map, usually with a number after it as well: if you're headed somewhere in Maine that's listed as a TWP or plantation—it's out there, bub.

And that's certainly the case with The Cascades in Sandy River Plantation. In the same pristine section of Maine as Rangeley Lake and Saddleback Mountain, the Cascades is a tenth of a mile stretch along the Cascade Stream that drops 250 feet over three main plunges. The gradual descent leading to the main plunges is a gorgeous—and cold!—swimming spot after the short yet slick and steep hike from the trailhead along Route 4.
The tough hike is a blast in good conditions, but take note of its treacherous transformation in wet weather.

Rumford Falls
Roadside waterfalls in Maine? Yes, please! Rumford Falls, also known as Pennacook Falls, is a waterfall with a total drop of 176 feet that is split into sections by dams. The ease with which you can see this waterfall in ME is excellent for those looking for simplicity, with a sidewalk and gravel road looping around for optimal views.
Step Falls
Located in Newry, Step Falls is one of the tallest waterfalls in Maine! With a total drop of about 250 feet, this is definitely a visually impressive ME waterfall when the water volume is up during the wet season. There are also swimming holes to splash around in if you're game, too!
Rattlesnake Flume and Pool
This is one of those really fun family friendly Maine waterfalls because not only is the 2.1 mile out and back trail to get to Rattlesnake Flume and Pool pretty easy for kids of most ages, there's also a fantastic little swimming hole at the falls that makes for a perfect break. Bonus points because the trail is well marked, too!
Moxie Falls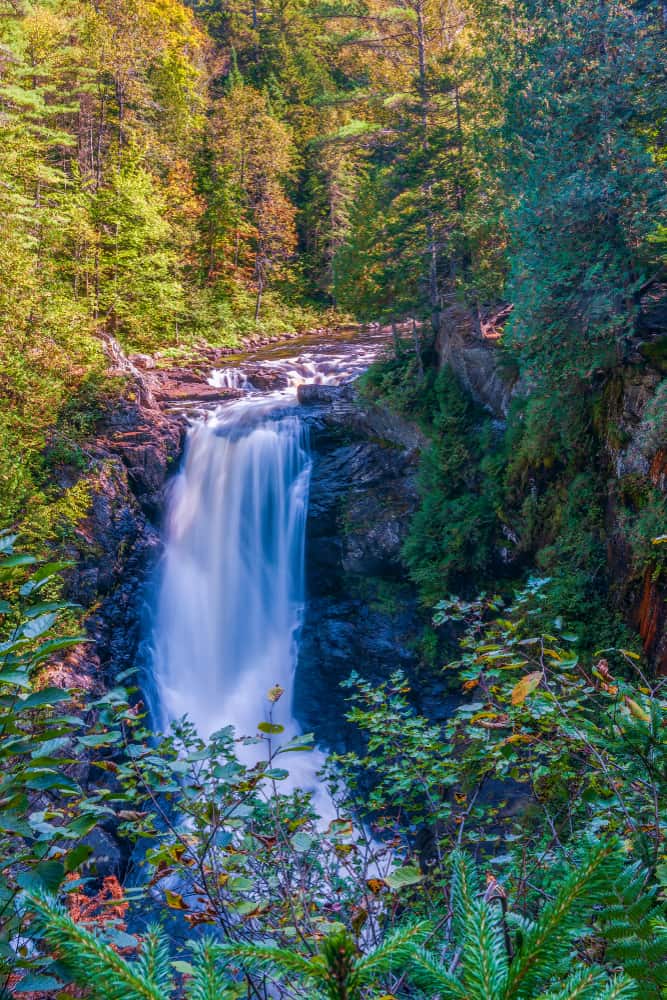 Fun fact (and/or prelude to a pretty awesome road trip): you can take a single, continuous road, Route 201, all the way from Brunswick on the coast to the Canadian border at Sandy Bay. That's one single road for 160 miles and three and a half hours. The most scenic stretch along this long haul is a twisting and turning segment between Caratunk and The Forks, where the mighty Kennebec runs parallel to the road.
And here you'll find Moxie Falls: a truly remarkable 90 foot Maine waterfall where Moxie Stream drops into the Kennebec River as it carries water from Moosehead Lake all the way to the Atlantic Ocean.
There's some healthy competition between fans of Moxie Falls and Angel Falls (out near Rangeley) over which is actually the tallest—life can be a little slower here in Maine, and we have disagreements about some truly silly things—but either way Moxie Falls 90 foot plunge is jaw-dropping compared to what most of Maine has to offer.
Despite Moxie Falls' far-flung location, the amazing views and adventurous amenities in the surrounding area mean it's surprisingly busy in the warmer months—be prepared for crowds and a nearly full lot.
Swift River Falls
Located in the town of Roxbury, Swift River Falls is one of those Maine waterfalls that has a lot of cool geologic features to explore. Just south of Coos Canyon, the Swift River waters come cascading over potholes of various sizes and there is a very interesting natural bridge, as well.
At only 6 feet, it's not the height of this Maine waterfall that places it on this list, but rather the very neat dimpling effect of the waters as it makes way over the granite potholes.
Dunn Falls
One of the most scenic waterfalls in Maine, Dunn Falls offers up two striking falls: the Lower Falls, with a nearly vertical 80 foot drop, and the Upper Falls, with a spectacular 50 foot fanning horsetail fall.
The trail to get out to Dunn Falls is a two mile, mostly moderate loop, and if you're looking for beautiful waterfalls in Maine to photograph, Dunn Falls should definitely be on your list!
Mad River Falls
With 100 foot total drop, Mad River Falls in Batchelders Grant definitely delivers some great Maine waterfall views from the top down, but it's not really accessible to climb down and view from below and there are lots of trees that partially obscure views.
That being said, it's still a very cool waterfall in Maine to hike out to at least once to see, and the trail to get out to it is only about 1.6 miles, but there is an altitude gain of 300 feet, so heads up!
Angel Falls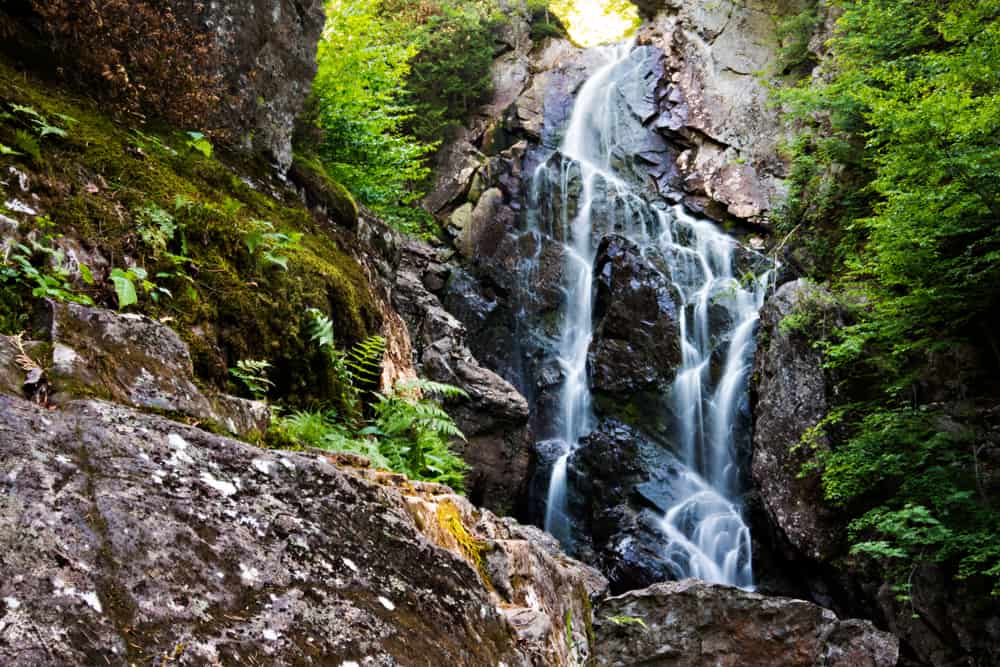 Somewhere between Rumford and the stunning Height of Land vista in Roxbury looking out over Mooselookmeguntic Lake you'll find Township D. Mostly privately owned in a rural stretch of Maine where timber companies and paper mills reign supreme, you'd be forgiven for cruising right past the dirt road turnoff that leads to Angel Falls if you didn't know exactly what you were looking for.
Angel Falls stunning 90-foot drop takes Mountain Brook down a sudden series of gorges as it navigates the mountainous geography of this wilderness haven; cliff walls surrounding the gorgeous cascade reach 115 feet tall. An oddly-positioned 25-foot gap perched atop the cliffs is responsible for the massive amount of water an otherwise relatively tame stream pushes over Angel Falls.

While Moxie Falls is a great winter scene, the access road to Angel Falls may or may not be plowed in winter and the frozen streams are basically an ice rink. Unless you've got four wheel drive and crampons, wait for warmer weather to enjoy Angel Falls!
The Cataracts
If you're looking for quick waterfall hikes in Maine, The Cataracts make for a solid choice. The trail to get out to this Maine waterfall is only about half a mile and is mostly moderate, leading to a nice 60 foot drop and lots of cool boulders to play on in the summer; in the wet season, these falls can really get going.
Smalls Falls
Located in Township E, just south of Rangeley, Smalls Falls is one of the coolest Maine waterfalls to see and play in! With four sets of falls and an overall 54 foot drop, these waterfalls are visually impressive, but the real draw is that at the base of each fall is a lovely pool to swim in. This is the perfect spot to set up for a day playing in waterfalls in Maine!
Kezar Falls
If you're looking for Maine waterfalls with easy hikes, Kezar Falls in Lovell is a great option. The trail to get to this modest gorge is less than .1 mile and pretty simple, but you'll be greeted with 20 feet of cascades that make for a fantastic spot to cool off on a summer day.
There are cool waterfalls all around the state, but these are some of the most interesting waterfalls in Maine that you should add to your bucket list ASAP!
---
You might also like:
---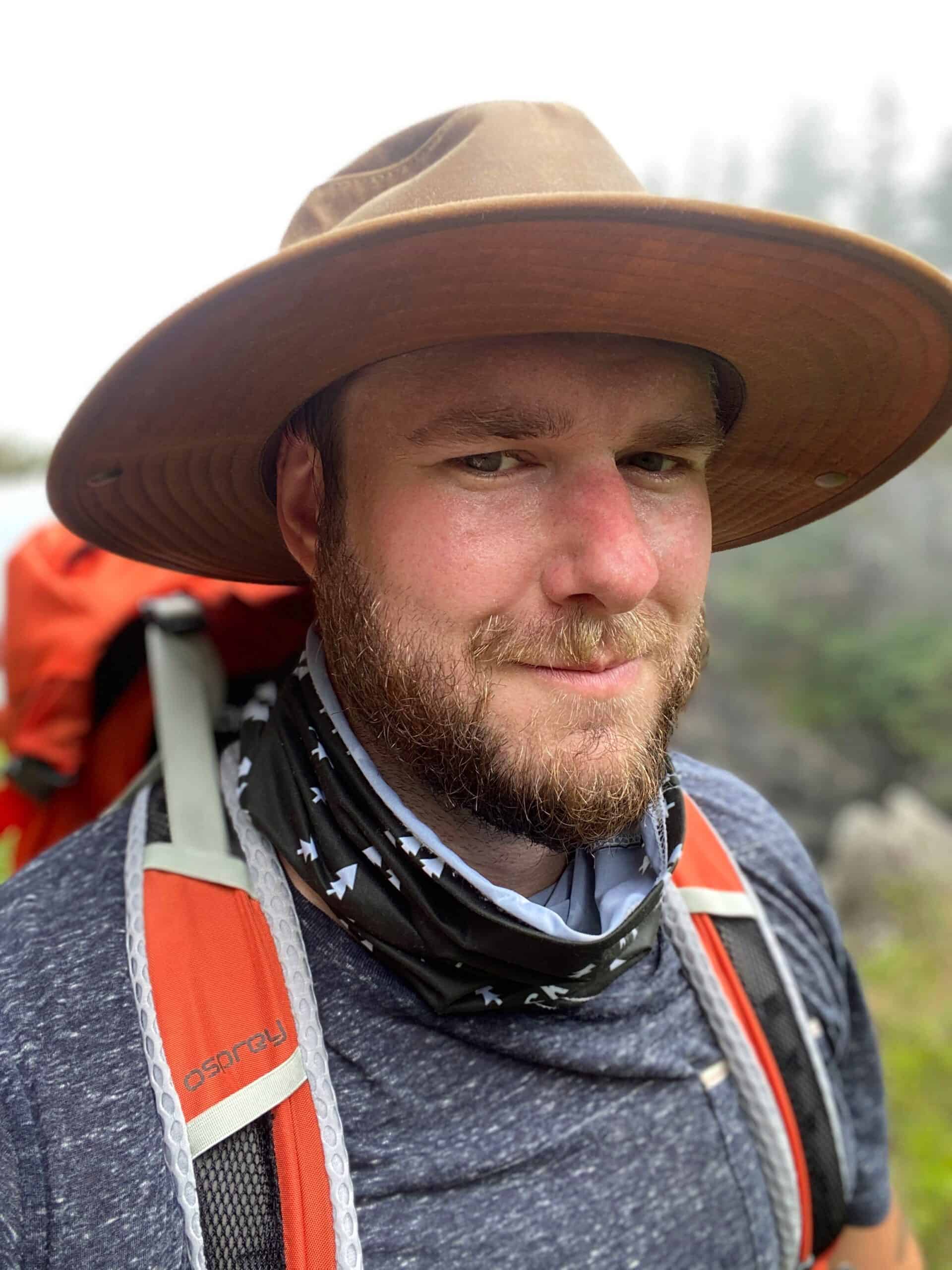 Justin is a writer and photographer based in coastal Maine.  He grew up in New Hampshire, went to college at GWU in Washington, DC, and trained as a chef at Le Cordon Bleu in Cambridge, Massachusetts. Justin has years of experience in professional kitchens, gourmet food sales, and as a wine buyer. He also co-founded Rosehips & Charcoal, a boutique social media consultancy that helps northeast getaway rentals tell their unique stories and grow their online presence.  When he's not working, hiking, or snapping pictures, you can most likely find him drinking wine in the woods in questionable footwear. You can follow along on his Maine adventures and wilderness gourmet shenanigans at @tidetopine on Instagram.