*This site uses affiliate links; if you make a purchase through these, I may receive a small commission at no cost to you.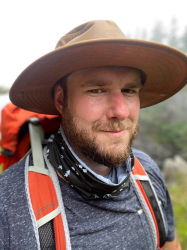 Latest posts by Justin Smulski
(see all)
Maine's reputation as vacationland is serious enough that they put it on a license plate. In every season an array of getaways and activities await you with Maine scenic drives to get you from place to place.
You can hire a wilderness guide for a multi-day canoe camping trip, or take a mailboat to a far-off coastal island with but a few residents. But, sometimes something as simple and accessible as a beautiful drive is just what you need, and autumn is the perfect season to do it.
There are so many gorgeous places to visit for fall colors in Maine. So here's an insider's list of the best scenic drives in Maine that are perfect for fall!

Maine's Best Scenic Drives
The Golden Road: Millinocket to Moosehead Lake
Golden Road is a 97 mile stretch of wilderness thoroughfare—sometimes paved, mostly dirt—privately maintained by a number of lumbering outfits that runs from Millinocket all the way to the Canadian border crossing in St. Zacharie.
The western two thirds are far beyond the limits of a typical road trip, but the section of this drive in Maine closest to Millinocket winds through some of Maine's most beautiful forests awash in autumnal hues and crosses over the well-known Abol Bridge with a stunning view of Maine's highest and most infamous peak, Mount Katahdin.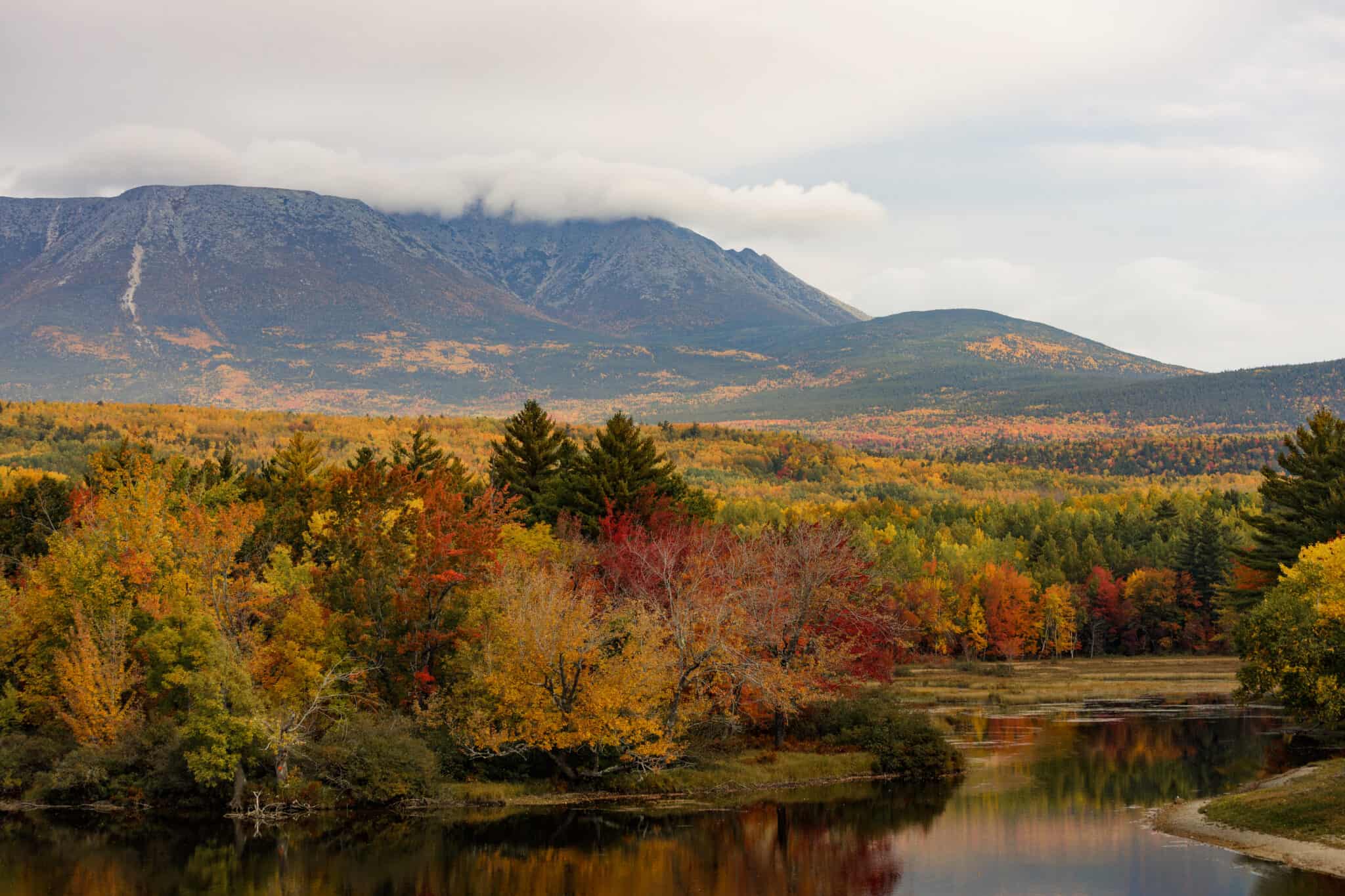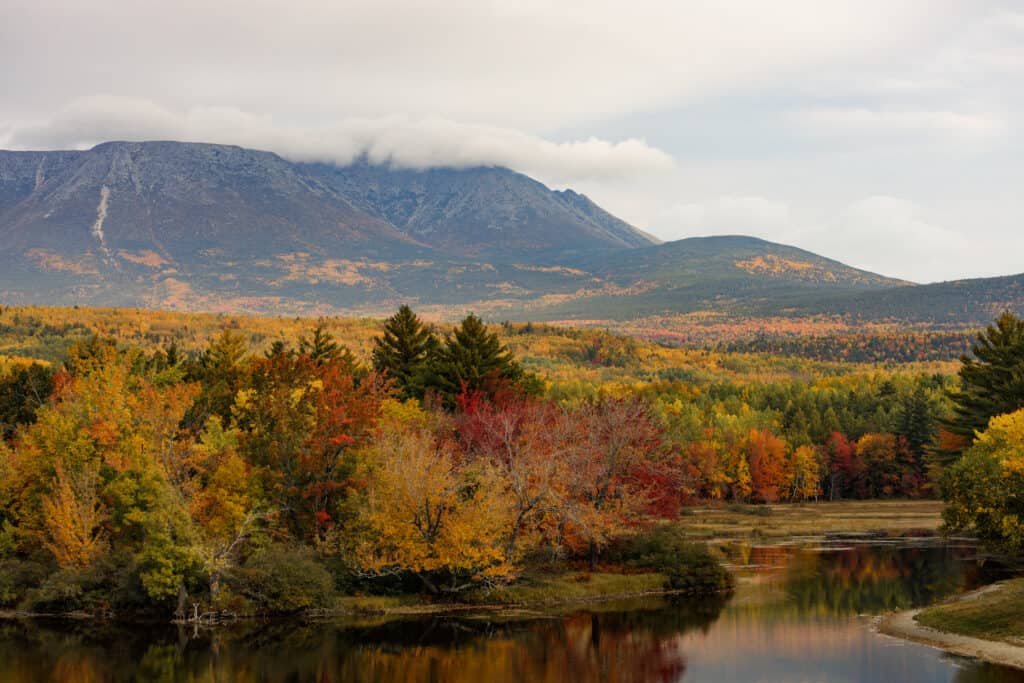 The real secret to a far-flung, backroads Maine scenic drive: about a mile south of the Rippogenus Dam—skirting just below the Allagash Wilderness, mind you—Golden Road veers right towards Canada. Instead, take the left and continue onto Greenville Road towards Moosehead Lake.
You're now in a part of Maine with far more moose than people. The only real town between the two, Kokadjo, has lumber roads, wilderness cabins, beautiful open fields, hundreds of streams, and dozens of bog and pond run-off systems to explore in the crisp fall air.
Plan your trip to hit this area in the early morning or the late evening to see moose at their most active, submerged in bogs snacking on vegetation surrounded by Maine fall foliage with not another person for miles around.
Some claim the Golden Road was named for how much money it cost the lumber companies to cut a road through Maine's untamed forests, but there's another theory locals attest to, as well: it's the color of the dust covering your car after miles and miles without pavement. If you're up for some unpaved wild, this is the best Maine fall foliage drive you'll find.
World Traveler, Kinda: Sebago Lake to Grafton Notch
Norway, Paris, Denmark, Naples, Sweden, Poland, Mexico, Peru, China. Believe it or not, these are all town names you will come across while on one of the prettiest scenic drives Maine has.
Mostly clustered around a hundred square mile expanse of lakes and mountains in Maine's western reaches, historians trace many of these international town names to hearty settlers putting down roots at a time when its namesake counterpart halfway around the world was going through a revolution or intense political strife. The settlers empathized with the cause and imagined a better life in their new towns they'd worked hard to build.
History lessons aside, it's a gorgeous stretch of Maine scenic roadways for a fall drive. Starting near Sebago Lake—an easy half hour from Portland's suburbs—take Route 302 for a beautiful cruise past Sebago Lake State Park, Long Lake, and the town of Naples.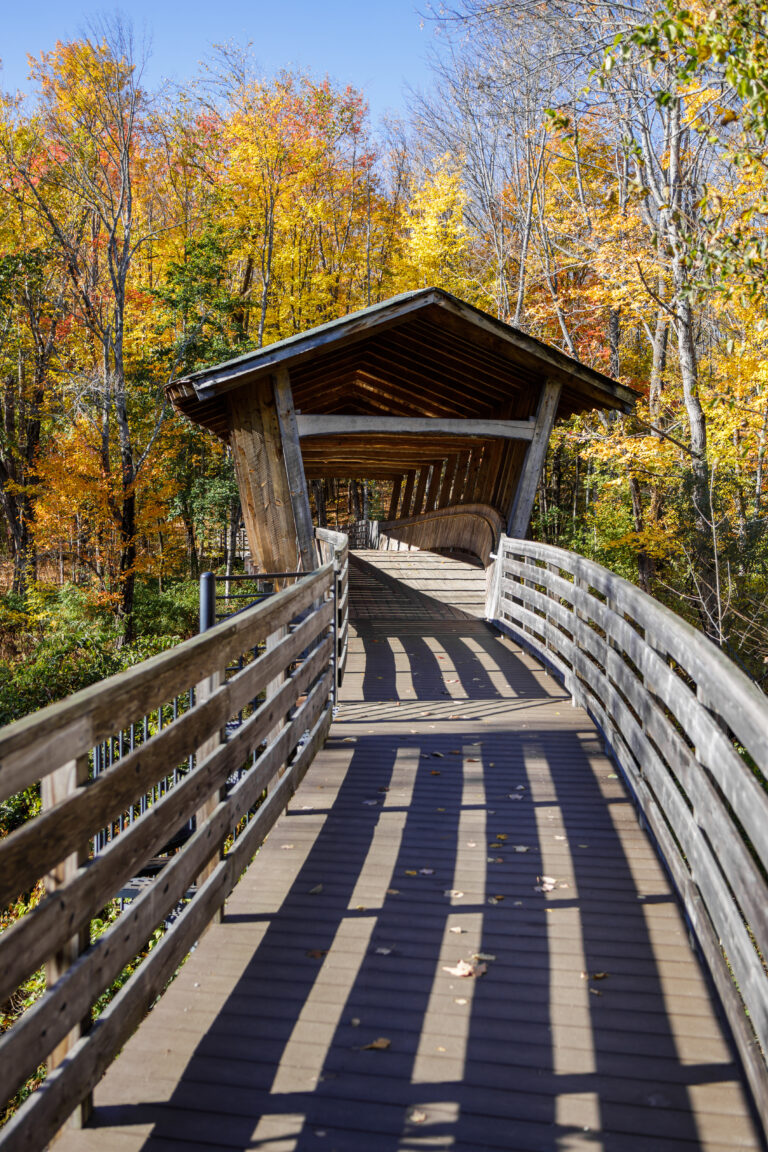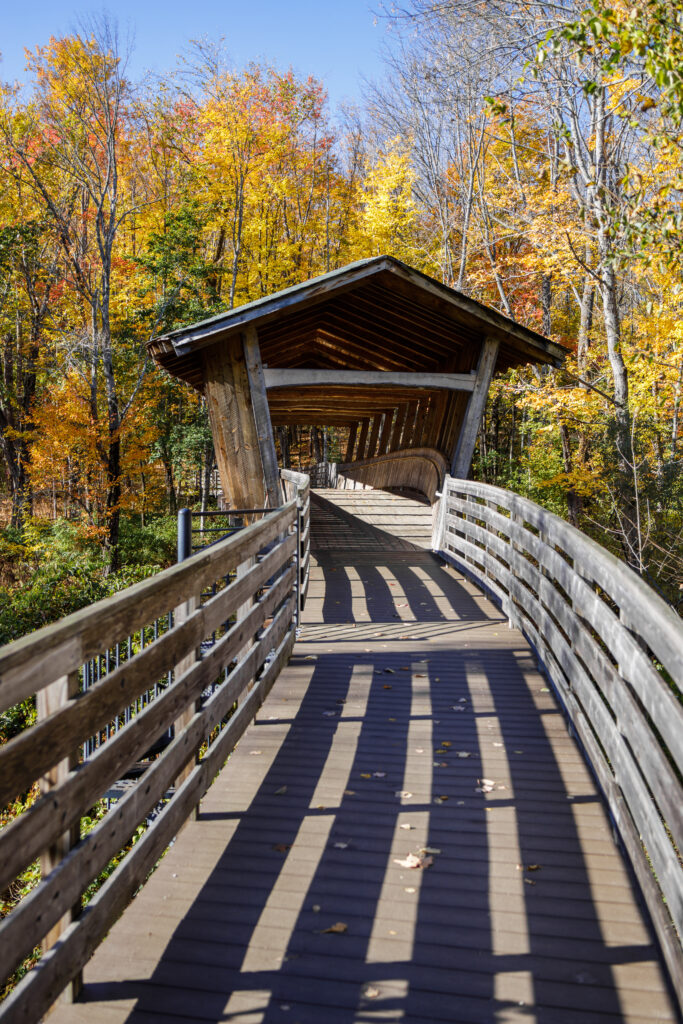 You'll end up in Bridgton, a small town with year-round vacationland vibes and countless nature walks for quick pit stops. The covered bridge in Bridgton's Pondicherry Park surrounded by vibrant Maine fall foliage is a must see before hitting the road again. Work your way North along Route 35, running parallel to the New Hampshire border, towards Newry and Bethel.
With acres upon acres of farmland and quaint town centers nestled between low lying mountains erupting in autumn watercolors, plan to pull over every few minutes to snap those foliage pictures you've been waiting all year to capture.
Zoom past the World Traveler sign in Bethel Maine—with every aforementioned town listed by distance—and make your way to Grafton Notch State Park for world-class hiking and scenic vistas at their very best when dressed in fall tones. Don't miss Screw Auger Falls for a perfect picnic location!
The Attean route: Skowhegan to Rockwood
Just off of I-95 North in Waterville you can pick up Route 201 and follow it all the way to Quebec City on one of the most scenic routes in Maine. Beyond its role as a useful road for Mainers looking to brush up on their French for a long weekend, Route 201 between Skowhegan and Jackman offers 73 miles of roadside fall foliage views in Maine.
Twisting and turning alongside the Oxbow meanders of the Kennebec River, you'll cruise through Caratunk, East Moxie Township, and The Forks—named for the beautifully chaotic river splits and shallows as the Kennebec meets and leaves other river systems. Bucolic and rural, a few roadside diners and gas stations are pretty much all you'll find, with one big exception: The Forks is famous for an amazing array of guided white-water rafting, fishing, and wilderness exploration outfits.
Break up the drive with a frosty beer and some lunch at Kennebec River Brewing Co housed inside the Northern Outdoors lodge complete with hot tubs and pools and standalone pond-side cabins.
Once you're back behind the wheel, keep your eyes peeled for a poorly-marked rest area about 4 miles southwest of the Jackman Trading Post off Route 201. Known locally as the Attean overlook, this panoramic view of Attean Pond and the Moose River is a stunning exemplar of Maine's autumnal beauty and the kind of scenic Maine roads you just can't find without putting in the miles.
Bonus points: keep going! When you hit downtown Jackman (you'd be forgiven for missing it—it's that small) bank a right onto Route 6 and enjoy the blazing fall foliage on this pretty Maine road as you wind through miles and miles of completely untouched woodland. Past Tarratine, past Brassua Lake, all the way to Rockwood and your first glimpse of Mt. Kineo's sheer cliffs dropping into Moosehead Lake's chilly waters.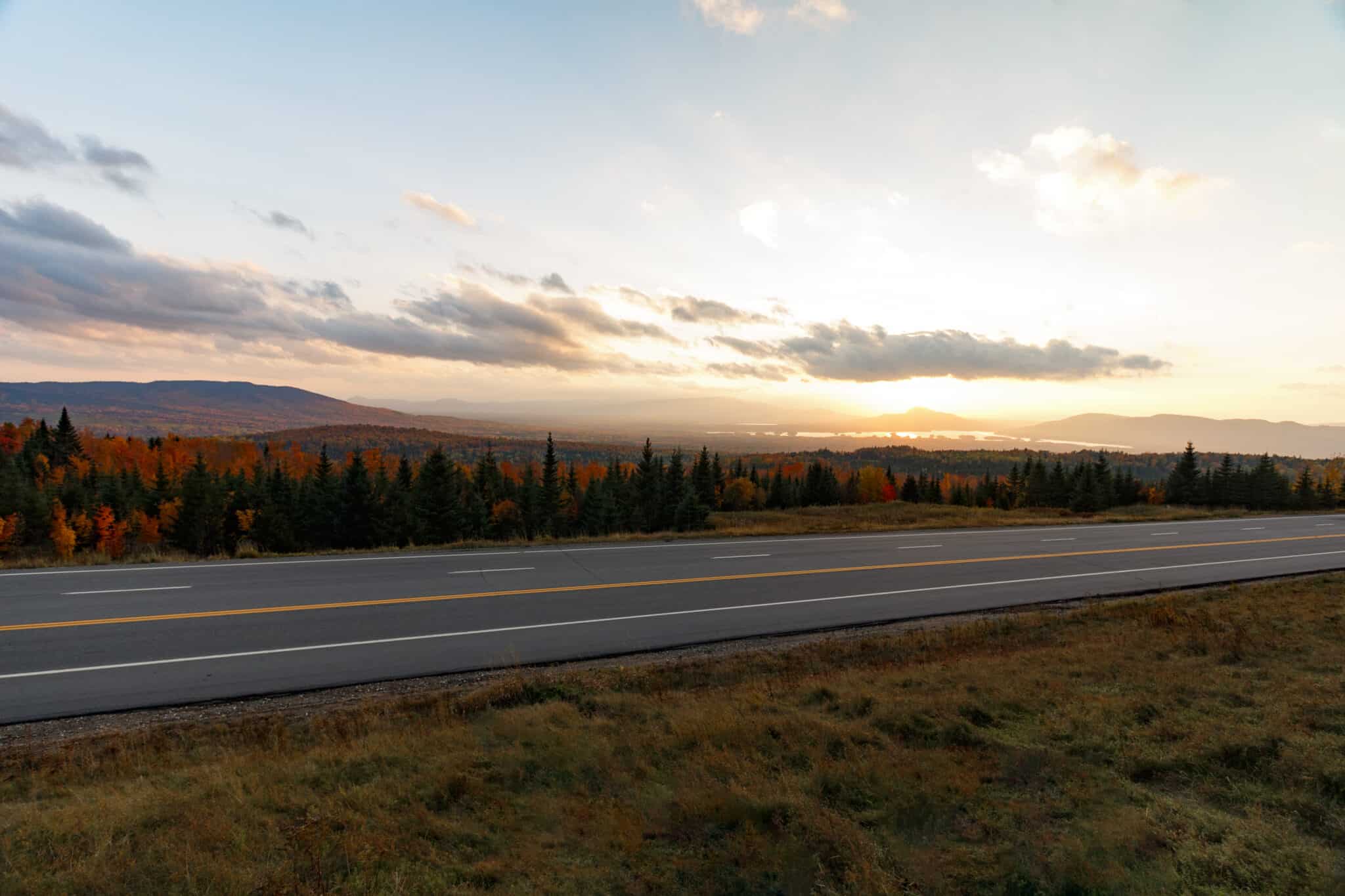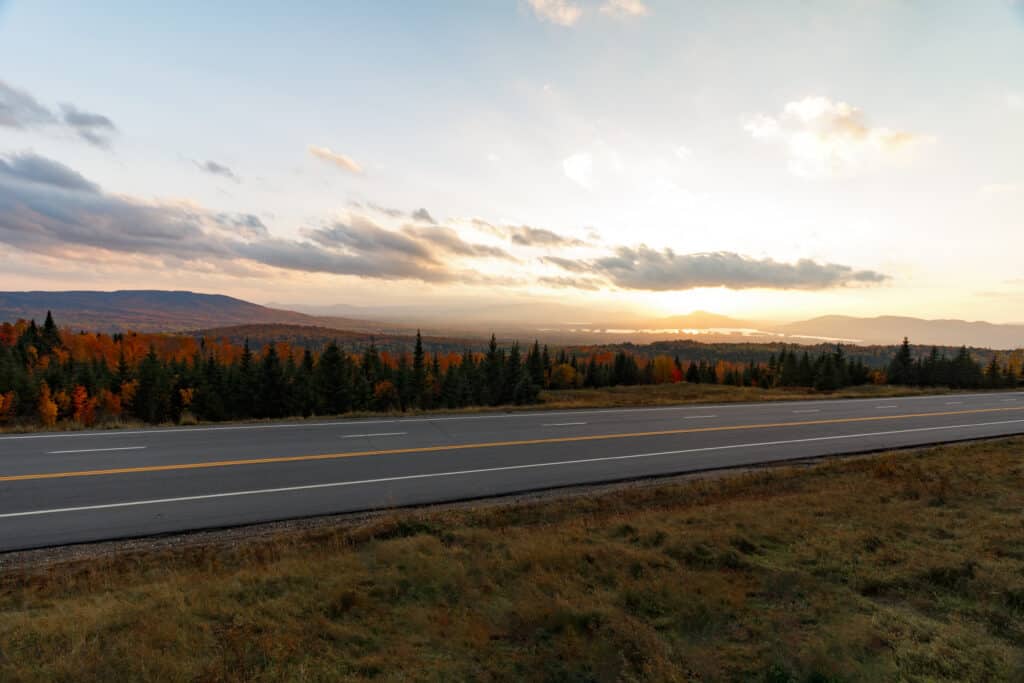 Cathedral Pines: Height of Land to Flagstaff Lake
There's a campground right off Route 27 in Eustis, Maine looking out over Flagstaff Lake and Bigelow Preserve's chain of moody mountains.
It's called Cathedral Pines and you'd be hard pressed to find a more appropriate name: towering pine trees line the road while vibrant underbrush pops with color and long autumnal light filters through as you wind around the back roads.
Carrabassett Valley is king in winter for Sugarloaf runs and cozying up to a fireside hearth with a hot toddy in a rustic chalet and some killer Maine scenery.

Nearby Rangeley Lake and Mooselookmeguntic Lake also have a wealth of winter options; ice fishing, snowmobile trails, and cross-country skiing to name a few. Between the rugged hiking during the warmer months—the Bigelow range and Saddleback Mountain, famously—and the beginning of ski season, a fall foliage drive ties together the areas year-round outdoor beauty.
Start south of Rangeley Plantation along Route 17 to one of the state's most well-known scenic vistas with an equally great name: Height of Land. You'll slowly but surely gain elevation as you wind your way North on Route 17, though just how much elevation won't be clear until this breathtaking view of Mooselookmeguntic Lake and the series of flows and streams forming Richardson Lakes.
Stunning cloud systems and dramatic mist formations often limn the view at this pull off, making picture perfect captures of Maine's woods and waters dressed up in autumnal hues; definitely a Maine scenic outlook you just can't miss!

Be on the watch for photogenic seaplanes along the coves and bays of Rangeley Lake as you drive by and be sure to check out the row of shops and restaurants on Route 4 before heading northeast towards Carrabassett Valley. With the world-class amenities build up around Sugarloaf and miles upon miles of hiking—including a beautiful but grueling section of the Appalachian Trail—the region around Flagstaff Lake has endless opportunities for fall fun to break up a foliage drive.
The Late Bloomer: Ellsworth to Cobscook Bay
Downeast Maine is an autumnal oddity—with so much coastal influence in its climate and a position far east of the rest of Maine, the fall foliage comes significantly later than the rest of the state.
Areas only 50 miles inland will often be far past peak while Downeast Maine sits pretty waiting to explode into color. That just gives you more time to plan a trip and take scenic Maine coastal drives while everyone else starts hitting the crowded spots in southern New England.
Ellsworth's slow transition from a town you simply had to drive through to get to Acadia into a commercial and retail hotspot is certainly complete. A perfect place to start any Downeast drive, you'll find plenty of cafes, bistros, breweries, boutique shops, and name brand retail clustered together conveniently. Stock up before amenities, gas, and groceries get much, much farther apart.
One note from locals: Acadia in the fall is a mixed bag. True, it's stunning and colorful, but it's also crushingly busy. If you've got the time and patience, go for it—but don't sweat it too much if you just keep driving.
The true crown jewels of Downeast fall drives comes a bit farther up Route 1 as the crowds die down and things get much quieter: check out Sorrento, Corea, Prospect Harbor Lighthouse, Steuben, Gouldsboro Bay, Harrington, and the Narragaugus River. The mix of deciduous trees tossing a colorful swan song while evergreen flora awaits the winter is a truly stunning roadside sight.
Eventually you'll hit Whiting and Edmunds and a worthy end point: Cobscook Bay State Park. An enormous tidal bay—ten miles long and ten miles wide—Cobscook is an important bird habitat and brackish biome that safeguards ecological diversity along a vast chain of islands, shallows, peninsulas, and open water.
Pitch a tent at the state park amongst the blossoming colors or crash at a quaint coastal cottage in close by Lubec or Eastport. Most tourists won't make it this far Downeast, so enjoy the quiet—and the autumn air mixed with salty breeze on these scenic roads in Maine.

Take it Slow: Portland to Camden
Scenic Maine coastal drives are often frustratingly crowded with tourists and traffic-lined streets in the height of summer, so the fall months are a great opportunity for a long, slow, leisurely drive up the coast. Maine's interior mountains tend to steal the foliage show this time of year, but the coastal expanse between Portland and Camden still has plenty to say in autumn if you're willing to listen on one of the top scenic drives from Portland Maine.

Just over the Portland town line, check out Mackworth Island for a quick nature walk with vibrant color and beautiful views. Other perfect pit stops along the way: Little John Island Preserve with its pristinely quiet loop just off of Pemasong Lane, Falmouth Town Landing for a gorgeous view of Casco Bay, and Wolfe's Neck Woods State Park if you're in the mood for a picnic or some crisp weather grilling.
You'll find a growing number of high-quality breweries north of Portland: Maine Beer Co, Bath Brewing, Sea Dog, Boothbay Craft Brewery, Oxbow Brewing, Flight Deck, Odd Alewives, and Rock Harbor to name just a few favorites! Some of Maine's loveliest little towns along this stretch of scenic driving are somehow even more charming in autumn colors: Damariscotta, Wiscasset, and Thomaston come to mind.
The larger towns—Rockland and Camden—are vibrant locales for art and culture with picturesque harbors. They're wonderful options to spend a night between leaf peeping outings. If those coastal drives loaded with tourists scare you off during the summer, try a fall foliage tour instead for better views and less stress. Those sought-after reds, yellows, and oranges look even more striking against Maine's shoreline.
Bonus Popular Scenic Roads in Maine
Acadia All American Road from Trenton to Acadia
Follow Route 3 into Bar Harbor and the Acadia Byway will take you through historic Bar Harbor and around Acadia National Park and several of its most popular tourist attractions, including all the fun things to do in Bar Harbor!
Grab a bite to eat at one of the top restaurants before driving into Acadia where you'll see the dramatic old-growth forests that are especially eye popping during autumn.
There's lots to ooh and ahh over on the Acadia Byway/park loop, but consider stopping at Sand Beach and Thunder Hole, two of the most popular tourist spots in Acadia. If you've got some time, consider exploring more of this gorgeous national park by taking a hike, going camping, renting a cabin, or booking one of the cool vacation rentals near Acadia!
Million Dollar View Scenic Byway from Danforth to Orient
This is the shortest scenic route in Maine on this list, but it deserves a spot. At just 8 miles long, it won't take long to discover why Million Dollar View Scenic Byway is considered to be one of the most beautiful byways in Maine!
Passing near the summit of Peekaboo Mountain, offering a little peek into some of this area's natural beauty.
Rangeley Lakes National Scenic Byway
Rangeley Lakes Scenic Byway is one of the most scenic routes in western Maine. Especially in the autumn months when the leaves are turning to their ruddy oranges and blazing golds, the sights that can be seen from the overlooks on this route are stunning.
The Pequawket Trail from Standish to Gilead
This 60-mile section of route 113 is pretty rural, with lots of lakes, rivers, and scenic views of the White Mountains! Notable stops along the way include a side trip to Sebago Lake via route 35, a pretty simple little hike to Steep Falls in Standish, just a bit up route 11, and Hemlock Covered Bridge in Fryeburg off route 302; this gorgeous covered bridge was built in 1867 and still holds up to traffic!
Some of the best drives in Maine are on this list, and if you're looking for other fall fun in Maine, check out some more ideas for things to do on your scenic fall foliage drive in Maine!
---
Read these next:
---
Pin to save for future travel planning!