Thinking of heading up to Maine's Acadia National Park? There's a reason why this park is among America's most visited: it's gorgeous, and there is lots to do. If you're starting to plan your trip, you may be ready to start organizing all the details. Where to stay, what to do, when's the best time to visit Acadia National Park?
If so, you'll want to head over to this post on creating an awesome Bar Harbor/Acadia itinerary, and we can help you figure out the best time to visit Acadia National Park.
Summer may be one of the most popular seasons to visit Acadia, with its spectacular coastline and summery vibes. And winter in Acadia has a certain magic, as well. But believe us, fall in New England is INCREDIBLE and nowhere may it be more fabulous than Acadia National Park. We highly recommend visiting Acadia in the fall, and here's why: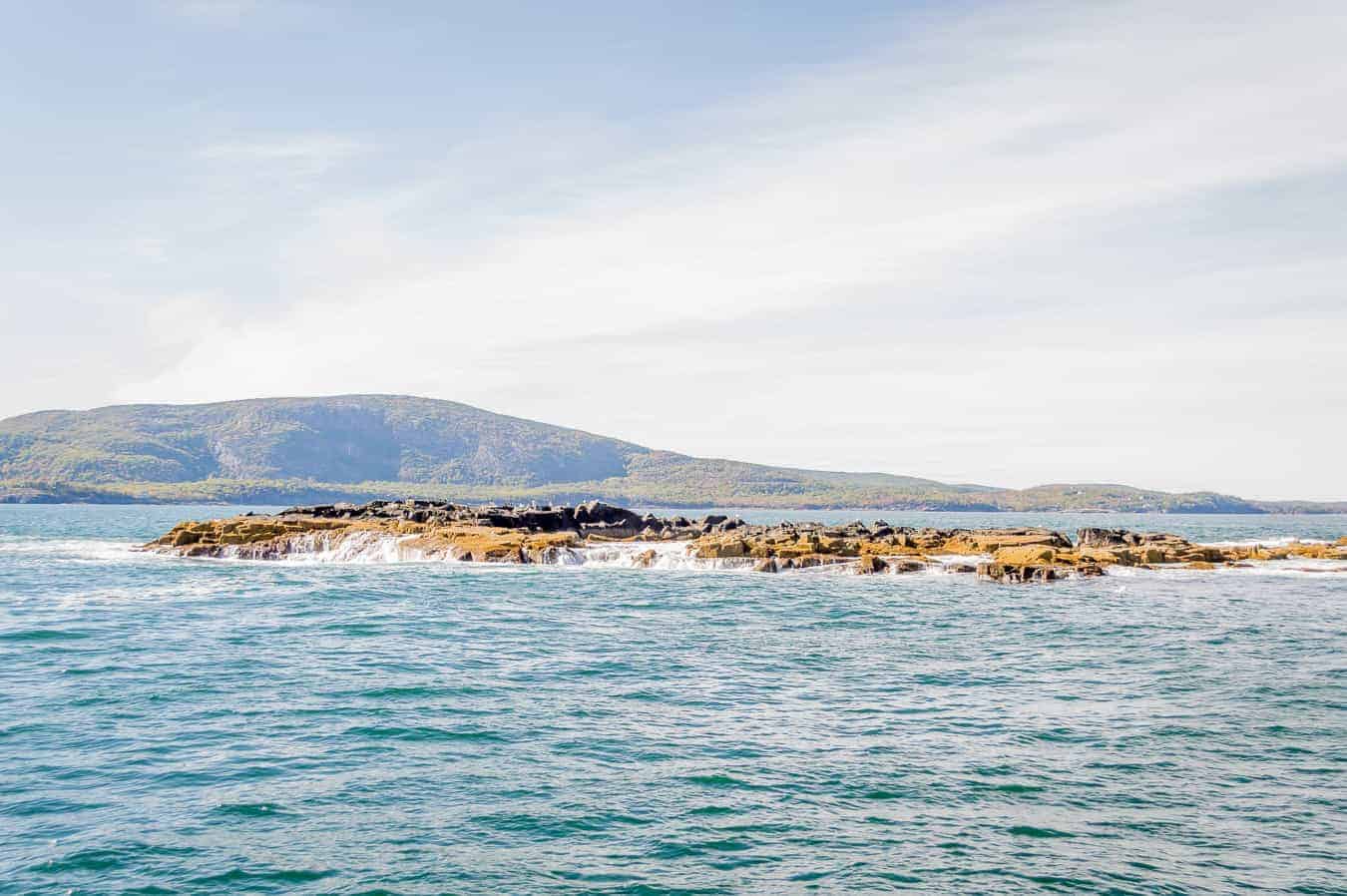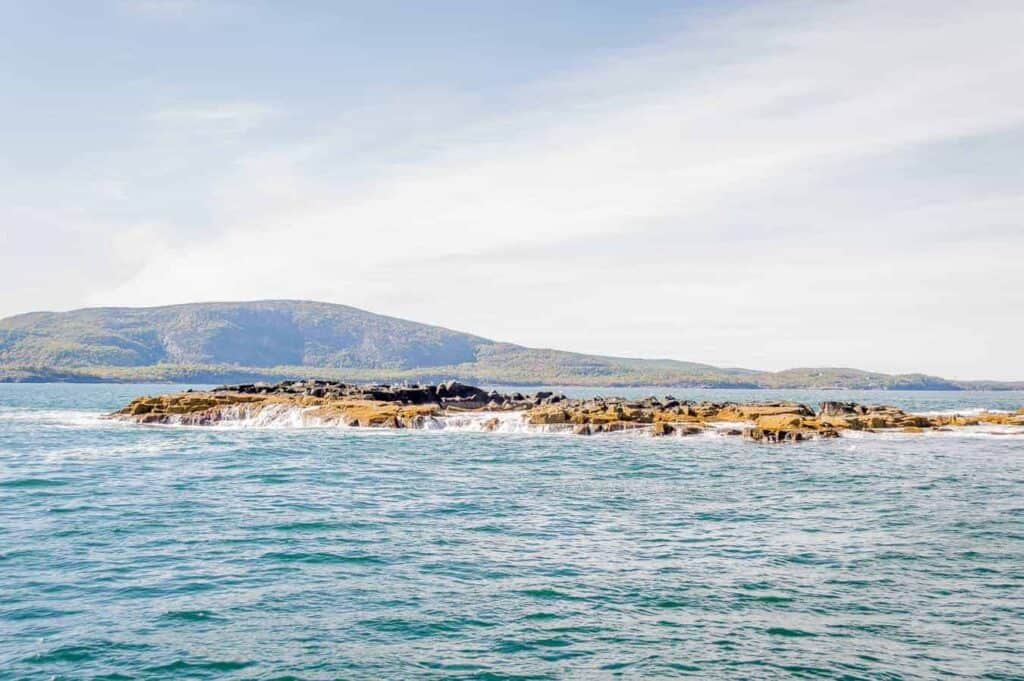 Why Fall is the Best Time to Visit Acadia National Park
Spectacular Acadia Fall Foliage
Clearly, the main draw of the autumn season in Maine is the lovely foliage that decorates the trees. Having lived in New England for more than 10 years, I can safely say that Acadia boasted some of the most awesome leaves I've ever seen. Bold reds, striking oranges…and all set against the backdrop of a rugged coastline. Acadia National Park is a breathtaking area, and it may be at its most very best in the fall.
It can be challenging to time your Acadia National Park visit just right, but even if you aren't in Maine during peak foliage, the surrounding weeks are pretty fantastic. Early to mid October is generally a safe bet for the vibrant colors you expect from a New England fall. You can stay up to date on Maine's current foliage conditions here.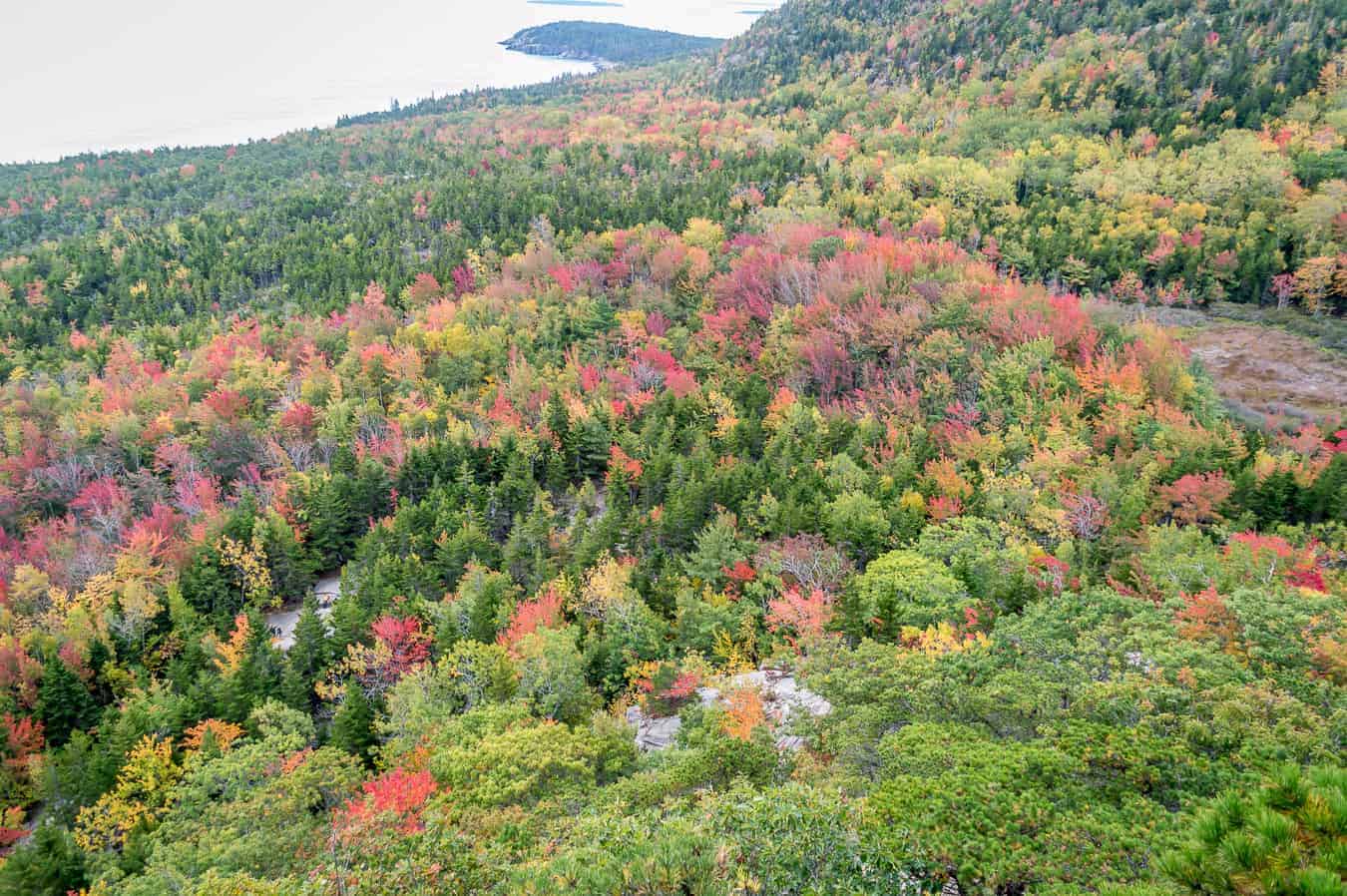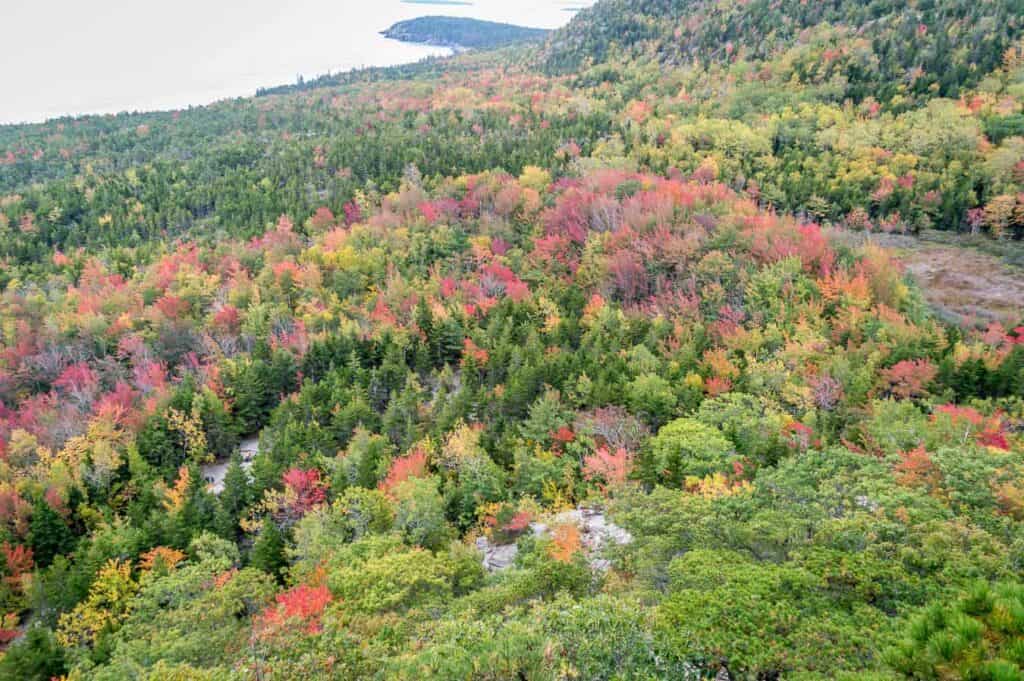 Somewhat Reduced Crowds
You may not be able to avoid crowds if you visit Acadia National Park in any of the best months. But during certain parts of the fall season you'll find that Mt. Desert Island is much more…well, deserted.
True, the peak of fall foliage in Acadia National Park does attract crowds, but these tend to be more weekend visitors. The height of summer is often Bar Harbor and Acadia's busiest time, all throughout the week. If seclusion is what you're after, try September (especially a midweek trip) before the leaves are at their most colorful.
Psst: Even if you encounter crowds in the region, it's easy to find private spots throughout the park. Many tourists don't stray off the beaten path, so by heading out on local hiking trails or simply exploring along the Park Look Road, you're very likely to find spots all your own.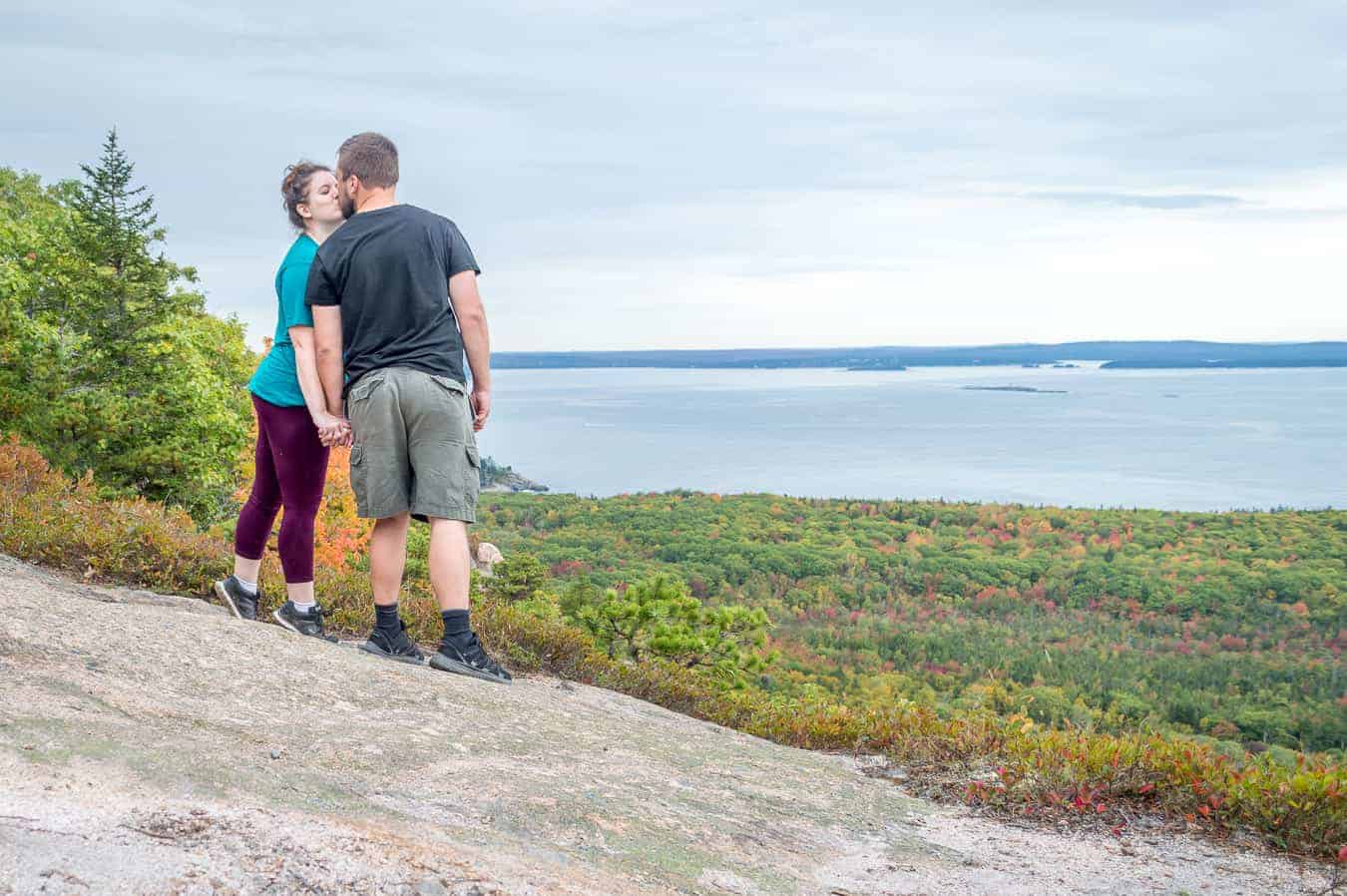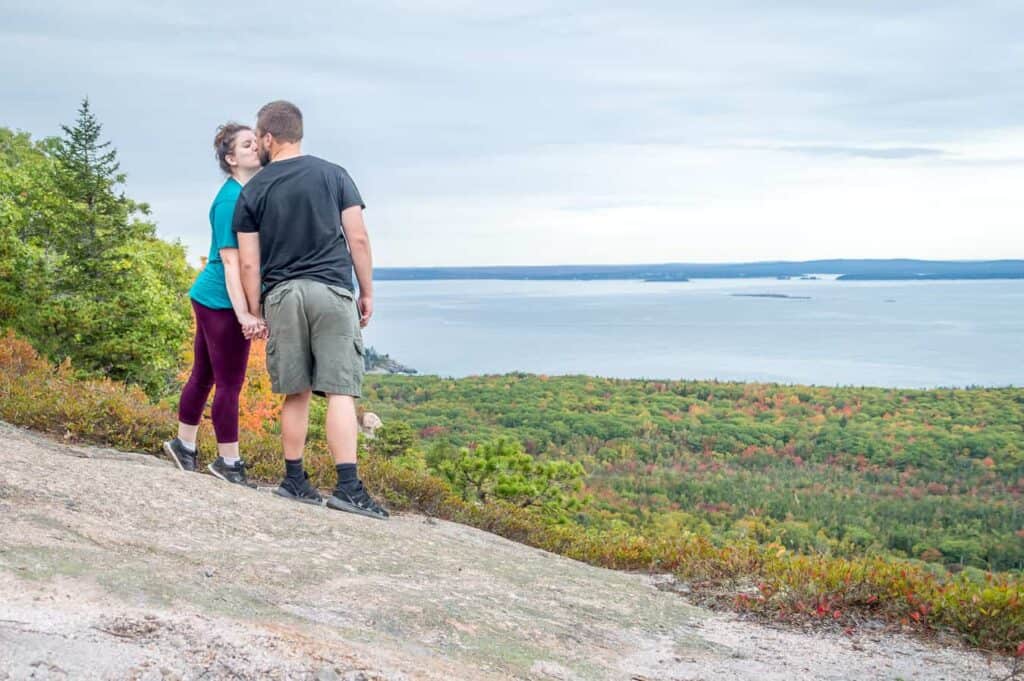 The Perfect Acadia Hiking Weather
Acadia is famous for it's exceptional hiking trails, and fall is the absolute best time to traverse them. The park has over 120 miles of trails, ranging from easy to strenuous. Even in New England, summer days can be hot. You can experience Acadia's best hikes in milder weather when you visit in the autumn. Pop on a light layer and head up those mountains!
Wondering where to hike? We loved The Beehive Trail. Find some other exciting options here: Acadia's Best Hikes as well as 12 of the Best Hikes in Maine to Add to Your Bucket List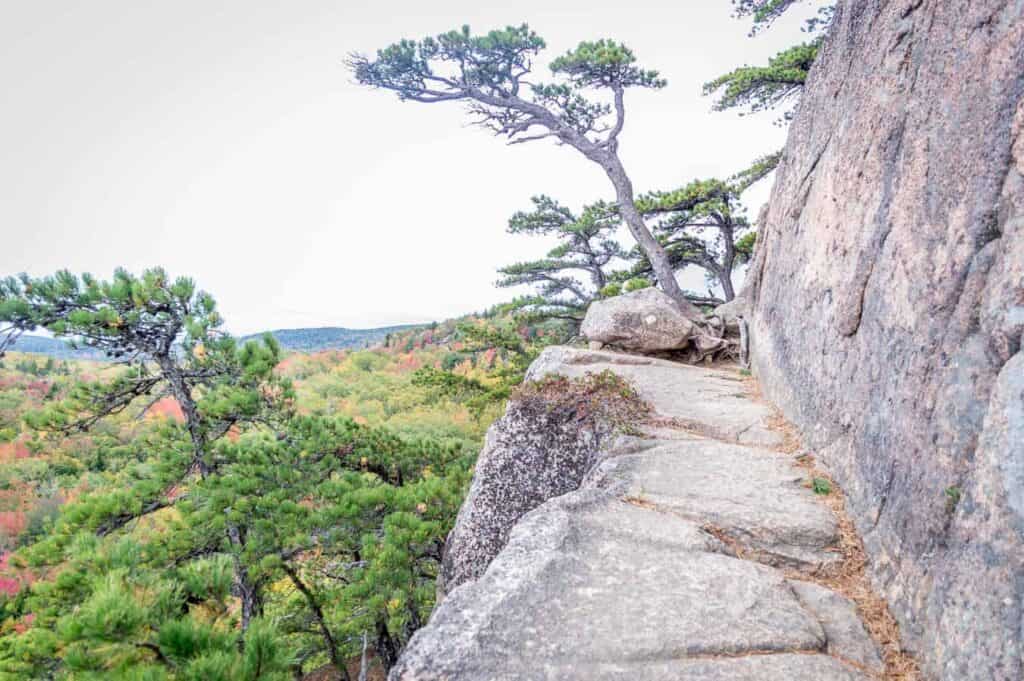 While you're exploring the park, be sure to stop by Thunder Hole. This is an awesome natural wonder that can create big waves and huge booming sounds. It is definitely worth a stop. The best time to visit Thunder Hole is approximately 2 hours before high tide.
Seasonal Maine Dishes & Cozy Restaurants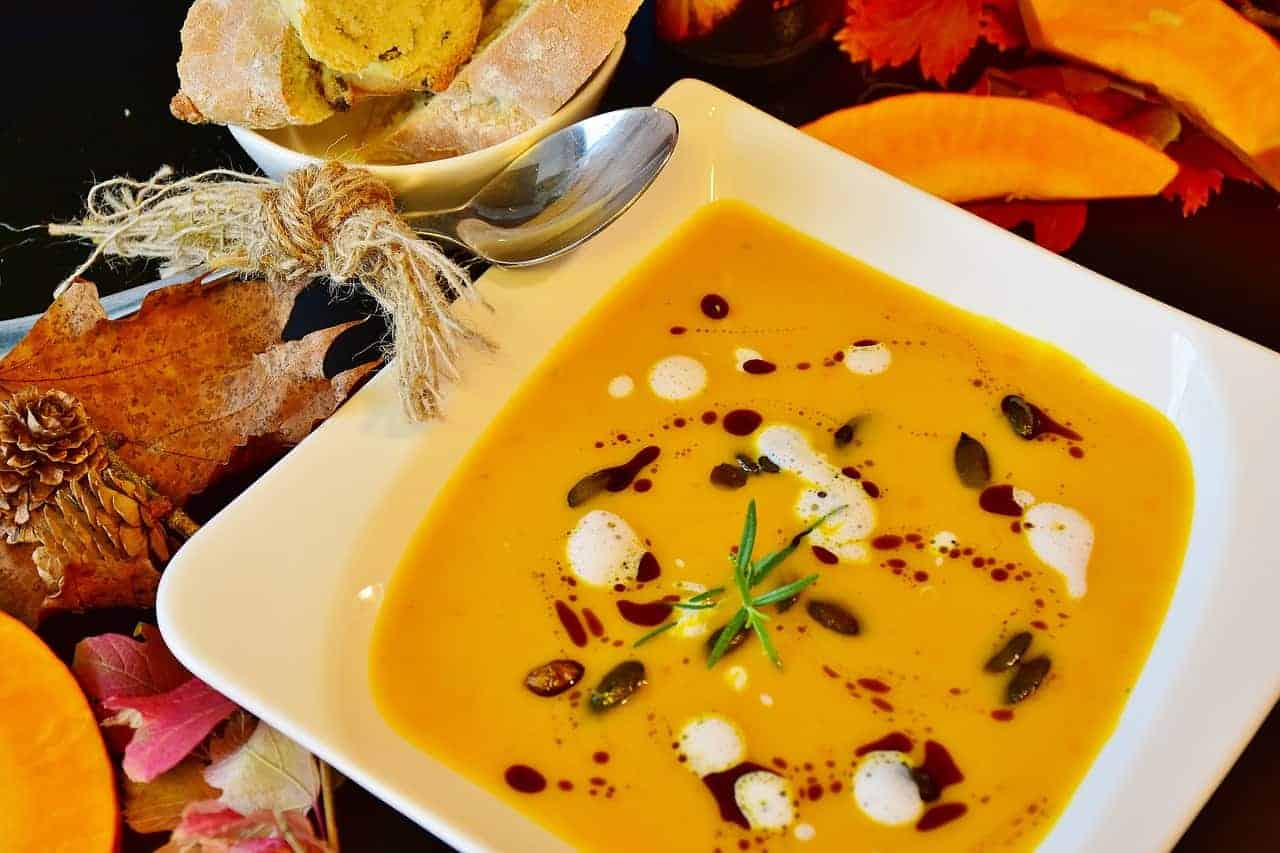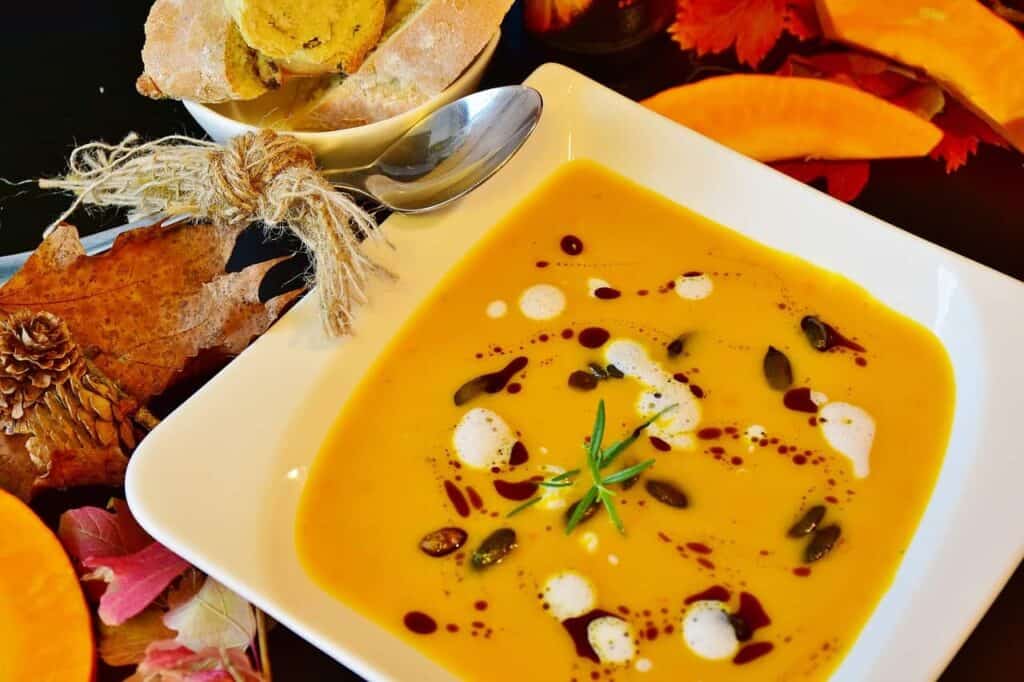 Maine is known for some great food: lobsters, blueberries, corn chowder, whoopie pies. And autumn, harvest time, is when the flavors really come alive. You can get your old favorites like a great big lobster dinner, or fried clams from an unassuming seafood shack. But is there anything better than tucking into a huge steaming bowl of chowder on a chilly fall night? Or how about enjoying the flavors of the season: pumpkin, squash, apples, etc? These find their way into many dishes both savory and sweet. Why not find a cozy seaside pub and have a fabulous meal? Fall food is the best in Acadia and beyond!
The Perfect Time to Camp in Acadia
You can camp in Acadia from May through October, so if you're planning a camping trip, early fall is the perfect time to visit Acadia. Not only will you be able to forgo the heat of summer, but those early fall nights are crisp, fresh, and perfect for snuggling up with your favorite person in a tent!
If you prefer to rent a cabin near Acadia, there are plenty of those to choose from, too.
Avoid Parking Hassles with the Island Explorer
The most popular times of the year to visit Acadia are June through September, so if you're planning your visit for the busiest times, consider leaving the car in town and using the Island Explorer shuttle service to get around.
This makes it so parking hassles won't take up any of your precious time exploring beautiful Acadia National Park!
The Acadia Night Sky Festival
Another reason to visit Acadia National Park in the fall is the annual Night Sky Festival. The festival takes place around the same time each year in September, and celebrates the glories of the skies in Acadia. This treasured place is one that has virtually zero light pollution, allowing the brilliance of the stars above to be seen clearly. The event is filled with star-gazing, of course, but offers a range of educational events too.
A Great Excuse to Relax in a Hot Tub
Finally, the last reason that autumn is the best time to go to Acadia National Park is because HOT TUBS! Now, I don't know about you, but we LOVE a good hot tub. It's relaxing, romantic, and just plain fabulous. With the jacuzzi jets soothing your tired muscles and the perfect water temperature, you're well on your way to bliss. And the best time of year to enjoy a hot tub? You guessed it–fall!
Now is when the air is chilly, the nights are clear, and the hot tub is a welcome retreat. And a few accommodations near Acadia National Park have hot tubs on their list of amenities! (We had a great stay at the Bar Harbor Inn, and took a morning dip in their outdoor hot tub. Read more about our stay here.)
Truthfully, whenever you go to Acadia, you're sure to love it. But if you go in fall, it's on a whole 'nother level. You can even download this self guided Acadia and Bar Harbor tour before you head out. Enjoy!
---
Read these next:
---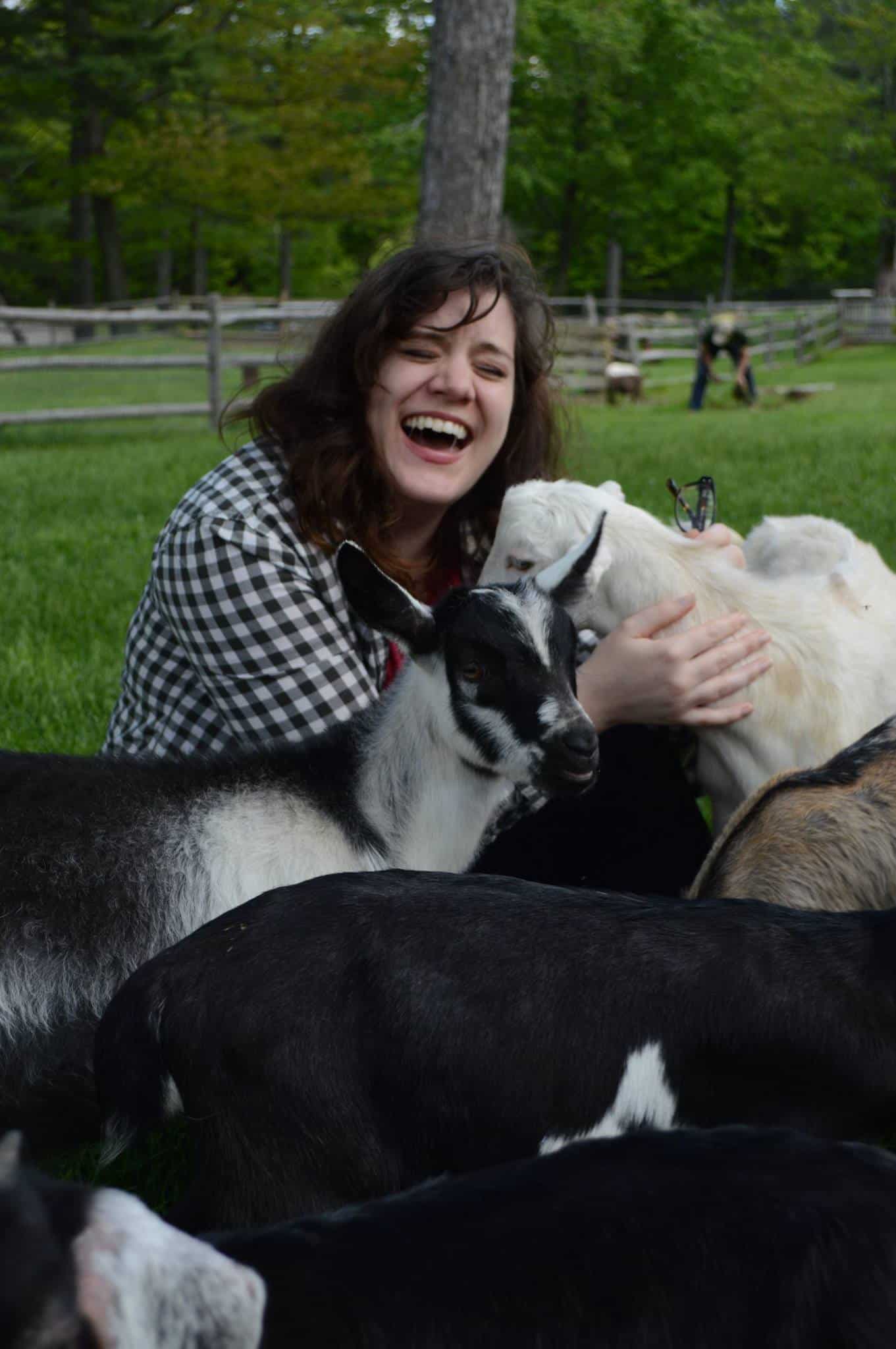 Amy Hartle is the founder and Editor-in-Chief of New England With Love, a comprehensive resource for travel in the New England region. Amy has been exploring New England since 2001. She lived in Vermont for many years and is a graduate of Plymouth State University in New Hampshire. On this site, Amy aims to share her love of New England and help you to have the best possible adventures!
Amy has been writing about travel for over a decade, and is a full time blogger, publishing both Two Drifters and Let's Adventure Baby. When not traveling the world or creating epic blog content, Amy can be found cuddling with her husband, son, and cats, & drinking a maple latte.