Why is a New England fall road trip such a bucket list item? Two words: fall foliage.
In this region of the east coast, vibrant orange, red, and yellow hues burst to life, and a crisp, refreshing climate rolls in between September and November.
It's no wonder that people come from far and wide to witness the incredible fall colors in New England.
Besides the picture-perfect autumn leaves in every direction, the orchards, fairs, and harvests create a cozy and memorable atmosphere you just won't find elsewhere.
And one of the coolest things about New England? Its tightly packed geography.
You can do and see a ton in such a small amount of time! This makes planning a New England fall road trip itinerary so easy and doable.
I've spent dozens of fall seasons in New England and if you're looking for the ultimate fall road trip in this region, I'd love to take you to my favorite spots where you'll see incredible views, find the most colorful of leaves, and feel entirely like you've stepped into an autumn storybook.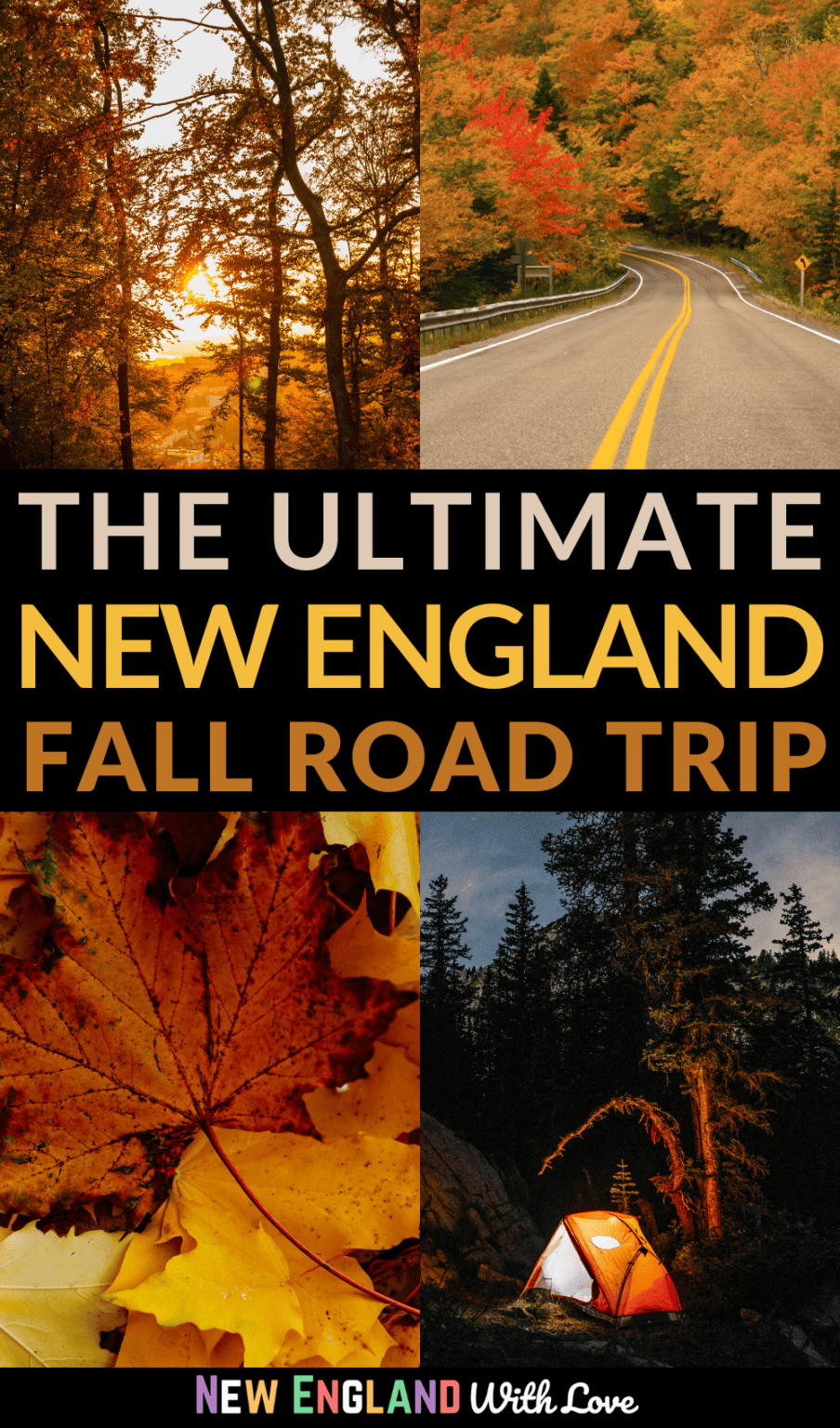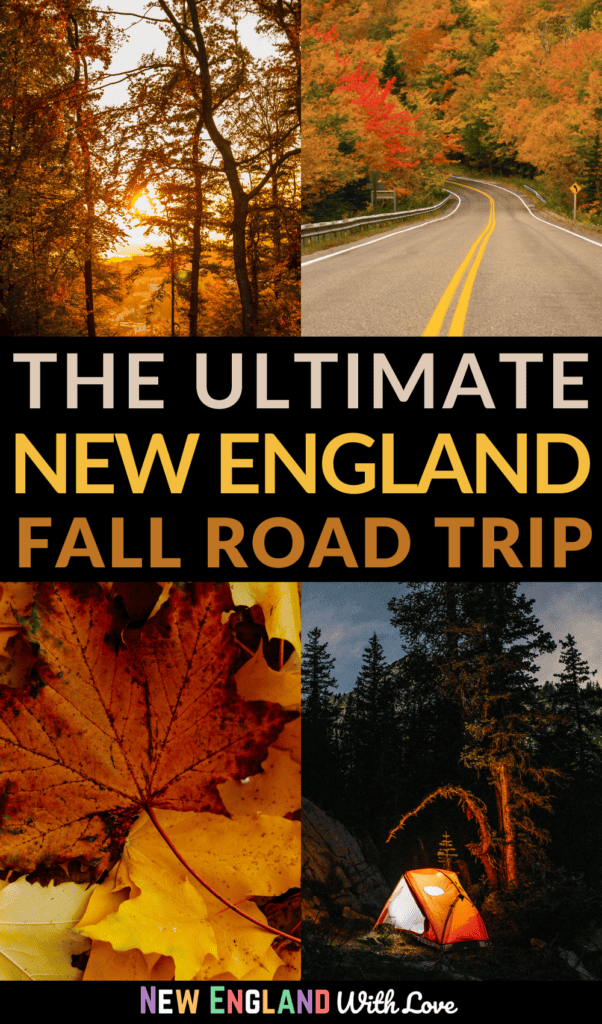 PS: Don't feel like planning on your own? Consider joining one of these guided New England fall foliage tours which will do all the heavy lifting for you.
Where Should You Go on a New England Fall Road Trip?
I want to start by saying that this itinerary is not comprehensive for all six New England states.
If you want to see ALL of New England, you'll need more time than what I've included here.
For a comprehensive regional journey, I suggest checking out my Ultimate New England Road Trip Itinerary. This flexible road trip is designed for any time of year, not just to highlight the fall foliage, and includes every single state in New England.
In this post, I've included options for a 10, 7, and 5 day New England fall road trip.
The itineraries I've put together focus largely on Vermont and New Hampshire.
These more northern, mountainous states are known across the globe for their outstanding fall colors, which is why the trip centers on this area.
But the southern New England states experience their share of gorgeous fall color as well. If time allows, I absolutely recommend venturing further into New England. Autumn's glory is found in every single corner of this region.
New England Fall Foliage Road Trip: Essential Info
Let's talk planning your fall road trip in New England.
You may be wondering: what is the best month for a New England fall road trip? When is the best time to visit New England for fall colors? When do the fall colors in New England peak?
Quick note about fall foliage in New England:
Foliage conditions vary each year due to that year's temperature, rainfall, and other factors. Some years have an earlier or later peak, or a more dramatic show of colors. Some foliage seasons are short, and some last a bit longer.
However, even with some variation, you can typically expect to see fall foliage in New England from early/mid-September through the end of October.
Peak foliage, when the leaves are at their best and brightest of the season, typically hits in early to mid October.
The foliage develops from north to south, with northern spots like Vermont, Maine, and New Hampshire generally experiencing "peak" before Massachusetts, Rhode Island, and Connecticut.
Yankee Magazine's Peak Foliage Map is a perfect visual representation of the fall foliage progression in the region, and you can follow this real time fall foliage tracker for the northeast here and plan your best driving route for fall foliage colors that way, too!
Planning Your Trip
Now that you know approximately when to road trip through New England, you'll have to decide how long your trip will be.
In my experience, 7 days is the perfect amount of time to explore. It gives you enough time to stop and visit a few destinations, while also allowing for flexibility as you go.
After all, driving is a big part of any road trip. You want to have plenty of time to take it slow, head off the beaten path, or even change your route.
It's a good idea to stay flexible on a trip like this, as you can't predict where the absolute best places for foliage will be, and sometimes, just heading a few miles over can make all the difference!
I've also created a 5 day itinerary as well as a 10 day itinerary, so you can easily customize your adventure to your needs.
Want to make your trip even longer? Go for it! You can use this northeast fall road trip itinerary as a starting point and expand as desired!
And if you only have a day or two, consider taking one of these scenic fall foliage drives. These shorter fall road trips around New England can be found in every single state.
🚗 Renting a Car: If you're flying into New England, you'll need to rent a car for this autumn road trip! I suggest checking out the best rates at Discover Cars.
Tips for Your New England Fall Road Trip
To have the best experience possible, here are some things to keep in mind:
Book Accommodation Early:

Make reservations for accommodations and popular attractions well in advance, as this is one of New England's busiest times of the year.

What to Wear:

The best advice for what to pack for fall in New England is to bring layers. Temperatures can fluctuate throughout the day, and you'll likely work up a sweat during any hikes or walks.

Drive with Caution:

It goes without saying that you should always drive carefully, but be aware that this busy tourist season often creates crowds and may even cause slowdowns on roads along popular "leaf-peeping" routes.

Camera and Binoculars:

Bring a quality camera to capture the stunning autumn landscapes, and maybe even binoculars for spotting wildlife. If you primarily use your phone for photos, like I do, don't forget a car charger!

Local Cuisine:

Don't leave New England without indulging in its fall culinary delights, including apple cider donuts, pumpkin pie, and hearty clam chowder.

Offline Maps:

Consider downloading your road trip routes onto your phone with Google Maps to be used offline, as cell service can be spotty, especially in the mountains.

Respect Nature and Wildlife:

Admire the scenery while being mindful of the environment; practice leave no trace principles and respect wildlife habitats.

Road Trip Safety Essentials:

Pack a first aid kit, flashlight, extra water, blanket, and snacks in case of unforeseen circumstances. It's always smart to be extra prepared for a road trip.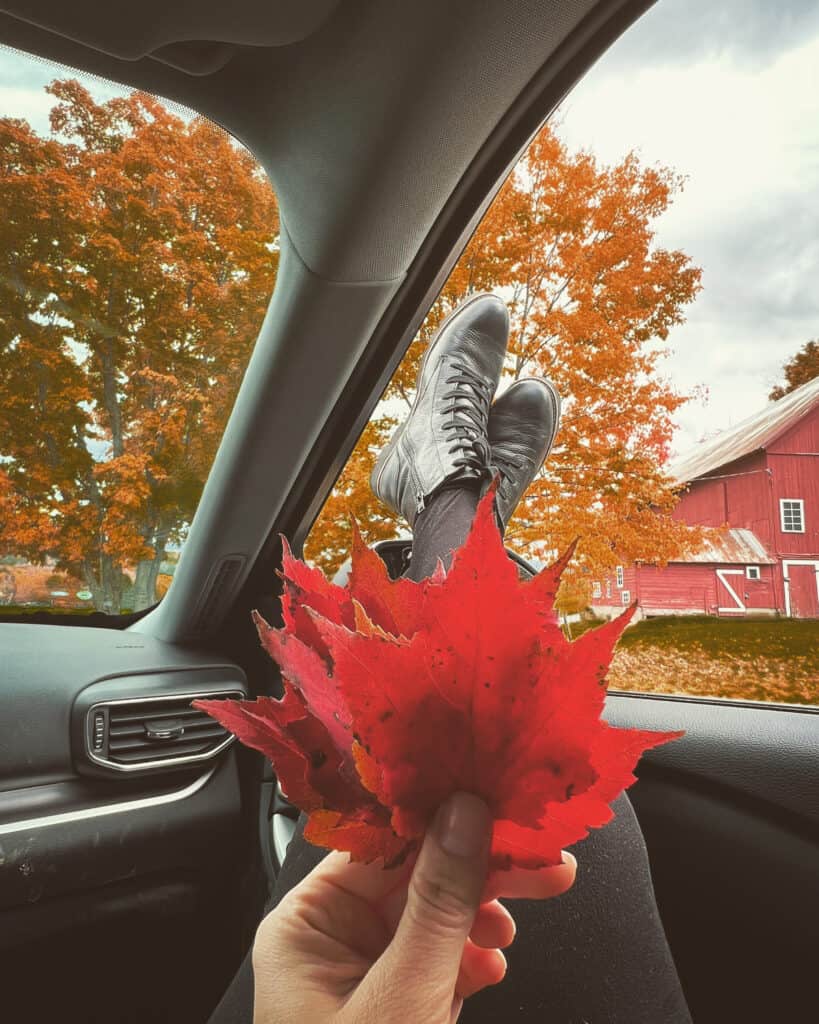 7 Day New England Fall Road Trip Itinerary
Now let's dive into the details: where will this New England fall foliage road trip take you?
The main itinerary I'm going to share in this post is this: a one week New England fall road trip. Later, you can read my variations, which offer options for both shorter and longer road trips.

We're going to start this road trip in Boston, which, with its massive Logan International Airport, is the most logical starting point for someone visiting New England from elsewhere.
But don't skip Boston, if you have time! It's a classic, deeply historic New England destination that is absolutely worth a visit at any time of year.
I highly recommend spending a few days exploring Boston before or after your road trip.
Resources for Exploring Boston:

⚓Essential Things to Do in Boston for First Timers
⚓One Day in Boston: An Itinerary
⚓Fall in Boston: Where to Go and What to Do
Day 1: Boston MA to North Conway NH
Jump in your car and head out of Boston north toward New Hampshire. Your road trip has begun!
After your scenic drive, arrive in North Conway and check into your cozy lodging. I suggest any of these charming cabins in the White Mountains, many of which are near North Conway, or these Airbnb options.
Drop off your bags and head straight downtown for some exploring.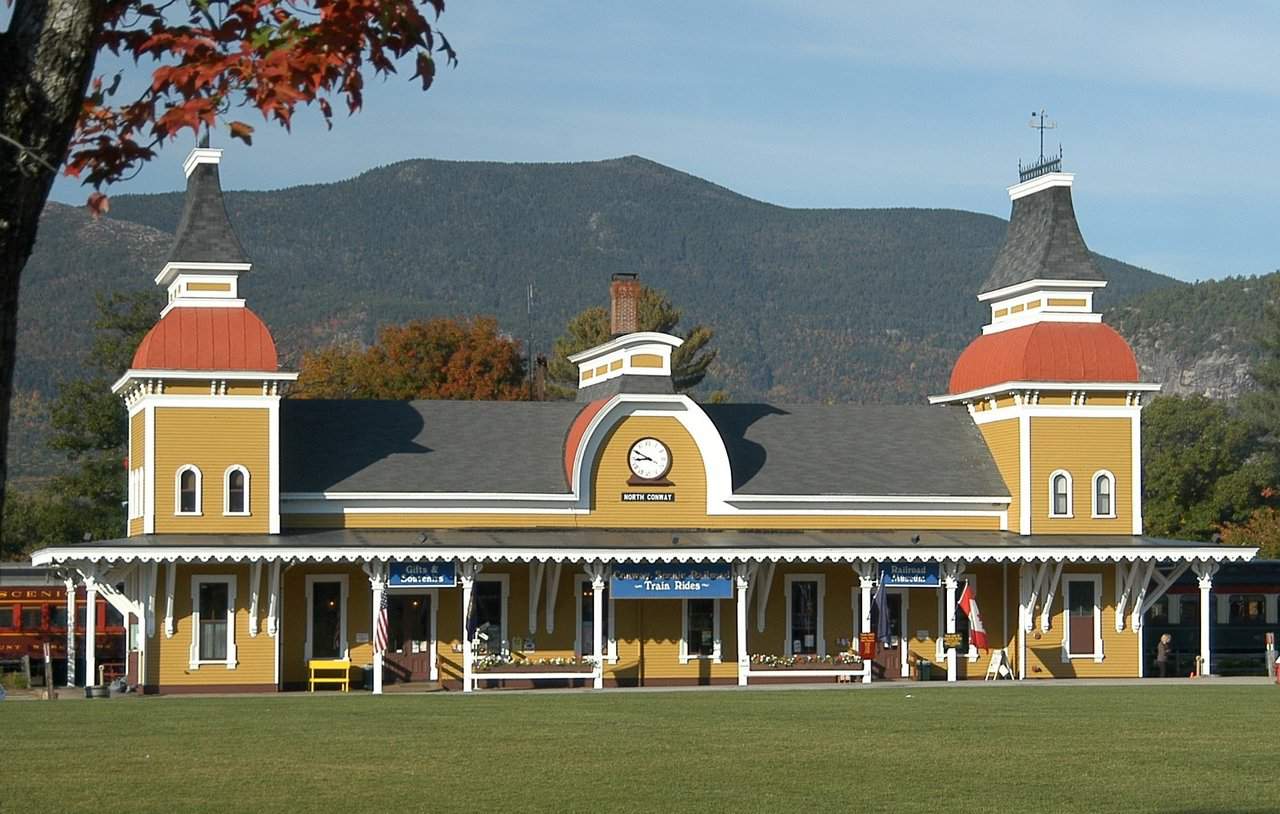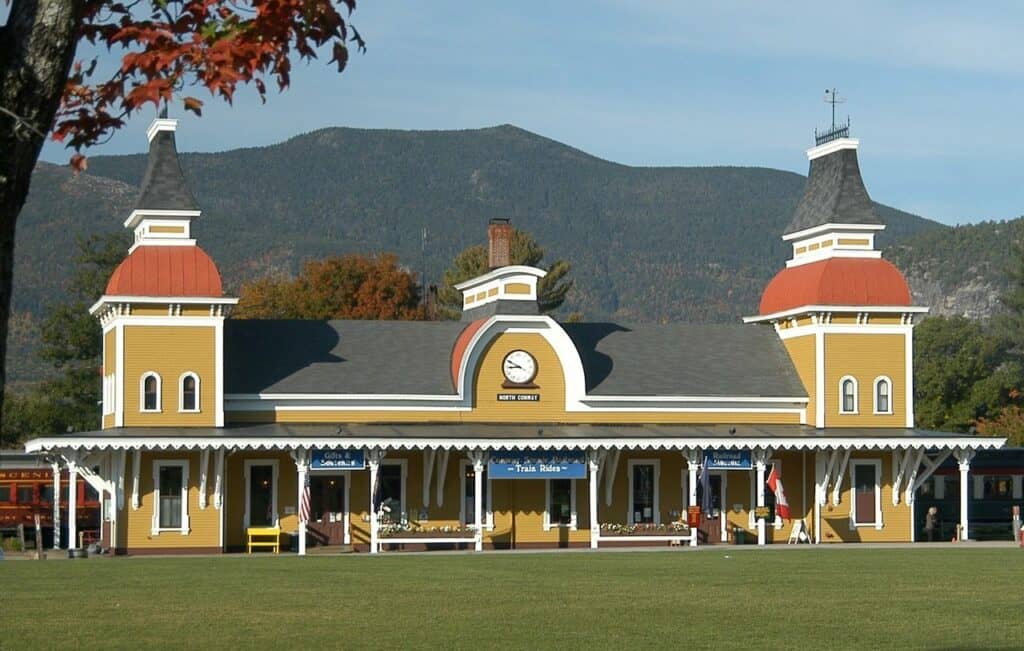 Check out the charming boutiques, art galleries, and specialty stores that make up North Conway Village. Don't miss Zeb's General Store, a local institution since 1990, where you'll find a classic, old-fashioned general store bursting with unique souvenirs and gourmet goodies.
When hunger strikes, hit up Moat Mountain Smoke House & Brewing Co. for some hearty comfort food and a refreshing craft brew. Enjoy the rustic atmosphere and live music as you unwind from your journey.
Then hit the hay and get ready for another busy day tomorrow.
Resources for exploring North Conway & Nearby:

🍁15+ Best Things to Do in North Conway NH
🍁Best Restaurants in North Conway
🍁15 Fun Things to do in Jackson, New Hampshire
Day 2: North Conway NH
Fuel up with a hearty breakfast at Peach's Family Restaurant, where the portions are as generous as the smiles.
Of course, it's fall in the White Mountains: this place is likely to be packed! Go as early as possible to avoid the crowds of other hungry travelers.

Now, it's time to conquer the outdoors! You have a few options today for adventuring in North Conway and the surrounding areas.
Cathedral Ledge: Consider a hike up Cathedral Ledge in Echo Lake State Park. It's a relatively short hike that rewards you with breathtaking views of the surrounding valleys and White Mountains.
Diana's Baths: Alternatively, opt for the enchanting Diana's Baths, a series of cascading waterfalls and pools accessible via a family-friendly hike. These look especially lovely surrounded by the New Hampshire foliage
Black Cap Trail: If you're looking for a bit more of a challenging hike, tackle the Black Cap Trail, offering panoramic views from the summit.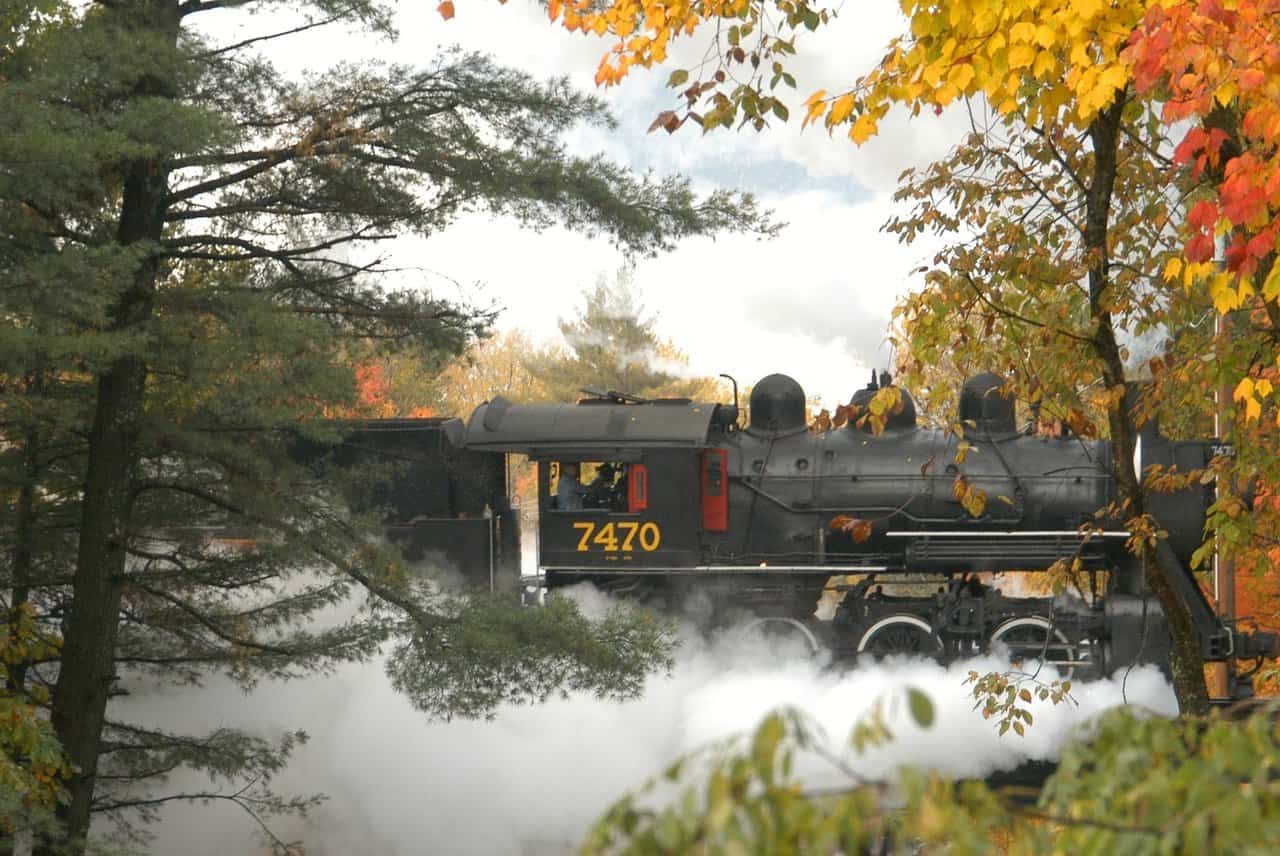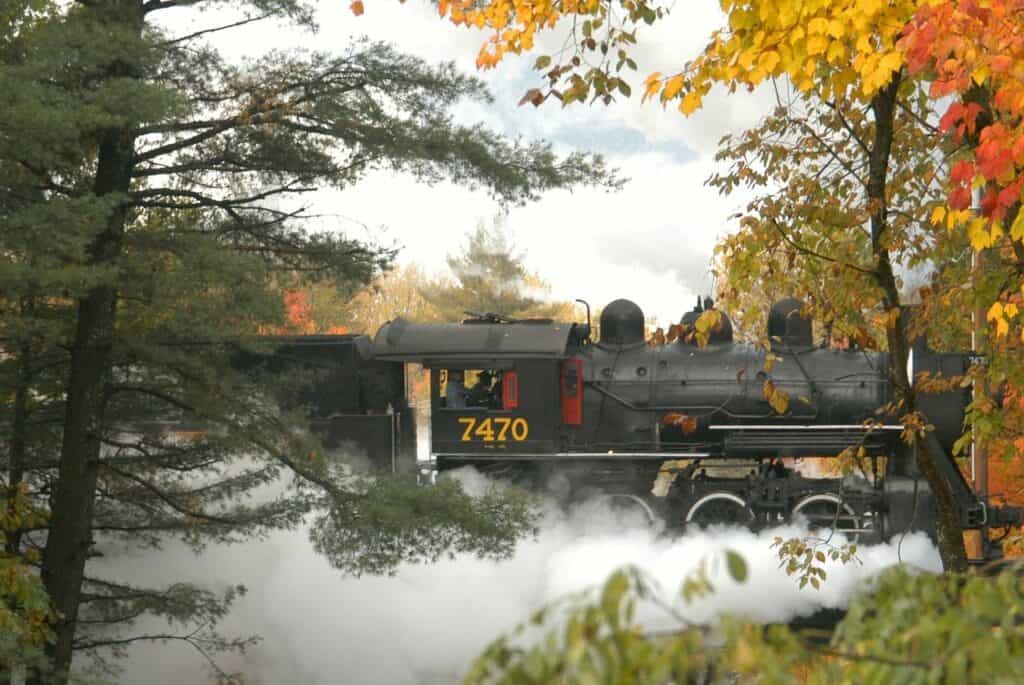 Later, hop on board on the Conway Scenic Railroad. This vintage-style train offers a leisurely ride through picturesque landscapes, perfect for enjoying the fall foliage from a unique perspective.
The Conway Valley Train is a 55-minute scenic ride, so is ideal for those traveling with kids or who want a quick and cool experience. The railroad also offers longer more extensive fall foliage train journeys. Definitely worth checking out!
In the evening, treat yourself to another delightful dinner at a local favorite or try a new spot for some diverse flavors.
On a past trip to North Conway, my husband and I really enjoyed May Kelly's Cottage, a tavern serving traditional Irish dishes.
Day 3: Kancamagus Highway to Franconia Notch State Park
Another amazing fall day in the White Mountains awaits you!
Today, you'll depart North Conway westward along one of New Hampshire's most iconic roads: the scenic Kancamagus Highway.
Known locally as "the Kanc", this 56 mile, 2-lane mountain highway (also known as the Kancamagus Scenic Byway) is particularly breathtaking in the autumn, as the leaves transform into their vibrant splendor.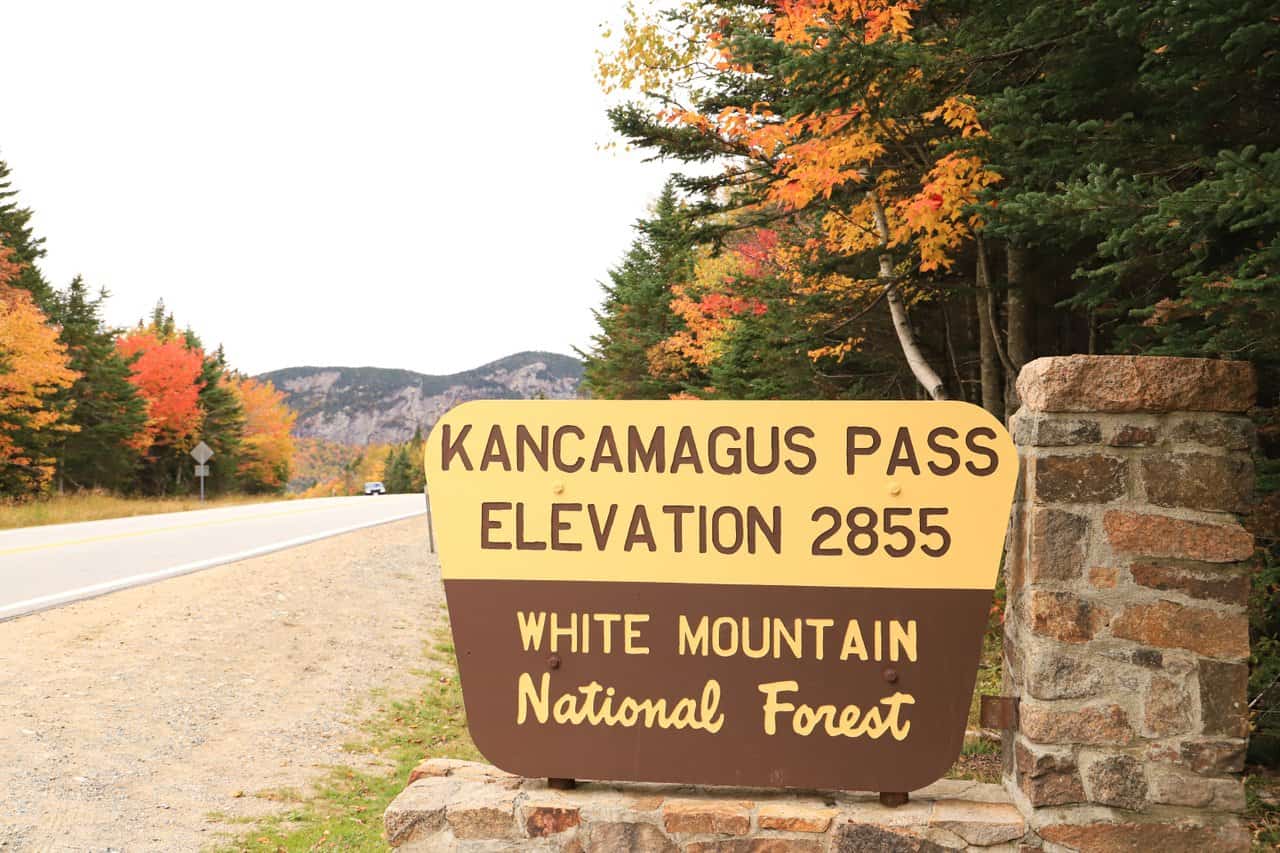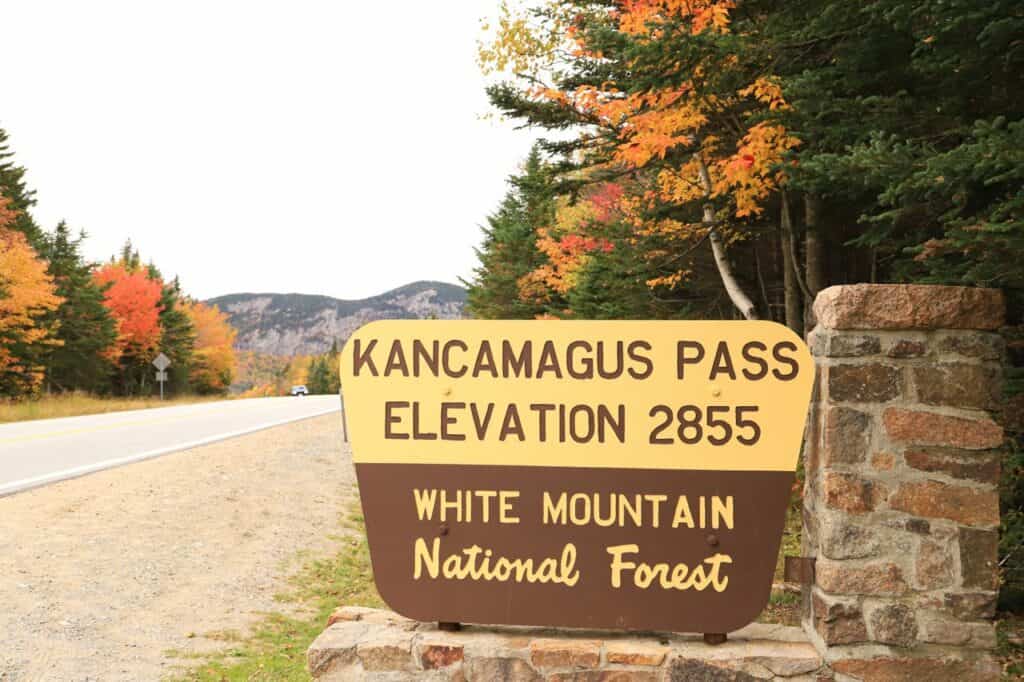 While you could easily drive the entirety of the Kancamagus in approximately an hour, you will absolutely want to take your time.
There are numerous places to stop along the way, including scenic overlooks where you can grab a quick photo or trailheads where you can embark on a hike.
One of the first spots you'll come across heading out of Conway is Albany Covered Bridge. There is a parking area here (a great opportunity to pay for your $5 White Mountain National Forest day use pass).
Take one of the trails along the sides of the river to view the bridge, or if you desire, you can climb out onto the large rocks in the river to grab an iconic NH covered bridge photo.
You'll also definitely will want to stop to check out Sabbaday Falls.
This pretty waterfall can be reached via an easy, flat, well-trodden 0.5 mile hike. It should take about 15 minutes, which makes it a small effort for a big payoff.
After all, there's nothing like a gorgeous New Hampshire waterfall at the height of fall foliage.
Tips for Driving the Kancamagus in Fall:

🍁This route is popular for good reason, so expect crowds. Take your time driving and watch carefully for pedestrians.

🍁When you stop for photos, etc, make sure you're in designated parking areas safely off the road. Be aware of the many cars on the highway and stay off the roads when on foot.

🍁Fuel up before leaving North Conway (or Lincoln, if coming from the opposite direction) as there are no gas stations or other amenities along this route.
You'll have reached the end of the Kancamagus Highway when you arrive in the town of Lincoln. This is a smart place to stop for lunch before continuing on to explore in Franconia Notch State Park.
Franconia Notch State Park
Franconia Notch State Park is one of the crown jewels of the White Mountains. This destination is a testament to the diverse beauty of the Granite State, where rugged peaks, serene lakes, and dense forests come together to create an awe-inspiring landscape that draws thousands of visitors each year.
Head first to the Flume Gorge, an other-wordly natural gorge that features a boardwalk path through towering granite walls and past cascading waterfalls. Add to the scene fall foliage, and you've basically entered Tolkien's Rivendell.
You should allow around 2 hours to explore Flume Gorge in all its winding angles.
Please note there is an entry fee for Flume Gorge, and you'll save a couple bucks if you book in advance here.
After this busy and active day, you deserve a good meal! I've got lots of suggestions in my list of best Lincoln restaurants.
Then it's time to rest your head.
You will probably love this amazing spot: Lumen Nature Retreat. This is a new glamping site located in nearby North Woodstock, and it's an ideal place to stay in the fall, right in the heart of nature.
Some of their cozy cabins offer massive windows to look out onto the surrounding trees. Or, you can go even more rustic with tent glamping.
I'll be staying at Lumen this fall for the first time, and I can't wait to come back and tell you about it! I'll definitely be sharing my thoughts here.
Day 4: Franconia Notch to Stowe VT
Get an early start today as you're off to see Artist's Bluff, a popular hike that ends in an absolutely spectacular view.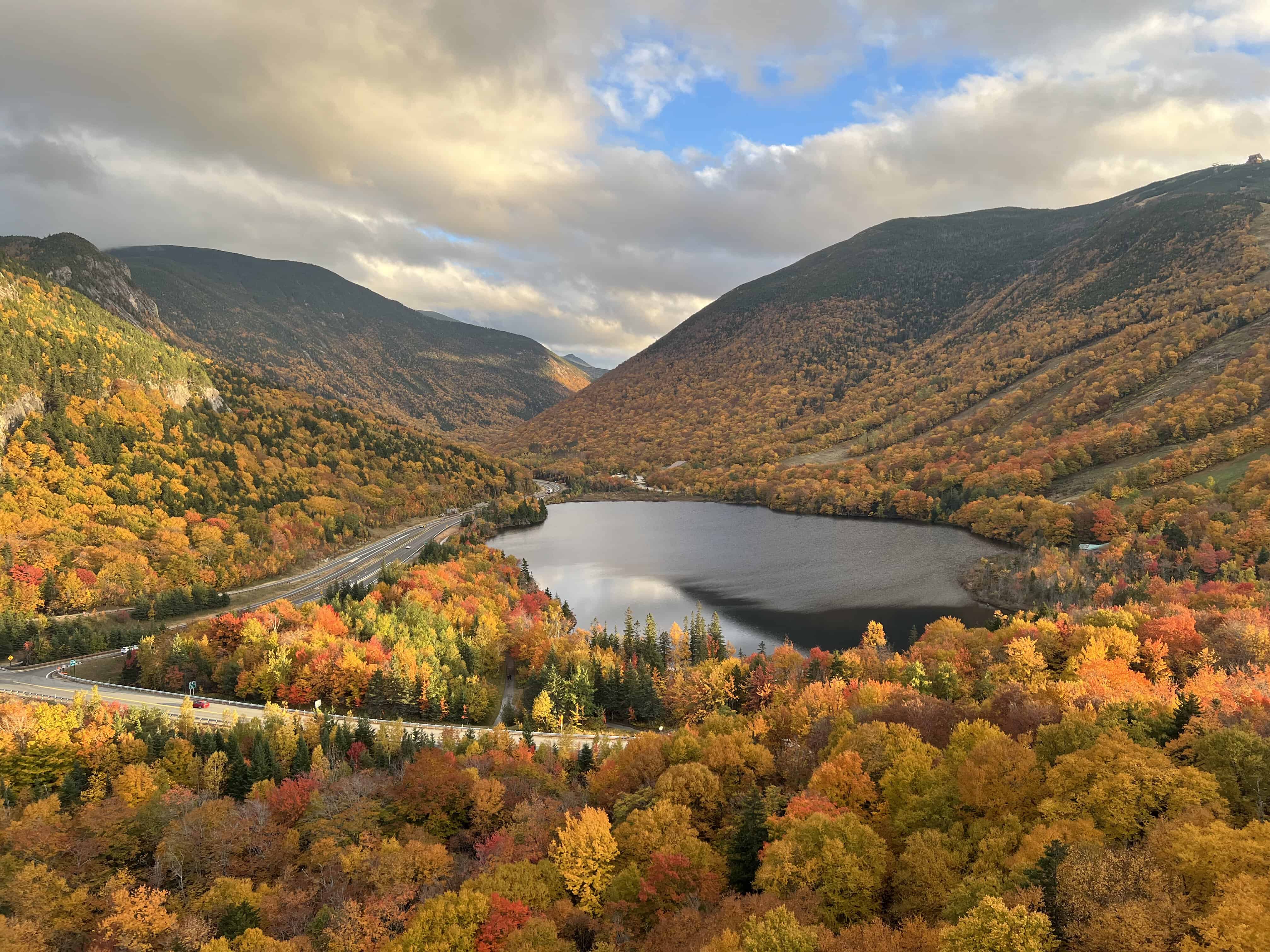 The trail starts in the large dirt parking lot off Rt 18 across the street from Cannon Mountain Ski Resort and heads steeply uphill. While the moderately-rated trail is relatively short, it is steep and robust, with some spots being a bit rocky.
You can expect to be a bit breathless by the time you reach the viewpoint overlooking Echo Lake.
Most hikers recommend starting the trail heading towards Bald Mountain, so tackling the trail clockwise. In the busy fall season, this may be a good option for avoiding the throngs that are heading straight up to the lookout counterclockwise.
Continue to Stowe
Let your GPS guide you on the road trip to Stowe, but try to avoid highways if you can. In my experience, it's those slower, back roads that give you unexpected, amazing foliage views.
In fact, I've seen some incredible foliage along Route 2 near Danville while driving between these two destinations. That is an excellent road to consider taking.
All told, your drive to Stowe will take approximately an hour and a half, without including stops.
Check into your Stowe hotel (Field Guide is great) and get ready to explore a bit of Stowe's adorable Main Street.
Welcome to a quintessential New England town, the kind whose image is the subject of countless Vermont postcards and paintings. (In fact, Stowe's white-steepled Community Church is among the most photographed buildings in Vermont).
As you explore the small, walkable Main Street and side streets, you'll discover a terrific blend of local businesses that showcase the heart and soul of this picturesque town.

Small art galleries, a cozy coffee shop, an old-fashioned mercantile, and a well-stocked independent bookstore are among the shops you'll want to visit as you explore downtown Stowe.
Don't miss Shaw's General Store, which not only epitomizes the classic New England general store but has done so since 1895!
When dinner hour approaches, head to Doc Pond's. It's a laidback restaurant with friendly vibes that is loved by locals and tourists alike. And if you're staying at Field Guide, it's just down the road.
Day 5: Stowe VT & Waterbury VT
It's a beautiful day to take a hike in Stowe! There are numerous hiking trails in the Stowe area to choose from, but for this itinerary I recommend the Sterling Pond trail for a moderate 2 mile hike that ends at a glistening lake.
To get to the trailhead for this hike, you'll have to drive up Mountain Road and into Smuggler's Notch. This road becomes very narrow and extremely windy in the heart of the Notch, so while it's absolutely awesome to check out, be sure to drive slowly and with caution.
And don't try it with any kind of motorhome or RV!
After your hike, head back in the direction of town and stop at Stowe Mountain Resort. Although there's no snow this time of year, so skiing is out, you can still enjoy the peaks on a gondola ride!
The famous bright red Stowe Gondola SkyRide takes you to the top of Mount Mansfield, which is the highest peak in Vermont.
The ride up offers splendid views over the colorful trees. Once you're at the top, grab lunch at The Cliff House or The Waffle, two eatery options.
Now, it wouldn't be fall in New England if you didn't add some spookiness into the trip! in the Stowe area, you can visit one of Vermont's classic covered bridges with a possibly haunted history!

Emily's Bridge, also known as Gold Brook Covered Bridge, is a small covered bridge located on Gold Brook Road, off of Route 100, just south of Stowe village.
According to legend, Emily was supposed to meet her lover at this bridge so they could run away together. But he never showed, and Emily sadly took her own life that night at the bridge.

Rumor has it that Emily's spirit may still haunt the bridge today, and reports of scratches on cars, lights flashing, and other weird happenings just might support that theory.

Whether you believe in ghosts or not, this is still a beautiful example of Vermont's covered bridges and well worth seeing-especially in the fall.
Wind up the rest of your day with a sampling of craft brews and dinner at the Trapp Brewery & Bierhall after enjoying views of Stowe from the grounds at The Trapp Family Lodge.

Not in the mood for pretzels, spaetzle, and schnitzel? You might prefer to cozy up at family-owned, classic Italian restaurant Trattoria La Festa. Find more of the top-rated Stowe restaurants here.
More Resources for Exploring Stowe:

🍁 20 Best Things to Do in Stowe Vermont: Local Recs for All Seasons
🍁 15 Gorgeous VRBO & Airbnb Stowe VT Vacation Rentals
🍁 11 Best Hotels in Stowe Vermont: Where to Stay in Stowe
Day 6: Stowe VT to Woodstock VT
Today you're leaving one gorgeous Vermont small town for another. These two destinations are definitely my top recommendations for visitors to the Green Mountain State.

The road trip from Stowe to Woodstock is a fairly short one distance-wise, but you can make sure to capture the best possible foliage views by taking Route 100 south. There are also 2 essential places to stop along the way.
The first stop is the Cold Hollow Cider Mill, a Vermont fall necessity that you're going to absolutely love.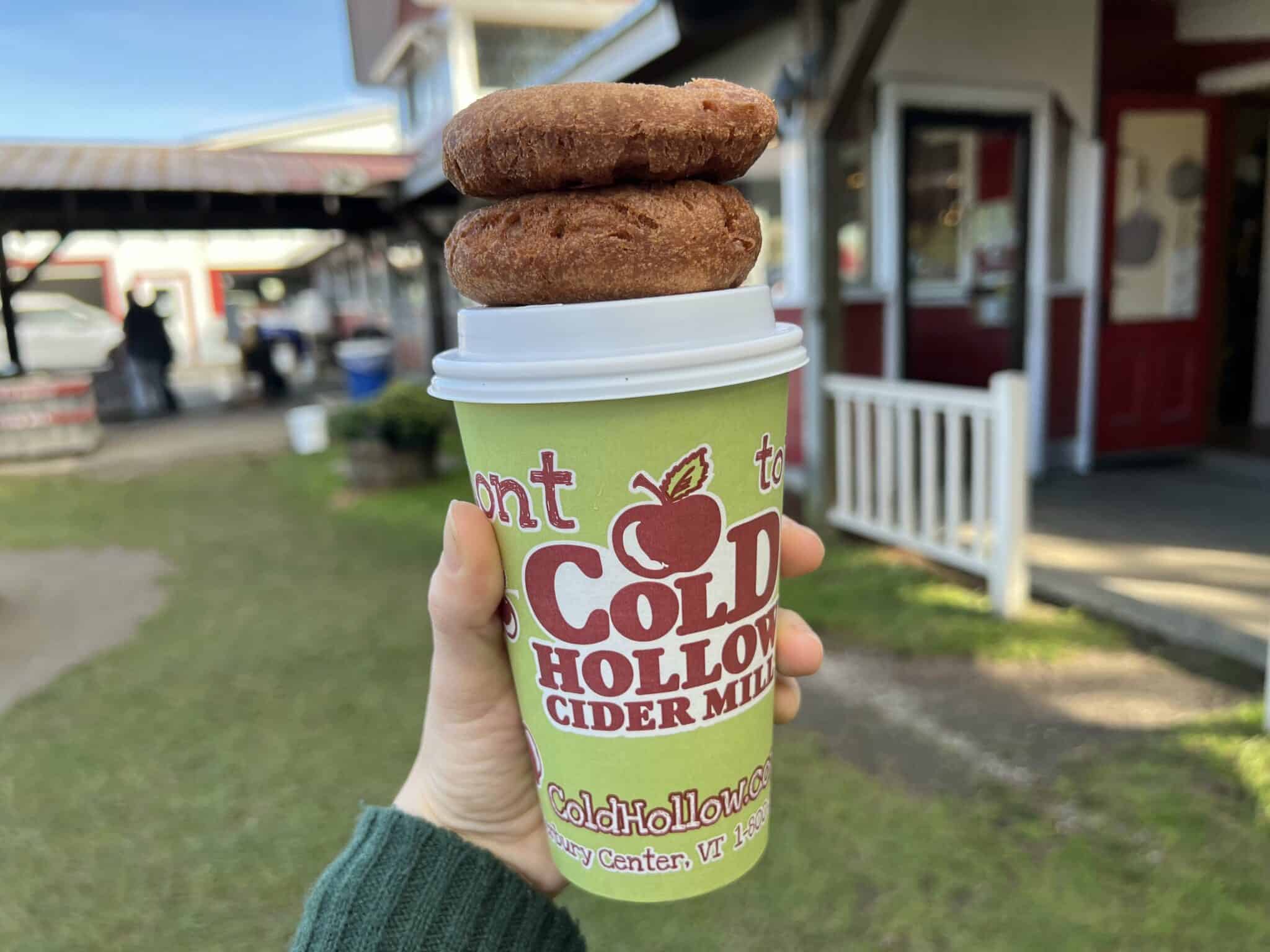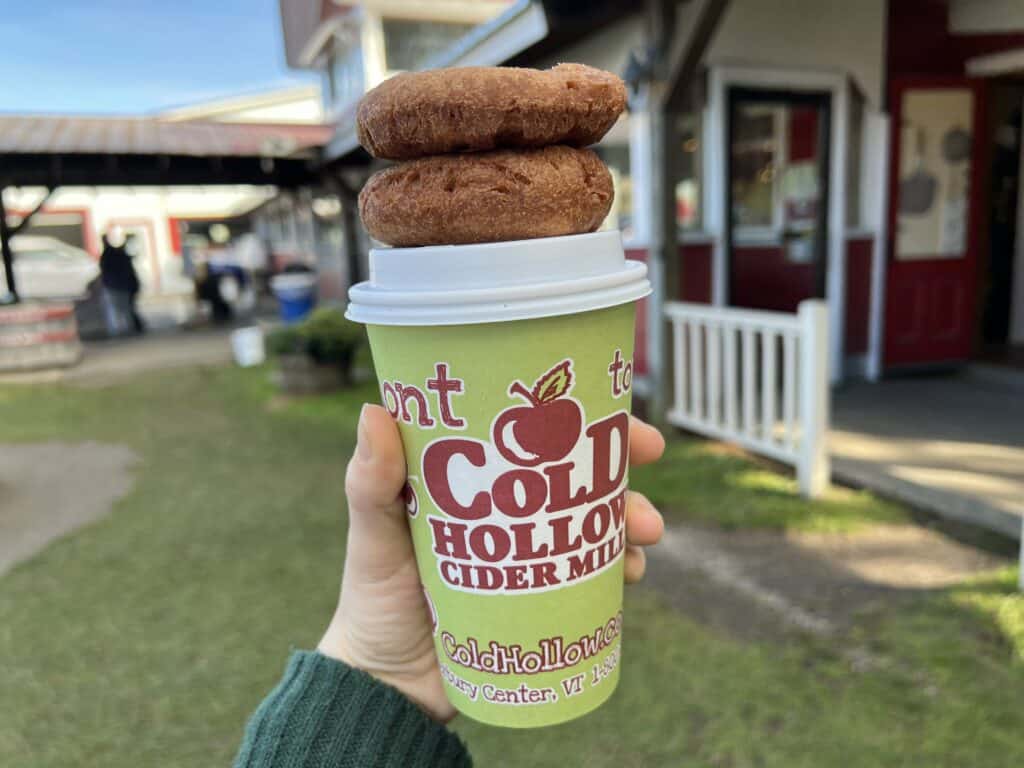 This is THE spot for apple cider donuts, the best food on the planet, and truly the staple of my autumn diet.

But not only is Cold Hollow the go-to for apple treats, it's also a well-stocked, adorable country store, a tasty restaurant, and a hard cider tasting room.
Your second stop is the Ben & Jerry's Factory. Their ice cream is world famous. Not only because it is delicious but because the company is known for championing progressive causes.
The factory tour is quite fun and it smells amazing in there! After you learn how Cherry Garcia and other favorite flavors are made, you can pay homage to flavors long gone in the "Flavor Graveyard" on a nearby hill. Does anyone remember Magic Brownies?
If you've got room left for lunch, grab some, and then continue on to Woodstock.
Once in Woodstock, check into your lodging. The Woodstock Inn is the perfect luxury choice, while The Shire is a solid mid-range option. Both are right downtown.

Next, get ready for some pleasant exploring.
Stroll the downtown and the wide village green, which has a covered bridge just steps away. Browse the collection of shops with a wide variety of goods, and don't miss Gillingham's, the oldest general store in Vermont.

As the afternoon continues, choose a local farm to visit.

Billings Farm is a historic working dairy farm where you can learn a lot about the animals and enjoy the surrounding property.

Sugarbush Farm is a 4-generation family farm specializing in cheese and maple syrup.
Both farms are terrific, and fortunately, Woodstock is small enough that you can likely squeeze both into your itinerary!
Dinner in Woodstock ends your day, and there are so many great restaurant options.
If you schedule well in advance, Cloudland Farm, is a true farm-to-table experience out of this world. The menu changes daily and everything is crafted completely from scratch for the most memorable Vermont culinary journey.
More Resources for Exploring Woodstock:

🍁 20 Best Things to Do in Woodstock, Vermont
🍁 10 Best Hotels in Woodstock VT: Where to Stay in 2023
🍁 These 12 Restaurants in Woodstock Vermont NEED to Be on Your List
Day 7: Woodstock VT to Boston MA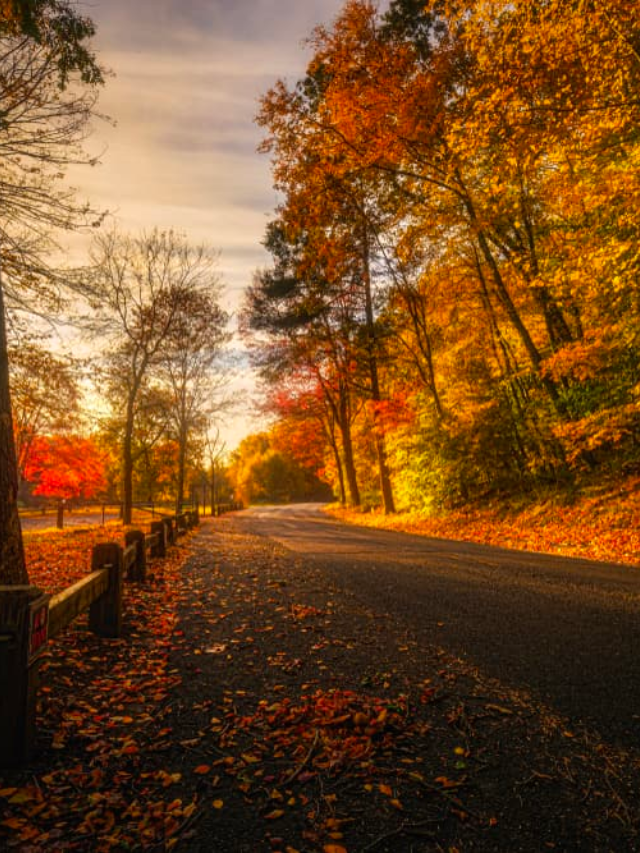 It's the final day of your incredible fall road trip around New England. The last leg of the journey takes you back to Boston.
Before departing Woodstock, grab coffee and a scrumptious breakfast at Mon Vert Cafe. I recommend my personal go-to: the maple latte.
Need some suggestions for road trip entertainment? You could grab one of these New England books in audio format on Audible and listen to something oh-so-appropriate for the journey.
8 or 9 Day New England Fall Road Trip Itinerary
If you've got an extra day or two to explore New England, you should add Salem, Massachusetts to your trip.
Because it's such an awesome town, it's incredibly busy in the fall. I repeat, incredibly busy.
But if you're on a once-in-a-lifetime New England trip, you don't want to miss this iconic spot. I get it.
Visiting Salem in October is classic and so very atmospheric. My best tip for traveling to Salem is to book your lodging well in advance of this popular season and also start each day as early as possible.
The crowds can get crazy in Salem in the fall, but a 7am start gives you an hour or two for some quiet exploring (and some nice photos of the town!)
10 Day New England Fall Road Trip Itinerary
This 10 day itinerary for New England in the fall contains all of the same destinations as the 7 day itinerary, but your first stop instead will be Acadia National Park in Maine.
If you've got 10 days to spend exploring New England, adding a coastal stop is an absolute must. Not only is fall a fabulous and beautiful time to visit Acadia, it also tends to be somewhat less busy during this time than in the summer months.

Check out all of our resources on things to do in Acadia and nearby Bar Harbor here:
More Resources for Exploring Acadia:

🍁 9 Incredible Things to Do in Acadia National Park, Maine
🍁 Fall in Maine: Where to Go and What to Do for Autumn Magic
🍁 When is the Best Time to Visit Acadia National Park?
🍁 Where to Stay in Acadia National Park + Bar Harbor
5 Day New England Fall Road Trip Itinerary
Need to shorten your road trip? For a 5 day trip, consider removing either Stowe or Woodstock from the itinerary. While both are spectacular destinations, this is the easiest way to shorten your trip.
No matter how long you explore New England's 6 amazing states for, I hope you have an incredible adventure in this region I love so much!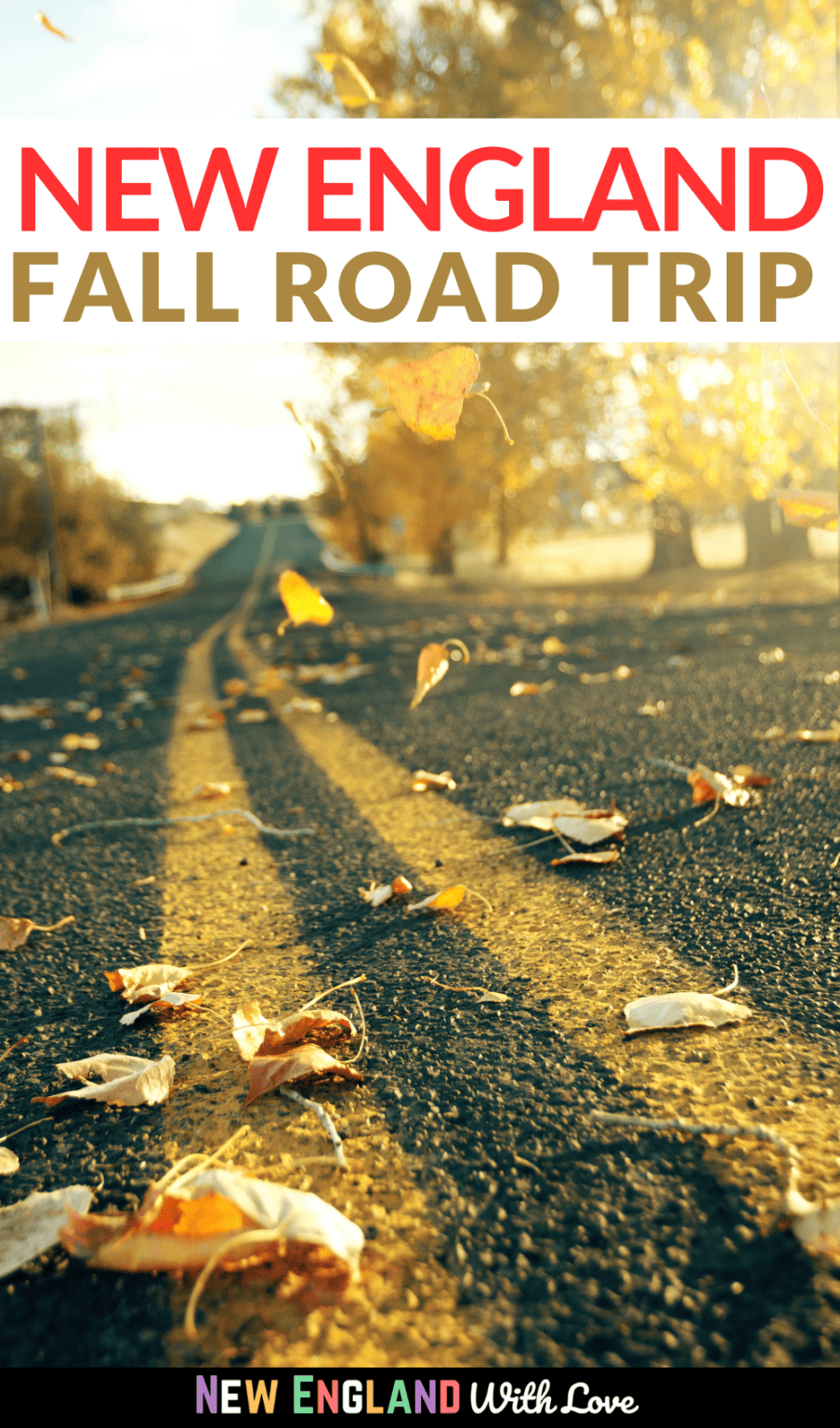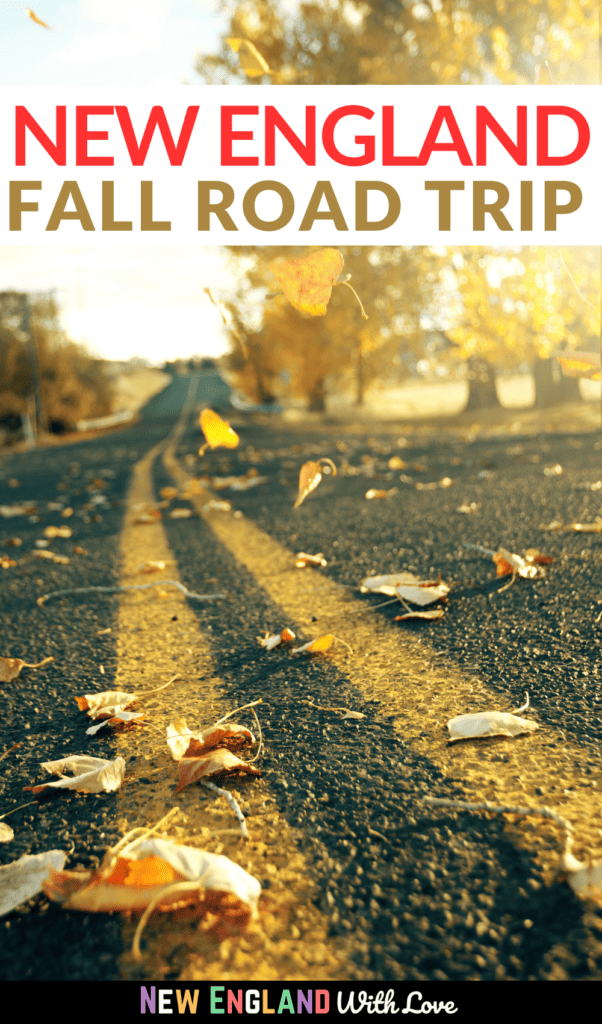 ---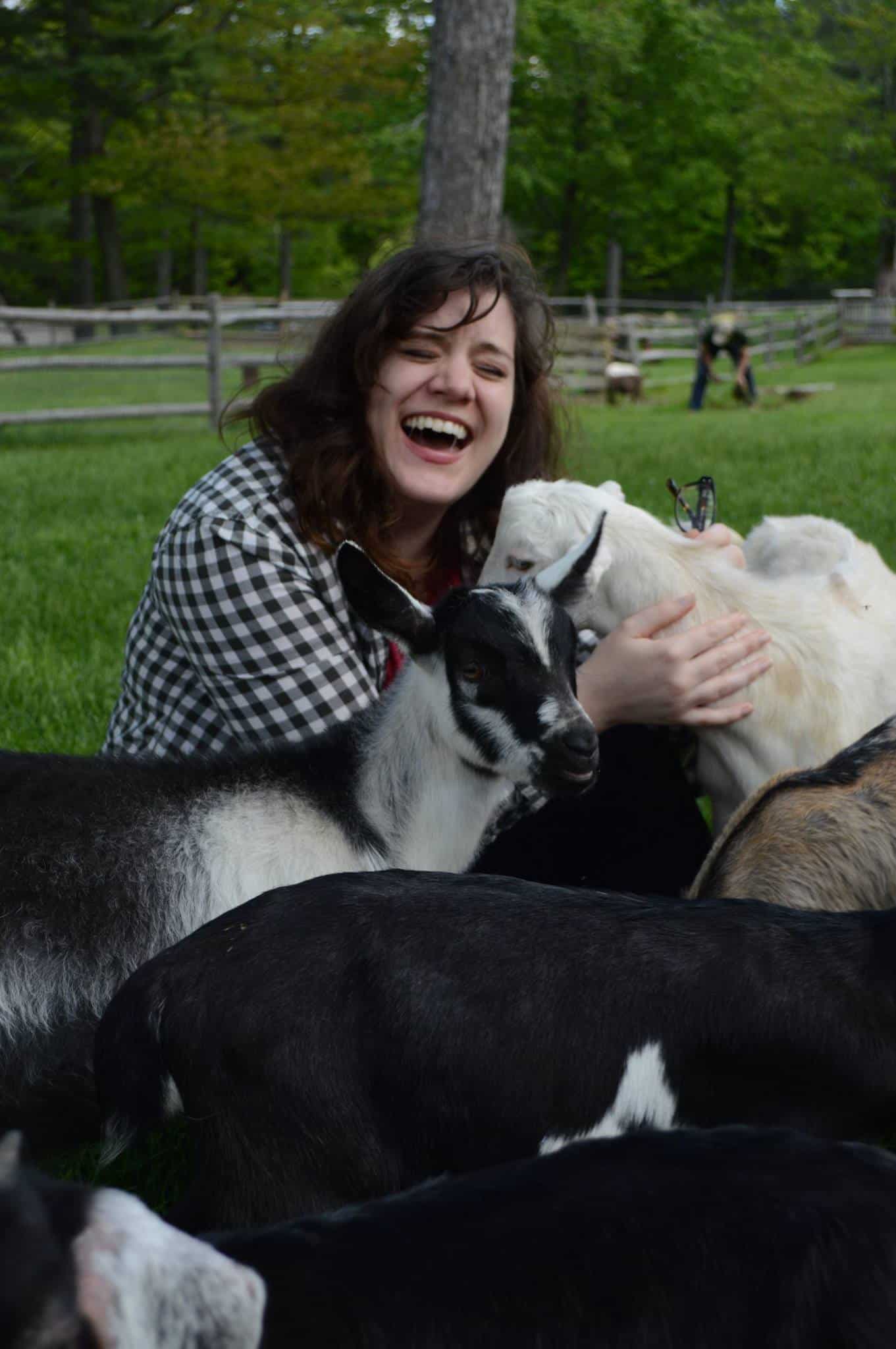 Amy Hartle is the founder and Editor-in-Chief of New England With Love, a comprehensive resource for travel in the New England region. Amy has been exploring New England since 2001. She lived in Vermont for many years and is a graduate of Plymouth State University in New Hampshire. Amy has been writing about travel for over a decade. On this site, Amy aims to share her love of New England and help you to have the best possible adventures!
Amy has been a full time blogger since 2012, and is also the publisher of Two Drifters, where she writes about couples travel and relationships, as well as Let's Adventure Baby, a family travel site. When not traveling the world or creating epic blog content, Amy can be found cuddling with her husband, son, and cats, & drinking a maple latte.