---
*Links in this article may be affiliate links, from which we may earn commission. See our
Privacy Policy
for full details.
---
Why are New England fall road trips so incredibly popular? Well, two words: fall foliage. Because of our maples, birches, and oaks, rolling green hills, granite gorges, local farms, and craggy coastlines, our landscape really comes to life. Vibrant orange, red, and yellow hues explode and a crisp, refreshing climate rolls in between September and November, and it's no wonder that people come from far and wide to witness the incredible fall colors in New England.
Besides the picture-perfect autumn leaves in every direction, the orchards, fairs, and harvests create a jovial and unique atmosphere no matter where you go. And the coolest thing about New England? Its tightly packed geography. You can do and see a ton in such a small amount of time! If you won't take our word for it, take it from American poet Buddy Wakefield: "I'm so happy to be in the Northeast, where you guys all live close together!"
For you to fully enjoy all that the fall has to offer, we've created an epic list of 8 New England fall foliage road trip ideas that cover all six states, with a good variety of lengths and destinations. Choose one of these for an amazing autumn experience, no matter how much or little time you have. Buckle up for the most pleasant fall road trip of your life – you're going to want to pack a camera and your coziest flannel.
PS: Also check out our Ultimate New England Road Trip Itinerary that will take you all over the region!
New England Fall Foliage Road Trip: Essential Info
Quick note about fall foliage in New England. You may be wondering when is the best time to visit New England for fall colors? When do the fall colors in New England peak?
Foliage conditions vary each year due to that year's weather and other factors. However, in general, you can expect to see fall foliage in New England from early/mid-September through the end of October. Peak foliage, when the leaves are at their best and brightest of the season, typically hits in early to mid October. The foliage develops from north to south, with northern spots like Vermont, Maine, and New Hampshire generally experiencing "peak" before Massachusetts, Rhode Island, and Connecticut.
Yankee Magazine's Peak Foliage Map is a perfect visual representation of the fall foliage progression in the region, and you can follow this real time fall foliage tracker for the northeast here and plan your best driving route for fall foliage colors that way, too!
New England Fall Road Trip Ideas
The Kancamagus Scenic Byway – New Hampshire
Distance:

34.5 miles

Start and End:

Lincoln to Conway

Best Time to Go:

Mid-September to Mid-October
We're not wasting any time kicking this list of New England fall road trips into high gear. The Kancamagus Scenic Byway – a 34.5-mile stretch of New Hampshire's Route 112 – winds through the most scenic portion of the White Mountains. You can do this whole road trip in about 2 hours, or you can savor each vista and detour over an entire day. To hit peak foliage, you'll want to aim for mid-September to mid-October. Based on the breathtaking foliage views alone, we would venture to say this is the #1 best fall road trip in New England.
Starting just east of the town of Lincoln, the Kancamagus Highway – or the "Kanc" – sweeps east to west through the White Mountain National Forest, ending in the beautiful mountain town of Conway. The scenery along the route is nothing short of spectacular. The first 4 miles will carry you along the east branch of the Pemigewasset River, followed by 8 miles along the Hancock branch. Now this is where it gets really exciting: hairpin turns will carry you up to the Kancamagus Pass, the highest point of elevation on your journey at 2,855 feet.
The dramatic overlooks, 4,000-foot mountains and granite gorges make this one of the best fall foliage drives in New England. It almost feels like driving through a sublime Benjamin Champney painting. Make sure to stop at one of the many perfectly placed scenic vistas for photos or just plain-ol' sightseeing. And don't miss out on the natural gems along this fall foliage drive, especially Lower Falls and Sabbaday Falls, Swift River, Rocky Gorge, Sugar Hill, and the Hancock.
Points of Interest:
Read More: 14 Top Things to Do in North Conway NH | 13 Super Fun Things to Do in Lincoln NH | Fall in New Hampshire: Fun and Festive Things to Do
Newport's Ocean Drive – Rhode Island
Distance:

10 miles

Start and End:

Fort Adams Park to Bellevue Ave

Best Time to Go:

September to Early November
We love Newport, period. This charming seaside city, located on Aquidneck Island in Rhode Island, is like an extravagant window to the past. Gilded Age mansions such as The Breakers are found all over this town, and the 19th century echoes of wealthy, lavish resort living are as strong today as they were then.
Fall in Newport provides some great opportunities. The summer's peak of tourism has passed, and with it comes a refreshing ocean breeze among the colorful trees that surround mansion estates and scenic parks. Since the fall foliage is nice, but not the primary factor for your fall road trip to Rhode Island, you can enjoy Newport anytime between September and early November.
Ocean Drive is a 10-mile seaside drive that follows the southern shore of Newport. It is not only one of the loveliest New England scenic drives as it follows along the ocean, but it's also the perfect route for accessing all the best of Newport. We think Fort Adams Park is a great place to start your trip! Continue from here to Brenton Cove Shore, where you'll find the New York Yacht Club. After this, you'll want to check out Castle Hill's historical lighthouse in the East Passage of Narragansett Bay.
Then spend some time relaxing at Brenton Point State Park, one of the major highlights on Ocean Drive. This wide-open green space on the south end of the island, with vast ocean views, is the perfect spot to relax, have a picnic, or go fishing. Continue past various beaches and scenic outlooks to Bellevue Ave, where you will discover a majority of the lavish 19th century mansions. The Breakers, Marble House, Rough Point, and the Elms are a few of the best. Take a walking tour and learn all about the history of these extravagant homes.

Points of Interest:

New York Yacht Club

Castle Hill Lighthouse

Brenton Point State Park

Fort Adams Park

The Breakers

Marble House

Rough Point

The Elms
Park Loop Road in Acadia National Park – Maine
Distance:

27 miles

Start and End:

Hulls Cove Visitor Center to Cadillac Mountain

Best Time to Go:

September to Early October
Acadia National Park in Maine is somewhat of an unsung national park hero. While people are busy praising the glory of Yellowstone and Yosemite, Acadia continues to stand its ground on the list of top 10 most visited national parks in the U.S! And for good reason. Camping in the forest by wetlands near the craggy seaside, extensive biking and hiking trails, large ponds and lakes, rocky beaches, and all the best fall foliage is right at your fingertips. Seaside towns like Bar Harbor also bring a lot of ease and convenience to an adventure-driven destination.
To get the most enjoyment out of your fall trip, we'd recommend going in September before the temperatures drop significantly; the leaves will be changing, and the crowds will be light at this time! We think Park Loop Road is the prime route to explore all of Acadia's best adventures and natural beauty, especially during fall. This 27-mile, mostly one-way scenic road takes you around the east side of Mount Desert Island. Get oriented at Hulls Cove Visitor Center near Bar Harbor with a map of the island. Then drive on at your own pace, hitting Sand Beach, the uber-popular Thunder Hole, and Otter Cliffs. A major highlight you will also not want to miss is Bass Harbor Head Lighthouse.
Further along the route is Sieur-de-Monts, where you can explore the Nature Center and Wild Gardens of Acadia. Then head to Jordan Pond and Jordan Pond House, where you can learn the history of its important cultural legacy and hike the pond's loop along meandering boardwalks and native wildlife. End your national park road trip in Maine by driving to the summit of Cadillac Mountain, the perfect spot to catch an amazing autumn sunset.
Points of Interest:
Hulls Cove Visitor Center – Bar Harbor

Shore Path

– Bar Harbor

Bass Harbor Head Lighthouse – Bass Harbor

Sand Beach – Bar Harbor

Thunder Hole – Bar Harbor

Otter Cliffs – Mount Desert Island

Sieur-de-Monts – Bar Harbor

Jordan Pond, Jordan Pond House – Seal Harbor

Cadillac Mountain – Mount Desert Island
Vermont's Scenic Route 100 – Vermont
Distance:

150 miles

Start and End:

Wilmington to Stowe

Best Time to Go:

September to Mid-October
Looking for that quintessential "fall in New England" experience? You know, the one you see in movies with red barns and grazing cows, an endless expanse of green hills, orange and yellow maple trees, and locally owned shops and artisan fairs? Well, you're going to want to put on some cozy plaid, a beanie, and take a cruise up Vermont's Scenic Route 100, undoubtedly one of the best fall foliage drives in New England.
Vermont's Route 100 is a winding, scenic road that traverses north for 200 miles from the border of Massachusetts to Lake Memphremagog, along the east side of Green Mountain National Forest. Dubbed by Yankee Magazine as the best foliage drive in VT (and definitely one of the best in New England!), the variety of landscapes, points of interest, and peak foliage views are unbeatable.
Start your journey in Wilmington, a quaint farming community with a historical downtown. Then move north toward Weston, a stretch of highway featuring wildflower fields and cute gazebos. Stop at the Vermont Country Store for one-of-a-kind handmade goods. Continuing north, you will pass by beloved local landmarks like Echo Lake State Park and Lake Rescue. And just above Amherst Lake is Plymouth, the perfect place for history buffs to explore the President Calvin Coolidge State Historic Site, the homestead Coolidge grew up on.
Further north still, you'll enjoy a 10-mile stretch of densely forested highway along the Granville Gulf State Reservation. Keep an eye out for moose and rushing rivers as you carry on toward the Mad River Valley. This region has become a popular destination due to the area's chic vibe, killer ski resorts like Killington and Sugarbush, and craft fairs, music festivals, and covered bridges abound.
You've almost arrived at the end, so why not indulge in a little Ben & Jerry's? Waterbury is home to the Vermont-based ice cream company we all know and love. Take a factory tour and sample some of the quirky flavors! Last but not least, end your road trip in Stowe, a Vermont town classic with all the fixings. It's a white-steeple church, ski bum, beer brewing, local artisan kind of village, and the perfect place to lay your head after a long New England fall foliage drive!

Read More: 50 Things to Do in Vermont: A Perfect VT Bucket List | The Perfect Vermont Road Trip: One Week Itinerary
Points of Interest:

Downtown Wilmington

– Wilmington

Vermont Country Store – Weston

Echo Lake, Lake Rescue, Amherst Lake

President Calvin Coolidge State Historic Site – Plymouth

Granville Gulf State Reservation – Granville

Sugarbush Resort

– Warren

Ben & Jerry's Factory – Waterbury

Stowe Village – Stowe
The Lake Winnipesaukee Loop – New Hampshire
Distance:

100 miles

Start and End:

Alton

Best Time to Go: September to Mid-October
Who doesn't love a good loop route? There's just something satisfying about perpetually seeing new sights for the entire adventure, without the backtracking. The route around Lake Winnipesaukee in the Lakes Region of New Hampshire is the perfect New England fall road trip itinerary. With 8 unique towns bordering NH's largest and most popular body of water, you'll discover the ideal blend of outdoor activities and luxury lake living during the cooler, slower months.
In reality, you can start your journey in any one of these towns and follow the lake's edge in whichever direction your heart desires. But we think Alton – a historical bay town with a beautiful 4-mile cove – is a great place to begin (and end!). After taking in the views from their cozy cove, head on to Wolfeboro, a crunchy lake town with its own rail trail and an outdoor art walk. In addition, Wolfeboro's Wright Museum of World War II is a fantastic educational institution dedicated to World War II history. And if you're looking for a souvenir to remember your trip, stop by Black's Paper Shop for a special gift.
From Wolfeboro, drive on to Moultonborough, one of the oldest incorporated towns in the U.S. This charming town was founded in 1777 and has some amazing gems, especially the Old Country Store, which is considered the oldest surviving business and general store in the country! Waste all your pennies at the candy counter, sample unique local foods, or buy some handcrafted home goods. Another gem in Moultonborough is Castle in the Clouds, a magnificent mansion high up in the hills where you can tour the grand estate and learn about the history of its original owners.
Next stop on the loop is Meredith, a central hub of the tourism, luxury lake living, and resort leisure that Lake Winni attracts. In this scenic town, you might find yourself ogling at the grand lake houses and stylish hotels lining the bay. Pull off the highway and shop your heart out at Mill Falls Marketplace, an open-air shopping center with restaurants, a bookshop, Ben & Jerry's, and chic indie businesses.
Meredith is a great halfway point to spend the night if the 100-mile loop is too much. If not, carry on to Laconia while the sun is still shining. If the weather permits, visit Weirs Beach. If not, visit Funspot, a massive entertainment center that boasts the record for Largest Arcade in the World. Then Gilford comes next on the loop. The biggest draw this town sees is to Gunstock Resort, which can be hiked during the off-ski season. And finally, you will arrive back in Alton to complete your epic Lake Winnipesaukee road trip. We love the lake life, especially on a scenic fall foliage drive!
Points of Interest:
Alton Bay – Alton

Wolfeboro Art Walk – Wolfeboro

The Wright Museum of World War II – Wolfeboro

Black's Paper Shop – Wolfeboro

The Old Country Store – Moultonborough

Castle in the Clouds – Moultonborough

Mill Falls Marketplace – Meredith

Weirs Beach – Laconia

Funspot – Laconia

Gunstock Resort – Gilford
U.S. Coastal Route 1 – Maine
Distance:

200 miles

Start and End:

Kennebunkport to Bar Harbor

Best Time to Go:

Mid-September to Early November
We all need a little more Maine in our lives, and that's why we felt like our Acadia Loop road trip wasn't quite enough – so we're throwing U.S. Coastal Route 1 into the mix! This incredible, north-south coastal highway actually starts all the way down in Key West, and traverses 2,390 miles up the east coast to Fort Kent in Maine.
Maine's portion of the U.S.' very first north-south highway system is over 200 miles of pure natural beauty. Crossing through peaceful boating towns, beachside cities, and craggy coastal landmarks, you'll have the best of Maine's attractions and fall foliage without all the summer traffic.
A great place to kick things off is in Kennebunkport, a charming southern Maine beach town. Walk around the sandy Goose Rocks Beach, then get a good look at a collection of historical streetcars at the Seashore Trolley Museum. As you continue north through Biddeford and Old Orchard Beach, stop at one of New England's most iconic landmarks: the Portland Head Light on Cape Elizabeth. This iconic white lighthouse was built in 1791, making it the oldest lighthouse in Maine.
From here, you're just a hop, skip, and jump away from Portland, one of the friendliest, "foodiest," artsiest towns on the East Coast. If you spent an extra day or five here, you wouldn't regret it. Well, you might regret gorging on copious amounts of Holy Donuts and Duckfat French fries, but that's a different story.
Beyond Portland, you'll pass through Georgetown, Brunswick, and arrive in Rockland. This small seaside town has lovely harbor views, a charming downtown, and great food to boot. Check out the Farnsworth Art Museum or Archipelago to satisfy your craving for fine art. And if you are in the mood for brunch, dine at the cheerful Home Kitchen Cafe.
We are on the home stretch now! A great destination to end your Coastal Route 1 road trip is none other than Bar Harbor, situated on Mount Desert Island in Acadia National Park. Bar Harbor is insanely busy in the summer months but gets a bit sleepier and much more relaxing in September and October. Bar Harbor is a souvenir-hunter's haven, as well as an adorable, quaint town to walk around and enjoy harbor views from Shore Path. Not to mention, Bar Harbor gives you incredible access to everything Acadia National Park has to offer.
Points of Interest:

Goose Rocks Beach – Kennebunkport

Seashore Trolley Museum – Kennebunkport

Portland Head Light – Cape Elizabeth

The Holy Donut

– Portland

Duckfat

– Portland

Farnsworth Art Museum – Rockland

Archipelago – Rockland

Home Kitchen Cafe – Rockland

Shore Path

– Bar Harbor
The Berkshires – Massachusetts
Distance:

35 miles

Start and End:

Stockbridge to Williamstown

Best Time to Go:

Early September to Late October
Our list of fantastic road trips in New England wouldn't be complete without including New England's most historical, highly educated, and diverse state: Massachusetts. While there are many wonderful regions to explore in MA – from the Cape Cod coastline to bustling Boston – we think there is something so special about the Berkshires.
The Berkshires is a collection of towns in the rolling highlands of western MA. The area's pastoral beauty is matched only by its cultural and artistic sophistication. If you are looking for a scenic countryside retreat with plenty of opportunities for historical exploration, leisurely driving, and prime New England fall foliage drives, this is the destination for you.
Start off strong in the town of Stockbridge, where you will find some incredible natural and historical gems. Explore the Norman Rockwell Museum, housing works by this famous American painter in the very place he spent the last 25 years of his life. Then pop over to the Berkshire Botanical Garden, which highlights native plants that thrive in the Berkshires. Then continue north for 10 minutes on Route 7 to arrive in Lenox, a town best known for being the former home of author Edith Wharton.
After touring The Mount, Wharton's gorgeous estate, head to Pittsfield, yet another town known as the home of a reputable author (seriously – we should just call this the legendary American authors tour). If you appreciate literature, take a tour of Arrowhead House, the home where novelist Herman Melville wrote Moby Dick. While you are still in Pittsfield, check out the Berkshire Museum, which exhibits a cool mishmash of art, natural history, and ancient civilization.
From Pittsfield, another historical institution awaits you in Hancock at the Hancock Shaker Village. And after you move along from Hancock and pass through Lanesborough, you'll end up in North Adams, a historic college and mill town with a strong arts vibe and hiking access to Mount Greylock, the highest peak in MA. Check out the Mass Museum of Contemporary Art while you're here.
Finally, end your Berkshires road trip in Williamstown, a cultural and educational hub in the Berkshires. This beautiful, "quintessential Berkshire village" is surrounded by mountains, biking and hiking trails, and farmlands. Williams College is the heart of the town, imbuing it with a flourishing arts and culture scene. Fall in Massachusetts is heavenly, so you'll find plenty to do and see during a Bay State fall foliage road trip!

Points of Interest:
Norman Rockwell Museum – Stockbridge

Berkshire Botanical Garden – Stockbridge

The Mount, Edith Wharton House – Lenox

Arrowhead House – Pittsfield

Berkshire Museum – Pittsfield

Hancock Shaker Village – Hancock

Mount Greylock

– North Adams

Massachusetts Museum of Contemporary Art – North Adams

Williams College

– Williamstown
Connecticut State Route 169 – Connecticut
Distance:

47.3 miles

Start and End:

Lisbon to Woodstock

Best Time to Go:

September to Early November
We're topping off our list of New England fall road trips with Connecticut State Route 169, a National Scenic Byway featuring all the historic buildings, charming communities, and autumn colors that make New England so memorable. Connecticut is the third smallest state in the nation, but it's got a lot going for it as the home of Mystic Seaport, the Mark Twain house, the mighty Connecticut River, and Yale University.
Starting in eastern Connecticut in the town of Lisbon and moving north to Woodstock near the border of Massachusetts, Route 169 offers a drive through living history. Start your tour in Lisbon with a foliage stroll through Lisbon Meadows Park. Then head north on 169 to Waterbury, where you can visit the Prudence Crandall Museum or chill on the Waterbury Green at the city's center.
Not much further north you will hit the town of Brooklyn, home to the New England Center of Contemporary Art. Pay attention to the unique architecture as you meander onward to Pomfret, a town with incredible history that you can observe in the beautiful 19th century churches, homes, and libraries.
Your final destination on the Route 169 tour is the town of Woodstock, a mere 10 minutes north of Pomfret. While here, you can't miss out on the Roseland Cottage, a historic 1846 house-turned-museum. This signature Gothic Revival home with its bold pink exterior was once the summer home of the Bowens, one of Connecticut's prominent Victorian Era families. Explore its ornate, patterned, vibrant rooms and learn about a unique piece of Connecticut history.
Points of Interest:

Lisbon Meadows Park – Lisbon

Prudence Crandall Museum – Waterbury

Waterbury Green – Waterbury

New England Center of Contemporary Art – Brooklyn

Roseland Cottage – Woodstock
Bonus Ideas for Your New England Fall Foliage Road Trip
While planning your New England fall foliage road trip, you can also throw in some other neat side trips/things to do to maximize your leaf peeping fun!
For instance, you can either hike or drive to the top of the Mt Washington NH, the highest peak in the Northeast; those are INCREDIBLE New England fall color views. For a very unique New England experience, you can take a Vermont fall foliage bicycle tour through the Champlain Valley; it doesn't get much more Vermont than going on a multi-day New England fall foliage ride on bicycle, right?
New England is the perfect fall road trip destination, so whichever of these New England fall road trip routes you choose, you'll be treated to some spectacular fall foliage views!
---
You might also like:
---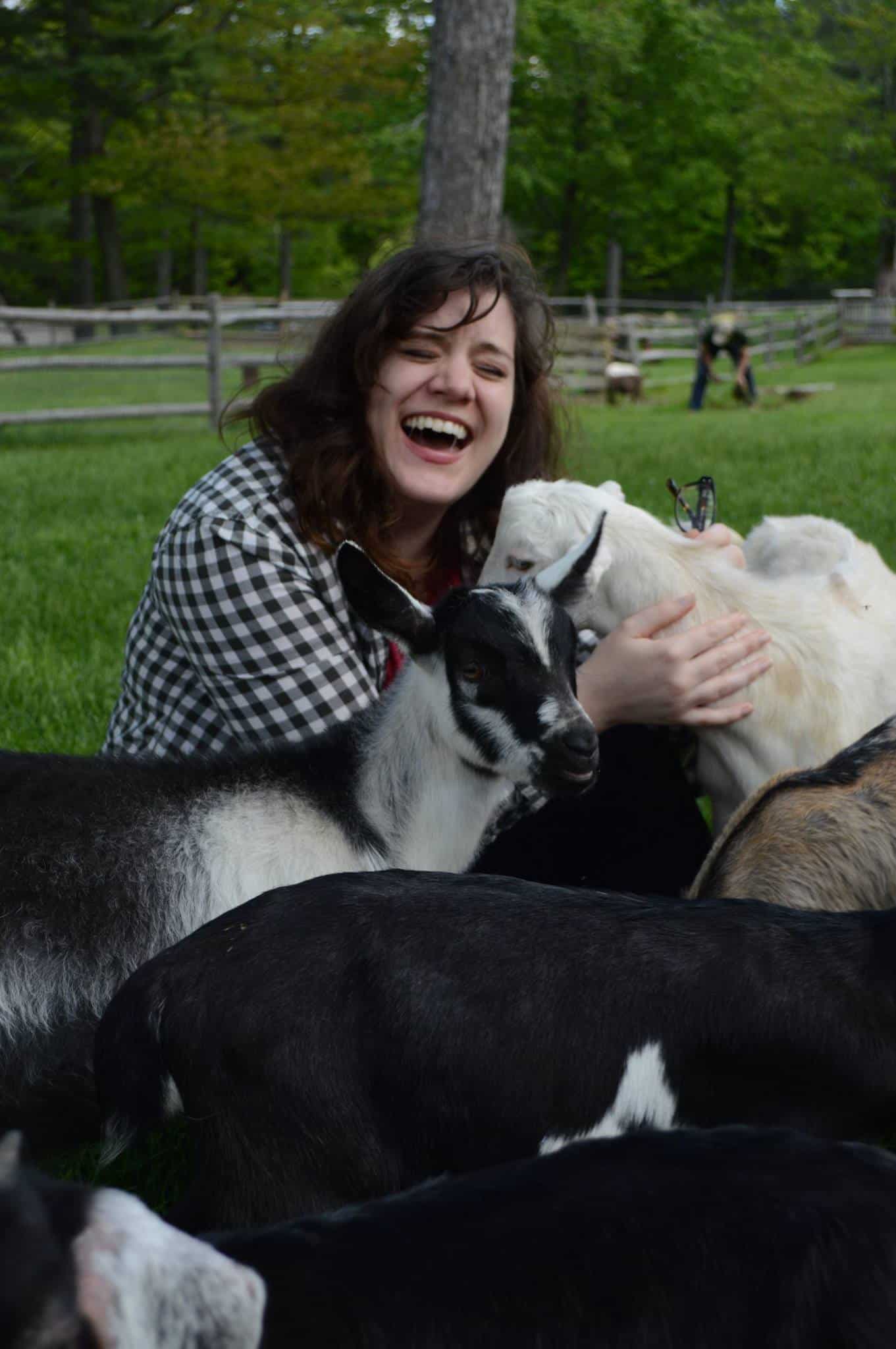 Amy is the founder of New England with love. A proud Vermonter, she hopes to share her love of New England and help you find the best adventures in the region. Amy is also blogger/founder at Two Drifters, where she writes alongside her husband about romantic and couples travel, relationships, honeymoons, and more. When not working on websites, Amy is probably reading, cuddling with her husband, son, and cats, & drinking a maple latte.