*This site uses affiliate links; if you make a purchase through these, I may receive a small commission at no cost to you.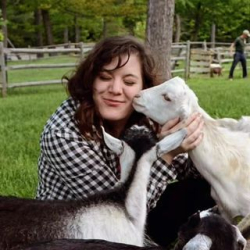 Latest posts by Amy Hartle
(see all)
If you find yourself in north-western Massachusetts, do yourself a favor and stop in North Adams.
Located in Berkshire County and about three hours away from Boston, this city offers a little something for everyone: history buffs, nature lovers, and art connoisseurs. The art scene, in particular, lends a valuable hand to its culture. Sounds like a great place to visit, right?
While planning your trip, it's important to know the top things to do in North Adams, Massachusetts. Now, let's dive into why these activities are the best things to do and what to know about them.
Top Things to Do in North Adams MA
Visit MASS MoCA
Address: 1040 Mass MoCA Way
Hours: Sunday through Saturday, 10 a.m. to 6 p.m.
One of the best things to do in North Adams MA is go to The Massachusetts Museum of Contemporary Art, also known as MASS MoCA.
This museum was actually converted from a factory building and is one of the largest centers for contemporary visual art and performing arts in America.
MassMoCA hosts a number of events and has plenty of extraordinary exhibits to see. The museum also hosts education programs for people of all ages, so be sure to follow their events page for more details.
Stroll Through the North Adams Public Library
Address: 74 Church Street
Hours: Monday through Wednesday, 10 a.m. to 5 p.m.; Thursday, 10 a.m. to 6 p.m.; Friday, 10 a.m. to 1 p.m.; closed Saturday and Sunday.
The North Adams Public Library is truly a sight to see. Head to Church Street and look for the beautiful historic mansion turned library. Then, step inside and grab a book (or two) to get lost in.
Called the Blackinton Mansion after Sanford Blackinton, the first millionaire in North Adams who had it built, this is one of the most gorgeous libraries in Massachusetts.
In addition to having great reads, there are often community events happening onsite like workshops and kids' events. It's a great spot to visit for lovers of historic architecture.

Hike Through Natural Bridge State Park
Address: McAuley Road (off of Route 8)
Hours: Sunday through Saturday, 9 a.m. to 4:30 p.m.
Natural Bridge State Park in Massachusetts has the only white marble arch in North America, hence its unique name.
Go see this natural beauty for yourself and see what the rest of this state park has to offer. You can hike and fish, take a guided tour to learn more about the bridge, and even tour an abandoned marble quarry.
Walk through the park with your loved ones, and you can even bring your dog along for a nice hike. Pack a lunch, hit the trails, and experience one of the coolest attractions in North Adams.
Berkshire Art Museum
Address: 159 East Main Street, North Adams, MA 01247
Dedicated to the preservation six decades of creative works from Eric Rudd, you'll find many of his works in the Berkshire Art Museum's permanent collection.
It's quite interesting, particularly if you're a fan of non classical art.
Lounge on Windsor Lake
Address: Windsor Lake Road
If you're looking for a place to cool off and relax in North Adams, head to Windsor Beach to lounge on the shores of Windsor Lake. This 24-acre lake is a great spot for swimming and fishing, as it's known to have fish species like Largemouth Bass and Brown Bullhead in its water. Plus, there's a picnic area where you can sit back and enjoy the view while having lunch.
In the summer, you'll even find free summer concerts at Windsor Lake! All you need is a beach chair and some good company to enjoy beautiful music with a beautiful view.
Walk to the Cascade Waterfall

Address: the trailhead begins at the end of Marion Avenue

The Cascade Waterfall is a fairly easy waterfall to get out to, except for the fact that the trailhead actually starts in a residential neighborhood.
Follow the instructions given here for where to park and remember to be respectful of the fact that you are parking in front of people's homes to get out to this North Adams waterfall.
All that being said, this is a beautiful waterfall! It's a fairly easy hike to get out to this 40 foot cascading waterfall, and there are even swimming holes at the base of the falls.
Have an Ale at Bright Ideas Brewing
Address: 111 Mass MoCA Way
Hours: Closed Tuesday, open Sunday, Monday, and Wednesday, 11am – 9pm, Thursday 11am – 10pm, Friday and Saturday, 11am – 11pm
Love a good brew? If so, stop in to Bright Ideas Brewing in North Adams to grab a pint.
It has a number of beers on tap to try, including IPAs and sours. If you stop in on the right night, you could even catch live music.
In addition to great beer and laidback atmosphere, it's also dog-friendly as long as the pup is well-behaved on a leash. Take them into the beer garden or on the patio and enjoy a relaxing drink in North Adams.
Visit Western Gateway Heritage State Park
Address: 9 Furnace Street, Building 4
Hours: Thursday through Monday, 10 a.m. to 4 p.m.; closed Tuesday and Wednesday
This former railroad yard in North Adams is a very interesting sight to see.
At Western Gateway Heritage State Park, you'll find exhibits about how the Hoosac Tunnel was created, and how surprisingly dangerous it was!
This project, which connects northern Berkshire to Boston, lasted from 1851 to 1875 and was quite controversial.
See What's Going on at Greylock Works
Address: 508 State Rd, North Adams, MA 01247
Greylock Works is the reclaimed mill space that North Adams has repurposed into an incredible community event space.
You'll find a variety of offerings in this very cool historic building, including live performances, community events, artisinal foods, and more.
Hike Hoosac Range Trail
Address: 2441 Mohawk Trail
If you're itching to hit the trails in North Adams, head to Hoosac Range Trail.
Hoosac Range is a 944-acre reserve that has a three-mile ridge trail with incredible views. Hike along the trail to see the beauty of the Berkshires.
Head to the Spruce Hill destination or Sunset Rock to see some truly incredible sights. The hike to Sunset Rock is easier than the hike to Spruce Hill, though.
Dogs are allowed on the trail, so feel free to bring the pup along for a walk. While you're on the trail, be on the lookout for a tree whose head-level burl looks like Yoda!
Visit the Harmonic Bridge
Address: 14 Marshall Street
This unique site in North Adams is just a quick walk from the MoCA. It was formed when two artists, Bruce Odland and Sam Auinger, put two 16-foot-long resonating tubes under a highway overpass.
The result? A wonderful project that brings music to the streets.
When traffic whizzes by the Harmonic Bridge, the motion triggers the tubes to create a low hum in C.
It's interesting to walk near Harmonic Bridge and hear something that seems beautifully out of place in the street. It makes something that's typically mundane (traffic) into something wonderful. Experience it for yourself!
Visit MCLA Gallery 51
Address: 51 Main Street
Hours: Wednesday, Thursday, Saturday, and Sunday, 12 p.m. to 4 p.m.; Friday, 11 a.m. to 4 p.m.
Make sure you stop at this art gallery before concluding your trip to North Adams.
MCLA Gallery 51 is run by the Massachusetts College of Liberal Arts and is home to a number of works from mid-career contemporary artists.
It's staffed mostly by student workers and features truly unique art from people around the world. Head downtown to see this gem of a gallery!
Hike (or drive!) Mount Greylock
Address: Take MA Route 2, left on Notch Road following signs for Mount Greylock
Hours: Open June through October
The highest point in the state, the summit of Mount Greylock is 3489 feet, and the views that are seen from the top are nothing short of stunning.
This is a definite must see if you're visiting Massachusetts in the early fall. Heads up, it does close in October as the weather shifts.
The Veterans War Memorial Tower at the top is another very cool sight to see, and if you climb its stairs, you get an even better view from 92 feet up!
Stay at The Porches Inn at MassMoCA
Address: 231 River St, North Adams, MA 01247
Wondering where to stay in North Adams? The Porches Inn is a unique boutique hotel that lands you within easy walking distance of so many North Adams attractions, including of course, MassMoCA!
Amenities include a gorgeous outdoor pool, traditional Finnish sauna, hot tub, and gorgeous gathering spaces both indoors and out.
In addition to being just steps away from MassMoCA events, on the actual Porches grounds is Studio 9, an incredible natural acoustics recording studio and music venue that has drawn big names like Wilco.
Click Here to Check Prices & Book!
There are so many great things to do in North Adams, Massachusetts, so if this is your first visit to the North Country, pace yourself. Take your time exploring this gorgeous city in the Berkshires.
---
You might also like:
---