---
*Links in this article may be affiliate links, from which we may earn commission. See our
Privacy Policy
for full details.
---
If you find yourself in north-western Massachusetts, do yourself a favor and stop in North Adams. Located in Berkshire County and about three hours away from Boston, this city offers a little something for everyone: history buffs, nature lovers, and art connoisseurs. The art scene, in particular, lends a valuable hand to its culture. Sounds like a great place to visit, right?
While planning your trip, it's important to know the top 10 things to do in North Adams, Massachusetts. Now, let's dive into why these activities are the best things to do and what to know about them.
Visit MASS MoCA
Address: 1040 Mass MoCA Way
Hours: Sunday through Saturday, 10 a.m. to 6 p.m.
One of the best things to do in North Adams is go to The Massachusetts Museum of Contemporary Art, also known as MASS MoCA. It's a museum that was actually converted from a factory building and is one of the largest centers for contemporary visual art and performing arts in America.
The museum hosts a number of events and has plenty of extraordinary exhibits to see. Some currently on display include Close To You, Shaun Leonardo's You Walk, and The Pipes by Taryn Simon. The museum also hosts education programs for people of all ages. It also has a fun scavenger hunt you can participate in when you visit. Download it before your trip to the museum and see if you can find them all!
Stroll Through the North Adams Public Library
Address: 74 Church Street
Hours: Monday through Wednesday, 10 a.m. to 5 p.m.; Thursday, 10 a.m. to 6 p.m.; Friday, 10 a.m. to 1 p.m.; closed Saturday and Sunday.
The North Adams Public Library is truly a sight to see. Head to Church Street and look for the beautiful brick mansion-like structure. Then, step inside and grab a book (or two) to get lost in. In addition to having great reads, the library also has services for children and adults. It's a great spot to visit if you have down time in North Adams.
Address: McAuley Road (off of Route 8)
Hours: Sunday through Saturday, 9 a.m. to 4:30 p.m.
Fun fact: this 48-acre state park in Massachusetts has the only white marble arch in North America (hence its unique name). Go see this natural beauty for yourself and see what the rest of this state park has to offer. You can hike and fish, take a guided tour to learn more about the bridge, and even tour an abandoned marble quarry. Walk through the park with your loved ones, and you can even bring your dog along for a nice hike. Pack a lunch, hit the trails, and experience one of the coolest attractions in North Adams.
Lounge on Windsor Lake
Address: Windsor Lake Road
If you're looking for a place to cool off and relax in North Adams, head to Windsor Beach to lounge on the shores of Windsor Lake. This 24-acre lake is a great spot for swimming and fishing, as it's known to have fish species like Largemouth Bass and Brown Bullhead in its water. Plus, there's a picnic area where you can sit back and enjoy the view while having lunch.
If you head to Windsor Lake on a Wednesday in the summer, you can see a free summer concert. All you need is a beach chair and some good company to enjoy beautiful music with a beautiful view.
Visit the Museum of History and Science
Address: 40 Main Street, in the North Adams Holiday Inn
Hours: Wednesday through Saturday, 10 a.m. to 4 p.m.; Sunday, 1 p.m. to 4 p.m.
If you're interested in North Adams' history, head to the Museum of History and Science on Main Street. There, you'll see exhibits on local history, farm life, downtown North Adams, and more. It's run by the North Adams Historical Society and admission to the museum is free, but donations are accepted.
Stop in to see exhibits on the Industrial Revolution and its impact on North Adams in the 19th and early 20th centuries, as well as interesting items from North Adams' past. It'll be like stepping into a time machine for a short while and experiencing North Adams in a different time. Talk about an interesting way to spend a morning!
Have an Ale at Bright Ideas Brewing
Address: 111 Mass MoCA Way
Hours: Sunday and Monday, 12 p.m. to 9 p.m.; Tuesday through Wednesday, 12 p.m. to 8 p.m.; Thursday through Saturday, 12 p.m. to 10 p.m.
Love a good brew? If so, stop in to Bright Ideas Brewing in North Adams to grab a pint. It has a number of beers on tap to try, including IPAs and sours. If you stop in on the right night, you could even catch live music. In addition to great beer and great atmosphere, there's another cool perk of visiting Bright Ideas Brewing: you can bring your dog there, as long as the pup is well-behaved on a leash. Take them into the beer garden or on the patio and enjoy a relaxing drink in North Adams.
Address: 9 Furnace Street, Building 4
Hours: Thursday through Monday, 10 a.m. to 4 p.m.; closed Tuesday and Wednesday
This history-focused state park in North Adams is an interesting sight to see. The park's exhibits, put on in a former railroad yard, tell you how the Hoosac Tunnel was created. This project, which connects northern Berkshire to Boston, lasted from 1851 to 1875 and was quite controversial.
You can learn about its creation and its impact while looking through the park (like how the project created a lot of jobs for North Adams residents at the time). If you're really interested in the tunnel's history, you can watch a documentary about it at the park!
Hike Hoosac Range Trail
Address: 2441 Mohawk Trail
Hours: Open 24 hours
If you're itching to hit the trails in North Adams, head to Hoosac Range Trail. Hoosac Range is a 944-acre reserve that has a three-mile ridge trail with incredible views. Hike along the trail to see the beauty of the Berkshires. Head to the Spruce Hill destination or Sunset Rock to see some truly incredible sights. The hike to Sunset Rock is easier than the hike to Spruce Hill, though.
Dogs are allowed on the trail, so feel free to bring the pup along for a walk. While you're on the trail, be on the lookout for a tree whose head-level burl looks like Yoda!
Visit the Harmonic Bridge
Address: 14 Marshall Street
This unique site in North Adams is just a quick walk from the MoCA. It was formed when two artists, Bruce Odland and Sam Auinger, put two 16-foot-long resonating tubes under a highway overpass. The result? A wonderful project that brings music to the streets.
When traffic whizzes by the bridge, the motion triggers the tubes to create a low hum in C. It's interesting to walk near Harmonic Bridge and hear something that seems beautifully out of place in the street. It makes something that's typically mundane (traffic) into something wonderful. Experience it for yourself!
Visit MCLA Gallery 51
Address: 51 Main Street
Hours: Wednesday, Thursday, Saturday, and Sunday, 12 p.m. to 4 p.m.; Friday, 11 a.m. to 4 p.m.
Make sure you stop at this art gallery before concluding your trip to North Adams. MCLA Gallery 51 is run by the Massachusetts College of Liberal Arts and is home to a number of works from mid-career contemporary artists. It's staffed mostly by student workers and features truly unique art from people around the world. Head downtown to see this gem of a gallery!
---
You might also like:
---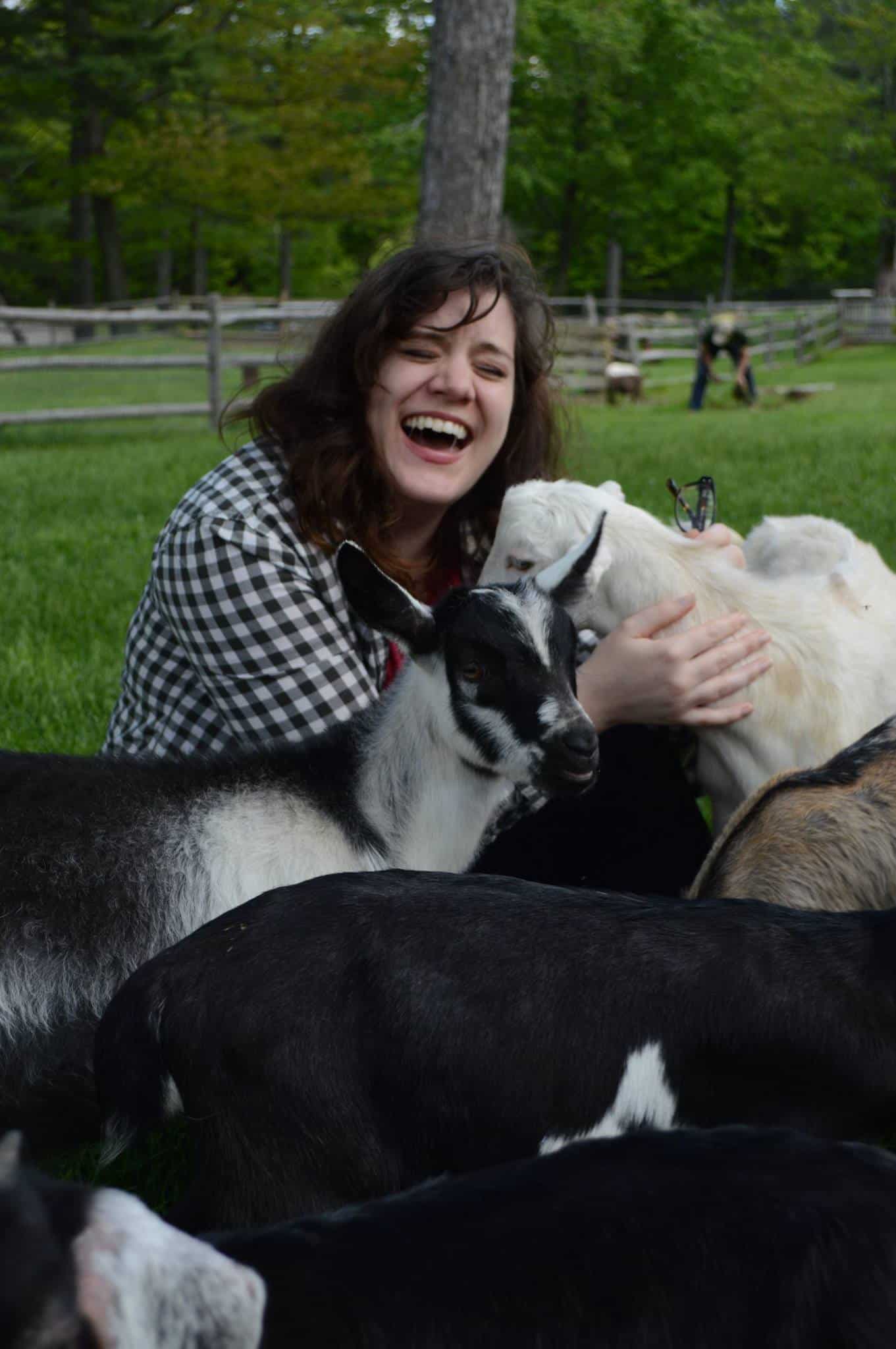 Amy is the founder of New England with love. A proud Vermonter, she hopes to share her love of New England and help you find the best adventures in the region. Amy is also blogger/founder at Two Drifters, where she writes alongside her husband about romantic and couples travel, relationships, honeymoons, and more. When not working on websites, Amy is probably reading, cuddling with her husband, son, and cats, & drinking a maple latte.