---
*Links in this article may be affiliate links, from which we may earn commission. See our
Privacy Policy
for full details.
---
Boston, MA is a chaotic, complex, and culturally rich city. With a little over 600,000 residents, it is also the urban hub of New England (we hear you chuckling, NYC…). Boston is not a simple city, which is why most outsiders don't understand it. They think it's all Matt Damon and Mark Wahlberg, "clam chowdahhhh" and "pahk the cahhh in Haaavad Yaaahd," and Dunkin' iced coffee in January (this one's 100% true).
While sports, Dunkin', and that hard-to-replicate accent are definitely a thing, the history and culture runs so much deeper. And since it's so layered, trying to fully explore Boston in 2 days is just not possible. From the world-class museums and expansive parks to the insane cannoli and early American landmarks, you could spend years uncovering its wonders.
Of course, most of us can't commit a decade to peruse Boston. Only have time for a Boston weekend trip? No problem! We have you covered with this epic weekend in Boston itinerary. Check it out and experience the most picturesque and historically significant, delicious, and exciting spots Boston has to offer!
Best Time to Visit Boston
For the most enjoyable two days in Boston, you'll probably want to come between April and November. Boston typically gets a lot of snowfall – twice the national average! And temps between January and March are quite frigid.

Your weekend in Boston will involve a lot of walking (since driving here is an absolute nightmare), so aim for those sunnier months; Spring in Boston is a blast, and fall is a gorgeous time of year to visit the city. Locals will also be much happier and more willing to connect with you when they don't have to shovel out their cars. If you do decide to brave the winter cold, there is lots of winter fun and Christmas magic to be found all around the city!

Where to Stay in Boston
If you're looking for where to stay in Boston for a weekend, we think it's best you narrow down your stay to one area. You can have a great time in so many neighborhoods but staying in the Downtown District is your best bet for covering a lot of ground on foot. You'll have access to some of the most significant landmarks, picturesque neighborhoods, and cultural hubs.
Why not hit your entire Boston bucket list this weekend? Because it would be a big challenge. We do not recommend a newbie driving all across Boston. As one of America's oldest cities, its roads were designed haphazardly, without a modern grid layout for efficient traffic flow. Driving is a beast here – don't underestimate it!
Along with that, trying to walk or take the subway to the farthest reaches of Boston in 2 days will exhaust you. You'll probably swear an oath to never ride the T again (Boston's citywide train system). So get cozy in Downtown Boston and make it your home for the next 48 hours. With amazing spots like Beacon Hill, Back Bay, and the North End nearby, there's more than enough to do; here are some ideas for where to stay in Boston for a weekend.

Suggested Accommodations for your Weekend Boston Trip:
A Weekend in Boston: Your 2 Day Itinerary
Day 1 in Boston
Let's hit the ground running on your first day in Boston. Wear your best walking shoes, because you'll be wandering the expansive Boston Common and Public Garden, then embarking on a 2-hour historical walking tour along the Freedom Trail. Just when you've had enough early American history, it's time for a more modern take on the city at Faneuil Hall Marketplace. Then we'll finish the day off right at the waterfront, with delicious seafood and a gorgeous sunset cruise.
Breakfast and a Walk Around Boston Common
First thing's first: grab a delicious breakfast at either The Thinking Cup or The Paramount. Since your ideal breakfast is definitely a deeply personal decision, you should have options.
Do you prefer to gingerly sip on an espresso while you savor the flavor of a buttery croissant or gluten-free breakfast sandwich? The Thinking Cup on Tremont Street – right next to Boston Common – is definitely your aesthetic. Are you more of a massive plate of pancakes, bacon, and eggs kind of person? The Paramount on Charles Street is your jam.
Hopefully you don't have decision fatigue this early in the day. Luckily your next stop is already decided, and right next door. Boston Common, a 50-acre public park, is considered the heart and soul of the city. Built in 1634, it's actually the oldest public park in America!
Today locals love it for exercise, attending live concerts, and special cultural events. Walk around, sit in the grass, people watch, or jog off your breakfast. Make sure you find the Make Way For Ducklings sculpture near the corner of Charles and Beacon Street. These adorable bronze ducklings are just one of many beloved aspects of Boston Common's Public Garden.
As the first public botanical garden in America, the Public Garden is a gorgeous Victorian-style garden made for meandering along its winding paths. You'll spot plenty of flowers and unique trees, the Lagoon, monuments and fountains, and even 100-year-old swan boats.
Pro Tip: Are you a fan of the show Cheers? Just a stone's throw away from the Public Garden, you can actually visit the original Cheers bar on 84 Beacon Street (where everyone knows your name!).

A Historical Walking Tour of the Freedom Trail
We're moving on from Boston Common with a fascinating historical walking tour along the Freedom Trail. You're going to learn a lot about the city and America in just two hours.

The history of America is closely intertwined with the history of Boston. Stories, signs, and remnants of the American Revolution are all over the city, which makes for an incredible living history.


The Freedom Trail is a 2.5 mile route through Boston with 16 significant historic sites. From museums to churches, burial grounds, parks, and meeting houses, the Freedom Trail offers a fascinating insight into the birth of the city and country.
The great thing is, you don't have to piece together the Freedom Trail all on your own. Free Tours by Foot offers a really popular 2-hour guided walking tour.
Starting from Boston Common, your guide will take you to multiple stops along the Freedom Trail, including Old South Meeting House, the Boston Massacre site, and Granary Burial Ground.
Your tour will finish up at Faneuil Hall, which is convenient because that's the next place on our itinerary!
PS: Check out these other great Boston walking tours, for the next visit when you have more than just two days in Boston!
Shop and Explore at Faneuil Hall Marketplace
Faneuil Hall Marketplace in downtown Boston is where it all happens. Dubbed by America's Founding Fathers in 1742 as "The Cradle of Liberty," this extensive marketplace has cobblestone promenades, impressive sweeping architecture, and over 70 retailers of specialty carts, locally owned shops, and restaurants. You could find some pretty cool souvenirs from your weekend trip in Boston here.

As Boston's most popular shopping and dining spot, you can stay entertained here for hours on end. Browse the some-40 specialty pushcarts, where local artisans sell their handcrafted items. Shop for antiques or fashionable apparel by signature brands like The Black Dog, Urban Outfitters, and UNIQLO.
It's also common to encounter street performers along the promenade drawing large crowds of excited onlookers. From dancers to stunt people to musicians and magicians – Faneuil Hall draws world-class talent.
If you get hungry, you'll have no trouble finding a delicious snack at shops like the Carol Ann Bake Shop or Joey's Galeteria. Just make sure you save room for dinner – we're heading for the Waterfront District next!
Pro Tip: On Saturdays from 6am – 7pm, you'll find Haymarket, an outdoor historic greenmarket with fresh fruits and vegetables. Access it along Blackstone Street, just a 3-minute walk from Faneuil Hall.

Visit the New England Aquarium, Dine and Cruise on the Waterfront
Find your sea legs because you'll be taking a brief 5-minute walk from Faneuil Hall to the waterfront district. This is the perfect setting to enjoy Boston's nature, seafood, and fresh air. The seaport has been totally revamped in recent years, and is now quite the hip neighborhood.

Our first stop is the New England Aquarium at 1 Central Wharf. This aquarium seriously never disappoints – and its 1.3 million visitors a year would probably agree.
With thousands of aquatic animals, a four-story coral reef, seals, African penguins, and a lot more, your face will be glued to the glass. Try to catch the biologists feeding the penguins, it's pretty adorable.
If you have any time before dinner, a visit to the Boston Tea Party Ships & Museum is a great use of time. You can learn through live reenactments and exhibits about this all-too-famous historical event that had a massive impact on American history.
You're probably starving for some dinner by now, and luckily there are plenty of options right along the Harborwalk. For some unbelievable local seafood, head to Legal Sea Foods for the freshest catch of the day.
If you feel too guilty after having just made some fishy friends at the aquarium, try out Bostonia Public House for some classic New England fare in a neat historical building. If you just want some quality American food, State Street Provisions will do the trick.
Let's wrap up Day 1 in style. Boston Harbor City Cruises offers a 90-minute narrated sunset cruise around the harbor. You'll embark from Long Wharf at 7:00pm, and learn even more lore of the city. The Boston Skyline also looks picture-perfect at golden hour; this is a fun, romantic thing to do if your weekend in Boston is with your special someone, too!
Day 2 in Boston
Can you believe how quickly this weekend is going by? We're stuffing in as much as we can on day 2 in Boston. Today is mostly about living the high life with shopping in Back Bay, Boston's most fashionable district. Literature lovers will enjoy stops at Boston Public Library and Trident Booksellers. Dessert gluttons will lose their minds over pastries in the North End. Then we'll end the trip by taking a tour with a ghostly twist.

Eat, Shop in Style, and Browse Books in Back Bay
The first half of Day 2 is all about Back Bay, Boston's trendiest neighborhood. Located right by downtown beside Boston Common and Beacon Hill, Back Bay is as fashionable and glamorous as it is expensive. But because we're just visiting, let's not concern ourselves with the astronomical rent prices…
If you don't want to put much brain power into this morning's breakfast, the Friendly Toast on Stanhope Street is usually a crowd pleaser.
But if you want to go for something a bit more unique, head to Trident Booksellers & Cafe on Newbury Street. Yes, it is a bookstore that serves breakfast. And yes, it has what some would call the "best breakfast in Boston!". And Google reviewers never lie.
Trident is an indie bookshop with a relaxed energy, interesting regulars, and a great collection of reads. If you're not careful, you might waste the first half of the day here. But even if you did, it wouldn't be a waste.

Guess what? We're already on Newbury Street, so it looks like it's time to go shopping! Newbury Street is one of the chicest shopping strips in Boston. Between upscale boutiques, big fashion chains, and art galleries set in European-style townhouses, you'll probably get whisked away in this Parisian dream and end up buying too many pairs of shoes.
A perfect way to end your time in Back Bay is to explore Copley Square. Here you'll find Trinity Church, an architecturally unique parish that's a designated National Historic Landmark. This is also the location of the Boston Public Library, which is definitely worth going in and browsing.
This isn't just an ordinary public library – it was the first public library in the U.S., and has a breathtaking Beaux-Arts and Renaissance-style interior. We love a good book utopia, and this one's a gem.
Eat, Eat, then Eat More at the North End
We're heading to the North End of Boston, a.k.a. Little Italy (best not to call it that to a local). This neighborhood is a food lover's paradise. It is also home to some mind blowing historical sites along the Freedom Trail. Stop by the 1680 home of Paul Revere, or the Old North Church, Paul Revere's first stop on his famous "Midnight Ride."
The North End has Italian restaurants galore. Close your eyes, spin in circles, and stumble into the nearest one. It'll probably be a score. But our dinner recommendations will work too!
Diners love Giacomo's on Hanover Street for the large portion sizes, no frills, and comfy setting. If you care for something a bit more romantic and refined, Mamma Maria on N Square Street is your spot.
Or to pretend you're in Sicily for the evening, head to Limoncello Trattoria for all the Italian classics, a good wine selection, and lovely murals of Italy to put you in the mood.
Now, we're moving on to the reason you're in the North End. It's a seven-letter word that starts with C. Any ideas? Cannoli! Yes, there are two cannoli kings in this neighborhood: Mike's Pastry, and Modern Pastry (there's an actual cannoli war happening here).
To get yourself a mouth-watering pastry or cannoli, you may have to hop in a line that snakes down the block. But it's all good, and probably (definitely) worth it.
Mike's Pastry on Hanover Street is definitely the most hyped, and for good reason. Founded by Italian immigrant Michael Mercogliano in 1946, this shop simply does cannoli really, really well.
But some locals argue that Modern Pastry is the play. The lines don't get nearly as bad, and while their cannoli are much smaller with thinner shells, the cream is incredibly rich and flavorful. And you won't slip into a food coma after eating one.
Time to waddle along to our final activity in Beantown: a spooky ghost tour. Hope you don't scare easily!


End the Weekend with a Spooky Ghost Tour
There's something about ghost stories that just draws people to the state of Massachusetts (the Salem Witch Trials, perhaps?). Boston is no exception. There are as many ghoulish, haunted tales to send chills down your spine as there are centuries-old revolutionary sites in Boston.
Now that the sun's gone down, it's time for some haunts, paranormal activity, and genuine fun. Take the Ghost and Gravestones trolley tour, where a group of scary-costumed guides will share stories of graveyards, public hangings sites, underground tunnels, and local legends.
This ghost tour is a great way to see a completely different side of Boston, and have a lot of fun along the way. Just be forewarned, there may or may not be a few jump scares along the way…
Long Weekend? Bonus Day Ideas for a 3 Day Weekend
There are so many things that could be added to your bonus day during your Boston weekend, but let's be real here: there's only so much a person can squeeze in to their 2 day trip in Boston. Have an easy start with a Boston brunch, museum hop for a bit, check out an iconic sports stadium, eat and then if you're still going strong, go out on the town!
Brunch in Mission Hill to Fuel your Museum Hopping
Take the T to Roxbury Crossing in Boston's beautiful Mission Hill neighborhood to grab a bite from Milkweed on Tremont. This top rated restaurant serves a stellar breakfast all day, but is especially popular with the local brunch crowd, so brunch it up like a local. It's also just a quick walk to get from Milkweed to some of Boston's coolest museums!
Explore Boston Museums
Some of the best museums in Boston are easily walkable to one another in the Fenway-Kenmore neighborhood, so consider choosing a couple to explore during your bonus day in Boston! Two days in Boston doesn't allow for much time to check out museums, but with an extra day, that opportunity opens up for you.
Museums like the Isabella Stewart Gardner Museum, MassArt Art Museum, and the Museum of Fine Arts are just a few of your options in this neighborhood.
Tour Fenway Park then Grab a Bite
Just about a 15-minute walk from the museums mentioned above is "America's Most Beloved Ballpark," Fenway Park. If you're any kind of a baseball fan, their 40-minute tours are well worth fitting in; if you're not so much, just snap a pic of the iconic CITGO sign and call it good!
At this point, you're probably more than ready to grab a bite, and don't worry, you've got great options in the Fenway-Kenmore neighborhood. The highly rated Phinista Cafe looks pretty interesting; it's a French Vietnamese cafe that offers a signature drink called the Phin Rosé, a Vietnamese iced coffee with a rose petal syrup… sounds pretty enticing to me!
Nightcap with some Nightlife
If you're still going strong, grab an Uber/Lyft/Taxi to experience some Boston nightlife. Boston has a pretty respectable entertainment scene: comedy clubs, theatre, breweries, and nightclubs to name a few options, just kinda depends on how much stamina you've got left after your Boston weekend– and how early you have to be up the next morning!
To Sum it Up: Weekend in Boston Itinerary
Day 1
Breakfast at the Thinking Cup OR The Paramount (Downtown)

Explore Boston Common and Public Garden (Downtown)

Go on a historical downtown walking tour along the Freedom Trail (Historical Downtown)

Go shopping and snacking at Faneuil Hall Marketplace (Waterfront/North End)

Visit the New England Aquarium (Waterfront)

Eat dinner at the Waterfront (Waterfront)

Go on a sunset cruise with Boston City Harbor Cruises (Waterfront)
Day 2
Eat breakfast at The Friendly Toast OR Trident Bookstore & Cafe (Back Bay)

Explore the collection of books at Trident Bookstore & Cafe (Back Bay)

Go shopping on Newbury Street (Back Bay)

Visit Trinity Church and the Boston Public Library in Copley Square (Back Bay)

See the Paul Revere House and Old North Church (North End)

Eat dinner at an Italian restaurant (North End)

Grab a cannoli dessert at Mike's Pastry or Modern Pastry (North End)

Go on a Ghosts and Gravestones Trolley Ghost Tour (Waterfront)
Bonus Day Options!
Fuel up for the day with brunch at Milkweed on Tremont (Mission Hill)
Explore Isabella Stewart Gardner Museum, MassArt Art Museum, Museum of Fine Arts, and more! (Fenway-Kenmore)
Tour Fenway Park (Fenway-Kenmore)
Grab a bite at one of the many restaurants in the Fenway-Kenmore neighborhood (Fenway-Kenmore)
Uber/Lyft/Taxi out on the town to enjoy some Boston nightlife (All Around Town)
You might also like:
---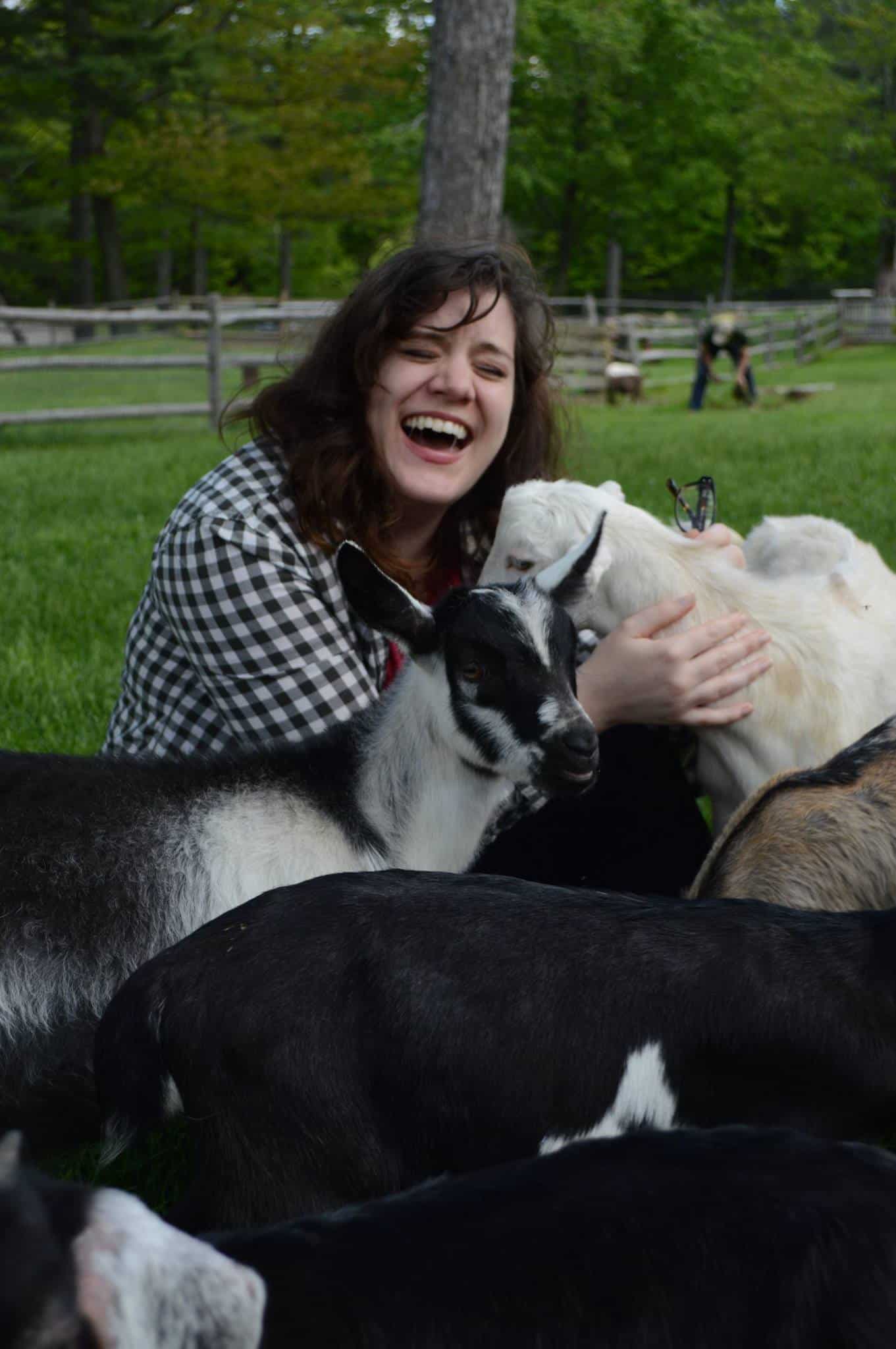 Amy Hartle is the owner and editor of New England With Love, a comprehensive resource for travel in the New England region. Amy lived in Vermont for 15 years, attended Plymouth State University in New Hampshire, and continues to travel regularly around the entire New England region. On this site, Amy aims to share her love of New England and help you to have the best possible adventures!
Amy has been a full time blogger since 2012, and is also the publisher of Two Drifters, where she writes about couples travel and relationships, as well as Let's Adventure Baby, a family travel site. When not traveling the world or creating epic blog content, Amy can be found cuddling with her husband, son, and cats, & drinking a maple latte.