Located in Massachusetts, the Berkshires are one area that should be on your travel list if you're heading to New England. This area is known for its beautiful, rolling mountains and an abundance of outdoor activities, so you'll never be out of fun things to do.
The easiest way to visit here is to live like a local by staying in one of the best Berkshires Airbnbs. This way, you'll have more space for yourself, and you can cook your own meals. Below, find the best 13 Airbnbs in the Berkshires.
These Airbnbs have been included for a variety of factors: luxury, affordability, location, amenities, and unique features. We've also tried to include a range of prices and guest capacities, so no matter the type of Massachusetts getaway you're taking, we're confident there's something perfect in here for you! PS: Some of these properties are actually over the border in NY, so this can work for an upstate NY getaway as well.
Airbnbs in the Berkshires
---
For a romantic Airbnb in the Berkshires, look no further than this accommodation! It's located in Otis in a forest, so it is very peaceful and genuinely feels like a retreat within the Berkshires. It can host up to four guests at a time.
The interior is very simplistic, but exposed wood beams and furniture help to liven the space up. Guests have access to a patio with a grill and will love the other amenities, including a flat-screen TV, kettle, and unique rustic bathtub. This home's accents are incredibly one of a kind, including the antler chandelier in the dining room.
---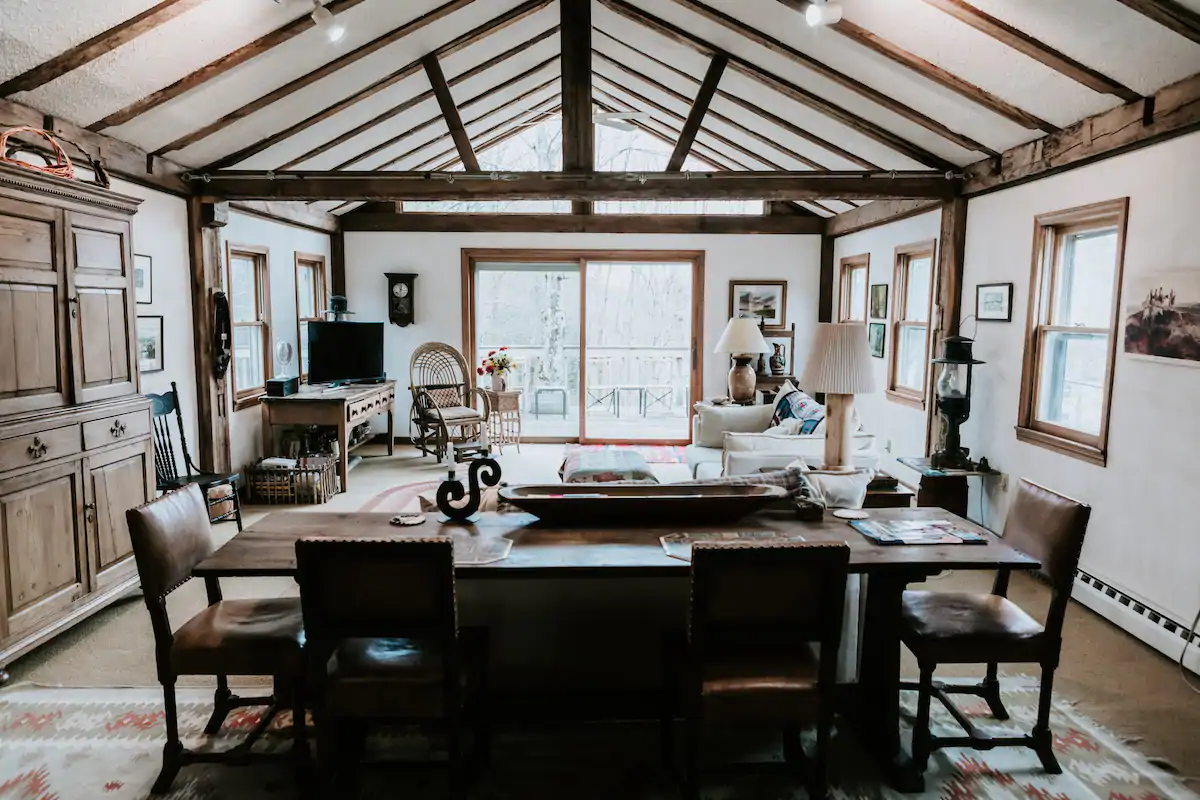 A genuine rustic yet sophisticated Berkshires Airbnb, this accommodation in Otis is one that you won't want to overlook. The interior is unique. The walls are white, but there are dark wooden accents throughout, which create a stark contrast in the atmosphere.
The home feels very cozy and can host four guests between two bedrooms. Amenities are plentiful within this home and include a flat-screen TV, private porch, washer and dryer, and air conditioning so you'll feel comfortable in the summer. The town that it's located in is known for its camping, outdoor activities, and even has a ski resort!
---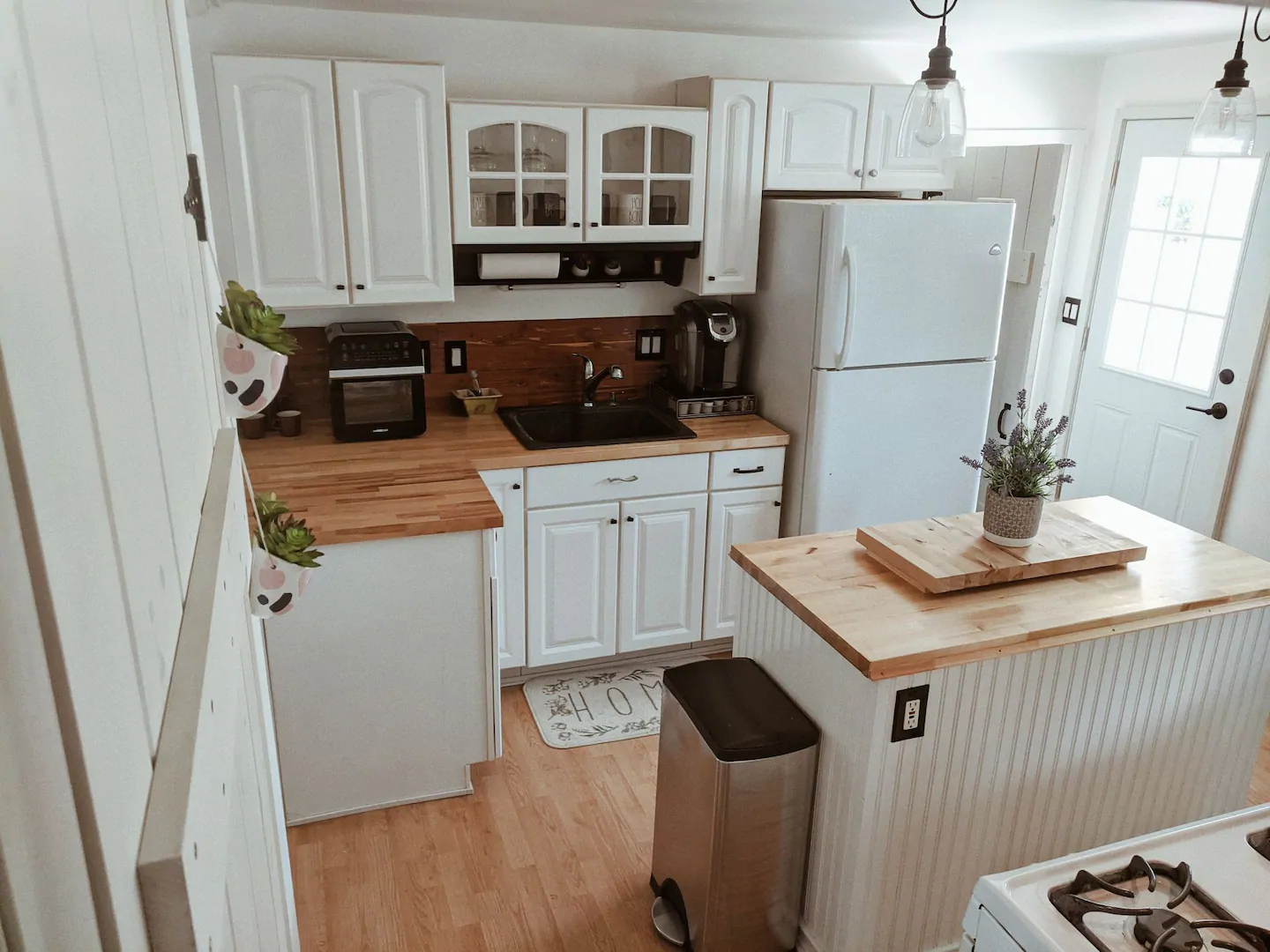 This gorgeous 19th century home in North Adams is incredibly vintage yet has modern features, making it a great place to stay in the Berkshires. It can host four guests at a time, and despite having a simplistic interior, is very beautiful. The host has decorated with fun artwork and plants throughout the home.
It has a farmhouse style and is the perfect place to stay if you're visiting someone at one of the nearby colleges or you're just exploring the Berkshires and music festivals in the area. The home has a full kitchen, Roku on the smart TV, air conditioning, and ample outdoor space with a barbecue grill.
---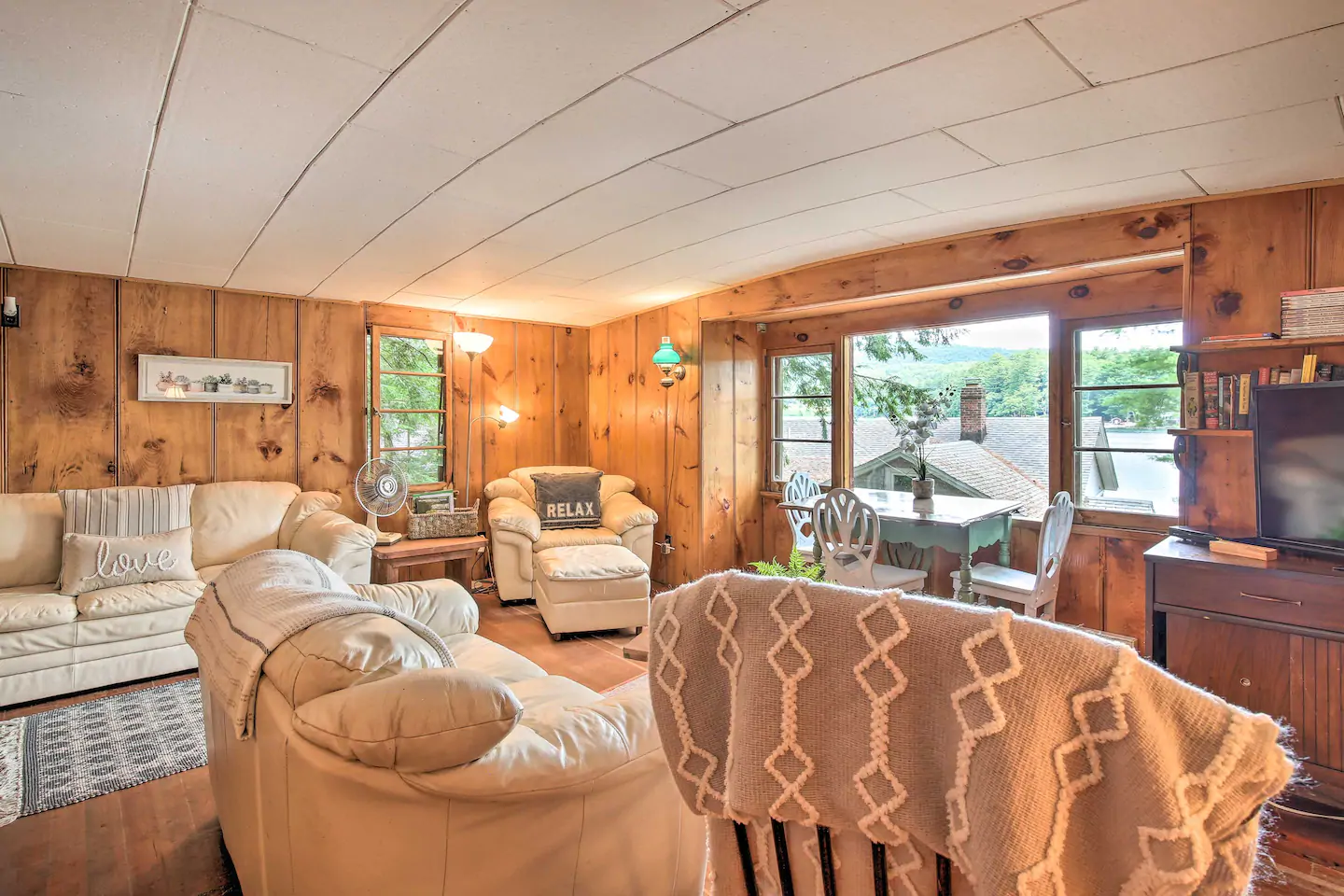 When visiting the Berkshires, the best way to experience it is by staying in the heart of it. There's no better Airbnb in the Berkshires for that reason other than this one! It's located in New Marlborough and can host four guests at a time, making it ideal for a family vacation.
The cottage feels like a log cabin home on the inside and has a very warm atmosphere. There are tons of windows throughout and wooden walls, which makes the home feel very comfortable and bright. Guests will love the amenities, including proximity to the private Lake Buel, where they can go kayaking.
---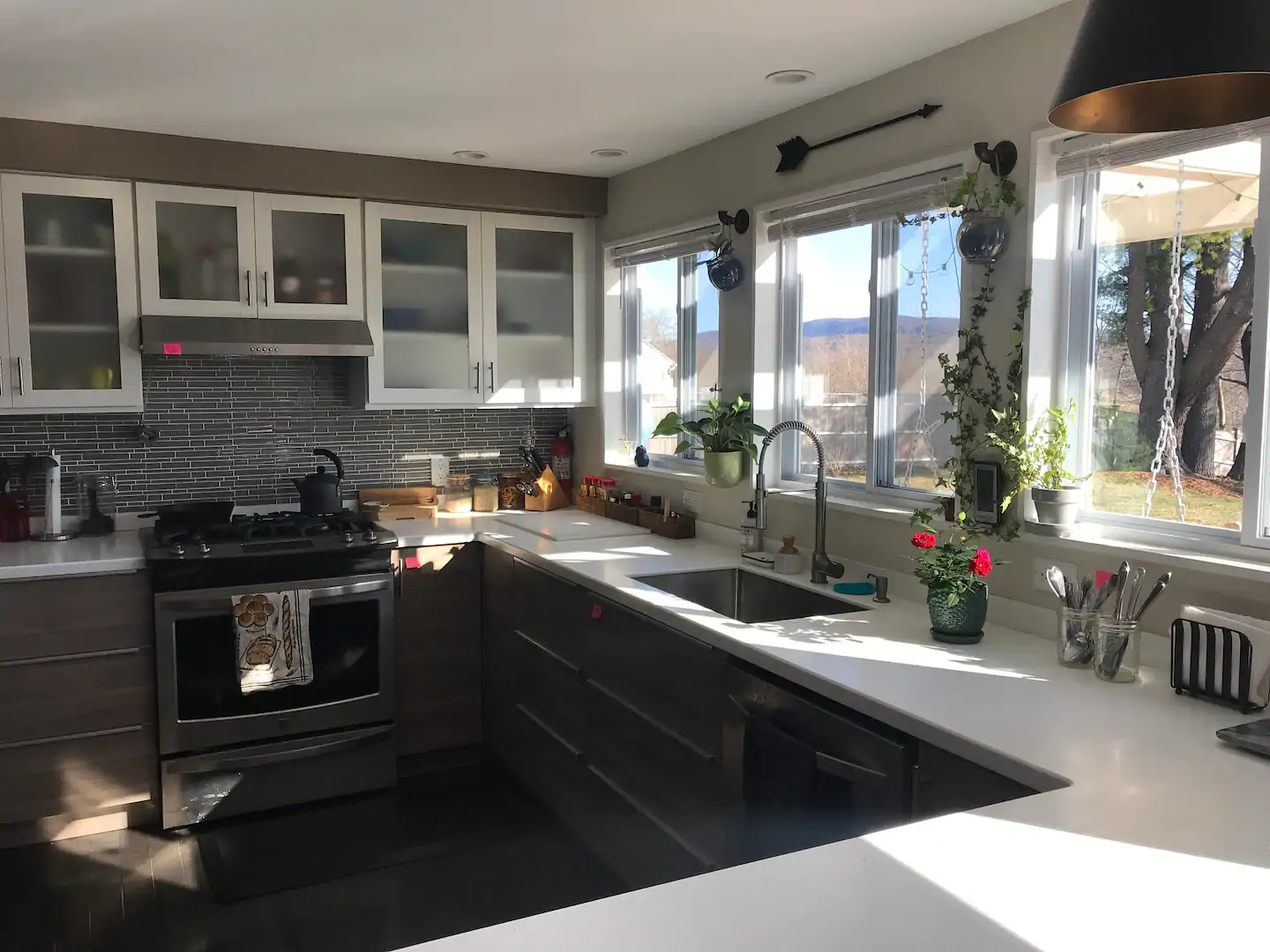 This cozy Berkshire getaway is a close walk to one of the best breweries in Sheffield, what more could you want? It can host five guests and features ample outdoor space, including a fire pit that is perfect for grilling some dinner after a long, hot summer day.
Amenities are abundant, including a hot tub, full kitchen, multiple smart TVs, and breathtaking views of the Berkshires. The home is completely private and fenced in, so it feels very residential and tranquil. Plus, the owner's cat will be accompanying you during your stay!
---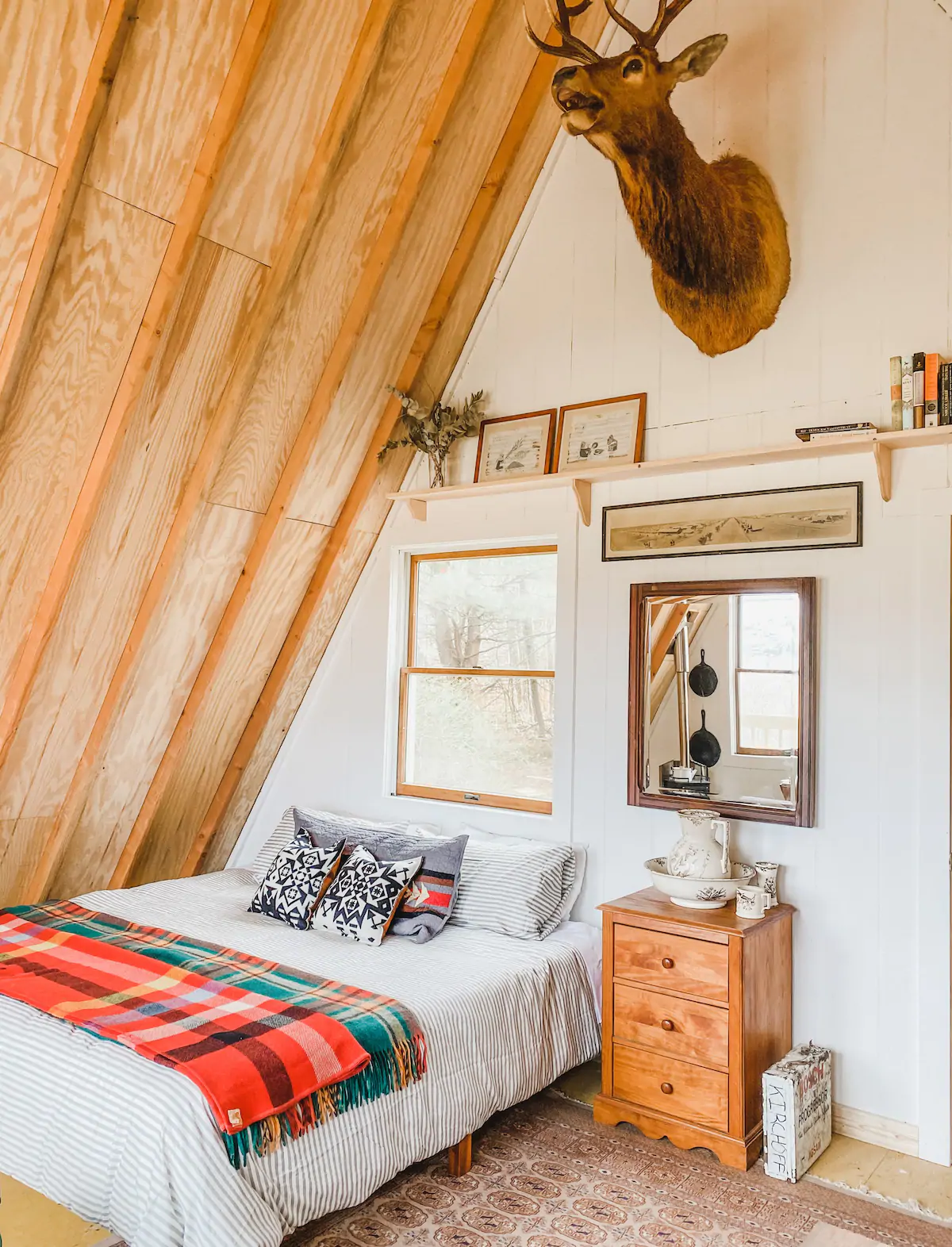 A unique hideaway for four, this is one of the best Airbnbs in the Berkshires. It's a tiny house located in Canaan, New York, and is truly breathtaking. While it can host four guests, it's a great place to go for a romantic getaway.
The tiny home is only 200 square feet, but it packs a lot in a small amount of space. This A-frame home has a unique decor, bright patterned fabrics, and epic views everywhere you look. Plus, guests can explore the rest of the nearby forests if they want, where there are many hiking trails.
---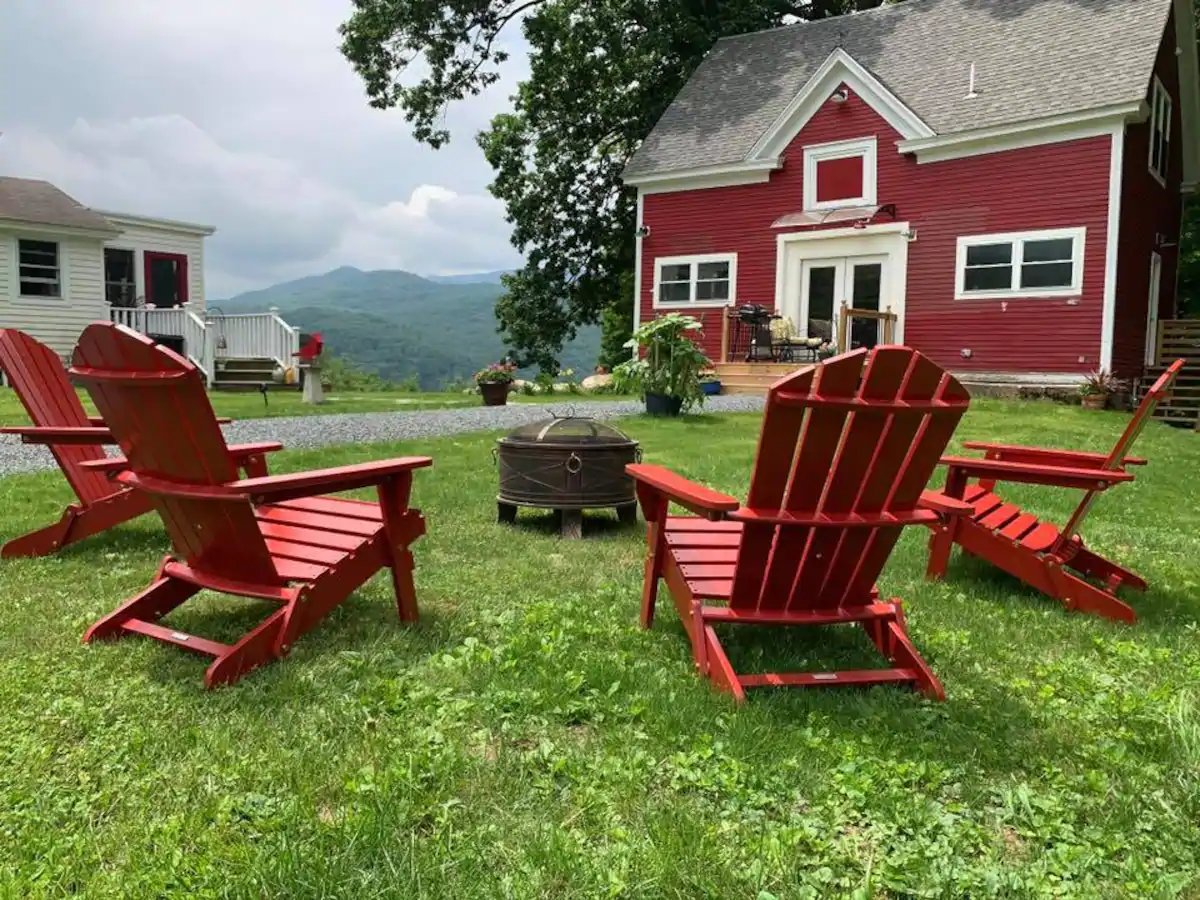 Located in North Adams, this Airbnb in the Berkshires can host six guests at a time. Netherwood has three bedrooms, three bathrooms, a kitchenette, a dining area, and a small living room. There's also a coffee bar filled with coffee, tea, and sugar that comes equipped with a Keurig.
Every bedroom in the home has an ensuite bathroom, and there are also smart TVs, free wifi, and air conditioning and heating so that you can feel comfortable during your stay. Tons of outdoor space accompanies the home, which comes with a gas grill. Plus, the host provides guests with fresh baked goods every day of their stay!
---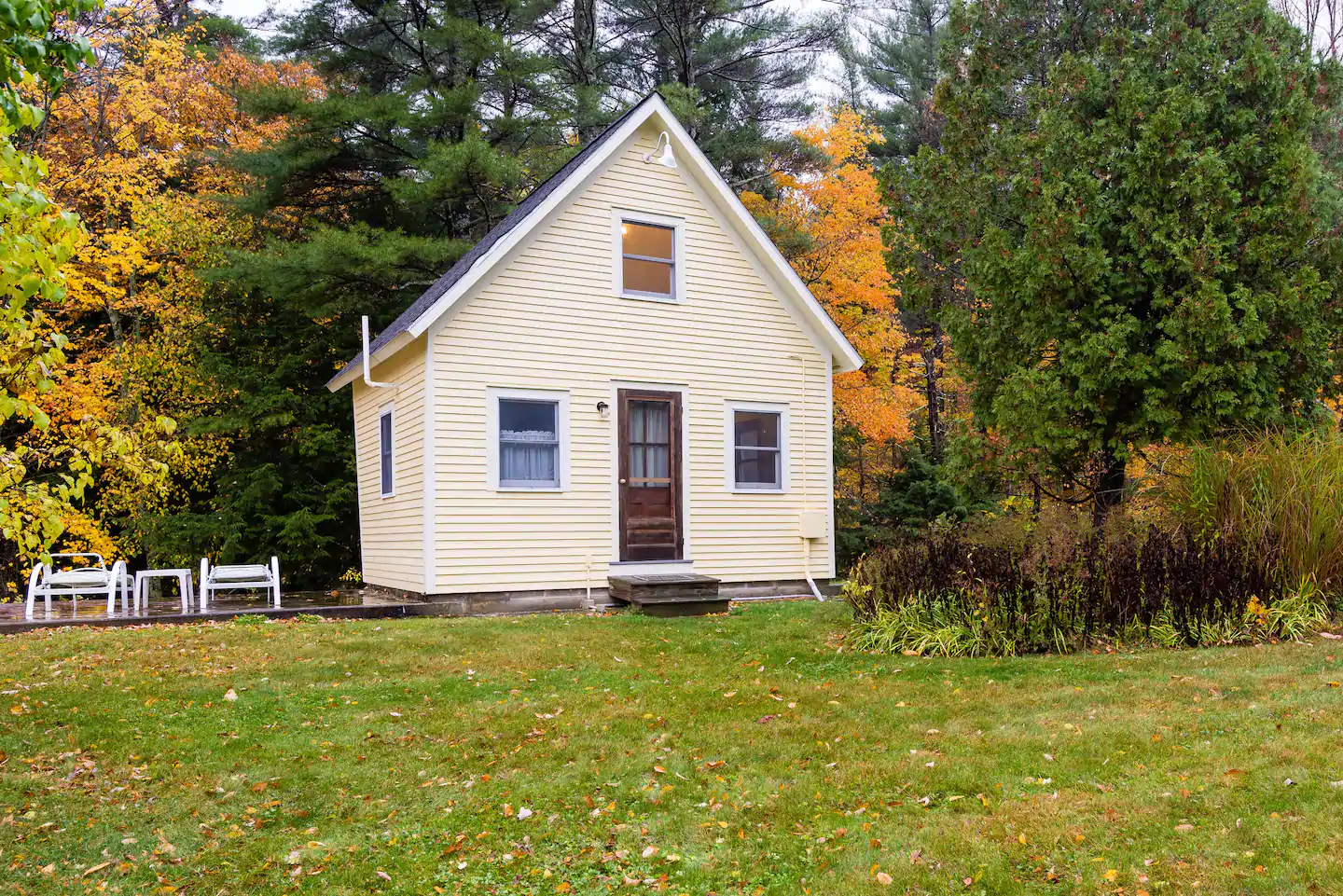 This cottage by the brook in Williamstown, Massachusetts, is one of the most excellent Berkshire Airbnb rentals. It can host two guests and is only a short drive away from downtown Williamstown and the Vermont border, so guests can visit two states if they want!
The home, while tiny, is very charming. Inside, there's a kitchenette, bedroom, bathroom, and small living room area. It's nestled away surrounded by trees, so it truly feels like an escape. Of course, similar to other Airbnbs on this list, there is also a lot of outdoor space just waiting for you to explore.
---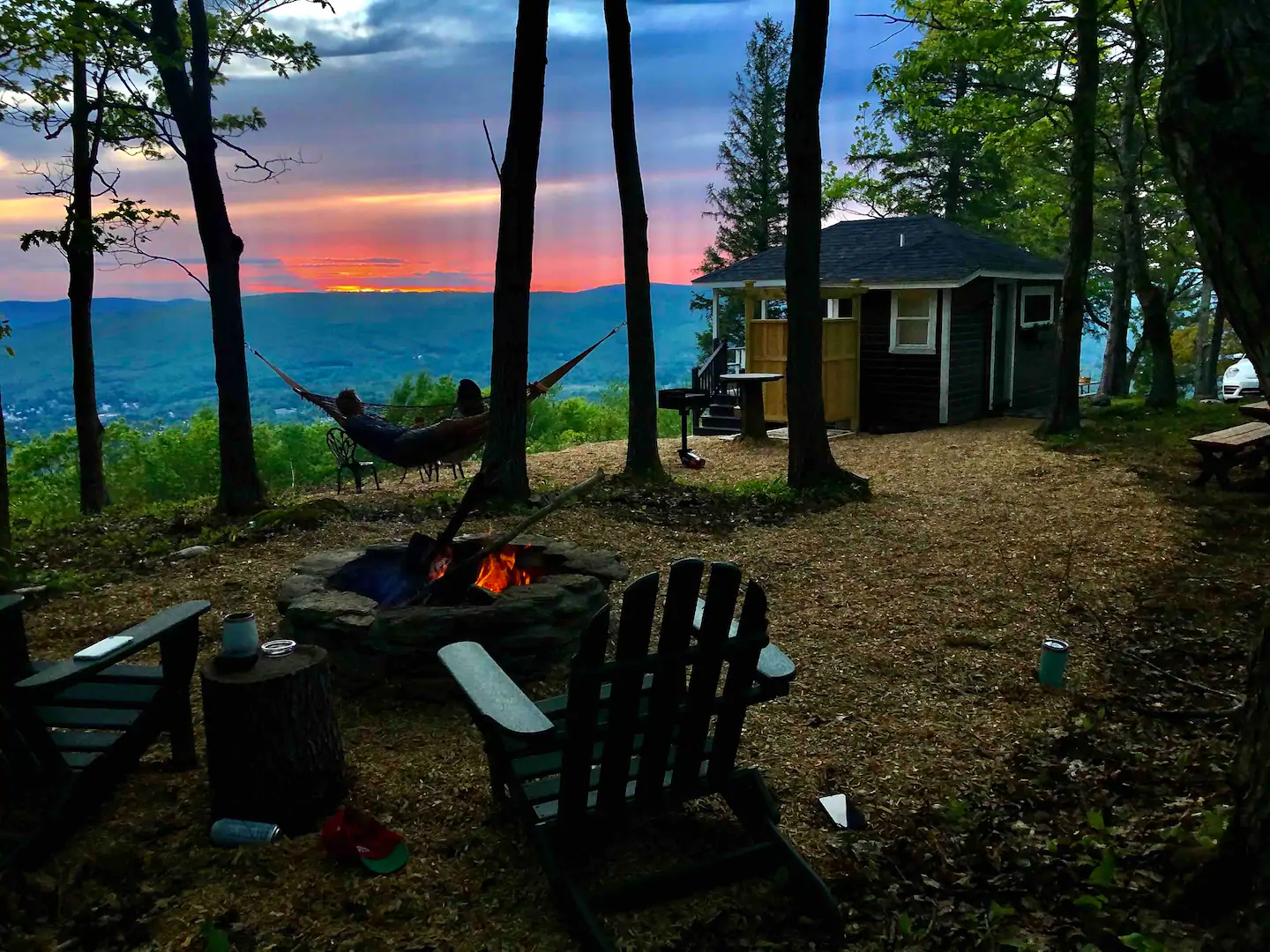 This private nature tiny house in North Adams is the ultimate retreat for two guests. While the home is petite, there is tons of outdoor space equipped with outdoor furniture, a fire pit, and a hammock. Imagine how relaxing it is to stay here!
From the cabin, guests will be rewarded with one of the best views of the Berkshires. The home itself is located on one of the highest peaks in the area, so the area is impeccable. It comes equipped with a full bathroom, mini-fridge, and air conditioning and heating so you can be comfortable no matter the time of year.
---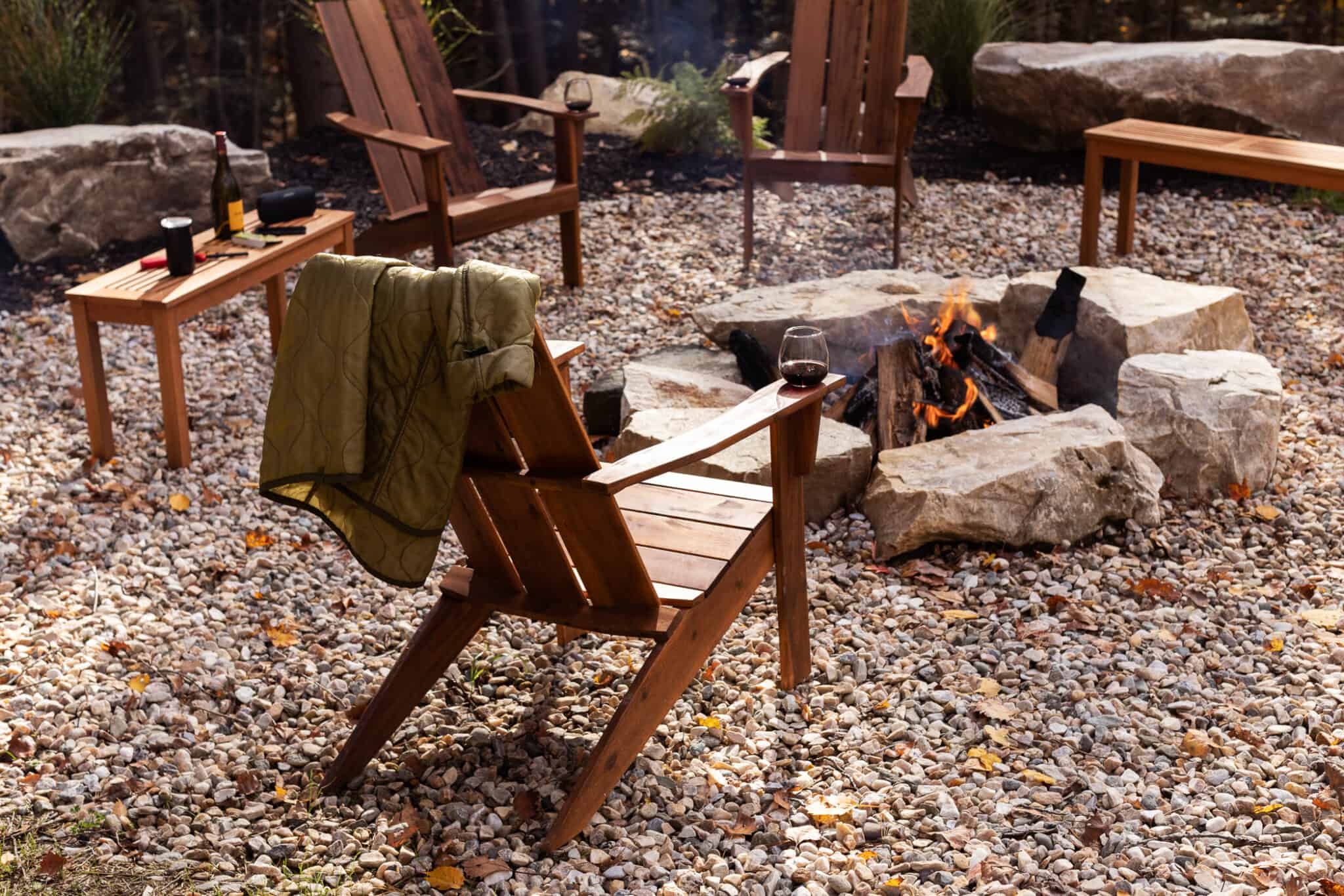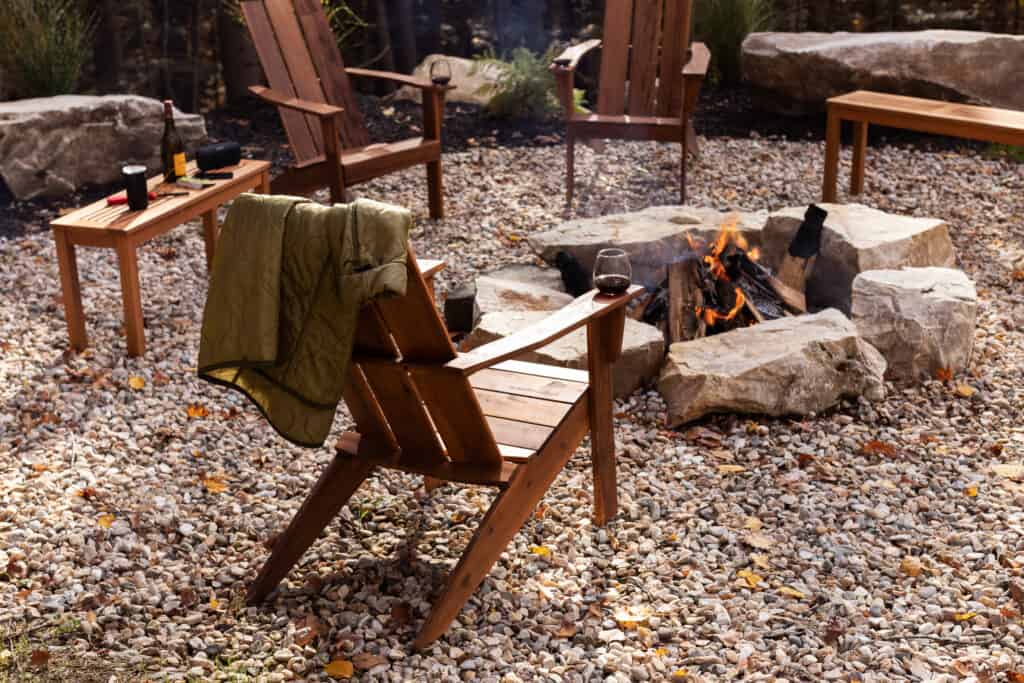 If you're looking for a gorgeously renovated Airbnb in Massachusetts, check out this beautiful Berkshires gem! With three bedrooms and three bathrooms, it can sleep up to 8, making it a fantastic choice for your next Massachusetts friends trip!
It's located on 12 wooded acres in the beautiful Berkshires and makes a great home base for all kinds of Berkshires fun. There's also a woodburning fireplace, outdoor fire pit, and a hot tub, so you might decide to spend more time hanging at your MA Airbnb than you'd expected!
---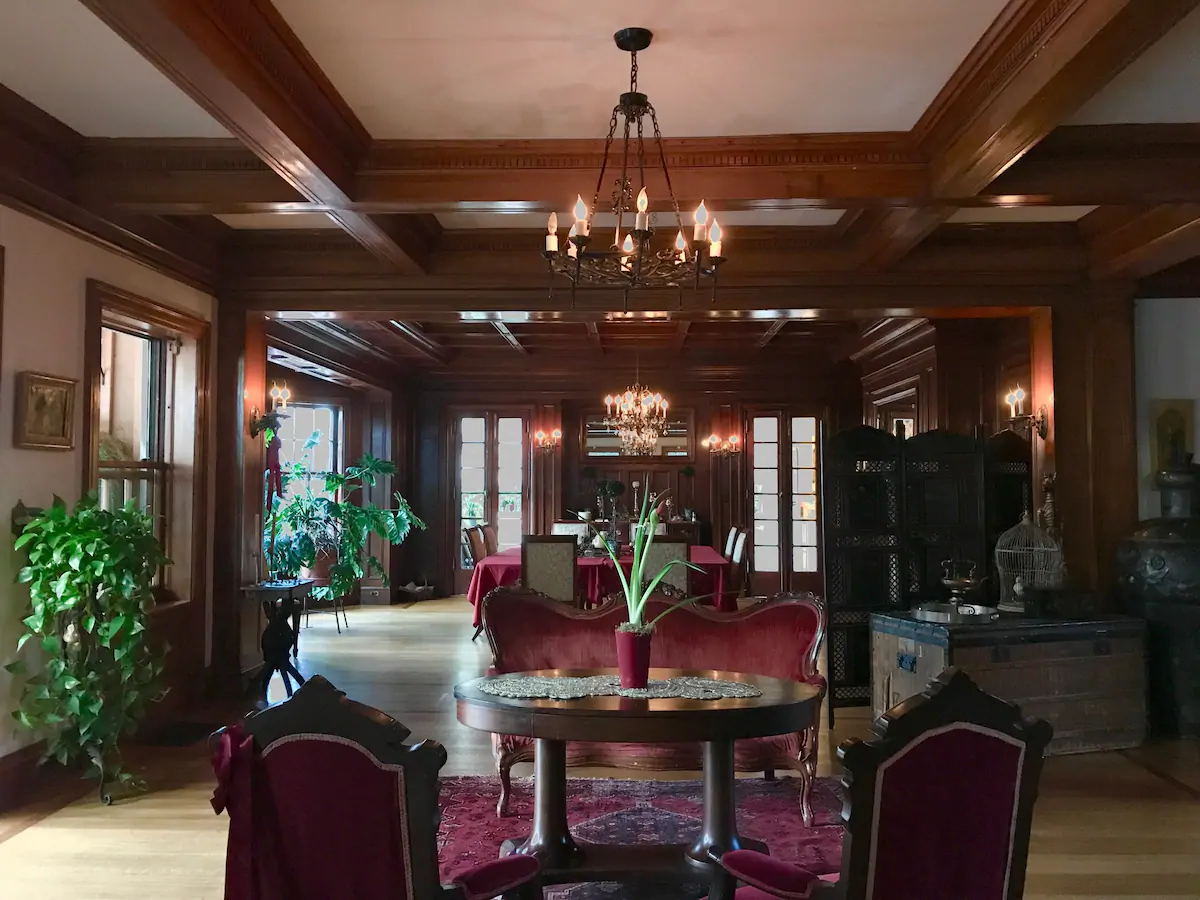 Located in Pittsfield, this cottage is one of the best Airbnbs in the Berkshires. It has a very rustic yet dark romantic atmosphere, which makes it incredibly unique. Guests will have their private room in the home, which can host two guests at a time.
The home was built in the early 20th century by a wealthy family in Brooklyn who wanted a summer escape. It's quite large and features a large private yard, three fireplaces, and even a sunroom and library. Guests will also have access to a deck to get some fresh air while sipping morning coffee.
---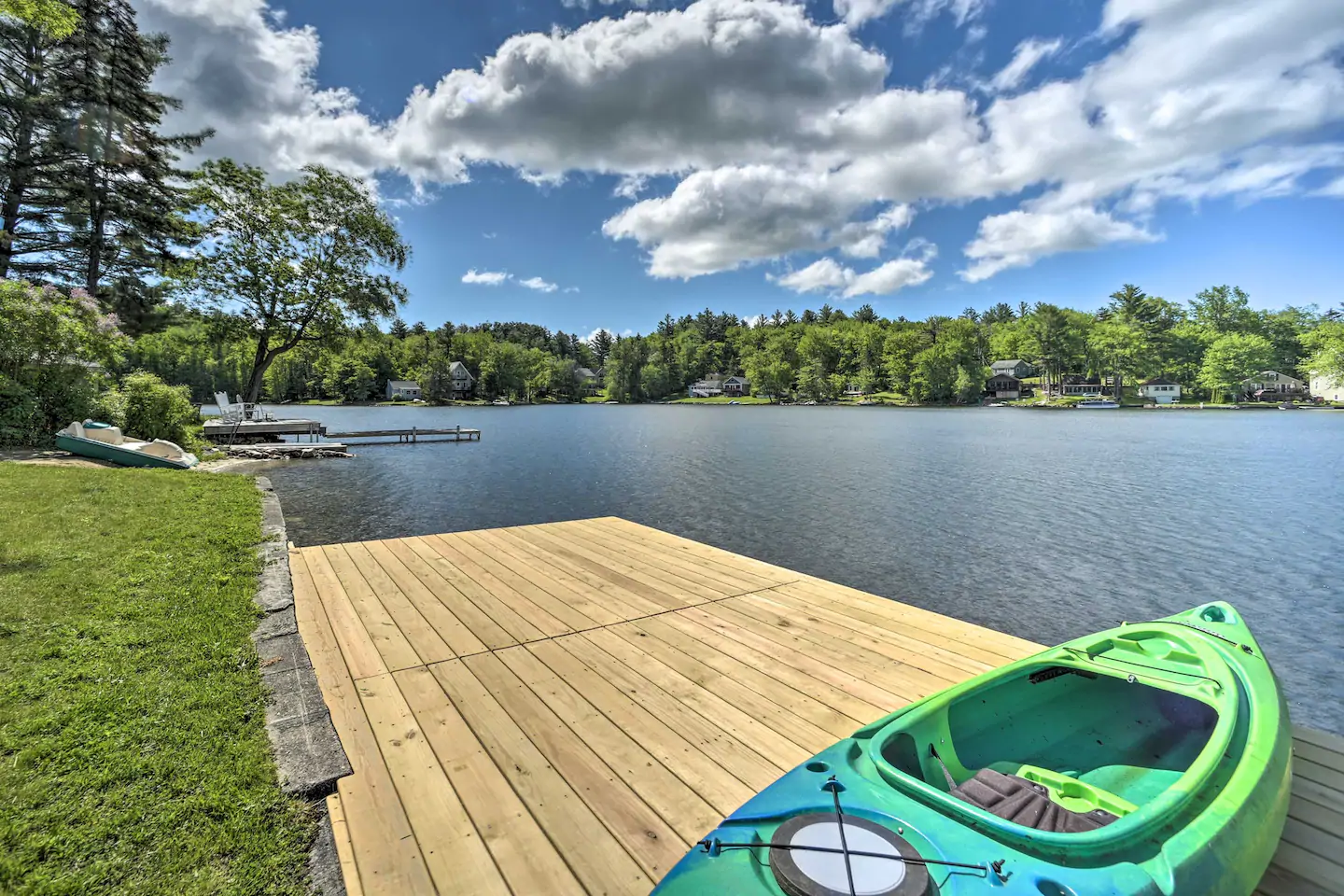 This Hinsdale Airbnb in the Berkshires is exceptionally picturesque and can host six guests at a time. Inside, there are three bedrooms, two bathrooms, a living room, kitchen, and dining room. Plus, guests have their private patio with outdoor furniture so they can wake up while taking in the beautiful nature.
The home also has tons of amenities, including ample lawn space, a grill, air conditioning, and a coffee maker. This is the perfect place to stay if you want to explore the Berkshires. Plus, you'll have direct access to Ashmere Lake, a private sand beach with your own dock, where you can go kayaking, swimming, or even fishing!
---
---
Last but not least is an artist cottage in Great Barrington, Massachusetts. This home can host two guests at a time, making it great for a weekend away from the kids. The home features one bedroom, two bathrooms, a living room, and a kitchen.
While this home is a great place to stay no matter the time of year, it looks like a Hallmark movie setting in the wintertime. The inside is very eclectic but has pops of mint green appliances, which is incredibly unique.
---
I hope that this post has helped you find the perfect place to stay for your getaway to the Berkshires. Make sure you book well in advance because this is a popular destination to visit, especially in the summer. Enjoy your trip!
---
You might also like:
---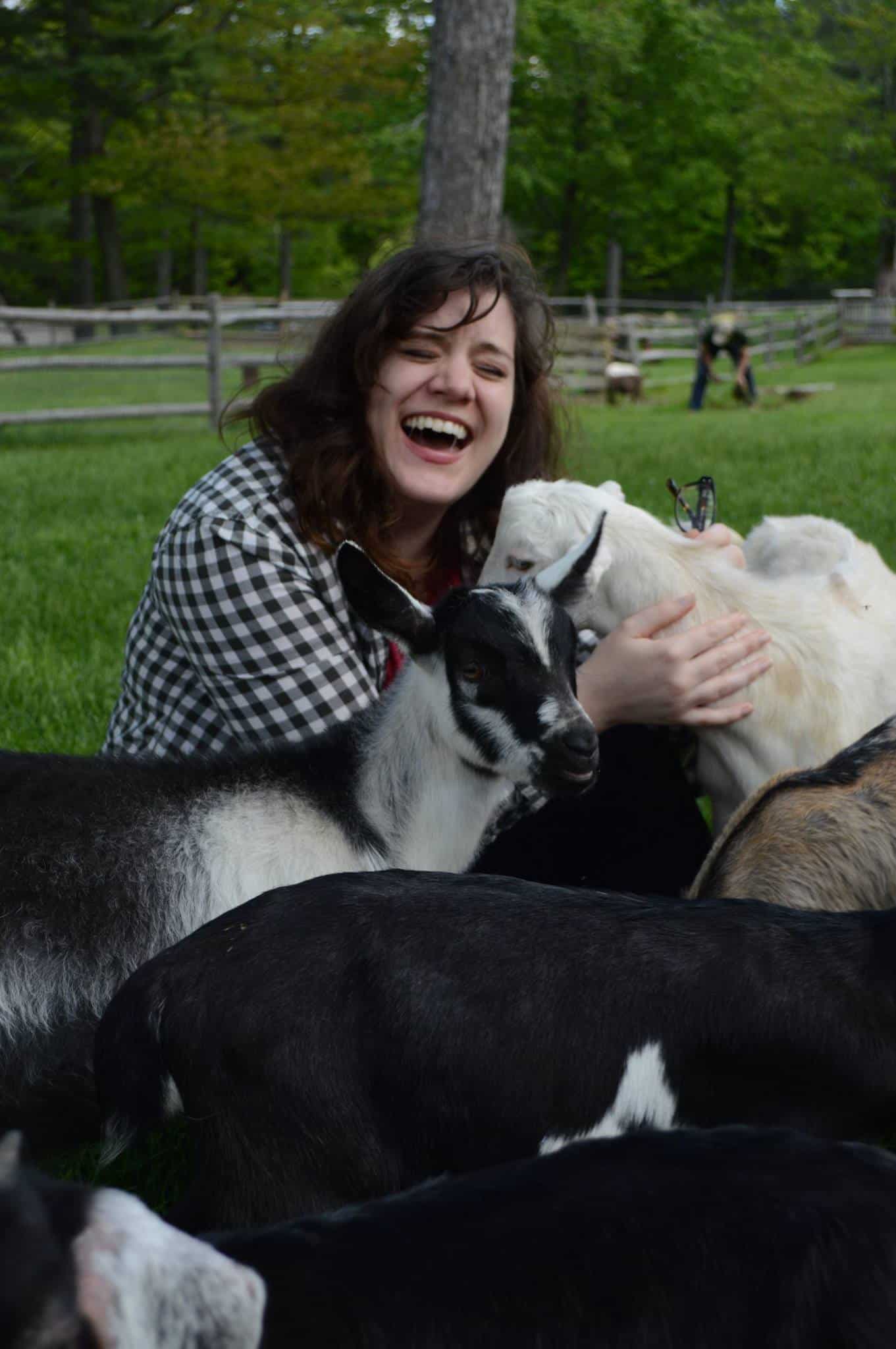 Amy Hartle is the founder and Editor-in-Chief of New England With Love, a comprehensive resource for travel in the New England region. Amy has been exploring New England since 2001. She lived in Vermont for many years and is a graduate of Plymouth State University in New Hampshire. Amy has been writing about travel for over a decade. On this site, Amy aims to share her love of New England and help you to have the best possible adventures!
Amy has been a full time blogger since 2012, and is also the publisher of Two Drifters, where she writes about couples travel and relationships, as well as Let's Adventure Baby, a family travel site. When not traveling the world or creating epic blog content, Amy can be found cuddling with her husband, son, and cats, & drinking a maple latte.