One of the best parts of visiting New England is the fun accommodation options available within some of the most beautiful locations in the United States. Just imagine staying in a treehouse while you're on vacation!
To save yourself the headache of finding an accommodation yourself, I've put together this list of some of the best treehouses in New England! Whether you're traveling for a couple's getaway or a family vacation filled with fun, you're sure to find the perfect accommodation on this list.
Here are the best treehouse rentals in New England!
Treehouse Rentals in Vermont
Beautifully handcrafted, this Vermont treehouse rental is absolutely gorgeous! Conveniently located in the heart of Vermont's Northeast Kingdom, this is a great spot for nature lovers.
Accommodating up to 6, the little extras like the firepit make this a lovely treehouse rental for anyone looking for a magical place to stay in Vermont.
---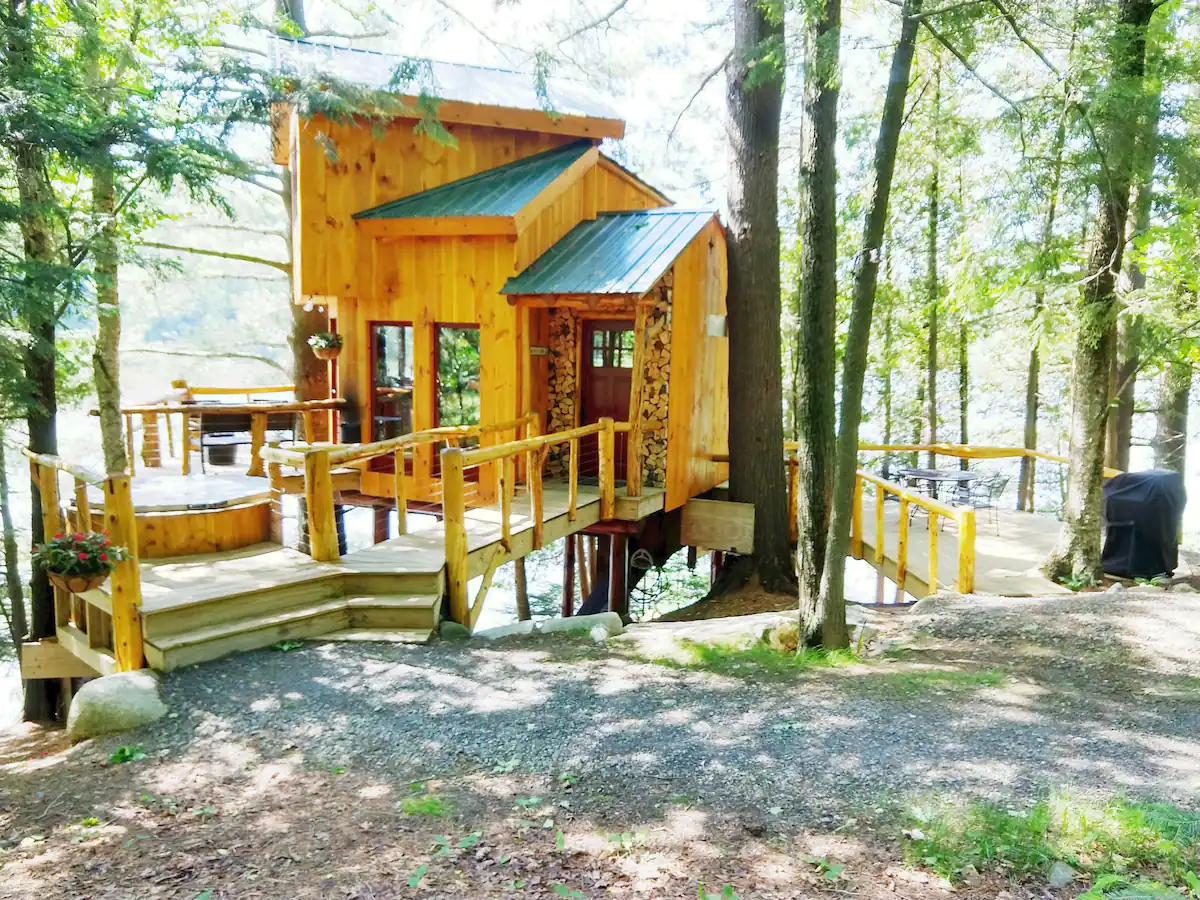 The Vermont tree cabin located on Walker Pond is the perfect retreat for two guests! It even has its own outdoor jacuzzi on a private patio that's filled with outdoor seating and breathtaking views of the water.
With a whimsical winding tree staircase that leads to the bedroom and a cathedral ceiling featuring dramatic cedar rafters overhead, this treehouse has eye candy everywhere you look! Just a short drive to Jay Peak Ski Resort, this is an excellent landing pad for any Vermont skication!
---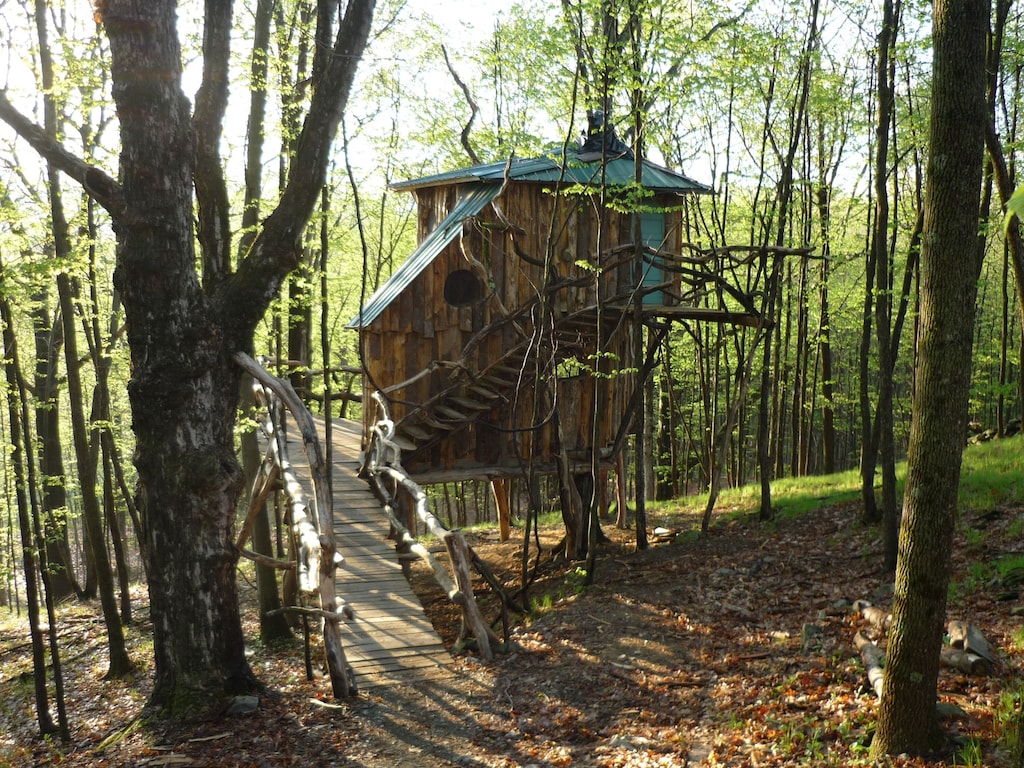 Oh my goodness, talk about enchanting! This treehouse in Vermont looks so whimsical and fun, it would be like walking into a fairy tale.
This is a little bit more on the rustic side, with a composting toilet, so this isn't for those looking for luxurious amenities. However, this treehouse compound can sleep up to 11, so bring a few friends!
---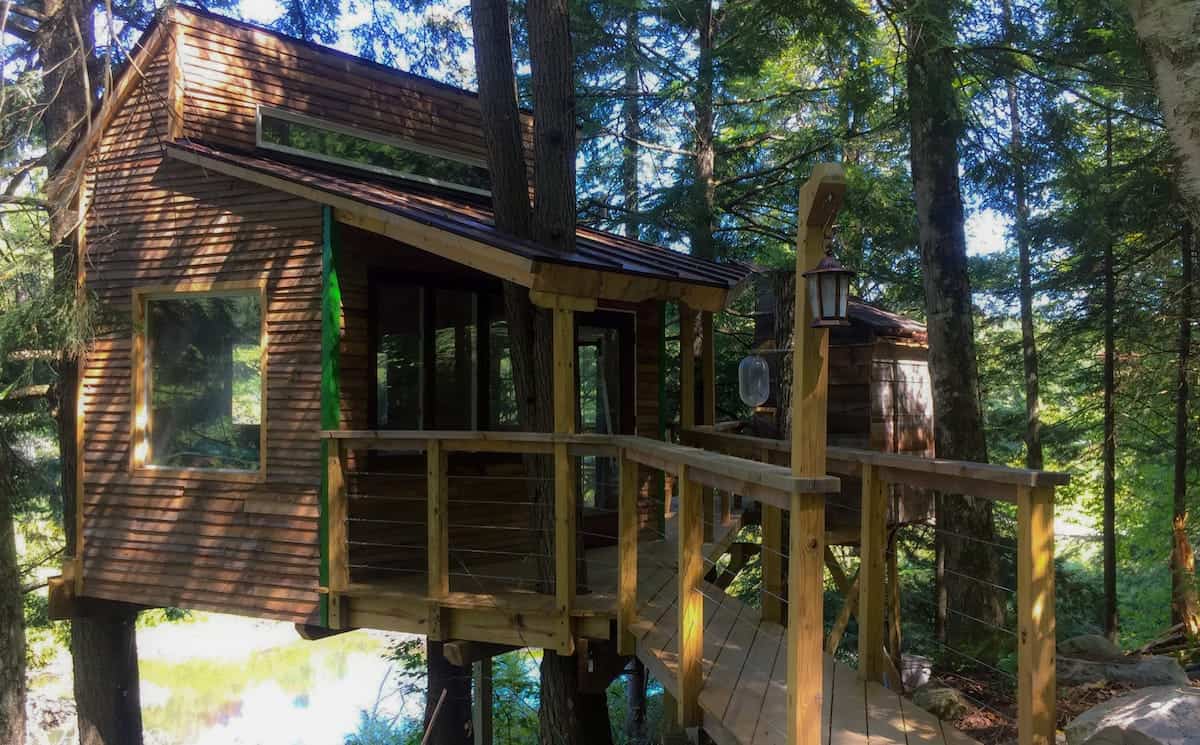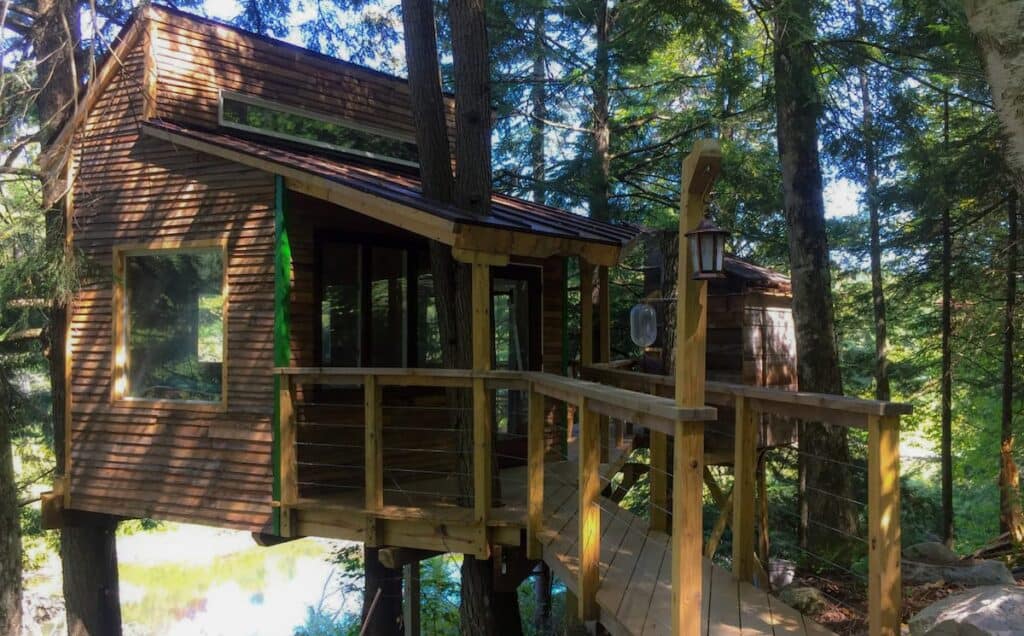 The Beaver Pond Treehouse is perfect for two people and is situated in the beautiful Hancock, Vermont. The area that it's located in is very serene and tranquil, and you can hear the sounds of the forest from your room!
In addition to the bedroom space in the treehouse, there's also a porch with outdoor seating so that you can enjoy the view while sipping your morning cup of coffee.
This treehouse is located near Killington and Sugarbush, two of the most popular places to visit in Vermont, especially in winter. So, while you can relax and retreat away from society in the treehouse, you can also go out and explore a bit too!
---
Stone City Treehouse in Vermont is like a dream come true treehouse escape! This darling little New England treehouse offers views of the stream below, a campfire site, and a hammock for maximum relaxation in the woods.
This isn't super primitive, but there is a composting toilet and a limited water system and it sleeps up to 2, making this a lovely treehouse for a couple's getaway!
---
Tucked away in the trees, this Vermont treehouse rental feels like you're far, far away from everything else! With a lovely rocky outcropping with a seating area and a covered entrance to the treehouse, you've got plenty of options for where to enjoy the view.
This is a cozy little treehouse that sleeps up to 2, so this could be a lovely couples getaway in the woods.
---
Built by the "Treehouse Guys" and as seen on the DIY Network, this treehouse vacation rental in Vermont is basically everything there is to love about a New England treehouse! Perched up high above the ground and nestled in the tree canopy, you'll feel like you're in an entirely new world in your treehouse retreat.
This Vermont treehouse cabin is off the grid, so there is no toilet in the treehouse, so this isn't a good fit for anyone looking for more of a glamping/cabin vibe. You can sleep up to 4 in this lovely VT treehouse, so grab a few of your adventurous friends and book it before it fills up!
---
Treehouse Rentals in Maine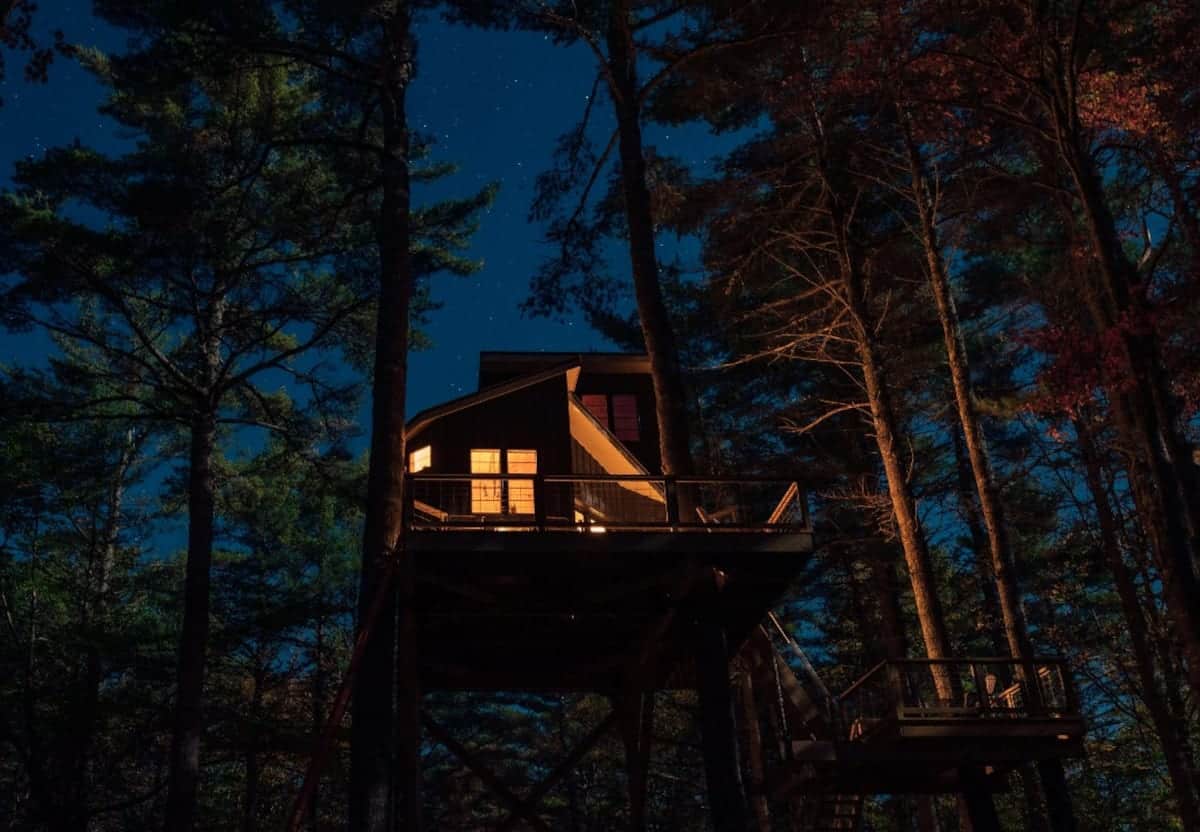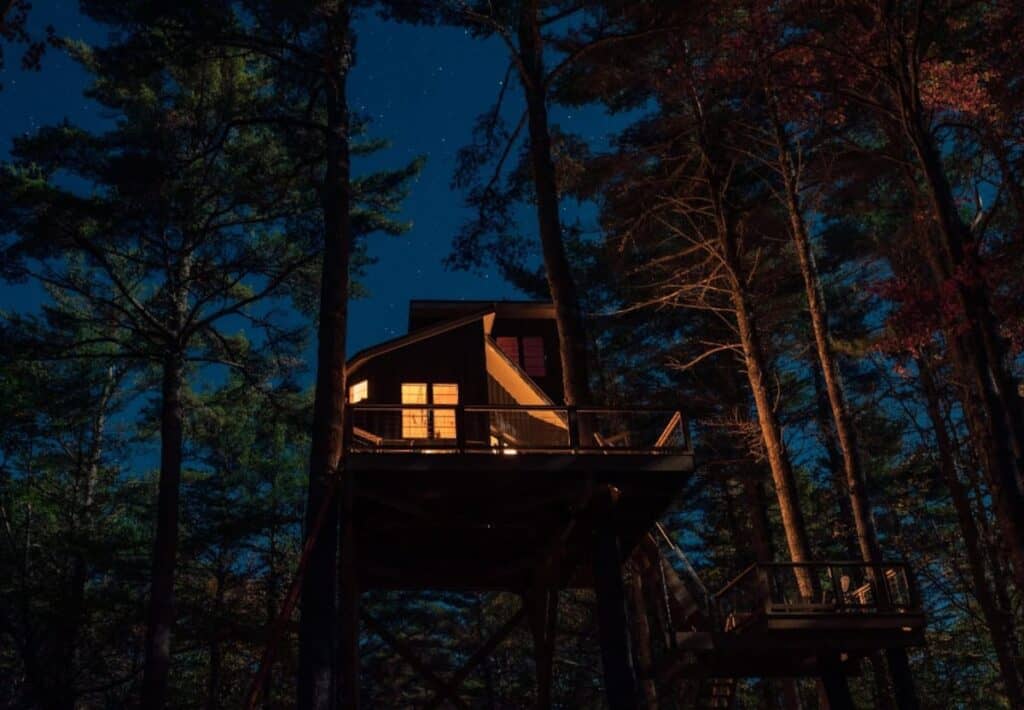 BREEZE is the perfect treehouse for two in Appleton, Maine. It features a patio with a grill, outdoor furniture, lots of natural light, and even a kitchen, which is hard to come by in many treehouse accommodations!
At night, this place truly looks like a dream. The bedroom is lofted to make the space feel a lot larger than it is, so it almost feels like there are separate rooms.
This treehouse is truly rustic yet is filled with lots of modern amenities, including an indoor bathroom with a shower! While you're in the area, be sure also to explore Belfast, Rockland, and Camden along Maine's coast.
---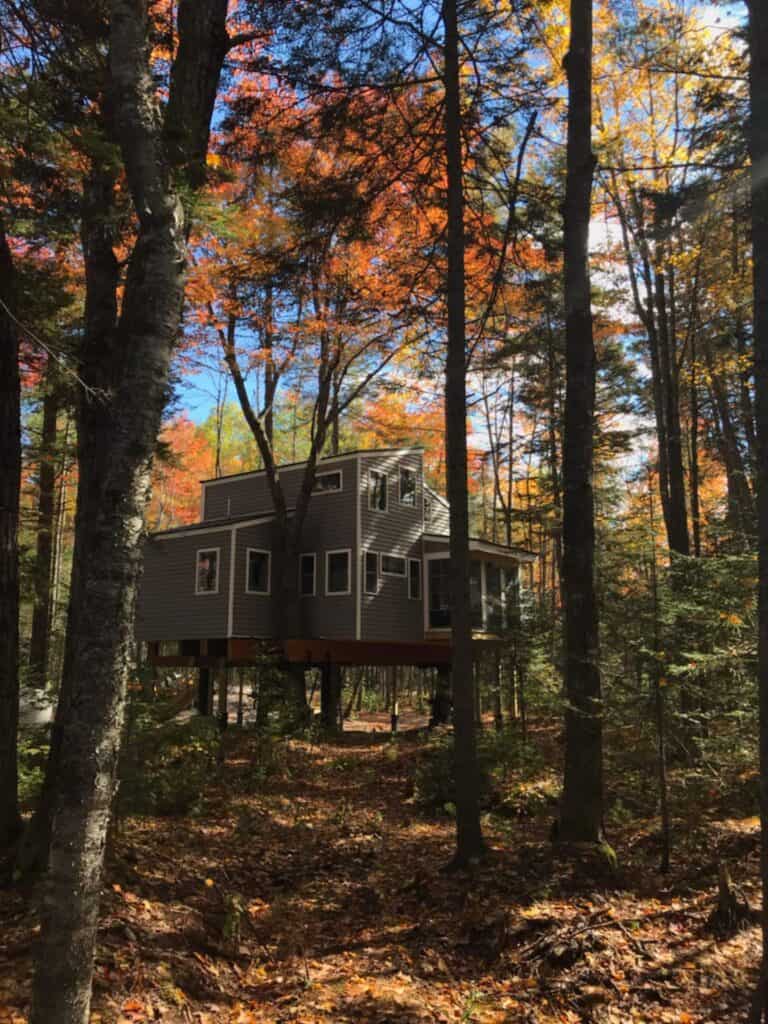 This luxurious treehouse for six in Hancock, Maine, is an ideal accommodation for a family getaway! It's 900 square feet, which is larger than most city apartments.
Inside the treehouse, you'll find one and a half bathrooms, two bedrooms, a living area, and a kitchenette. The interior is very rustic, with exposed wood everywhere, but there are modern amenities and decor throughout.
The treehouse has access to the famous Down East Sunrise Trail, which is ideal for snowmobiling and mountain biking fans. It's also a short drive away from the town of Ellsworth, where you can pick up any groceries or other items you may need for your retreat.
---
Looking for New England vacation rentals that are nestled in the tall pines of Maine? Here ya go! Designer finishes abound in this luxurious treehouse, making it feel like you're in a cross between glamping and resort living.
This lovely Maine treehouse can sleep up to 4, and guess what? This one has a hot tub, too!
---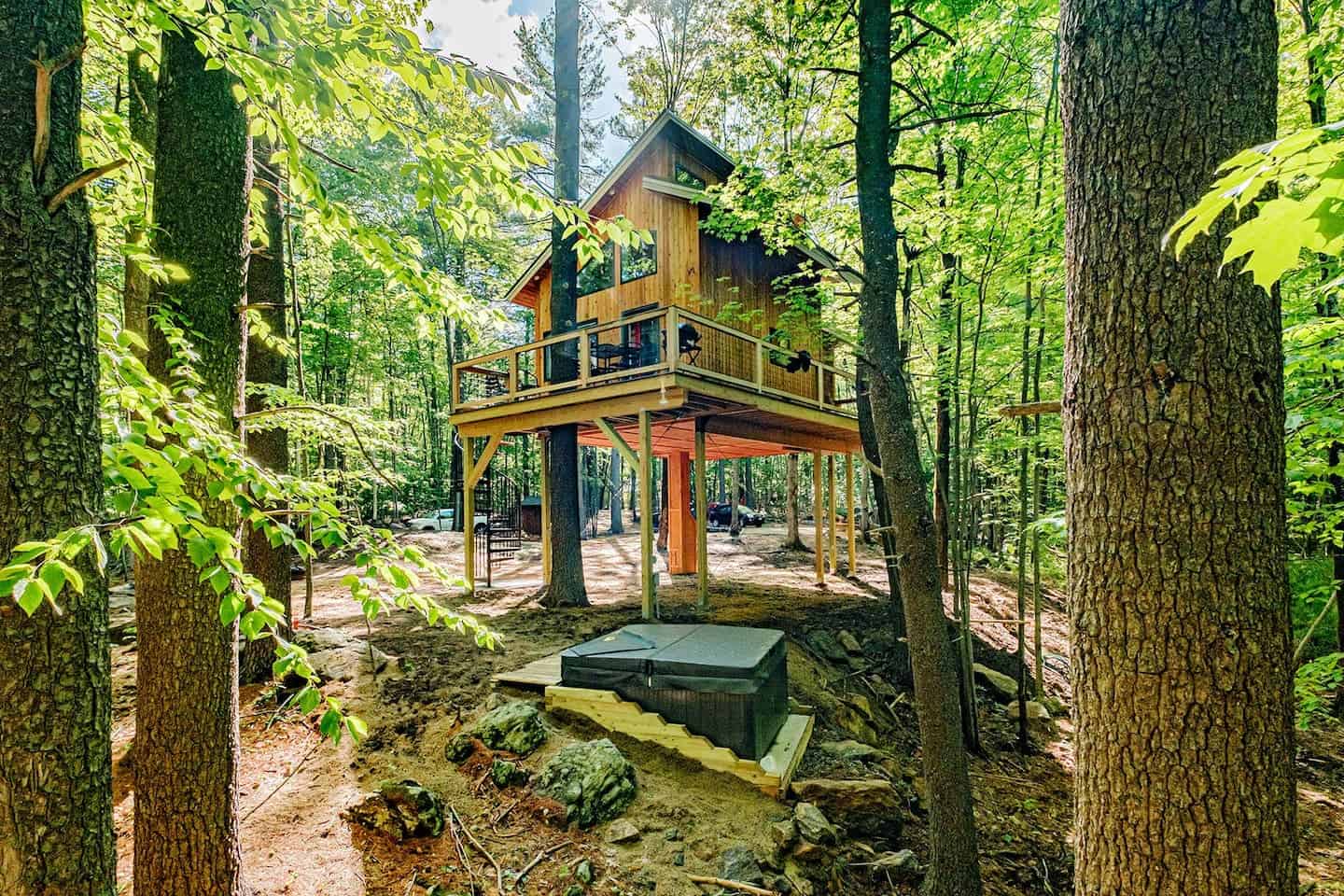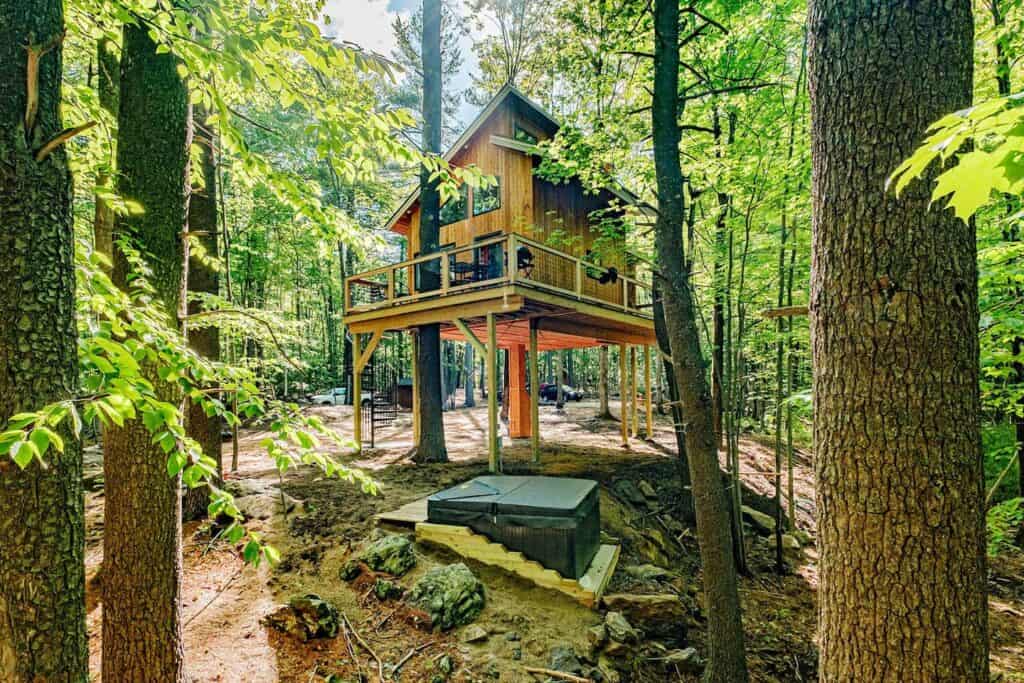 The Canopy Treehouse in Sanford, Maine, is a genuinely modern and royal accommodation for four. It features two bedrooms, one bathroom, a full kitchen, a porch, and even an outdoor jacuzzi covered in lights!
This eco-luxury treehouse is located right on Littlefield Pond, so the outdoor activities are endless. Take a beautiful walk around it or go fishing or kayaking to pass the time.
If you're looking for a sustainable getaway, then this is the accommodation for you. Whether you visit with your significant other or your family, you're in for a treat!
---
Treehouse Rentals in Massachusetts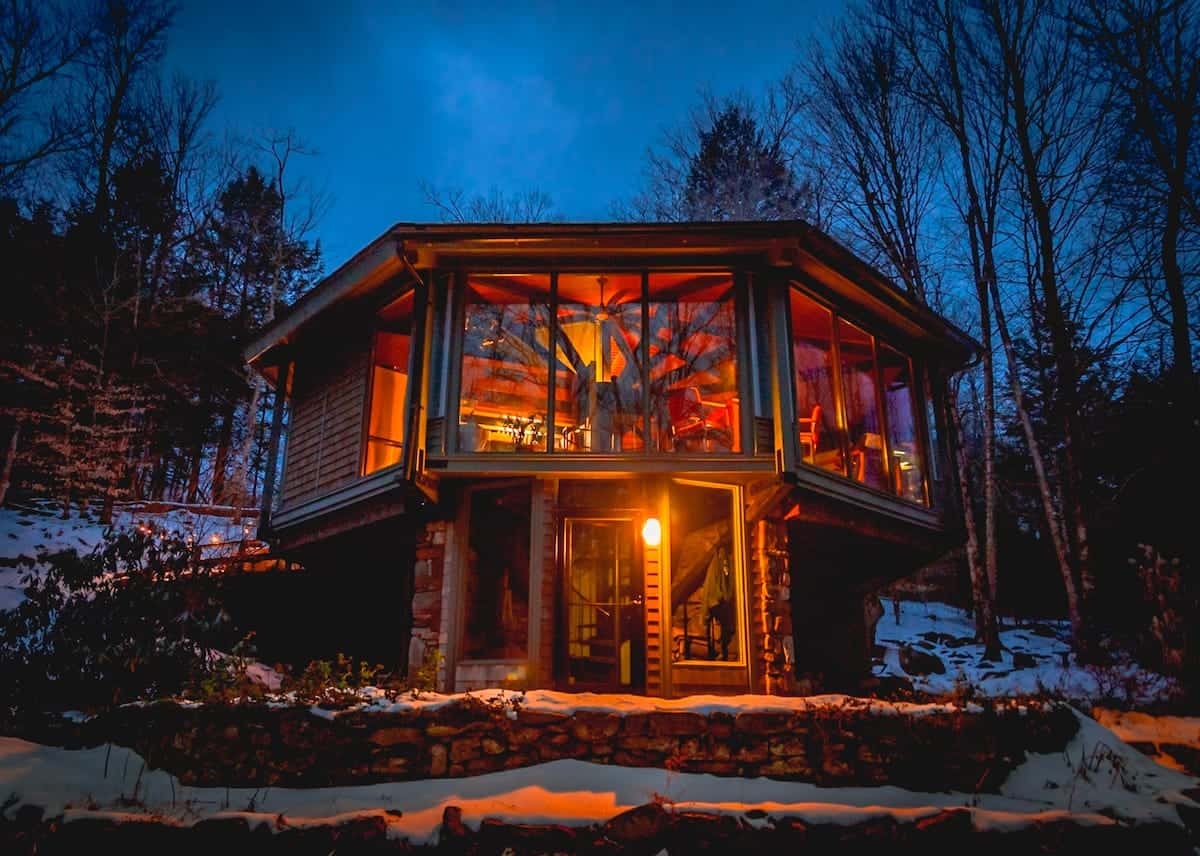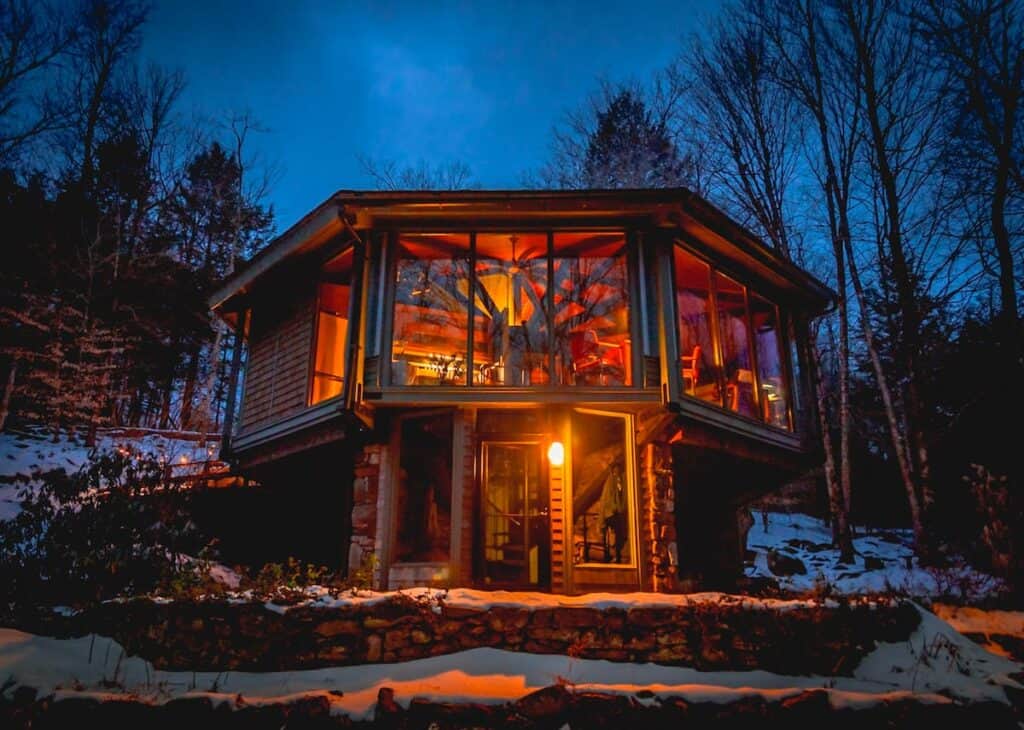 The octagonal glass treehouse in Otis, Massachusetts, is a truly unique place to stay with tons of natural lighting! It can host up to four guests and is located in one of the most beautiful parts of the state: the Berkshires. Visit in the fall for a truly magical experience!
This treehouse's interior is breathtaking. There's a master bedroom, living space, kitchen, and patio. It's unlike any other treehouse out there because of its unique shape and minimalistic yet modern interior decor.
If you're a fan of skiing, be sure to visit in the winter. With a short drive, you'll be able to visit three different skiing areas!
---
Beautiful indoor and outdoor living awaits in this Cape Cod treehouse rental! With a generous amount of outdoor living space, you'll love that you get to kick back and enjoy the fresh Cape Cod breeze; there's even an outdoor shower, too.
This treehouse vacation rental can sleep up to 8, so this could be a great place to book for a family or friends getaway.
---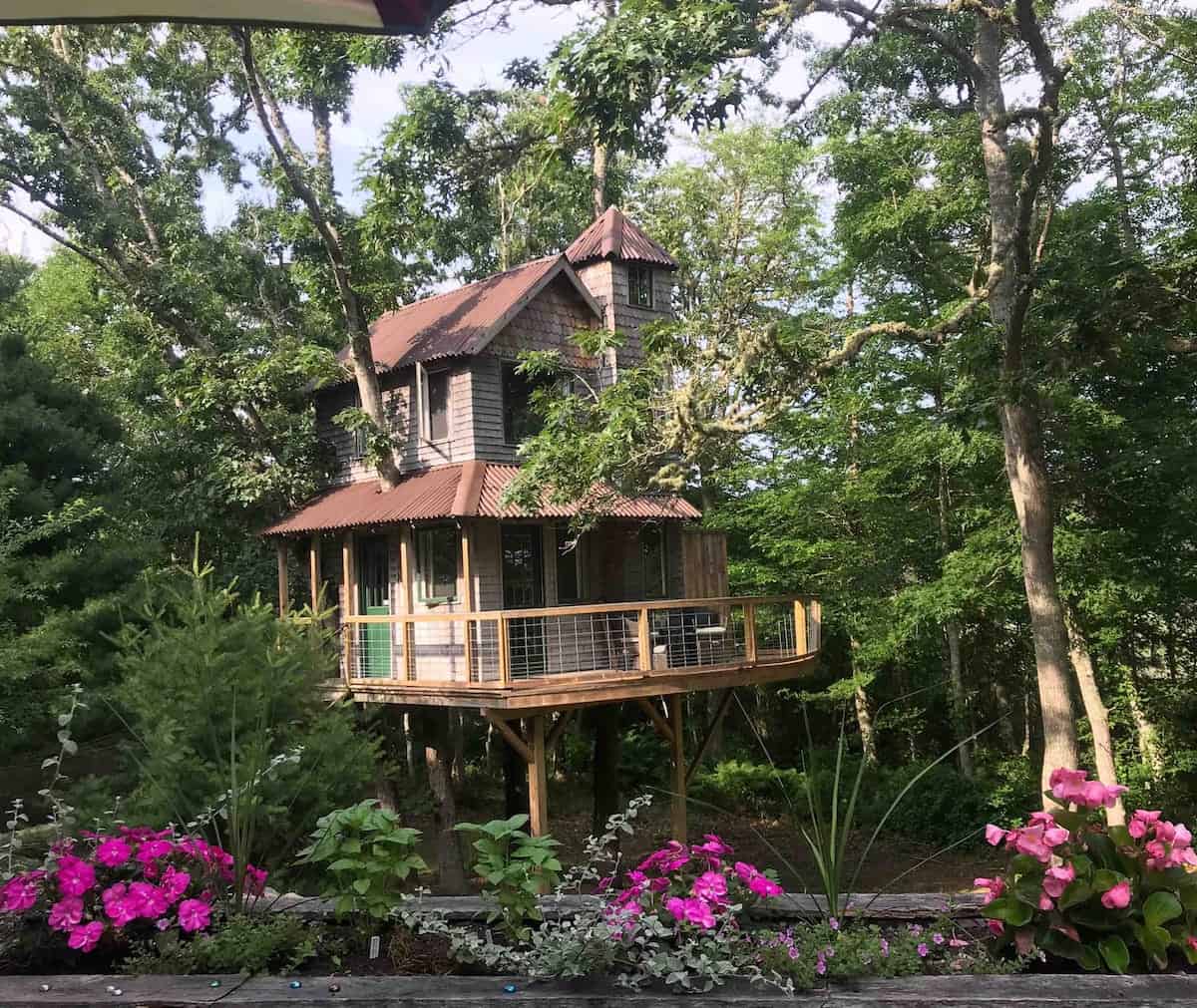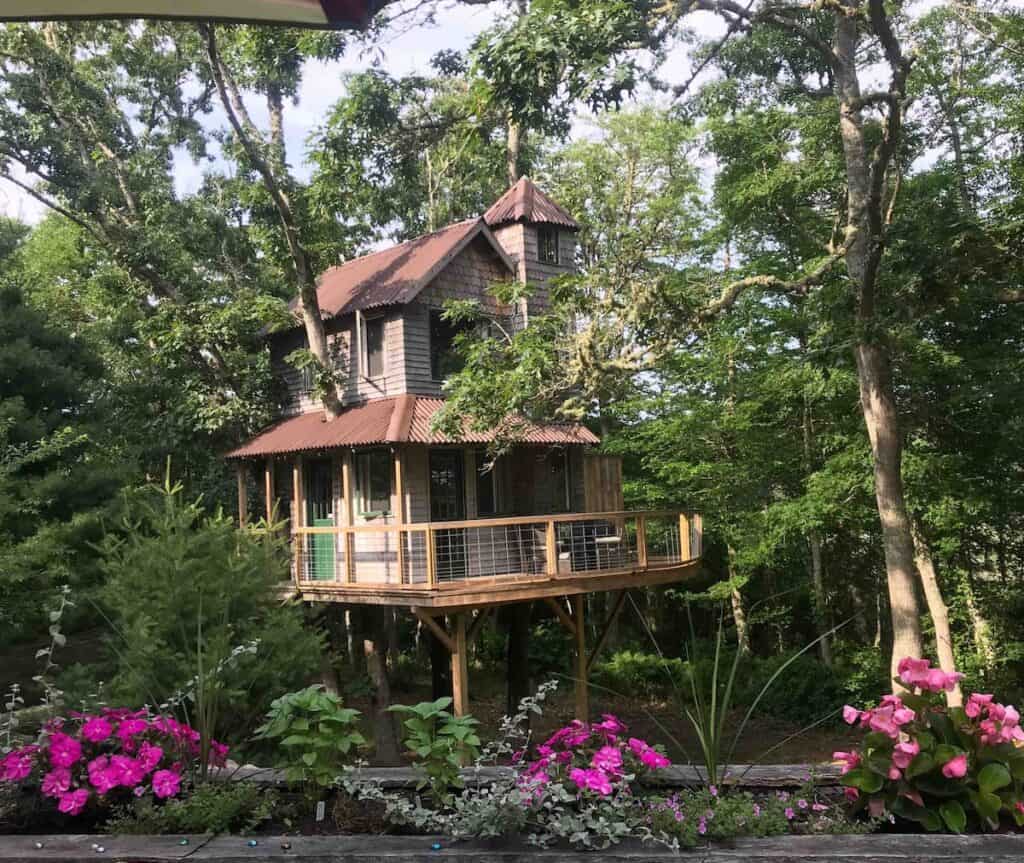 The Mink Cove Treehouse in Wareham, Massachusetts, is a cozy accommodation twelve feet off the ground. While it can only host two guests at a time, it's a lot bigger than it seems. There's a beautiful wraparound porch, bedroom, kitchen, and a suspension bridge that you have to use to get to the treehouse.
The treehouse is located on 2.5 acres of property and is right next to a huge conservation land. Nearby, you can go paddle boarding, golfing, hiking, kayaking, and more.
With a short drive, you can also visit the town of Onset. This Victorian village is filled with great places for shopping, dining, and more!
---
Treehouse Rentals in Rhode Island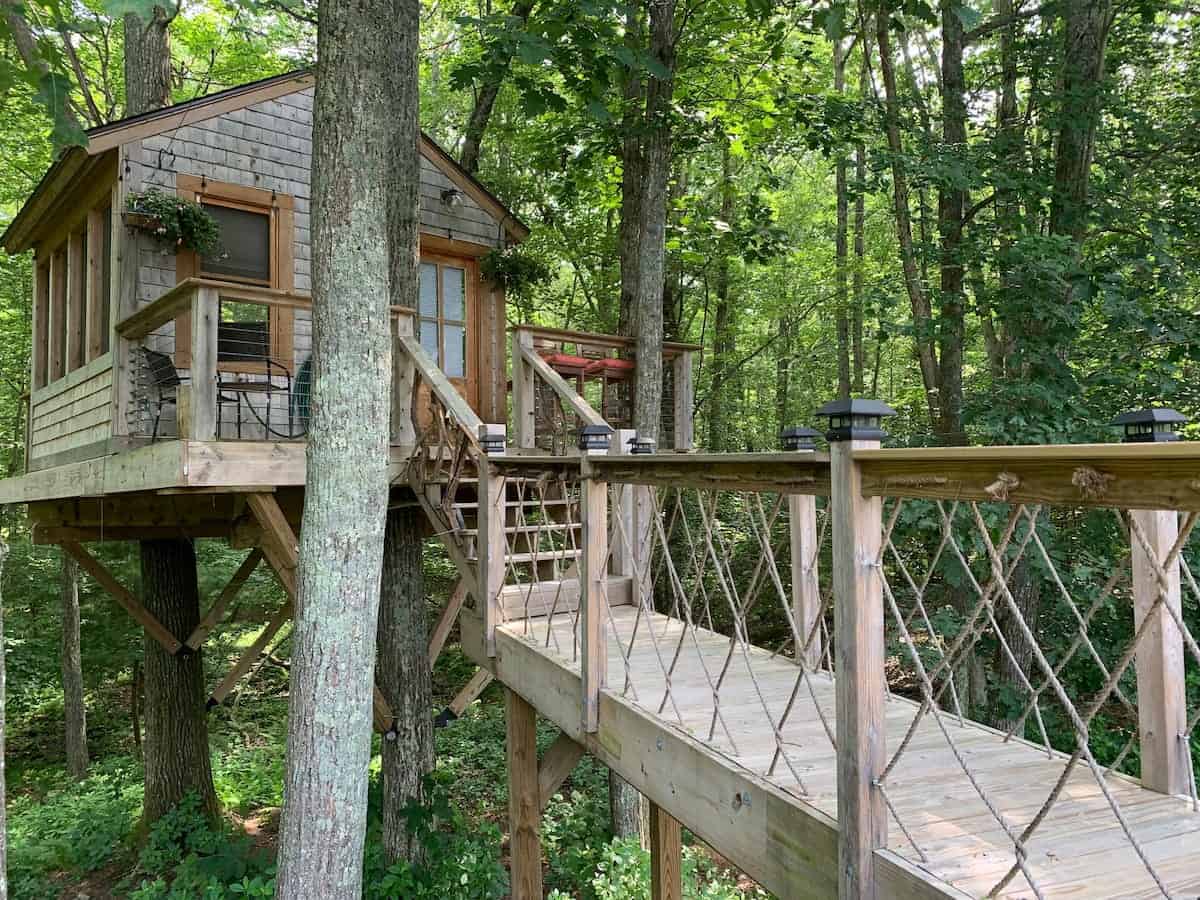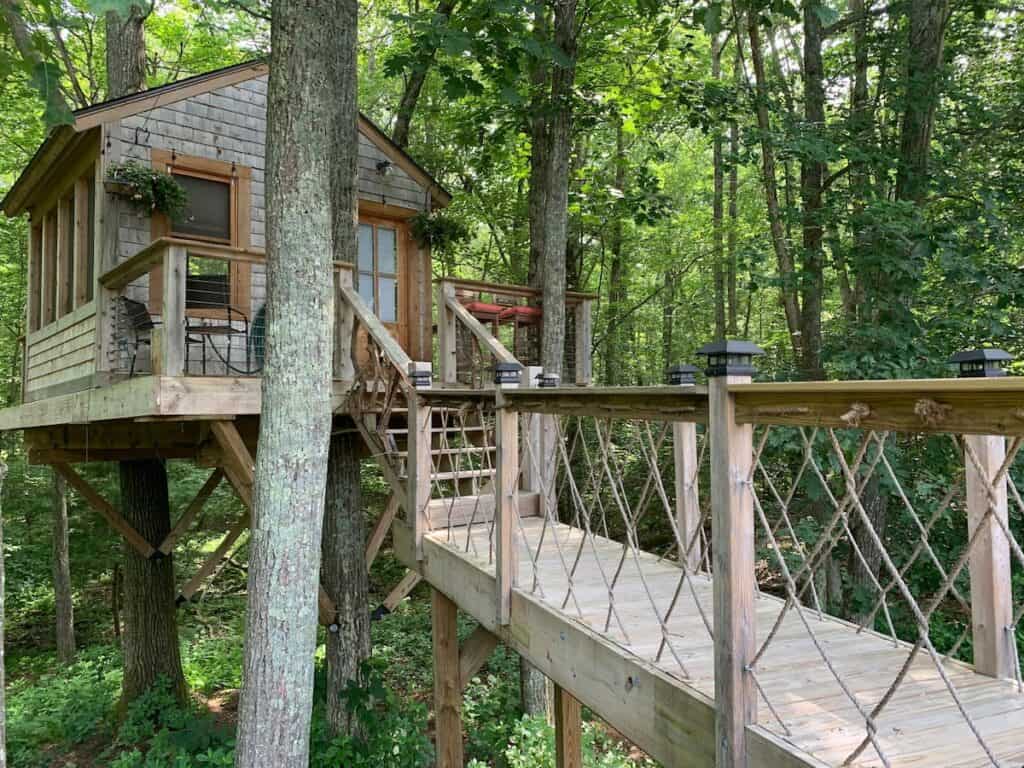 This treehouse with a pool that's suited for three guests is nestled in the woods in Richmond, Rhode Island. It features a beautiful wraparound deck with wi-fi.
While the treehouse doesn't have its own kitchen or living area, all guests can access the host's pool, which is a short few-minute walk away. There's also an outdoor kitchen, bar, TV, and firepits, making this feel like a 5-star glamping retreat.
With a short drive, you can also get to some of the best places to explore in the area. Head to the nearby beaches, hiking trails, and even Newport!
Treehouse Rentals in Connecticut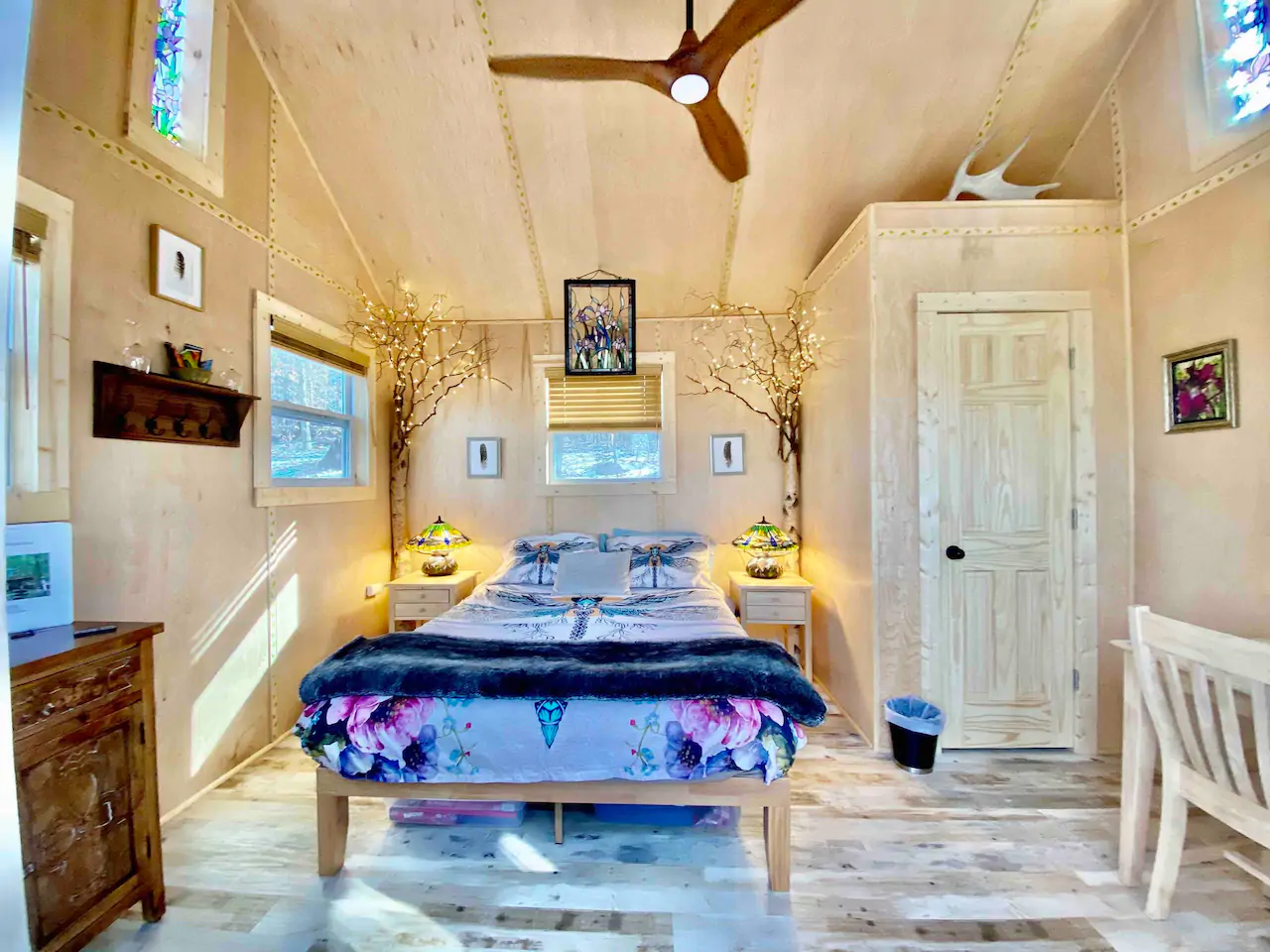 Oooh, a treehouse! If you've never stayed in a treehouse, this one would be a beautiful choice! Also, it's not super high up, so those with a fear of heights need not worry.
This is the Water Forest Retreat in Norwich, set up for 2 guests. While you're close to amenities and activities, this spot feels secluded and quiet-perfect for a Connecticut weekend getaway.
The treehouse is 168 sq ft., heated and electrified, but does not offer running water. Surrounded by nature, you'll love relaxing on the deck, catching the patterns of light from the two indoor stained glass windows, or enjoying the outdoors on over 2 1/2 miles of nearby hiking trails. The Octagon Airbnb listed above is also in the same area/owned by the same hosts.
Be sure to read the entire listing, as these hosts provide plenty of information and travel suggestions to guests!
Treehouse Rentals in New Hampshire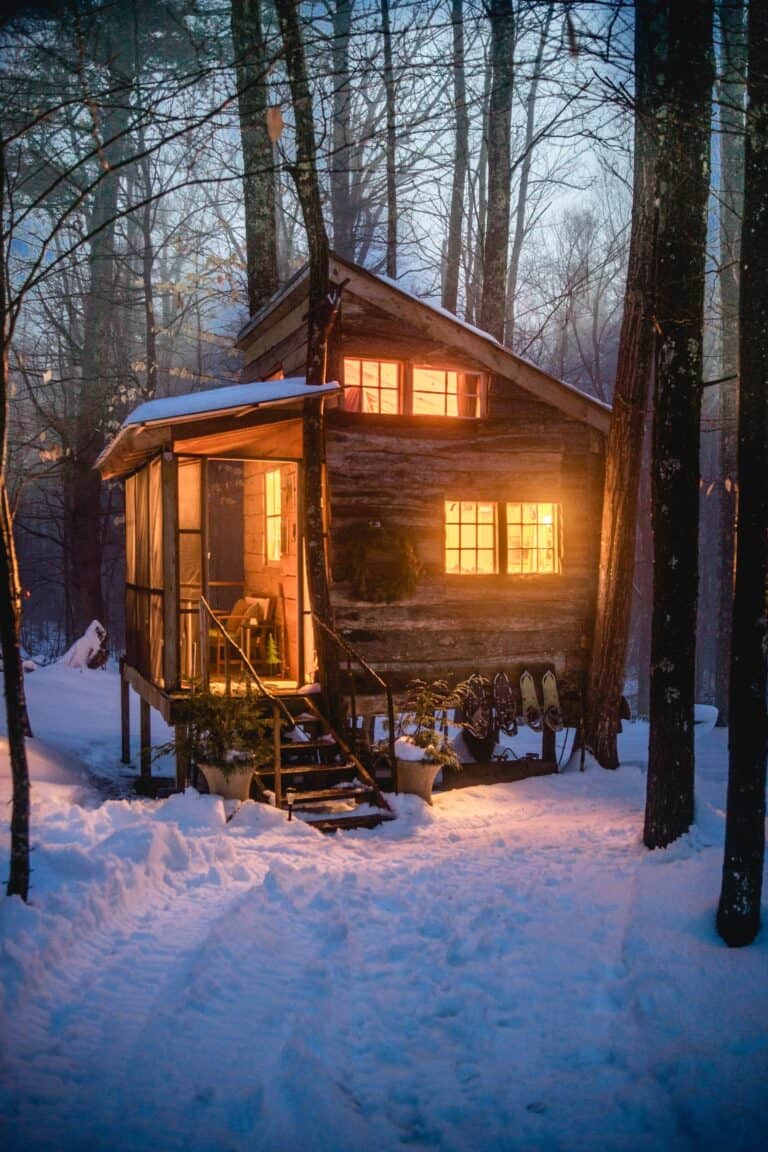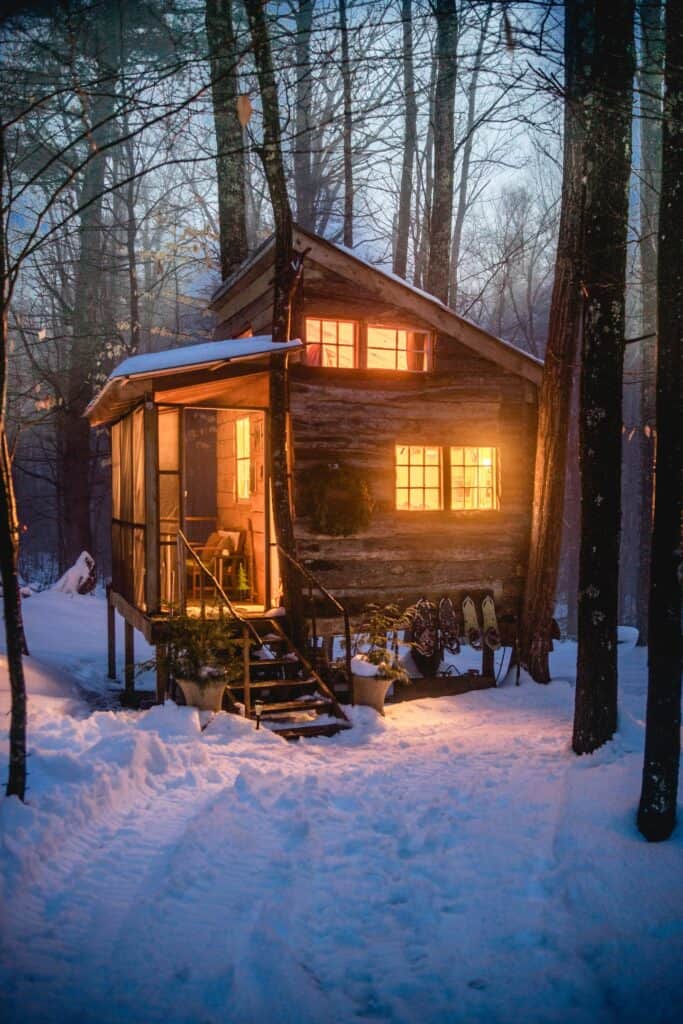 This quirky little treehouse in Conway, New Hampshire, can host three guests at a time. It truly is a treehouse in the middle of the woods and looks like a magical winter wonderland in the snow!
The treehouse is not the place to go for a luxurious getaway. Instead, this is the ultimate vacation if you're looking to unplug and have a quiet retreat inside a quaint and rustic cabin.
Because it's built for those who want to get back to basics and unplug, there isn't a full functioning kitchen and bathroom inside. Instead, there's an outhouse and an outdoor kitchen with a grill.
---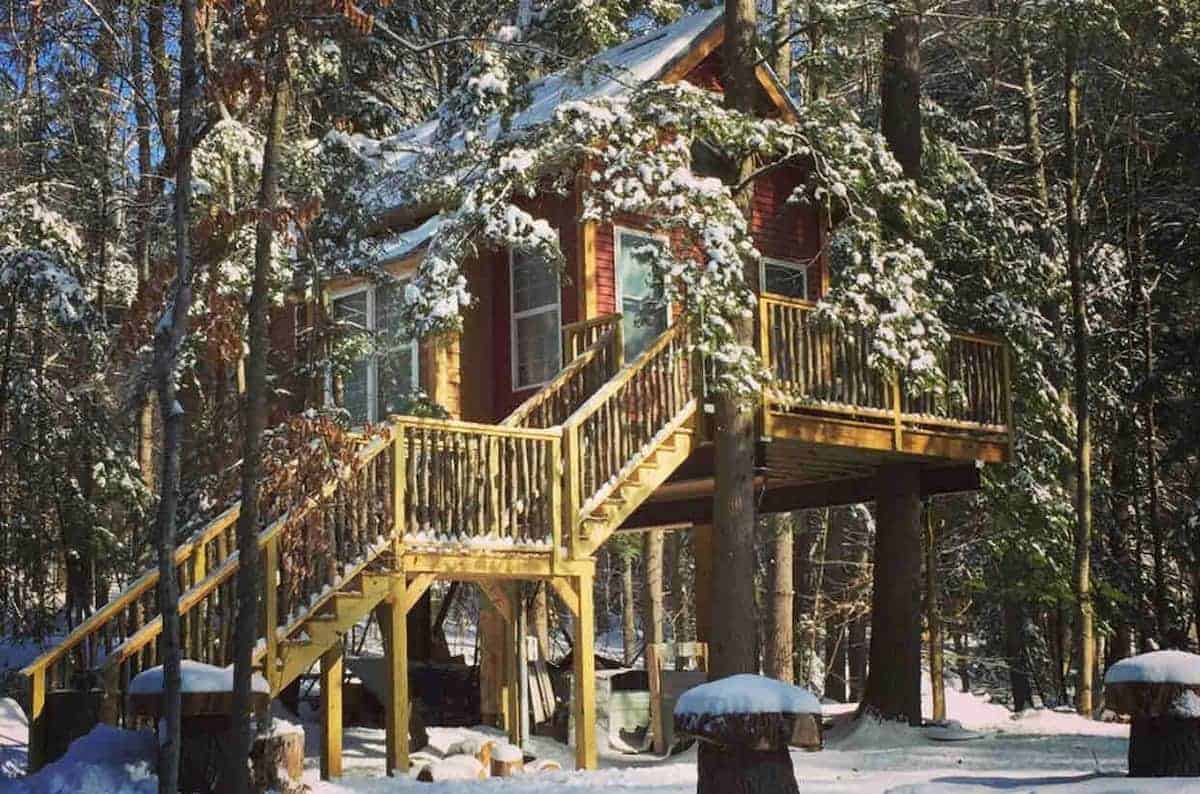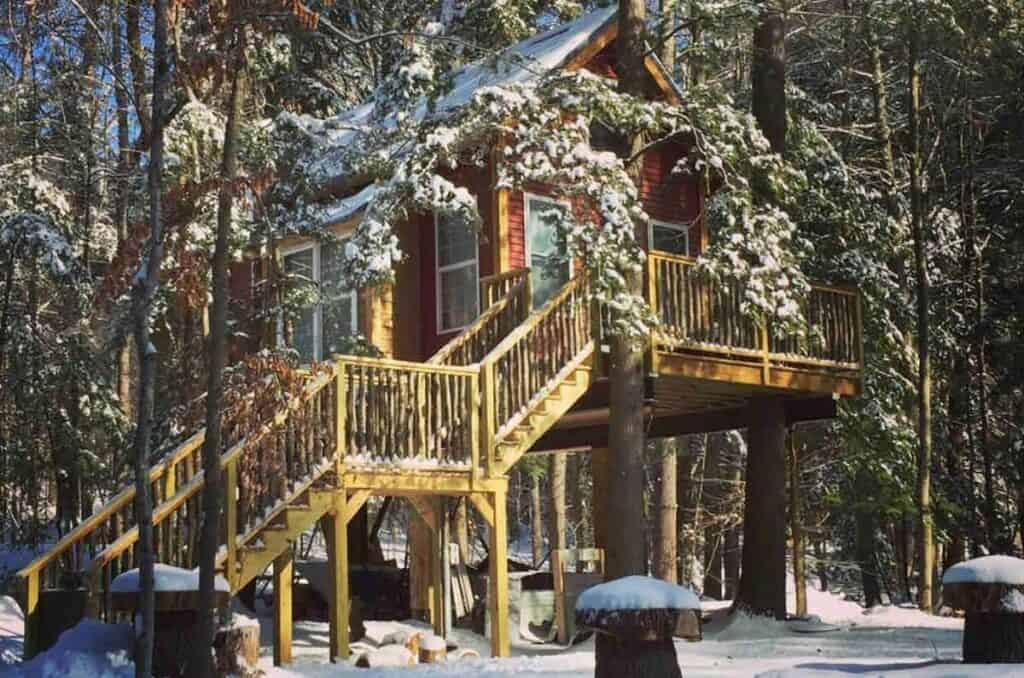 The treehouse at Plummer Shores is a beautiful accommodation for four in Sanbornton, New Hampshire. If you're looking for the ultimate retreat with modern amenities, then this is the vacation rental for you!
Inside the treehouse, you'll find a full bathroom with a shower, kitchenette, coffee maker, and a loft with two beds. There's also a living space with a couch that transforms into a bed. Spend some time getting fresh air by reading out on the gorgeous patio.
The treehouse is located in a tranquil and residential area, yet it's still close to the Tanger Outlets, so you can go out and shop if you'd like.
---
Treetop Sanctuary is an apt description of this gorgeous New Hampshire treehouse rental! You'll be elevated 30 feet above the ground in this New England treehouse, and this is a fairly rustic vacation rental with no running water and a composting toilet.
You can sleep up to 4 in this pretty treehouse, but it would also make a darling couples hideaway! If you and yours are looking for New England treehouses for couples, this one could be ideal.
---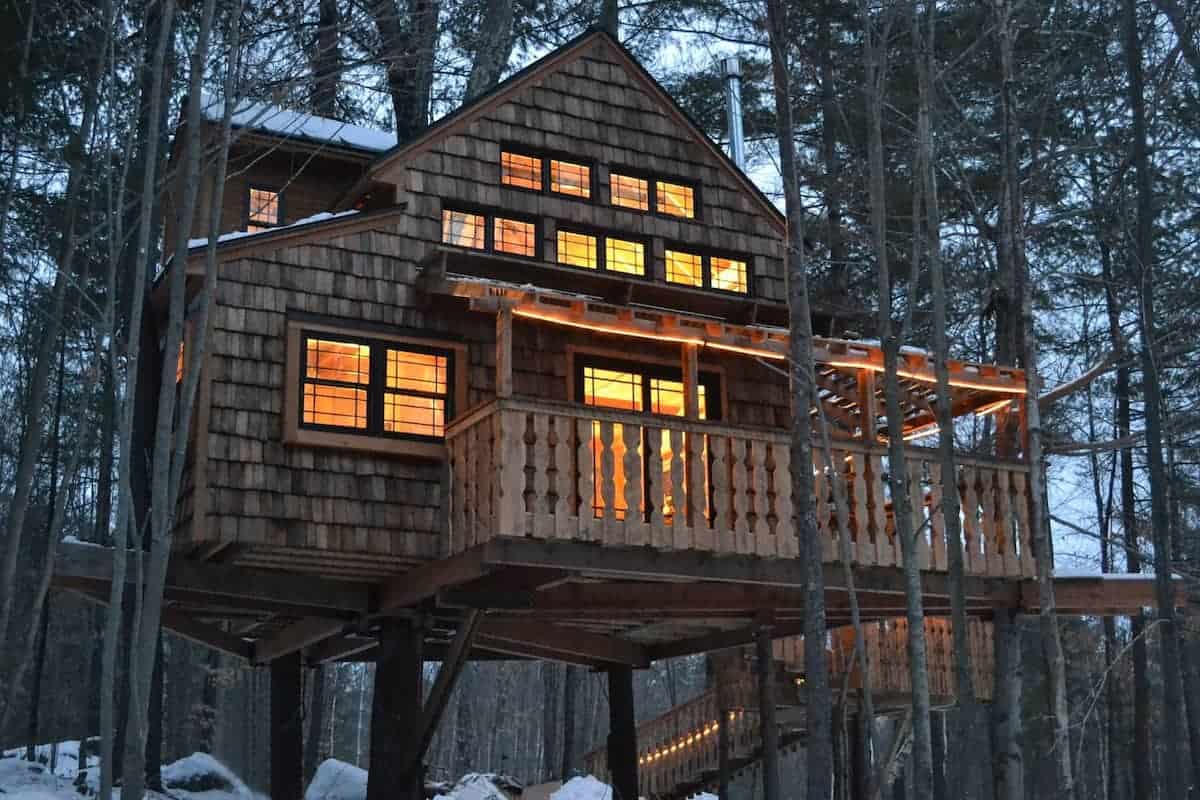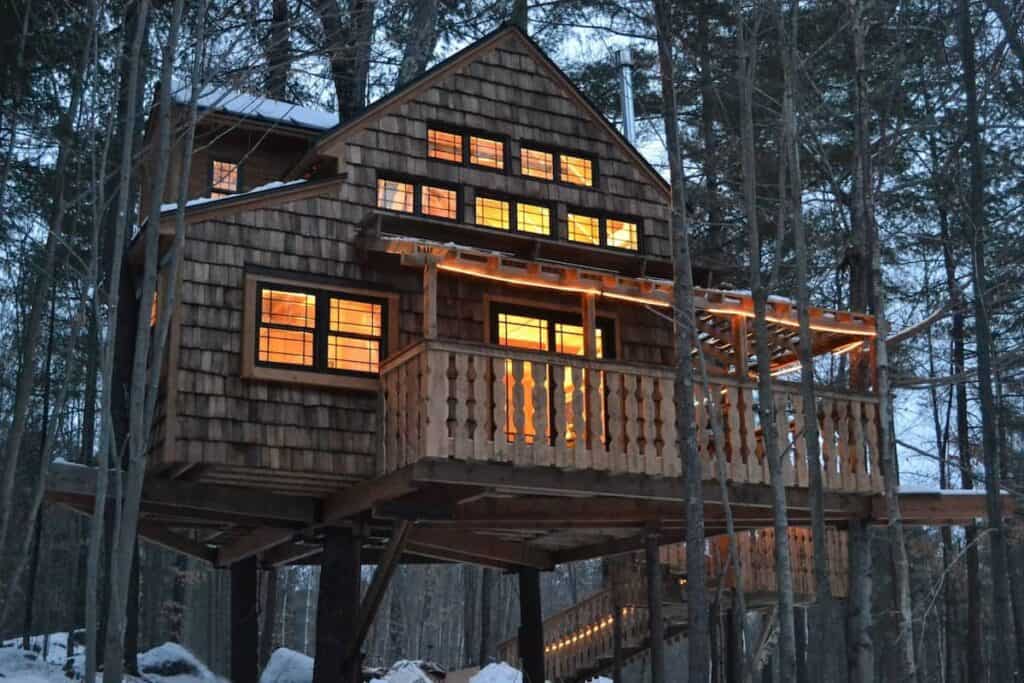 This is truly one of the most luxurious treehouses in all of New England! It's located in Newbury, New Hampshire, and can host up to four guests at a time.
The treehouse is two stories, so you can imagine how much room there is inside. There are two bedrooms, a full bathroom, a kitchen-living area, and even a massive deck with outdoor furniture so that you can get some fresh air.
What makes this treehouse stick out from the others in New England is its breathtaking interior design. There is exposed wood everywhere to give the treehouse and cabin vibes, and the speckled paint on the furniture helps bring the entire accommodation to life!
---
Now you know all the best treehouse accommodations in New England that have hopefully helped to fuel your wanderlust! If you want to experience the region in a fun way, then book a stay at one of these New England treehouses ASAP.
---
All of these New England treehouses already booked? We have more ideas on where to stay in New England:
---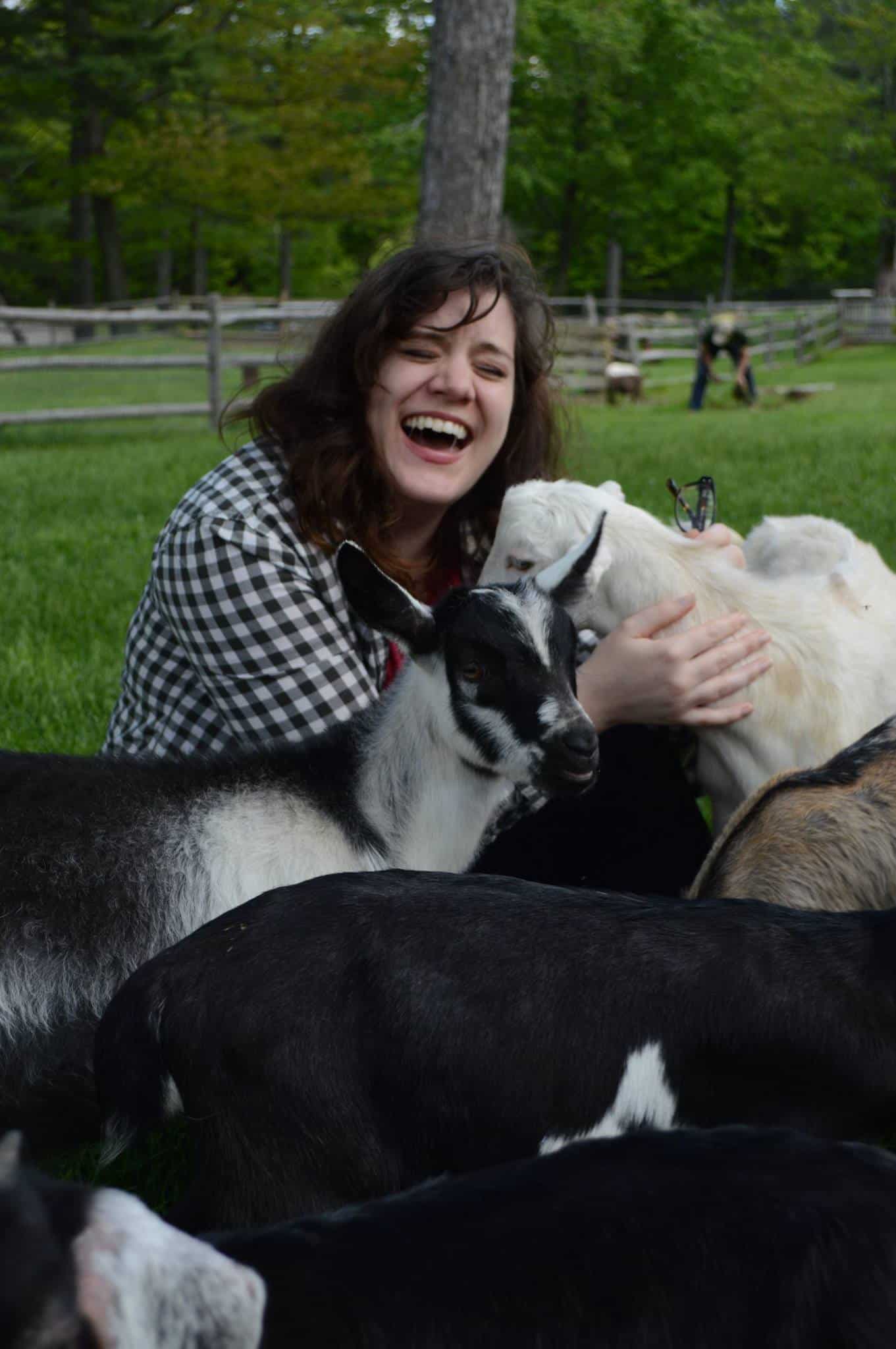 Amy Hartle is the founder and Editor-in-Chief of New England With Love, a comprehensive resource for travel in the New England region. Amy has been exploring New England since 2001. She lived in Vermont for many years and is a graduate of Plymouth State University in New Hampshire. Amy has been writing about travel for over a decade. On this site, Amy aims to share her love of New England and help you to have the best possible adventures!
Amy has been a full time blogger since 2012, and is also the publisher of Two Drifters, where she writes about couples travel and relationships, as well as Let's Adventure Baby, a family travel site. When not traveling the world or creating epic blog content, Amy can be found cuddling with her husband, son, and cats, & drinking a maple latte.