---
*Links in this article may be affiliate links, from which we may earn commission. See our
Privacy Policy
for full details.
---
If you're looking to travel to towns that are quaint, but cool, picturesque, yet hip, relaxed, but still very, very active, then Vermont is the perfect destination for you! Between the incredible hiking, the spectacular skiing, and the fabulous fall foliage that attracts thousands of tourists known as "leaf peepers" every year, Vermont has a LOT to offer its visitors; check out this list of the 5 best places to visit in Vermont so you can come to see for yourself what makes Vermont the quirky, cool, fun-loving state that it is!
Make Manchester a Must-Visit Destination
With a population of less than 5,000, Manchester has the Classic Vermont small-town vibe while still providing its residents and visitors with plenty to do and see! You'll experience the quintessential New England aesthetic with its prominently situated white-steepled church and carefully tended historic Main Street, phenomenal local restaurants, charming inns and B&Bs (check out The Reluctant Panther, featured on this list of 7 Incredibly Romantic Getaways in Vermont!)
There are plenty of terrific things to do in Manchester, including cultural offerings like the Southern Vermont Arts Center, where you can see and experience a variety of different exhibits on a lovely, sprawling estate, historical sites like Hildene, the Lincoln Family Home, the home and gardens of the only son of President Abraham Lincoln to make it to adulthood, and outdoor activities like hiking to Lye Brook Falls, the cascading waterfall that meanders back and forth across a terraced terrain, inviting hikers who come out to Green Mountain National Forest to sit and enjoy the spray of the water on the rocks. And of course, can't forget the shopping! The Manchester Designer Outlets were named "One of the Top Shopping Getaways in New England" by Yankee Magazine, and with over 40 outlet shops for designer brands and no sales tax on clothing and shoes, it's not hard to see why!
Manchester, VT is bursting at the seams with Vermont charm; any time of the year, Manchester is a great Vermont town to visit!
Breathtaking Brattleboro Awaits!
Believe it or not, Brattleboro is home to so many unique points of interest that one visit just may not be enough to satisfy your curiosity about this progressive community that embodies the quirky coolness of Vermont!
Not only has Brattleboro been named one of the top 10 small art towns in the US, but Brattleboro has some fairly unique claims to fame: The Strolling of the Heifers is a non-profit organization that facilitates local farm to table connections, and their annual event includes a literal parade of actual heifers adorned with flower garlands that stroll along the route, promoting a local connection between farmers and community. Brattleboro is also home to the New England Center for Circus Arts (so basically, the circus is ALWAYS in town and you can 100% audition to "run away with them!") and hosts several festivals, like the Yellow Barn Music Festival, the Women's Film Festival, the Marlboro Music Festival, the New England Street Food Festival, the Harris Hill Ski Jump, and so many more!
Brattleboro has a little bit of everything to make a Vermont visit sing: unique, independent (and delicious!) restaurants and breweries, several eclectic indie bookstores, including Everyone's Books, with the slogan "raising hell since 1984," and some very Vermont hip happenings around town, like farmer's markets, museums, art galleries, and a lovely covered bridge that is essentially demanding that it be photographed, it is so perfectly pleasing visually. And, of course, plenty of cool places to stay while in town.
There's always something to see, do, and take your breath away in Brattleboro, so be sure to add it to the list the next time you find yourself in the Green Mountain State!
Stay in Stunning Stowe
Ah, Stowe! One of Vermont's sparkling gems (and included in the Ultimate New England Bucket List), Stowe may be first and foremost associated with some epic skiing and considered one of "America's Best Ski Towns," but this tiny town has so much more going on than just its big hills! There are gorgeous outdoor destinations to explore, like Moss Glen Falls and Mount Mansfield, and the Trapp Family Lodge (Yes, the same family that inspired The Sound of Music!) and Stowe Mountain Resort offer four-season outdoor and indoor activities! All year-round, you can find festival fun in Stowe with favorites like the Stoweflake Hot Air Balloon Festival, the B3 Fest: Bikes, Brews & Beats, the Stowe Foliage Arts Festival, and many more!
Stowe isn't only all about that Go, Go, Go activity either because Stowe is home to some of the most fantastic resorts and spas in New England. Stoweflake offers lush accommodations and spectacular spa services and was even named one of the "Best in the World" by Conde Nast Traveler in 2009. Then there's Topnotch Resort, the epitome of alpine elegance, luxury, and comfort, with lavish accommodations and a full-service spa that will leave you blissed-out beyond belief. With a healthy dose of cozy, comfortable luxury, The Lodge at Spruce Peak will have you daydreaming about your next visit before you've even checked out, and the full-service spa offers a wide and varied range of services designed to nurture you and leave you feeling like your very best self, inside and out! If it's more laid-back serenity you're looking for, Stowe has plenty of options for that, too, including Stone Hill Inn, a peaceful, no-children-allowed B&B, included in this list of romantic getaways in Vermont.
And of course, in true New England fashion, there are several unique and AMAZING options for food and drink, too; be sure to check out Idletyme Brewing Co before you leave. Yeah, their brews are great, but their Bacon & Truffle Mac N Cheese is a MUST TRY! Stowe is a wonderful winter destination, sure, but any time of the year, Stowe will not disappoint!
Get Bitten by the Burlington Bug
Beautiful Burlington is Vermont's largest city (although it doesn't take much to earn that title in a state known for its quaint little towns!) and is progressive, hip, and vibrant. There is just So. Much. To. Do in Burlington! Visit Church Street, the pedestrian mall where you can find food and shopping from locally-owned businesses, and get a scoop of Ben & Jerry's just right up the street from where the original Ben & Jerry's was birthed! Travel on the famed Burlington Bike Path to Waterfront Park and enjoy the views of lovely Lake Champlain. Check out a show at one of Burlington's performing arts venues, or visit an art gallery to see why Burlington is known all across New England for its incredible thriving arts scene. Festivals happen spring, summer, autumn, and winter, with something awesome to see, hear, or do all year round in the city.
Another fun thing about Burlington? Come HUNGRY! Yes, farm-to-table is pretty much a given across most of the Green Mountain State, and Burlington takes that and runs with it and offers a wide and diverse range of independent eateries, with French, Asian, Mediterranean, Turkish, Italian, Mexican, Indian, Irish, and several other cultural influences represented. Are you looking for a breakfast spot? You can't go wrong with The Skinny Pancake, home of the fabulous EVERYTHING ON THEIR MENU, including, of course, the "skinny pancake," aka the crepe. If you're looking for a coffee shop to refuel in, there are some super cool and cozy coffee shop choices in the city, and if you're looking for something a little harder, there are plenty of brilliant breweries and bars to check out while you're visiting Burlington, too.
Burlington is also home to some awesome hotels and inns, as well as some incredible Airbnb options. You'll have to decide if you're going to stay in a boutique B&B with a hot tub or if you'd rather shack up in a perfectly-located downtown Airbnb so you can be right in the heart of the Burlington scene. Regardless of where you choose to stay, your visit to Burlington will show you what makes Burlington, Vermont so… well, so Vermont with all the independent shops and eateries, the incredible arts scene, and the wonderfully cohesive community.
While Away the Weekend in Woodstock
Wonderful Woodstock! Woodstock has been lauded as being one of the most beautiful small towns in America, and it is probably one of the most picturesque towns in the country, for sure. In fact, come Christmastime, it is one of those towns that look like they are straight out of a Hallmark movie! There are so many great things to do in Woodstock, including lots of fabulous outdoor activity, like hiking Mount Tom and taking in the remarkable views, visiting the Marsh-Billings-Rockefeller National Historical Park for a hearty dose of nature mixed with history, and walking the beautiful streets and taking in all of that signature New England charm. Great shopping awaits, with wonderfully unique Woodstock shops like F.H. Gillingham & Sons, the general store that has been in Woodstock since 1886 and offers one-of-a-kind specialty gifts for any occasion.
The aesthetics of Woodstock cannot be glossed over; this gorgeous town features the quintessential covered bridges that are oh-so-New England, the adorable working farms to visit that will fill you with an appreciation for the simpler side of life (look into staying at Fat Sheep Farm for a wonderfully immersive experience!), museums and well-preserved historic sites, and a lovely arts and culture scene. There is plenty to do in Woodstock, yes, but it's also a place to slow down and take it easy. There are plenty of excellent dining and lodging options, but if you're looking to go all out and take full advantage of your time in Woodstock to unwind, then check out Woodstock Inn and Resort. Yes, it is a bit of a splurge, but wow, is it ever worth it! With the tagline, "Vermont's Most Beautiful Address," it lives up to this reputation. With lush and elegant rooms and a spa treatment menu worth swooning for, Woodstock Inn and Resort is the place to stay when you're looking for a little extra TLC. Plus, their on-site restaurants are to die for; The Red Rooster is a must-visit!
Woodstock is lovely any time of the year, but during the winter months many use Woodstock as a home base for their skiing and snowboarding adventures, and Woodstock's Wassail Weekend is a fabulous way to herald in the Christmas season. When looking for the perfect Vermont vacation destination, Woodstock has absolutely got to be at the top of the list!
Beautiful Vermont is definitely a must-visit New England state; just driving through the state on the scenic byways is a must-do! Fun, kind of quirky, but always cool, any of the 5 places on this list would make for an excellent place to visit in Vermont!
---
Read these next:
---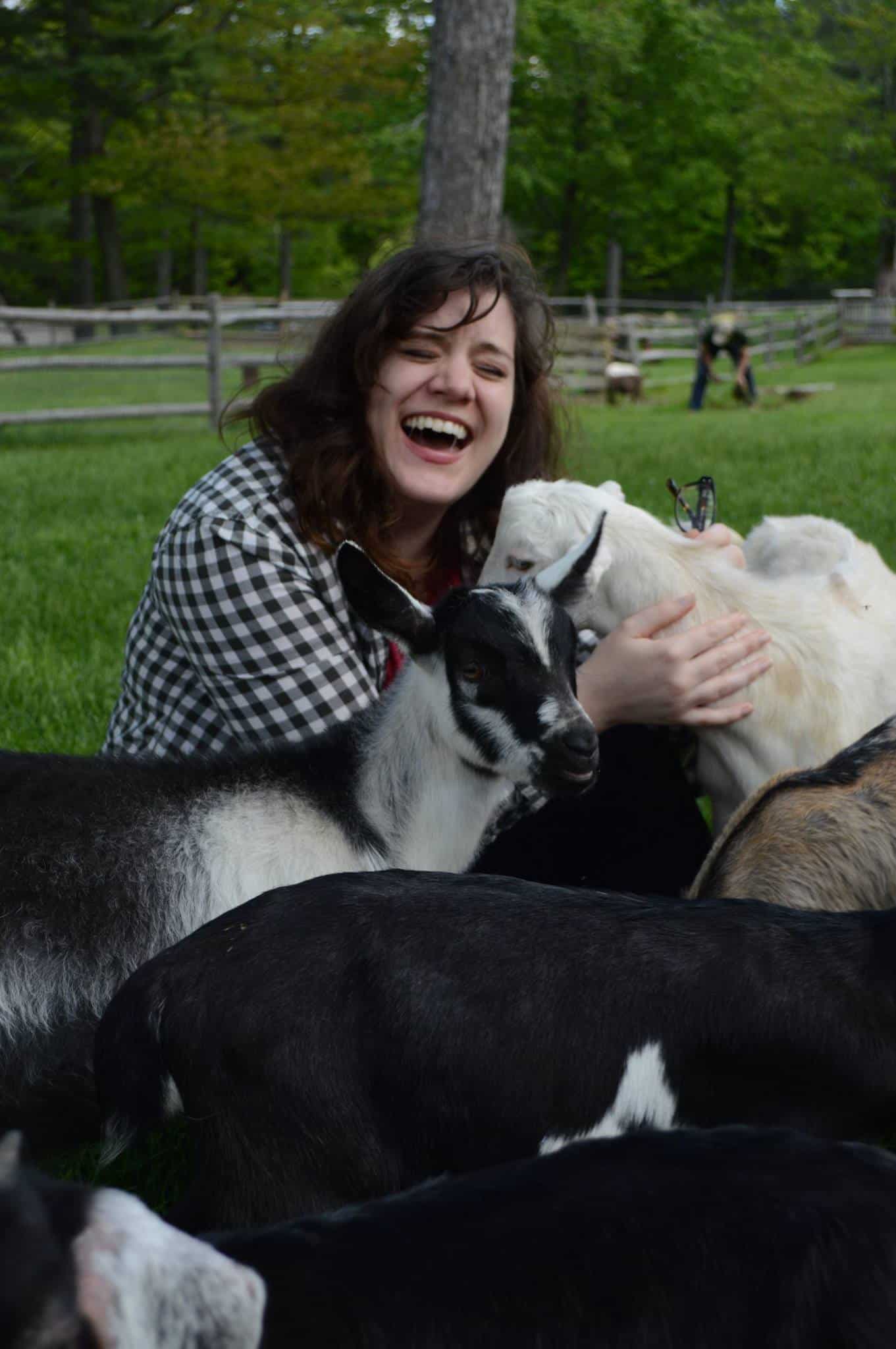 Amy is the founder of New England with love. A proud Vermonter, she hopes to share her love of New England and help you find the best adventures in the region. Amy is also blogger/founder at Two Drifters, where she writes alongside her husband about romantic and couples travel, relationships, honeymoons, and more. When not working on websites, Amy is probably reading, cuddling with her husband, son, and cats, & drinking a maple latte.