*This site uses affiliate links; if you make a purchase through these, I may receive a small commission at no cost to you.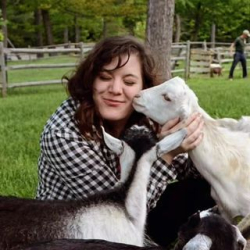 Latest posts by Amy Hartle
(see all)
If you're looking for things to do in Southern VT, Wilmington should be on your list! Wilmington is a quaint small with a population of fewer than 2,000 people, but there's plenty going on.
Whether you're a fan of outdoor adventures like hiking on beautiful trails or you're a foodie, there are many great things to do in Wilmington VT, no matter what types of things you like doing while traveling with family and loved ones. It's a short day trip from nearby Bennington, too.
Here are the best things to do in Wilmington, Vermont!
Hike Haystack Mountain Trail
First up is hiking the Haystack Mountain Trail, one of the best things to do in Wilmington if you love the outdoors. It's a moderate trail that's only about five miles out and back which isn't too tricky, especially considering how amazing the views at the top are.
Elevation gain along the trail is a little over 1,000 feet, so there is a bit of an uphill climb to do this trail. It is kid-friendly, and dogs are also allowed on the trail, but it's best done during the spring and summer months. This trail is known for getting pretty slippery and muddy when it rains, too, so keep a close eye on the weather when you're planning to do this hike.
Have lunch at Dot's Diner
The top spot to have lunch in all of Wilmington is a cute diner called Dot's. It's a classic American restaurant with a very throwback diner vibe that you won't want to miss. It's also right on Wilmington's Main Street, so it's impossible not to see it at least once during your trip.
The menu at Dot's has pretty much everything you'd imagine that it would. There are salads, soups, sandwiches, chicken fingers, and more. Their buffalo chicken tenders are excellent if you want a recommendation!
If you're not a lunch person, don't worry. Breakfast is also a popular meal to have at Dot's, and they open right at 6 a.m. for you early risers.
Explore Molly Stark State Park
Every state park is absolutely incredible in New England, so visiting Molly Stark State Park is one of the best things to do in Wilmington. This state park, in particular, covers just shy of 150 acres, so it's pretty massive.
The park itself is named after none other than Molly Stark. She was the wife of an American Revolutionary War vet, General John Stark. Molly Stark got pretty famous; there are even a few schools in Vermont named after her.
There are tons of fun things to do right in Molly Stark State Park. You can pitch a tent at one of the 23 ten sites if you're the outdoorsy type. There are also lean-tos which are fun if you want to get close to the wilderness. In addition to camping, there are mountain biking trails, horseshoe pits, volleyball nets, picnic spots, and hiking trails. What more could you want for a fun day outside?
Check out the gift shop on Hogback Mountain
Hogback Mountain is one of the most well-known mountains in all of Vermont. It's right near Wilmington but is technically in Marlboro near Vermont Route 9. You can actually drive right up Hogback Mountain, which is an absolute must-do.
The views at the top of Hogback Mountain are incredible. There's even a lookout point so you can take in the view and all of its glory. While there, stop at the gift shop for some fun souvenirs. There's even a brewery nearby too!
If you are visiting Wilmington in the winter, keep in mind that Hogback Mountain is known for being very slippery and icy. This is, unfortunately, a familiar spot for accidents in the winter, so just drive as safely as you can.
Look for wildlife at Harriman Reservoir
Reservoirs are one of the most tranquil spots that you can visit while looking for places to go in Wilmington. Stop by Harriman Reservoir to look for some wildlife. If that's not your cup of tea, there are also spots to go swimming or even boating here if you want!
Checking out the Harriman Reservoir is a great way to spend the afternoon or even the entire day if you love the outdoors. If you don't have a boat, you can rent some nearby. This is an excellent spot for paddleboarding and kayaking!
The Harriman Reservoir is also a part of the Molly Stark Byway Heritage Trail, which you could also check out during your trip to Wilmington.
Grab a drink at Vermont Distillers
Right near Wilmington is Vermont Distillers, a great spot to visit if you love drinks with exciting flavors. Don't believe me? They have been known to have flavors like raspberry, maple, lemon, and even blueberry!
Vermont Distillers is family-owned and is right near Hogback Mountain, which is listed earlier on this post of the best things to do in Wilmington. They're known for having Metcalfe liqueurs but also have tons of great other drinks.
They have a wide variety of different drinks. Consider trying Vermont Maple Liqueur, Vermont Honey Bourbon, Limoncello, or even Bourbon Barrel-Aged Pommeau. Stop by the tasting room to try before you buy.
Kayak at Lake Raponda
Lake Raponda is a great place to stop by when visiting Wilmington! It's a seemingly smaller lake, but that doesn't mean that it's any less fun. For a fantastic time, consider renting a kayak, and you can go kayaking out on the lake.
In 2021, Lake Raponda celebrated its 100th anniversary. If you're lucky enough to visit during 2021, you'll be able to attend some significant fun events that are open to the public right at the lake.
Be on the lookout for the loons while visiting Lake Raponda. It's one of the animals that the lake is pretty well known for. There are also black bears in the area. If you come across any, be sure to be safe and keep your distance! Only the rangers should go close.
Take in the view from Mount Olga Fire Lookout Tower
Mount Olga Fire Lookout Tower is one of the underrated things to do in Wilmington, so for sure, add it to your itinerary when visiting! It's a tourist attraction that has a fantastic viewpoint. To get there, you do have to hike a bit.
The hike to the tower is only about thirty minutes, so it's not that bad. If you want to do an entire loop from Molly Stark State Park, that's also another option. This version will take closer to an hour and a half, though, and covers just around two miles.
Once you get closer to the fire lookout tower, you'll be rewarded with pretty incredible views. Make sure you bring your camera so that you can capture the moment. You could also consider packing a lunch to have right at the viewpoint if you wanted.
Golf at Haystack Golf Course
If you love golfing, look no further! Golfing at Haystak Golf Course is great. The course opened in the 1970s and was designed by a famous architect at the time named Desmond Muirhead.
There are tons to do at the golf course, too, so you can easily spend an entire day here. Stop by The Stack Restaurant for a great meal overlooking the green. Check out the golf pro shop to pick up any equipment you may need. Take some swings at the practice range before heading out!
They also host quite a few events at Haystack Golf Course throughout the year, so keep an eye online to see if there will be one during your visit. You never know who you might meet!
Learn at the Southern Vermont Natural History Museum
Last but certainly not least is Southern Vermont Natural History Museum. Visiting here is one of the best things to do in Wilmington. It's another place that's located on Hogback Mountain, so be careful getting there.
The Southern Vermont Natural History Museum aims to educate others with fun exhibits and exciting ways of learning so that more people can be involved with nature and wildlife conservation. The museum is pretty huge, too, with one of the biggest collections of exhibits in all of New England.
There are also tons of great hiking trails in the area that allow you to get up close to the wildlife in a way that you usually wouldn't be able to. Consider stopping by to learn more about Vermont's wildlife and nature.
—
There are so many things to do in Wilmington; it can be hard to choose! No matter what you end up doing during your trip to Wilmington, you're truly in for a treat.
---
You might also like:
---