---
*Links in this article may be affiliate links, from which we may earn commission. See our
Privacy Policy
for full details.
---
New England is filled with charming towns, and Vermont is no exception. Filled with the breathtaking green mountains, rich history, and some interesting foods (maple creemee, anyone?), Vermont is one place that should be at the top of your travel list.
No matter what time of year you visit, you're in for a treat! While the most popular time to visit Vermont is during autumn to see the fall foliage, you can avoid the crowds of leaf peepers by visiting during the ski season, springtime, or summer.
To help you plan your next trip to the home of Ben & Jerry's, I've compiled a list of the ten must-see charming small towns in Vermont that you won't want to miss!
Williston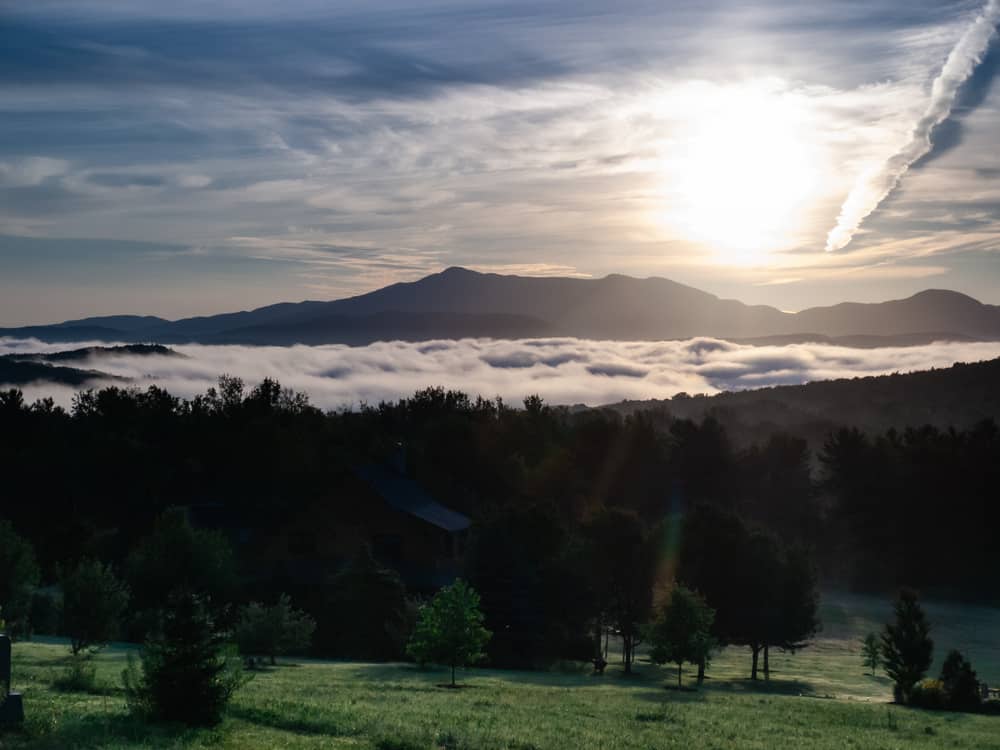 Located in northern Vermont near Burlington, Williston is known for being a charming suburb. Historically, Williston was originally farmland but has become a bustling place to live since. It's an effortless place to get to since it's located near I-89 and can be a suitable place to base yourself if you want to explore Burlington.
This charming town is filled with many outdoor areas to explore, including Lake Champlain, Lake Iroquois, and the Green Mountains, which are impossible to miss. There are year-round outdoor activities in Williston, which makes it an adventure lover's dream. Pass time hiking, swimming, kayaking, snowshoeing, and more.
If you fancy a bite to eat, be sure to stop by the Vermont Tap House, a favorite among locals. They're most well-known for delicious wood-fired pizza and serve up 36 different craft brews, and source most of their ingredients from local farmers. Their late-night hours make it the perfect place to grab a delicious meal no matter the time!
Dorset
Next up: Dorset! This charming small town in Vermont is located in the southern part of the state in Bennington County. With an average population of 200, this is the perfect place to get acquainted with locals and experience real Vermont small-town life.
Dorset, Vermont, is most well known for being home to the Dorset Marble Quarry, a popular cliff-jumping location among locals. It's also historically significant to the United States, as it was the country's first-ever marble quarry! It's located right off Route 30 and is a great place to cool off during a hot day.
Emerald Lake State Park is also in Dorset, the perfect place to go canoeing or kayaking. Plus, there are quite a few hiking trails here, so you can go out and explore the outdoors. When visiting Dorset, opt to stay in a bed and breakfast to support a local family and have a unique experience in this charming town.
Nearby spots to check out (and also sweet Vermont small towns!): Manchester, VT and Bennington, VT.
Grafton
Another charming town to visit in southern Vermont is Grafton! It's genuinely one of the prettiest places in all of New England, located right in the Green Mountains.
There are tons of fun outdoor activities to partake in while visiting Grafton. The most popular spot to visit is the Grafton Ponds Outdoor Center. This is a great place to go biking, hiking, snowshoeing, and even cross-country skiing.
One spot that can't be missed is the Phelps Barn Pub, which offers weekly specials for burgers and beers. Locals and tourists alike agree that it's one of the best burgers in the world. The menu changes throughout the year depending on what's in season locally. Plus, it's run by Chef Cal Hingston, who studied culinary arts in Montpelier and went on to be a chef at both the Putney Inn and Norwich Inn.
Woodstock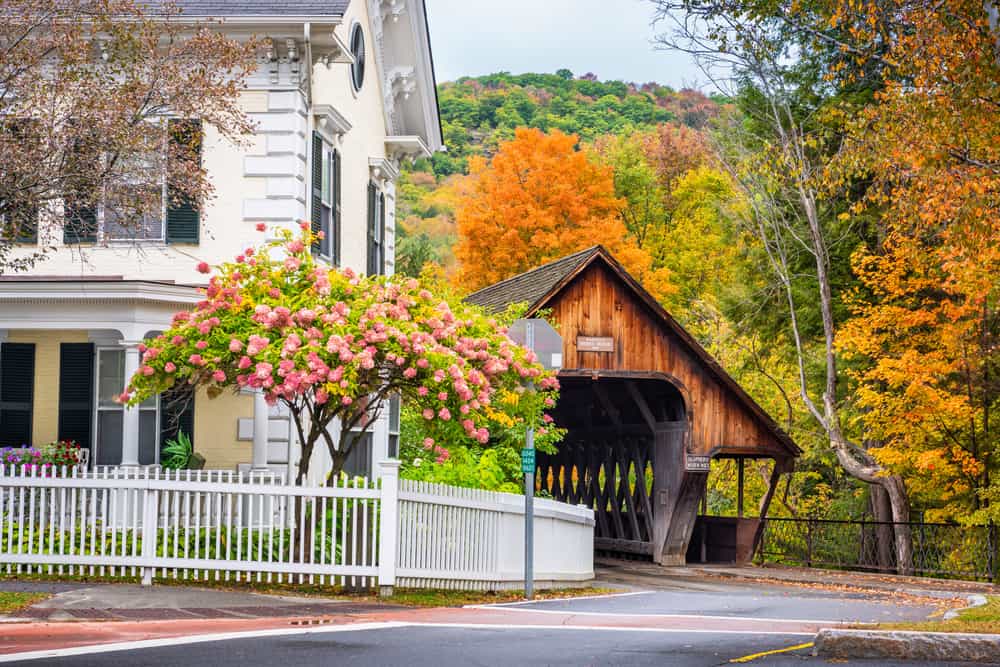 This list of charming Vermont towns would not be complete without at least mentioning Woodstock. Known as being one of the most picturesque small towns in the whole state, Woodstock can not be missed during a trip to the Green Mountain state.
If you're lucky enough to be visiting Woodstock during winter, you absolutely must head to Suicide Six. While it's technically located in South Pomfret, it's incredibly close to Woodstock and is a top spot for skiing and snowboarding. It has trails for all levels, so even if you're entirely new to the outdoor sports scene, you'll be able to fit right in.
Some other popular spots to visit in Woodstock include the Billings Farm and Museum (a must-visit to learn about 19th-century New England life), the Marsh-Billings-Rockefeller National Historical Park, and the Middle Bridge. When you're ready to take a break from all the activities, be sure to stop by the Mountain Creamery for a bite to eat!
Chester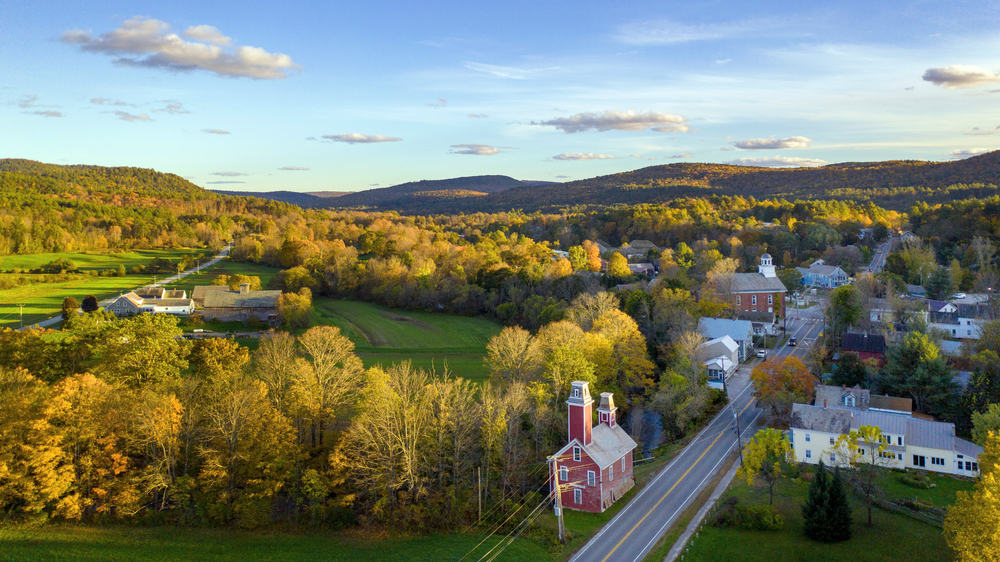 While Chester is one of the larger towns on this list, it still only has a population of approximately 3,000 people! Located in southern Vermont's Windsor County, Chester is an absolute must-visit charming town, especially in the summer or winter because of all the fun recreational activities available.
There are tons of winter sports areas near Chester, including Okemo Mountain Resort, Bromley Mountain, and Stratton Mountain Resort. All are equally fun! Are you not into outdoor sports? Luckily, Chester is also home to lots of great places to shop. Some of Chester's top stores include Blair Books, Stone House Kettle Corn Company, and Smokeshire Design.
If you have more time while visiting Chester, be sure to stop by Endless Creations Pottery Studio. This fun art studio is excellent for all ages. They offer classes on wood burning, pottery, jewelry, and more. Of course, their most popular activity is pottery painting! What's even better is you don't have to make a reservation; they accept drop-ins!
Waitsfield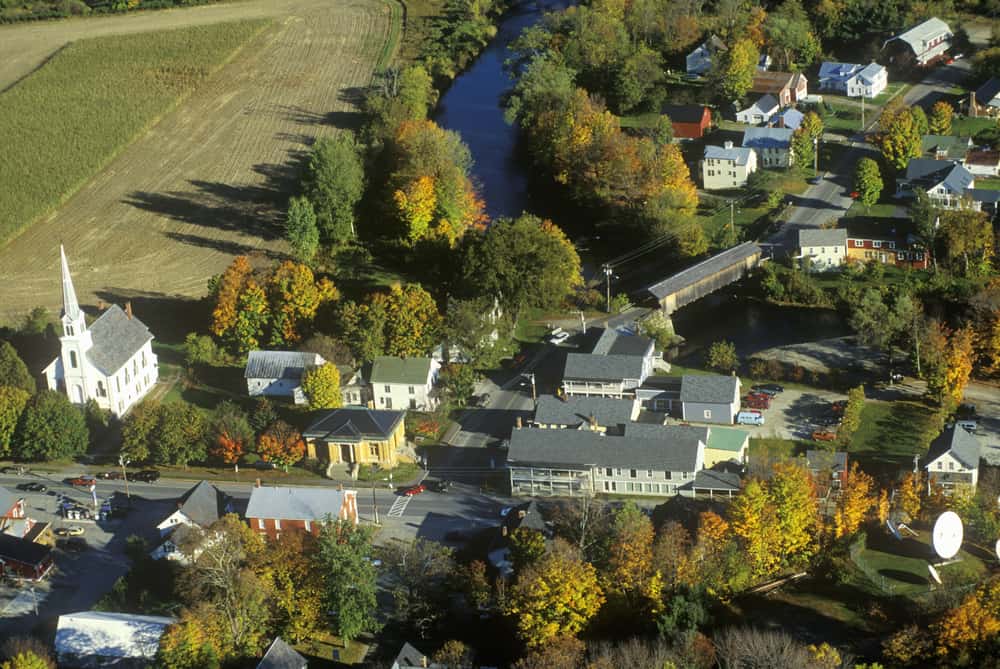 Waitsfield is a town near Montpelier that's extraordinarily picturesque and offers impressive scenic views of the surrounding area. While the most popular time to visit Waitsfield is during the winter because of its proximity to the Mad River Glen Ski Area, it's gorgeous any time of year.
Wondering what to do in Waitsfield? Be sure to check out Hartshorn Organic Farm. Not only are there farm tours available to visitors, but there are also food festivals, workshops, and more. You'll even be able to learn all about the maple syrup process by visiting their maple sugar house!
If you're wondering where to stay, opt to reserve accommodations at The Round Barn! This beautiful bed and breakfast is situated on 245 acres of land and is a great place to explore around. There are ponds, gardens, and of course, areas to go hiking and snowshoeing. The Round Barn is a great place to stay for family and couples alike.
Shelburne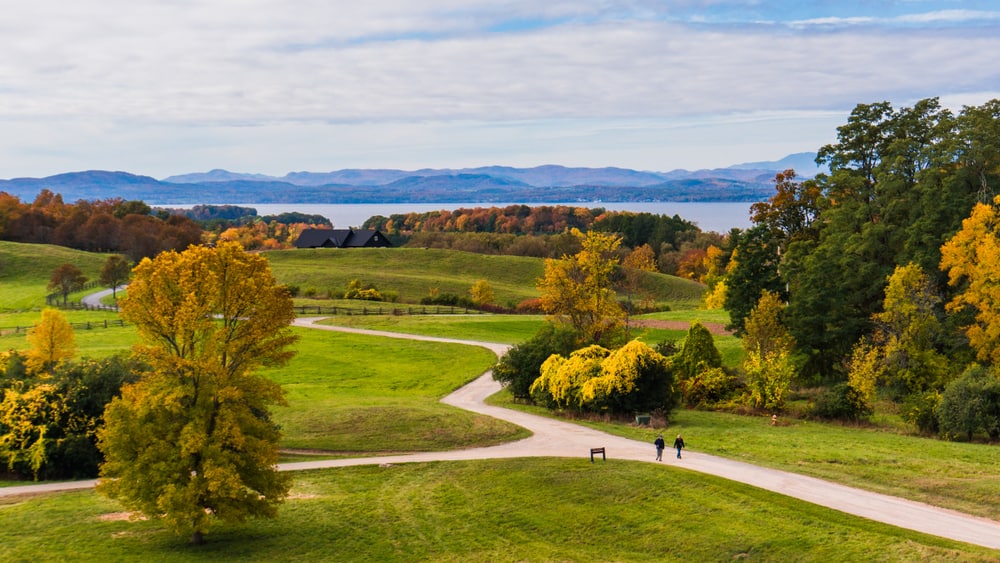 Located right on Lake Champlain, Shelburne is one of the most-visited charming towns in Vermont, and for a good reason. While it's one of Burlington's suburbs, it's still filled with tons of fun activities for all ages.
The top place to visit here is Shelburne Farms. They host a variety of fun activities and workshops to teach visitors all about how farm-to-table works! Plus, they offer a variety of delicious maple syrup and Vermont cheeses.
To learn more about Shelburne, be sure to stop by the Shelburne Museum. It was founded in the mid-20th century and includes exhibits covering both art and design between 39 different buildings. You could easily spend a whole day exploring here! If you find that you have more free time in Shelburne, some other great places to visit include the Vermont Teddy Bear Factory (perfect for families!), the Shelburne Vineyard, and Fiddlehead Brewing Company.
Stowe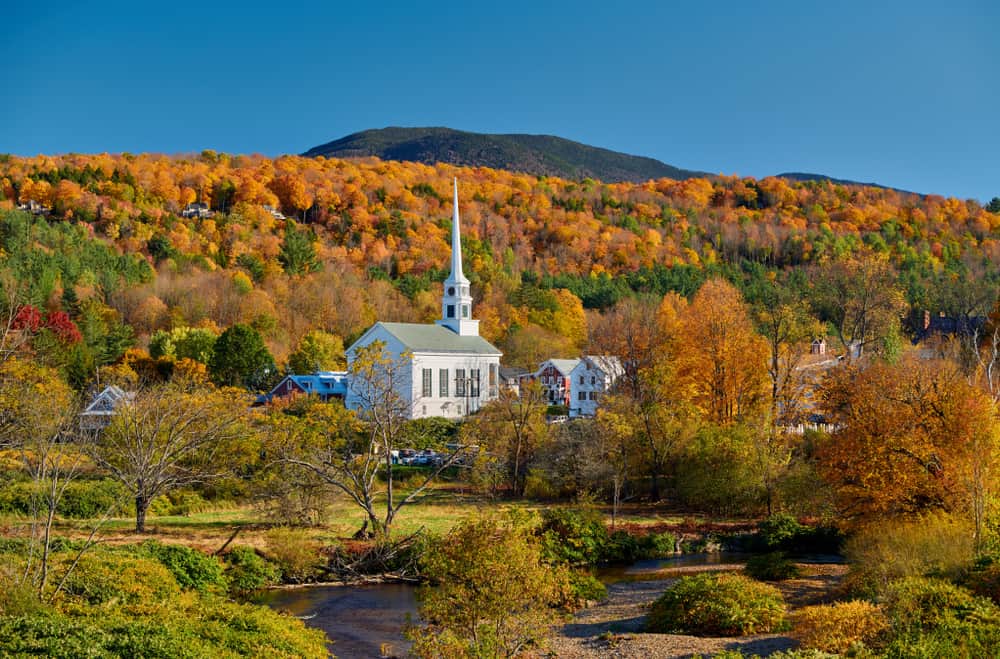 Stowe is yet another incredibly charming and picturesque Vermont town located in the northern part of the state. It's right next to the highest mountain peak in the whole of Vermont, Mount Mansfield, which is a popular destination for tourists.
This town is an outdoor lover's dream, mostly because it's where Smuggler's Notch State Park is located. This is a popular spot to go for skiing and snowboarding in the winter, but also camping, hiking, and more. It's enjoyable for all ages!

While this list is filled with tons of great places to visit in Vermont filled with charm, Stowe is one place you surely can't miss. The famous von Trapp family (yes, from The Sound of Music) moved to Stowe to escape Austria during the Nazi era. Now it's home to the Trapp Family Lodge, which is filled with a rich history.
Wilmington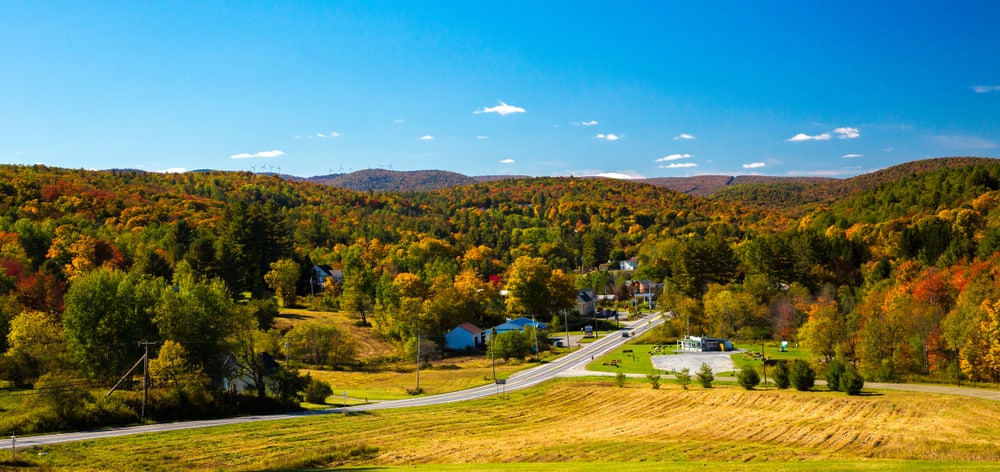 Wilmington is an incredibly charming town located only a half hour away from Bennington. This village is gorgeous, and while it faced a lot of devastation after Hurricane Irene, it has had a comeback in the past few years.
The perfect way to spend the day is by exploring the downtown area. There are tons of great restaurants in the downtown area, especially Dot's, a fun diner that offers delicious and affordable eats. Visiting over the weekend? You're in luck! There's a great flea market held in Wilmington with local vendors selling a wide variety of souvenirs, local foods, crafts, and more.
If you're more of an outdoor enthusiast, then be sure to check out some of the local hiking trails. Popular ones include the Valley Trail, Hogback Mountain Trails, and the Hoot, Toot, and Whistle Trail. Some of these are easier than others, so make sure you do some quick research online before choosing the perfect hike for you! Each one offers rewarding views that you won't want to miss.
Weston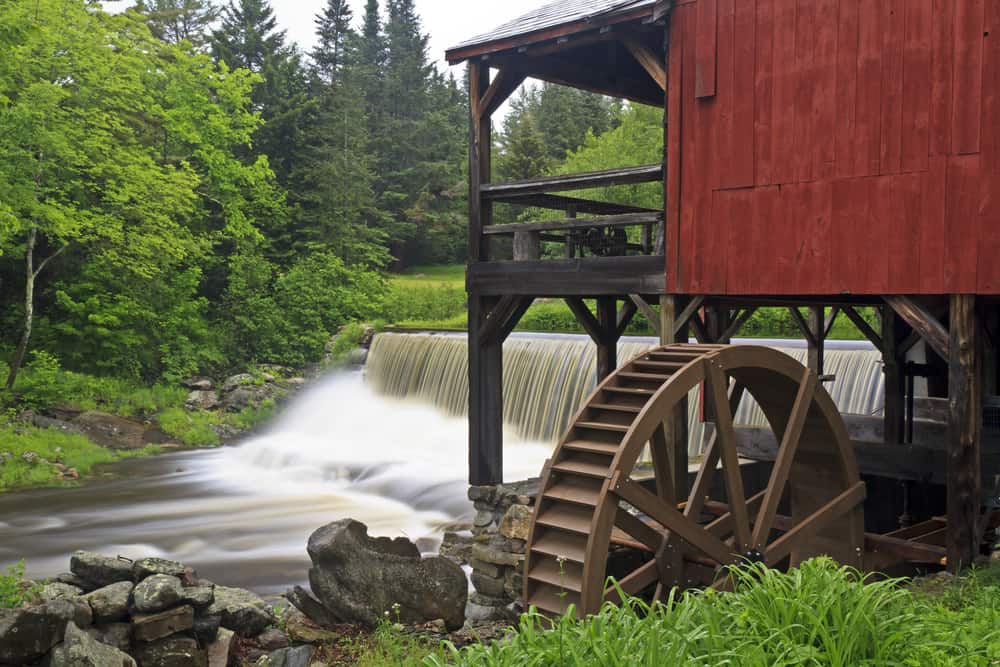 Last but not least is Weston! This small but charming Vermont town is the perfect place to base yourself to explore the rest of the breathtaking and scenic Green Mountain National Forest!
Theatre fans are in luck because Weston is home to The Weston Playhouse, the oldest theatre company in the whole state. The majority of shows and musicals are on during the summer and are always exceptionally well produced. Plus, The Weston Playhouse has even been nationally-recognized by Playbill, The New York Times, and The Wall Street Journal.
For a bite to eat, be sure to head to some local favorites, including the Village Green Gallery Coffeebar, The Vermont Country Store, or the Moose Lounge. Each is equally amazing and serves up delicious eats!
—
Whether you plan on visiting Vermont for a weekend, a road trip, or a week-long getaway, you'll have the time of your life. You might even be able to visit more than one of the towns on this list during one trip if you plan your time wisely!
Now, what are you waiting for? Start planning your next trip to one of Vermont's cutest towns!
---
Read these next:
---
Krystianna is a recent college grad who is the founder of Volumes & Voyages, a blog devoted to books and travel. After studying abroad in Dublin for a semester, she got bit by the travel bug and has been chasing her wanderlust ever since.