If you want to visit some of the prettiest towns in New England, be sure to put Stowe at the top of your list. It's beautiful all times of year, but Stowe Vermont in summer is even more unbeatable because of all the fun activities.
From swimming to golfing and even attending fun local festivals, there are so many fun summer activities in Stowe. Luckily, this post was put together to help a traveler like you by including all of the best activities in just one place.
Here are all the top things to do in Stowe Vermont in summer!
Golf at Stowe Country Club
If you like to go outdoors, be sure to head to the Stowe Vermont Country Club for a friendly game of golf. This is the top place to go golfing in Stowe Vermont in summer, and there is a course that's completely open to the public.
The public tee times are a bit different than those with memberships, so be sure to check online before showing up to ensure you go at the right time. They also often have different promotions going on throughout the year. Sometimes, there's even a summer cookout series where you can golf, listen to music, and drink!
Swim in Brewster Ridge Gorge
What better way to get outside in Stowe Vermont in summer than by going swimming? The best spot to do this, that's sort of a hidden gem that only locals know about, is at Brewster Ridge Gorge.
To get there, you do have to do an easy, 3-mile hike. It's an out-and-back trail that takes about an hour round trip, and it's just over 200 feet in elevation gain. Plus, it's kid-friendly!
Right at the gorge, the public are allowed to go in the water and swim. There's a beautiful waterfall surrounded by rocks which is absolutely breathtaking. Keep in mind that it can get really busy in the summer months, so try to get there early in the morning.
Have a Drink at the von Trapp Brewing Bierhall Restaurant
Located at the Trapp Family Lodge, the von Trapp Brewing Bierhall Restaurant is an absolute must-visit, especially if you aren't staying at the lodge. It's the perfect way to experience Austria while still staying in Vermont. Plus, it's one of the top places to eat in Stowe.
The Bierhall is open for lunch and dinner every day, but it can get really busy at this restaurant because it's actually one of the best places to eat in Stowe. So, be sure to try to get a reservation online before you go.
They serve all tops of Austrian drinks, including Vienna, Dunkel, and Bohemian Pilsner. In addition, they have tons of great dishes that you can pair with the drinks. There are sandwiches, burgers, salads, bratwurst, spaetzle, and more.
Camp at Mountain View Campground
Another of the great activities for Stowe Vermont in summer is camping at the Mountain View Campground. What better way to enjoy the great outdoors than by staying directly in it?
This campground is one of the best places to go camping in Vermont and also includes tons of different types of campsites. There are RV spots, tent sites, and also cabin rentals available. The cabin rentals are enjoyable for those who want a bit more comfortable stay during their camping trip.
What's so great about Mountain View Campground is that it's right near many other top places to visit in Stowe, including Stowe Mountain Resort, hiking trails, and mountain biking trails.
Attend the Stowe Balloon Festival
The Stowe Balloon Festival occurs every summer in July and is an absolute must-visit! It starts early in the morning at sunrise when the first set of balloons lift into the sky. It's absolutely breathtaking to see the colors of the sky with the beautiful hot air balloons.
If you're not an early riser, don't worry. They also have twilight hot air balloon launches as well. Admission is free if you stay nearby at the Stoweflake, but even if you aren't staying there, it's still worth going.
The event has been going on for more than 35 years and is a fun activity for all locals. There are also other fun activities and entertainment at the event, like live music, food trucks, and more. Plus, guests can even pay to go on their own hot air balloon ride if they want to!
Try Paddleboarding
One of the most fun activities in Stowe Vermont in summer is paddleboarding! Over the past few years, this has quickly become a popular way to enjoy the outdoors. Basically, you stand up on a surfboard-like board with a paddle in hand. It's a lot more difficult than it sounds!
While you can bring your own paddleboard, there are also a few places around Stowe where you can rent one. This is especially true at most of the lakes, like at the Waterbury Reservoir. This fun activity can also be done at most of the lakes in Stowe, including Bootleggers' Basin, Lake Elmore, and as just mentioned, the Waterbury Reservoir.
Get Your Adrenaline Pumping by Ziplining
If you're feeling up to it, one of the top things to do in Stowe Vermont in summer is to go ziplining! This is not for the faint of heart but can be the perfect way to get your adrenaline pumping high above the treeline.
There are a few different spots to go ziplining in the area, but the best one is ArborTrek Canopy Adventures. They offer different canopy tours and all-day adventures, perfect for outdoor lovers of all ages.
It's best to do this fun adventure in the summer because the weather is absolutely superb. Plus, you'll be able to enjoy ziplining with the help of a guide who will be with you every step of the way!
Go Fishing
For a pleasant outdoor activity in Stowe Vermont in summer, go fishing! There are many spots to go fishing in Vermont, but Stowe happens to have some of the greatest fishing lakes because they're so peaceful and tranquil.
Mostly, trout are caught in Stowe's lakes, but other fish can be too. You can either go fishing from the banks of the lakes or go out on a boat of your choice on the water. Rentals are also available throughout Stowe if needed.
Casting clinics are also offered for free throughout the summer at different locations, so be on the lookout for that! They are often offered right at The Fly Rod Shop.
Mountain Bike in Cady Hill Forest
One of the best places to go mountain biking in Vermont is in Cady Hill Forest in Stowe. This forest is rather large at around two hundred and fifty acres of land, and it's one of the most popular mountain biking areas.
Each of the trails is of different lengths, but there are so many different ones to choose from. A handful to consider biking include the Sap Bucket, Schween Haus, Snake, or Upper Zogs. Visitors can check online to see the trail conditions before heading out.
If it will be raining during your trip, definitely wait a few more days before heading out to the trails. Because the trails are located in the forest, these trails can get relatively muddy and take a few days to go back to normal entirely.
Bike the Stowe Recreation Path
Do you want to go more casual biking in Vermont? Then ride the Stowe Recreation Path! There are places throughout Stowe where you can rent a bike if you don't happen to be traveling there with one for your trip.
The path is relatively long, at just over five miles long, but it goes by pretty fast, mainly because the path is so enjoyable. However, even just biking a short bit of the Stowe Recreation Path can be enjoyable.
Luckily, the path is super smooth and paved, making for a great, smooth, ride. Some people also prefer to walk or jog on the trail, which is shaded by the trees a lot! This is a fun summer day activity for any type of traveler visiting Stowe who absolutely loves the outdoors and wants some exercise while exploring.
Hike the Stowe Pinnacle Trail
There are so many places to go hiking in Vermont, but if you're up for a challenge, look no further than the Stowe Pinnacle Trail. This is one of the best hikes for Stowe Vermont in summer. It's a difficult trail, though, and is recommended for those who have hiking experience.
The trail is about four miles long, and it's an out-and-back trail. There is quite a bit of elevation gain, though, at just over 1500 feet. On average, people find that it takes around three hours to do the entire hike. The hike is dog friendly but keep in mind some spots are relatively rocky, which could result in some scrambling.
Now you know exactly what to do in Stowe Vermont in summer! No matter what you choose to do from this list, you'll absolutely love the beauty of Stowe. Don't forget to share this post with others!
---
You might also like: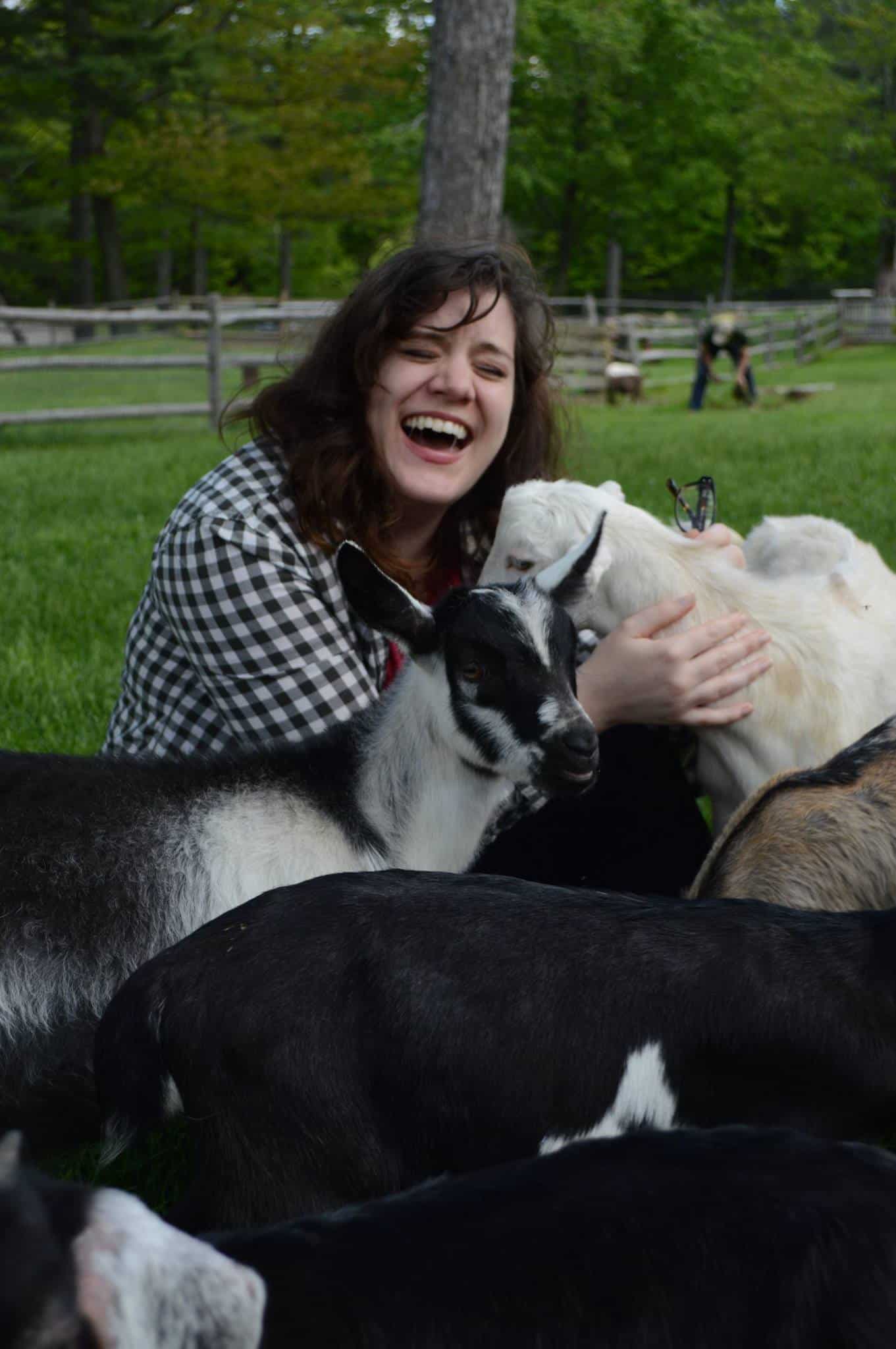 Amy Hartle is the founder and Editor-in-Chief of New England With Love, a comprehensive resource for travel in the New England region. Amy has been exploring New England since 2001. She lived in Vermont for many years and is a graduate of Plymouth State University in New Hampshire. On this site, Amy aims to share her love of New England and help you to have the best possible adventures!
Amy has been writing about travel for over a decade, and is a full time blogger, publishing both Two Drifters and Let's Adventure Baby. When not traveling the world or creating epic blog content, Amy can be found cuddling with her husband, son, and cats, & drinking a maple latte.