---
*Links in this article may be affiliate links, from which we may earn commission. See our
Privacy Policy
for full details.
---
While so many people flock to Vermont during the fall to see the foliage, this state is beautiful year-round. One of the most underrated times to visit is during the summer! Summer in Vermont is incredible, and there are so many fun things to do no matter your interests.
Even though Vermont isn't a huge state, there are tons of different destinations to consider when visiting. Luckily, this post has all of the best places to visit to save yourself some research.
Brattleboro
Located in southeastern Vermont is Brattleboro! This town is easily one of the most-visited in the state, especially during the summer in Vermont. It's filled with lots of fun activities and is also right on New Hampshire's border, so you can visit two states in one trip.
What to Do in Brattleboro
If you love the outdoors, be sure to visit Madame Sherri's Forest (in nearby NH). There are fun ruins throughout the forest, and it's easily walkable with kids and even dogs. Other great places to visit in Brattleboro include Fort Dummer State Park, Wantastiquet Mountain Natural Area, and the Brattleboro Museum & Art Center. Be sure to also stop at some of the local Brattleboro restaurants.
Bennington
Bennington is genuinely one of the most underrated places to visit during summer in Vermont. This town is right in the corner of southwestern Vermont, on the border of both New York and Massachusetts. This is an excellent gateway to the northeast, and the town has a strong connection to the Civil War, as one of the victories happened here. The town celebrates Bennington Battle Day's victory each year with a huge parade and festivities.
What to Do in Bennington
The Bennington Museum is the top museum to visit in the town that's filled with lots of history. There is also an old cemetery here that guests can visit. For a great view, be sure to go to the top of the Bennington Battle Monument. The food here is also incredible, so head to Cilantro (for tasty burritos) or Benner's for epic pizzas and calzones.
Read more: 15+ Fun Things to Do in Bennington, VT
Montpelier
As the capital of Vermont, Montpelier can't be missed. While it doesn't have a huge population, there is still quite a bit of fun activities to do here, no matter the time of year. Fun fact: this is one of the least populated capitals of a state in all of the country.
What to Do in Montpelier
Easily the top attraction in Montpelier is the Vermont State House. It's wonderful and is an architectural marvel. Guests can go on a free tour of the inside. To learn about Vermont's history, stop by the Vermont Historical Society Museum. Hubbard Park is the perfect outdoor place to relax and explore near the statehouse.
Read More: 14 Fun Things to Do in Montpelier VT
Peru
You might be thinking… there's a Peru in Vermont? Yes, there is! This town is the gateway to one of the most popular ski resorts in the state, Bromley Mountain. In the summer, the town is still just as much of a destination because of its outdoor attractions.
What to Do in Peru
Historically, Peru was known as Bromley. Even though Bromley Mountain is most well known in the winter, it turns into an entertaining adventure park in the summer. There are rides, a water park, and even an alpine coaster that is fun for all ages.
Middlebury
Located in the middle of the state is none other than Middlebury, the perfect destination for summer in Vermont. It's a college town during most of the year because it's where Middlebury College is located, but it also has some fun museums, hikes, and even a vineyard.
What to Do in Middlebury
You'll absolutely want to add Lake Dunmore to your travel itinerary if you're visiting Middlebury. This huge lake is the perfect spot for camping, walking trails, and even swimming. The Lincoln Peak Vineyard is a fun spot for a more luxurious experience, and the Henry Sheldon Museum is perfect for learning about the state's history.
Manchester
Located a short distance from Bennington is the beautiful town of Manchester! It's commonly visited for being home to Hildene, which is where one of Abraham Lincoln's children lived. It is also home to luxury outlets, making it the perfect place for shopping.
What to Do in Manchester
There are plenty of things to do in Manchester year round. In addition to shopping at the outlets and taking a visit to Hildene, hiking at Equinox Mountain is an absolute must. One of the easier trails to do here is the Lye Brook Falls Trail, which leads to a gorgeous waterfall. Fishing fans should be sure to stop by the American Museum of Fly Fishing.
Newport
Located in northern Vermont, almost on the border of Canada, is Newport! This is truly one of the top destinations if you're visiting during the summer in Vermont. There are tons of lake houses here, great local restaurants, and even a huge lake.
What to Do in Newport
A lot of the best things to do in Newport are outdoors. They include going on bike rides on local tours, hiking, and even visiting places like Derby Pond for a great outdoor swim. Honestly, even though there isn't tons to do here if you want a tranquil vacation spot, Newport is perfect.
Wilmington
Between Bennington and Brattleboro is the quaint town of Wilmington. This town is incredibly historic and has one of the most beautiful downtown areas! You won't find many name-brand shops here; in fact, almost everything is local.
What to Do in Wilmington
Arguably the best thing to do in Wilmington is to attend the flea market. Local vendors sell tons of fun items, and there are always vending machines so you can grab a bite to eat too. Another popular attraction here is Hogback Mountain, which can be dangerous in the winter when it gets icey but is a beautiful viewpoint in the summer. If you get hungry, be sure to stop by Dot's, a great local restaurant.
Burlington
If you visit during the summer in Vermont without stopping in Burlington, you're truly missing out. This is honestly one of the most picturesque places to visit in the whole state and it's located right on Lake Champlain.
What to Do in Burlington
For shopping, be sure to explore Church Street Marketplace. This makes up most of the downtown area, and it's great because it's pedestrian-only. Visit the Leahy Center for Lake Champlain to learn more about the beautiful lake, stop at Waterfront Park for epic views, and for a quirky attraction, stop by the World's Tallest Filing Cabinet.
Read More: The 25 Best Things to Do in Burlington VT
Woodstock
Another smaller town in Vermont is Woodstock. Like Middlebury, it's located pretty centrally in the state. While the most popular time of year to visit Woodstock is in the fall for the foliage, you can experience the local culture of this small town without the crowds by visiting during the summer.
What to do in Woodstock
One of the most popular places to visit in Woodstock is Billings Farm & Museum. The Marsh Billings Rockefeller National Historical Park is also an interesting place to explore if you want an outdoor attraction. Last but not least, stop by Sugarbush Farm to try local Vermont cheese and maple syrup!
Read More: Top Things to Do in Woodstock VT: The Perfect New England Experience
St. Albans
St. Albans is a city in Vermont that is known for how historic it is. There are tons of great activities here no matter your interest, and the area is picturesque. While it's not as big as some of the other destinations on this list, it's still pretty great.
What to Do in St. Albans
Be sure to rent a bike and go along the Missisquoi Valley Rail Trail for some great views. The Saint Albans Museum is the perfect place to learn more about the area while visiting. The downtown area also can't be missed because it's completely historic.
Waterbury
You've heard of the famous Ben & Jerry's ice cream, right? By this point, who hasn't? Well, Ben & Jerry's is hand-packed and produced in none other than Waterbury, Vermont. The factory helped to put Waterbury on the map!
What to Do in Waterbury
As mentioned, easily the can't miss attraction in Waterbury is the Ben & Jerry's Factory. Visitors can go on a free tour of the factory, which ends with a fun taste testing. Throughout the tour, you'll be able to get an inside look at the process the ice cream goes through. After, don't forget to stop at the Ben & Jerry's Flavor Graveyard!
Shelburne
Shelburne is a beautiful town located right along Lake Champlain! Even though it's one of Burlington's suburbs, it's the perfect place to visit during summer in Vermont. Almost everything to do here is outside, but there are a few indoor attractions too.
What to Do in Shelburne
The Vermont Teddy Bear Factory is an enjoyable place to visit, especially if you're visiting with children. The Shelburne Vineyard is perfect for some wine tasting, and you can even tour the vineyard. Shelburne Farms and the Shelburne Museum are also great attractions to visit while traveling here.
—
There are so many unique places to visit in Vermont! Honestly, summer in Vermont is the perfect time to visit if you love outdoor activities. This state is filled with epic hikes, viewpoints, and even rich history.
---
You might also like:
---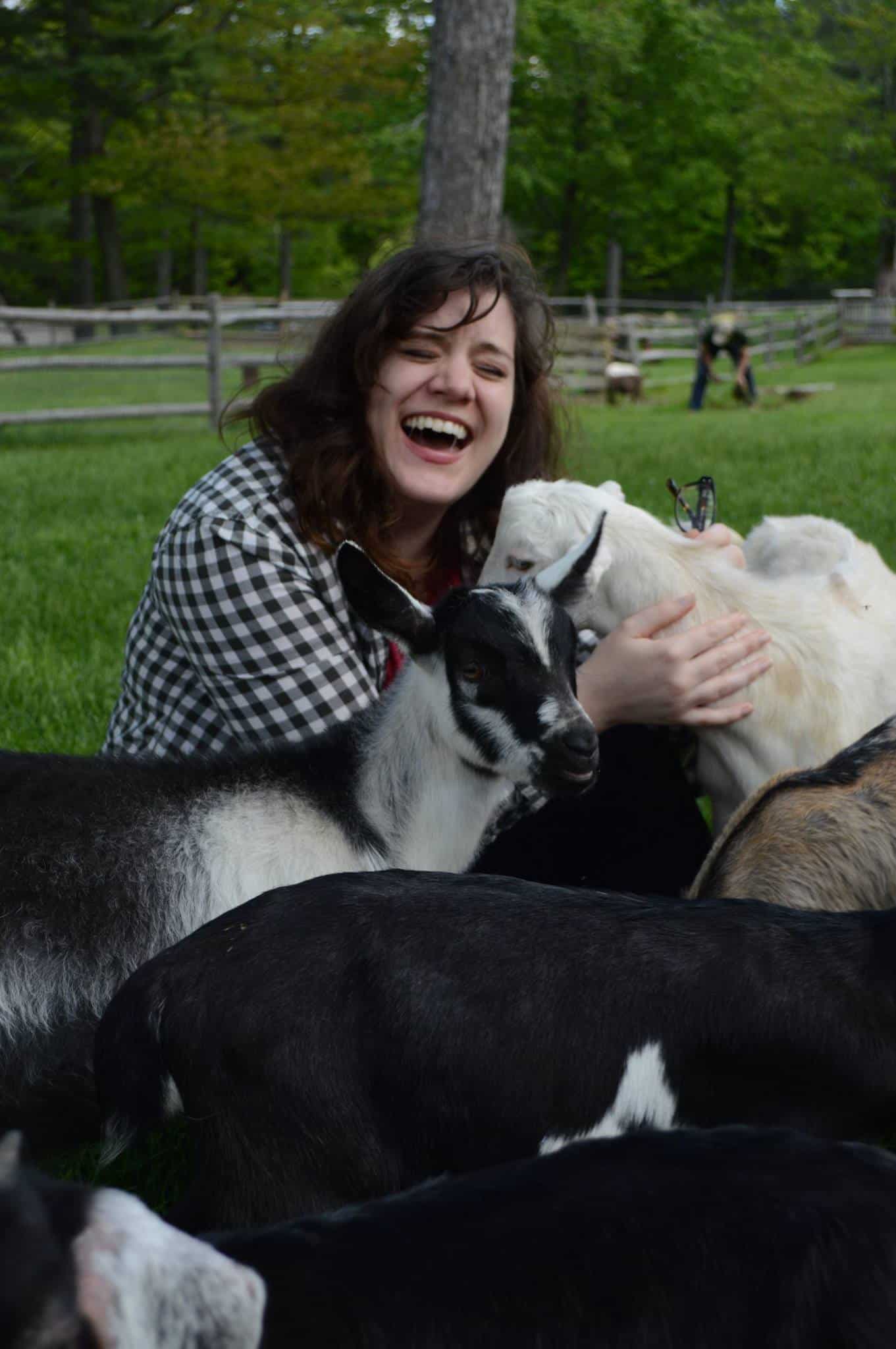 Amy is the founder of New England with love. A proud Vermonter, she hopes to share her love of New England and help you find the best adventures in the region. Amy is also blogger/founder at Two Drifters, where she writes alongside her husband about romantic and couples travel, relationships, honeymoons, and more. When not working on websites, Amy is probably reading, cuddling with her husband, son, and cats, & drinking a maple latte.