While so many people flock to Vermont during the fall to see the foliage, this state is beautiful year-round. Especially in the summertime when the Green Mountain State is so… well, so green! Summer in Vermont is incredible, and there are so many great ways to get outside and enjoy the gorgeous scenery and weather.
Even though Vermont isn't a huge state, there are tons of different summer destinations in Vermont to consider when planning a summer trip. We can help point you toward the best places to visit for a Vermont summer trip to save yourself some research.
Summer in Vermont: Where to Go
Brattleboro
Located in southeastern Vermont is beautiful Brattleboro, an excellent spot for a summer vacation! This town is easily one of the most-visited in the state, especially during the summer in Vermont. You'll find lots of fun, small town activities, and lots of fun right over the state line in New Hampshire, too!
What to Do in Brattleboro
For a classic summer Vermont activity, get out on the water with Vermont Canoe Touring Center! You can rent SUP boards, canoes, and kayaks for fun on the river. Afterwards, revive and relax at the Grand Tasting Room of the Saxton Distillery, where you can play board games, enjoy snacks and some of the best craft cocktails in Vermont!
A definite must while in Brattleboro is to hop over the state line to Madame Sherri's Forest and the possibly haunted remains of her dramatic stone chateau. The park is a beautiful place to hike, so if you're looking for a great summer hike, add it to the list!

Plan a visit to the always charming Creamery Covered Bridge, one of the quaintest covered bridges in the state; pack a little picnic and you'll have a very wholesome summer in VT activity. For fun indoor things to do that get you out of the summer sun, check out the Brattleboro Museum & Art Center, the Vermont Jazz Center, and the historic Latchis Theatre.
Brattleboro is a cute little VT town, with cute little places to stay, like the Inn on Putney Road. This darling B&B is the perfect place for a romantic getaway, so if you're planning a summer couples trip, check this one out!
Click Here to Check Prices & Book!
Bennington
Bennington is one of the most underrated places to visit during summer in Vermont. Located in the corner of southwestern Vermont, this is an excellent gateway to the northeast. Bennington has a strong connection to the Civil War, as one of the victories happened here; Bennington Battle Day is celebrated each year in August with a huge parade and festivities.
What to Do in Bennington
In true small town VT fashion, you'll find lots of adorable local shops to peruse – keep your eyes peeled as your make your way around to see if you can find all the cool moose sculptures around town! If you want to learn more local history, head to the Bennington Museum. For a very cool experience and view, be sure to ride to the top of the Bennington Battle Monument.
You can also check out the Apple Barn's annual Blueberry Festival in July with live music, activities, and of course, blueberries!
Bennington also has some great restaurants, including many tasty places to cool off with a summer treat! Gassaway's Tastee Freeze is the place to go for a sweet summer snack, whether it's a specialty sundae or soft serve you crave.

Looking for where to stay in Bennington? Consider booking a room at The Four Chimney's Inn, voted one of the best inns in the state by Fodor's!
Click Here to Check Prices & Book!
Montpelier
As the capital of Vermont, Montpelier can't be missed in summer or any other time. While it doesn't have a huge population, there is still is still plenty to do and see! Fun fact: this is one of the least populated capitals of a state in all of the country.
What to Do in Montpelier
One of the top attractions in Montpelier is the Vermont State House, an architectural marvel. You can tour the inside for free! Other must sees around town include the darling Coburn Covered Bridge, one of the most picturesque in the state, and Hubbard Park (be sure to see Hubbard Tower – so cool!)

One of the coolest things to do in Montpelier in summer or beyond is to check out the local sugar houses! Both Morse Farm Maple Sugarworks and Bragg Farm Sugar House offer sugarhouse tours and plenty of yummy treats to sample. Make sure you get a maple creemee from Bragg Farm Sugar House!
To cool off indoors, you can head to the Vermont Historical Society Museum, the Capitol Theater, the T.W. Wood Gallery and Arts Center, and any one of the cute shops in downtown Montpelier.

There are lots of places to stay in Montpelier, but Capitol Plaza Hotel keeps you within walking distance of lots of local fun! Oh, and their steakhouse restaurant is one of the top places to eat in Montpelier, so there's that, too!
Click Here to Check Prices & Book!
Peru
You might be thinking… there's a Peru in Vermont? Yes, there is! This town is the gateway to one of the most popular ski resorts in the state, Bromley Mountain. In the summer, this popular winter fun destination becomes a Vermont summer fun center!

What to Do in Peru
Historically, Peru was known as Bromley, and Bromley Mountain turns into an adventure park in the summer! There are a variety of rides, a water park, and even an exhilerating alpine coaster that is fun for all ages.
There's lots of lodging at and around Bromley Mountain, but if you're looking for rustic modern tranquil accommodations, that's Seesaw's Lodge!
Click Here to Check Prices & Book!
Middlebury
Located in the middle of the state is none other than Middlebury, the perfect destination for summer in Vermont. It's a cute college town because it's where Middlebury College is located, and it has a great historic downtown.

What to Do in Middlebury
You'll absolutely want to add lovely Lake Dunmore to your travel itinerary if you're visiting Middlebury. This huge lake is the perfect spot for camping, walking trails, and even swimming. Nearby Lincoln Peak Vineyard is a fun spot for wine tasting and live music, and the Henry Sheldon Museum is perfect for learning and cooling off on a hot summer day!

Biking is a classic summer Vermont activity, and Middlebury has some great options, including the always popular Trail Around Middlebury. You can rent a bike at Frog Hollow Bikes if you aren't traveling with your own.
When it comes to where to stay in Middlebury, consider the beautiful Middlebury Inn. This historic property is GORGEOUS, and there's a day spa, pub, and great events like Jazz Nights hosted in the tavern.
Click Here to Check Prices & Book!
Manchester
Another popular destination spot in Vermont for summer is the beautiful town of Manchester. It's commonly visited for being home to Hildene, the historic estate where one of Abraham Lincoln's children lived. It is also home to luxury outlets, making it the perfect place for some summer shopping!
What to Do in Manchester
There's no avoiding the view of Mount Equinox in Manchester – not that you'd want to, of course! You can either hike or drive up to the summit, but either way, it's an incredible view and should certainly be on your itinerary.
There's plenty of great hiking in the area, including some great options for cooling off. Lye Brook Falls Trail leads to a gorgeous waterfall, and feeling that waterfall mist float through the air is always refreshing! There's also beautiful Emerald Lake, with a lovely swimming beach that's perfect for a dip on a hot summer's day. Dorset Quarry is another very popular local swimming hole, or you can tube down Batten Kill River!

After a day spent out exploring beautiful Manchester, head to one of the top restaurants in town to refuel: hard to go wrong with a burger from Depot Street Burgers.
When it comes time to book accommodations in Manchester, you've got some incredible options! We loved staying at Kimpton Taconic Hotel. It's a beautiful boutique hotel with a fantastic onsite restaurant. In fact, it's one of our favorite brunch spots in Manchester, too.
Click Here to Check Prices & Book!
Newport
Located in northern Vermont, almost on the border of Canada, is Newport! This is definitely one of the top destinations if you're visiting during the summer in Vermont. There are tons of lake houses here, great local restaurants, and even a huge lake.
What to Do in Newport
A lot of the best things to do in Newport are outdoors. They include going on bike rides, hiking, and taking in gorgeous water views at the only lake in New England that is shared with Canada.
Lake Memphremagog is particularly idyllic, and the perfect way to take it all it in is on a Northern Star Cruise! If you'd rather stay on land, consider renting a bike at waterfront Prouty Beach and taking a lovely bike ride through the 36 acre park.
When you've worked up an appetite, head to the popular East Side Restaurant & Pub where you can enjoy fantastic waterfront dining on the shores of Lake Memphremagog!
If you want a tranquil vacation spot, Newport is perfect, and there are several gorgeous lakefront vacation rentals to choose from. I like this one that can sleep up to 10 (great for a summer family vacation in VT!) and has a deck, firepit, and great lake access!

Click Here to Check Prices & Book!
Wilmington
Between Bennington and Brattleboro is the quaint town of Wilmington. This town is incredibly historic and has one of the most beautiful downtown areas! You won't find many name-brand shops here; in fact, almost everything is local.
What to Do in Wilmington
Arguably one of the best things to do in Wilmington is the flea market. Local vendors sell tons of fun items, and it's always interesting to go treasure hunting and see what you can find!
There is so much great hiking in and near Wilmington, so if you're looking for summer outdoor activities, check out Hogback Mountain, Haystack Mountain Trail, and Mount Olga Fire Lookout Tower Trail. For a great variety of kid friendly VT hiking trails, head to lovely Molly Stark State Park.
There are some great little restaurants around Wilmington, but a definite don't miss is Dot's of Vermont, an adorable throwback diner that's perfect for summer grub!

As for where to stay in Wilmington, it's hard to imagine a more breathtaking property than The White House Inn! This historic mansion sits on a hill, overlooking gorgeous Vermont views.
Click Here to Check Prices & Book!
Burlington
If you visit during the summer in Vermont without stopping in Burlington, you're truly missing out. This is honestly one of the most picturesque places to visit in the whole state and it's located right on Lake Champlain.
What to Do in Burlington
Church Street Marketplace is a must visit for shops, restaurants, cafes, and more. This makes up most of the downtown area, and it's great because it's pedestrian-only. If you can swing dinner at Honey Road on Church St, you'll really be set, because this Mediterranean restaurant is next level delish!

Summer in Burlington VT means swimming and boat rentals on Lake Champlain, fun community events at Waterfront Park, hiking around town, and more! For a quirky attraction, stop by the World's Tallest Filing Cabinet. Trust me, it's a thing.

Burlington has more than enough to fill a fun summer vacation, plus cool hotels, vacation rentals (including waterfront rentals!), cafes, breweries, restaurants, and a surprising amount of free things to do for those on a budget! Hotel Vermont has a great location near both the waterfront and Church St, plus it's home to one of the most popular brunch spots in town, Juniper.
Click Here to Check Prices & Book!
Woodstock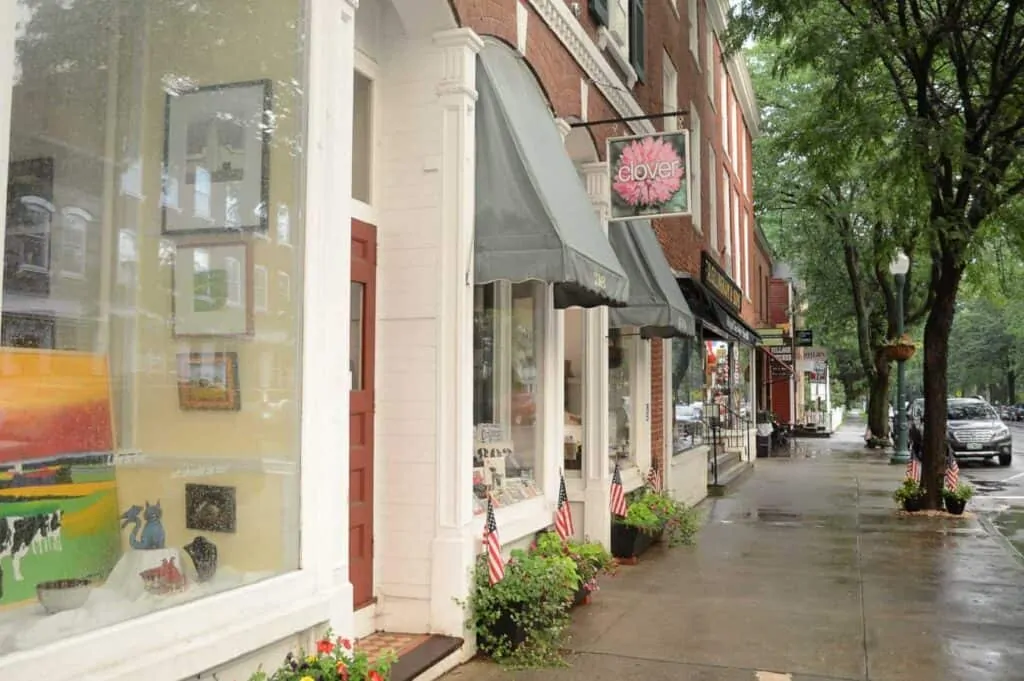 Another smaller town in Vermont is Woodstock. While this is one of those VT towns that are very, very popular in the fall, you can experience the local culture and summer scenery of this small town without the crowds by visiting before then!

What to do in Woodstock
To begin, Woodstock is adorable. Just strolling around downtown and the Village Green is fun because there's eye candy all around. There are several covered bridges in Woodstock, and interesting little shops like FH Gillingham & Sons, one of the oldest family run general stores in the state! The historical preservation in Woodstock is phenomenal.

Other things to do during your summer trip to Woodstock is go to Billings Farm & Museum, a working farm where you can get up close and admire some of the residents of this idyllic farm. They also participate in National Ice Cream Day in July, so if the stars align…
The Marsh Billings Rockefeller National Historical Park is another great outdoor attraction, and for a quintessential Vermont activity, head to Sugarbush Farm to try local cheese and maple syrup.
Woodstock has some great inns and hotels to stay in during your visit, but 506 on the River Inn is a great option. Rooms with a view of the Ottaquechee River are the best, and the indoor pool was pretty great, too!
Click Here to Check Prices & Book!
St. Albans
St. Albans is a city in Vermont that is known for how historic it is. There are tons of great activities here no matter your interest, and the area is picturesque. While it's not as big as some of the other destinations on this list, it's still pretty great.
What to Do in St. Albans
Be sure to rent a bike and go along the Missisquoi Valley Rail Trail for some great views. The Saint Albans Museum is the perfect place to learn more about the area while visiting. The downtown area also can't be missed because it's completely historic.
Looking for where to stay in St. Albans? Back Inn Time is absolutely gorgeous!
Click Here to Check Prices & Book!
Waterbury
You've heard of the famous Ben & Jerry's ice cream, right? By this point, who hasn't? Well, Ben & Jerry's is hand-packed and produced in none other than Waterbury, Vermont. The factory helped to put Waterbury on the map!
What to Do in Waterbury
As mentioned, easily the can't miss attraction in Waterbury is the Ben & Jerry's Factory. Visitors can go on a free tour of the factory, which ends with a fun taste testing. Throughout the tour, you'll be able to get an inside look at the process the ice cream goes through. After, don't forget to stop at the Ben & Jerry's Flavor Graveyard!
You've also got Cold Hollow Cider Mill in town, where you can take a self guided tour of the working mill and pick up some of the flavors of Vermont: apple cider donuts, maple syrup treats, and more! If you're looking for a full and hearty meal, don't skip out on Prohibition Pig, one of the best restaurants in the state.
Waterbury isn't very big, but it's got a very, very cool place to stay: Grunberg Haus. This delightful micro boutique hotel is a unique place to stay right off of scenic Rt 100.
Click Here to Check Prices & Book!
Shelburne
Shelburne is a beautiful town located right along Lake Champlain! Even though it's one of Burlington's suburbs, it's the perfect place to visit during summer in Vermont. Almost everything to do here is outside, but there are a few indoor attractions too.
What to Do in Shelburne
The Vermont Teddy Bear Factory is a sweet place to visit, especially if you're visiting with children. The Shelburne Vineyard is perfect for some wine tasting, and you can even tour the vineyard. Shelburne Farms and the Shelburne Museum are also great attractions to visit while traveling here.
Summer in Vermont: Things to Do
Go Camping/Glamping/Rent a Cabin
There are so many great campsites, cabins, and glamping sites in Vermont, so you can find the perfect spot to set up to enjoy a Vermont summer!
If you're looking for a beautiful summer romantic getaway, you could book a cabin like this adorable tiny house in Granville with a hot tub on the patio and river views, and Granville Gulf Reservation nearby with its beautiful waterfalls and hiking trails!
If you're looking for more of a group outing or family vacation summer destination, there are tons of great vacation rentals suitable for a larger crowd like this stunning lakehouse in Cabot, Vermont that has a canoe and kayak for guest use and is perfect for summer activities like swimming and fishing!
Read Next: 15 Gorgeous Lake House Rentals in Vermont for Waterfront Bliss
Check out Vermont Festivals
There are always fun things happening around Vermont in summer! Check out this VT events calendar to see what's happening during your visit, but these are a few of the most popular summer events happening around Vermont in summer 2023:
Moos & Brews & Cocktails Too in Woodstock, VT – This 21 & up event includes live music, local foods, craft brews and cocktails, and lots of adorable cows at Billings Farm & Museum.
Best of Vermont Summer Festival in Ludlow, VT – Looking for family friendly Vermont summer things to do? This late summer fest has music, kids activities, delicious foods and beverages, and even hot air balloons!
Rockfire in Websterville, VT – Live entertainment, fire performers, art, and more!
Quechee Hot Air Balloon Festival in Quechee, VT – You've got hot air balloon flights, tethered rides, live music and entertainment, and lots of great children's activities, so this would be a great one to schedule if you're planning a Vermont summer family vacation!
Get On Two Wheels
Biking is a pretty popular way to explore the Green Mountain State, and there are lots of great bike trails all around. If you're not sure you're up to hit the trails yourself on a mountain bike, you can even sign up for a mountain biking class and tour that will teach you the basics and get you out on two wheels in the scenic Stowe countryside like this one!
Splash Around in a Swimming Hole
There's plenty of outdoor warm weather fun out there, but summer fun at a swimming hole is classic Vermont! You've got your pick too. Do you want to have to hike out to your swimming hole? Or do you like to pull the car up and park right next to where you'll be taking a dip?
Either way, you'll find something that works for you at one of these Vermont swimming holes!
—
There are so many unique places to visit in Vermont! Honestly, summer in Vermont is the perfect time to visit if you love outdoor activities. This state is filled with epic hikes, waterfalls, lakes, views, and cool historic sites.
---
You might also like:
---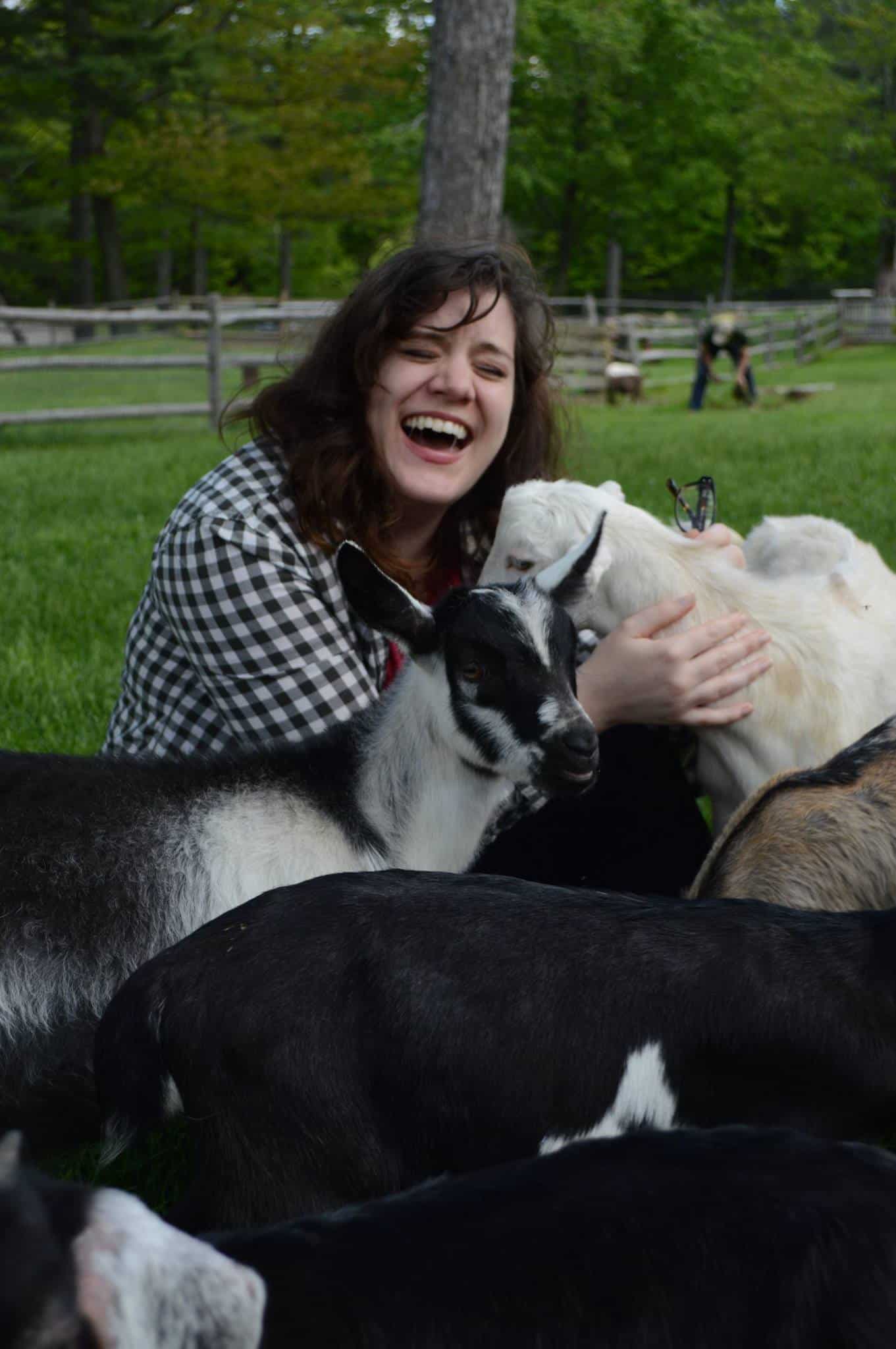 Amy Hartle is the founder and Editor-in-Chief of New England With Love, a comprehensive resource for travel in the New England region. Amy has been exploring New England since 2001. She lived in Vermont for many years and is a graduate of Plymouth State University in New Hampshire. Amy has been writing about travel for over a decade. On this site, Amy aims to share her love of New England and help you to have the best possible adventures!
Amy has been a full time blogger since 2012, and is also the publisher of Two Drifters, where she writes about couples travel and relationships, as well as Let's Adventure Baby, a family travel site. When not traveling the world or creating epic blog content, Amy can be found cuddling with her husband, son, and cats, & drinking a maple latte.