Burlington is one of my favorite cities in Vermont. Fun, quirky, artsy, and filled with gorgeous scenery, craft beer, and coffee shops, it's a destination that should 100% be on your Vermont vacation bucket list.
While there are some great hotels to choose from during your stay, Burlington is also a community-driven place. So it makes sense that staying in an Airbnb would be a great way to experience Vermont's biggest city as a local.
So, what are the best Airbnbs in Burlington VT?
To help you sort through all of the Burlington Vermont Airbnbs, we've put together a list of the best VRBOs and Airbnbs in the area. Psst! Also check out our lists of the top Airbnbs in Vermont.
VRBOs & Airbnbs in Burlington VT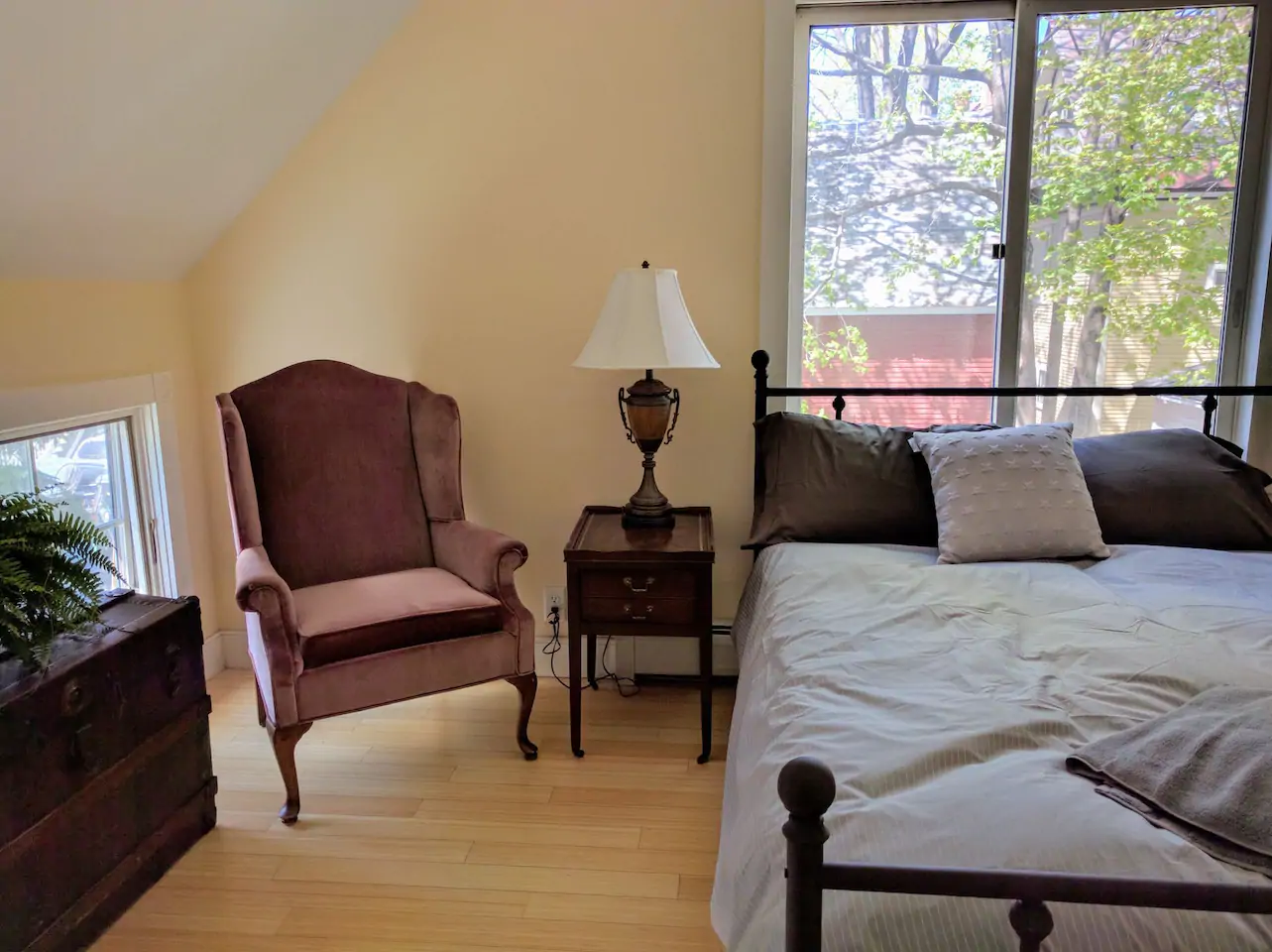 If you're staying in an Airbnb in Burlington, being centrally located downtown is really a plus. Unfortunately, that can make parking harder to come by. If you don't need parking during your stay in Burlington (or don't mind searching for a nearby spot), this could be a perfect option.
This carriage house apartment is in an historic building (1893!!) so if you're looking for New England charm, you'll find it here. Despite its age, the apartment appears to be bright, modern, and equipped with all the amenities you require. With 3 bedrooms and 1.5 baths, the space can accommodate up to 6 guests.
There are many glowing reviews of this Airbnb and it sounds like the hosts are friendly locals who are happy to offer advice on the best things to do in the area.
---
---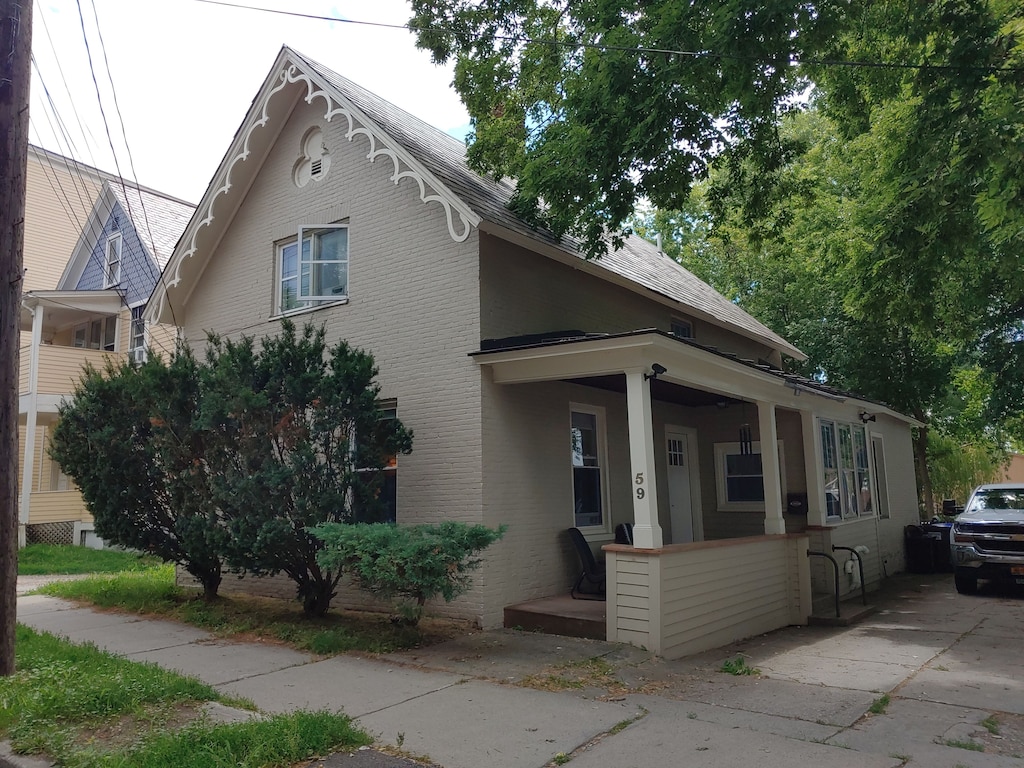 This cozy Burlington VRBO is perfectly situated to walk to all kinds of great downtown things to do. It is a quaint 400sq ft apartment, but it can sleep up to 4 max if need be. This would be a great vacation rental for a couple or a single person looking for a comfy place to lay their head each night during their Burlington trip.
Oh, and there's a fireplace, too!
---
---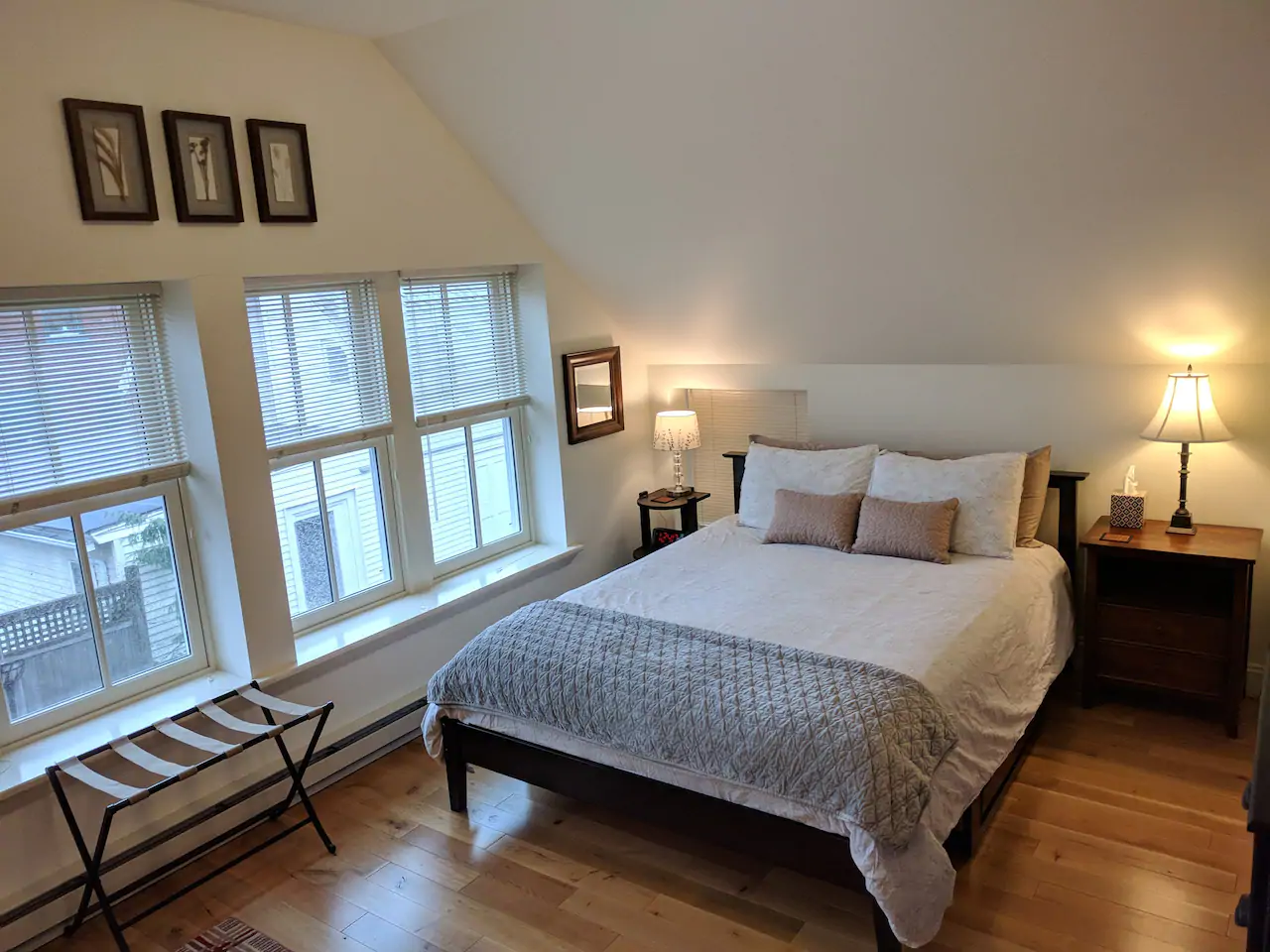 If parking is a must and you're set on staying downtown in a cute carriage house, consider this spot!
This apartment is simple and pretty and looks like a place I'd really enjoy staying. Plus, it's very close to Church Street and all the action of Downtown Burlington. In fact, you can even see the Church steeple from the apartment windows.
This space is good for 2 guests, with just one bedroom and one bathroom. With a fully-equipped kitchen, you're all set for a relaxing, easy stay.
---
---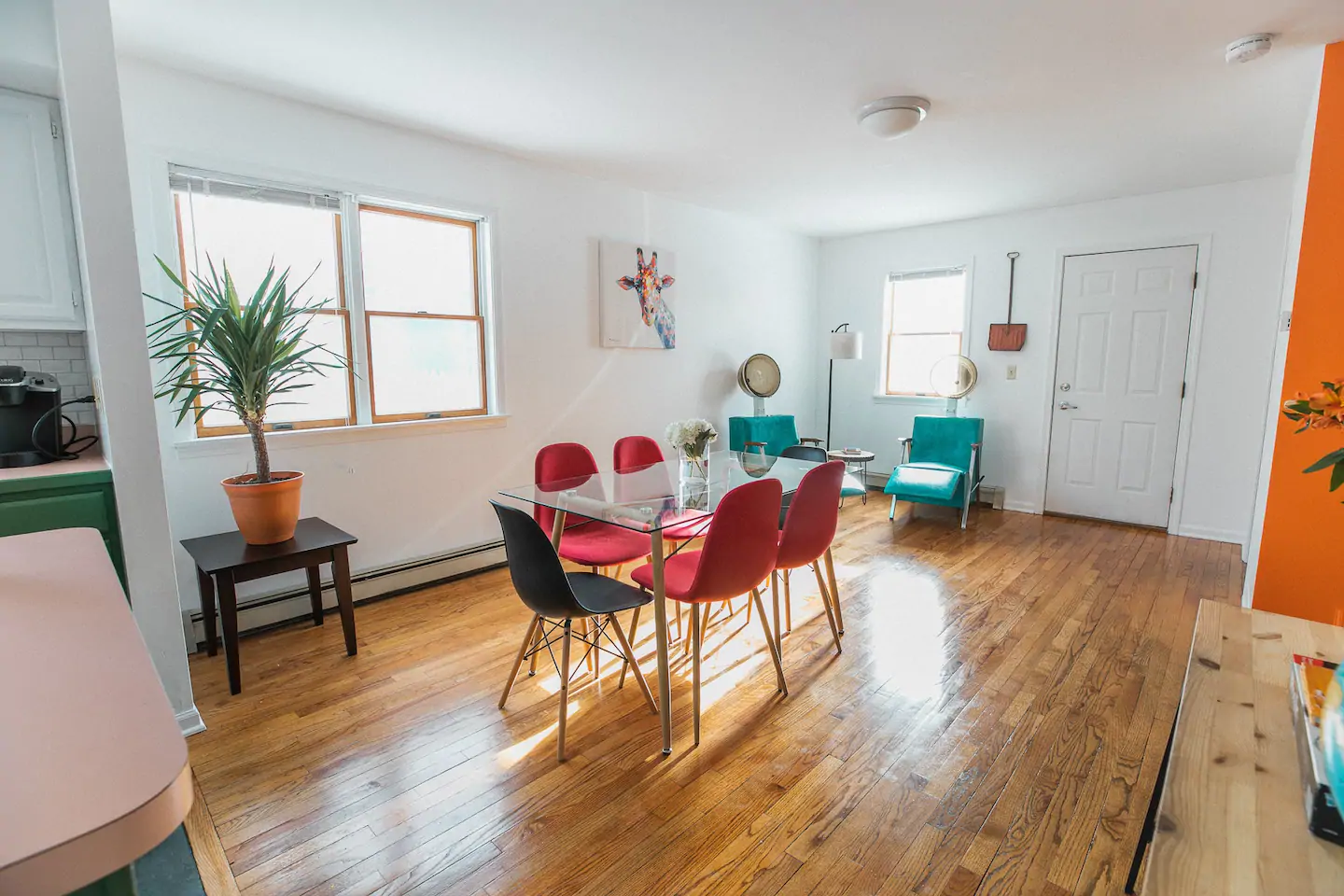 Need a space for a larger number of people, but still close to downtown? Here is an awesome Airbnb option for you: an entire house in Burlington's South End.
The South End is such a fun part of Burlington, filled with art galleries, innovative businesses, and lots of breweries. It's also a highly residential area, so you'll feel right at home.
This particular Airbnb bills itself as "funky" and just blocks from some of the breweries! I love the pops of color seen in the photos of this home.
Up to 12 guests can be comfy in this 3 bedroom 1.5 bath home, which has 5 beds.
---
---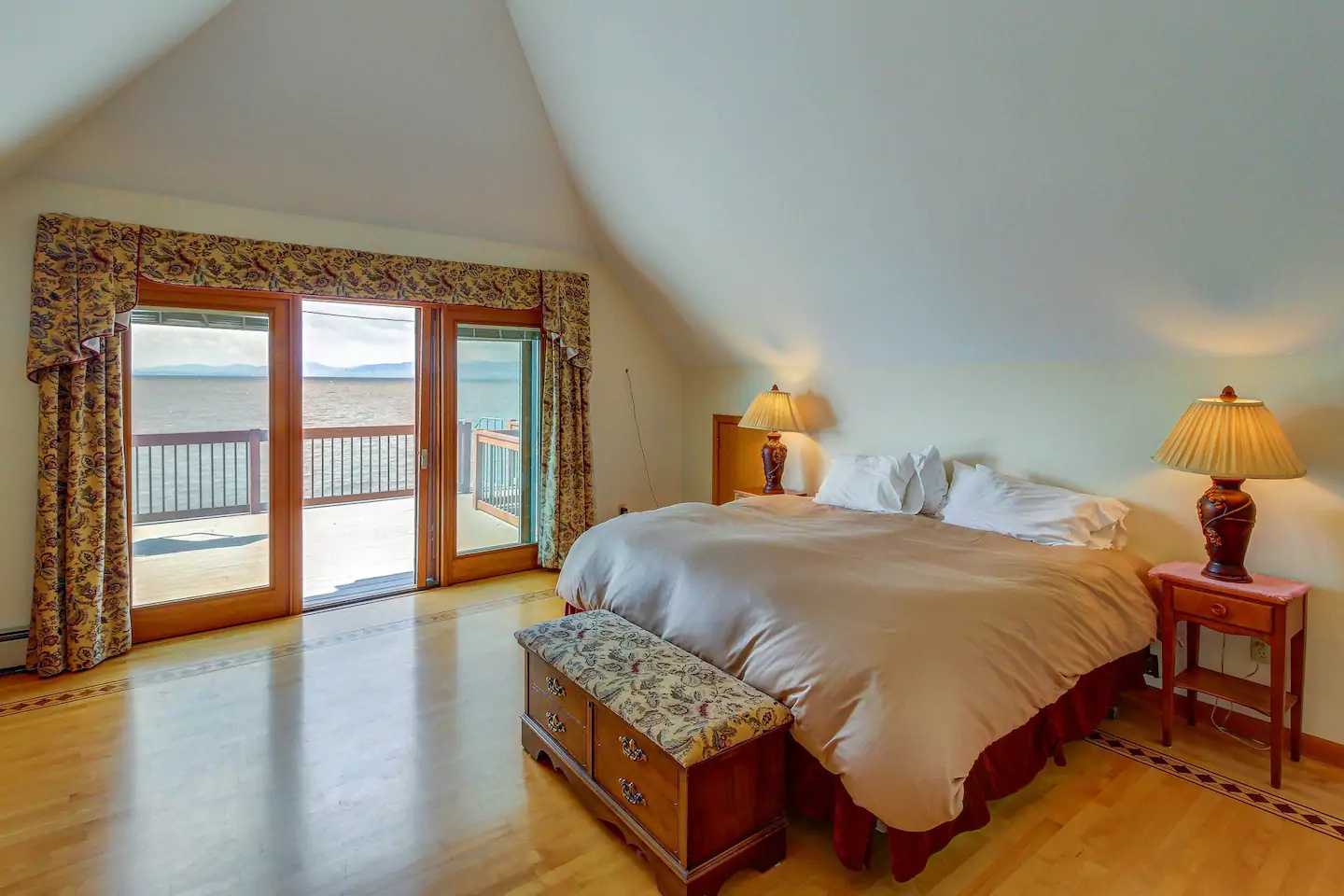 Speaking of lakefront homes, if you're traveling to Burlington, a stay on or near the water is sure to make your experience extra memorable. Lake Champlain is absolutely gorgeous, and such a gem of the Burlington area.
Here's another lakefront property that can accommodate up to 8 guests. This Burlington lakefront Airbnb is technically located in Colchester, just north of Burlington. It's right off the waterfront bike path, which is definitely a bonus if you're into cycling, or if you enjoy an evening walk along a beautiful shoreline.
There's so much to love about this property, and I think it would make an amazing family retreat. There is a foosball table for the kids, a private deck/patio with grill where everyone can enjoy the lakeviews, and many other amenities. Check it out for sure.
---
---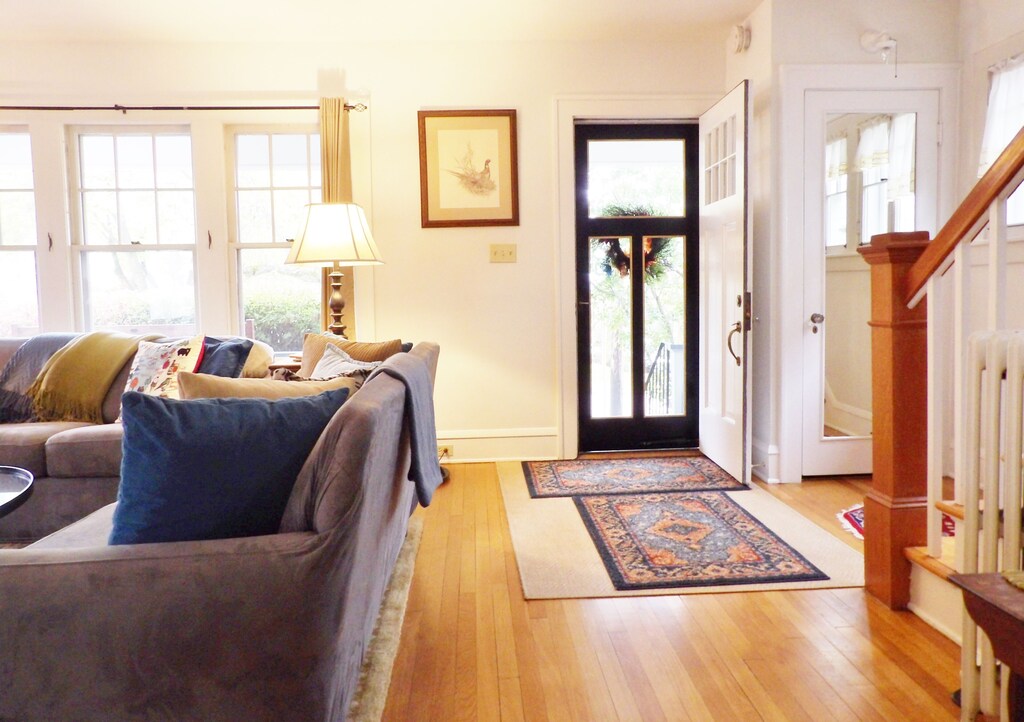 This beautiful Burlington VRBO is located in a quiet neighborhood within walking distance to Church Street, the waterfront, and other popular things to do in the area. At 1300 sq ft, it's a nice size and can comfortably accommodate up to 6 people.
It also has a private hot tub in the backyard, so this could be a great option for a Burlington vacation rental for a friends or family getaway.
---
---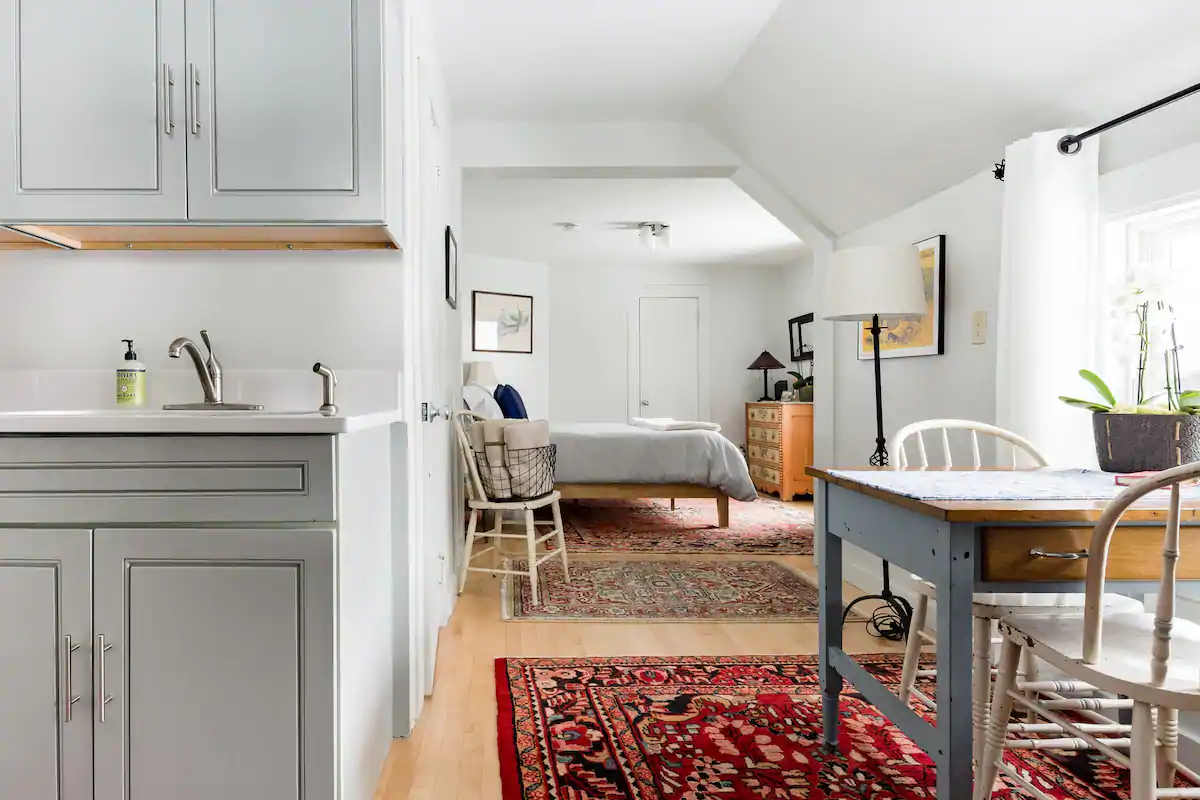 This magazine-worthy space looks like the quintessential Airbnb. An Airbnb Plus property, "Josie's Secret Downtown Gem" has tons of excellent reviews.
The spot is described as "Modern charm meets old world mystique" (which I absolutely LOVE) and the photos confirm just that! A short walk will take you from this Airbnb to Church Street and all of downtown Burlington. Although the cozy covered porch might have you wanting to chill out on the deck for awhile instead of exploring!
---
---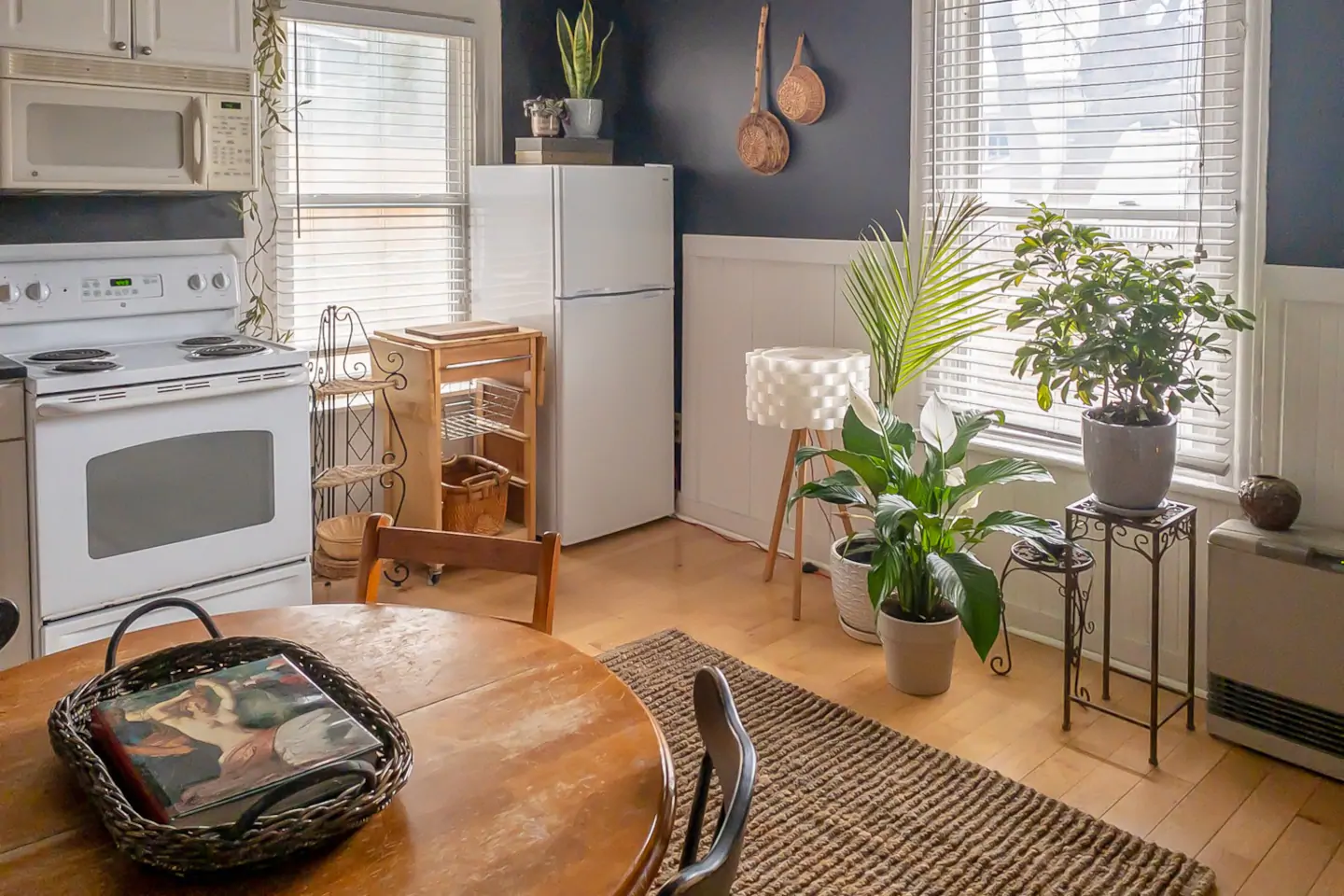 If you're looking for the perfect Burlington Airbnb stay for two people, this is a lovely choice. It is not located in Burlington itself, but in nearby Winooski, which can be a great place to base yourself for your trip.
The downtown Winooski area has a charming little area filled with shops, bars, and restaurants, and this cute apartment is within walking distance of that. There's also an impressive scenic river where the river dams right there along the Winooski River.
Downtown Burlington is just a short drive away.
---
---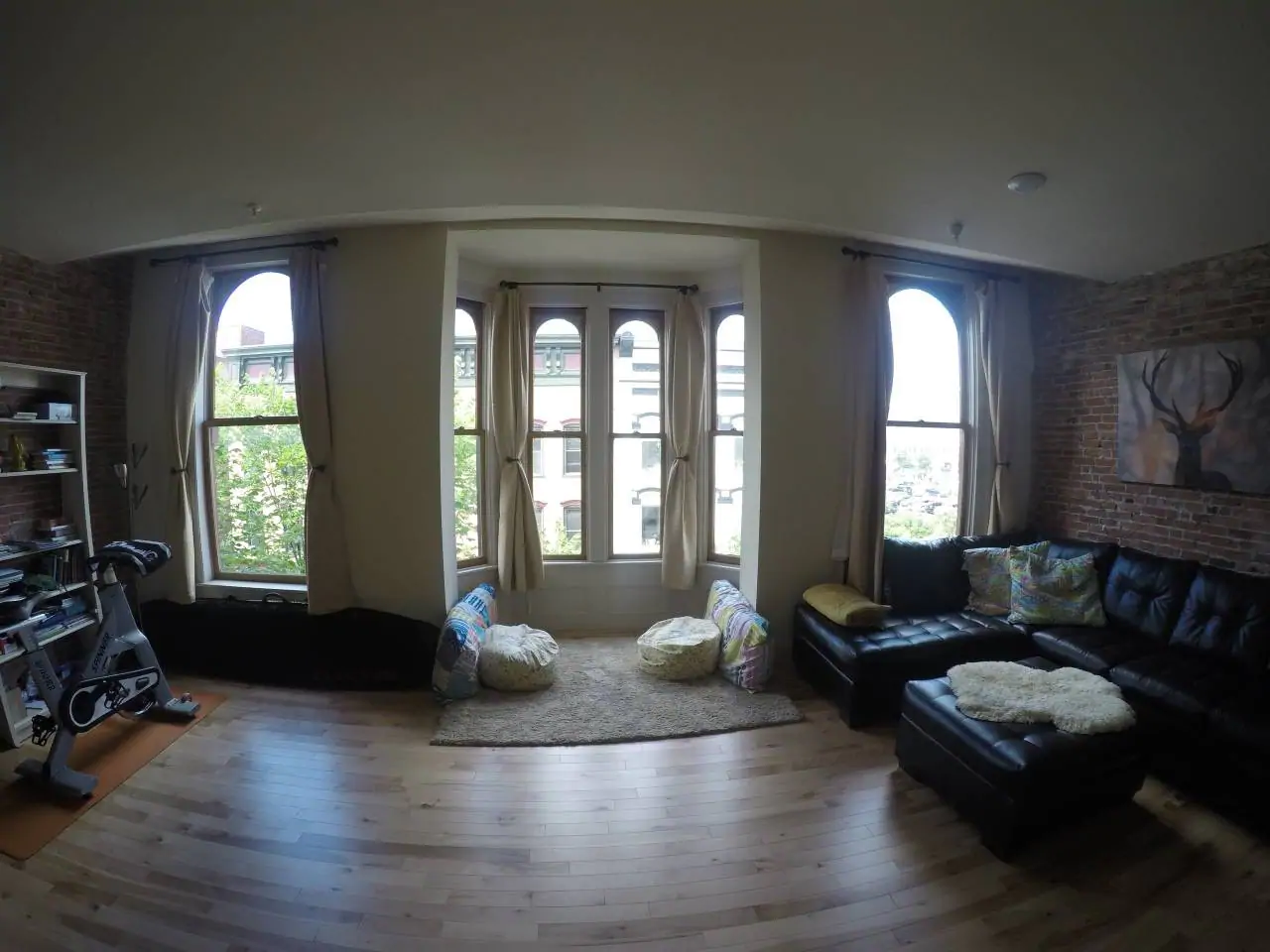 Staying right along Church St. in Burlington? The ideal location, without a doubt. But such properties are hard to come by, which means a Burlington Airbnb is the perfect opportunity to stay in this coveted neighborhood.
This Church St. Loft has a spacious, urban vibe. Bay windows, exposed brick. The kind of hip and vibrant place you'd want to live in in your late 20s early 30s and feel oh-so-chic. (Of course, this property is great for guests of all ages who want to be close to the action downtown!)
4 guests can enjoy this luxury together, in an airy apartment located above Patagonia on Church St. PS: There's a coin-op laundry available on the same floor, which is very convenient.
---
---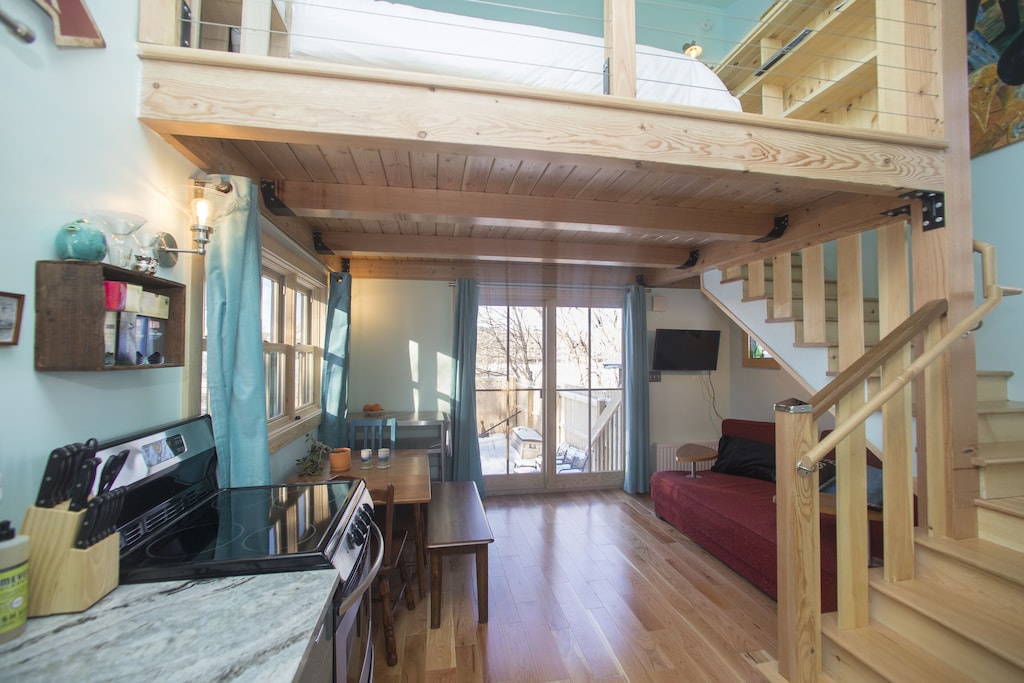 This adorable tiny house is located in the historic mill neighborhood of Burlington, with views of Winooski Falls from the loft. It's a quaint stay at just 324 sq ft, but it's beautifully laid out so it could be the perfect Burlington vacation rental for a couple or a solo traveler.
---
---
There are lots of cool places to stay in Burlington, so whether you end up booking one of these Airbnb Burlington rentals or you decide to stay in a hotel, you really can't go wrong!
PS check out this virtual walkabout in Burlington to get in the spirit for your trip!
---
Read these next:
---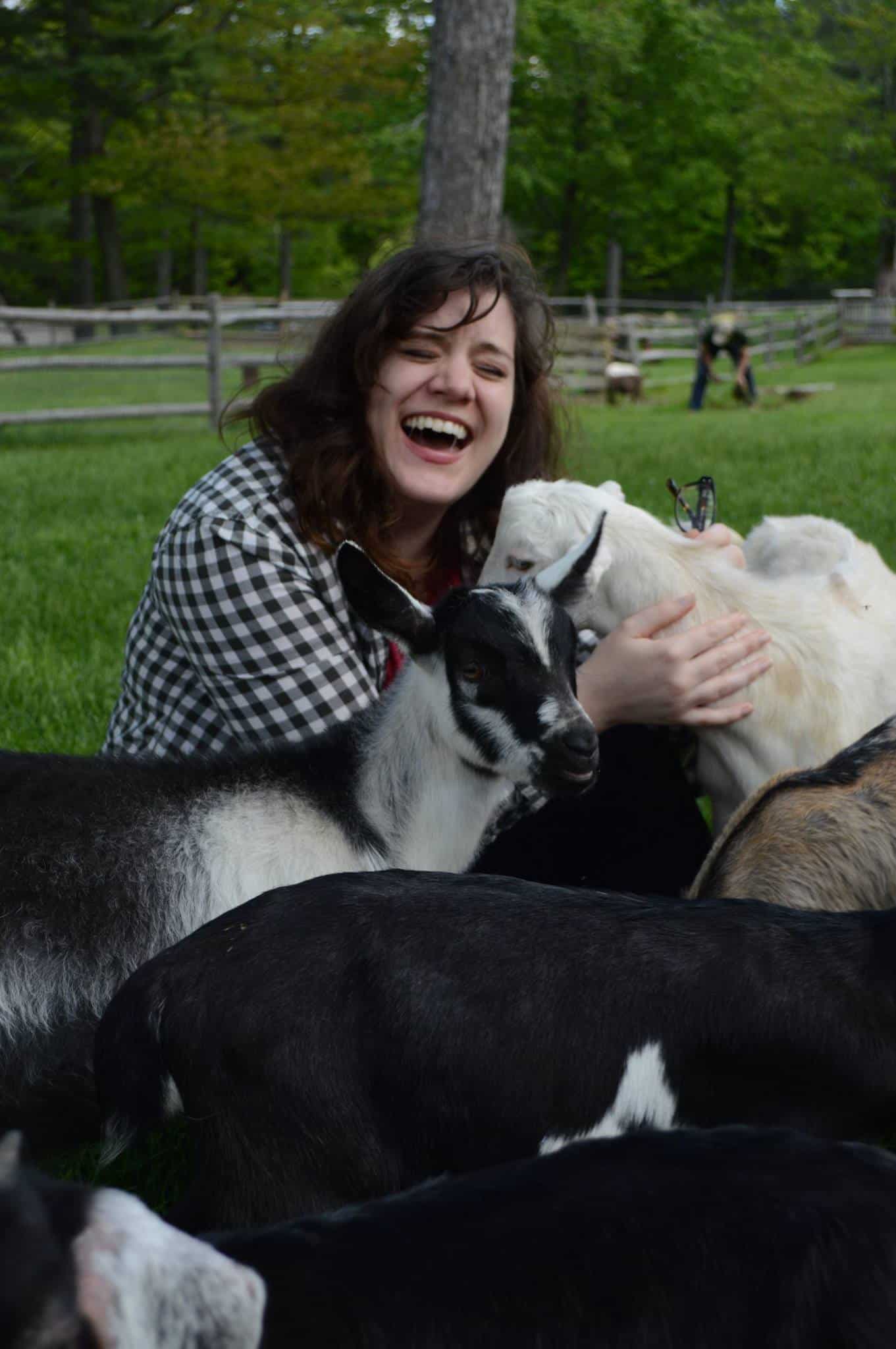 Amy Hartle is the founder and Editor-in-Chief of New England With Love, a comprehensive resource for travel in the New England region. Amy has been exploring New England since 2001. She lived in Vermont for many years and is a graduate of Plymouth State University in New Hampshire. On this site, Amy aims to share her love of New England and help you to have the best possible adventures!
Amy has been writing about travel for over a decade, and is a full time blogger, publishing both Two Drifters and Let's Adventure Baby. When not traveling the world or creating epic blog content, Amy can be found cuddling with her husband, son, and cats, & drinking a maple latte.