*This site uses affiliate links; if you make a purchase through these, I may receive a small commission at no cost to you.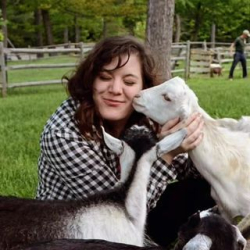 Latest posts by Amy Hartle
(see all)
Want to know the best things to do in Burlington, VT? Ask a local!
Burlington, Vermont is a city that's incredibly near and dear to my heart. I lived in Vermont for over 15 years, and I lived in Burlington for a major part of that.
A region bursting with outdoor activities, unique experiences, and an endless array of fun things to explore, Burlington is a fantastic travel destination in any and every season. No matter where life takes me, Burlington has remained among my favorite places in Vermont. I want to show you all that I love about Burlington and help you to have a fantastic visit.
Today, I'm sharing my list of the best things to do in Burlington Vermont, including Church Street, breweries, hikes, Burlington attractions, and events, PLUS the top things to do in Burlington in fall, winter, spring, and summer.
Let's jump right into this Burlington Vermont travel guide!
PS: Thinking of exploring beyond Burlington? Continue on with our epic road trip in New England, which takes you to the best spots to visit in New England—in all 6 states!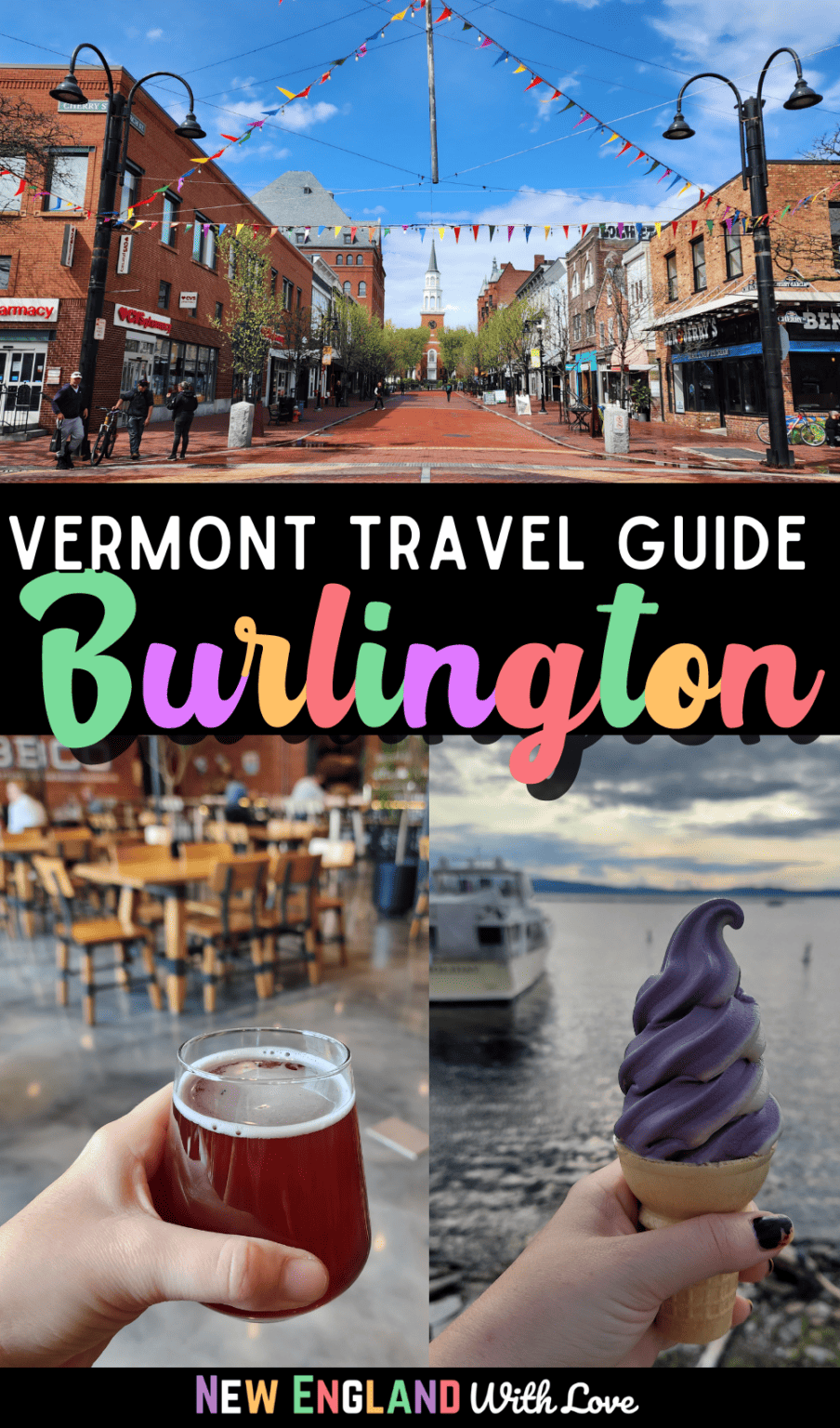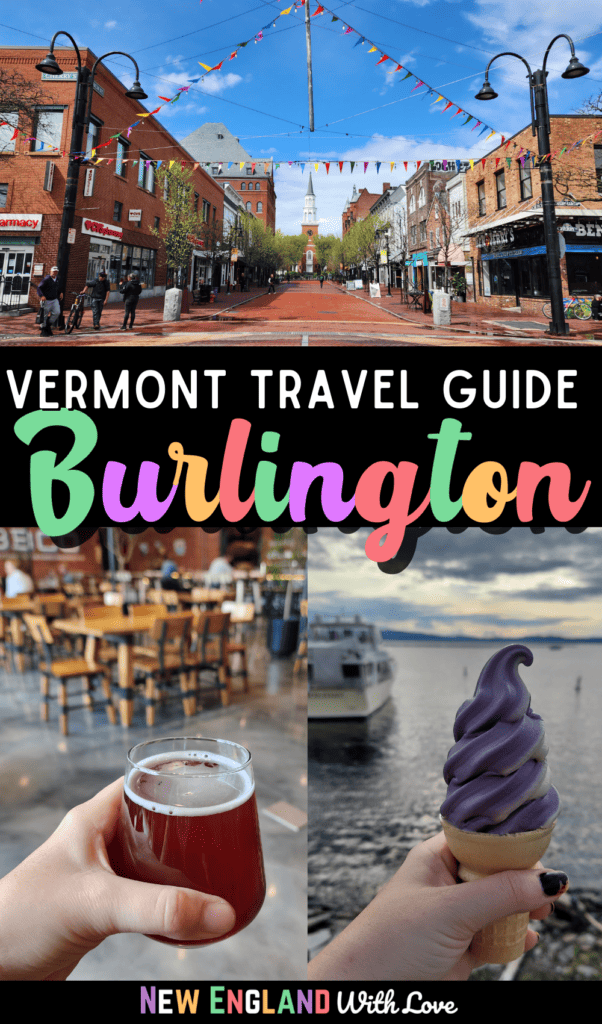 Where is Burlington, VT?
Burlington, VT is located in the northwest part of Vermont, along the eastern shore of Lake Champlain. And far north it is! In fact, it is only 45 miles from the Canadian border.
Burlington may be tucked away in Vermont, but it is still accessible from the rest of New England and parts elsewhere. For instance, is roughly a 4 hour drive from Boston to Burlington. Home to Burlington International Airport (BTV), this makes it easy to catch a flight into Burlington as well.
Is Burlington, Vermont worth visiting?
Yes, I think Burlington Vermont is absolutely worth visiting, for many reasons, but especially due to its unique artsy vibes, local food scene, and natural beauty.
And it packs all of this into a small size, which means you can experience A LOT of Burlington in even just a weekend visit.
Burlington's modest size is part of its charm. You'll never feel like you're in a big urban center when you're here; in fact, nature is so prevalent here in the Green Mountain state that visitors are likely to think of Burlington as feeling surprisingly rural.
In fact, just 10 minutes from downtown Burlington can bring you to sprawling fields and farmland, with ridges of the Green Mountains in easy reach for hiking and skiing.
Yes, natural beauty is everywhere, and you'll embrace both the outdoors and the indoors during your stay in Vermont.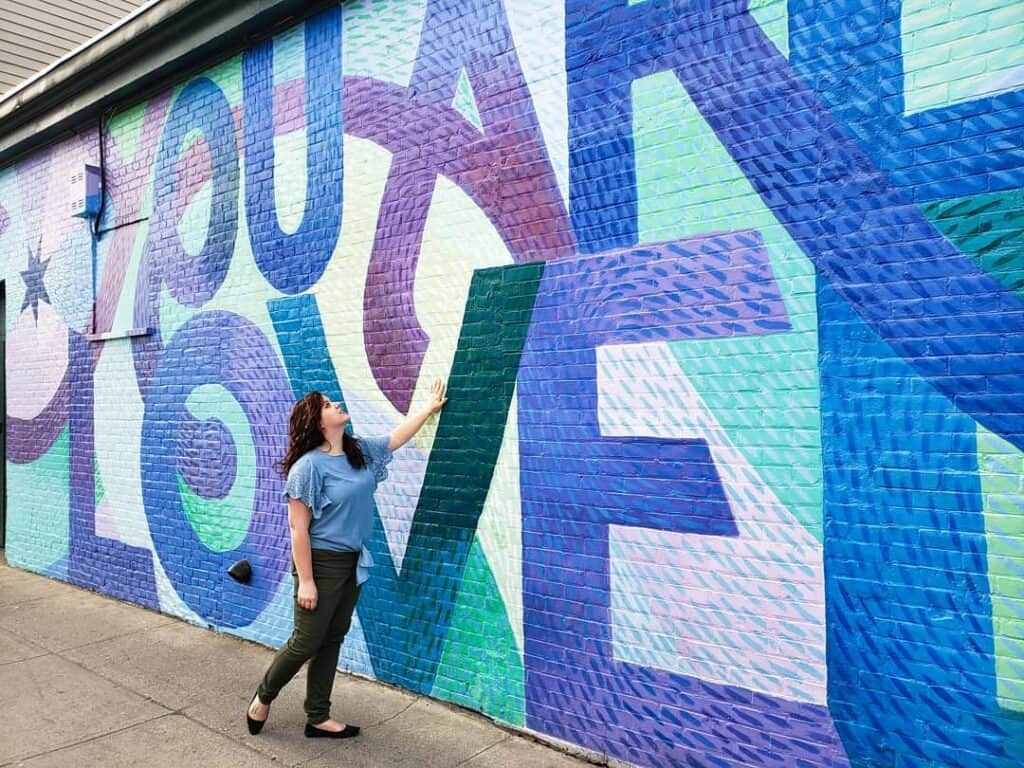 What is Burlington, VT known for?
Spoiler alert: it's NOT a coat factory!
Burlington VT is known for many things including its thriving local food scene, its craft beer, its abundance of outdoor activities, and its progressive values. Burlington was one of the first US cities to source 100% of its electricity from renewable sources and continues to do so. Impressive! Burlington is also home to the University of Vermont and Champlain College.
With a population just over 44,000 in 2020, Burlington is the largest city in Vermont. Uniquely, it is the smallest "largest city" in all of the 50 states.
Planning to explore more of Vermont? You'll want to check out these posts next:

🍁The Perfect Vermont Road Trip Itinerary
🍁7 Vermont Fall Foliage Road Trip Itineraries
🍁22 Most Beautiful Places in Vermont
29 Best Things to Do in Burlington VT
1. Explore Church Street Marketplace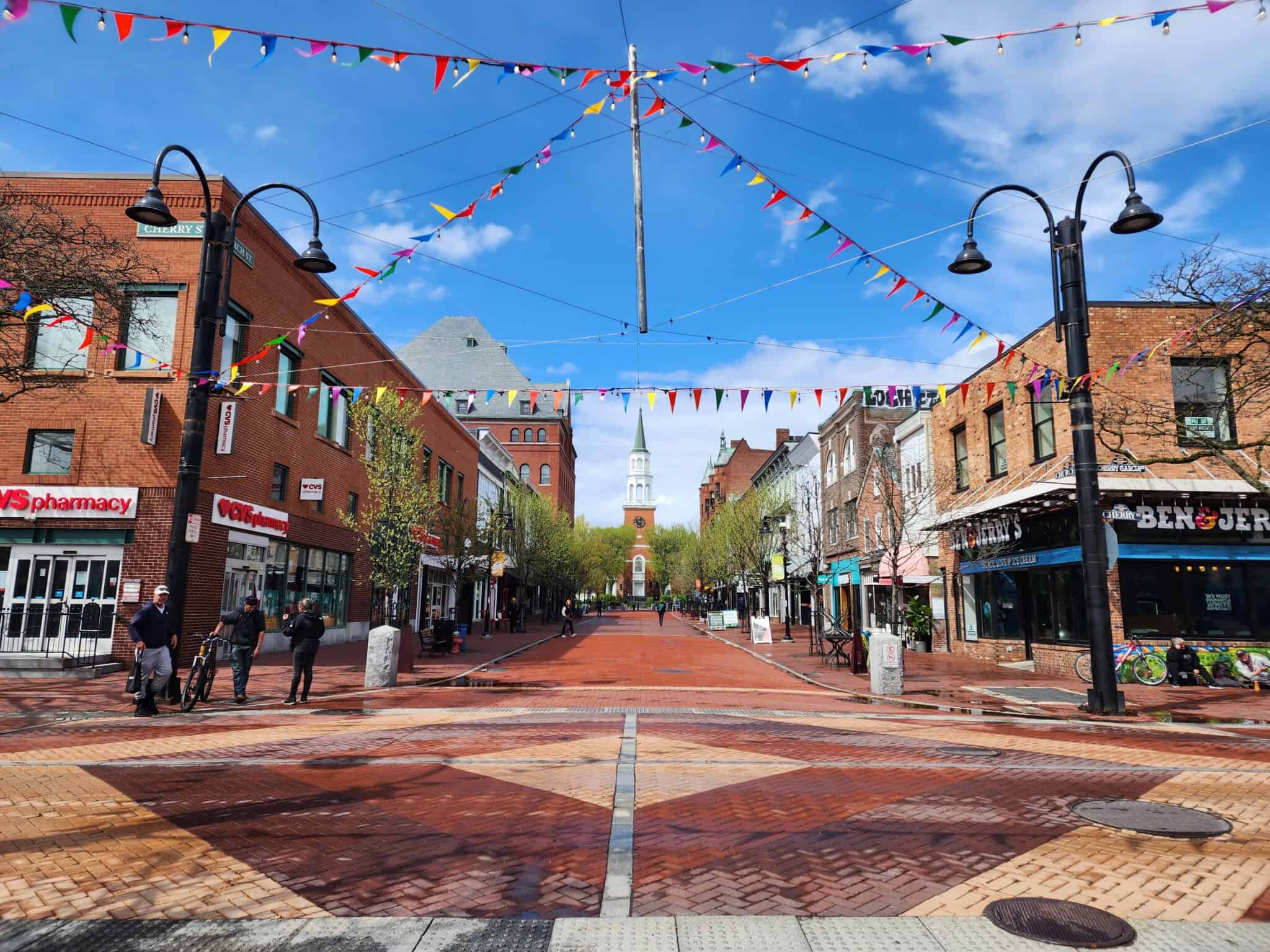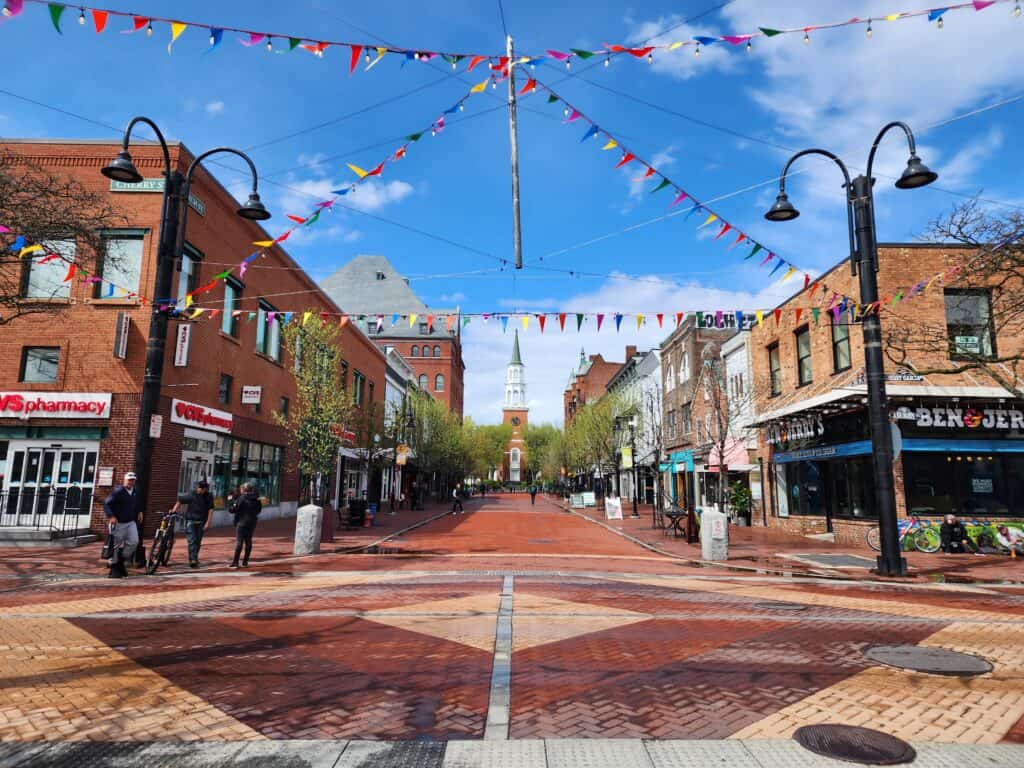 You can't visit Burlington, Vermont, without hearing about Church Street. Officially called Church Street Marketplace, this well-known thoroughfare is a bricked, pedestrian-only walkway that stretches from the church at the top of Church Street and down for half a dozen blocks.
It's the center of downtown Burlington, with numerous streets branching off of it filled with cafes, bookstores, shops, and more.
This is where to go if you're looking for the best Burlington VT shopping, especially if you're looking to shop locally. From top to bottom, Church Street boasts eclectic boutiques and stores of all kinds. The 4 blocks between Main St and Pearl St comprise what is officially known as the Church Street Marketplace.
When you're not shopping, this is a perfect spot for people watching. In fact, you might catch a glimpse now and then of beloved local (and national meme sensation) Bernie Sanders!
Church Street Marketplace is crowded nearly every day with locals, visitors, and street entertainers.
Pause on a bench for a few moments to listen to a local busker playing their tunes. Watch as a bevy of college students strolls by. And keep your eyes out for the quirkier characters you're likely to come across, too. Burlington is a very funky city.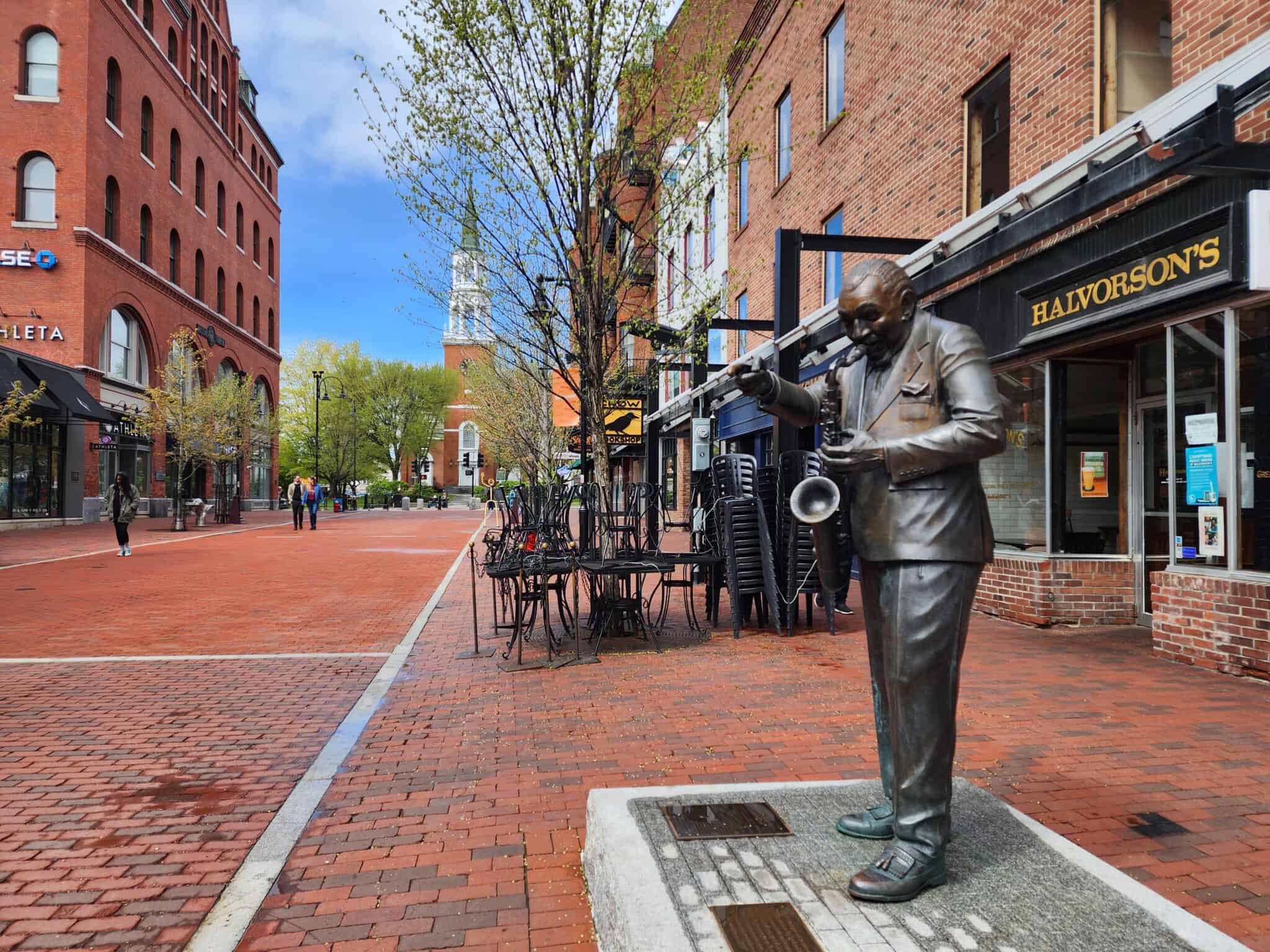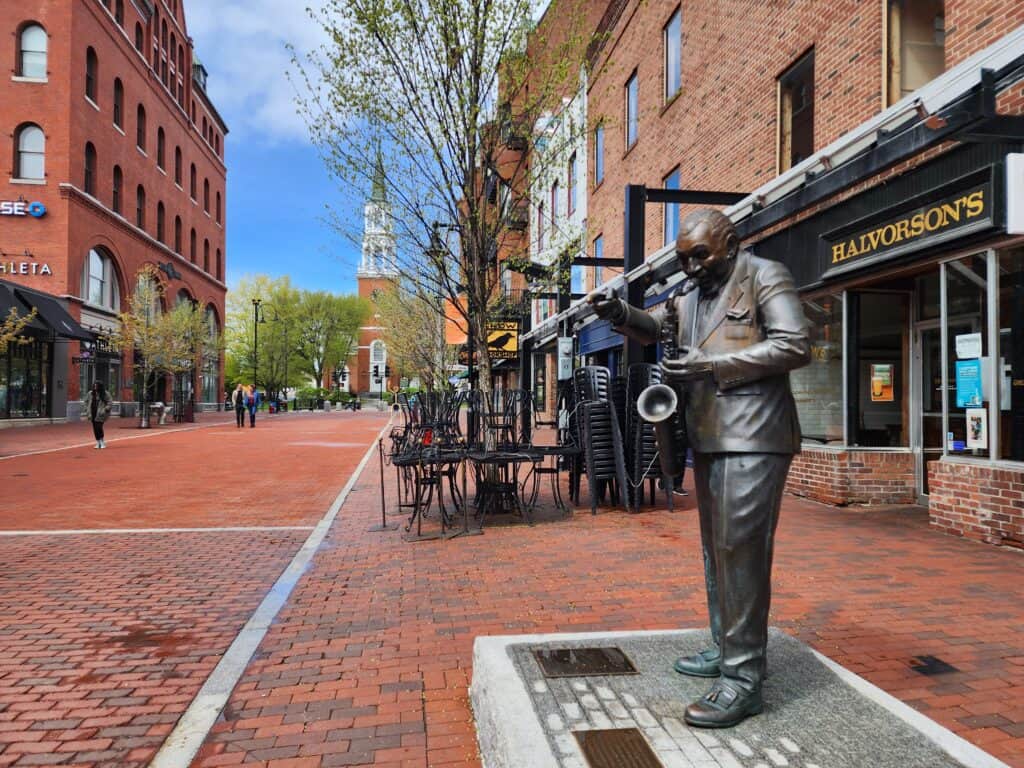 Church Street is also home to some of the best Burlington VT restaurants.
In the summertime, these establishments spill out into the streets, setting up beautiful outdoor spaces for customers to enjoy. Dining al fresco is a pleasure on Church Street and you have dozens of places to choose from for your meal. Is it breakfast time? Consider one of these fantastic Burlington brunch spots.
Traveling with a dog? Burlington is very dog friendly, so your canine friend can dine with you when you sit on the patio in many spots. Just a part of that Burlington VT charm!
At night, Church Street is as lively as ever, with lots of bars and nightlife spots to keep you entertained. I went out on Church Street a lot when I lived in Burlington in my 20s and had so many fun and memorable nights.
I have a list of some of the best bars and breweries I frequented when I was a Burlington local.
Local Tip: Usually from Thursday-Saturday, several amazing food carts set up along Church Street and you should definitely stop at Church Street Cheesesteaks. I literally dream about these delicious cheese steaks: best I've ever had.
2. Walk along the Lake Champlain Waterfront
One of the most stunning tourist attractions Burlington VT has is Lake Champlain itself.
When you drive in from the east into downtown (which you will if coming from the direction of the airport) you will suddenly see the city of Burlington with the glistening expanse of the lake behind it. It's a spectacular sight to see and one that never fails to make me smile.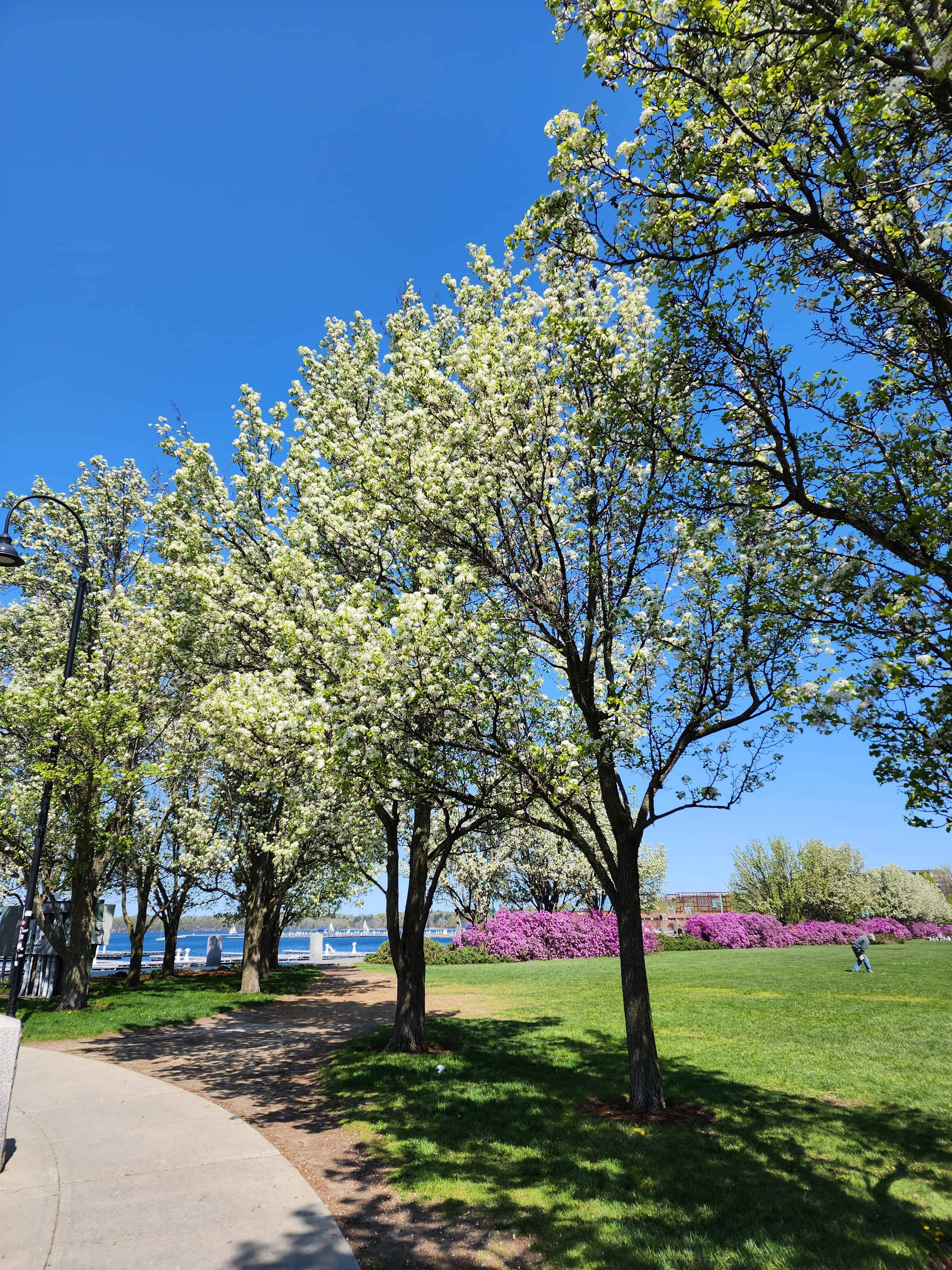 There are many activities to check out on, in, and near Burlington's Lake Champlain, but the easiest way to access it and take in its views is along the waterfront.
The Burlington Waterfront Park is situated along the shores of Lake Champlain, at the bottom of College Street and stretching up to the north past Pearl Street. It's pretty easy walking distance from Church St. and the main portions of downtown.
I love the waterfront just for walking, relaxing on the grass, or sitting in one of their many bench swings.
The boardwalk runs along the lake's edge and the views here are absolutely gorgeous, with the lake in front of you and the Adirondack mountains framing it from behind. Catch a Vermont sunset here, I promise it will be worth it.
3. Get out on the water with a cruise on Lake Champlain
Don't just look at the lake, get out on it! There are many ways to make the most of Lake Champlain.
There are ferries and scenic cruises of Lake Champlain that depart directly from the Burlington waterfront. One of the most well-known vessels for a cruise on Lake Champlain is the Spirit of Ethan Allen, offering daily sailings as well as special events.
Taking a sailboat excursion is also a wonderful option. You can hop onboard a schooner and set sail on the lake with an accomplished crew. Choose a private sunset cruise if you're looking for romantic things to do in Burlington, VT!
4. Have a Burlington beach day
When it comes to swimming in Lake Champlain, the downtown waterfront is not the spot for this. For those wanting to take a dip in the cool lake waters, head to one of the nearby beaches. These are all within driving distance from downtown, or can be accessed via the Burlington Bike Path that stretches along the shoreline.
Recommended Burlington beaches include North Beach, Leddy Beach, and beaches in Oakledge Park, where there are also walking paths and other recreation options.
North Beach is the largest in the area. It has seasonal lifeguards as well as paddleboard and kayak rentals. Definitely a fun place to spend a day in Burlington VT.
5. Go brewery hopping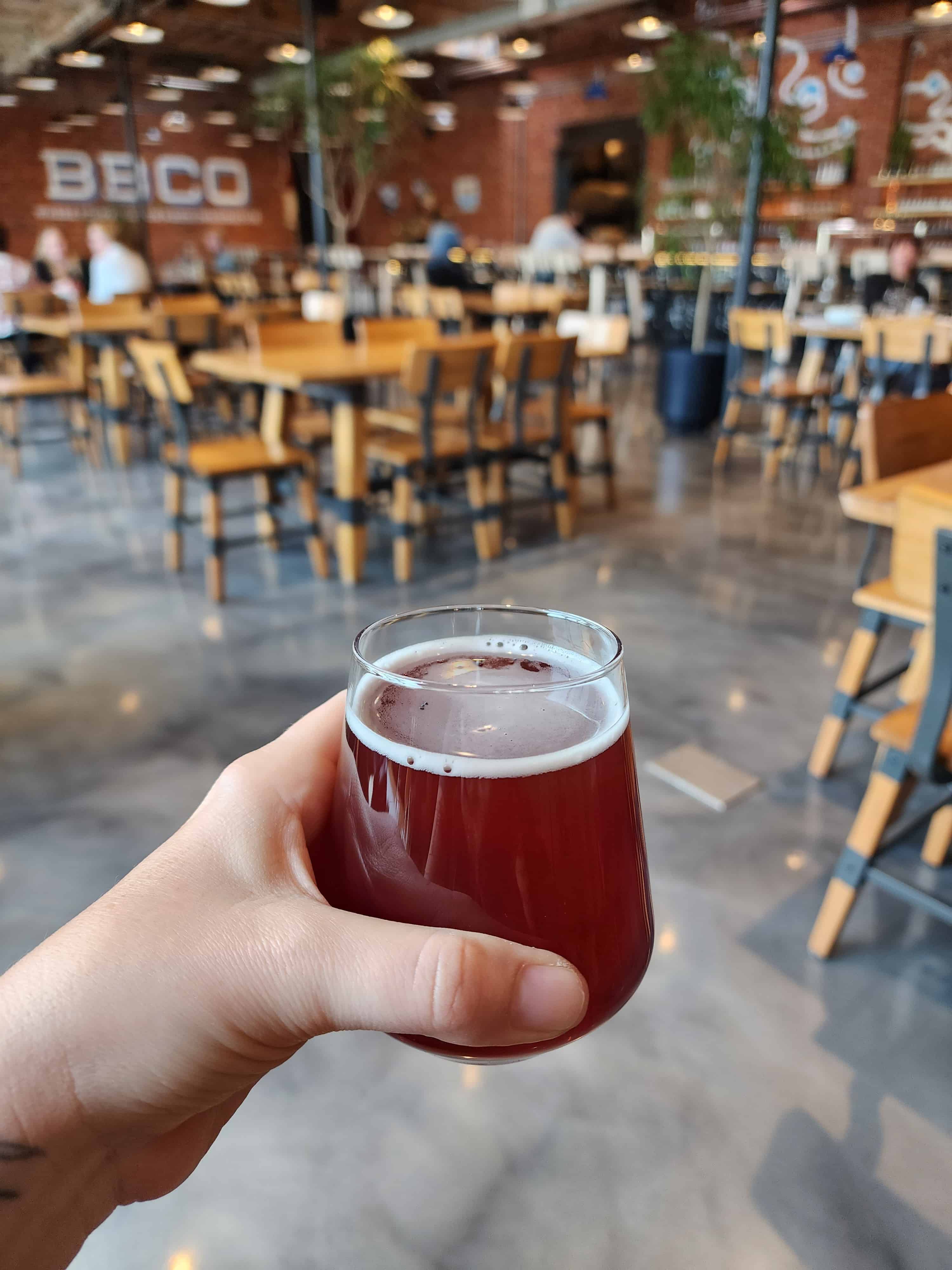 One of the absolute best Burlington activities is to sample our local craft brews. This is a city that LOVES beer and makes it incredibly well!
There are tons of breweries in the city and beer fans will want to try them all. You can even sign up for a guided Burlington VT craft brewery tour.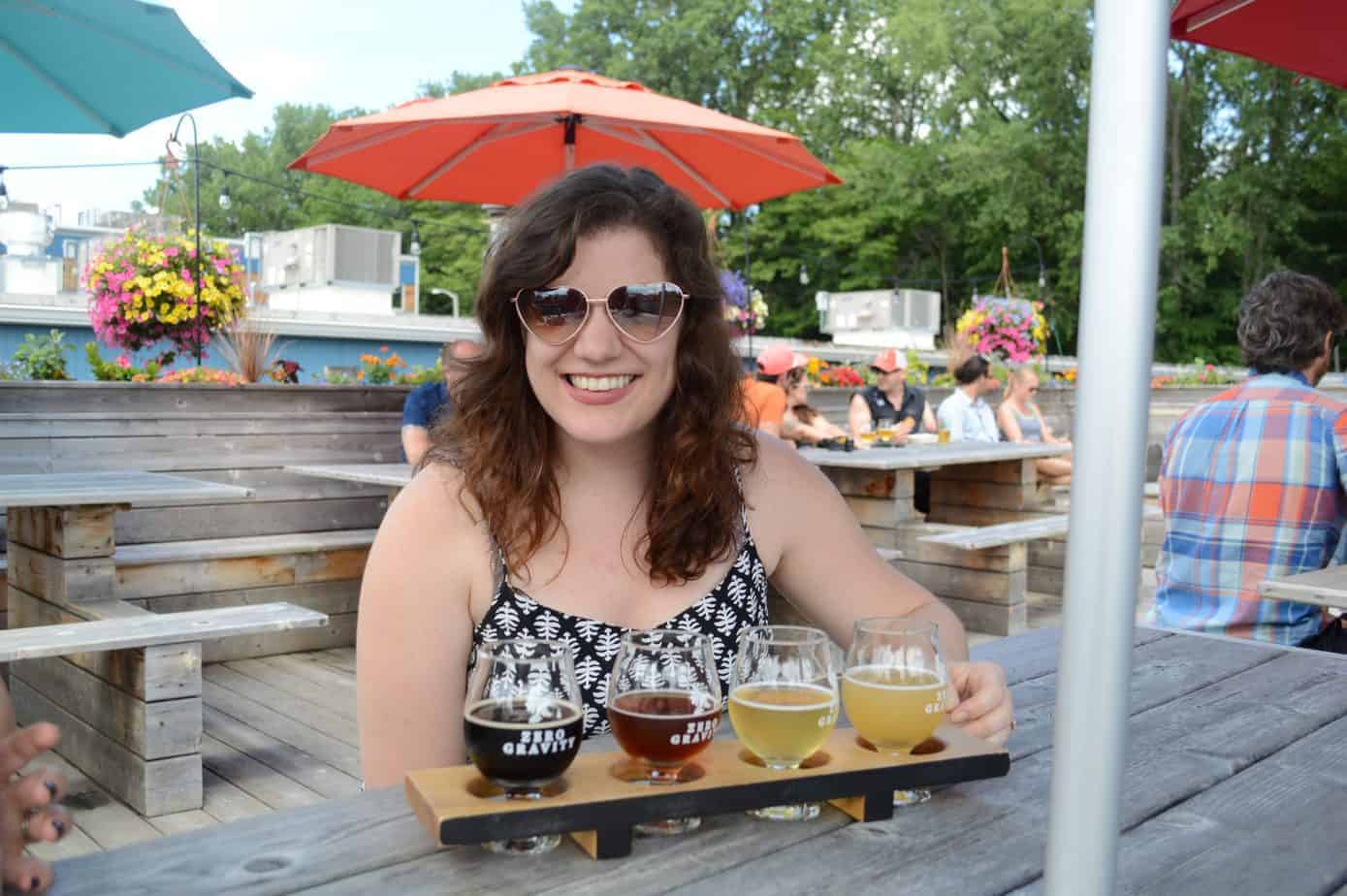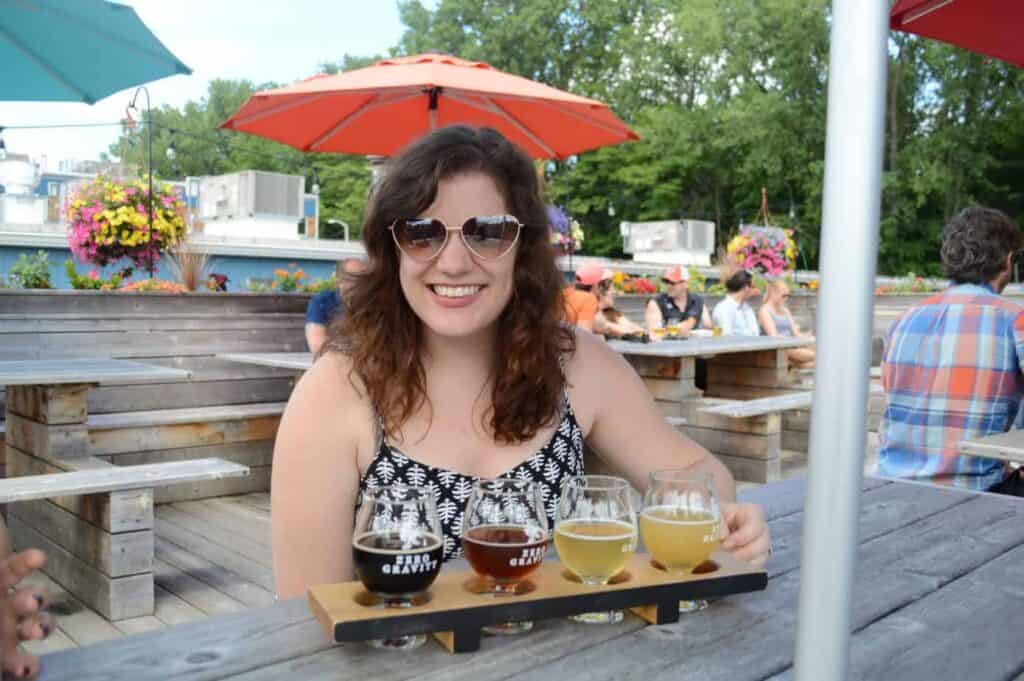 City Brew Tours offers multiple options, including the Original Brew Tour which takes you on a deep dive of the BTV beer scene and gets you sampling up to 16 beers. There's also pizza!
Prefer to DIY your local brewery hopping experience? You can read this post on my favorite Burlington, Vermont breweries for more detailed ideas: Best Burlington VT Breweries & Bars.
PS: Always drink responsibly and stay safe. I recommend walking between these downtown breweries or utilizing a ride service such as Uber. Or, better yet, take one of the City Brew Tours mentioned above and let them do the driving for you!
6. Explore the artsy South End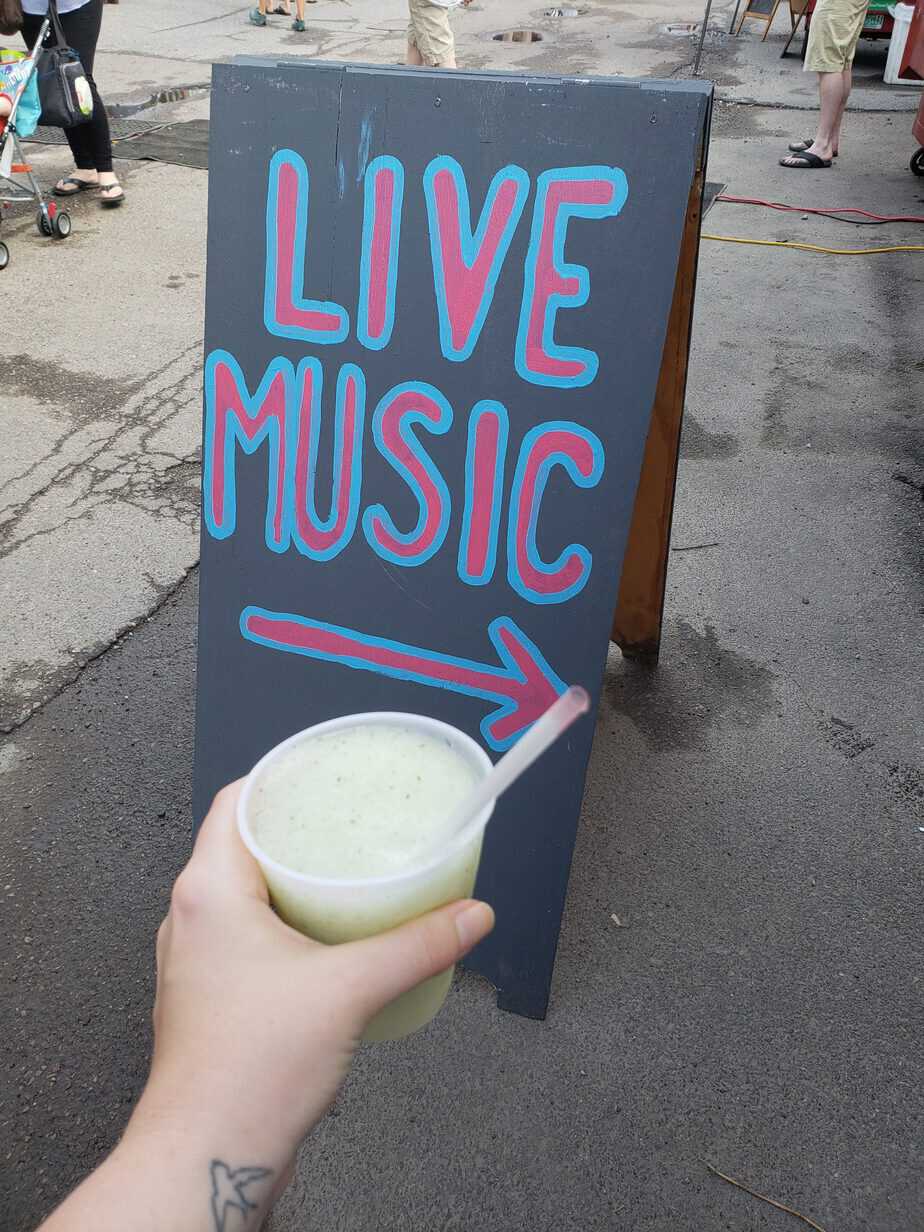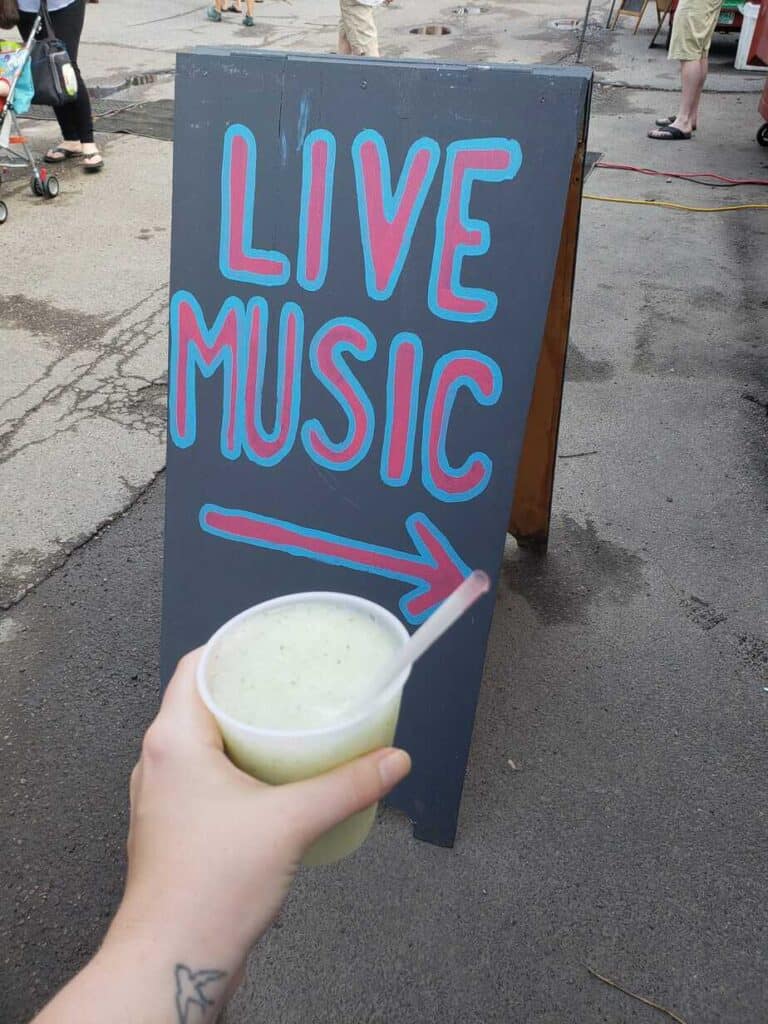 When in Burlington, don't limit your visit to Church Street and the main places downtown. There are several other cool parts of town that are worth your time. One of the most compelling is the South End, heading down Pine Street.
Once a bland industrial stretch of the city, the South End is now an art-filled hub of restaurants, thriving businesses, and more.
There are several breweries down here and a number of art galleries highlighting the talented local artists. Check out this site for up-to-date listings of where to find open galleries, art events, and more in South End Burlington VT.

You'll definitely want to put The Soda Plant on your Burlington Bucket list. Originally a ginger ale bottling plant, this space is now an epic small business hub, featuring over 40 artists, makers, and more. This is a fantastic place to explore a real part of Burlington local life.
As with any eccentric part of a city, there are also some oddities in the South End. Look for the world's tallest file cabinet (more on that below) and the Burlington Earth Clock.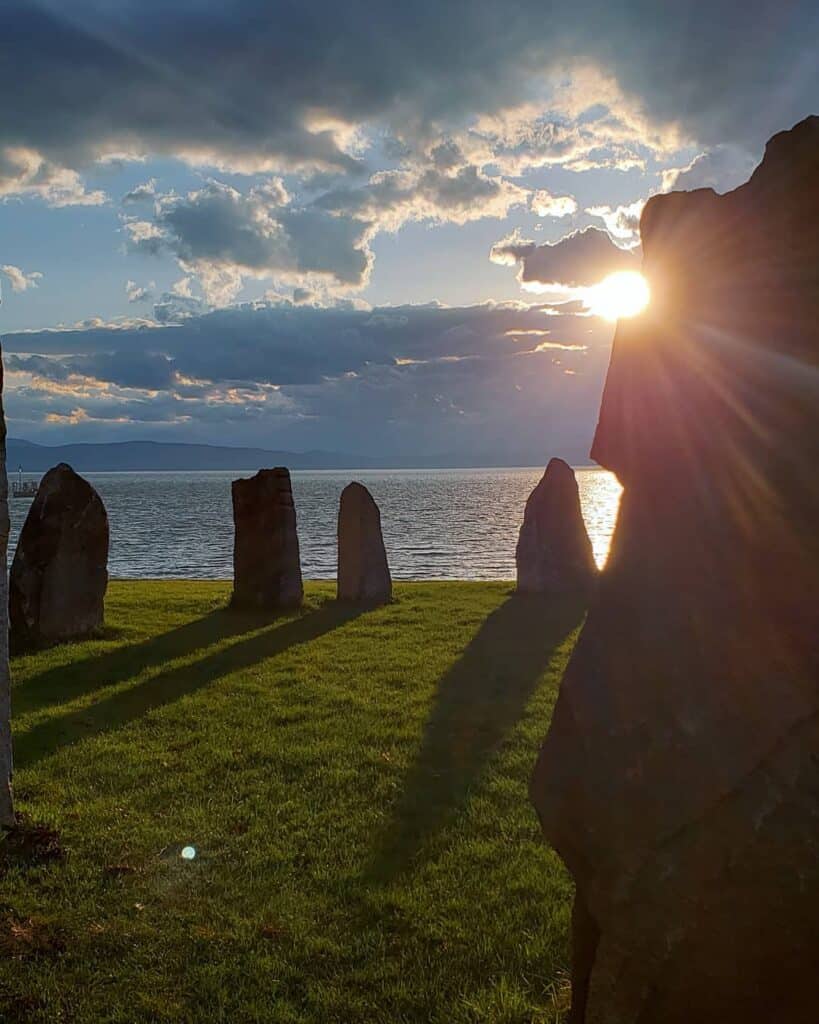 I also highly suggest making time to visit ArtsRiot. This renovated warehouse is a lively music venue and restaurant. In the summer months, they host Truck Stop, which is a gathering of local food trucks featuring live music and more and is a super fun thing to do in Burlington.
7. Pay a visit to ECHO, Leahy Center for Lake Champlain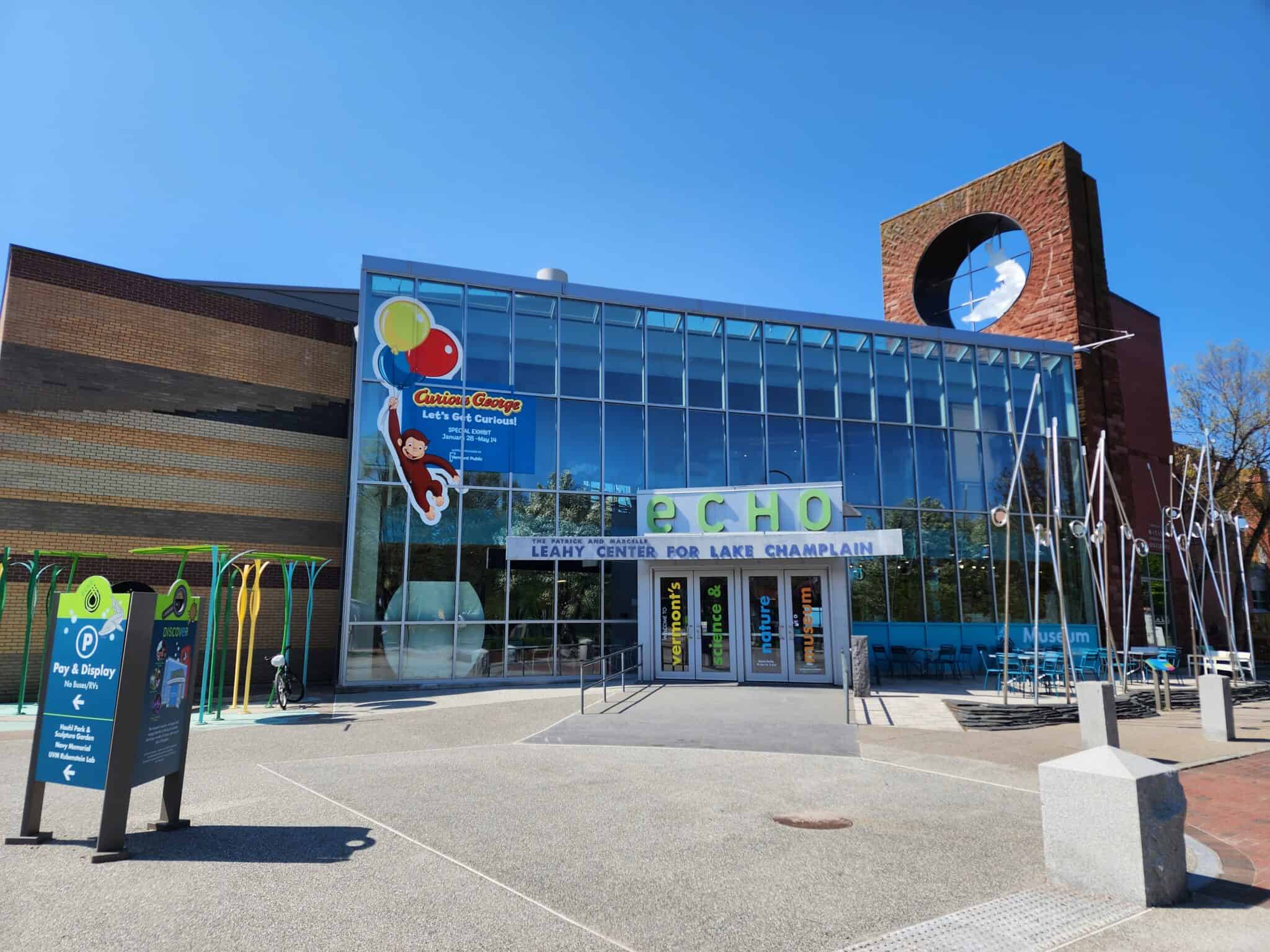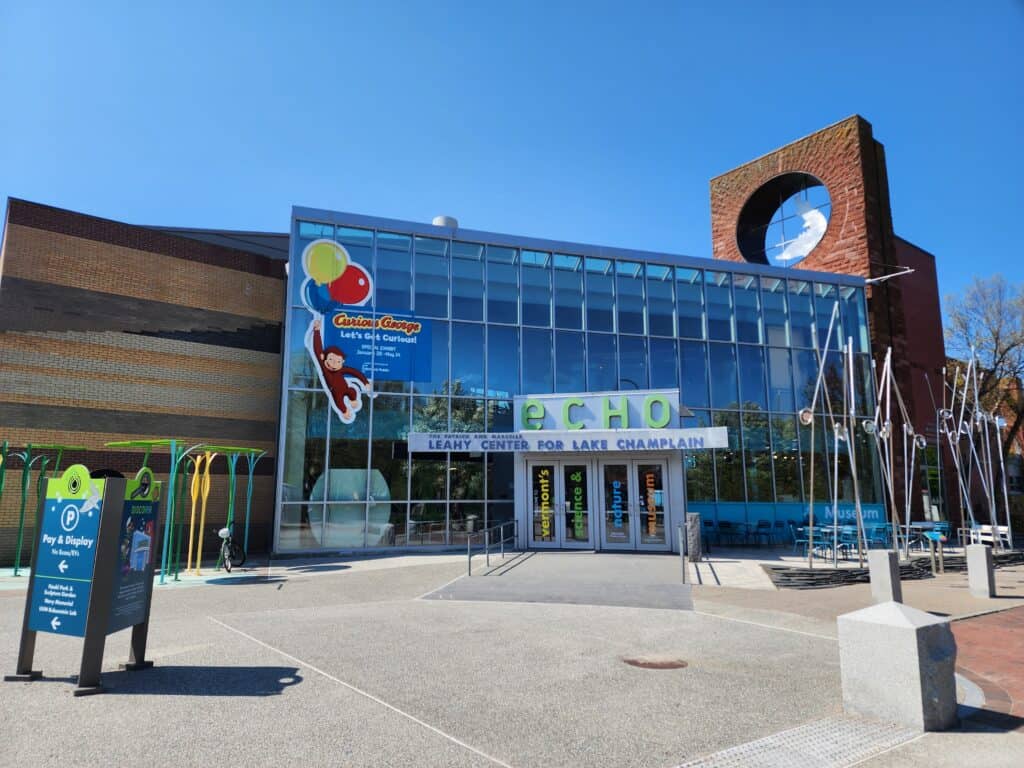 Without a doubt, one of the top Burlington attractions is the ECHO Center. This is a fun science and nature museum located right on the Burlington waterfront.
Kids especially love this aquarium and museum with its interactive exhibits, a life-size recreation of an 1876 Lake Champlain shipwreck, plus fun educational films screened in the 3D theater!
This cool venue is also host to unique events throughout the year. I once attended an epic Halloween party here!
8. Admire the cool street art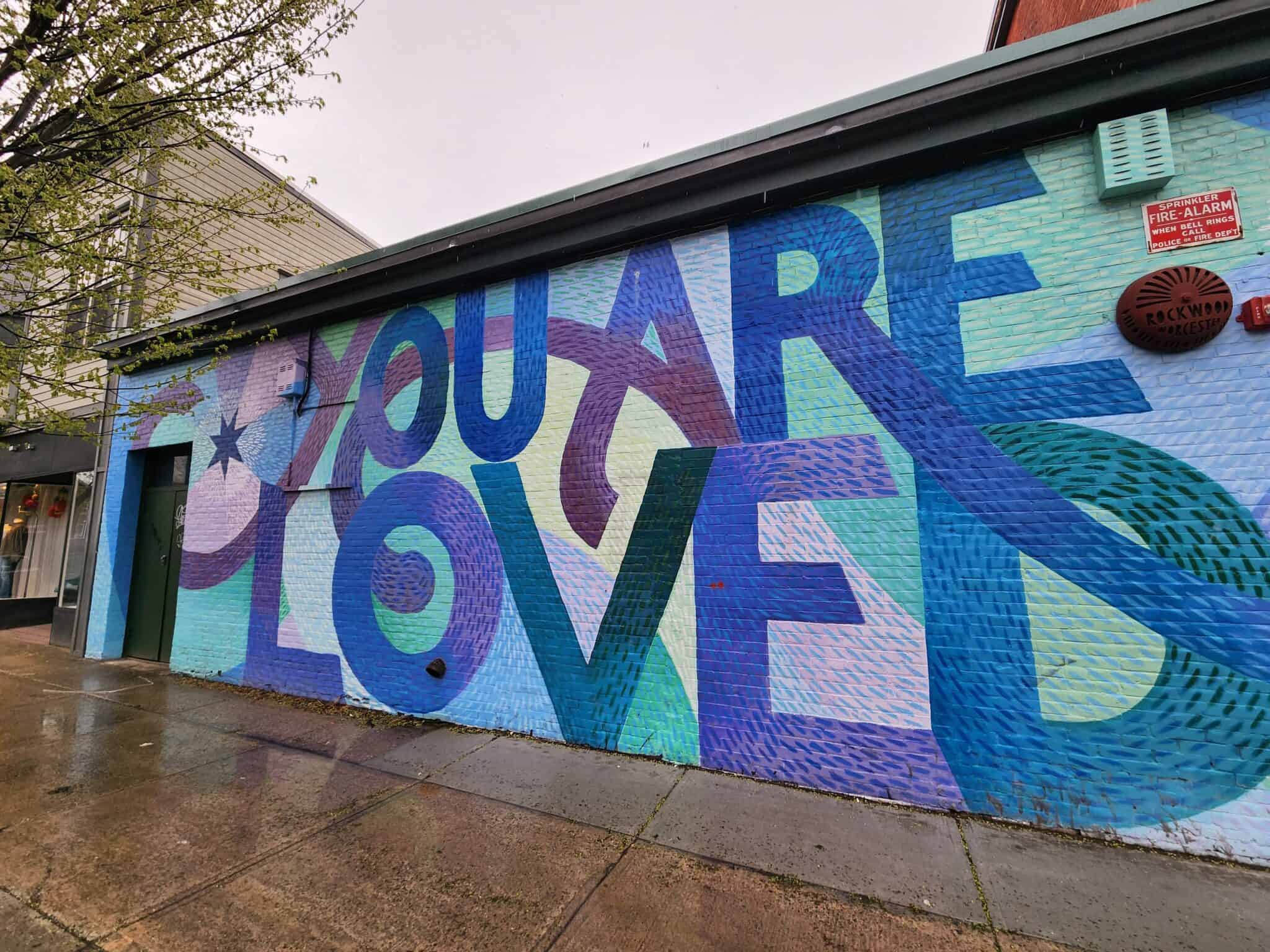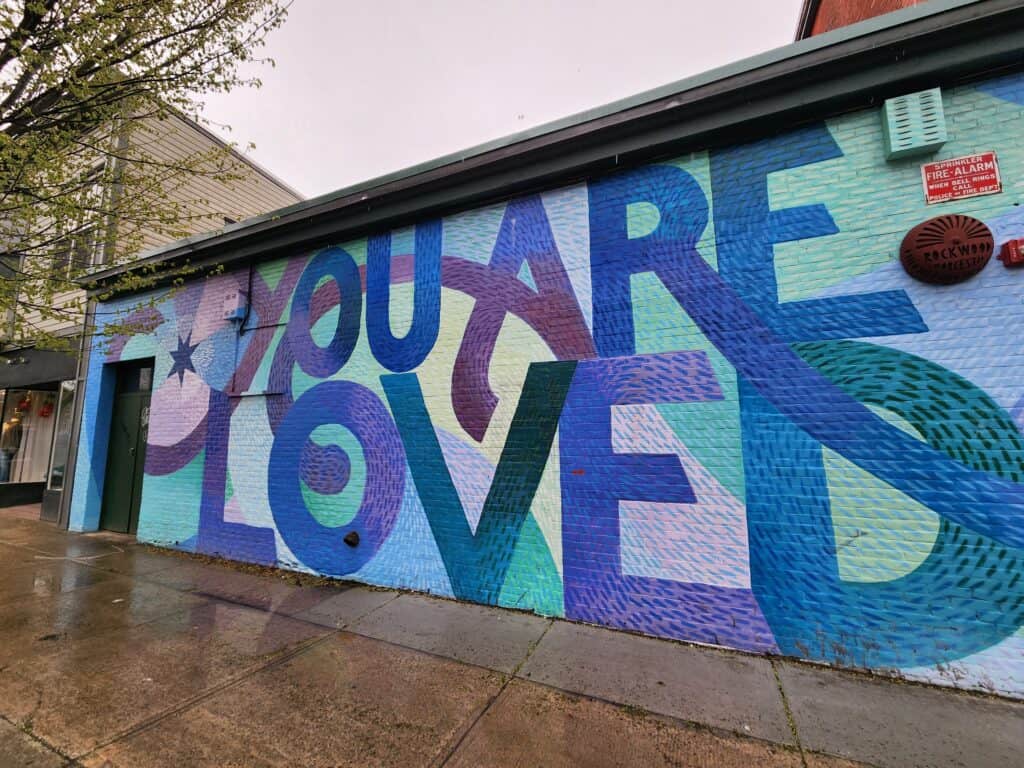 Burlington has always been a special place when it comes to art and culture. The art scene is thriving on all levels, and street art is no exception.
While spending time in Burlington, you can't help but spot some of the cool murals around downtown. These range from Vermont-themed to inspirational to simply unique. Here are a few not to miss:
9. Explore history at the Shelburne Museum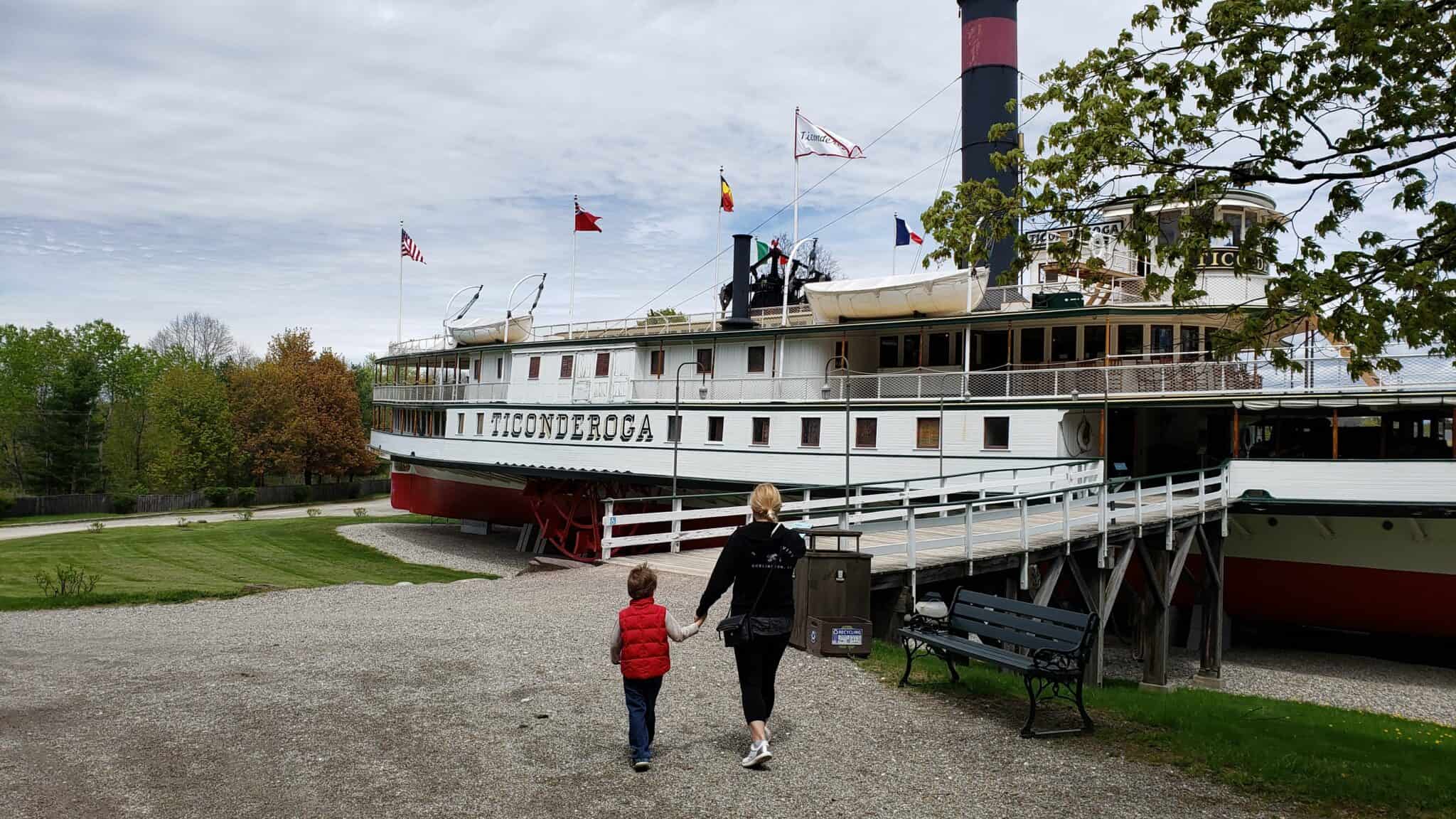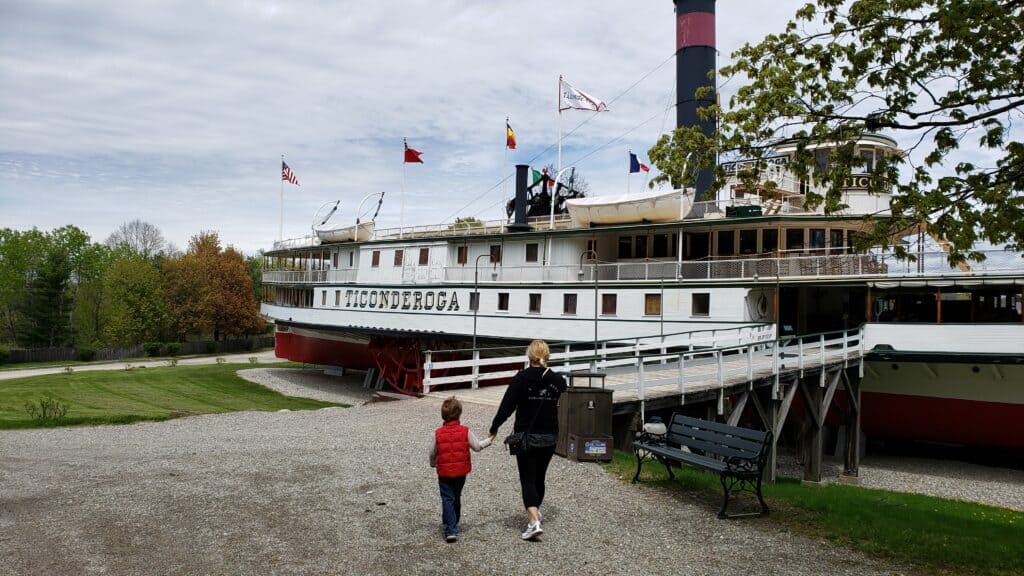 The Shelburne Museum combines history, art, and more across sprawling, beautiful grounds. It's definitely worth a visit, especially if you're looking for things to do in Burlington with kids. The hands-on exhibits can be great fun.
The Shelburne Museum features an incredible collection of American folk art, decorative arts, and fine art. You can explore the various buildings and galleries to view these collections, seeing everyday items of Americana including paintings, sculptures, quilts, and more.
The museum also consists of numerous historic buildings that have been relocated to the site, such as a covered bridge, a lighthouse, and even a fully furnished 1950s house. These buildings provide a unique glimpse into American history and architecture.
One of the coolest historic landmarks "docked" here is the 1906 steamship Ticonderoga. Touring it is a fascinating look into life in the 1920's, when the ship toured passengers around Lake Champlain in style. The Ticonderoga is a National Historic Landmark and is the last walking beam side-wheel passenger steamer in existence.
Local tip: While visiting Shelburne, you can make a stop nearby to tour the Vermont Teddy Bear Factory or grab a farm tour at Shelburne Farms.
10. Cycle, walk, or blade along the Burlington Bike Path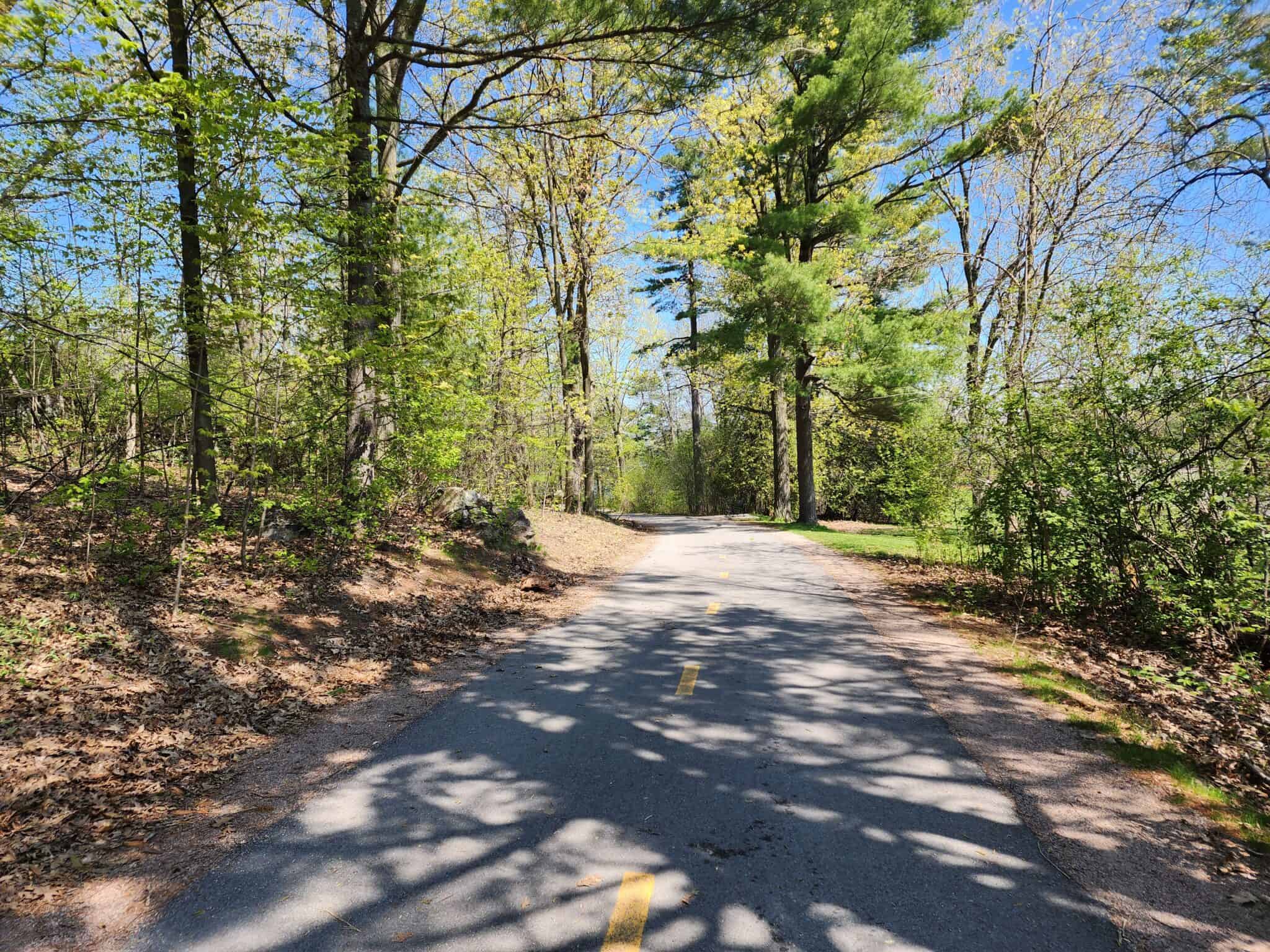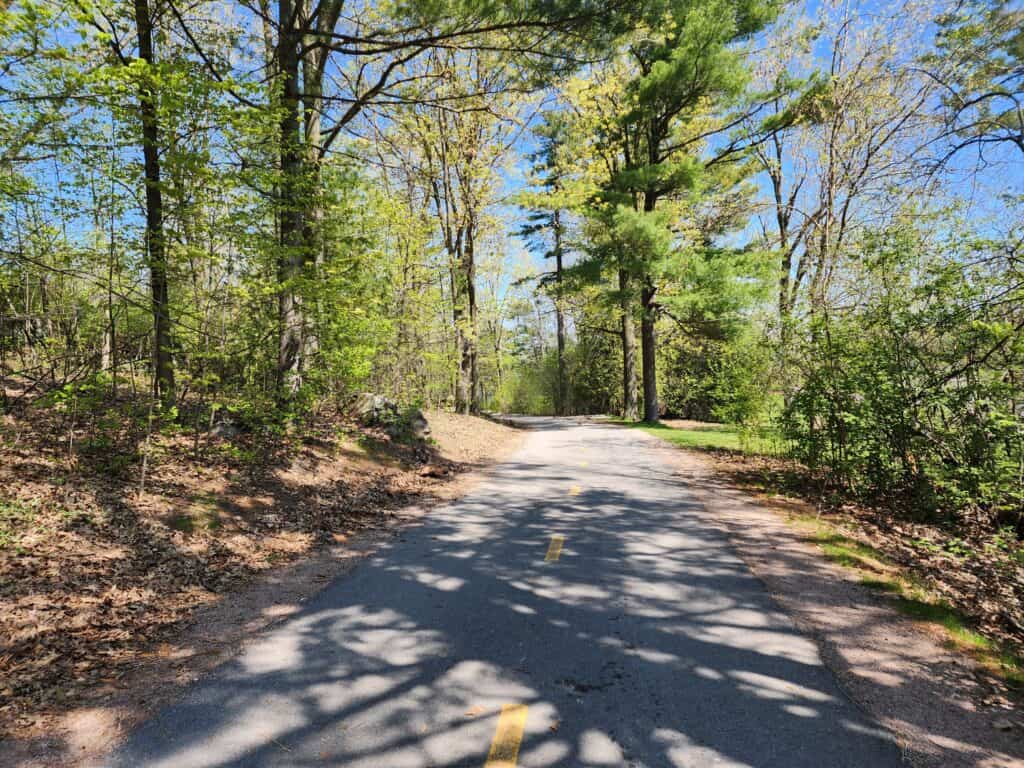 One of my favorite things to do around Burlington, VT is to spend time traveling the bike path. The bike path is situated directly next to Lake Champlain and runs for 7.6 miles along its edge.
On any given day, you'll see many Vermonters and visitors alike enjoying this gorgeous path. You can pick up the path right at the Burlington waterfront, or further south at Oakledge Park, where it begins.
Fans of biking may want to venture even further on the Island Line Trail, which combines the Burlington Bike Path with several additional miles of trail, literally bringing you out into the Champlain Islands in the center of the lake. It's a breathtaking journey and a unique experience.
Need to rent bikes? Local Motion has a rental office right along the bike path at the waterfront, and they also offer a one-of-a-kind bike ferry that can bring you and your wheels from the Island Line Trail onto South Hero Island.
11. Enjoy a few scoops of Vermont's Finest – Ben & Jerry's Ice Cream!
You've probably had Ben & Jerry's before, but have you had it in the place where it originated? Ben & Jerry's is the most delicious ice cream, and they have a shop offering scoops, shakes, and much more right on Church Street. The shop is super cute and colorful and (bonus) it smells incredible inside!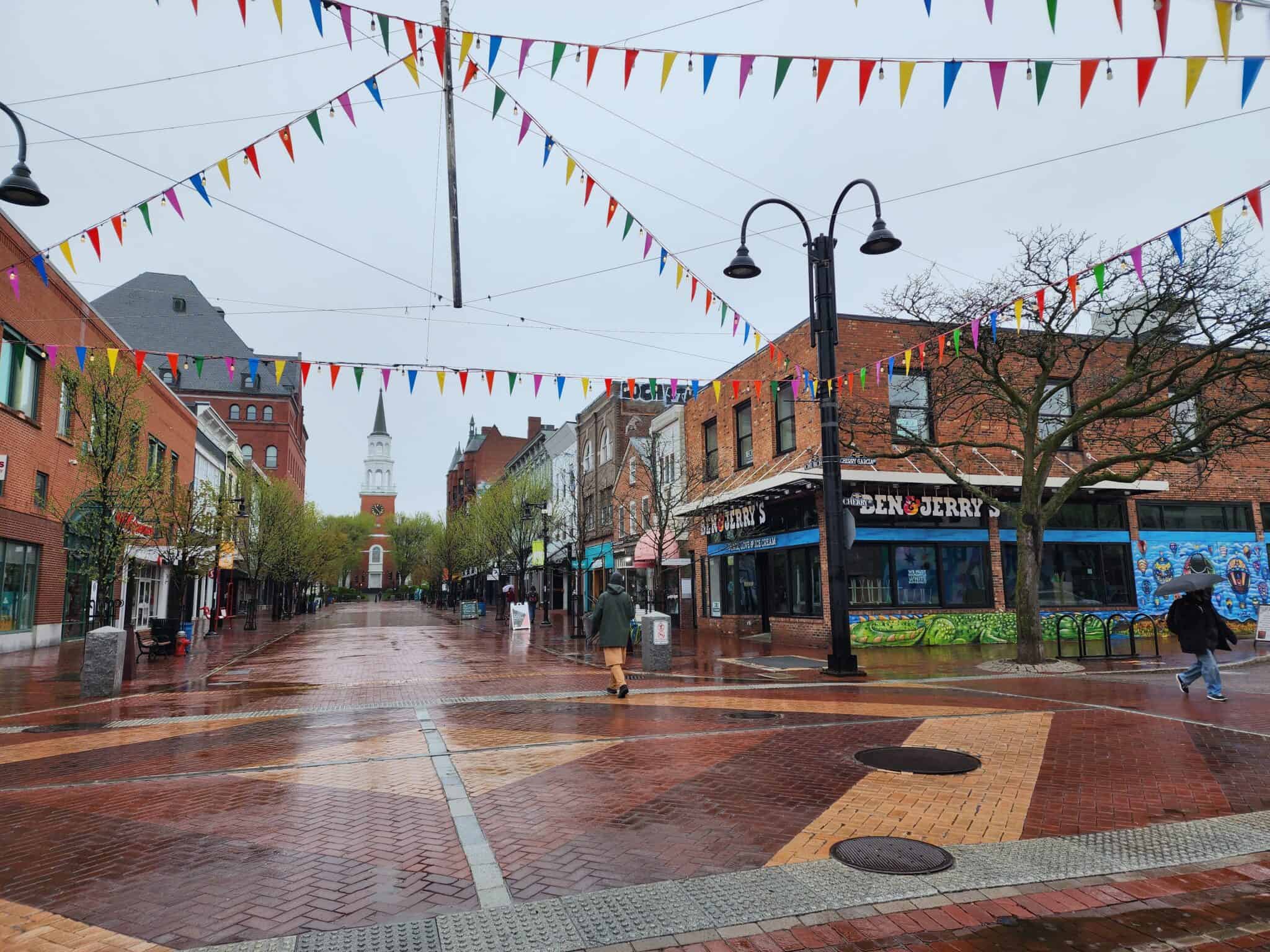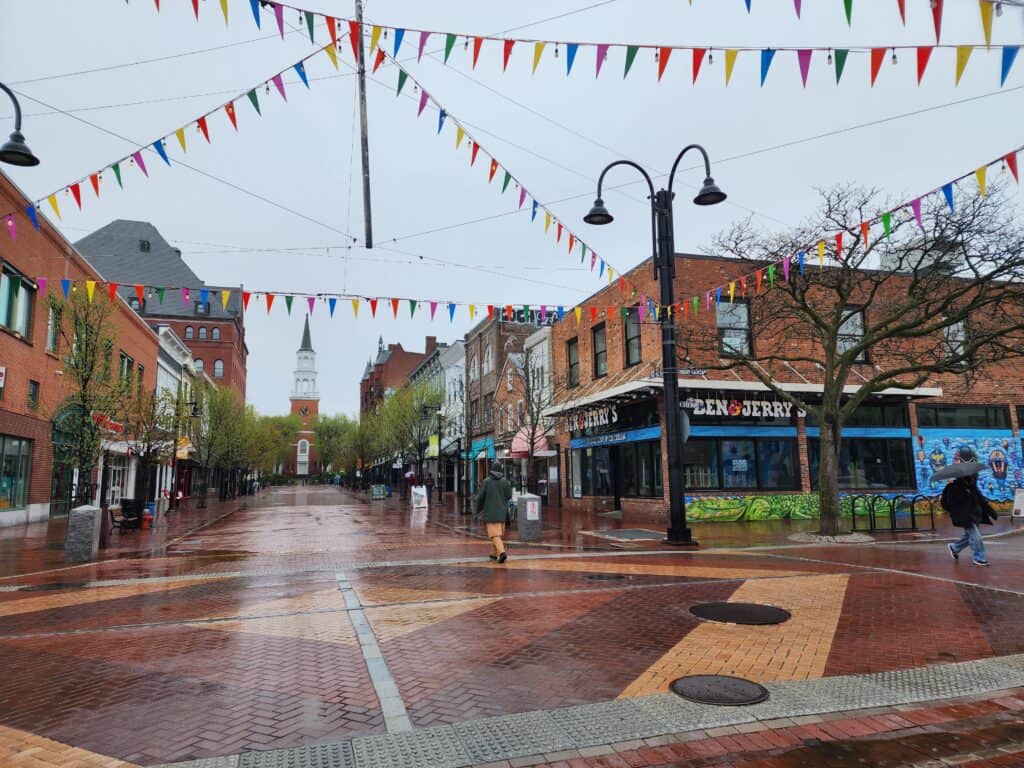 Once you've got your Half Baked or your Cherry Garcia, head a few blocks over to the corner of College Street and St. Paul Street (near City Hall Park) and see where the OG Ben & Jerry's was located. It's now a gravel parking lot, but there's a plaque showcasing where Ben & Jerry's got their start in the 1970's.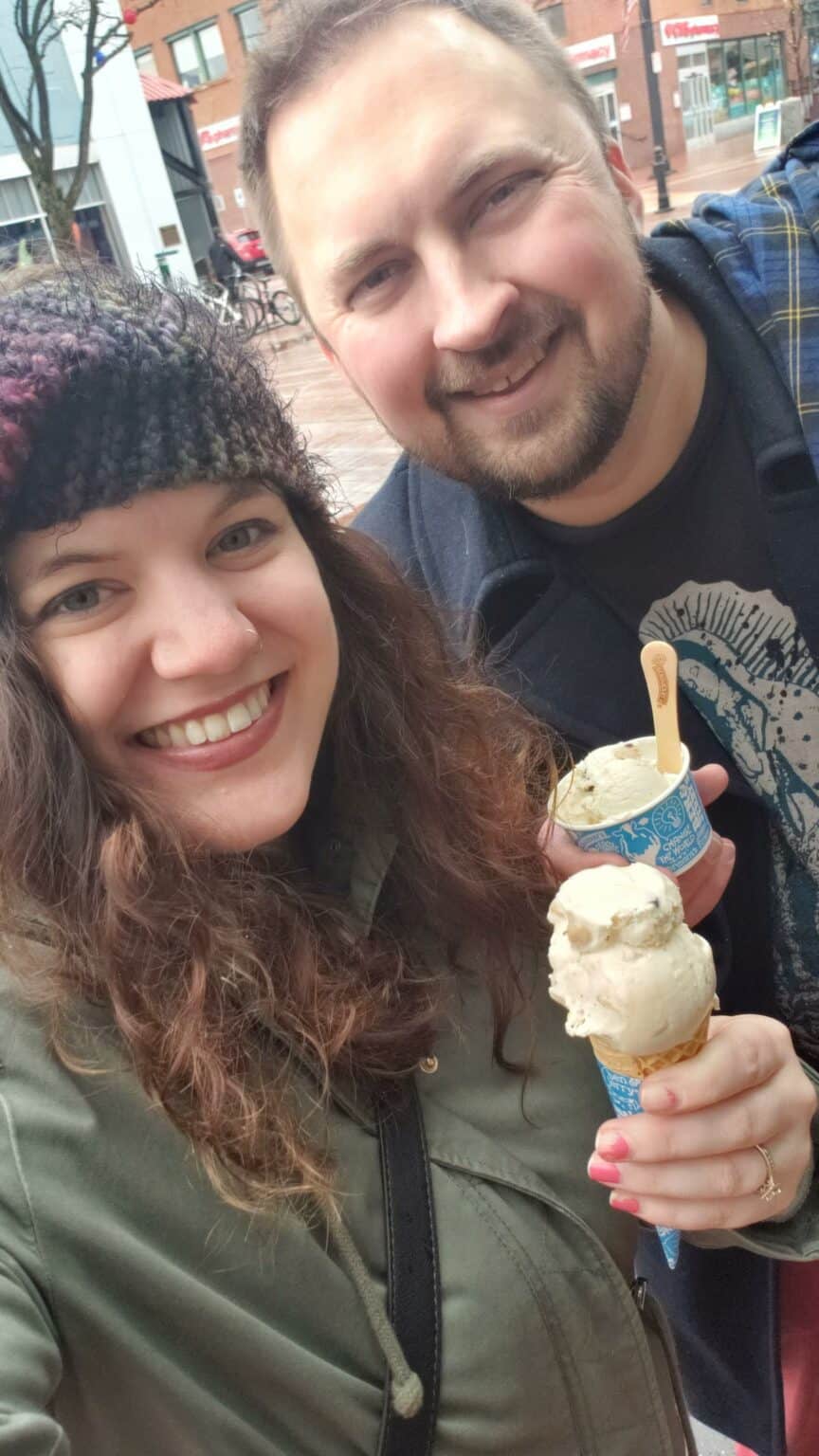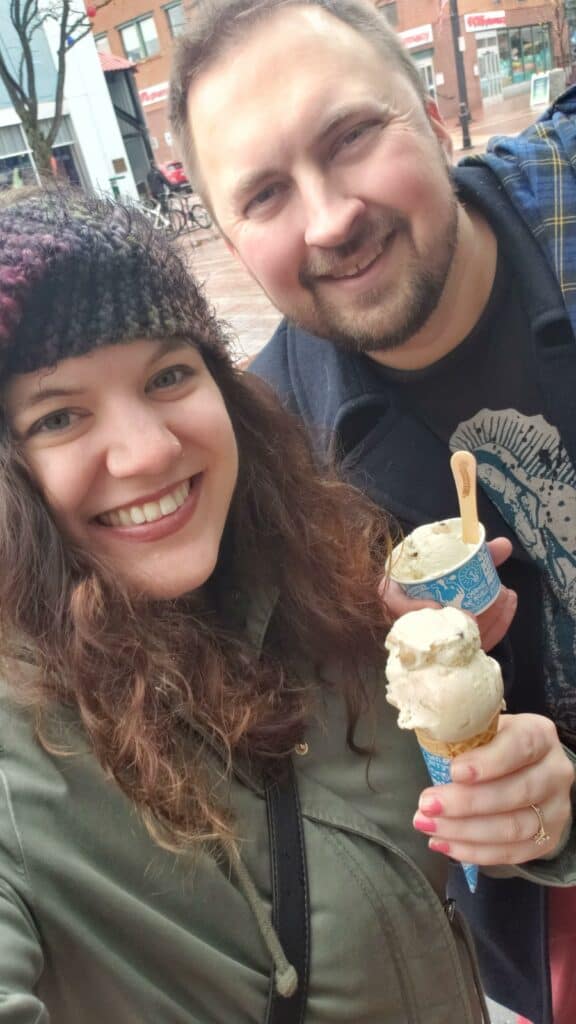 If you're a real ice cream fan, you might consider a day trip to Waterbury, where the official Ben & Jerry's factory is located. Take a factory tour, enjoy a free scoop of your favorite flavor, and pay your respects at the flavor graveyard, where failed creations find eternal rest.
12. Snap a selfie with the World's Tallest Filing Cabinet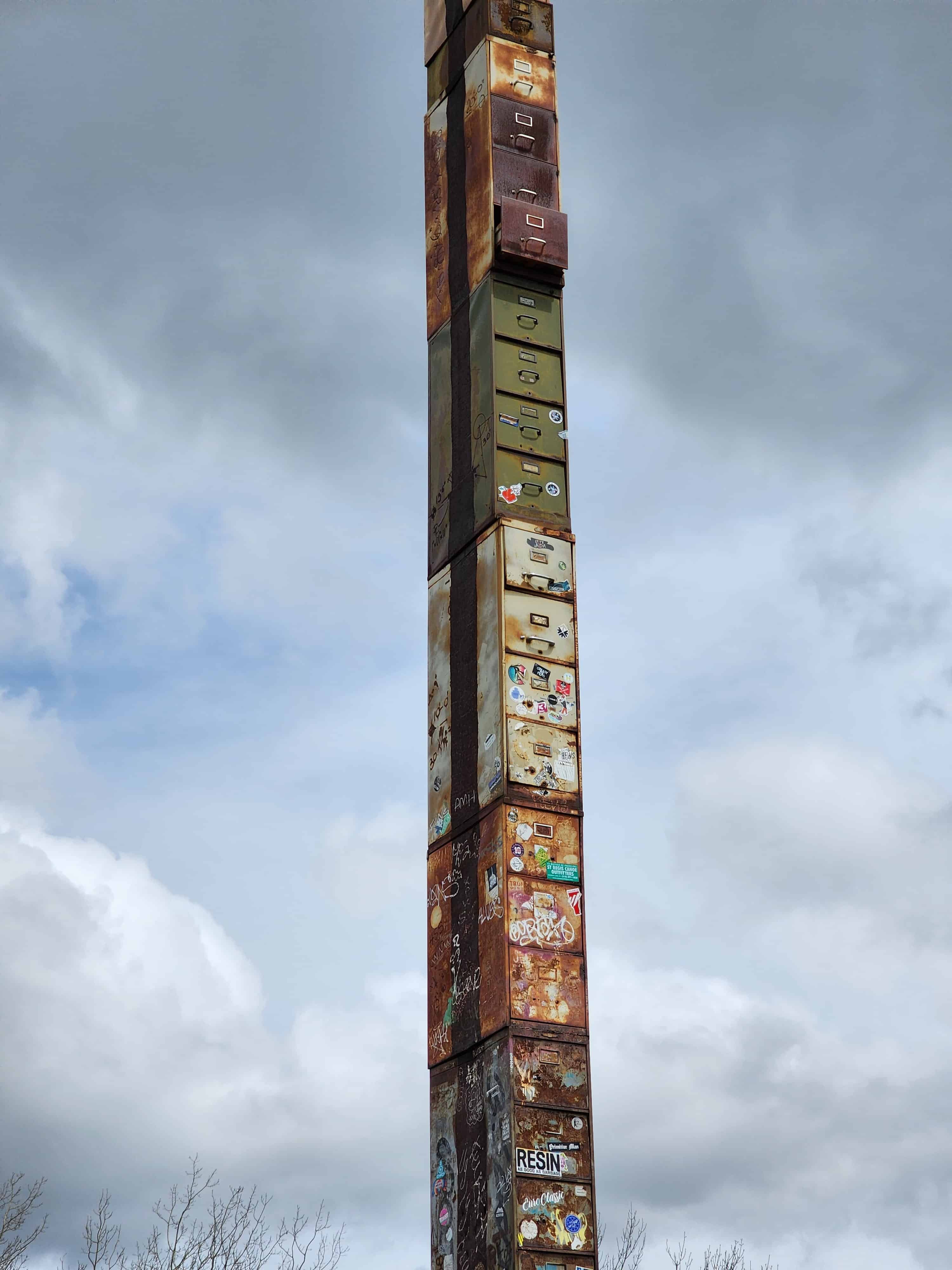 File this one away (see what I did there) as one of the more quirky, unique things to do in Burlington!
Made up of 38 drawers stacked on top of each other, it's a little unclear if this is actually the World's Tallest Filing Cabinet, but it's definitely a unique Burlington thing to do if you're into obscure public art pieces!
13. Attend a show at the Vermont Comedy Club
You're sure to be in for some laughs at the Vermont Comedy Club, a relatively new venue that hosts some amazing big-name acts.
If you're not keen on comedy, check out the Flynn Center for the Performing Arts, just down the street, which offers a variety of entertainment from touring theatre productions to symphonies. The local community theatre company, Lyric, puts on great shows.
14. Visit the Fleming Museum of Art at the University of Vermont
Burlington is a terrific college town. Why not take advantage of that during your visit? Having the University of Vermont in town (UVM) brings additional cultural and educational opportunities to all.
Consider stopping by the Fleming Museum of Art. This museum, opened in 1931, holds a collection of 24,000 objects from cultures across the world and hosts several special exhibitions throughout the year.
15. Explore nearby hiking trails
Burlington is blessed by its proximity to the mountains. (Seriously, a town nestled between mountains and a giant lake? What's not to love?) So avid hikers will adore this area.
If you want to go hiking near Burlington, VT, you have a range of options, as there are many awesome hikes in the Burlington area.
For a quick hike with a rewarding view of the lake, consider Mt. Philo. This hike is located in Charlotte, VT, a 30-minute drive south of Burlington. The trail up Mt. Philo is rated as easy-moderate, and is a 1.9 mi loop.
Camel's Hump is home to some of the most popular hikes in all of Vermont, especially for the experienced hiker. Tackling this iconic Vermont peak is a fairly lengthy endeavor. The Burrows Trail route to the summit is 5 miles in length and is expected to take between 3-5 hours to hike round trip. Still, you'll find amazing views at the end of this awesome accomplishment.
Need more hiking ideas? Consider a day trip to Stowe. While Stowe is a distance away (45 minutes-1 hour) it is 100% worth a visit if you have time during your trip to Vermont. Stowe is classic New England, with a white-steepled church, magical mountain views, and a quaint Main Street.
And of course, Stowe offers great hiking. Trails to consider include Sterling Pond, Mount Mansfield, and Stowe Pinnacle.
16. Experience a night out in Downtown Burlington
Downtown Burlington has some pretty great nightlife. While this is no Miami, there are a number of fun bars and pubs that offer a low-key, Vermont vibe. We're pretty sure you'll find something you enjoy.
The Three Needs is a hip, rustic bar with plenty of seating, pool tables, and good beers on tap.
Drink is a smaller venue that offers cocktails and board games.
At the Archives, you can sip on craft brews or cocktails while playing vintage arcade cames.
The Gryphon is a classy joint and has delicious food on top of its solid cocktail options. During weeknights they often have drink specials.
Want to grab some live music? Nectar's always has something playing, or you can grab an Uber to Higher Ground in South Burlington, where most major musical acts play when they come to town.
For dancing until the wee hours, check out Metronome, a nightclub above Nectar's, as well as the Half Lounge, a tiny, speakeasy-like place right off Church Street.
The Whiskey Room, attached to the Irish pub Ri Ra is a nice surprise in Burlington. This austere whiskey lounge feels like it fell right out of Britain.
17. Eat a Vermont maple creemee & other local Vermont specialties
Vermont is all about the food. Cheese, chocolate, ice cream, maple syrup….. You are going to want to try all of the local VT specialties while you're here.
Not to mention the vast number of farm-to-table restaurants. You'll be eating local here and you'll be eating delicious.
In Burlington, The Skinny Pancake is a great restaurant worth visiting. They are famous for their sweet and savory crepes (aka 'skinny pancakes'), and have a serious emphasis on sourcing locally.
Lake Champlain Chocolates on Church Street is also calling your name. Amazing chocolate made right here in VT? Say no more.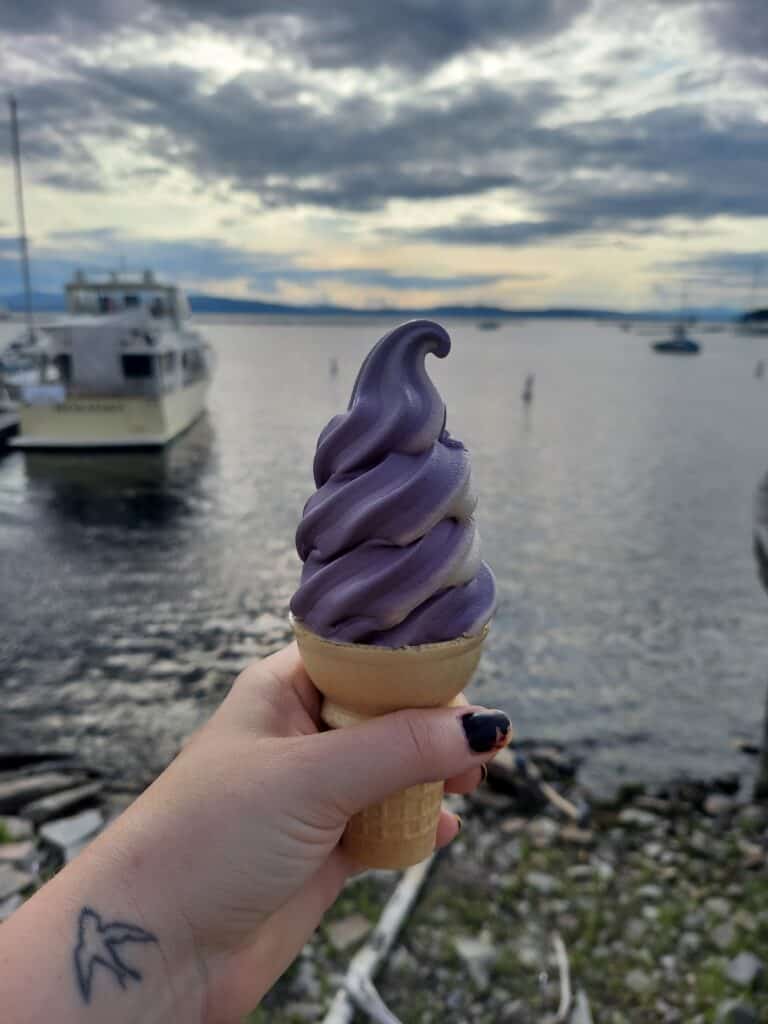 The Vermont creemee will be a staple of your visit, especially if visiting Vermont in the summer.
Creemee is just our cute name for soft serve ice cream. Maple creemees, especially are out of this world. You can find them lots of places, often swirled with raspberry.
They sell some right at the waterfront, by the way. Go get 'em!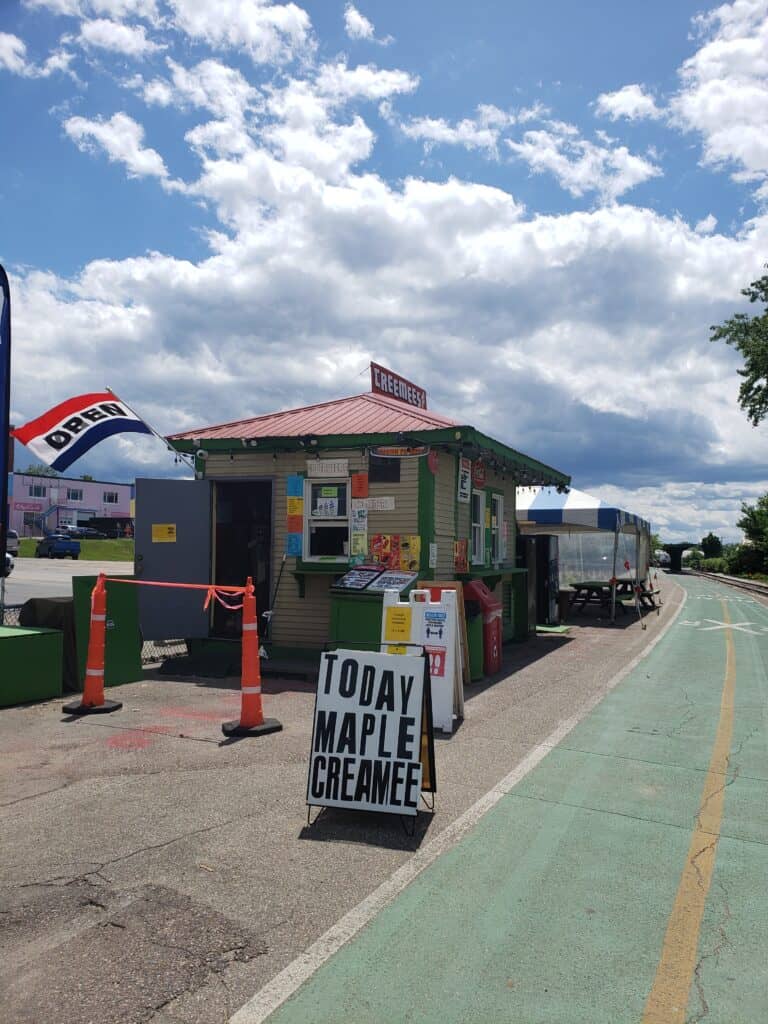 Our famous Cabot cheddar is easy to find in nearly every Burlington restaurant or shop. But you can patronize an entire Cabot cheese shop up in Waterbury if you're super into le fromage.
While poutine isn't a traditional Vermont food (it's French Canadian), you can get it here in many places.
Poutine consists of french fries covered in gravy and cheese curds. It might sound odd at first, but it is insanely delicious.
18. Sip a maple latte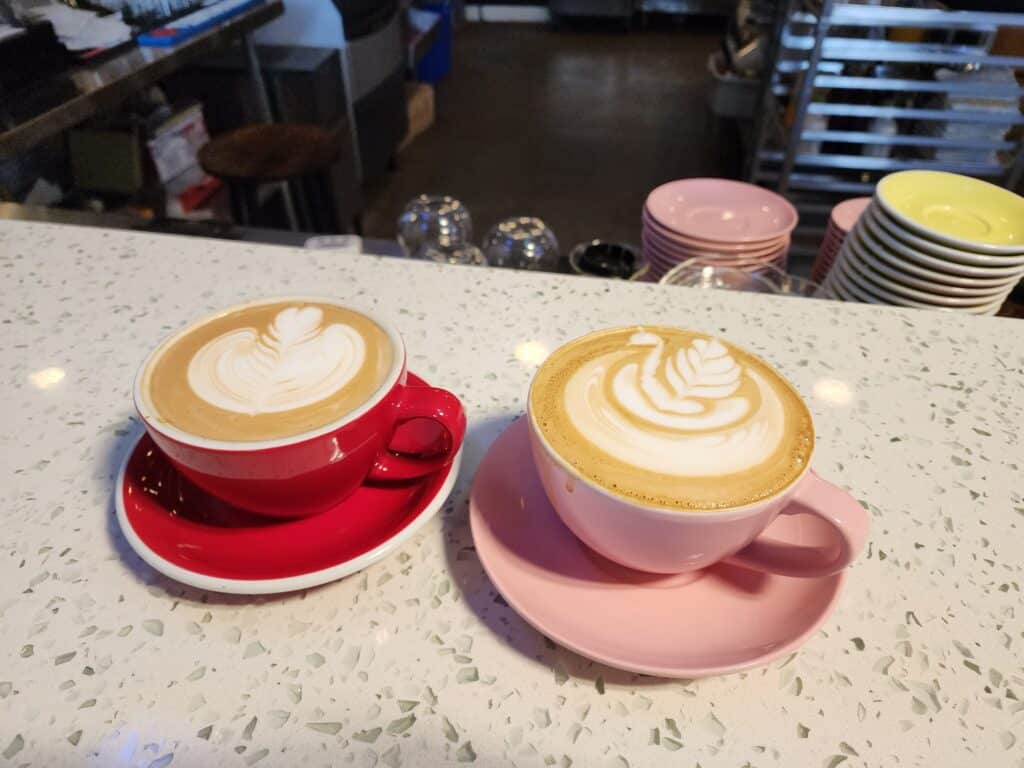 I always recommend trying out the local coffee shops. Burlington is a town with a terrific coffee scene, and you'll find almost every shop is busy every day. And while you may already have your preferred brew, may I suggest getting a maple latte? This is my absolute favorite espresso drink, and when made with 100% pure Vermont Maple Syrup, it's a transcendent experience!
A few suggested spots for epic maple lattes in Burlington:
While Burlington has an abundance of great coffee shops, you can read about ALL my favorites in this post: Best Burlington Vermont Coffee Shops
19. Catch a sunset over Lake Champlain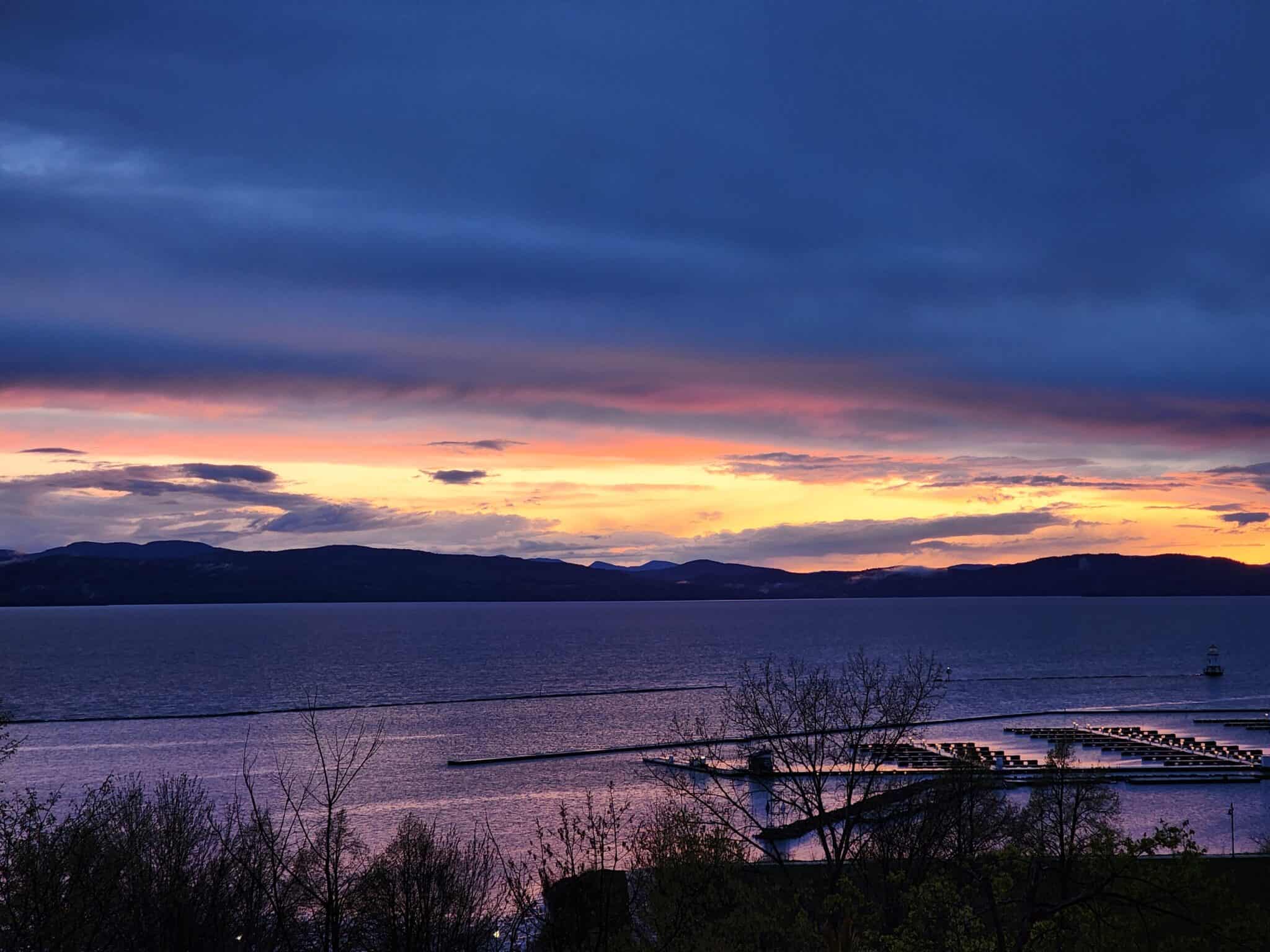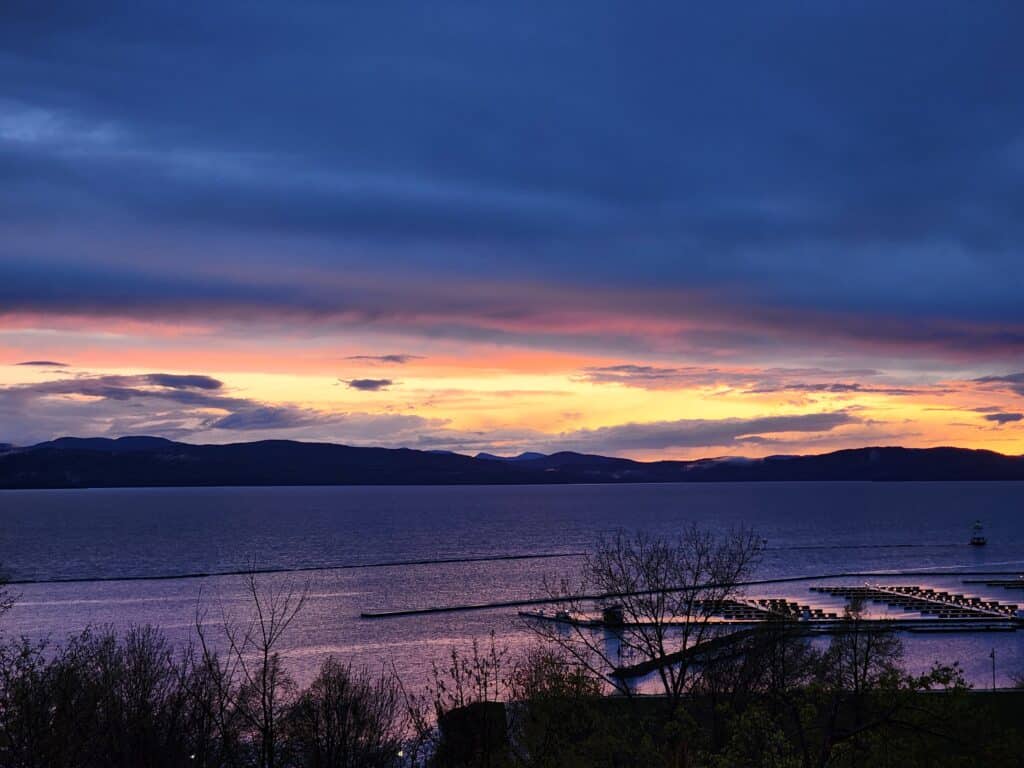 Every evening, the sun goes down in the west, and from Burlington, the views over Lake Champlain and the distant Adirondacks are phenomenal.
Make it a priority to catch at least one lakeside sunset during your visit to Burlington. A cloudy evening is usually best, providing plenty of dimension for the dusky sky.
Are you looking for more free and cheap things to do in Burlington? I've got a whole post about the best free things to do in Burlington here.
20. Explore the Ethan Allen Homestead Museum
For those interested in learning more about the history of the area, a trip to the Ethan Allen Homestead Museum should be on your Burlington itinerary. Open May through October, this well-kept historic site will transport you back in time, with guided tours of the beautifully restored 235-year old Allen family home as well as opportunities to explore the tranquil gardens along the Winooski River.

During your visit to the museum you'll learn about the life and times of Ethan Allen and other early Vermont settlers, giving you a better understanding of the state's history. There are also several Native American exhibits onsite created by Alnôbaiwi, including an Abenaki cultural exhibit and a recreated village and ceremonial site.
Things to Do in Burlington VT in Fall
Oh, Burlington in the fall. It's one of the best times of the year and our foliage is out of this world. I recommend all of the main things to do in Burlington Vermont that I've listed above, plus all these special fall activities and festivals.
21. Go apple picking
Apple picking is a blast and definitely one of the top things to do in Vermont in the fall.
Bring home a basket of fresh Vermont apples that you can use to make a pie, jam, or your favorite apple-based item. Take a look at this list of Vermont apple orchards to see where you can go apple picking near Burlington.
Be sure to try a cider donut, too! This is a good one to add to the list of Burlington Vermont family activities.
22. Get cozy (and fed) inside American Flatbread
There are lots of yummy places to eat in Burlington VT, but for a cozy fall meal, you can't go wrong with American Flatbread. This is a cozy pizza restaurant with wood-fired flatbread that is absolutely delicious. Sit near the fire if you want to keep warm. Or, keep cool with one of their amazing beers.
23. Attend the South End Art Hop
Every September the South End is home to the Art Hop, a huge open-gallery event that attracts nearly 30,000 visitors each year and is one of the top Burlington VT events. Visit artists in their studios, attend live demos, fashion shows, and so much more during this annual multi-day event.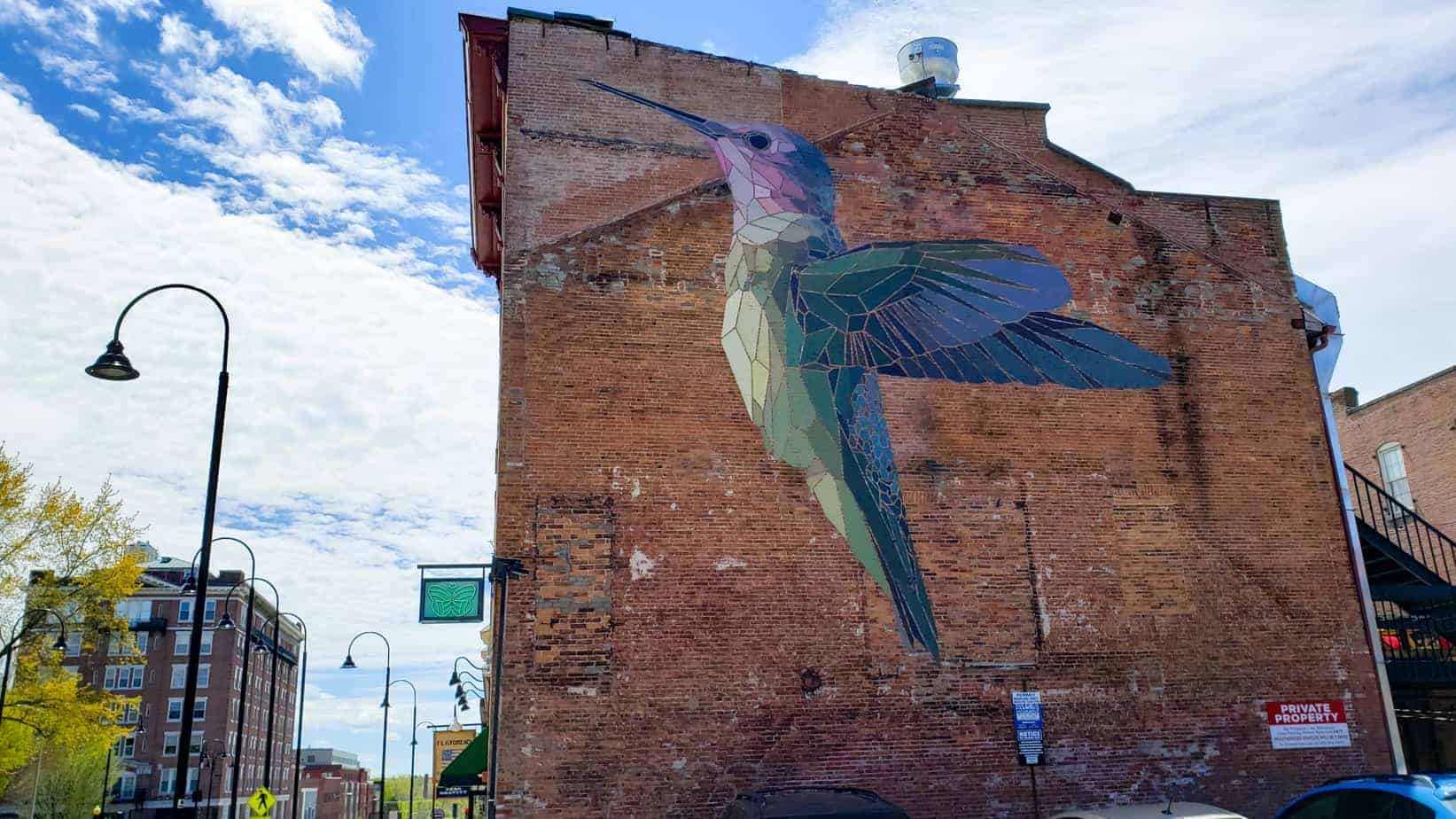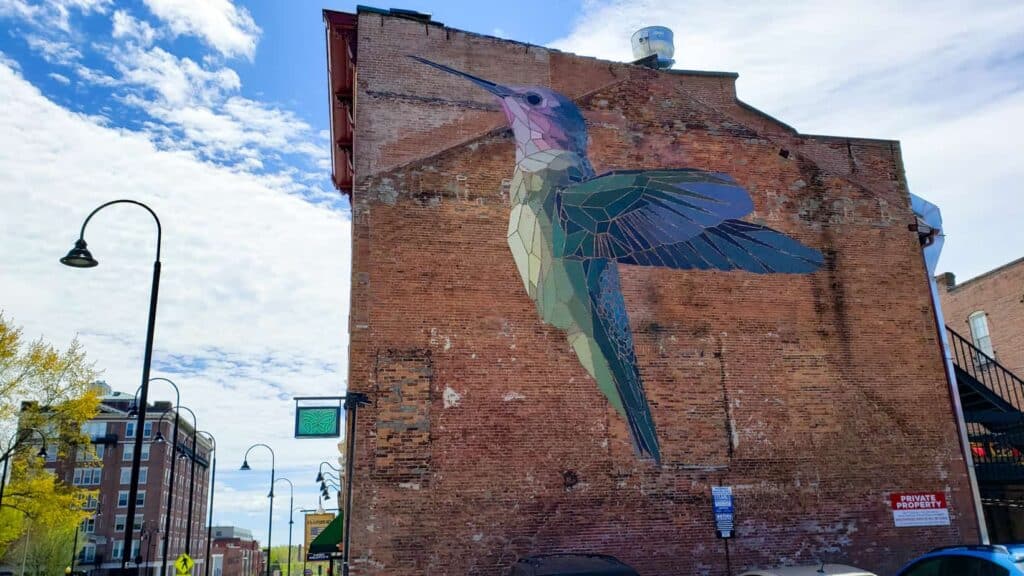 Things to Do in Burlington VT in Winter
Vermont doesn't slow down in the winter; in fact, we're busier than ever! Some of these are essential winter experiences you won't want to miss.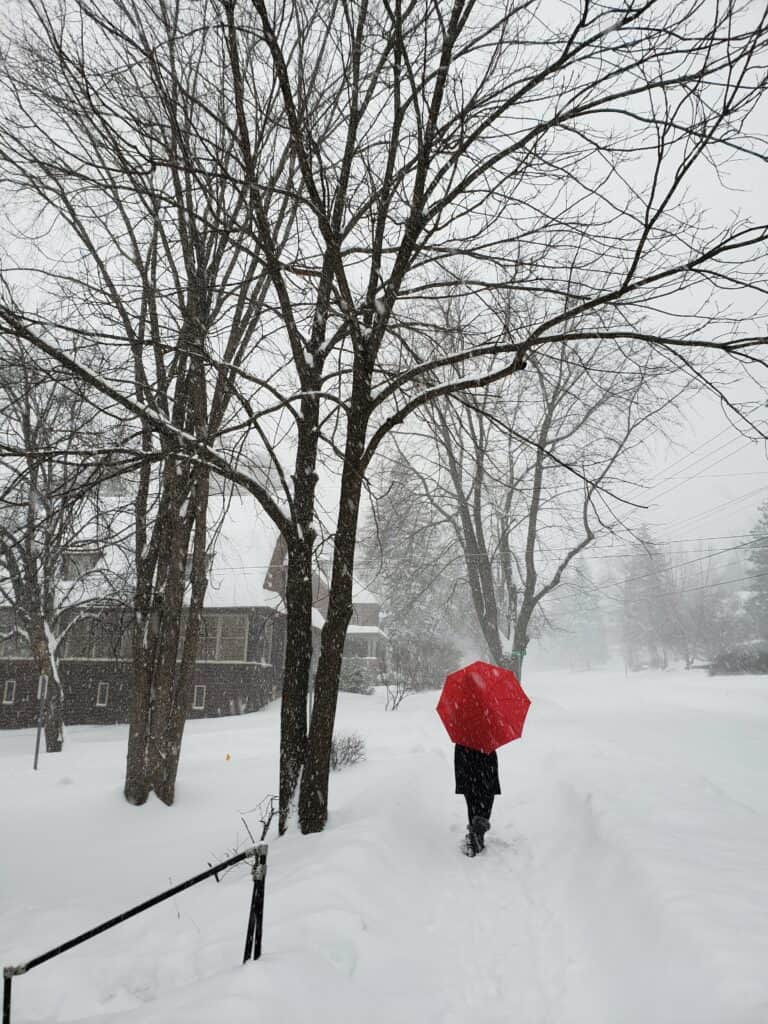 24. Catch the Penguin Plunge
A Burlington VT winter is a cold one. Are you amazed to discover that some people jump into the frigid waters of Lake Champlain every year? The Penguin Plunge is an event designed to raise money for Special Olympics Vermont. It's definitely something to catch if you're around for a Burlington Vermont winter.
25. Go skiing in the Green Mountains
Winter sports abound throughout the state. We're definitely known for our skiing and snowboarding. From Burlington, there are many mountain options available to you. Bolton Valley is one of the closest, but Stowe and Smuggler's Notch are popular spots a bit further afield; ski resorts are always at the top of the list of Burlington VT winter activities.
26. Go holiday shopping on Church Street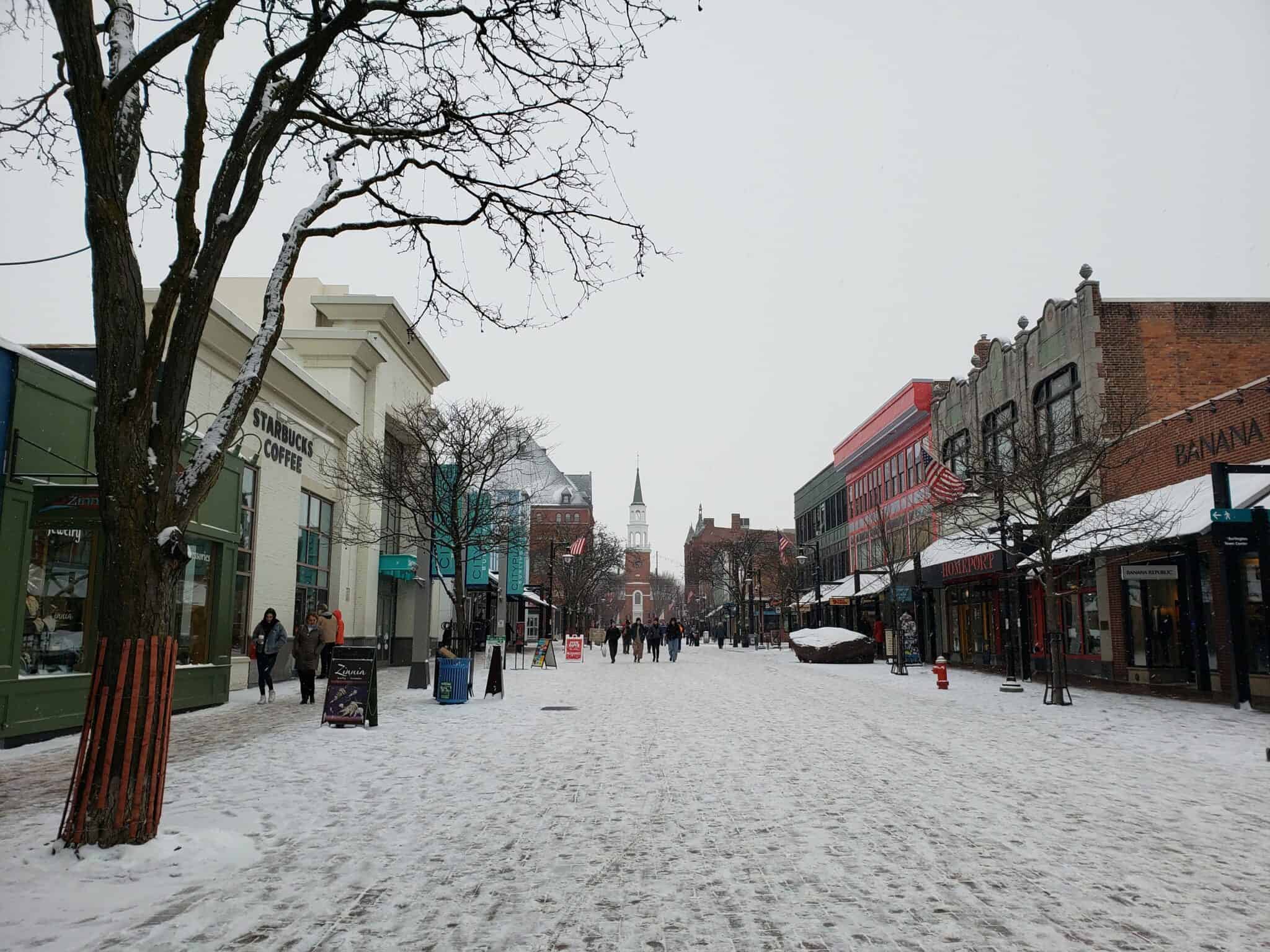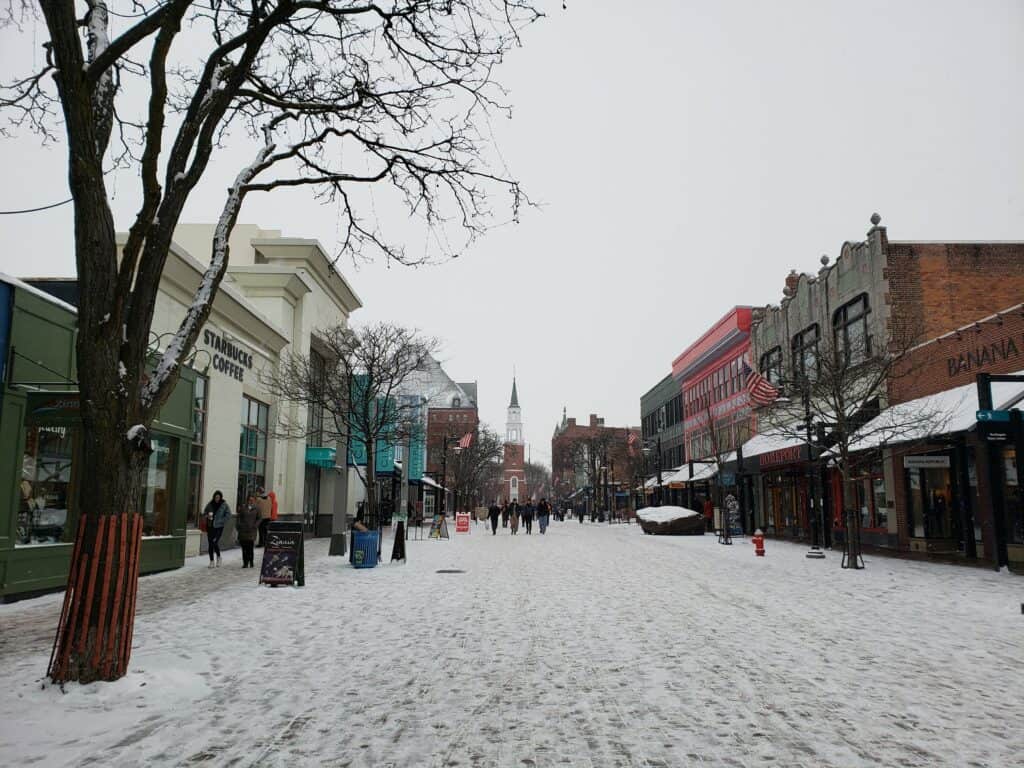 Church Street looks especially beautiful during Christmastime. The city puts up tons of twinkling lights along the walkway, and it illuminates the space with joy. It makes holiday shopping extra fun, particularly when the snow begins to fall. Visiting after the holidays? Don't worry; the lights stay up all winter long.
Things to Do in Burlington VT in Summer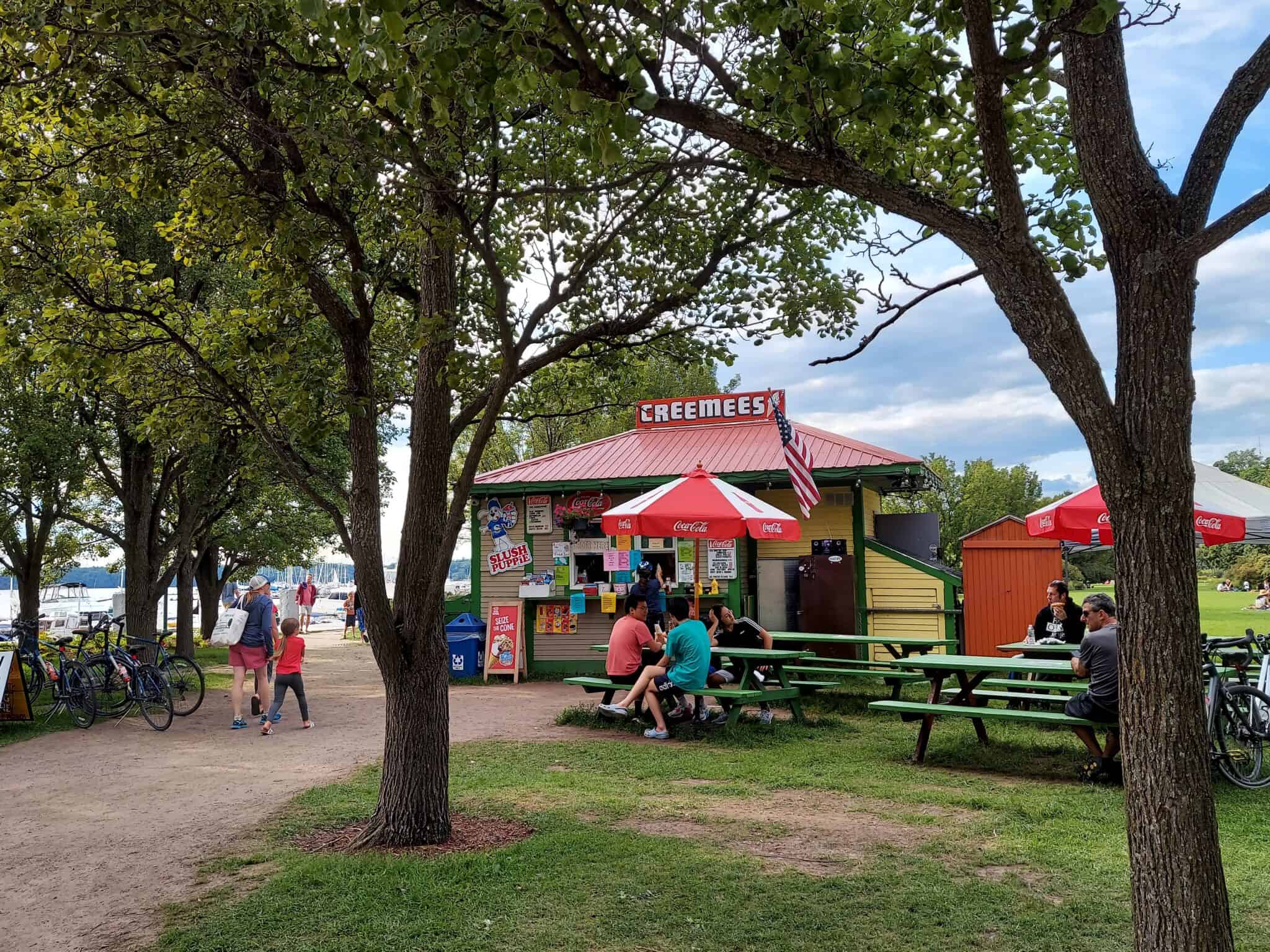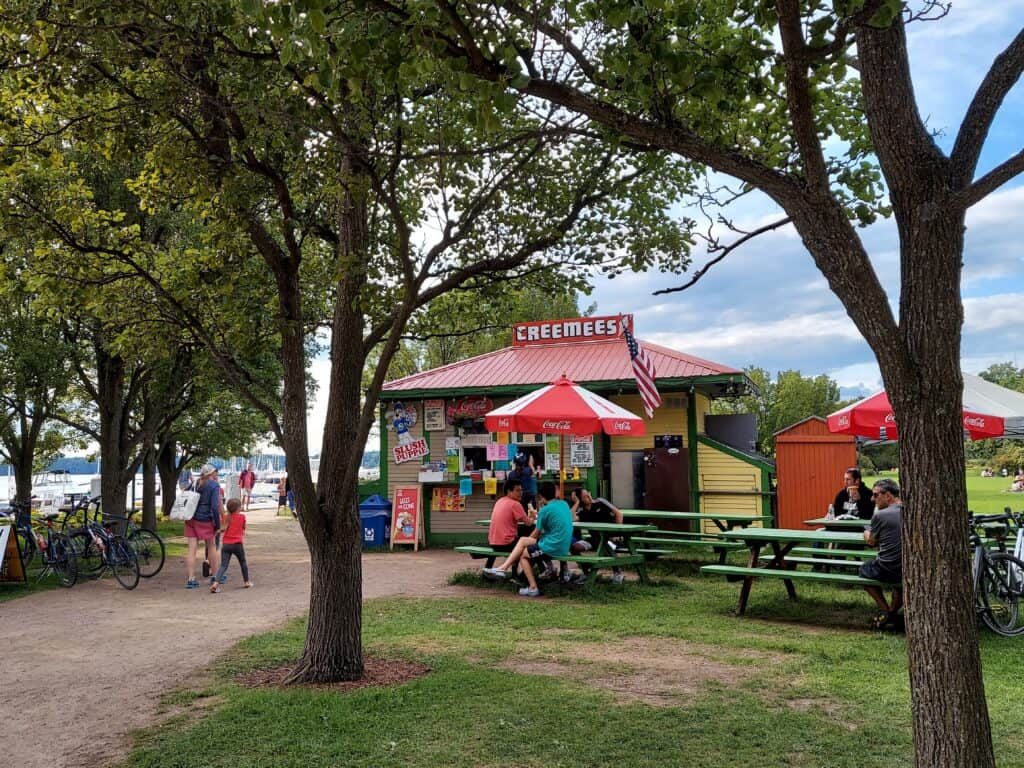 Summer is my personal favorite time of year in Vermont. It is SO. GREEN. June is usually a spectacular month with perfect weather, but July and August offer traditional summer heat. What will you do in the summer in Burlington? Here are some ideas:
27. Try stand up paddleboarding on the lake
With its fairly calm waters, Lake Champlain is a perfect place to try stand up paddleboarding. Several different businesses offer paddleboard rentals or lessons. WND&WVS has a range of opportunities for guided tours and lessons at reasonable prices. Check them out for some Burlington Vermont summer fun at the lake!
28. Enjoy a picnic on the waterfront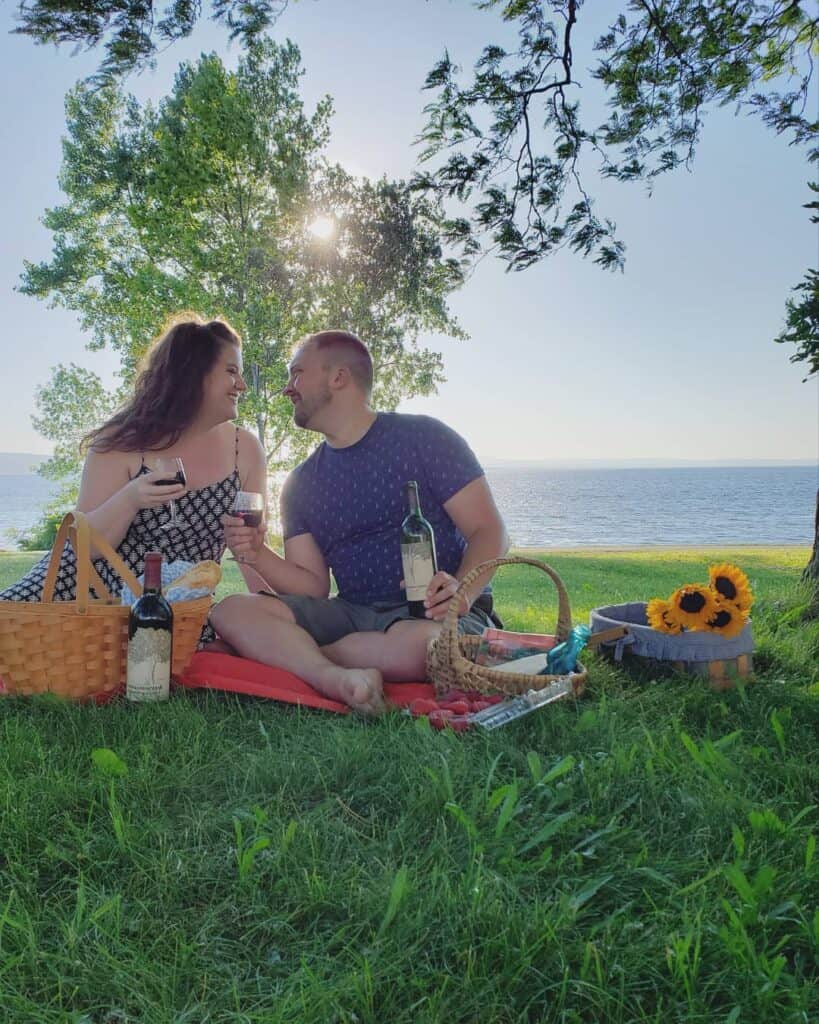 Head down to Oakledge Park or another waterfront spot and bring snacks. I love a lakeside picnic, especially during the gorgeous summer months. If you want to keep it local and Vermonty, do your shopping downtown at the City Market Onion River Co-op. This grocery store has a great selection of cheese, produce, wine, beer, and so much more, with lots of locally-sourced and locally-made items.
29. Grab local produce at the Burlington Farmers Market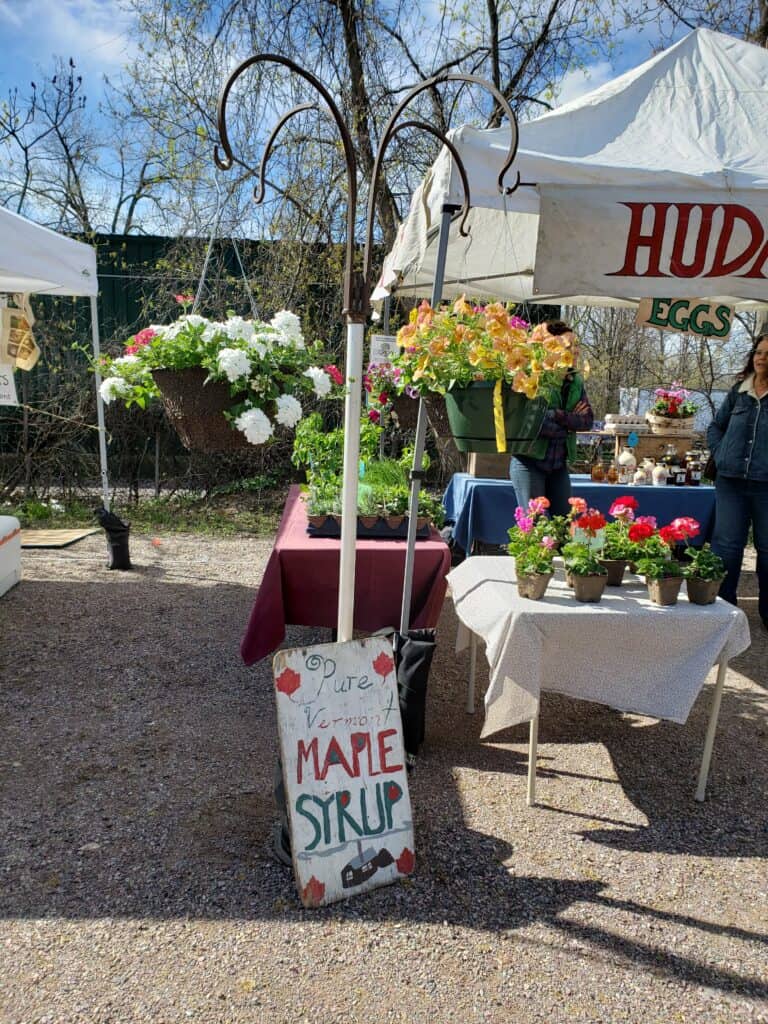 It's always so exciting when the Burlington Farmers Market starts up again each summer.
A Vermont farmers market is a must-do when it comes to Burlington VT activities. This is a big market in the South End (at 345 Pine Street) with local produce, flowers, baked goods, crafts, art, hot food, and coffee, all by local artisans and makers, of course!
Best of all, the Burlington Farmers Market is dog-friendly, and everyone brings their adorable pups to the market with them. For me, that's a major draw, and every time I visit the Farmers Market I make new friends (human and canine!)
Enjoy a farm-to-table dinner
Speaking of farmers, we Vermonters take massive pride in the work of our local farms. Local food and farm-to-table dining are big deal here in Burlington and throughout Vermont.
So this guide to Burlington Vermont things to do would not be complete without a recommendation for a delicious meal at one of our local gems. A few restaurants to consider (all of whom create divine dishes and prioritize farm fresh local products) include:
Things to Do in Burlington VT in Spring
Spring can be an underrated time in Burlington. Unfortunately, it can still be a bit chilly or even rainy, but if you plan ahead, you can have a lovely stay and avoid the crowds of the high season, which is always a nice bonus. (PS: check out all the great places to enjoy spring in New England!)
Sample some fresh maple syrup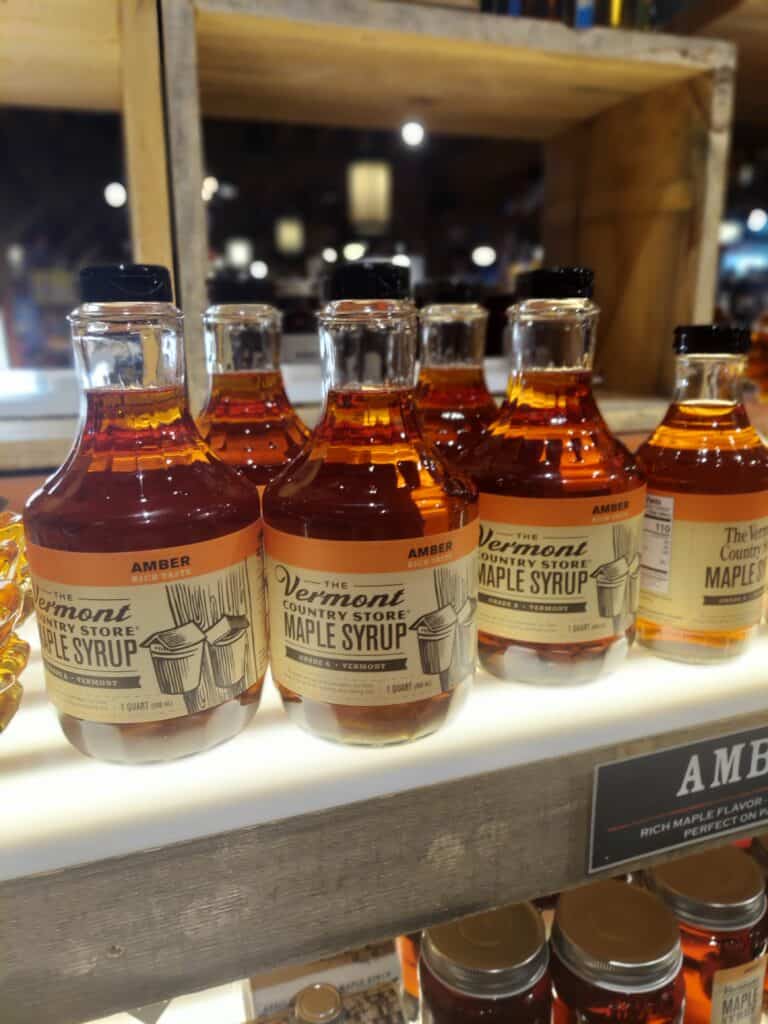 Spring is when the maple sap starts to "run" which means sugar shacks start heating up and producing our famous Vermont maple syrup.
If you're looking for things to do in Burlington VT in March, you can try fresh syrup and a Vermont specialty: sugar on snow (a chewy maple candy created by pouring hot syrup onto a chilly packed snowbank). In March and April, you might catch one of New England's maple festivals in action as well.
🍁Want to learn more about sugar shacks? Check out my full guide on 9 of the best spots to have this magical Vermont maple syrup experience.
Visit Shelburne Farms
Enjoy the flory of springtime to its fullest by visiting a working farm. Take a wagon tour of Shelburne Farms and interact with the animals in the Children's Farmyard. You might even see some baby animals at this time of year; this is definitely one of the top things to do in Burlington VT with kids.
Take a guided food tour
Did I mention how great our Vermont foods are? To get a serious cuisine experience, I recommend taking a guided food tour of Burlington. The Edible History walking tour is one of the most well-known and popular options, which connects you with Burlington's early ethnic groups and their culinary history.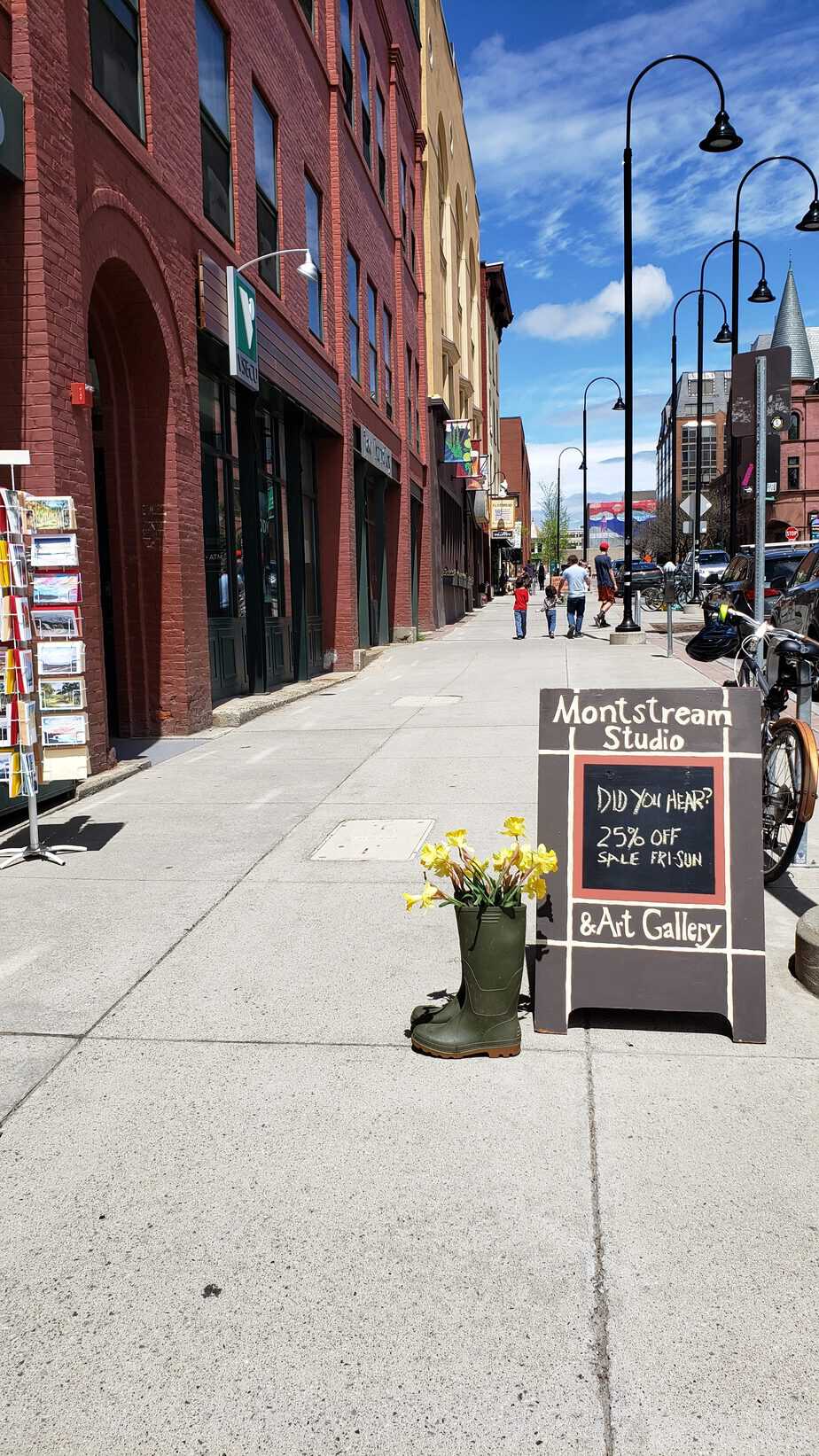 Best Places to Stay in Burlington
As you plan on where to stay in Burlington VT you'll want to consider choosing the best location. I've got a quick rundown below, but there are also more options in my full article: Where to Stay in Burlington, VT
Getting around Burlington, Vermont is fairly simple. The downtown is largely walkable, and there are a number of hotels to choose from in the downtown area. If you choose to be further from downtown, you may need to have a car at your disposal or call for an Uber or Lyft.
All of the Burlington VT lodging I recommend is within walking distance (or very short Uber ride) to downtown.
You can also check out some of the top vacation rentals in Burlington Vermont, too: Best Airbnbs in Burlington VT to Book ASAP
Made INN Vermont B&B
Do you love unique, hip accommodation? You will love Made Inn Vermont, an urban chic Burlington bed & breakfast with 4 distinct rooms.
These Burlington VT accommodations are cozy, homey, and beautifully designed. It's like a boutique hotel in a massive Victorian mansion.
One of the best parts of staying here may be its location. While it's not right in the heart of downtown, it's just a short walk away. Located up on South Willard Street, in the Hills section of Burlington, Made INN Vermont is tucked on a historic street next to other impressive homes. This is a quiet spot just up the hill from downtown, so you get the experience of being in a local neighborhood while remaining within convenient reach of all of the major Burlington attractions.

Hotel Vermont
Would you prefer to be in the heart of things? Hotel Vermont is a clean, centrally-located independent hotel that is very popular with visitors. You'll be staying super close to both Church Street and Lake Champlain at this property, and you've got an onsite restaurant, a swimming pool, and free use of bicycles.

Hilton Garden Inn Burlington Downtown
One of the best hotels in Burlington, VT for a great value is the Hilton Garden Inn. This hotel may have the best location so far. It's just a hop, skip, and jump from Church Street, and very close to City Hall Park, American Flatbread, and one of my favorite coffee shops, Onyx Tonics. This is the ideal accommodation choice for a person who wants to go out in the evenings downtown.
While you'll be slightly farther from the lake at this hotel, some rooms do offer partial lake views. And either way, you'll be in a comfortable, well-appointed guest room.
—
Are you ready to explore Burlington? I hope I've given you enough ideas for what to do in Burlington, Vermont to plan your trip.
---
More Burlington & Vermont Travel Resources:
9 Best Vermont State Parks You Can't Miss
---