When you think of Vermont, what do you think of? Probably maple syrup! Luckily, it's so easy to learn more about the sugaring business and even try some fresh maple syrup yourself by visiting Vermont sugar houses.
Located all over the state, these Vermont sugar houses are often run by locals whose families have been sugaring for generations. They're usually so excited when people visit to learn more about their business, and the maple syrup is oh so tasty!
We've rounded up some of the best Vermont sugar houses that you won't want to miss out on throughout this article. So, what are you waiting for? Keep reading to learn more and start planning your next Vermont vacation!
The Robb Family Farm Sugar House, Brattleboro
This great Vermont sugar house in Brattleboro is the perfect place to stop if you want to learn more about how maple syrup is made! Dating back to the early 20th century, the same family still runs this farm.
Their maple syrup is some of the best, and they do everything according to tradition. They have just shy of 10,000 taps on trees each spring and even recently changed their maple syrup logo to be a little bit more reminiscent of their roots.
During the tour, you'll be able to ask questions to see more about the maple syrup process from start to finish. Because a family runs The Robb Family Farm Sugar House, you may even be able to meet the owners and ask them some questions! Don't forget to try their incredible maple syrup when you're done; it tastes great on both pancakes and ice cream (a Vermont favorite).
Sugarbush Farm, Woodstock
Sugarbush Farm in Woodstock is one of Vermont's more popularly visited maple syrup spots. The farm is relatively large at around 500 acres, and the same family (the Luce Family) has been running the business for the past three generations.
The Sugarbush Farm's sugarhouse is in season in both March and April, but they actually leave their display up year-round so that visitors can learn about the sugaring process no matter when they visit. When you're there, you can also sample the fresh maple syrup! Try out some different grades to see if you can taste the difference.
In addition to maple syrup, Sugarbush Farm specializes in cheese making. If you're interested in that, be sure to check out their cheese samples and the workroom where they make their cheeses; it's worth seeing!
K. Ruane Maple Farm, Tinmouth
K. Ruane Maple Farm is a smaller-scale farm, but it's still just as much worth visiting as the larger and more well-known ones in the state! Plus, let's be honest; small tours tend to be the most worthwhile, especially if they're educational ones.
This farm produces a few thousand gallons of maple syrup each year, and they love giving tours year-round to those who visit the farm. The farm, similar to others in the state, is actually run by a local family.
The primary owner, Kevin, actually fell in love with the maple syrup process as a child and dreamed of opening up his own maple syrup business one day. In addition to syrup, they also make maple candy, sugar, seasoning, and more! Plus, they sell fun sap buckets that have been hand-painted, making a great unique addition to any set of home decor.
Paradise Farm Sugarhouse, Brattleboro
Another one of the great Vermont sugar houses is Paradise Farm Sugarhouse in Brattleboro, located in the more southern part of the state. This sugarhouse tends to start its process in February, and it ends around March or April each year.
They only sell the freshest maple syrup from the trees that they tap. Be sure to ask them more about the process to see if they'll give you a peek behind the scenes at where the maple syrup is made. The workers are incredibly kind and love talking about syrup.
While you're there, don't forget to purchase one of their half-pints of maple syrup. If you're a massive fan of it, you can even grab a lot of it to have mega savings. In addition to the half-pints, they also sell their syrup in fun historic tins and glass maple leaves.
Baird Farm, Chittenden
Easily one of the most well-known sugar houses in the state is none other than Baird Farm in Chittenden. That's because they offer very in-depth tours where they take visitors behind the scenes of the maple syrup process! The tours usually last about a full hour on average.
The tours do require you to book a spot ahead of time because they're so popular. They also have a cut-off of about ten people per tour to keep it more intimate because of the size of their storerooms.
While the maple syrup season is in the spring, they offer their tours year-round. The tours do change slightly depending on the time of year, because, of course, there may be more to look at during the spring season than the fall season, for example. The best part is that the tours are entirely free and always end with a great tasting at the end!
Silloway Maple, Randolph
Silloway Maple is another great family-run maple syrup business in Vermont! They're known for being incredibly friendly and, of course, for having some of the tastiest maple syrup that you can get in the entire state.
During a tour of the place, visitors will be able to get a unique look at how the family makes their maple syrup. They even get to see the same tools that are used and ask any questions that they may have!
Even though maple syrup is their main product, they also have incredible doughnuts that they dip into maple syrup – a true specialty that you can't get elsewhere in the state. Be sure to plan your trip wisely because they are closed on Sundays, and they have shorter hours throughout the year!
Goodrich's Maple Farm, Cabot
The town of Cabot is known for a lot more than just its cheese! They also have Goodrich's Maple Farm, an incredible Vermont sugar house where you can go on an education tour to learn more about maple syrup.
The tours are offered during select times throughout the week, and they are also closed on Sundays, so be sure to plan your trip ahead of time. When you're done with the tour, you can also shop their syrups right in their gift store and try some of their flavors to see what the different grades taste like.
In addition to maple syrup, Goodrich's sells a variety of other fun maple syrup products that you won't be able to find elsewhere. They even have maple syrup bbq sauce and rubs and shakers that you can put on meats!
Green's Vermont Maple Sugarhouse, Poultney
Another hidden gem of sorts is Green's Vermont Maple Sugarhouse! This fantastic spot is one that you won't want to miss. They give complimentary guided tours year-round, but mainly during March and April! They just ask that you call ahead of time to ensure they have a heads up that you're coming.
Even if you can't make it in person, Green's actually has an extensive online store where you can order absolutely any of their products and get it shipped to you! Otherwise, they also have a large store in person where you can grab tons of maple-flavored goodies while you're there.
One of their specials is their incredible maple cream! They also have maple candy, sugars, spices, and more. Consider trying their gift box for a real treat, where you can get all of their suggested treats in a bundle!
Green Mountain Sugar House, Ludlow
Green Mountain Sugar House is another of the top spots to go if you want to learn more about maple syrup! It's located in Ludlow, and they have award-winning maple syrup, so you just know it's good. They tend to be pretty busy in the springtime, but that's because it's sugaring season!
Throughout the year, they always educate the visitors who come to the shop about maple syrup. They also give out free samples so you can try all of the different grades of syrup. If you like any of them, be sure to support them and shop right in their in-house gift store!
The shop sells more than just maple syrup, of course. They also have maple creemees, an absolute must-try, especially for those who are from out of state. This is essentially a glorified maple soft serve!
Hopefully, this post has taught you all about some of the top Vermont sugar houses. Each one is truly remarkable, and even if you're just driving through the state, it's worth finding at least one of them to stop at!
---
You might also like: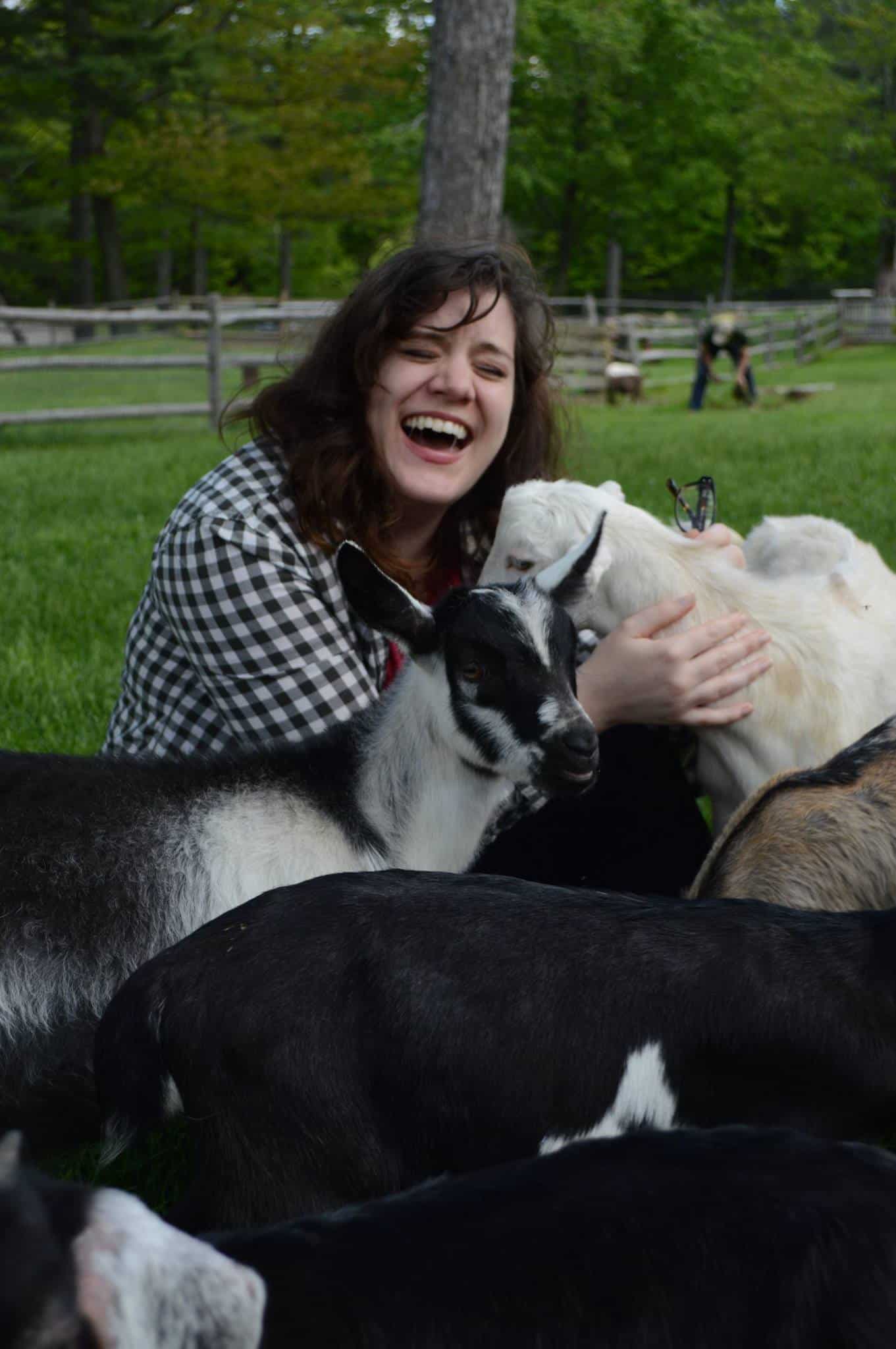 Amy Hartle is the founder and Editor-in-Chief of New England With Love, a comprehensive resource for travel in the New England region. Amy has been exploring New England since 2001. She lived in Vermont for many years and is a graduate of Plymouth State University in New Hampshire. On this site, Amy aims to share her love of New England and help you to have the best possible adventures!
Amy has been writing about travel for over a decade, and is a full time blogger, publishing both Two Drifters and Let's Adventure Baby. When not traveling the world or creating epic blog content, Amy can be found cuddling with her husband, son, and cats, & drinking a maple latte.