With so many fun things to do in Chester, Vermont, it can be hard to choose which activities to fill your time with! Luckily, we've taken the time to round up some of the best Chester activities, from hiking to enjoying yourself at a local Scottish pub.
Whether you're the type of traveler who prefers to be indoors or you'd rather explore the great outdoors on an adventure, there's truly something fun for you to do in Chester. No matter what activity you choose (or even if you choose all of them), you'll make some great memories that will make you want to come back to this quaint small town in Vermont.
Here are all the best things to do in Chester VT!
Hike The Lost Mine Trail
First up is to hike The Lost Mine Trail! This is in Chester Town Forest and is a relatively short hike, but it's the best one in the Chester area, so you won't want to miss sit if you love being outdoors.
The trail itself is only 2 miles long with just shy of 500 feet of elevation gain. This loop trail is moderately challenging but only takes slightly over an hour to complete. While it's best hiked in the summer so you can see wildflowers and even wildlife, winter is also a beautiful time to hike. In the winter months, you can snowshoe or even cross country ski on this trail.
As the name of the trail suggests, you will come across an old mine on the hike that was working up until the beginning of the 1900s. The mine was specifically interesting because it's one of the few places that chesterite could be sourced, and up until now, there are only 3 sources known of this!
Find an Antique at Stone House Antique Center
Chester's Stone House Antique Center is a great place to visit if you're looking to add to your antique collection or you like perusing shelves of exciting finds. There are a lot of different items inside, and the staff is known for being very friendly to its visitors.
Inside, there are just shy of 100 different dealers selling items ranging from furniture to art supplies and other collectibles that would be unique in any home. Most people expect to spend around 45 minutes to an hour exploring the inside in order to check out everything from all the dealers.
There are also many fun events held at the Stone House Antique Center throughout the year. Some of their events include a dealer day open house (on the first Tuesday of every month) as well as a holiday celebration in the fall, and a garden party open house in the springtime. Learn more about their upcoming events on their website here.
Dine at MacLaomainn's Scottish Pub
Looking for something tasty to eat in Chester? You won't want to miss out on the top restaurant in the entire town: MacLaomainn's Scottish Pub. This pub is located inside an old barn, so the interior is super unique and is sure to create a memorable experience.
The interior of the pub is filled with fun, unique decor on the walls, including swords, kilts, and even a knight costume. There are dark wooden walls and exposed wooden beams on the ceiling, which really gives the entire restaurant a cozy feeling.
MacLaomainn's Scottish Pub has a great menu featuring dishes like soup, nachos, sandwiches, burgers, and more. They also have some more classic Scottish dishes like scotch eggs as well as basic pub foods like bacon and cheese potato wedges.
Peruse the Shelves at Whiting Library
If you're a book lover, then you'll want to head to the public Whiting Library in Chester. This library serves the community and is fun just to peruse to see what book you can find, plus it's always free to visit public libraries.
The library was first opened in the 1890s by Laurin G. Whiting (hence the name of the library) and is known in the area for its unique brick design. It's reminiscent of Roman architecture with some hints of Revival as well, and the land was donated by a nearby town to house the library.
In addition, the library hosts a variety of events throughout the year for the public that you're welcome to join in on as well. You can learn more about Whiting Library's events here on their website for more up-to-date things.
Visit DaVallia Gallery & Boutique
Art fans should be sure to visit DaVallia Gallery & Boutique in Chester. For unique art pieces, DaVallia is the place to go, as they have a unique array of decor, art, and furniture throughout the shop, which will make your place feel very one-of-a-kind.
The shop itself is absolutely beautiful, even from the outside. It's bright red with big windows and a giant red barn door. The inside feels like an art piece itself, with the way that everything is arranged and set up throughout.
Paint Your Own Pottery at Endless Creations Pottery Studio
One of the most fun things to do in Chester VT is to go to Endless Creations Pottery Studio and make your own piece of art to take home! Their pottery painting activity is so much fun and they have a variety of pottery pieces to choose from depending on your budget. They also have tons of fun additions to the pottery pieces that can make them even more unique, like silk screens and bubble painting.
Not into painting pottery? Don't worry; they have tons of other unique activities besides painting pottery. For a more classic activity, consider going to a paint and sip. During these events, you can enjoy your favorite beverage and snacks while you paint with good company. What's more to love? You'll even be walked through exactly how to paint something so you can have a beautiful piece of art to bring home.
Find a New Read at Blair Books & More
Another great place for book lovers to go in Chester is Blair Books & More. This bookstore is lovable and has that classic, small-town bookshop vibe. What more could you possibly want?
This quaint shop is hard to miss with all its flags and bright lights on the exterior. It's an independently owned bookshop, so you'll be able to support a small business while you're there shopping. Inside, there's everything from books to cute knick-knacks that would make a perfect souvenir. Plus, they have a relatively great selection!
Have a Drink at Outer Limits Brewing
Though located in Proctorsville (which is only a short 15-minute drive from downtown Chester), Outer Limits Brewing is a great place to go for a drink and to catch up with friends for adults. This brewery was founded by a husband and wife team who found the location first and then decided to make a unique brewery for the area.
They have quite a few drinks on tap that always switch through throughout the year, ranging from Bavarian Helles Lager to Porters and everything in between. They also have unique names like Atmosbeer, Just Give Me the Wheat, and High Frequency. Not sure what to try? Don't worry; the staff loves helping out!
Of course they have a great selection of food too that pairs perfectly with any beer that you choose. There are wood-fired wings, pretzels, meat and cheese boards, and even pizza. For a unique pizza, try thee Vermonster, which features maple syrup – what's not to love?
Take a Day Trip to Bromley Mountain
Last but certainly not least is another short day trip from Chester, Bromley Mountain! Located in Peru, Bromley Mountain is one of the top places to visit in this area of the state. In winter, this is a great place to go for skiing and snowboarding fun while in the summer months, it completely transforms into a fun outdoor adventure with alpine slides and more.
The park is highly rated among families visiting the area, and it's known for being incredibly beautiful because it's in the Green Mountains. Children will love visiting here, and it's truly the perfect day trip from Chester, as it's only about a 30-minute drive from downtown.
When visiting Bromley, be sure to grab a map, no matter the season, so you can get a full understanding of all the fn activities that it has to offer without getting lost.
Well, there you have it; some of the best things to do in Chester VT. This small town is truly one you won't forget, and let's be honest, the small towns in New England are what make this area of the USA what it is! Don't forget to save this post and share it for later… and also enjoy your trip to Chester.
---
You might also like: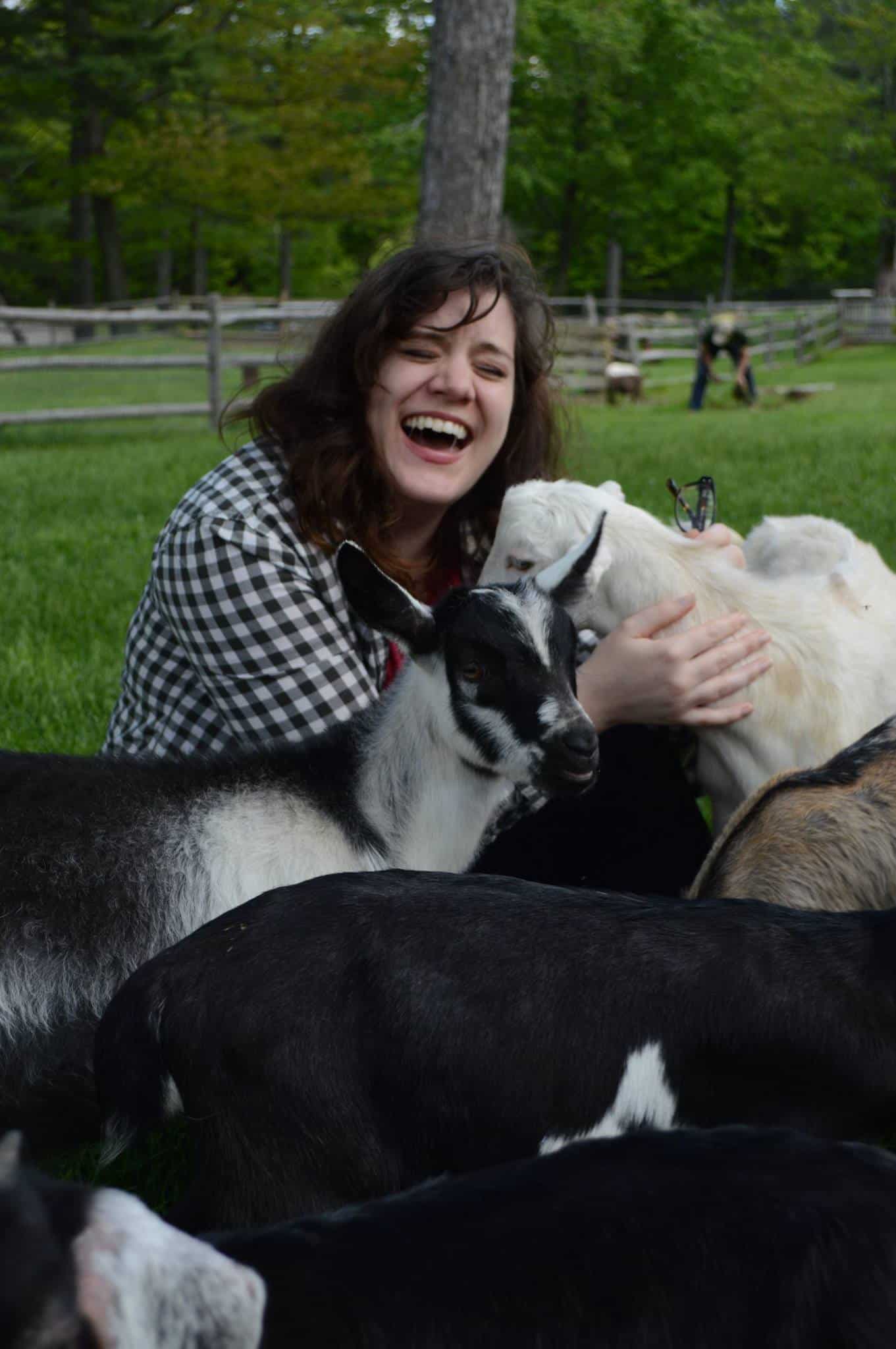 Amy Hartle is the founder and Editor-in-Chief of New England With Love, a comprehensive resource for travel in the New England region. Amy has been exploring New England since 2001. She lived in Vermont for many years and is a graduate of Plymouth State University in New Hampshire. Amy has been writing about travel for over a decade. On this site, Amy aims to share her love of New England and help you to have the best possible adventures!
Amy has been a full time blogger since 2012, and is also the publisher of Two Drifters, where she writes about couples travel and relationships, as well as Let's Adventure Baby, a family travel site. When not traveling the world or creating epic blog content, Amy can be found cuddling with her husband, son, and cats, & drinking a maple latte.