Wondering what to do this summer while in Vermont? You're in luck! One of the best ways to spend an evening (or even an entire weekend) is to go camping in Vermont at one of the best campgrounds in the state.
Going camping, especially in Vermont, is truly an experience unlike any other. It allows you to become one with nature while enjoying the state's true beauty. There's true peace and serenity with Vermont camping that will leave you with memories for years to come.
Here are all the best spots for camping in Vermont!
Smugglers' Notch State Park Campground
Looking for incredible camping in Vermont, look no further than Smuggler's Notch State Park Campground. It's one of the more well-known and popular campgrounds among locals in the area, and it's located in Stowe, which is truly such an ideal location to be situated in.
Because it's also one of Vermont's state parks, there's truly so much to do within the park. In addition to camping, you can go hiking, biking, exploring, and more. Plus, you'll have such an incredible view of Smuggler's Notch, which is the highest point of all the Green Mountains.
If you happen to stay at this park, be sure to take the time to go out and explore the surrounding area of Stowe. There's so much to do there that you're lucky enough to visit no matter what time of year, but especially in summer!
Grand Isle State Park
Camping in Grand Isle State Park is a great way to experience all Vermont offers. The park is the most-visited campground in the state, and for a good reason—it's located right along Lake Champlain with stunning views of the Green Mountains!
There are plenty of recreational opportunities available, including hiking, biking, fishing, and swimming. The park also has a playground, beach, and more. Campers can choose from various campsites, including lean-tos, RV spots, and more. There are also several cabins available for rent.
The park is located in Grand Isle, Vermont, and because it's a state park, it's absolutely massive. In fact, the state park covers just over two hundred acres of land, and there's tons of wildlife throughout. You just may see some unique birds or even deer during your stay!
Emerald Lake State Park
One of the absolute best spots for camping in Vermont is none other than Emerald Lake State Park. This is a popular place for those who live in the southern part of the state to camp at because it's a short drive from Brattleboro, Bennington, Manchester, and even Rutland and Killington.

On any given day in the summer, you can often find many people enjoying the lake at this park, located in Dorset. That's because the amenities are incredible. There are boat rentals, a beach, playground, lots of green space, restrooms, hiking trails, and more.
There are just over one hundred different spots to camp throughout the park. There are regular tent spots and tons of lean-tos, which are highly recommended if you definitely want to get up close with nature during your camping trip.
Limehurst Lake Campground
One of the lesser-known spots for camping in Vermont is Limehurt Lake Campground in Williamstown, Vermont! It's located right on a small lake and is perfect for a camping getaway in the summer, especially if boating is on your must-do list.
The amenities at this campground are incredible, and since it's a campground versus a state park like some of the other spots on this list, it's not nearly as busy. There's a game room, dog park, hiking trails, lake for fishing, pool, playground, and more throughout the campground. There are also fun weekend activities hosted throughout the year.
There are also a few different types of campground rentals. The most popular is the rustic cabin, but RV and tent sites are also if you'd rather camp a bit more traditionally. The cabins are also a bit more expensive versus an actual camp spot.
Woodford State Park
Woodford State Park is an incredible campground in Vermont that's also part of a state park just shy of four hundred acres. It's located right within Green Mountain National Forest, so it's absolutely beautiful everywhere that you look.
There are many types of camping spots in Woodford State Park, which is what makes it such a great place to stay. There are twenty lean-tos, four cabins, and seventy-six different tent or RV spots throughout the park too.
In addition to camping, there are tons of great things to do in Woodford State Park. There are hiking trails, picnic spots, and even nature programs. Plus, you can go horseshoeing, fishing, boating, swimming, and even paddleboarding.
Camping on the Battenkill
Another of the most well-known spots for camping in Vermont is none other than Camping on the Battenkill. As the name suggests, it's located right in Arlington, Vermont. It's a smaller campground, so it's very peaceful compared to some of the other campgrounds on this list.
Around forty acres of land make up this campground, so it's genuinely scenic and not dense. You'll have a bit of privacy no matter where your camp spot is located in the campground.
Throughout the campground, there are RV sites, tent sites, and lean-tos. Recently, the park has also added camper rentals which are perfect for either three adults or two adults with two children. No matter what you opt to stay in a while at Camping on the Battenkill, you'll truly enjoy your time.
New Discovery State Park
New Discovery State Park in Peacham, Vermont, may be one of the lesser-known camping spots, but that makes it even more worth visiting! It's within the boundaries of Groton State Park, so everywhere you look, lush trees surround you.
There are ample camping spots throughout the park, making it perfect for a camping trip. There are thirty-eight tent or RV spots, fifteen lean-tos, three remote tent spots along Osmore Pond, and four remote lean-tos. There are also eight horse camping sites, something super unique to this park in particular.
As you might imagine, because it's a state park, there are incredible things to do within the campground too. You can go swimming, boating, mountain biking, hiking, fishing, picnicking, and more. The park also hosts some nature programs throughout the year.
Molly Stark State Park
Almost everyone who grows up in Vermont is taught about Molly Stark, so it only makes sense that Molly Stark State Park is one of the best spots for camping in Vermont. It's located within Wilmington and covers roughly one hundred and fifty acres of land.
There are tons of fun activities within the park's boundaries, like spots to have a picnic, go mountain biking, and even play volleyball during the day. There's also a gorgeous hiking trail leading up to the top of Mount Olga, where there is a fire tower.
Even though there aren't as many camp spots at this park as there are at other campgrounds on this list, it's still perfect. There are twenty-three tent spots and eleven lean-tos. The season for this park is from late May to early October.
Quechee State Park
Quechee State Park is for sure one of the more popular spots for camping in Vermont. It's located in Hartford and includes the famous Quechee Gorge, one of the must-see natural attractions in Vermont.
If you want to explore many other places in Vermont, this can be an incredible spot to stay because of its location. There are forty-five different tent spots (that can also be used for RVs) and seven lean-tos for those who would prefer to rough it a little more during their camping trip.
Amenities are excellent at this park, making the campground experience even better. There are two restrooms that feature showers with hot and cold water. There aren't any hookups for RVs, but there is a sanitary dump station that those who stay at the park can use.
North Beach Campground
Last but not least is North Beach Campground in Burlington, Vermont! Obviously, this list wouldn't be complete without including at least one park within the Burlington area because it's one of the most popularly visited parts of the state.
Amenities are excellent at the campground, with picnic spots (including tables), bike paths, kayak rentals, a playground, pavilions, and even a BBQ grill. It's truly one of the top places to be during the summer, even though the beach and park are open year-round.
The campground has one hundred and thirty-five different sites. Each spot is excellent for either parking an RV or putting a tent up. No matter where in the campground you stay, you'll only be a short walk from the Burlington Greenway and Lake Champlain. No camp spot is a bad spot at North Beach Campground!
Hopefully, this post has taught you all about where to go camping in Vermont! Camping in this state is truly one of the most unforgettable experiences that you can have.
Have you been camping here before? Don't forget to save this post and share it for later!
---
You might also like: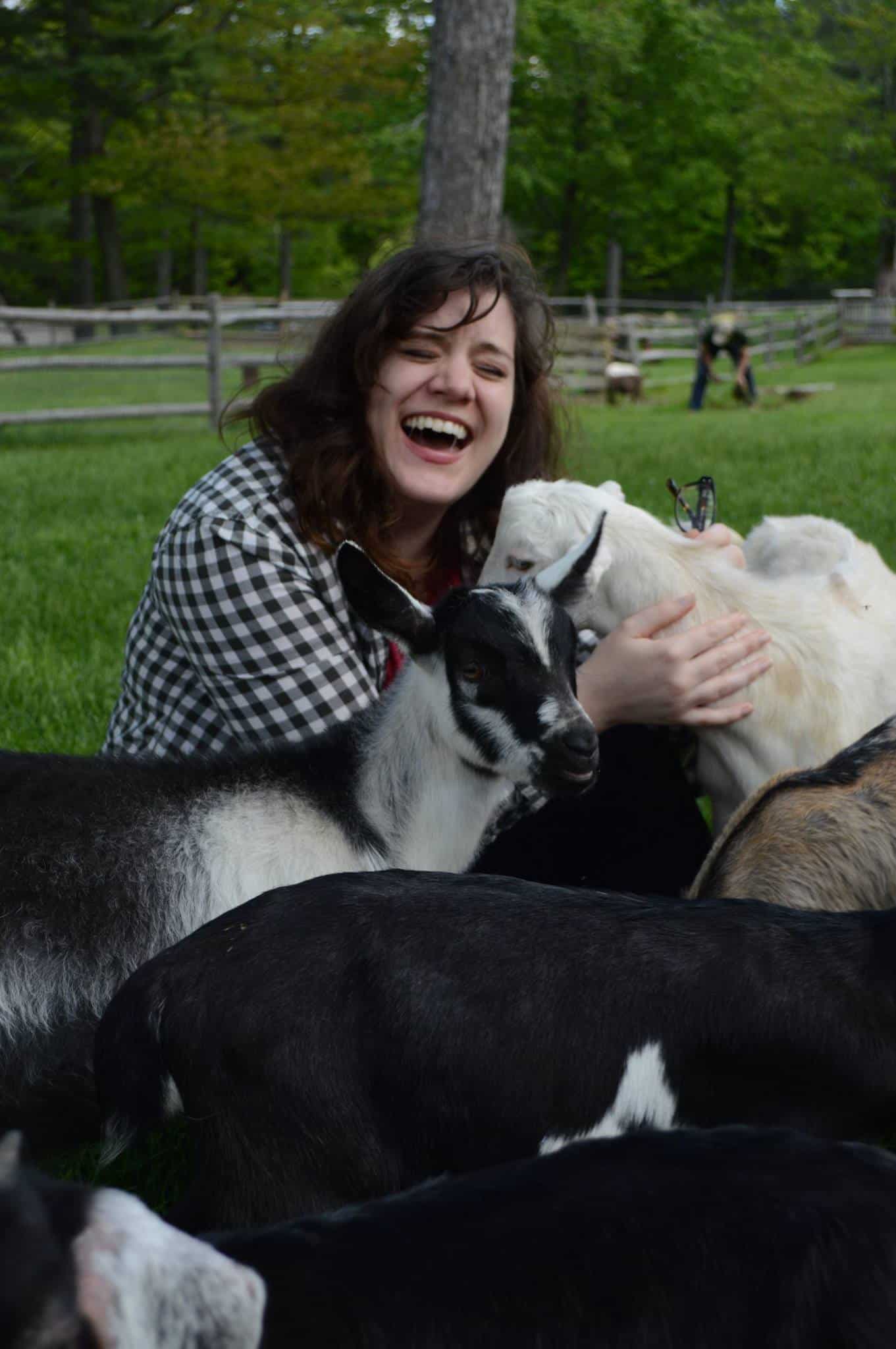 Amy Hartle is the founder and Editor-in-Chief of New England With Love, a comprehensive resource for travel in the New England region. Amy has been exploring New England since 2001. She lived in Vermont for many years and is a graduate of Plymouth State University in New Hampshire. On this site, Amy aims to share her love of New England and help you to have the best possible adventures!
Amy has been writing about travel for over a decade, and is a full time blogger, publishing both Two Drifters and Let's Adventure Baby. When not traveling the world or creating epic blog content, Amy can be found cuddling with her husband, son, and cats, & drinking a maple latte.