---
*Links in this article may be affiliate links, from which we may earn commission. See our
Privacy Policy
for full details.
---
Planning a Stowe, Vermont trip? While fall in Stowe is especially beautiful with its brilliant foliage and cooler temps, and winter with its perfect snowfalls, Stowe is wonderful year-round. And for visitors, there are so many things to do in Stowe VT. It is undoubtedly one of the best places to visit in New England.
Where is Stowe? You might not know why you recognize the name, or what it is famous for, but it's likely that Stowe is a vacation destination you've heard of.
Stowe is a special place to us personally. My first visit to Stowe was way back in 2001, when I traveled to Vermont with my family for the first time. It was January, and our goal was to play in the snow.
For this Florida-born 14-year-old, it was the first time I'd ever laid eyes on real snow! It was a magical experience, and it set off a chain of events that lead to my family moving to Vermont and settling here. So yeah. Stowe is so awesome that it caused my whole family to up and move to New England!
PS if you're looking for things to do in Stowe VT this weekend or what to do in Stowe today, take a look at this local events calendar to see what there is to do in Stowe during your visit.
When is the Best Time to Visit Stowe VT?
Well, that depends on what you want to do during your Stowe VT vacation! Stowe is a great all seasons vacation destination because there's fun to be found year round there, but there are two seasons in particular that are especially fun: fall and winter. Fall is gorgeous, with that fiery Vermont fall foliage everywhere you look, and winter is an absolute must for anyone who loves skiing, snowboarding, or just playing in the snow! Anytime of year, Stowe is worth a visit, so check out this list of the best things to do in Stowe Vermont!
Best Things to do in Stowe VT
Ride in a Hot Air Balloon
The best places to fly in a hot air balloon are scenic spots like the Stowe region. As you soar over the Green Mountains, you'll have a magical experience, shared with your favorite person. The Stoweflake Resort offers rides and hosts the exciting Stowe Balloon Festival every July and is perfect for anyone looking for what to do in Stowe VT in summer!
Hike to a Cascading Waterfall
Mountainous Stowe is an excellent destination for those who enjoy hiking. There are a range of trails that will suit various levels of experience. (Also check out our list of the best hikes in Vermont and these best hikes near Burlington, many of which are great things to do near Stowe VT).
The Long Trail, which traverses Vermont from north to south, runs across Mount Mansfield in Stowe. You can climb to the top of Mansfield via a few different trailheads, two of which are in Smuggler's Notch. Want awesome views? Stowe Pinnacle might be a good choice, taking approximately 90 minutes to reach the top. Sterling Pond is another great hike, bringing you to an elevated trout pond. In the autumn, it is fringed with yellows and reds, making this one of the best things to do in Stowe VT in fall. You can continue on the same trail to the summit of Spruce Peak.
But a short and romantic hike is one with a waterfall at the end, like these: Bingham Falls and Moss Glen Falls, both impressive and scenic, also are accessible via fairly short hikes. Enjoy the views or go for a dip during a hot Stowe VT summer!
For more detailed information, check out the Green Mountain Club–a great resource for information on hiking in Stowe.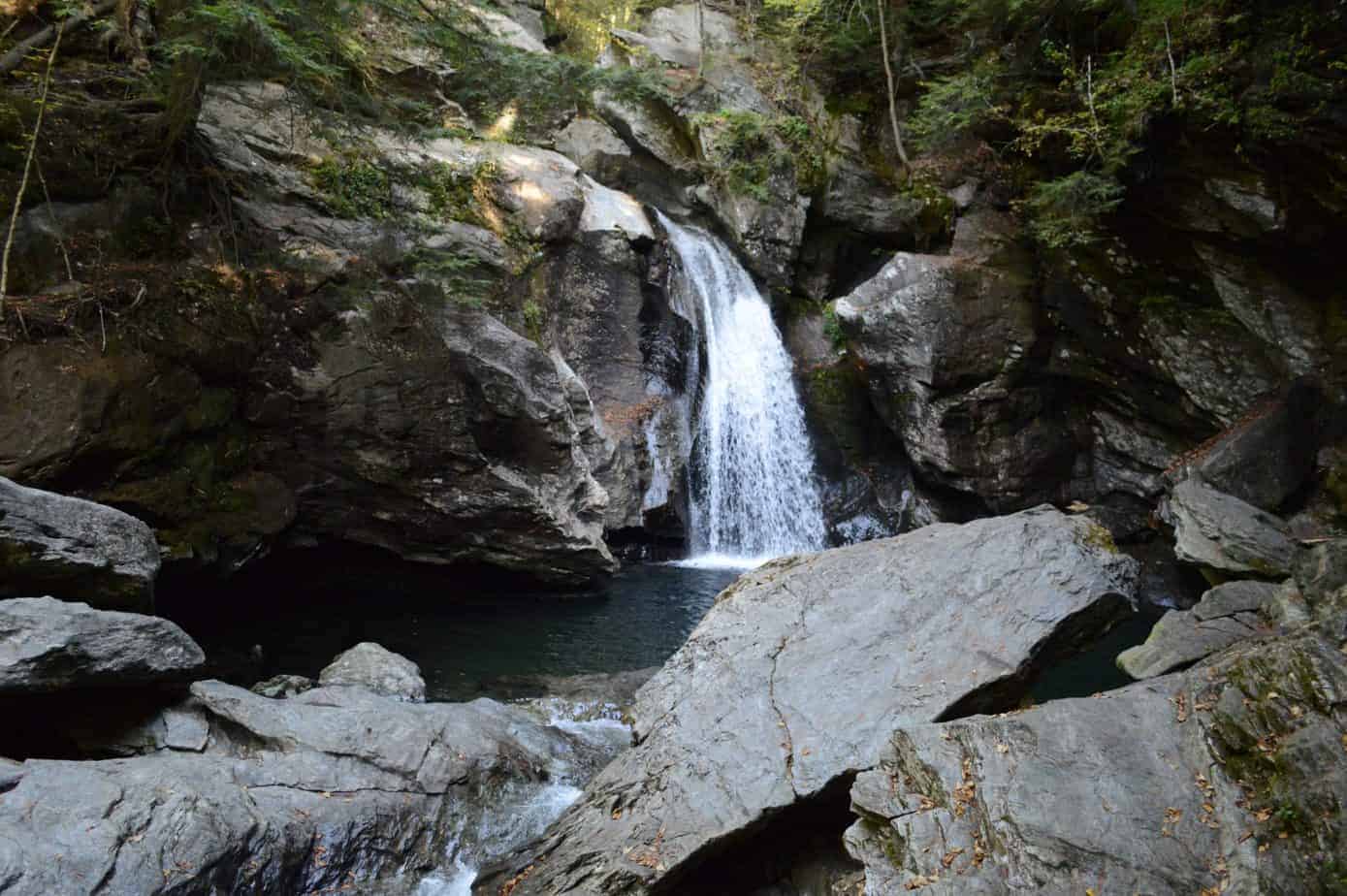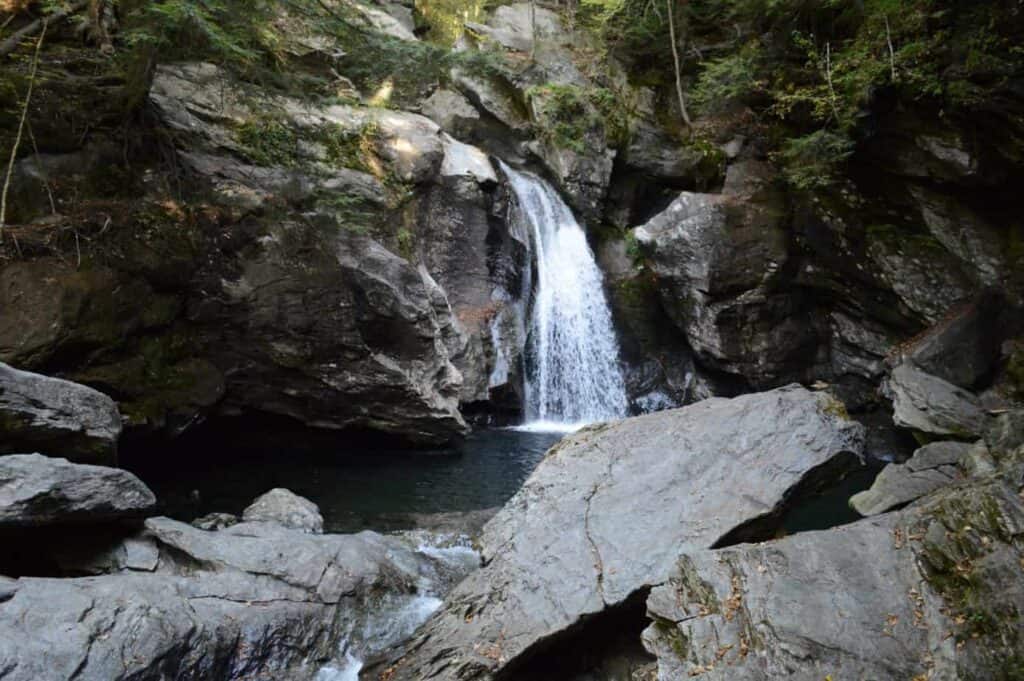 Indulge in a Spa Day
After one of those epic Stowe Vermont hikes, unwind with a massage or other spa treatment. Better yet, book an entire spa day or afternoon for two. The Stoweflake has an insanely awesome spa, with some 35,000 square feet of space and dozens of treatments available. You can easily spend blissful hours here, enjoying the steam rooms, sauna, jacuzzi, mineral baths, and quiet spaces. The highlight of the Stoweflake Spa is their Aqua Solarium, complete with a waterfall pool, which is modeled after the real Bingham Falls in the region. This rock-lined, warm-water pool allows you to sit underneath a 12-foot cascading waterfall which serves as a therapeutic massage for a tired neck and shoulders. Total serenity. If you're looking for what to do in Stowe Vermont in winter, add this to the list!
At the Stoweflake, you can book specific couples' treatments. A side-by-side massage is a romantic choice, or meet in the Aqua Solarium following your individual treatments. Consider an Apres Ski Massage to soothe your tired muscles is or, if you're after one of the signature treatments the luxuriant Vermont Maple Sugar Body Polish. Check here for up-to-date pricing and access info for Stoweflake guests and visitors, click here to check prices & book a room!
Take a Maple Sugar Tour
Looking for Stowe Vermont spring activities? Take a Maple Sugar Tour through Trapp Family Lodge to learn the old-fashioned art of sugaring!
Go Ice Skating Hand-in-Hand
When Vermont turns cold, the activities are still hot! There's so much to do in Stowe Vermont in the winter; known as one of the best ski resorts in the States, Stowe is awesome for those who like to hit the slopes.
Visitors can also have fun going ice skating. There's an indoor rink right in Stowe Village, or, even better, skate outdoors surrounded by an alpine-style village at the Stowe Mountain Resort.
Sample Vermont's Culinary Delights
Oh my goodness, there are some fantastic Stowe VT restaurants! While there is plenty to indulge in within Stowe itself, take time during your drive through the area along Route 100 between Waterbury and Stowe. Here you can let your inner foodie go wild.
First, you'll come across the Ben & Jerry's Ice Cream Factory. Head inside for a factory tour (breathe in deeply, the whole place smells like heaven), and snag some samples. Ben & Jerry's is such a Vermont staple, you really shouldn't miss it.
Next up is the Cabot Farmer's Store where you'll find the best cheese ever. Cabot Cheese is known for their phenomenal cheddar. In the store, you can sample this, plus about 20 other flavors. As if that wasn't enough, the store is stocked with all kinds of Vermont products: wine, beer, cider, jams, jellies, crackers, syrup, and more. Go ahead and buy your fill. When you're all cheesed out, go next door for some spirit tasting at the Smuggler's Notch Distillery and chocolate samples at Lake Champlain Chocolates.
Just a few minutes further down the road is the Cold Hollow Cider Mill, an amazing spot that I've enjoyed visiting for years. This is a destination for apple lovers. They make the best apple cider and even more amazing apple cider donuts. In recent years, they've expanded. Cold Hollow now offers hard cider (you can sample it right on the property) plus a tasty cafe called The Apple Core. And in the same building is tasting offered by Boyden Valley Winery (taste the Maple Creme). Truly, you won't even need lunch after this culinary road trip.
Finally, have an awesome beverage at the newly opened European-style coffee bar located at the Vermont Artisan Coffee & Tea Company. A maple latte is always a delicious choice.
In Stowe itself, head to the breweries and the cidery for more tasting! You'll find The Alchemist (home of the famous Heady Topper) here, plus Idletyme Brewing and Stowe Cider.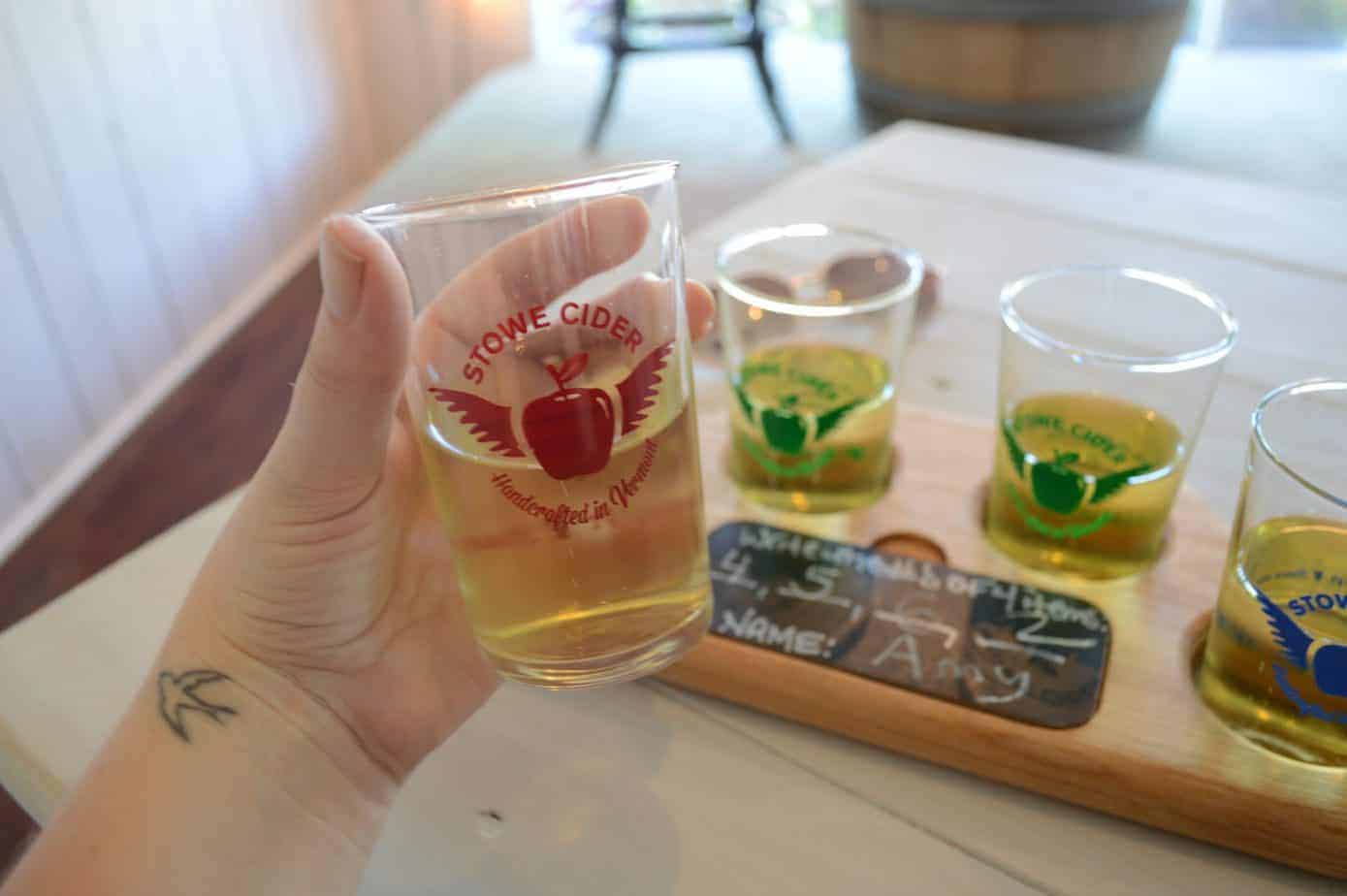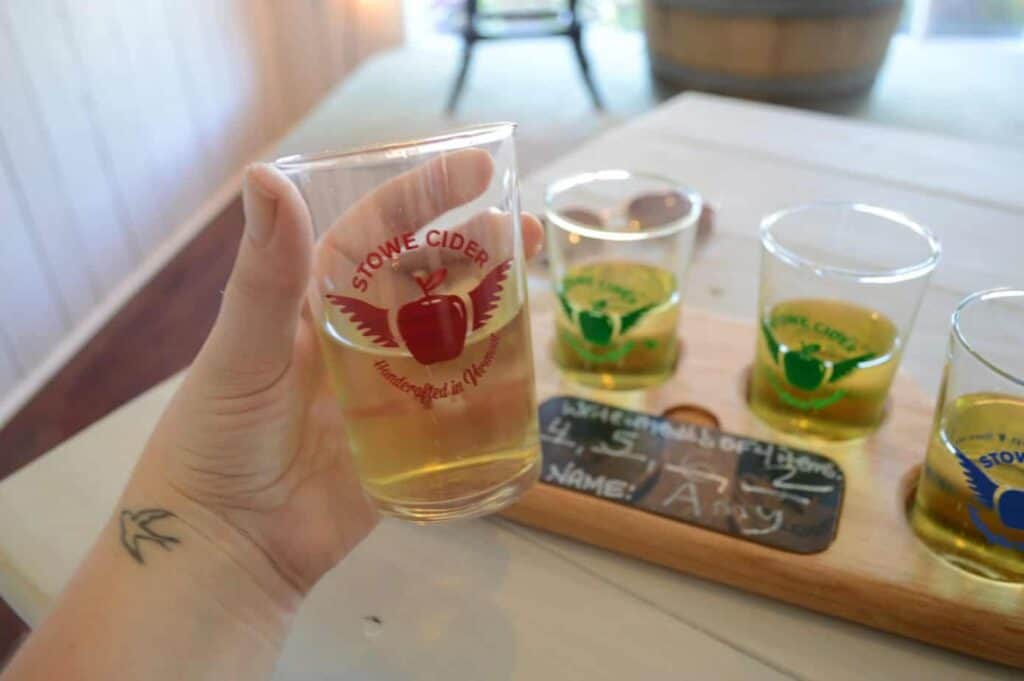 Hop On for a Horse & Carriage Ride (Or Sleigh Ride)
Romance is connected to a nostalgia for the past, for simpler times. Put away the electronics and enjoy nature on a horse-drawn carriage ride. In the winter in Stowe, these become sleighs, ferrying you across a snowy wonderland. Gentle Giants carriage and sleigh rides are located right on Mountain Road, just a few minutes from The Stoweflake, and are open seven days a week throughout the year; when it comes to things to do in Stowe in winter, can it possibly get more romantic than a horse-drawn sleigh ride?
Take in the Views from the Trapp Family Lodge
The von Trapp family (whose story was told–and expanded upon–in the film The Sound of Music) settled in Stowe, Vermont in the 1940s. They opened a guest house to welcome visitors, and the Trapp Family Lodge was born. Today, this is an Austrian-inspired property that has gorgeous views overlooking Stowe.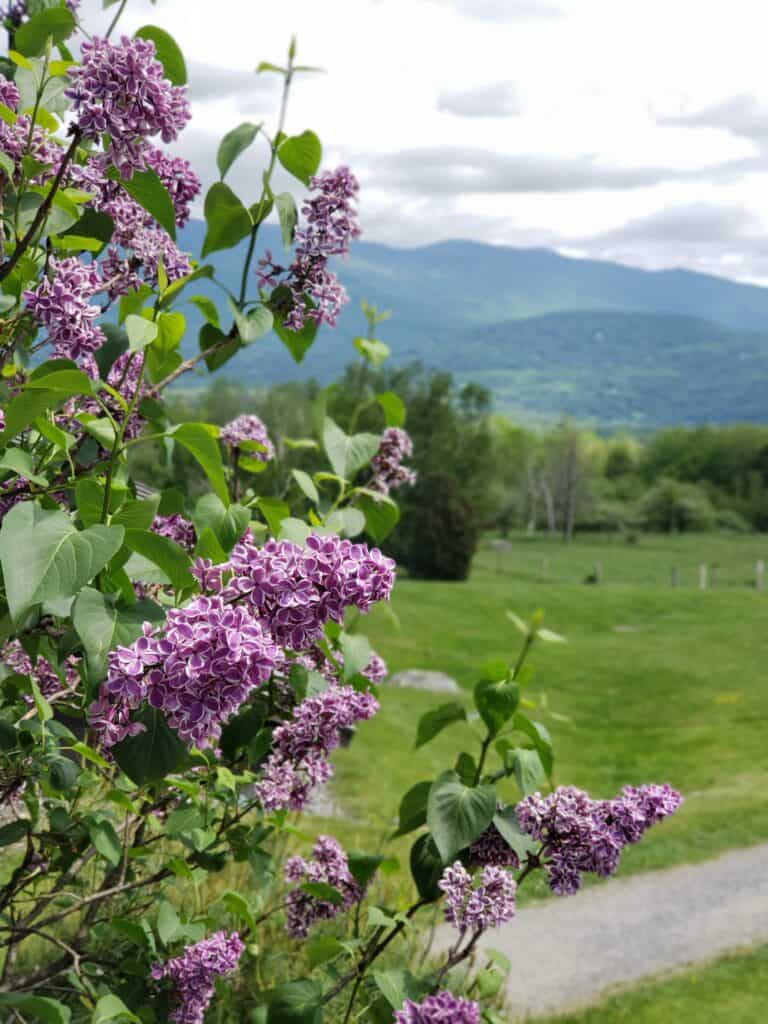 It's worth a visit to take in the scenery (or do some cross-country skiing in the snowy season), but the property also boasts a brewery and bierhall where you can enjoy lagers, ales, and other European-styled brews and Austrian-inspired food. Toast your darling as you soak in the lovely views and delicious beverages; Trapp Family Lodge is also in the running for the best place to stay in Stowe Vermont!
Sail Away on a Fall Foliage Boat Ride
If you're coming to Vermont for its striking fall foliage, prepare for some slightly crowded roads. VT welcomes many "leaf peepers" each season, and traffic often moves a bit slowly as a result. We have a better way for you to enjoy the vibrant leaves–with a fall foliage boat ride. Local fishing guides and suppliers The Fly Rod Shop offer an innovative fall activity.
Hidden away in the region is a stunning man-made lake known as Waterbury Reservoir. Here is where you'll experience the foliage at its best. Away from the chaos of the roadways, your scenic boat tour brings you through a peaceful and quiet lake.
In the fall, there are very few people on the reservoir, lending the experience an intimate touch. It feels as though you're exploring your own private lake. As for romantic things to do in Stowe, VT, this definitely qualifies. (Our guide told us that a few couples have even gotten engaged on the tour!) Plus, it's just a cool way to experience fall in Stowe Vermont!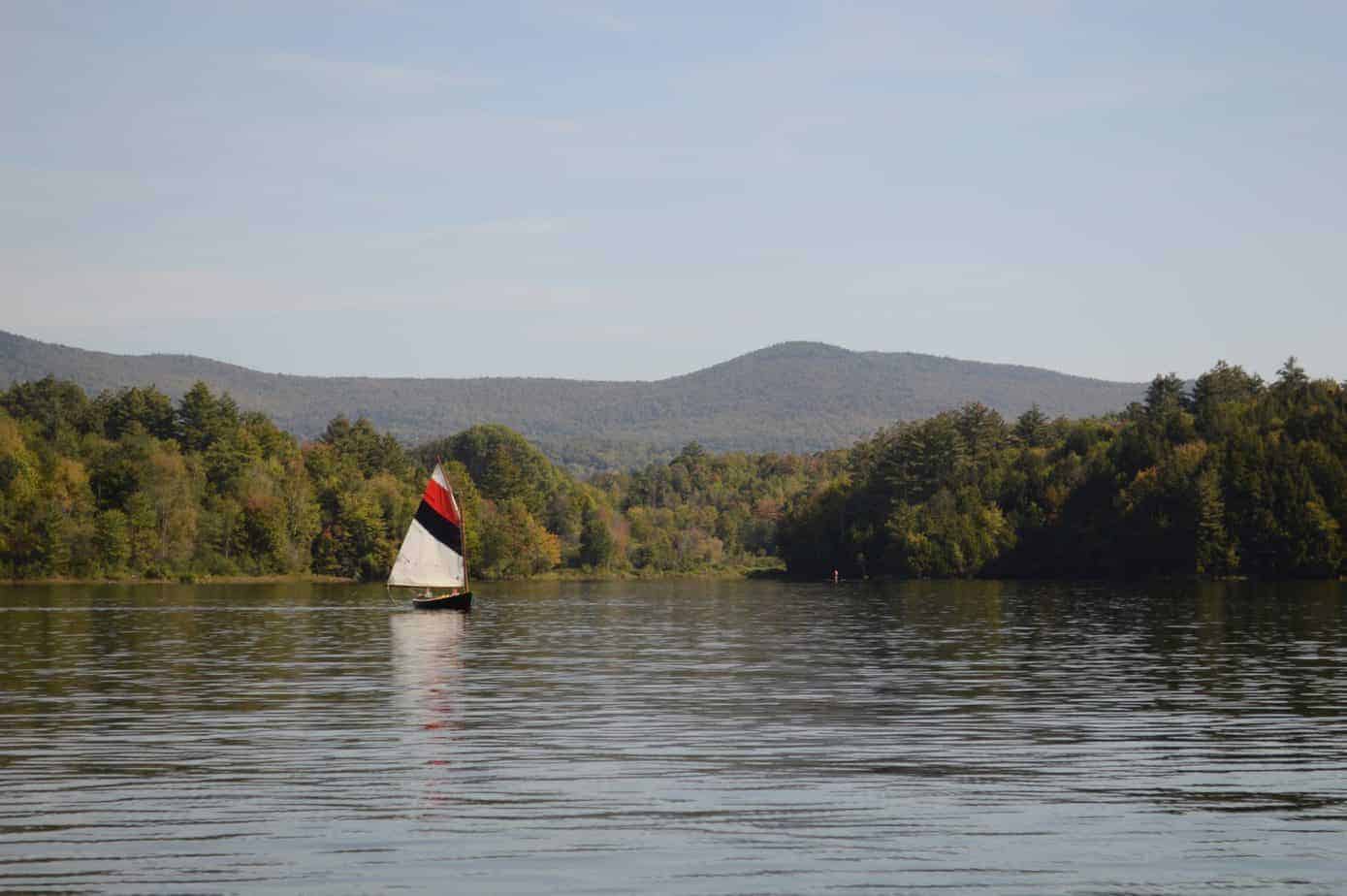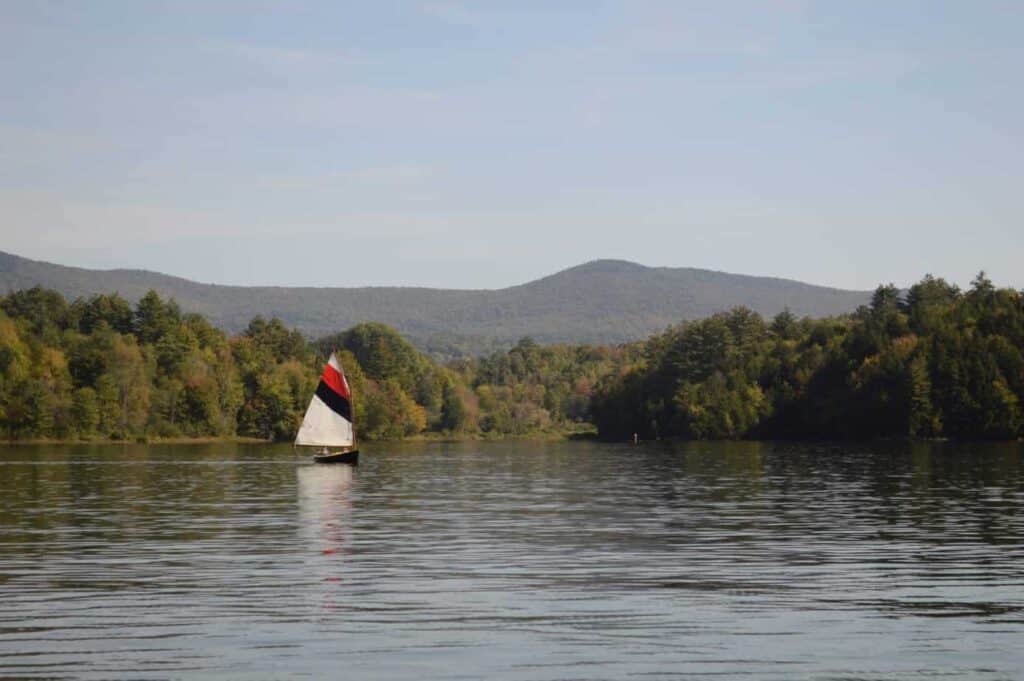 Your guide takes you out on the water in a small boat (about 7-8 maximum guest capacity) and brings you on a journey around the lake. It's a surprisingly large body of water. When fall is at its most brilliant, the views will be remarkable. And with the reflection of the trees off of the calm waters, you're going to capture amazing photos, too.
On our recent visit to Stowe, we were lucky enough to take one of these boat rides. Unfortunately, the leaves weren't quite at their peak. This means that there are still a few weeks to head up to Stowe and take the foliage tour! When Stowe peak foliage strikes, it's bound to be awe-inspiring.
For more details on the fall foliage tour, or guided fishing trips with The Fly Rod Shop: Fall Foliage Scenic Boat Charters.
Ride to the Top of Mount Mansfield… then Zipline Down
You don't have to hike to catch supreme views. Mount Mansfield (Vermont's highest peak and home to Stowe Mountain Resort) takes visitors to the top via a Stowe gondola ride. In just a few minutes, you can be at a height of 4,393′ and look out over the valley.
The bright red cars of the Stowe gondola stand out against the slopes, which are green in summer, multicolored in the fall, and white in winter. If you're not skiing down one of Mansfield's many trails, you can ride the gondola back to the bottom. As of 2017, the gondola costs $28 per person for adults.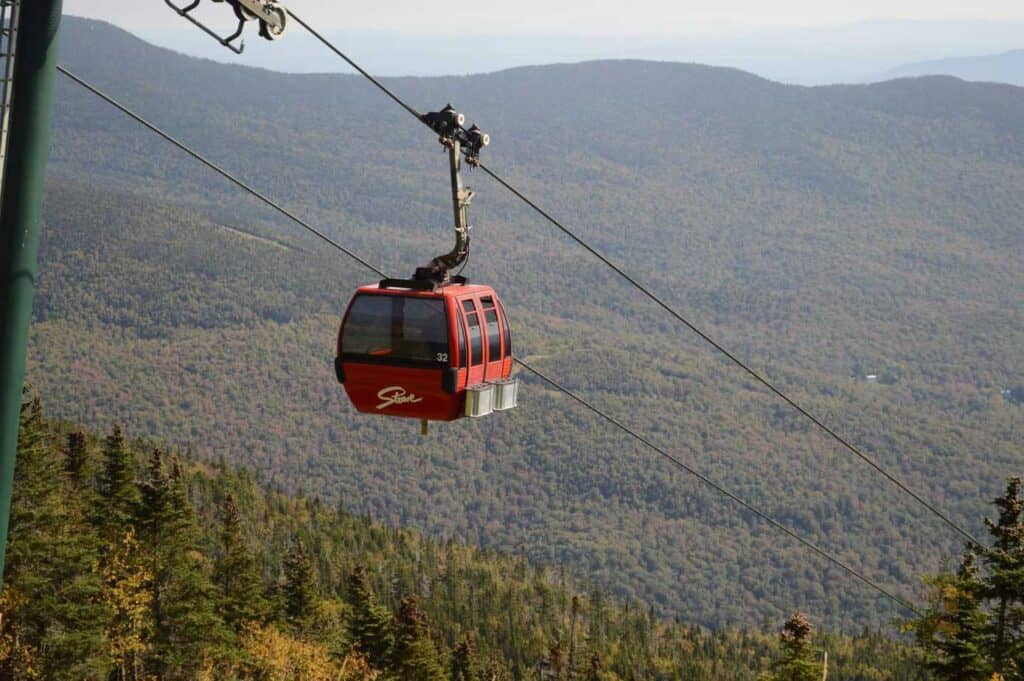 Feeling adventurous? There's an amazing zipline that will zoom you down the mountain. For a couple's activity, you can go side-by-side. It's certainly much easier to fly through the air when your loved one is on the neighboring line!
There are three zipline spans, altogether totaling just under two miles of line. That makes the Stowe ZipTour® the second-longest zip line tour in the United States. This could definitely be a fantastic activity in Stowe Vermont in the fall!
Wanna try it? Info on ziplining here.
Check Out the Stowe Arts and Culture
If you're looking for a Stowe museum to check out, you've got it! There is plenty of arts and culture to explore, both in downtown Stowe and the surrounding area. Check out the Stowe events calendar to see what's happening around Stowe during your visit and what Stowe Vermont tourist attractions are hosting neat events; you just never know in Stowe!
Stay at Topnotch Resort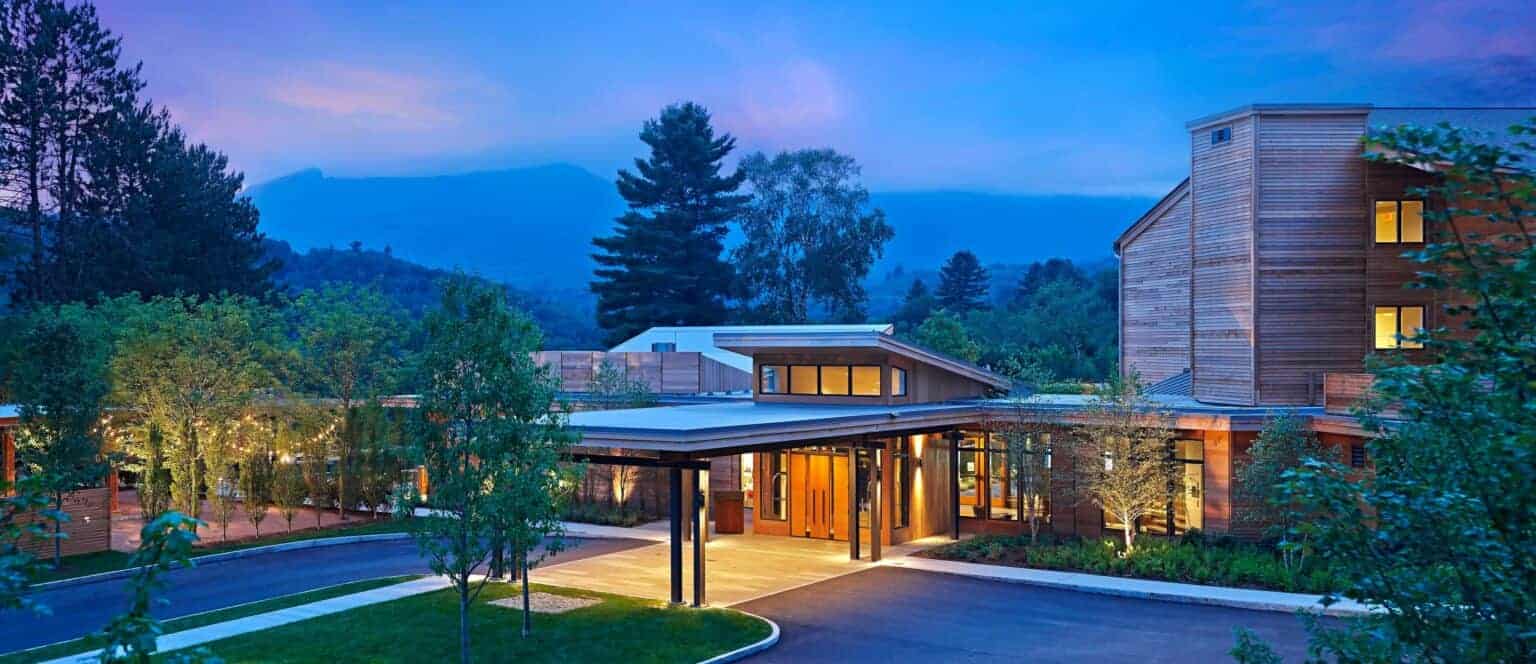 One of the best Stowe Vermont resorts, Topnotch Resort is a 4-star luxury resort and spa for anyone looking for a little extra pampering in their Stowe vacation. With indoor and outdoor pools, an indoor hot tub with cascading waterfall, and one of the best restaurants Stowe Vermont has to offer, is it any surprise that this is one of the best hotels in Stowe Vermont?
Click Here to Check Prices & Book!
Take a Snowshoe or Snowmobile Tour
Winter in Stowe is quiet, still, and romantic. Adventuring in the wilderness together is a great way to strengthen your bond (followed by some fireside snuggling). There are so many fun Stowe Vermont things to do in winter!
Snowshoeing and snowmobiling are popular, or you can also go for a dog-sledding adventure. What a dream!
Ski Your Heart Out
Of course, ski enthusiasts will love Stowe for a very specific reason: excellent powder! Whether you ski or snowboard, Stowe Mountain Resort offers some top slopes. It's been called one of America's best ski towns with good reason. If you've never tried winter sports before, it could also be a great place to take a lesson or two. Why not?
Non-skiers can choose plenty of other winter activities, or even head out for a bit of sledding. Got kids? They'll love Stowe, as it's an ideal place for a family vacation in New England.
No kids? No problem! Recapture your own childhood with some old-fashioned fun. Pro tip: there's an excellent sledding hill behind the elementary school in the village. Grab a sled at a downtown shop and head over for the fun.
Stroll Through Stowe Village
Downtown Stowe VT is postcard-perfect. The tiny Main Street is exceedingly charming, with the white-steepled church as its focal point. A romantic Stowe getaway would not be complete without some time spent walking hand-in-hand through the village. There are several downtown Stowe shops to check out like Shaw's General Store for a foray into the past, Bear Pond Books for reading material, and so many more great Stowe Vermont shops.
Stowe is clearly one of the best places to visit in Vermont, and these are just a few of the best things to do in Stowe Vermont! Beautiful in all seasons, Stowe is one of those towns we'll keep returning to again and again, and we hope you'll visit, too. Whether you're looking for Stowe family vacations or a romantic getaway, we're pretty sure you'll fall in love.
---
Have you been to Stowe? Tell us what you think of this charming Vermont town!
---
Read these next:
---
Pin this post to save for later!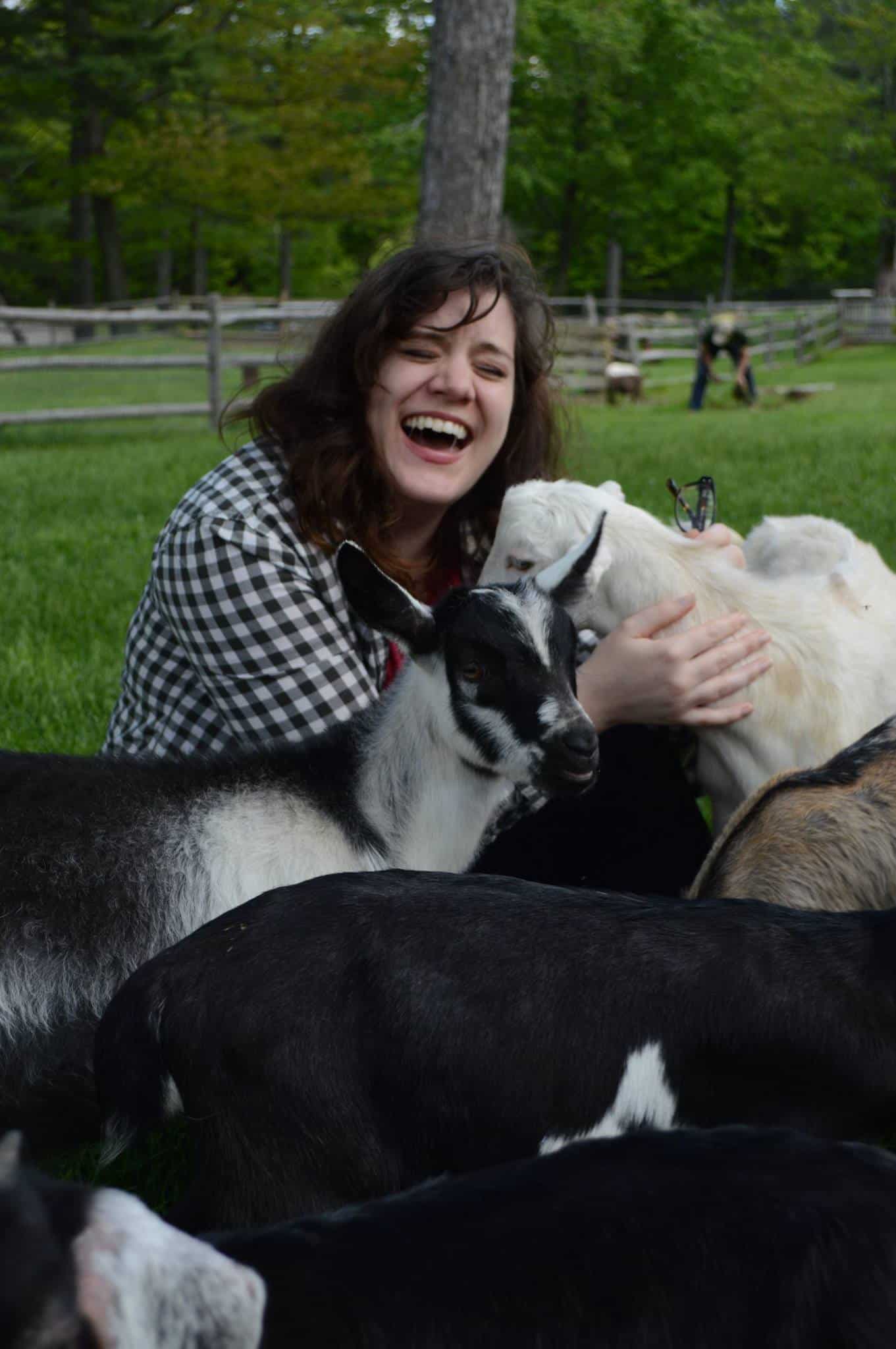 Amy is the founder of New England with love. A proud Vermonter, she hopes to share her love of New England and help you find the best adventures in the region. Amy is also blogger/founder at Two Drifters, where she writes alongside her husband about romantic and couples travel, relationships, honeymoons, and more. When not working on websites, Amy is probably reading, cuddling with her husband, son, and cats, & drinking a maple latte.