---
*Links in this article may be affiliate links, from which we may earn commission. See our
Privacy Policy
for full details.
---
Stowe is the first place I visited when I traveled to Vermont, and it has remained among my all time favorite spots. Gorgeous scenery, quaint, historic charm. Without a doubt, there are so many fantastic things to do in Stowe, Vermont, in every season.
You've probably heard of Stowe. Home to one of the world's oldest ski resorts, Stowe is world renowned as a winter playground, but it's also beloved for its striking fall foliage, excellent hiking, and classic New England essence.
Stowe frequently tops lists for the best places to visit in Vermont (as well as all of New England) and is absolutely an essential stop on any New England road trip.
Ready to plan your adventure to Stowe? Keep reading!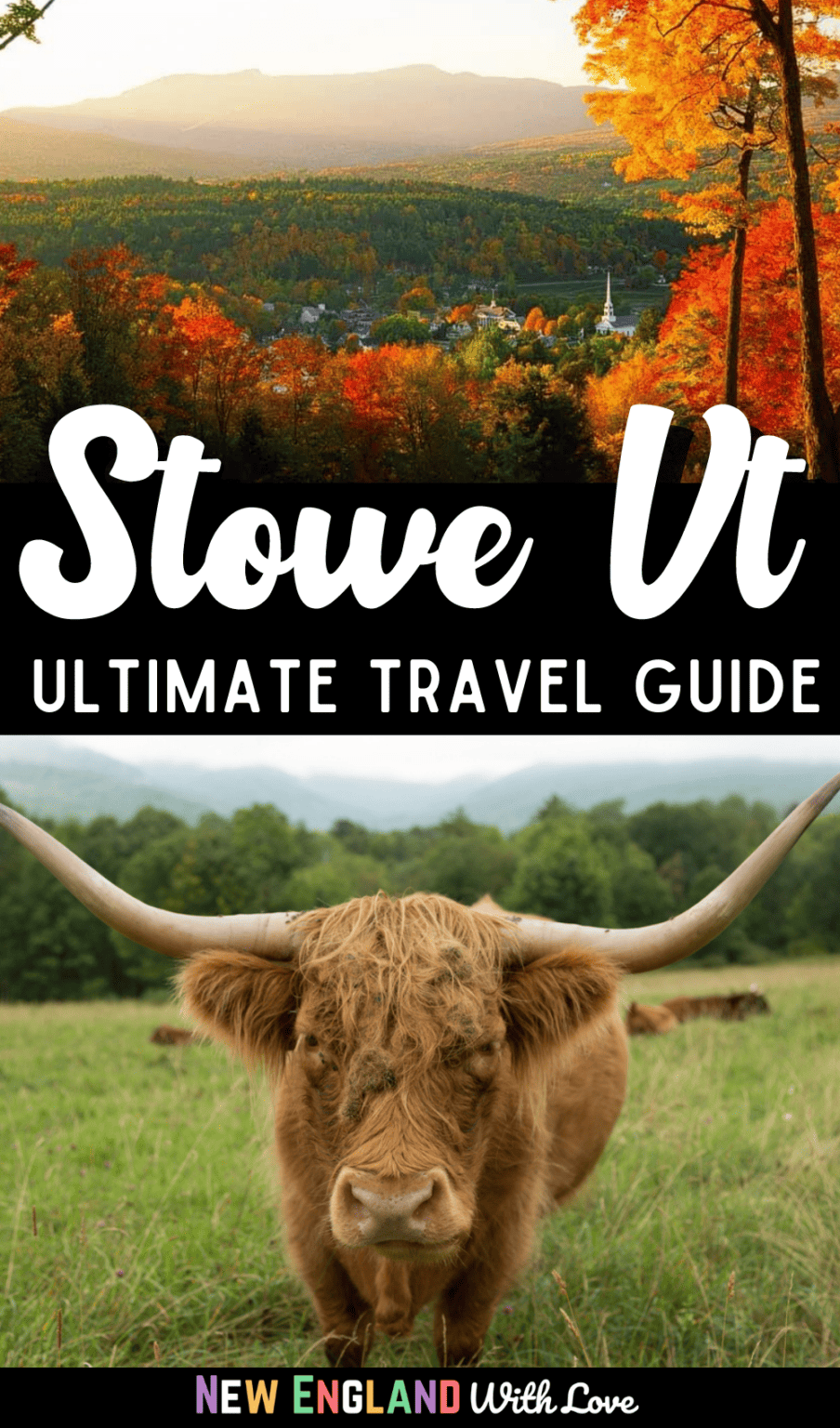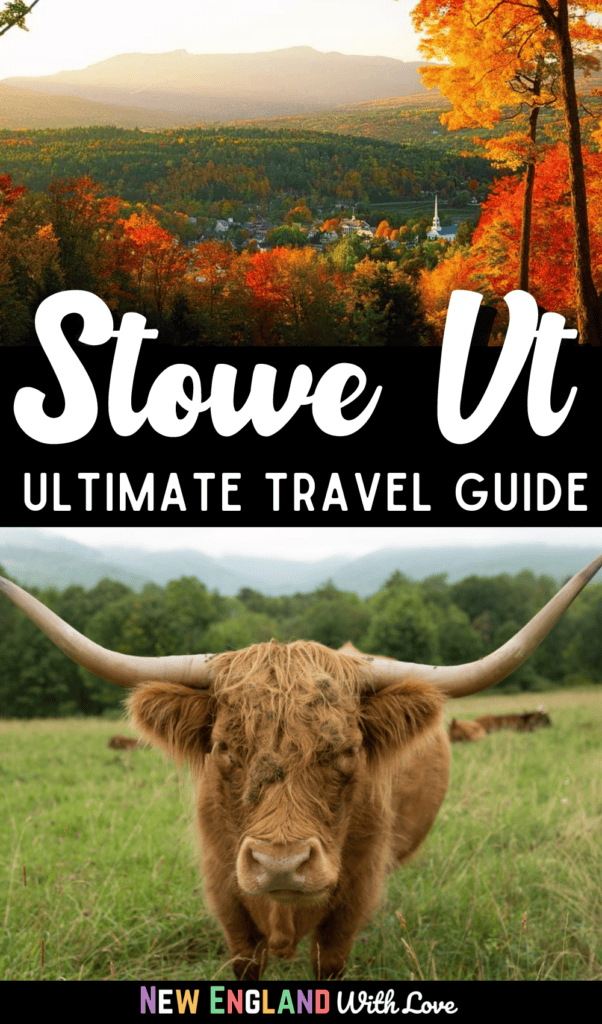 Visiting Stowe Vermont: A Quick Travel Guide
When is the Best Time to Visit Stowe VT?
Wondering when to visit this charming Northern Vermont town?
If you're trying to decide the best time to go to Stowe, it depends largely on what you want to do during your vacation! Stowe is a great all seasons vacation destination because there's fun to be found year round there, but there are two seasons in particular that are especially iconic: fall and winter.
Fall is gorgeous, with that fiery Vermont fall foliage everywhere you look, and winter is an absolute must for anyone who loves skiing, snowboarding, or just playing in the snow!
But bear in mind that those seasons are also hugely popular with travelers, so the Stowe area will be busier and more crowded at those times.
You might also want to consider exploring Stowe in summer, especially if you're coming to Stowe for its awesome hiking trails.
The lush Green Mountains never look so good as in June, July, and August, and there are tons of wonderful activities on the local calendar.
And what about spring? Though spring is typically mud season in Vermont, visitors to Stowe will find that the hotel rates are reduced, the crowds are nonexistent, and Stowe still retains that special charm and beauty it is known for.
Anytime of year, Stowe is worth a visit.
Read Next: The Best Time to Visit Vermont
What is the best time to see fall foliage in Stowe Vermont?
Should you opt to visit Vermont in the fall, Stowe is an outstanding destination for your trip. But when to come?
While it can be difficult to predict the exact dates of peak fall foliage in Vermont, predictions each year are very close, and even if you miss the official "peak" of fall color, you're still going to see some glorious hues.
Go Stowe, the town's official tourism organization, shares that early September through mid-October is the ideal time to plan your trip to Stowe. I agree with this and would add that the best colors tend to be in late September and early October. But as always, this is weather dependent.
How many days do you need in Stowe?
You could spend months in Stowe and the surrounding area and still have more to explore. But for most visitors, 3 days is probably ample time to experience the best of the region.
If you're staying in Burlington, VT, you can also make a great day trip to Stowe. It's approximately a 45 minute drive from Burlington to Stowe and you can absolutely condense the attractions into a day trip.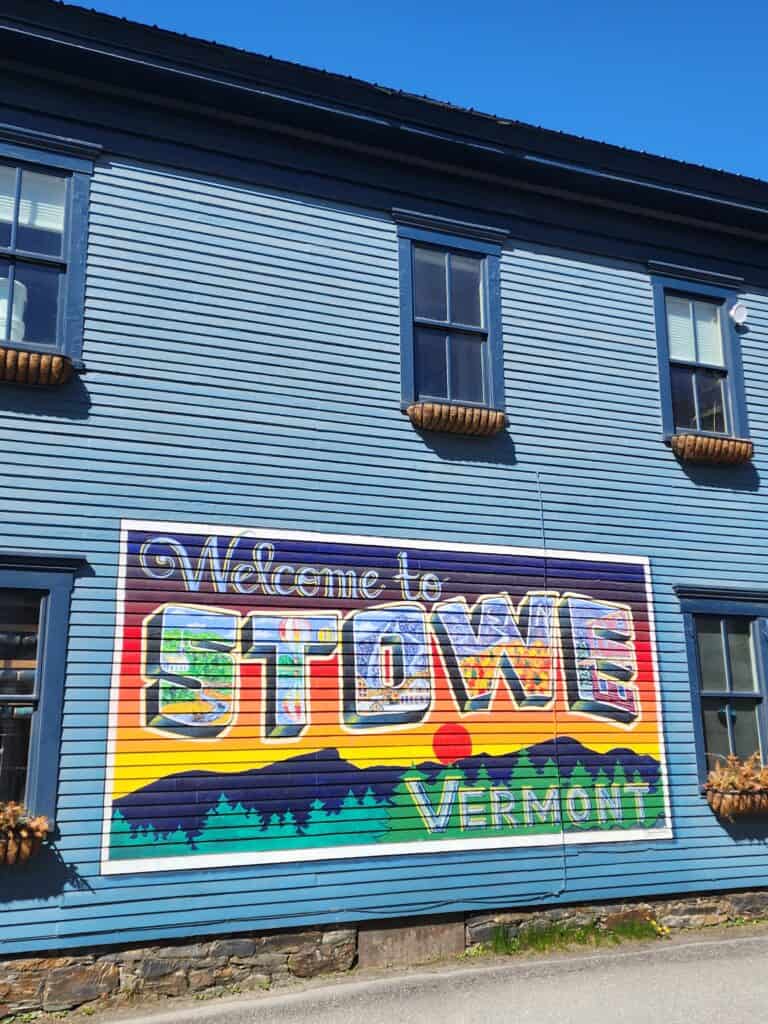 How to Get to Stowe Vermont
Stowe, Vermont is best reached by car, either coming via road trip or in a rental car from the nearest airport.
Psst: Find the best deal on rental cars here.
The closest airport will be in Burlington, approximately 36 miles from Stowe (a 45-minute drive). Several airlines service this small airport, and rental cars are available here as well.
You could also opt to fly into the Manchester, New Hampshire airport and Boston Logan. These are 149 miles (2 hours 20 min) and 200 miles (3 hours 7 minutes), respectively.
Getting Around Stowe
While you can find transportation from Burlington to Stowe without much trouble using a taxi or shuttle service, you will need a car to get around Stowe easily. Uber/Lyft and other taxi services are limited here (though they do exist). The town is also quite walkable and bike-able in many places. Overall, I do recommend having a car during your visit to Stowe.
Where to Stay in Stowe Vermont
I've got a whole detailed list of where to stay in Stowe that you will want to check out, but for a quick overview, here are four excellent places to stay in Stowe.
20 Best Things to Do in Stowe Vermont
Finally, let's dive into the meat of this travel guide. These 20 fun things to do in Stowe VT must be on your itinerary!
Stroll Through Stowe Village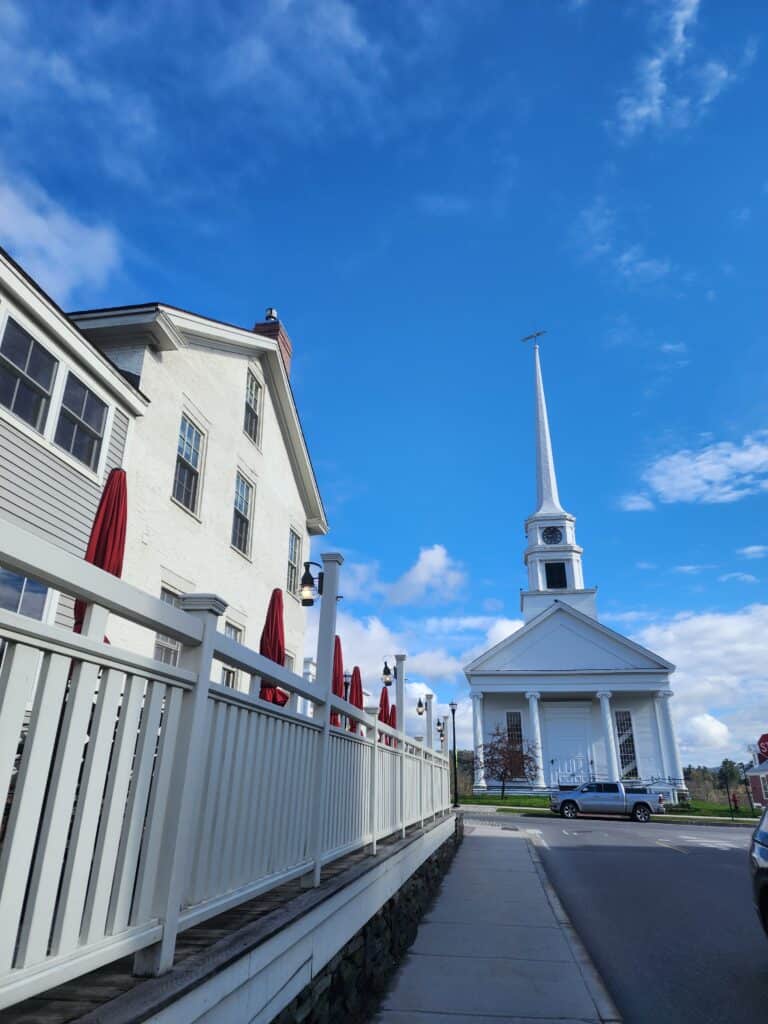 You can't visit Stowe and not spend some time in the downtown village.
Downtown Stowe VT is postcard-perfect. The tiny Main Street is exceedingly charming, with the white-steepled church as its focal point.
Stowe was first chartered as a town way back in 1763, though settling didn't really begin until the 1790s. Many of Stowe's oldest homes (early 1800s) can be found in this downtown area, as well as several historic buildings.
The Vermont Ski & Snowboard Museum (an interesting attraction in its own right) is houses in the old Stowe Town Meeting House. Built in 1818, this is the oldest active public building in Stowe and was originally located where the Stowe Community Church Stands today.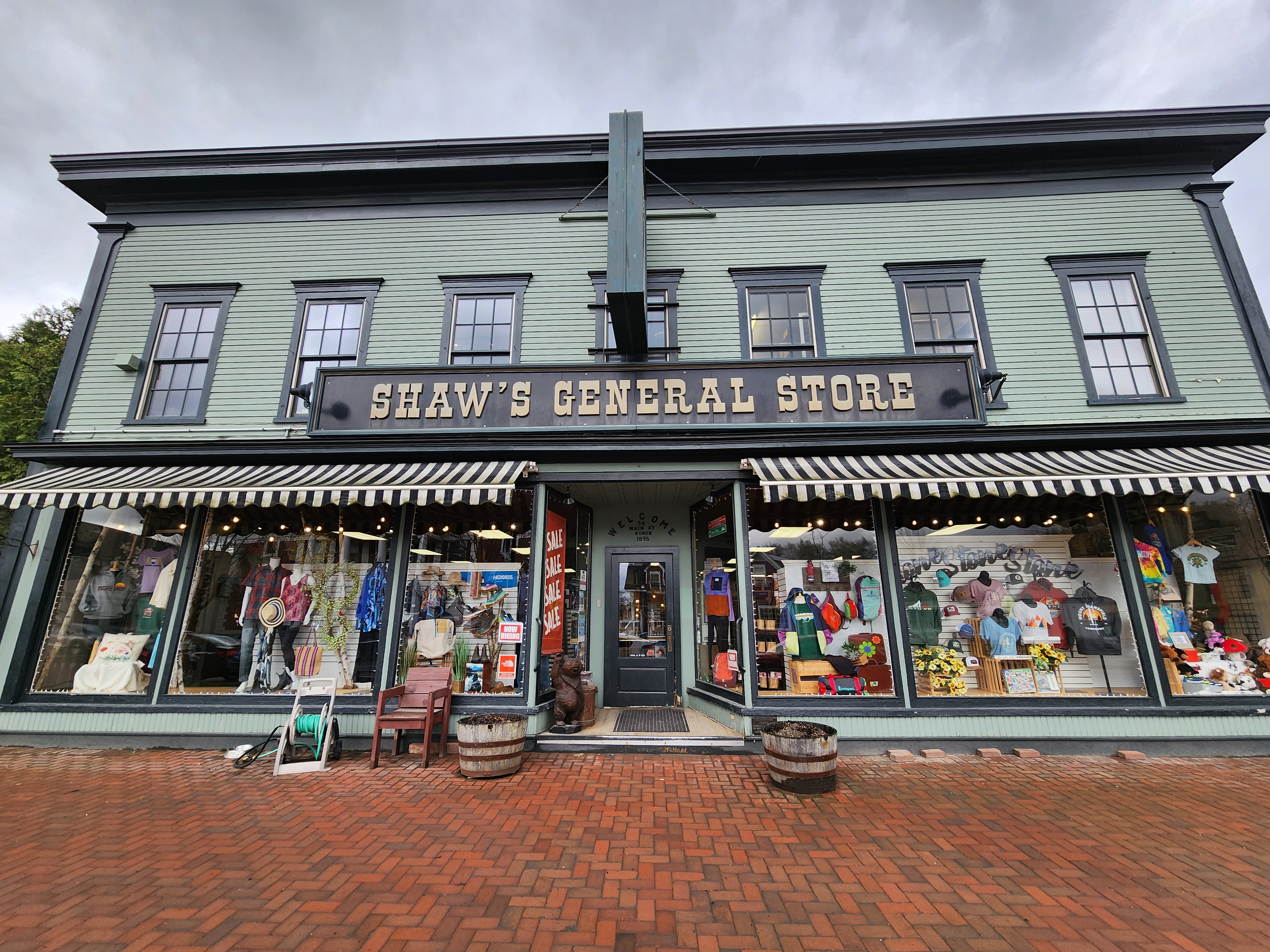 As you step back into history, there are also several downtown Stowe shops & restaurants you need to browse, such as Shaw's General Store, Stowe Mercantile, Laughing Moon Chocolates, and Black Cap Coffee & Bakery.
Read Next: 13 Best Restaurants in Stowe Vermont + Nearby
Bike or walk the Stowe Recreation Path
Just off of Main Street, behind the Stowe Community Church, you will find the Stowe Recreation Path, a 5.3 mile greenway that stretches throughout the town.
Main Street isn't the only spot to access the paved path; there are several points to do so along its route, which winds from Stowe Village up to Topnotch Resort on the Mountain Road.
This scenic greenway is an ideal spot for doing some biking in Stowe, (rent bikes from Ranch Camp just up the road) or even just going for a pleasant walk. Leashed dogs are allowed on the rec path, and the path is even maintained in winter, so it can be enjoyed in all four seasons.
Seek out Emily's Bridge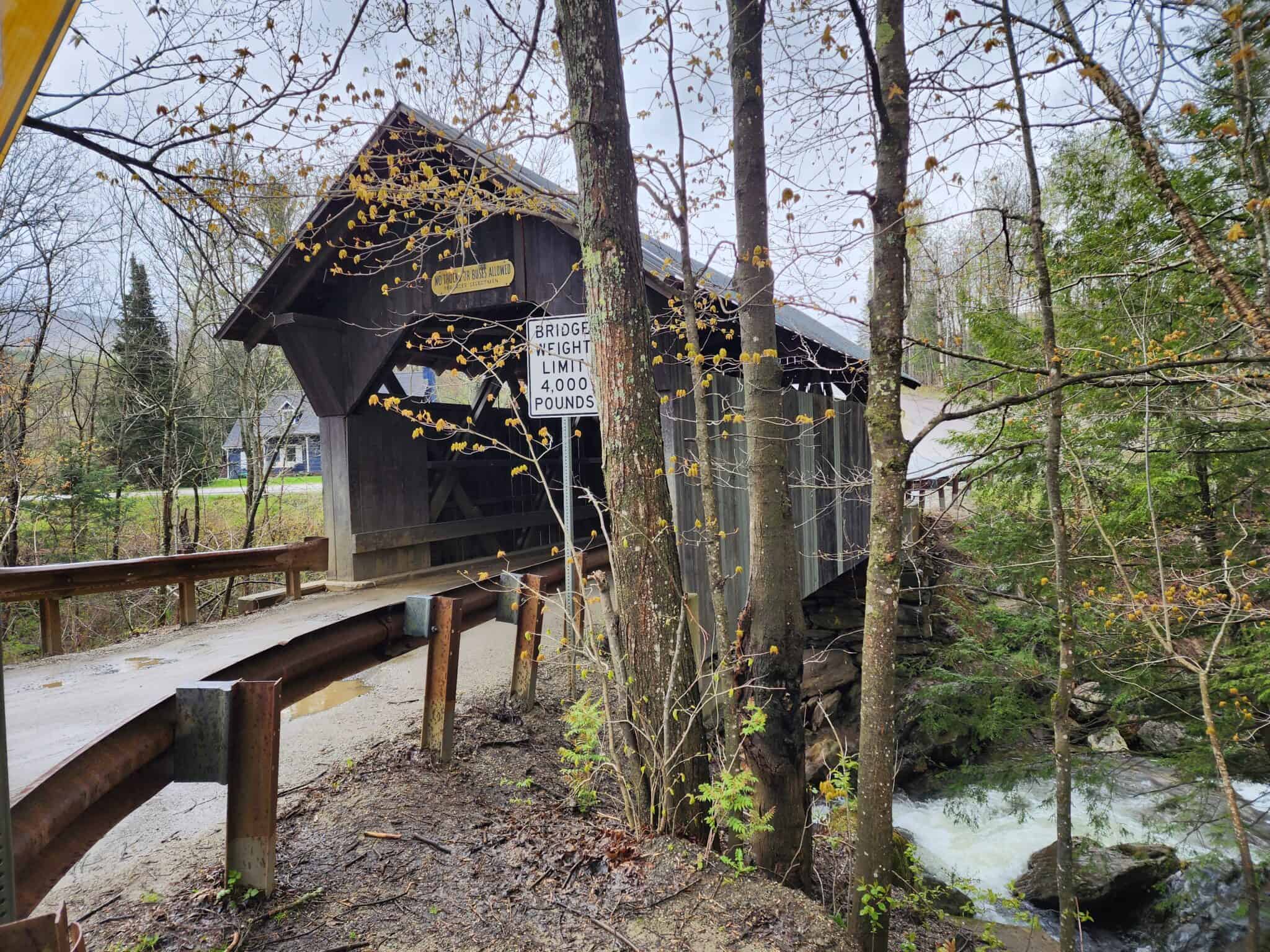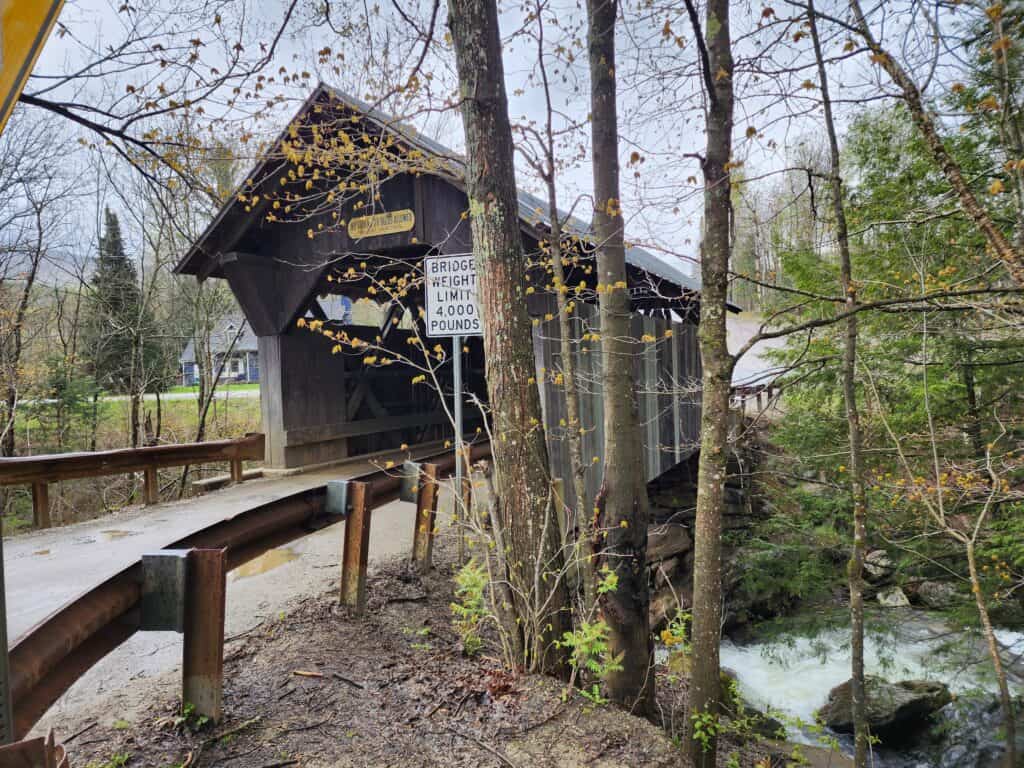 Among the many interesting covered bridges in Vermont is Emily's Bridge, also known as Gold Brook Covered Bridge, or Stowe Hollow Bridge.
This bridge in 1844 is otherwise unremarkable, but for the haunting legend that surrounds it.
According to tales, jilted lover Emily took her life at this bridge after her paramour failed to show. Today, it is believed her spirit may haunt the bridge.
Reports of supernatural activity have been reported with anecdotes circulating that include lights flashing, claw marks appearing along the sides of cars passing over the bridge, and more.
It's worth checking out for yourself to see if you feel any spooky vibes!
Ride in a Hot Air Balloon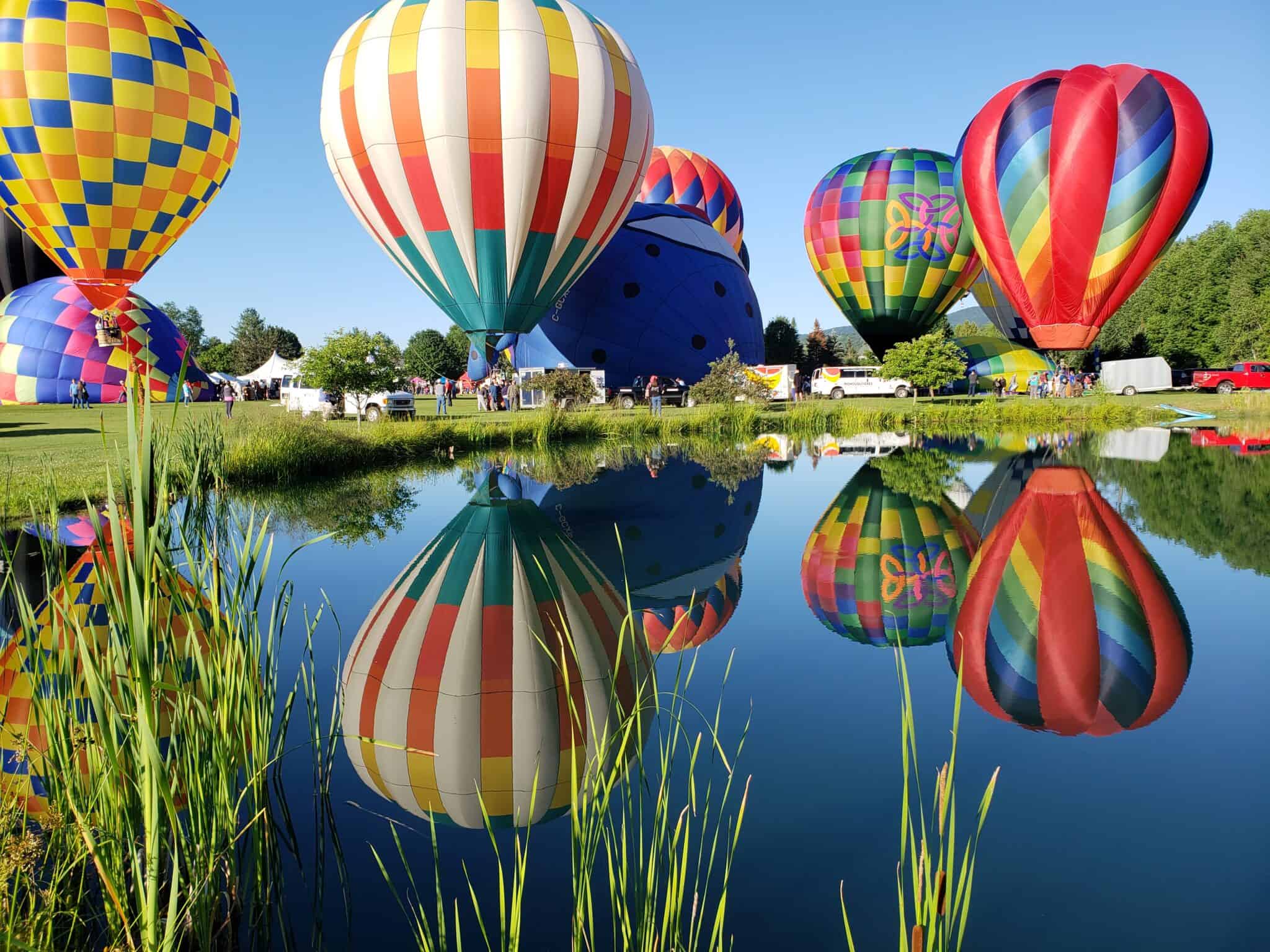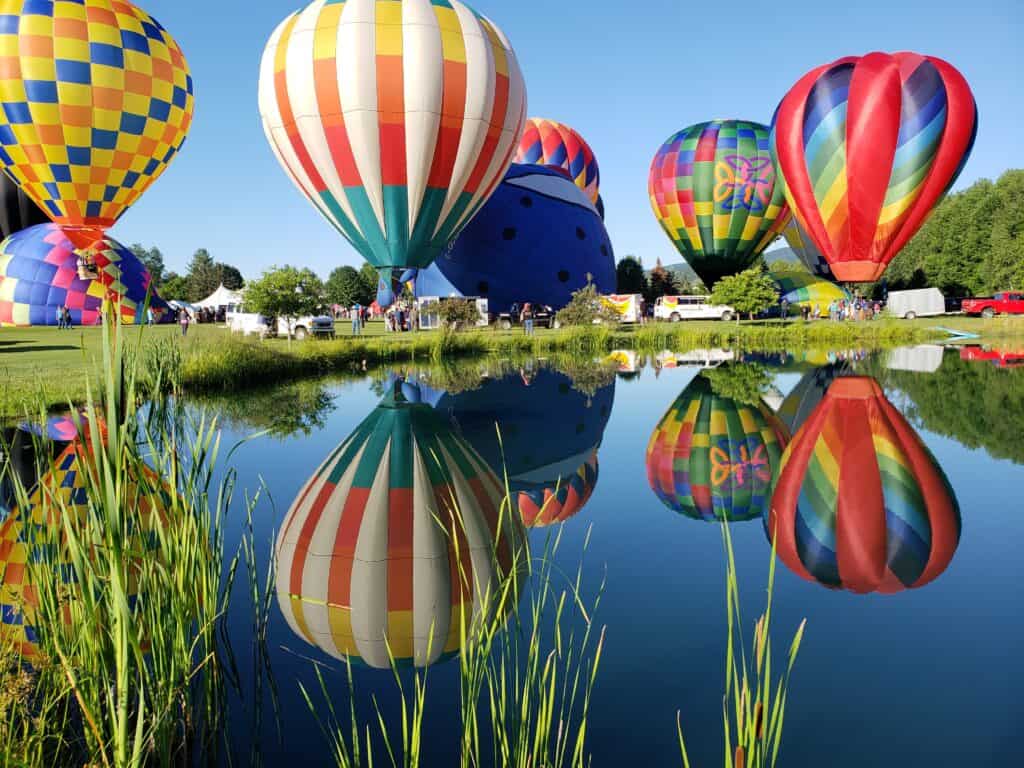 The best places to fly in a hot air balloon are scenic spots like the Stowe region. As you soar over the Green Mountains, you'll have a magical experience.
While this might not be an essential Stowe activity for some, this is a lovely option for those on a honeymoon or romantic getaway. The small baskets of hot air balloons are ideal for two people (plus the pilot) and offer a true once-in-a-lifetime experience gliding over scenic Stowe, Vermont.
The Stoweflake Resort hosts the exciting Stowe Balloon Festival every July and this is a perfect opportunity for a balloon ride. If you don't wish to go up in the air, you can also opt for a short tethered ride, or simply gather to watch the colorful balloons as they take off. It really is a unique sight!
Contact Above Reality Hot Air Balloon Rides for ride options at other times of the year.
Hike to a Cascading Waterfall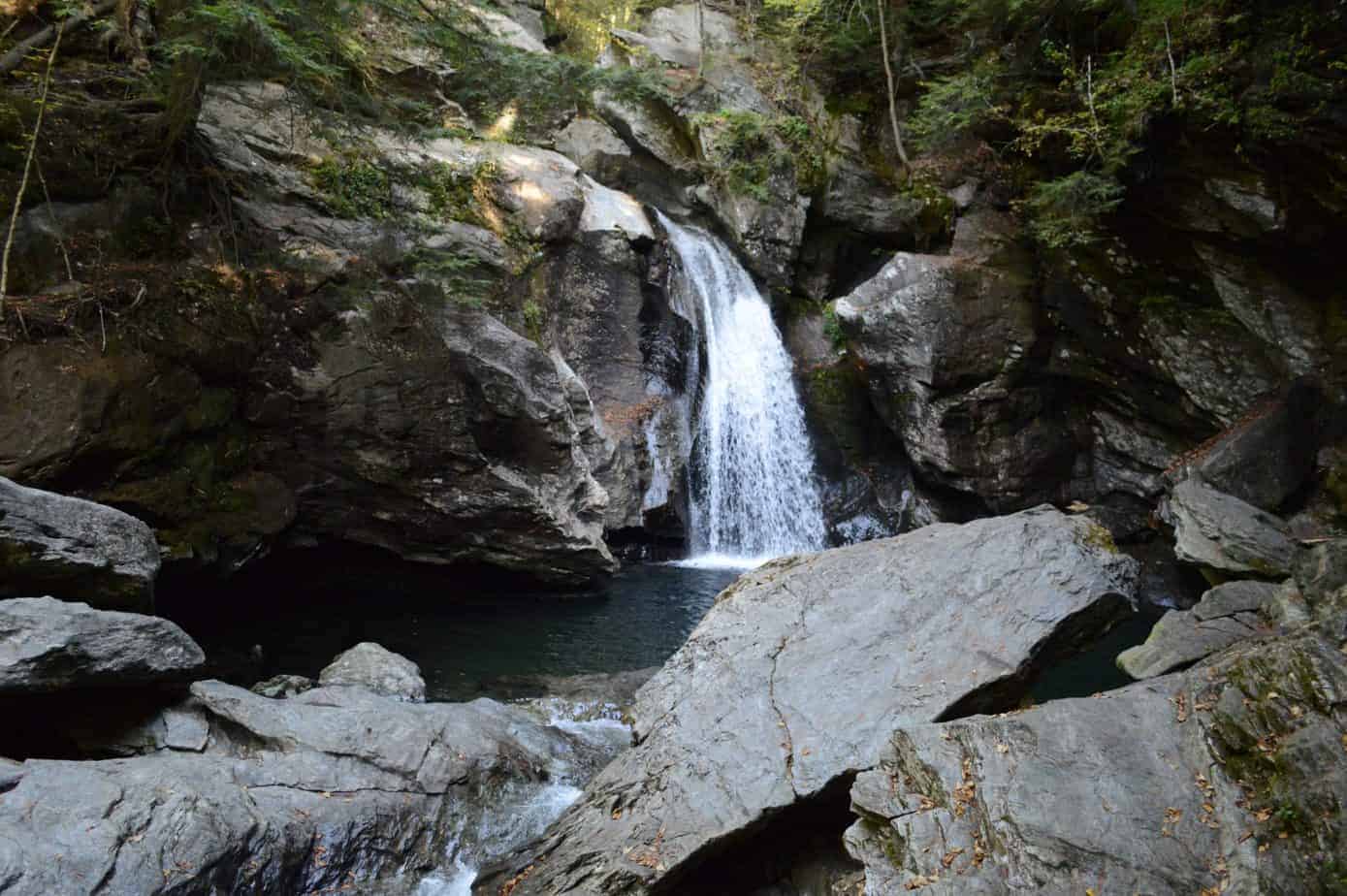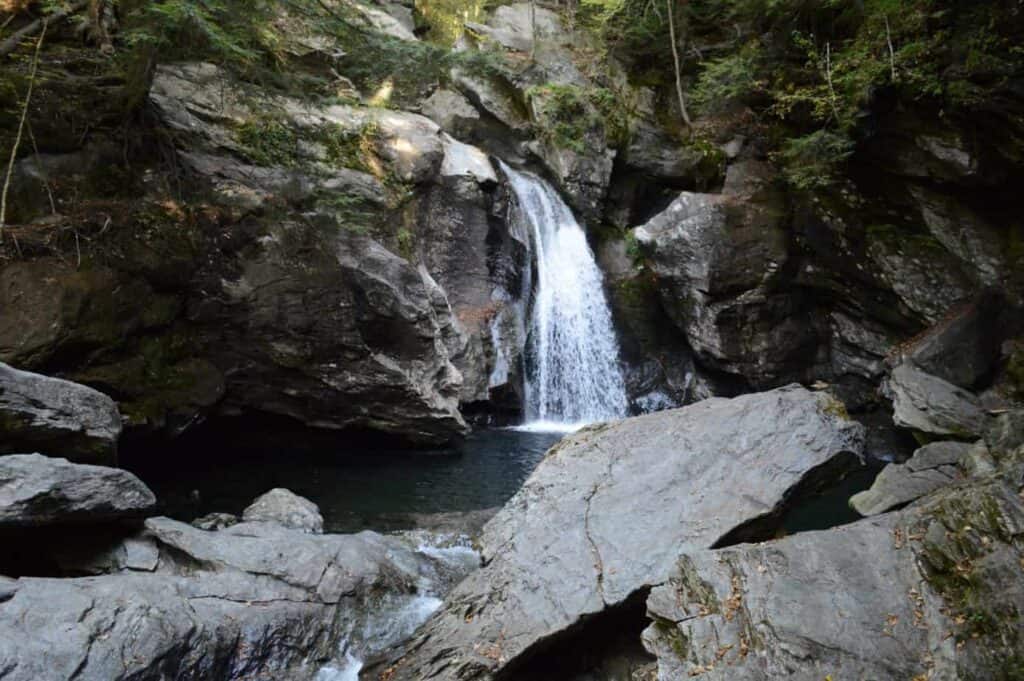 What is there to do in Stowe Vermont? How about a waterfall hike!
Mountainous Stowe is an excellent destination for those who enjoy hiking. There are a range of trails that will suit various levels of experience. (Also check out our list of the best hikes in Vermont).
The Long Trail, which traverses Vermont from north to south, runs across Mount Mansfield in Stowe. You can climb to the top of Mount Mansfield via a few different trailheads, two of which are in Smuggler's Notch.
Want awesome views? Stowe Pinnacle might be a good choice, taking approximately 90 minutes to reach the top.
Sterling Pond is another great hike, bringing you to an elevated trout pond. In the autumn, it is fringed with yellows and reds, making this one of the best things to do in Stowe VT in fall. You can continue on the same trail to the summit of Spruce Peak.
But a short and romantic hike option is one with a waterfall at the end, like these: Bingham Falls and Moss Glen Falls, both impressive and scenic, also are accessible via fairly short hikes. Enjoy the views or go for a dip during a hot Stowe VT summer!
For more detailed information, check out the Green Mountain Club–a great resource for information on hiking in Stowe.
Indulge in a Spa Day
After one of those epic Stowe Vermont hikes, unwind with a massage or other spa treatment. Better yet, book an entire spa day or afternoon for two.
The Stoweflake Mountain Resort has an insanely awesome spa, with some 35,000 square feet of space and dozens of treatments available.
You can easily spend blissful hours here, enjoying the steam rooms, sauna, jacuzzi, mineral baths, and quiet spaces.
The highlight of the Stoweflake Spa is their Aqua Solarium, complete with a waterfall pool, which is modeled after the real Bingham Falls in the region.
This rock-lined, warm-water pool allows you to sit underneath a 12-foot cascading waterfall which serves as a therapeutic massage for a tired neck and shoulders. Total serenity.
If you're looking for what to do in Stowe Vermont in winter, add this to the list!
At the Stoweflake, you can book specific couples' treatments. A side-by-side massage is a romantic choice, or meet in the Aqua Solarium following your individual treatments. Consider an Apres Ski Massage to soothe your tired muscles is or, if you're after one of the signature treatments, select the luxuriant Vermont Maple Sugar Body Polish.
Check here for up-to-date pricing and access info for Stoweflake guests and visitors.
Hop On for a Horse & Carriage Ride (Or Sleigh Ride)
Many people travel to Vermont in search of a nostalgia for the past, for simpler times. Well, put away the electronics and enjoy nature on a horse-drawn carriage ride. What could be more nostalgic than that?
In the winter in Stowe, wheeled horse-drawn carriages become sleighs, ferrying you across a snowy wonderland.
Gentle Giants carriage and sleigh rides are located right on Mountain Road, and are open seven days a week throughout the year.
Take a tour (and take in the views) at the Trapp Family Lodge
The von Trapp family (whose story was told–and expanded upon–in the film The Sound of Music) settled in Stowe, Vermont in the 1940s. When they emigrated from Austria, they chose to live in Vermont because it so reminded them of their beloved Austria.
They opened a guest house to welcome visitors, and the Trapp Family Lodge was born.
Today, this is an Austrian-inspired property that has gorgeous views overlooking Stowe and offers plenty more for visitors.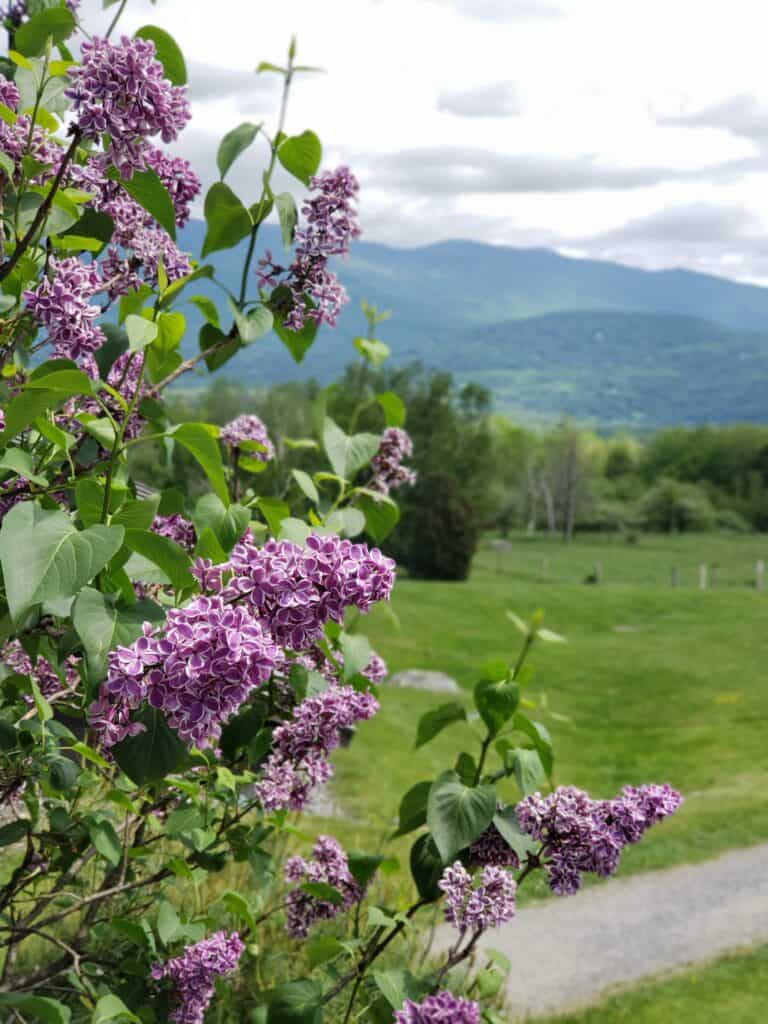 It's worth a visit just to take in the mountain views from the parking lot in front of the hotel, but if you can, you should spend more time at the Trapp Family Lodge, or better yet, book a stay here!
Guests of the resort can join a number of interesting on-site tours for free, including von Trapp History Tours, Maple Sugaring Tours, guided hikes, and more. These are also open to the public for a fee.
If you're traveling with kids (or if you just really love animals), hop on their Meet the Cows or Meet the Sheep tour to get a closer look at some of their farm animals.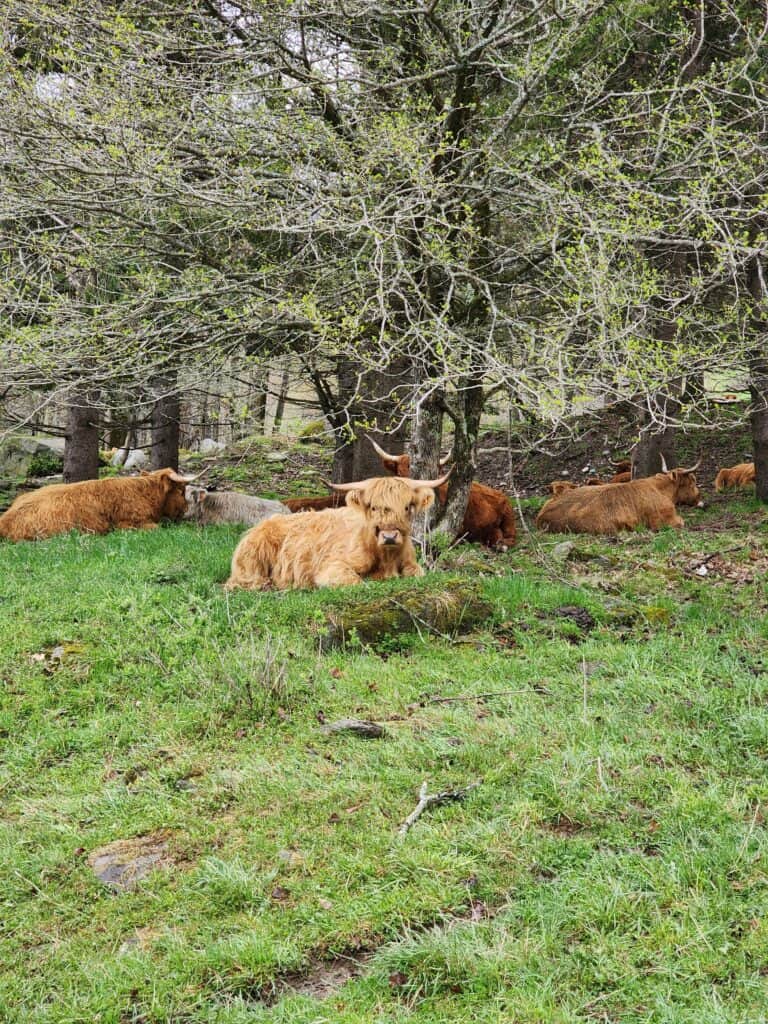 Their highland cows are positively adorable, and they look especially stunning with the Green Mountains of Vermont behind them!
Looking to do some outdoor activities? The Trapp Lodge is a perfect place for this, with options available in all seasons.
This is a popular spot for mountain biking, cross-country skiing, disc golf, and more.
Truly, the Trapp Family Lodge is a phenomenal place to base yourself for a stay in Stowe. Full review of my own stay at the Trapp Lodge coming soon!
Sample beer at the von Trapp Brewery & Bierhall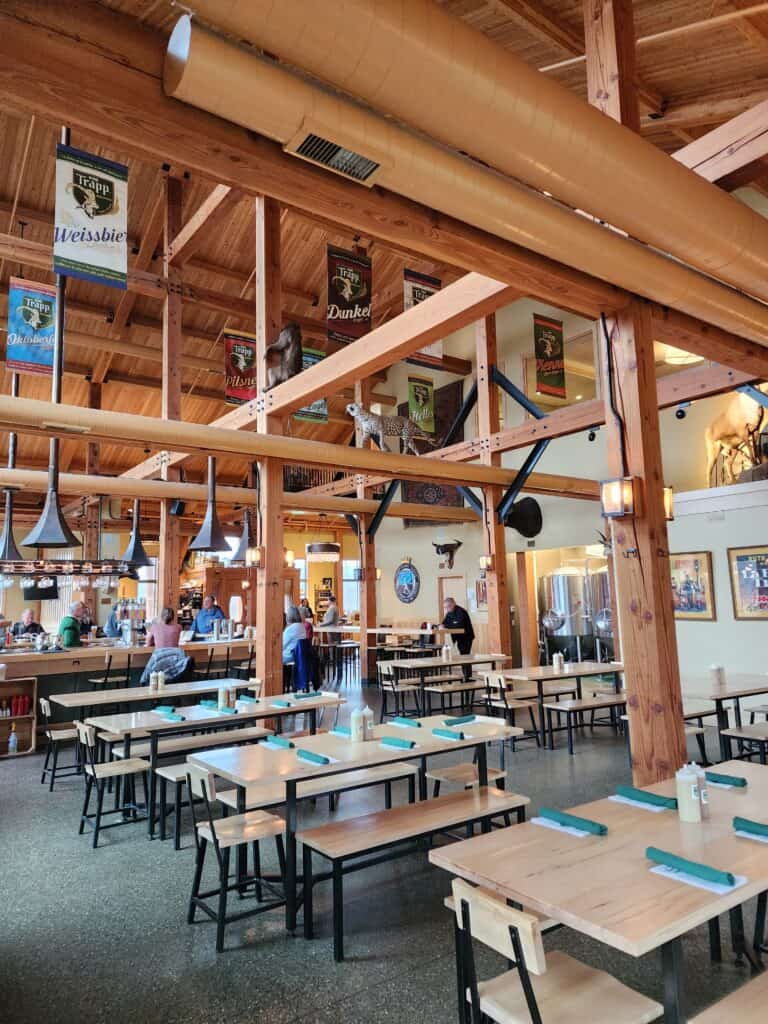 Whether you're a guest at the Trapp Family Lodge or not, visiting their Brewery & Bierhall needs to be on your list of things to do in Stowe.
You'll get a taste of Europe at this family-friendly bierhall, or, as the sign reads when you arrive at the Trapp Family Lodge, you'll get "a little of Austria, a lot of Vermont!"
What could be a more perfect union for Austria and Vermont than beer?
Come grab a fresh lager here and chat with your fellow Vermont visitors. The welcoming space is cozy and inviting, and not only are there numerous beers on tap, there's lots of delicious food items to enjoy as well.
Don't miss the soft pretzels, chicken schnitzel, and tasty spaetzle.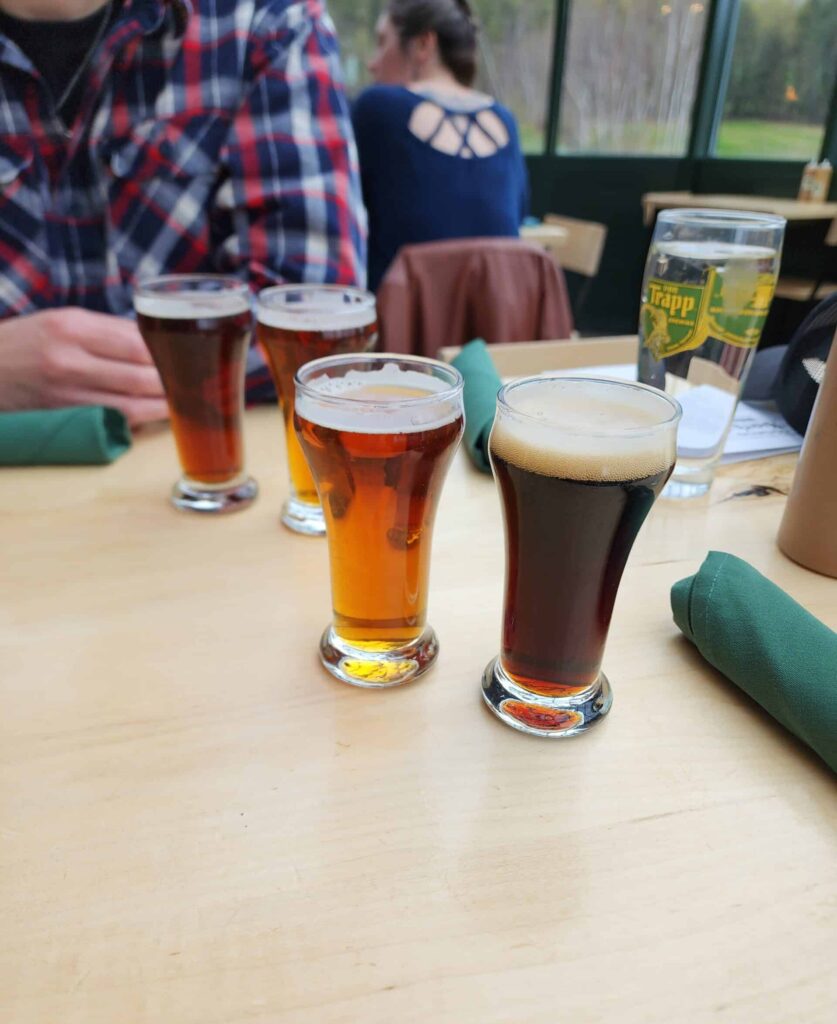 Drive through Smuggler's Notch along Route 108
Stowe Mountain Resort isn't the only place for top "notch" skiing near Stowe. There's also Smuggler's Notch Resort (also known as Smuggs) in nearby Jeffersonville.
An important word of warning, though. The direct route between Stowe and Smuggs, Route 108 through the Notch is closed in the winter. So skiers who wish to enjoy both resorts will need to drive all the way around the mountain to do so.
But if it's summer or fall and you're not focused on skiing, driving Route 108 through Smuggler's Notch is interesting and scenic.
Driving this road requires a great deal of caution and patience. In the very heart of the Notch, you'll soon understand why this road is closed in the winter (and why it is closed to vehicles over 40′ in length).
The narrow road is a windy, often one-track lane that wends and weaves around intensely tight corners. It's a wonder small cars can even navigate this road.
Still, if you take it slowly and carefully, this road is a unique drive worth doing.
It's also home to the trailheads of several great hikes.
One more time: if you're in a large vehicle, 40′ or longer, or a combination vehicle (vehicle with a trailer) 45′ or longer, it is prohibited to drive this road. Don't become one of the stuck trucks the VT Agency of Transportation has to deal with every year!
Go Ice Skating in the winter time
When Vermont turns cold, the activities are still hot! There's so much to do in Stowe Vermont in the winter months; known as one of the best ski resorts in the States, Stowe is awesome for those who like to hit the slopes.
But that isn't the limit of winter activities in Stowe. Visitors can also have fun going ice skating. There's an indoor rink right in Stowe Village, or, for a classic Vermont experience, go ice skating outdoors surrounded by an alpine-style village at Spruce Peak Village Center.
Tour the Ben & Jerry's Factory
Oh my goodness, there are some fantastic things to eat in Vermont. One of these is the ice cream known worldwide: Ben & Jerry's.
The home factory for Ben & Jerry's is located in Waterbury, Vermont, just a short drive from Stowe.
One Route 100 heading north towards Stowe, you'll come across the Ben & Jerry's Ice Cream Factory, a colorful, cow-bedecked facility that beckons you from the roadway.
Head inside for a factory tour (breathe in deeply, the whole place smells like heaven), and snag some samples. Stop at the gift shop on your way out to grab some uniquely Vermont-y souvenirs.
Ben & Jerry's is such a Vermont staple, you really shouldn't miss it.
Sample more Vermont delights along Route 100
Ben & Jerry's isn't the only delicious spot on Route 100. There are plenty, so take time during your drive through the area. Here you can let your inner foodie go wild.
Next up is the Cabot Farmer's Store where you'll find the best cheese ever.
Cabot Cheese is known for their phenomenal cheddar.
In the store, you can sample this, plus about 20 other flavors.
As if that wasn't enough, the store is stocked with all kinds of Vermont products: wine, beer, cider, jams, jellies, crackers, syrup, and more. Go ahead and buy your fill.
When you're all cheesed out, go next door for some spirit tasting at the Smuggler's Notch Distillery and chocolate samples at Lake Champlain Chocolates.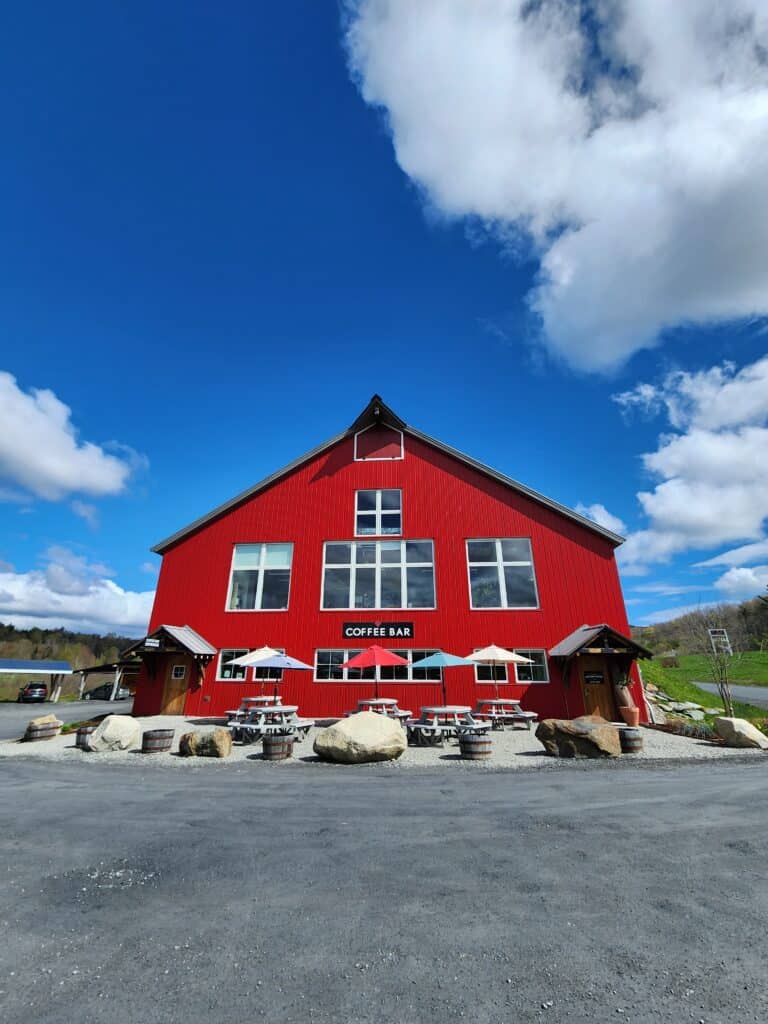 Finally, drive a little further and stop for an awesome beverage at the European-style coffee bar located at the Vermont Artisan Coffee & Tea Company. A maple latte is always a delicious choice.
You can't miss this vibrant bright red building.
In Stowe itself, head to the breweries and the cidery for more tasting! You'll find The Alchemist (home of the famous Heady Topper) here, plus Idletyme Brewing and Stowe Cider.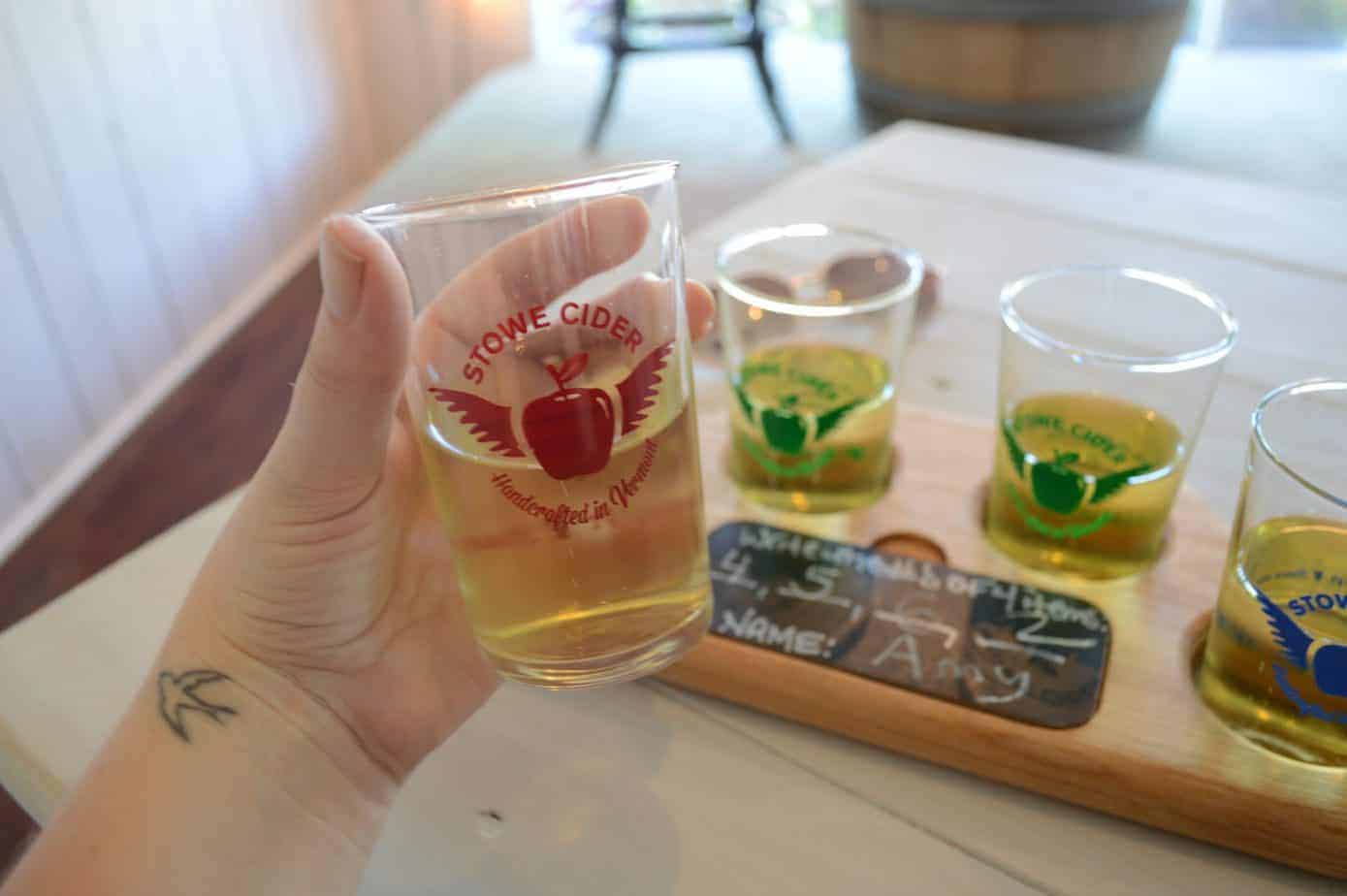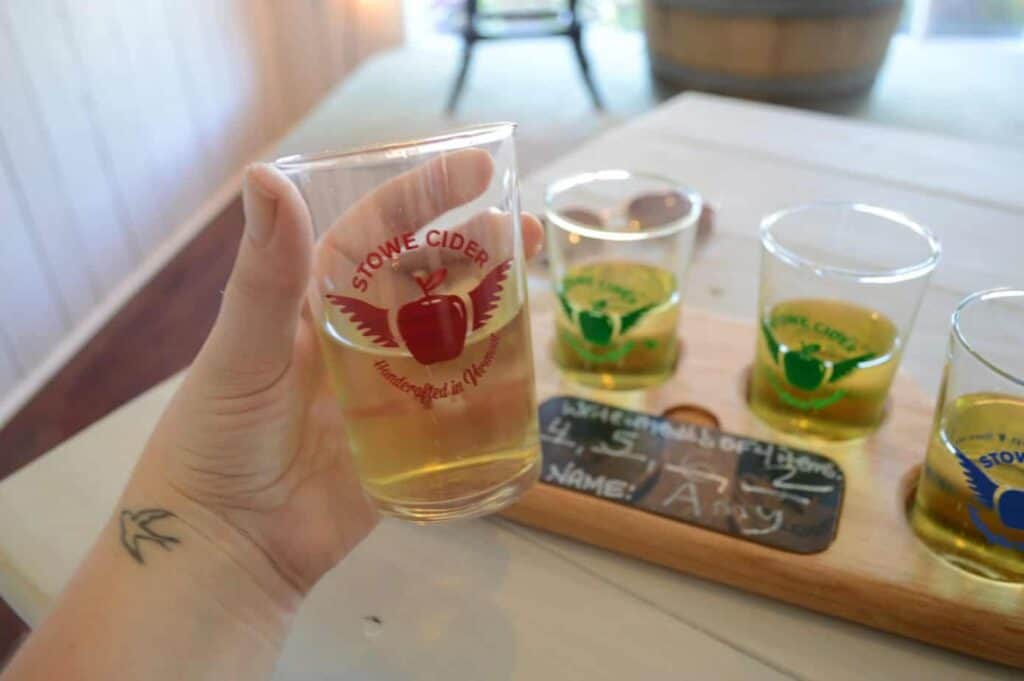 Eat apple cider donuts at the Cold Hollow Cider Mill
Just a few minutes further down Route 100 is the Cold Hollow Cider Mill, an amazing spot that I've enjoyed visiting for years.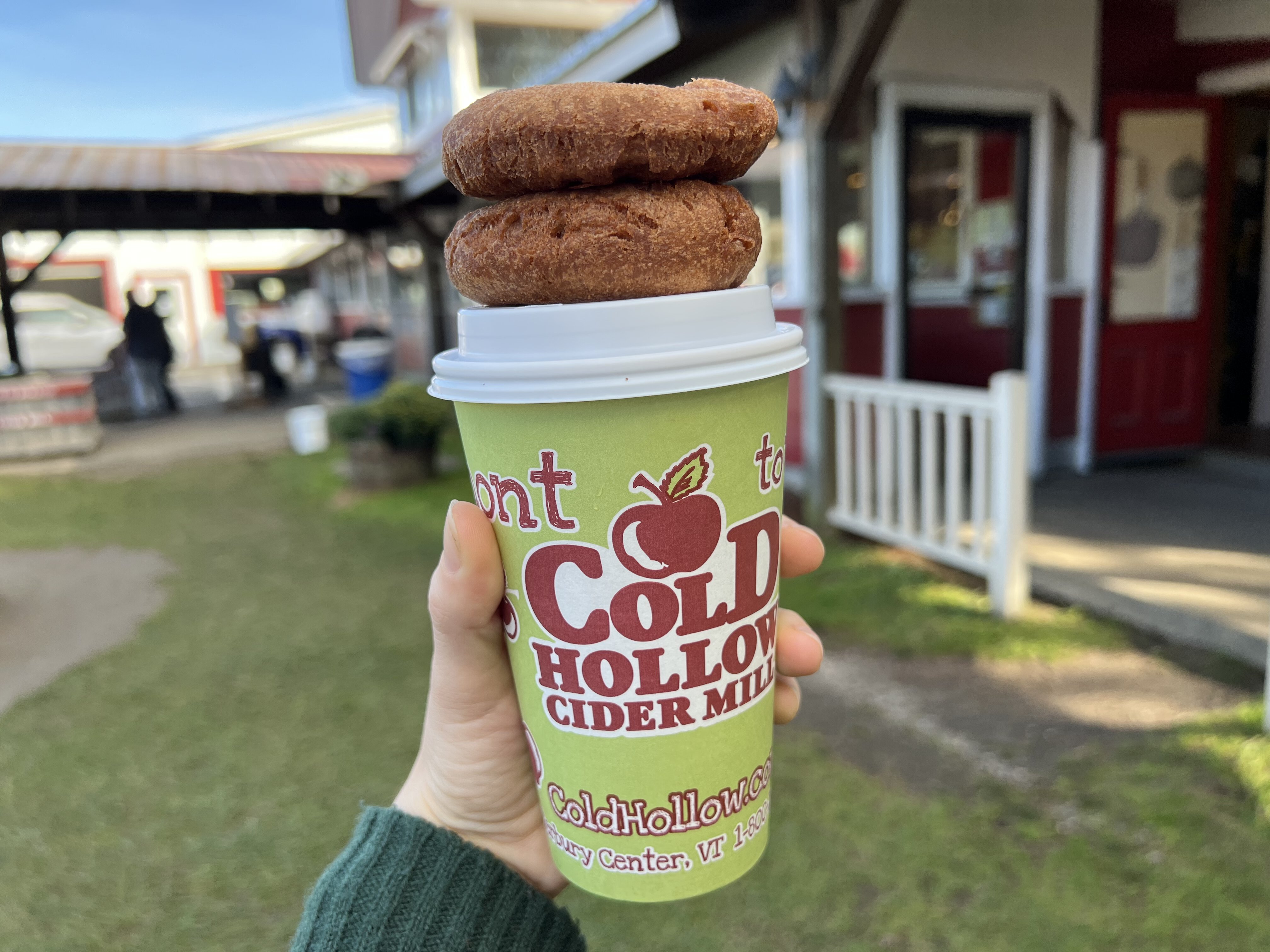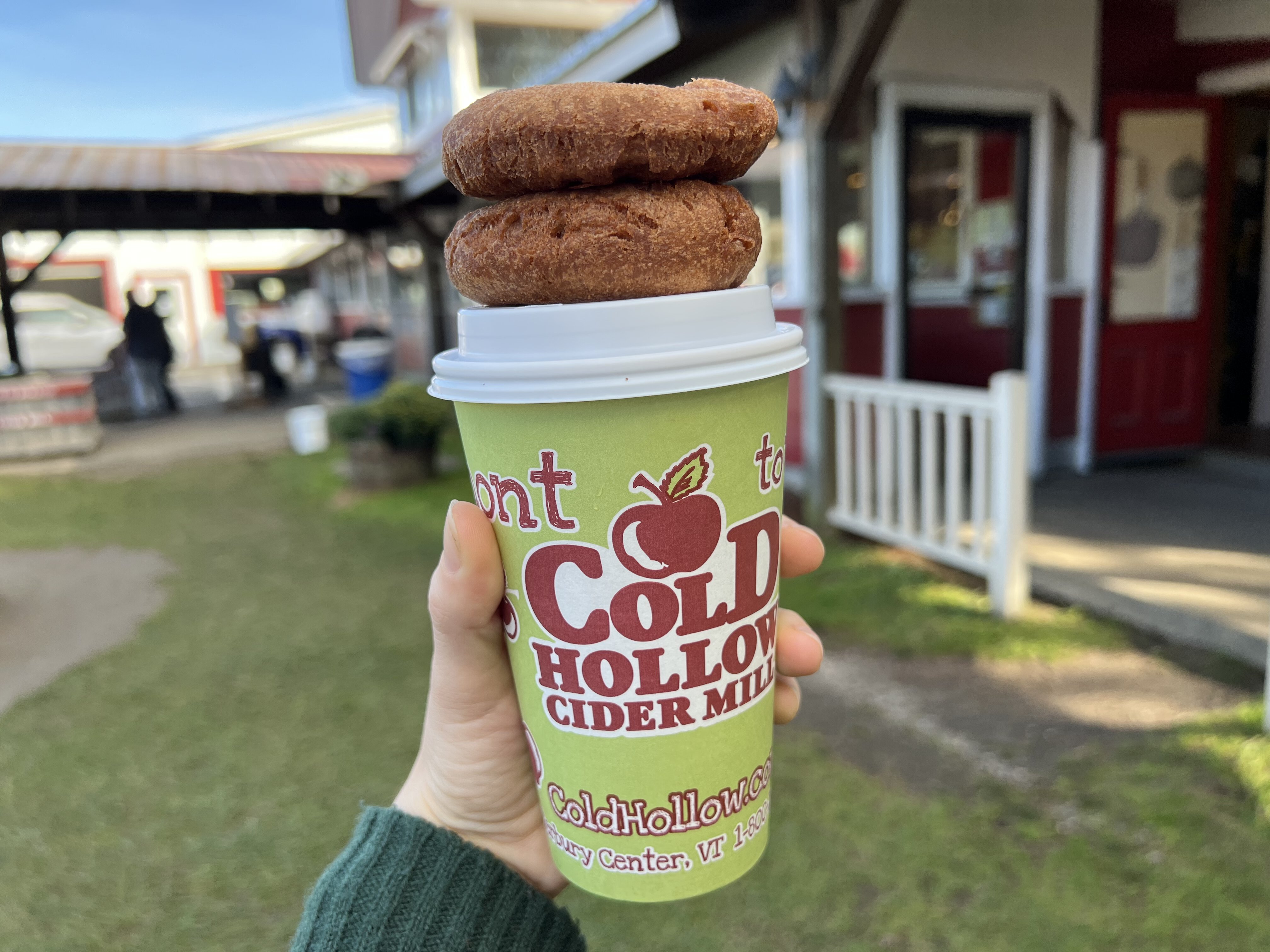 This is THE destination for apple lovers and one of the best ways to experience Vermont. Cold Hollow makes the best fresh apple cider and even more amazing apple cider donuts.
In recent years, they've expanded. Cold Hollow now offers hard cider (you can sample it right on the property) plus a tasty cafe called The Apple Core. It's perfect for lunch.
Sail Away on a Fall Foliage Boat Ride
If you're coming to Vermont for its striking fall foliage, prepare for some slightly crowded roads.
VT welcomes many "leaf peepers" each season, and traffic often moves quite slowly as a result.
Well, I have a better way for you to enjoy the vibrant leaves–with a fall foliage boat ride. Local fishing guides and suppliers The Fly Rod Shop offer an innovative fall activity.
Hidden away in the region is a stunning man-made lake known as Waterbury Reservoir. Here is where you'll experience the foliage at its best. Away from the chaos of the roadways, your scenic boat tour brings you through a peaceful and quiet lake.
In the fall, there are very few people on the reservoir, lending the experience an intimate touch. It feels as though you're exploring your own private lake.
If you're looking for romantic things to do in Stowe, VT, this definitely qualifies. (Our guide told us that a few couples have even gotten engaged on the tour!) Plus, it's just a cool way to experience fall in Stowe Vermont!
Your guide takes you out on the water in a small boat (maximum capacity of 2 guests) and brings you on a journey around the lake. It's a surprisingly large body of water. When fall is at its most brilliant, the views will be remarkable. And with the reflection of the trees off of the calm waters, you're going to capture amazing photos, too.
For more details on the fall foliage tour, or guided fishing trips with The Fly Rod Shop: Fall Foliage Scenic Boat Charters.
Ride to the Top of Mount Mansfield on the Stowe Gondola SkyRide
You don't have to hike to catch supreme views. Mount Mansfield (Vermont's highest peak and home to Stowe Mountain Resort) takes visitors to the top via a Stowe gondola ride. In just a few minutes, you can be at a height of 4,393′ and look out over the valley.
The views are remarkable here from the pinnacle of Vermont's highest mountain. On a clear day, you can see Lake Champlain, the distant Adirondack Mountains, New Hampshire's White Mountains, and even up to Canada
The iconic bright red cars of the Stowe Gondola SkyRide stand out against the slopes, which are green in summer, multicolored in the fall, and white in winter.
If you're not skiing down one of Mansfield's many trails, you can ride the gondola back to the bottom.
As of 2023, the gondola costs $37 per person for adults and $25 for children 5-12. These are the prices if you book online (and you should, to guarantee your space on this popular Stowe attraction).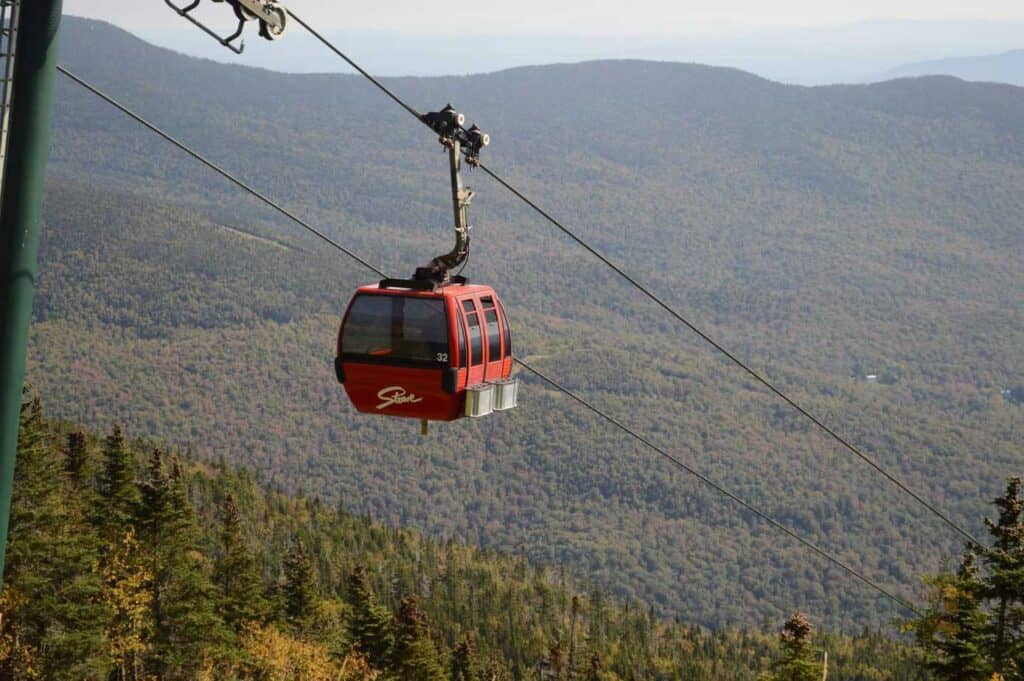 Looking for another way to get to the top of Mount Mansfield? Consider driving up the auto toll road.
The zig-zagging toll road takes you 4.5 miles up the mountain, where you can stop and take in the incredible views.
The toll road is open during the summer months and into October. Check the website for up-to-date schedules, pricing, and vehicle limitations.

If you're in Stowe in August and fancy yourself a worthy competitor, consider joining in the annual Race to the Top of Vermont, where hikers, bikers, and runners ascend Mount Mansfield as quickly as possible.
Enjoy an incredible Vermont breakfast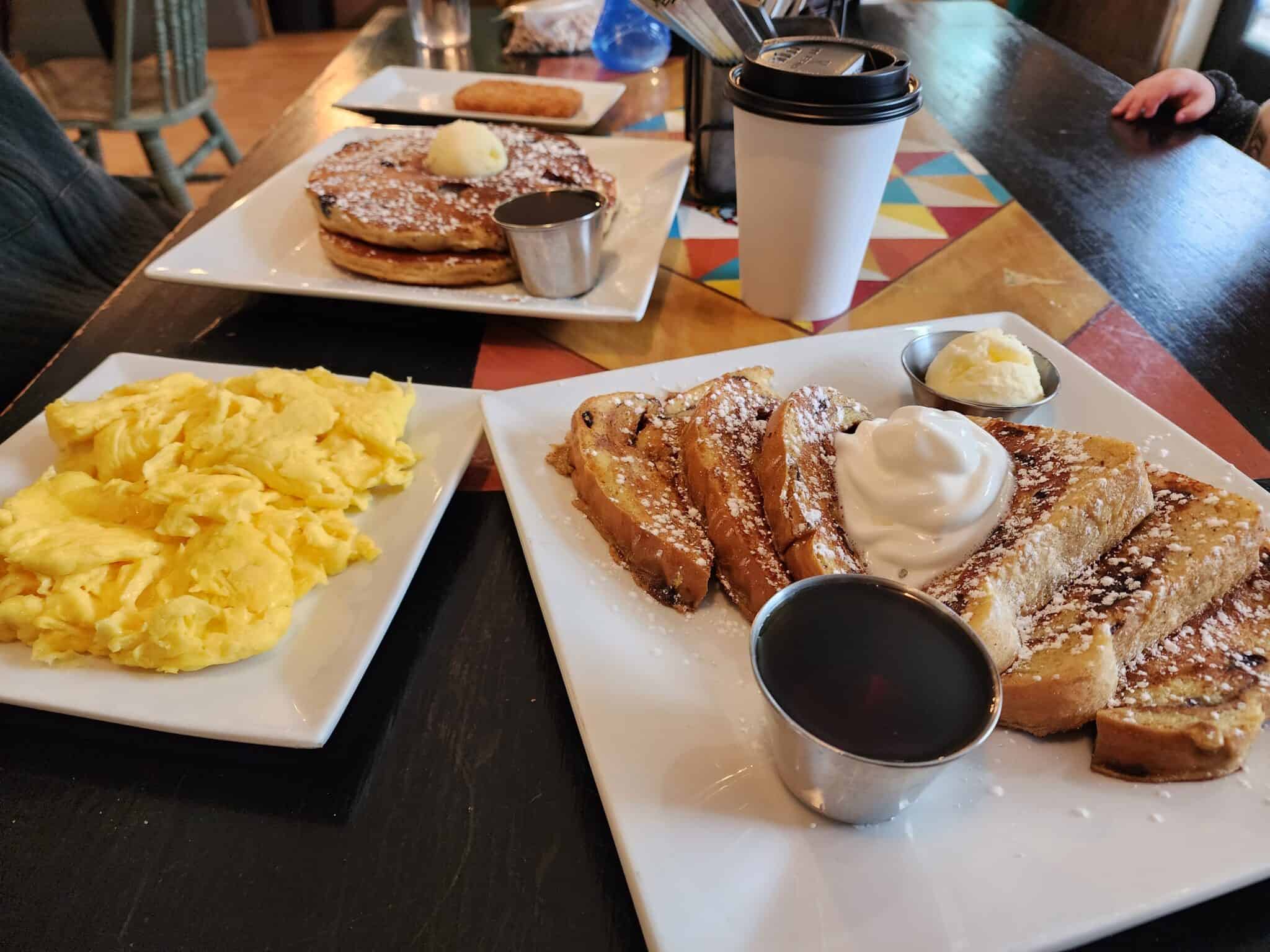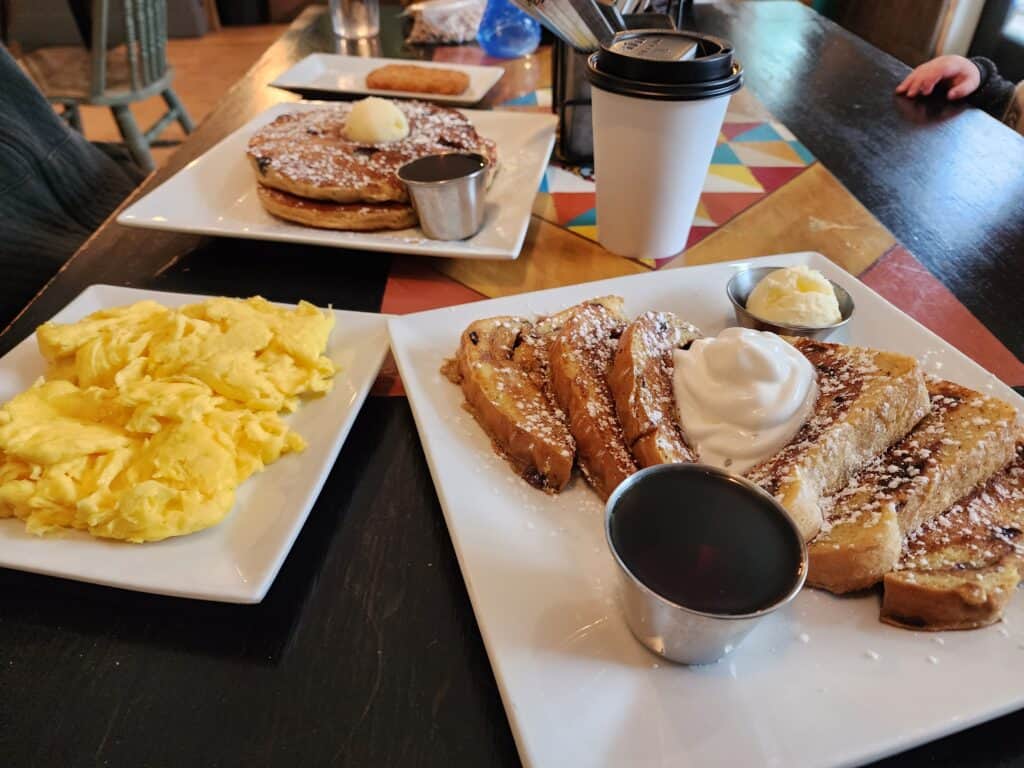 There are many awesome places to grab breakfast in Stowe, Vermont. You'll need a filling breakfast to ready you for the day's adventures ahead.
This is definitely an essential thing to do in Stowe, in my opinion, and of course, you must pair your meal with authentic, real, fresh Vermont maple syrup.
Bon appetit!
Check Out the Stowe Arts and Culture
Stowe doesn't just offer outstanding outdoor recreation; there is an abundance of art and culture here, as well.
If you're looking for a Stowe museum to check out, you've got it! There is plenty of arts and culture to take in, including theatre, live music, art galleries, and more, both in downtown Stowe and the surrounding area.
Check out the Stowe events calendar to see what's happening around Stowe during your visit and what Stowe Vermont tourist attractions are hosting neat events; you just never know in Stowe!
Take a Snowshoe or Snowmobile Tour
Winter in Stowe is quiet, still, and renewing. Grab the whole family and head out on a snowshoeing or snowmobiling tour.
Adventuring in the wilderness together is a great way to strengthen your bond (followed by some fireside relaxation).
Check out Snowmobile Vermont which offers tours for both beginners and advanced riders.
And for snowshoeing, you can rent gear from several spots in town, or head back up to the Trapp Family Lodge for a group tour with their Outdoor Center.
Go skiing at Stowe Mountain Resort
Of course last but not least, one of the top things to do in Stowe is SKI! Ski enthusiasts love Stowe for a very specific reason: excellent powder!
Whether you ski or snowboard, Stowe Mountain Resort offers some top slopes. It's been called one of America's best ski towns with good reason. And if you've never tried winter sports before, it could also be a great place to take a lesson or two. Why not?
Non-skiers can choose plenty of other winter activities, or even head out for a bit of sledding.
Got kids? They'll love Stowe, as it's an ideal place for a family vacation in New England.
No kids? No problem! Recapture your own childhood with some old-fashioned fun. Local tip: there's an excellent sledding hill behind the elementary school in the village. Grab a sled at a downtown shop and head over for the fun.
Stowe is clearly one of the best places to visit in Vermont, and these are just a few of the best things to do in Stowe Vermont! Beautiful in all seasons, Stowe is one of those towns I'll keep returning to again and again, and I hope you'll visit, too. Whether you're looking for Stowe family vacations or a romantic getaway, I'm pretty sure you'll fall in love.
---
Have you been to Stowe? Tell us what you think of this charming Vermont town!
---
More resources for your Vermont adventure: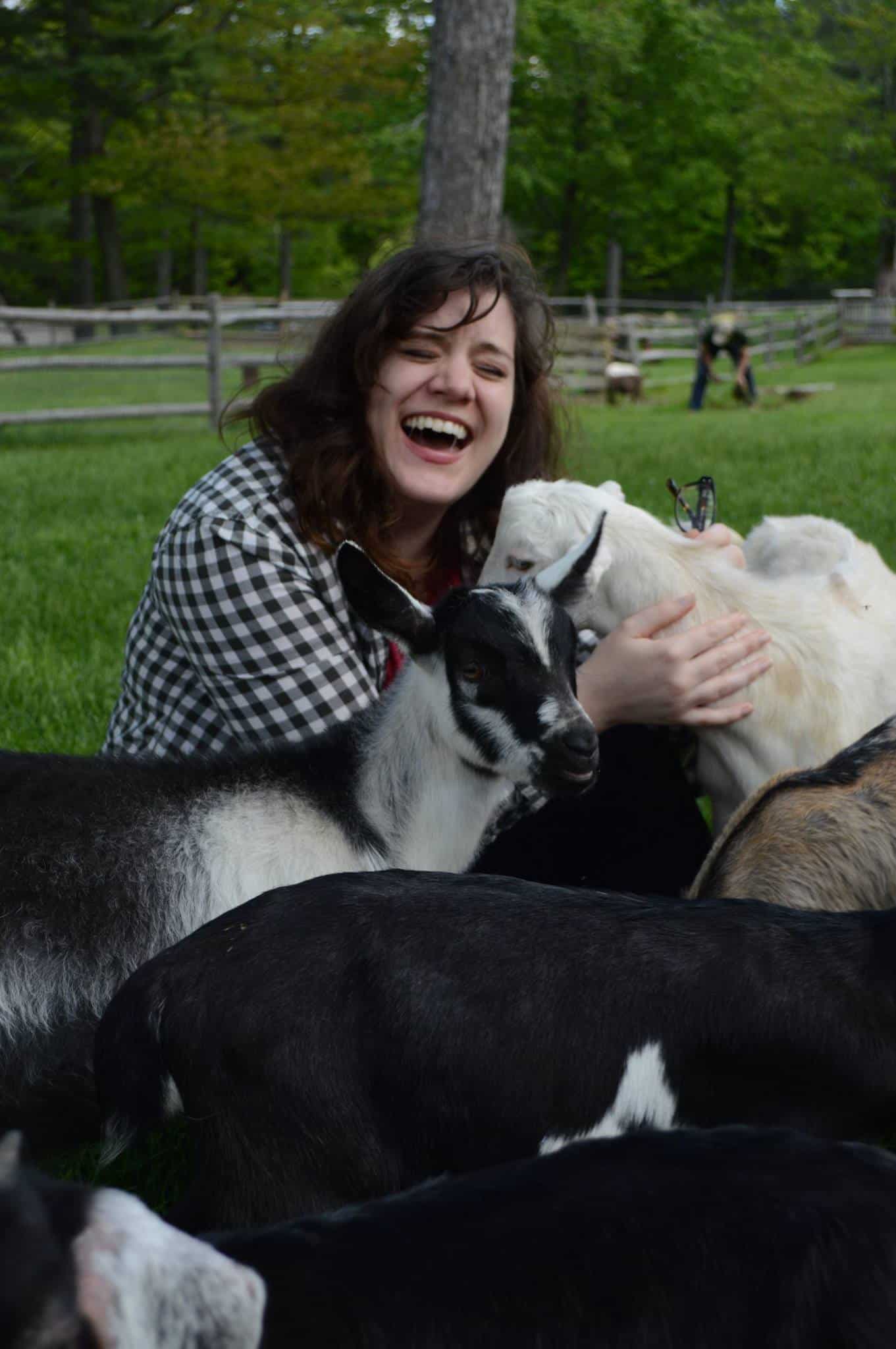 Amy Hartle is the owner and editor of New England With Love, a comprehensive resource for travel in the New England region. Amy lived in Vermont for 15 years, attended Plymouth State University in New Hampshire, and continues to travel regularly around the entire New England region. On this site, Amy aims to share her love of New England and help you to have the best possible adventures!
Amy has been a full time blogger since 2012, and is also the publisher of Two Drifters, where she writes about couples travel and relationships, as well as Let's Adventure Baby, a family travel site. When not traveling the world or creating epic blog content, Amy can be found cuddling with her husband, son, and cats, & drinking a maple latte.