As you check off your New England bucket list, you're going to need some refreshment! May I recommend some of the best New England hard ciders and cideries? There are so many places throughout New England to grab a cold, delicious hard cider.
What makes the cideries of New England so incredible, is that they're local. Even though some of them have grown a lot with their recognition, they still have that local, small-town feeling to them, which is what makes them so lovable. Plus, the drinks are incredible too!
Here are all of the best New England cider and cideries worth your time and tastebuds.
Far From the Tree Cider | Salem, MA
First up is Far From the Tree Cider in Salem, Massachusetts. The cidery was founded back in 2013 though their first cider wasn't released until 2014, and they've quickly grown in popularity.
The best way to try their cider is to head to their tasting room in Salem. It's fairly easy to get there from Boston, too, as you can take the commuter rail; the tasting room is only one mile away from the Salem Train Station.
Far From the Tree Cider offers a variety of different ciders throughout the year, including ones that are always available as well as ones that are seasonal. Some flavors include Apple of My Chai, Patch (strawberry basil cider), and Earl (Earl Gray tea cider).
Citizen Cider | Burlington, VT
One of the more well-known New England hard cideries is Citizen Cider in Burlington, Vermont! This cidery was opened back in 2010 in a barn and a basement, and soon enough, it completely blew up to what it is today.
The best way to try their cider (besides just picking it up at a shop) is to head to their Cider Pub in Burlington on Pine Street. Even though the pub has limited hours, they have great food and drinks on the menu that you won't want to miss out on.
Their drinks include their classic drafts, like Unified Press, Good Neighbor, and The Dirty Mayor, but they also have flights available for those who want to try more than one. They have a seasonal food menu, too, that usually includes shareable plates, dips, burgers, salads, and more.
Downeast Cider House | East Boston, MA
Downeast Cider House is another must-visit New England cidery! This one is located in Boston and came to be in a Bates College dorm room, soon enough becoming one of the most popular Massachusetts alcoholic drinks.
They have tons of drinks, but their most popular is their classic cider. Many of their flavors are on rotation throughout the year seasonally. In the past, they've had unique flavors like blackberry, orange creamsicle, peach bellini, strawberry, and even blue slushie!
Their drinks can be purchased at many different grocery stores and liquor stores throughout the northeast, so you don't even have to be in Boston to try them. However, if you are in the city, be sure to stop by the East Boston Taproom and try their drinks right on-site.
Stowe Cider | Stowe, VT
Stowe Cider is one of the popular New England hard cideries! Just like the name suggests, it's located in the beautiful town of Stowe, Vermont. This is seriously one of the most beautiful places to visit in the state!
Their rotation of ciders is a bit different because they have regular ones available all year as well as the classic seasonal options, but they also have "hit singles" that are just small batches for a limited time that they release! In the past, they've even had limited batches of flavors like Vermont Grown Raspberry Blackberry.
If you find yourself in Stowe, be sure to stop by their taproom. It's open five days a week, and it's the place to go if you want to order a flight of their flavors or even grab some of their ciders to go!
Farnum Hill Ciders | Lebanon, NH
A great, locally-owned cidery is Farnum Hill Ciders of Poverty Lane Orchards in Lebanon, New Hampshire. Their farm dates back to the 1900s and has since really changed, especially as their orchard is one of the biggest in New Hampshire.
The easiest way to get their cider is to attend one of their Growley Days. They host these periodically throughout the year. They try to have one every month to make it easy, and they usually happen on Thursdays or Saturdays.
In addition, their drinks are also sold throughout the United States at different shops! Of course, there are many places in New Hampshire where you can purchase them, too. There are places in Hanover, Lebanon, Littleton, New London, Peterborough, and Portsmouth.
Contoocook Cider Company | Hopkinton, NH
Hopkinton, New Hampshire, is known to another cidery called Contoocook Cider Company! This cidery is known for its craftsmanship, and if you find yourself in the Hopkinton area, you'll definitely want to stop by this place.
The cidery has a variety of different cider types on its list. There are flavors like ginger, cherry bomb, russet rodeo, and wild thing. Many of their flavors even won awards at the US Open Cider Open Championship!
When visiting, if you need some food too, don't worry. They also have a food menu so you can enjoy your drink with a snack! You can find pizzas, sharing plates like chips and salsa, hot pretzels, and even dessert like ice cream on the menu.
Holmberg Orchards | Gales Ferry, CT
Holmberg Orchards in Gales Ferry, Connecticut, is another perfect place to visit for cider and even wine. They make their ciders traditionally English and come in 16oz cans. Their wine is also great and is made with grapes from 2010 and 2014 as of 2022.
They have a variety of different hard cider flavors that they make. It includes Black Currant Cider, Hard Cider, Hop Cider, Rose Cider, Honey Cider, and Spiced Cider. Each one of them is incredible and worth trying.
Historically, this orchard has been open since the 1800s, though the same family has been running the orchard ever since. It's been four generations in total! When visiting, be sure also to visit the apple orchard and pick your own apples in addition to trying the ciders.
Shacksbury Cider | Shoreham, VT
Another of the amazing places that make cider is Shacksbury Cider in Shoreham, Vermont. It's located right in Vermont's Champlain Valley, one of the most beautiful places in the entire state.
They split their cider flavors by type, so there are their core flavors, specialty ciders, and cellar release ciders. They have flavors like yuzu ginger, deer snacks v, Vermonter, the shake, Arlo, and more. Of course, there's also a classic flavor, too!
Their cider can be purchased in many shops throughout Vermont, including at inns, restaurants, and local farms. They can be found in towns like Wilmington, Manchester, Dorset, and Brattleboro, among others.
In addition, they also have their own place right in Vergennes that can be visited. It's called the Shacksbury Cider and Tasting Room, and it's the perfect place to go to try their drinks. It does open for certain seasons, so be sure to check their website to see if it is open or not during your visit to Vermont.
Tapped Apple Cidery and Winery | Westerly, RI
Located in Westerly, Tapped Apple Cidery and Winery in Westerly, Rhode Island, is a perfect cidery to visit in New England. It opened in 2017 in downtown Westerly, though John and Jay, father and son, had been making wine since the early 2000s.
Similar to other New England hard cider and cideries, they have many different types of cider flavors on their menu. However, there's a super unique! They have flavors like crab apple cider, blueberry vanilla, boggles my mind, brown sugar peach, and honey fig.
Their wines and ciders are available to purchase all throughout Rhode Island. They can be found in Providence, Charlestown, Newport, Narragansett, and more. Whether you're near their actual location in Westerly or not, you should be able to find a liquor store nearby where you can try it!
Norumbega Cidery | New Gloucester, ME
Of course, this list of New England hard cider and cideries wouldn't be complete without including at least one in Maine. Norumbega Cidery is a newer cidery in New England, having been found in 2013.
It's in southern Maine in New Gloucester with 17 acres of farms. They have a variety of different cider types that you can choose from. There's classic dry, berry medley, cyser, intervale, inter-urban, spice, and their barrel series. The barrel series changes throughout the year, and they have limited drops!
While their ciders can be ordered online, you can also stop by local farmers' markets (like the Crystal Springs Farmers' Market in Brunswick) to try their drinks. In addition, they have a tasting lawn season during the summer where guests can come and try their ciders.
Hopefully, this post has helped you learn about the best New England hard cider and cideries. Know someone else whom this article would help? Be sure to share it!
---
You might also like: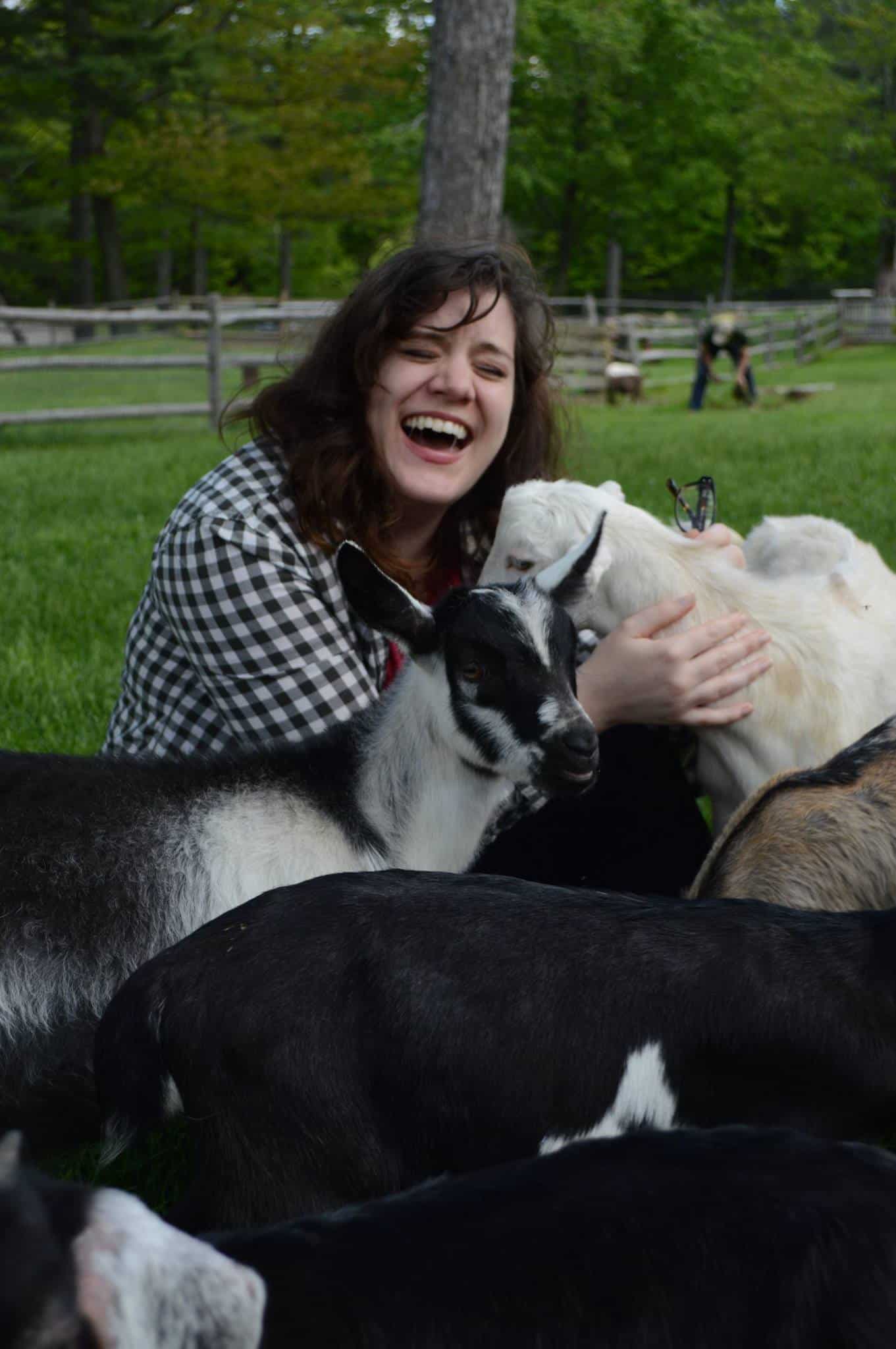 Amy Hartle is the founder and Editor-in-Chief of New England With Love, a comprehensive resource for travel in the New England region. Amy has been exploring New England since 2001. She lived in Vermont for many years and is a graduate of Plymouth State University in New Hampshire. On this site, Amy aims to share her love of New England and help you to have the best possible adventures!
Amy has been writing about travel for over a decade, and is a full time blogger, publishing both Two Drifters and Let's Adventure Baby. When not traveling the world or creating epic blog content, Amy can be found cuddling with her husband, son, and cats, & drinking a maple latte.