If you're looking to visit small towns in New England, you absolutely must add Peterborough, New Hampshire, to your list! It's charming, nestled by the rolling mountains, and there are so many fun things to do in Peterborough NH.
Peterborough is rather known for being a popular place to visit for those who love arts, history, and culture, which is why it's such a great destination. It's beautiful no matter the time of year, too, and because it's a small town, it's never as busy as some of New England's cities.
Here are all of the top things to do in Peterborough NH!
Learn at The Monadnock Center for History & Culture
One of the absolute best things to do in Peterborough NH is to stop by The Monadnock Center for History & Culture. This is a museum that introduces and educates visitors about the history of this region of New Hampshire, the Monadnock Region.
Throughout the museum, some educational exhibits and artifacts will educate you. Plus, the workers there are also incredibly knowledgeable about the area, and they love chatting with visitors.
Throughout the year, The Monadnock Center for History & Culture also hosts a variety of different programs and events. Sometimes they even host concerts! So there may be one happening during your trip.
Eat Breakfast at Peterborough Diner
Are you wondering where to eat in Peterborough? Well, you're in luck! The Peterborough Diner is an affordable restaurant that will truly take you back in time. It's most well-known for its great breakfast, as they open bright and early in the morning, around 7 am.
If you're not an early riser, don't worry. The Peterborough Diner is also open for lunch. It's impossible to miss the restaurant and its distinctive green color. The inside is small (that's part of its charm), but there are many spots to sit, including on bar stools. In addition, there are some spots to eat outdoors as well.
Of course, the menu at Peterborough Diner is incredible. They have pretty much everything that you could possibly imagine for breakfast, including omelets, biscuits and gravy, breakfast sandwiches, and even eggs benedict. There are also ample dessert options like chocolate cake, apple pie, and bread pudding.
Take in the View at Pack Monadnock
The highest peak in the area is at Pack Monadnock. The view is absolutely breathtaking and can be seen by visiting Miller State Park, one of the state parks in New Hampshire. There are a few different trails to enjoy the view from Pack Monadnock, but the most popular is North Pack Monadnock Mountain via Wapack Trail.
This trail is about 3 miles long and is relatively challenging and moderate. It takes around 2 hours or so to hike it entirely, but it is kid-friendly as well as dog-friendly if your furry friend is on a leash. The hike gives you the opportunity to see beautiful views, the forest, wildflowers, and even wildlife.
In the winter, this trail also becomes a popular spot for snowshoeing! Parts of the trail are rocky, so be sure to wear your hiking boots.
Hike the Casalis Forest Trail Loop
Another of the top things to do in Peterborough NH is to go on a great hike through Casalis State Forest. This trail is the Casalis Forest Trail Loop and is considered an easy route with minimal elevation gain along the way.
The loop is approximately 3 miles long, and because it's a loop, you can enjoy different views the entire way, making it quite pleasant and enjoyable. This hike is kid-friendly, and dogs can also do the trail if they're on a leash.
This trail is a great way to see the beautiful lake here and also look out for birds. On average, the hike usually takes about an hour or so to do. Be careful because the markers along the trail are minimal; you'll want to download the trail on your phone to make sure that you can follow it well without going off-trail.
Camp in Greenfield State Park
Why not go camping in New Hampshire? The best place to do this in Peterborough is at Greenfield State Park. At the state park, there are more than 250 different camp spots. The park is huge at around 400 acres. Note that the campsites are available by reservation only, so you have to book ahead of time.
In addition to camping, there are way more fun things to do in Greenfield State Park. Go boating, swimming, fishing, picnicking, hiking, and in winter, go snowshoeing! There are also great facilities, including showers, dump stations, and restrooms.
Attend a Show at The Peterborough Players
If you love the arts, one of the top things to do in Peterborough NH is to go to see a show at The Peterborough Players. This local performing arts theater has different shows throughout the year.
Plus, the theater has quite a history, as it was opened back in 1933! It's quickly grown a reputation in the area and has more than 300 different plays under its belt. What makes it such a great place to see a show too, is that it's actually located inside an old barn from the 18th century. Seriously, you can see the history everywhere!
If you live in the area, consider buying their barn door flex passes, which will give you either 5 or 10 tickets that are flexible and can be used for any show of your choice. There are also single tickets available, and prices change depending on whether you're buying an adult ticker or child ticket.
Have a Drink at Post & Beam Brewing
Are you wondering where to get a great drink in Peterborough? Then head to Post & Beam Brewing. This brewery is a hidden gem in the area, and all the locals love it. Plus, they even have trivia and other fun games that guests can play!
Throughout the year, they have different types of drinks on tap. If you try any of the drinks and love them, don't worry; they also have 4-packs as well that you can take home. Plus, there are great food dishes too that you can pair with a drink. These include cheese and crackers, spinach artichoke dip, soft pretzels, and more.
The inside of the brewpub is super open and bright, with windows that let in natural lighting. There's ample seating throughout as well as a few spots to sit outdoors as well so you can enjoy the fresh air. This is easily one of the best things to do in Peterborough NH for adults visiting the area.
Shop in Depot Square
Depot Square is a shopping area in Peterborough that's perfect for those who want to explore local shops while visiting. The area that it's located in is absolutely beautiful, as it's near the rivers.
Located in downtown Peterborough, this shopping area truly has it all. There are yarn shops, jewelry stores, and even a bookstore (more on that later). Of course, there are also many different restaurants in the area too, including places to get coffee and organic entrees.
Even if you don't plan on buying anything during your visit, it is one of the best things to do in Peterborough NH. It's the perfect place to meet locals and learn more about the area while visiting charming shops.
Grab a New Book at Toadstool Bookstore
If you love reading, be sure to stop by Toadstool Bookstore. Located in Depot Square, this is one of the best places to visit in the area! They also have locations nearby in Nashua and Keene.
This charming bookshop has a cafe and tons of great books just waiting to be read by you! Plus, there are little nooks that you can explore like most bookstores have. Shopping here is the perfect way to support a local bookstore, and the workers there love recommending your next favorite book.
There's no better feeling than grabbing your favorite iced coffee drink (or hot one) while reading a fresh, new book as the spine cracks open!
Relax at Edward Macdowell Lake
Another great way to enjoy the outdoors in Peterborough, New Hampshire, is to head to Edward Macdowell Lake. This lake is near State Route 101 and is incredibly picturesque and open year-round.
If you recognize the name, that's because it's named after the composer Edward Alexander MacDowell. The lake is about 165 acres, and it's a beautiful place to go and relax. You can go out on the lake in a kayak, fish in the water, or even go hiking in the area. There are also some fun ranger programs hosted here for young kids who can become honorary park rangers after attending some classes!
Of course, Edward Macdowell Lake has quite a few amenities and facilities as well. There's drinking water, bathrooms, horseshoe pits, a playground, volleyball courts, grills, and picnic areas.
Hopefully, this post has helped you find out all of the best things to do in Peterborough NH. Enjoy your trip to New England!
---
You might also like: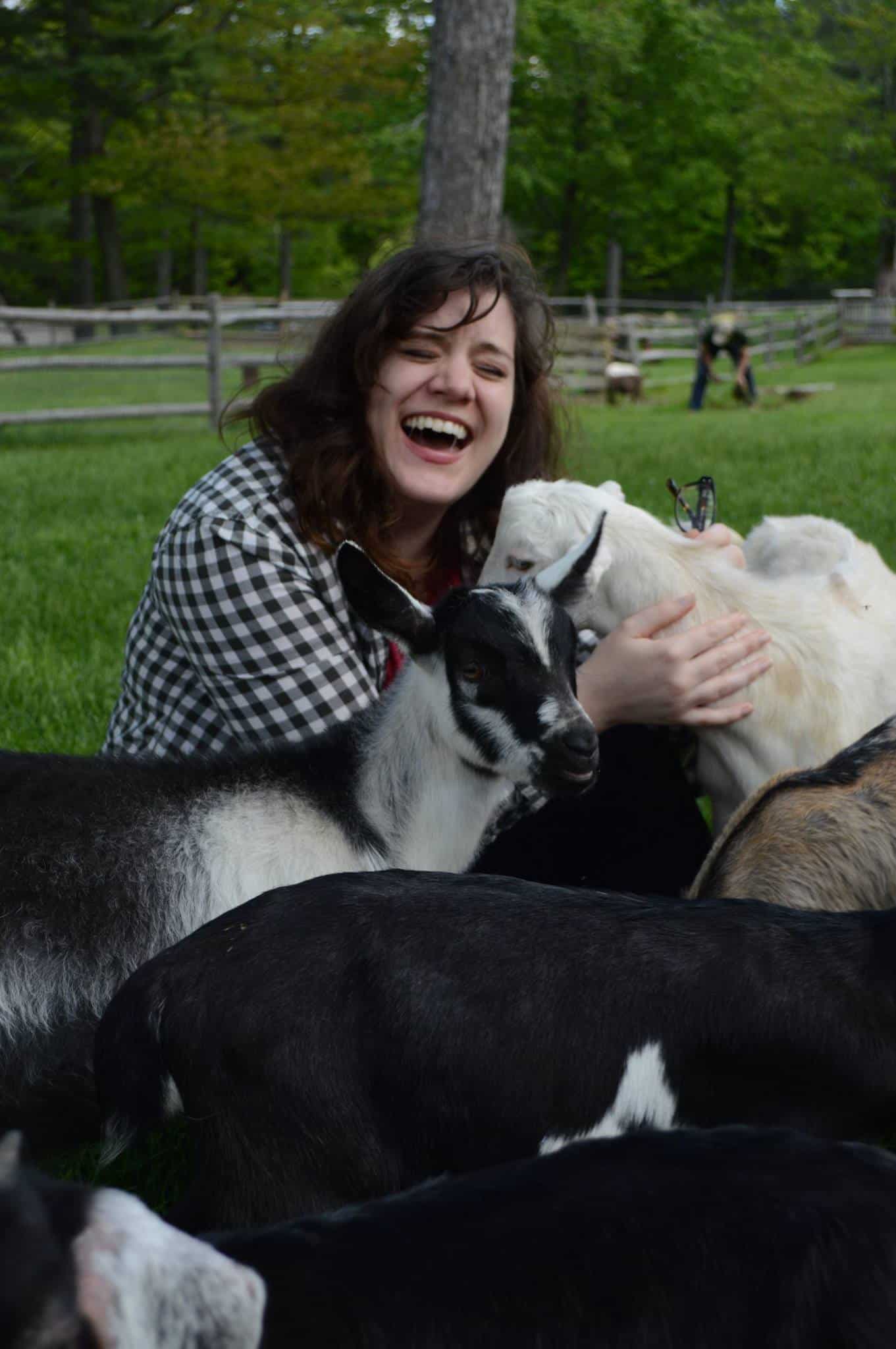 Amy Hartle is the founder and Editor-in-Chief of New England With Love, a comprehensive resource for travel in the New England region. Amy has been exploring New England since 2001. She lived in Vermont for many years and is a graduate of Plymouth State University in New Hampshire. Amy has been writing about travel for over a decade. On this site, Amy aims to share her love of New England and help you to have the best possible adventures!
Amy has been a full time blogger since 2012, and is also the publisher of Two Drifters, where she writes about couples travel and relationships, as well as Let's Adventure Baby, a family travel site. When not traveling the world or creating epic blog content, Amy can be found cuddling with her husband, son, and cats, & drinking a maple latte.