There are four seasons of fun in Vermont, but autumn may be the most wonderful. Fall in Vermont is cozy, beautiful, exciting, and memorable.
With countless VT fall things to do, places to visit, foods to enjoy, and sites to see, you'll have a full calendar here, whether you're a local or just planning a Vermont fall trip!
Fall is the perfect time of year and if you're looking for fall leaves that are all but guaranteed to turn vibrant shades of gold, orange, and red, then the fall foliage in Vermont will not disappoint because autumn is the best time of year to visit Vermont.
Though some years the VT fall foliage will be more vibrant than others (conditions change depending on the year's weather), as a proud Vermonter for many years, I can tell you that you are pretty much assured strong pops of color and a chilly autumn atmosphere.
Here are a few Vermont in fall pictures to get you feeling those Vermont fall vibes:
FAQ About Vermont's Fall Foliage
Where are the best places to see fall foliage in Vermont?
There are few places in this gorgeous state where you won't get to experience the magic and splendor of the fall colors Vermont has to offer, but the season does look particularly nice in certain spots: impressive mountain peaks, postcard villages, waterfalls, winding roads.
The road trips below cover all of those destinations for where to go for the best Vermont fall scenic views.
When is the best time for fall foliage in Vermont?
Fall foliage in Vermont generally peaks (hits its brightest point) around early October. Peak lasts for several days to a week, and then the leaves begin to quickly fade. Fall color progression typically happens north to south throughout the state.
While peak is the best time to see fall foliage in Vermont, the weeks leading up to that point are also stunning. If you want to see the vibrant fall colors in Vermont, aim to come before peak or as close to it as possible.
If you're looking for the best time to see fall foliage in Vermont, mid-October is cutting it close, but overall, the best times to visit Vermont will be early to mid October.
You can check out a fall foliage prediction map here and real-time updates on this New England peak fall foliage tracker to increase your chances to see the best fall foliage in Vermont!
---
Feeling ready to enjoy a Vermont fall? Let's get reading. There are so many Vermont in the fall things to do that every region offers something worth checking out.
I can't possibly include all of the fall activities in Vermont in this post, so I've narrowed it down to 25+ essential places to go and things to do in Vermont in the fall.
Fall in Vermont Things to Do
Attend a classic Vermont fall fair
Can't you just smell the kettle corn? Vermont fall festivals come in all sizes and September is a particularly popular month for these. Some have carnival rides and games, while others are simpler, with crafts, baked goods, and live music.
There are plenty of options all around the Green Mountain State, but definitely check out the Peru Fair for a quaint, old-fashioned country fair or the Harvest Festival in Woodstock for some historic harvest time activities like cider pressing and a barn dance!
Hop in the car and go leaf peeping
Vermont autumn leaves will likely always be the main attraction during a Vermont fall trip! The colors are so vibrant in New England and in Vermont, in particular, the fall foliage is spectacular.
Your best bet is to visit during the peak of fall foliage in Vermont. This is typically early to mid-October, but Vermont colors vary depending on conditions each year.
Check out this fall foliage VT map to get a general overview of when is fall in Vermont as far as the dramatic color progression of the season goes.
Read Next: The Perfect Vermont Road Trip: 5-7 Day Itinerary | 8 Amazing New England Fall Road Trip Ideas
Stay in a cozy cabin
Looking for where to go in Vermont in the fall? Grab your partner, family, or friends and book a cozy cabin for the perfect Vermont fall weekend. You'll definitely feel rejuvenated after settling in surrounded by vibrant Vermont fall colors!
Eat your fill of cider donuts
Fall's #1 food—and likely the cause of my annual fall weight gain—is the apple cider donut. I had never had these before moving to Vermont, but let me tell you, they are incredible.
There are spots all over Vermont where you can find the best cider donuts, but one of my favorite places to get them is the Sugar Shack in Arlington. Yes, Vermont fall leaves are beautiful, but cider donuts are beautiful and delicious!
Get lost in The Great Vermont Corn Maze
When the corn is done being harvested each year, many farmers turn their fields into intricate corn mazes for guests to wander through.
This traditional Vermont fall activity gets even better when you tackle the biggest corn maze in New England, located in Danville, VT.
Experience Dead North: Farmland of Terror
Closed for Repair in 2023 🙁
Come back at night and you'll find a different experience on the corn maze property. If you like to get spooked, you can sign up for this unique October event.
If you're into big spooky scares, check out Dead North. This is definitely on the list of what to do in October in Vermont for all the thrill-seekers out there!
Walk to a Waterfall
An autumn hike in Vermont out to a waterfall is basically a twofer—2 must-see natural wonders for the price of 1!
There are several waterfalls across the state that offer a lovely walk through fantastic VT fall foliage to get out to them.
Visit the possibly haunted Emily's Bridge
Maybe you don't like haunted houses and haunted corn mazes but you're interested in real, potentially haunted spots?
As you might imagine, Vermont (and New England) is full of them. One of my favorite local legends is Emily's Bridge.
At this spot in Stowe, VT, you can see a lovely covered bridge and perhaps have a supernatural experience as well, as it is said that the spirit of a heartbroken young lover remains at this very site where she was once jilted, taking out her rage on unsuspecting passersby. This is another Vermont in October activity for those looking for a scare!
Read Next: 15 Haunted Places in Vermont: Ghosts & Paranormal Activity 👻
Drive up a mountain
Want to reach the top of a mountain without hiking up? You might like Equinox Skyline Drive in Manchester, which takes you up a winding road to the top of Mt. Equinox.
You'll be surrounded by incredible Vermont fall foliage in this magical spot; this is definitely one of the best places to visit in Vermont in the fall.
Read Next: Top 13 Best Restaurants in Manchester VT
Wander through a pumpkin patch
I don't think there's anything more fall-like than a real pumpkin patch. Go pick out a few pumps to carve into jack-o-lanterns tonight. SpoooOOoOooOky!
There are quite a few very popular pumpkin patches worth exploring while looking for Vermont in October things to do.
Go on a covered bridge tour
Vermont has some absolutely lovely covered bridges spread throughout the state, and autumn is the perfect time of year to tour them!
What could be a more worthy Vermont fall photography subject than a historic covered bridge framed with blazing fall foliage of red, orange, and gold? Answer: not much, I don't think!
Stay on a real working farm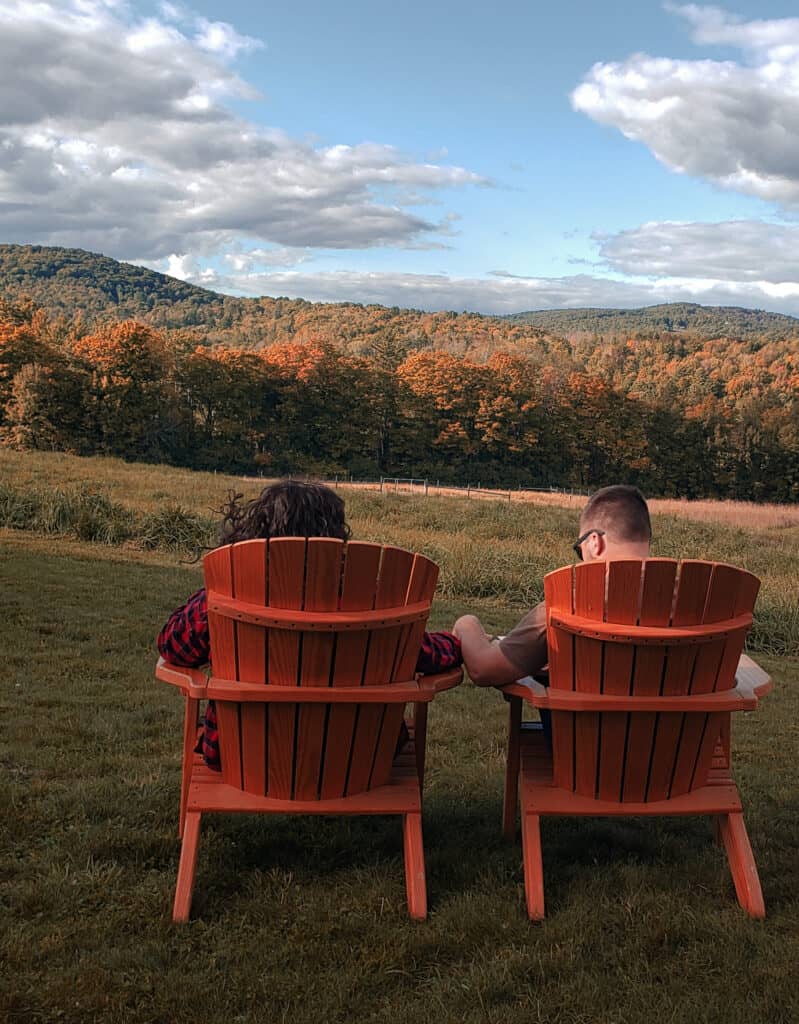 A quintessential Vermont experience involves staying—and helping out on— an actual Vermont farm. My husband and I found an awesome place to do this near Woodstock, on the Fat Sheep Farm!
Read about our experience staying at this gorgeous farm here; Vermont during fall would be the perfect time to have your own experience there.
Go apple picking
In between eating cider donuts and carving pumpkins, many Vermont farms have apple orchards where you can pick your own harvest.
These are a few of my favorite places to go apple picking. This is a classic Vermont in September activity!
Hike Owl's Head
Any hike will do on a pristine autumn day, but if you are looking for awesome Vermont fall foliage views, you have to check out Owl's Head in Groton State Forest. You'll find beautiful views over a lake and distant mountains with some of the best fall colors in Vermont!
Take a Route 100 road trip
Route 100 snakes its way from south to north in Vermont, and passes through a great many fun destinations. Plus, the drive itself is a good time and offers perfect VT fall foliage viewing opportunities and is a strong contender for best place in Vermont for fall foliage!
As a bonus? There are some of the best places to stay in Vermont in the fall along that route, too!
Stay in a perfect Vermont in the fall inn or hotel!
As I just mentioned, there are some perfectly picturesque places to stay in Vermont in the fall, whether you're searching for peaceful getaway vibes or a more vibrant, city experience.
We've done the research for you so all you have to do is pick your favorite place to stay in the fall in Vermont here!
Check out the Cold Hollow Cider Mill
If you are in love with all things APPLE, you'll FALL for the Cold Hollow Cider Mill in Waterbury, VT. This is a place I've been going to for years, where the moment you walk in it smells and feels like Vermont fall heaven.
Enjoy their delicious cold-pressed apple cider, apple cider donuts, and plenty of other treats. They've also got hard cider and a tasty lunch restaurant, boasting local foods. You will not leave this place hungry, and it is definitely one of the best places to go in Vermont in the fall!
In fact, I consider this an essential Vermont fall bucket list item.
Take a scenic fall foliage paddle
Autumn foliage in Vermont looks even more vibrant from the water with all the gorgeous Vermont autumn leaves reflecting off the water.
One of the best things to do in Vermont in the fall is to rent a kayak or canoe and head to a nearby lake for a serene autumn afternoon. Remember that the best time for fall colors in Vermont is early October, so if you can plan your trip for then you will have the best shot at seeing those peak colors!
Cycle along the Burlington Bike Path
A Vermont fall bike ride sure sounds nice, doesn't it?
There are many places for experienced and beginning cyclists to ride in the state, but one of the most popular is the Burlington Bike Path. This paved lakeside pathway follows the Lake Champlain shoreline all along the Burlington waterfront, but also transforms into the Island Line Trail, and winds all the way up into the Champlain Islands.
If you've got the stamina for it, this 6-day bicycle tour is considered one of the best fall foliage tours in all of New England. This is a very unique leaf-peeping in Vermont experience, right?
Read Next: 10 Lovely Lake Champlain Vacation Rentals in VT
Take in the views over Quechee Gorge
Quechee Gorge is impressive in every season, but in autumn it has some of the best fall colors in Vermont. Stop here on a Vermont fall trip, or while visiting the charming town of Woodstock nearby. There are some adorable inns and hotels in Woodstock!
Visit Bennington
One of the most underrated small towns in Vermont to visit in the fall, Bennington offers small town charm and absolutely gorgeous fall foliage in its nearby hikes.
With a historic village to explore and absolutely darling shops to visit like the Apple Barn, where you'll find family friendly fall events and so many delicious fall treats like apple cider donuts and fresh baked pies! This is just classic small town Vermont fall fun and it's hard to beat, especially if you're looking for fun fall things to do with kids.
Read Next: 13 Terrific Restaurants in Bennington VT
Drive (slowly!) up the winding Notch Road in Stowe
Stowe is one of the prettiest places in Vermont (if not all of New England).
One of the nicest spots to check out in the fall is the Notch Road that leads from Stowe up to Smuggler's Notch. In the winter, this road is closed, as it becomes too dangerous and impassable. But it's typically still open in the fall, giving you a great opportunity to see vibrant Vermont foliage at a higher elevation.
Make sure to pay this area a visit. There are trail heads for many of the best local hikes along this road, too. PS: Drive slowly and carefully; this road is incredibly winding and very narrow in some spots, but certainly worth traveling these rolling hills while visiting Vermont in the fall.
Hop on a scenic sunset cruise
Want to see the beautiful Vermont fall foliage at the golden hour as the sun begins to set? Heck yes, you do!
Check out the Spirit of Ethan Allen or one of the other great Lake Champlain boat rentals and see the fantastic fall foliage from lovely Lake Champlain, then you can head out to enjoy the fall Burlington scene with its great breweries, coffee shops, restaurants, and cool things to do!
Ride the Gondola up Mt. Mansfield
While you're in Stowe, visit the tallest mountain in Vermont, Mt. Mansfield. In winter, this is a great spot for skiers, but during other times of the year, you can ride the bright red gondolas up to the summit.
Available until mid October, traveling to the top of Mount Mansfield is a really unique way to see fall foliage color from a different perspective and a very cool thing to do on a Vermont fall vacation!
Do some fall camping (or glamping!)
Vermont in fall does start to get a little chilly, but if you've got the right gear (namely, a warm sleeping bag) you can make the most of these crisp days and chilly nights, especially if you plan it for the early Vermont fall season.
Read Next: 10 Perfect Spots for Camping in VT | 9 Best Spots for VT Glamping
Sip a sampler of seasonal brews
Enjoying craft beer is one of my top picks for things to do in the Green Mountain State, and it's a bucket list destination for craft beer lovers.
During trips to Vermont in the fall, relish the flavors of the season by seeking out pumpkin ales, autumnal IPAs, and more.
Read Next: 13 Spectacular Vermont Breweries You Have to Visit
Explore Vermont's most charming small towns
Vermont's villages look even more picturesque at this time of year. Framed by the rich fall colors Vermont is so well known for and decorated with pumpkins, they are Instagram-worthy destinations.
Make sure to head off the beaten path and find some of these smaller, local gems to explore. Small towns somehow become even more charming in the fall in VT!
Hop aboard a Vermont fall foliage train ride
You can board a train from Chester, VT that will take you on a lovely ride through the mountains. On Vermont train rides, fall foliage pops from all directions… what a lovely way to enjoy some autumn colors in VT!
Check out the view from above!
If you're a fan of adrenaline-inducing activity, consider zip-lining at Smugglers' Notch, where you can fly through the fabulous VT fall foliage for yourself! If that birds-eye view is calling to you but you'd prefer a little slower pace, check out Above Reality Hot Air Balloon Rides, where the blazing fall colors will form a carpet below you as you soar through Vermont's skies.
How does a sweeping view of the earth below you ablaze with autumn colors sound?
Rent a cabin on the lake
There's just something about fall foliage views reflected in still waters that just sings to my soul! Vermont is fortunate in that there are beautiful lakes all around the state, and it's not particularly difficult to find a great lakefront rental!
Depending on where you want to be, a rental on the lake could either be a relaxing getaway full of solitude, or a comfy base for outdoor fall adventures. There are plenty of options, so have fun looking through some of the loveliest lakefront vacation rentals in Vermont!
Cheer Oktoberfest at Mount Snow
Finally, if you're looking for what to do in October in Vermont, raise your glass at Mount Snow's annual Oktoberfest, which has been around for more than 20 years.
Visit Brattleboro
One of those quaint yet understated Vermont towns that is just chock full of charm, Brattleboro is particularly picturesque in the fall. Explore the hiking trails, stroll the classic downtown, and take a lovely walk along the riverfront.
A part of the beauty of a visit to a small town like Brattleboro is that it's not one of the big fall foliage destinations in Vermont, so you're going to be less likely to run into some of the big crowds you'll see in other areas of the state (cough cough, Stowe).
Brattleboro is near the New Hampshire border, so this is a great way to see some of the most stunning fall foliage in Southern Vermont and you can just cross right over the border to see some of the best fall colors in New Hampshire, too!
Read Next: 9 Can't-Miss Restaurants in Brattleboro VT
Fall in Vermont is one of those things that just screams out New England, and hopefully you've found plenty of things to add to your Vermont fall bucket list today!
---
Read these next:
---
Pin this post to save for later!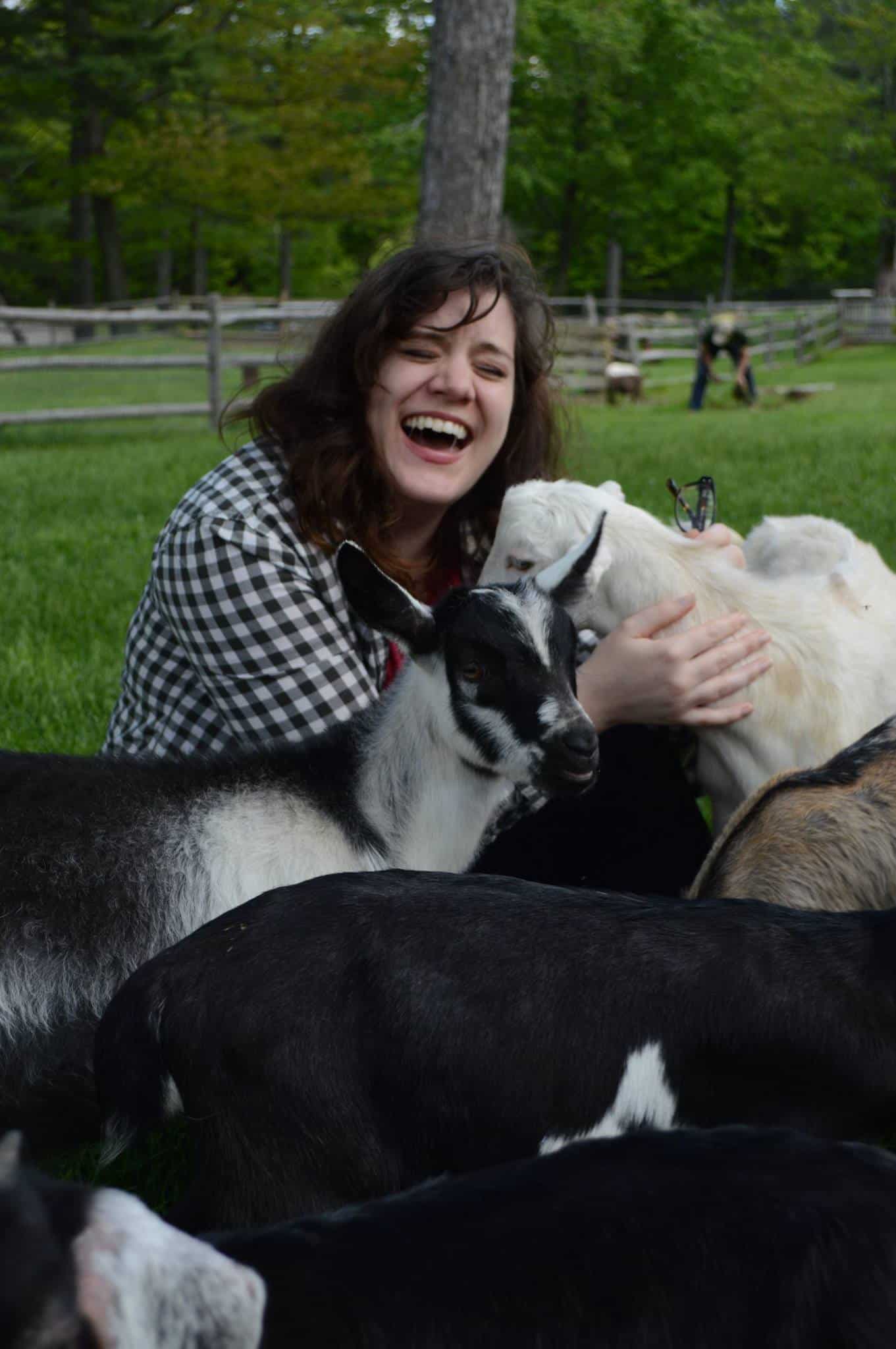 Amy Hartle is the founder and Editor-in-Chief of New England With Love, a comprehensive resource for travel in the New England region. Amy has been exploring New England since 2001. She lived in Vermont for many years and is a graduate of Plymouth State University in New Hampshire. Amy has been writing about travel for over a decade. On this site, Amy aims to share her love of New England and help you to have the best possible adventures!
Amy has been a full time blogger since 2012, and is also the publisher of Two Drifters, where she writes about couples travel and relationships, as well as Let's Adventure Baby, a family travel site. When not traveling the world or creating epic blog content, Amy can be found cuddling with her husband, son, and cats, & drinking a maple latte.