Are you planning to go leaf peeping in New England? Autumn is one of the most magical times of year for travel to this region because New England fall foliage is absolutely stunning!
Fall is the time of year when the charming villages and historic towns of New England really shine! You've got so many classic fall activities like apple picking, corn mazes, pumpkin patches, and ghost tours, and in the background of all is the medley of fall colors.
New England fall foliage is a sight to see and a leaf peeping trip should be on everyone's New England bucket list. Think scenic routes, cider donuts, sweeping views at mountain resorts… you get the picture!
We can tell you all you need to know to go leaf peeping in New England, including where to find peak colors throughout the season. Fall foliage in New England, here you come!
When is the Best Time to See Fall Foliage in New England?
Fall foliage colors in New England are from late September to early November, moving from North to South. The first state in New England to see fall colors appear is Maine, and the last will be Connecticut, but there are some nuances to that across each state.
Fall foliage is the color seen on trees throughout the season, but you'll also hear people refer to peak colors. Peak colors are the fall foliage at their most vibrant, and these are harder to pin down than the dates when you can expect to see color in the region.
Remember, fall color and peak colors depend on somewhat unpredictable natural elements, including weather and precipitation throughout the year. This means these are ranges that are typical; they are not perfect forecasts.
We will share the ballpark for fall colors in each state, and individual fall foliage trackers so you can zero in on a location you want to visit and follow their peak color forecast. You will almost certainly find fall colors in New England in the month of October, so if you just need a month to shoot for, that's it!
You can follow this New England fall foliage tracker as we get into the season, too.
Maine
The Pine Tree State is the first state in the country to see fall color each year, so if you're planning an early autumn leaf peeping trip, this is a good choice. Fall color in this New England state typically begins toward the end of September and lasts until the last week of October, North to South down the state. Coastal Maine typically sees peak color at the end of October.
Read Next: 12 Best Places to See Maine Fall Foliage: Where to Go for Fall
Massachusetts
The Bay State doesn't have as long of a fall foliage season as its neighbor to the northeast. You'll find Massachusetts fall foliage beginning in mid to late September and lasting to mid to late October, with peak colors varying across the state. Pockets of color often extend beyond this time frame on the coast, with areas like Cape Cod seeing peak colors last.
Read Next: Cape Cod in the Fall: 13 Things to Do
Rhode Island
While the Ocean State may be the smallest state in the US, it's got plenty of great fall color! Fall foliage in Rhode Island typically begins in early October and lasts through the end of the month, moving from North to South.
Read Next: The Ultimate Guide to Fall in Rhode Island
New Hampshire
One of the most popular leaf peeping destinations in New England, the Live Free or Die State has a lengthier peak fall foliage season than its more southern neighbors. You can expect fall colors to begin in late September in the north, ending with peak fall colors at the Seacoast at the end of October.
Read Next: Fall in New Hampshire: Fun & Festive Things to Do
Vermont
For many, leaf peeping New England means leaf peeping in Vermont! The Green Mountain State is absolutely stunning when peak fall foliage hits, and you can expect to see peak colors beginning in mid to late September and ending by the third week of October, moving north to south. You'll find the higher altitude locations seeing peak colors before their lower altitude neighbors.
Read Next: Vermont in the Fall: 25 Things to Do & Places to Visit
Connecticut
The Nutmeg State is especially scenic in the fall, with fall foliage beginning to peak in early October, typically lasting through to the beginning of November. If you're planning a late fall foliage trip to New England, Connecticut is a great choice!
Read Next: Fall in CT: 7 Top Spots for Fall Foliage in Connecticut
New England Fall Foliage: Where to Go
Acadia National Park, Maine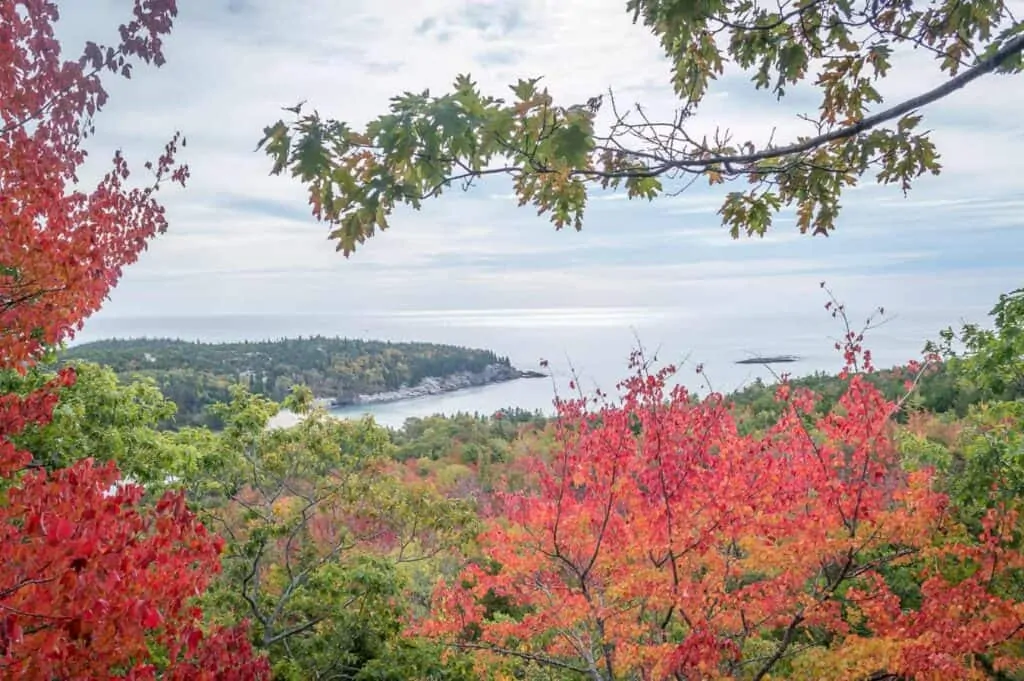 One of the best fall foliage destinations in New England is in beautiful Acadia National Park. Located on Mount Desert Island, you'll find some of the best views for fall colors in the northeast at this lovely national park.
Acadia is full of excellent fall foliage hikes, so you have choices galore for how to get out and enjoy those spectacular fall views. We recommend the Beehive Loop Trail. Not only was this hike so fun (you literally have to climb metal rungs at one point because you are essentially climbing up a fairly sheer rock face!) but the views of Acadia's fall foliage were amazing!.If you're not a fan of heights, this hike is probably not for you.
You can even download a self-guided driving tour to follow along with to get some more insight on top Bar Harbor and Acadia sights!
Don't forget to schedule some time at the town that sits at the entrance of Acadia, Bar Harbor. There is great shopping, cute attractions, fantastic restaurants to be found, and lots of excellent choices for where to stay. There are hotels near Acadia, campgrounds, and vacation rentals, but we have a personal recommendation for you!
We stayed at the Bar Harbor Inn & Spa and loved it. The property is absolutely gorgeous and there's onsite dining and a full service spa. Umm, do we need to say more?
Click Here to Check Prices & Book!
Burlington, Vermont
Of course, I can't have a list of the best places in New England for fall foliage viewing without including Burlington, Vermont! I spent quite a few years living in this gorgeous city, and I can tell you from personal experience, Burlington in the fall is BEAUTIFUL!
Burlington is not a big city, but it is full of trees and tree lined streets that are extra lovely as the fall colors take over! Church Street is always a must visit in Burlington, and it is stunning in the fall.
There are also a ton of great parks around town that are perfect for taking in fall foliage views on a crisp autumn day. Oakledge Park is a cool Burlington park with lots of fall colors and Lake Champlain views, and it is where the Burlington Bike Path begins. Rent a bike at Local Motion and then hit the bike path for even more fantastic fall views!
One of the most scenic areas of Burlington is Lake Champlain, and there's always something special about seeing the vibrant fall color on the shore pop against the glittering waters. The views here are lovely.
Rent a boat or a vacation rental on Lake Champlain for an even better view. Burlington has great places to stay, but one of the best hotels is Hotel Vermont. It's home to Juniper, one of the best restaurants in town and a favorite brunch spot. You've got to have a good brunch spot during your leaf peeping trip, right?
Click Here to Check Prices & Book!
Oh, and while you're in Burlington? Sign up for a brewery tour! There are so many cool breweries in town, and when in Rome, right?
Read Next: 7 Coziest, Best Burlington Vermont Coffee Shops to Visit
White Mountain National Forest, New Hampshire
White Mountain National Forest in New Hampshire is one of the most popular leaf peeping places in New England, and it is home to the beloved Kancamagus Highway. Lovingly shortened to The Kanc, this scenic New England byway is absolutely stunning when the fall colors appear!
You'll be treated to incredible autumn color views as you wind your way through the White Mountain National Forest and around quaint NH towns like Conway and Lincoln. Of course, there are plenty of pull off areas for you to stop for a bit to take in the stellar peak foliage views.
Download an audio tour of the Kanc to be guided to some of the best fall foliage spots like Sabbaday Falls, Hancock Overlook, Albany Covered Bridge, Mount Washington, and more. The fall season is so magical in the White Mountains!
There are gorgeous cabins throughout the White Mountains that would be a perfect place to stay for leaf peepers, but if you're interested in a luxury experience, check out the Omni Mount Washington. Just a quick and beautiful drive through Franconia Notch State Park to Bretton Woods and voila! Perfect place to stay for your New England leaf peeping trip.
Click Here to Check Prices & Book!
Boston, Massachusetts
Have you visited Boston in the fall? It is positively dreamy! It's pretty well understood that Boston has extreme temps on both ends of the spectrum, with very hot, muggy summers and very cold, snowy winters.
In between those two is fall, and it's perfect for exploring Boston and enjoying all the great attractions, restaurants, coffee shops, breweries, and more.
Boston is home to some very popular fall foliage spots, as well, and if you're not from Beantown, you might not think of it! Boston Public Garden and Boston Common are two of the best places in Boston for fall foliage views. There are so many beautiful trees in both of these outdoor spaces, and you can expect to see vibrant oranges, bright yellows, and scarlet reds all around.
If you're looking for the perfect spot to enjoy peak fall colors in Boston, head to the Esplanade. There's nothing quite like seeing the blazing colors being reflected back in the Charles River on a sunny autumn day.
For a great fall foliage tour in New England, consider booking a guided fall foliage bike tour; you'll go through some of the most gorgeous parks in the city and be treated to the best fall colors in town! There are many walking tours and boat tours in town that are perfect for fall weather, too.
Boston is home to so many fantastic places to stay, whether you're looking for boutique hotels with an edge, pet friendly and family friendly spots, vacation rentals, or even hotels with in room jacuzzis!
Of course, some hotels are just plain cool, and that's The Liberty. This interesting boutique hotel was once the site of an infamous Boston jail, and clever nods to its infamous past abound. Drinks at The Clink, anyone?
Click Here to Check Prices & Book!
Read Next: 15 Tasty Food Tours in Boston: Food Tours to Book
Mohawk Trail, Massachusetts
The first designated scenic road in New England, the Mohawk Trail winds through the Berkshires, one of the prettiest areas of the state. You'll find yourself surrounded by vividly colored dense fall foliage as you make your way through quaint MA towns.
Popular attractions along the Mohawk Trail include Zoar Outdoor in Charlemont, the perfect place for outdoor adventures! Sign up for a zip lining adventure and you'll find yourself getting an immersive fall color experience as you zip through the canopy of trees.
Also on the list of cool things to see on your scenic fall foliage drive is Shelburne Falls' Bridge of Flowers. The fall foliage views that can be seen from this trolley bridge are spectacular!
Looking for where to stay on the Mohawk Trail? Williamstown's 1896 House Inn is a charming choice!
Click Here to Check Prices & Book!
Mount Greylock State Reservation, Massachusetts
When considering fall foliage destinations in New England, it stands to reason that we think of getting a better vantage point by going high, right? Well, Mount Greylock State Reservation in Adams is a great choice as the summit is 3,491 feet and the highest point in Massachusetts!
As an added bonus, you don't have to be in great hiking shape to get to it! You can drive to the top, and what's more, there's a 92-foot tall granite Veterans War Memorial lookout tower that gives you an even greater boost. They say that on a clear day, you can see up to 90 miles away, potentially seeing parts of 4 states and 5 mountain ranges. Talk about fall foliage views as far as the eye can see!
Just north of Mount Greylock is North Adams, so be sure to spend some time enjoying this MA town. It is home to the Massachusetts Museum of Contemporary Art, or MASS MoCA, so be sure to check it out!
In fact, the Porches Inn is located right across the street from MASS MoCA, and this boutique hotel is one of the best places to stay in the Berkshires and just a quick drive to Mount Greylock!
Click Here to Check Prices & Book!
Woodstock, Vermont
When you think of picturesque Vermont villages to visit in fall, trust me, you're thinking of Woodstock! Woodstock, Vermont in the fall is basically a leaf peepers paradise. You've got a wide variety of great outdoor things to do and see and the best part? Fall foliage pretty much everywhere!
Visit the animals at Billings Farm & Museum and hike the Marsh – Billings – Rockefeller National Historical Park, then do a mini covered bridges photo session. Woodstock's covered bridges are absolutely lovely with fall foliage in the background.
Woodstock is home to several great restaurants, shops, and places to stay, so you've got plenty of options. We stayed at 506 on the River Inn and loved it! While we didn't stay there during autumn, we can imagine the fall foliage lining the Ottaquechee River makes an already lovely river view even more magnificent.
Click Here to Check Prices & Book!
Kent Falls State Park, Connecticut
Located in the lovely Litchfield Hills region of Connecticut, fall foliage in Kent Falls State Park is gorgeous! In fact, there's more at Kent Falls State Park than just pretty fall colors in the trees. There's a wonderful waterfall, and the hike out to it is fairly short (yet steep!)
But wait, there's more! Kent is home to Bulls Bridge, a picturesque covered bridge that crosses the Housatonic River. This historic CT covered bridge is absolutely darling with a background of fall foliage colors.
Kent is an adorable New England town that is even more charming as the autumn colors blaze to life. Book a room at nearby Cornwall Inn to experience that Connecticut charm that is so perfectly on display during the New England leaf peeping season!
Click Here to Check Prices & Book!
Newport, Rhode Island
The Classic Coast is one of the best places to visit for New England fall foliage, particularly if you enjoy a lovely ocean view with your fall colors! One of the best ways to get the best of both worlds is to take a stroll on the iconic Cliff Walk. This scenic walkway offers a chance to leaf peep in the backyards of famous Newport Mansions with views of the deep blue sea on the other side.
This beautiful coastal community is full of scenic sights, and the splashes of fall foliage color in between only add to the charm. Newport, Rhode Island in the fall is so pretty!
Actually, one of the most scenic drives in New England is located in the Ocean State, and it's a fantastic coastal fall foliage route. Ocean Drive, also known as Ten Mile Drive, offers the lovely autumn views of southern Aquidneck Island.
One particularly scenic fall foliage spot along Ocean Drive is the area of Brenton Point State Park. If you can, stop at this scenic state park and climb to the top of the stone observation tower for an even better view of the surrounding fall colors!
Of course, Newport has plenty to see and do (and eat!), so there is no shortage of fun to be had in this area. The Newport Mansions are gorgeous year round, but their meticulously landscaped grounds come alive with the brilliant colors of autumn if you plan your visit during RI peak fall foliage!
There are so many great options for where to stay in Newport, with everything from vacation rentals to luxury hotels. One of the top places to stay in New England is located right here in Newport: Castle Hill Inn.
The grounds are stunning as the leaves change color. There's a lovely path on the property that takes you directly to the Castle Hill Lighthouse, one of the prettiest lighthouses in the state!
Click Here to Check Prices & Book!
Camden Hills State Park, Maine
One of the best spots for fall foliage viewing in Maine is Camden Hills State Park. In addition to all the great hiking opportunities in this Maine state park, there's also a way to get spectacular fall foliage views without ever having to leave your vehicle!
Mt. Battie Auto Road makes getting that birds eye view accessible for all. In fact, you'll be treated to expansive fall color views that include Camden, Penobscot Bay, and even Cadillac Mountain in nearby Acadia National Park!
Camden is a fun town to visit, with lots of great things to see and do. If you're looking for a place to stay in Camden, consider booking a room at the romantic Camden Maine Stay Inn. It's perfect for couples enjoying a leaf peeping vacation together!
Click Here to Check Prices & Book!
Read Next: 15 Top Restaurants in Camden ME to Impress Your Inner Foodie
Smuggler's Notch State Park, Vermont
If you've ever looked at a list of scenic drives in Vermont, you've almost certainly seen Smuggler's Notch listed. This incredibly scenic road is nestled in between massive 1000+ feet cliffs on either side, with beautiful trees lining the way. In autumn, this road is nothing short of stunning.
Smuggler's Notch State Park is full of fantastic hiking trails and scenic overlook opportunities that are perfect for leaf peeping. This is one of the top Vermont fall foliage sights!
Of course, nearby Stowe is full of fun and attractions, so be sure to spend a little time exploring the local trails, restaurants, and more. There are also lots of great vacation rentals, inns, and hotels in Stowe, too.
I highly recommend a stay at Trapp Family Lodge in Stowe. This is just an iconic Vermont place to stay, as it is run by the Trapp Family of Sound of Music fame. Plus, the grounds are gorgeous in the fall!
Click Here to Check Prices & Book!
Lakes Region, New Hampshire
One of the most popular areas of New Hampshire to visit is the Lakes Region, home to Lake Winnipesaukee, the largest lake in the state. Fall is the perfect time of year to visit this area as the spectacular lake views are transformed by the fall colors surrounding them!
There are so many great ways to enjoy the Lakes Region in autumn, including touring the entrancing Castle in the Clouds. The fall color views experienced at this incredible property are absolutely magnificent! They often host fall and Halloween themed events, as well, so keep up with their website for up to date info.
Meredith is one of the gems of this New England area, and it is lovely as can be during autumn. Visit Hermit Woods Winery & Eatery for a wine tasting tour and a bite to eat. If you visit this area in late October, you might even make it to the New Hampshire Pumpkin Festival in Laconia!
Of course, there are plenty of fun things to do in and near Lake Winnipesaukee in autumn and beyond, but one ultimate autumn activity should be on your can't miss list! You've absolutely got to book a ride on the Winnipesaukee Scenic Railroad, it's one of the best New England fall foliage train rides.
The four-hour Fall Foliage Special winds its way through some of the most stunning scenic fall foliage views in New England, coming to a stop in Plymouth, New Hampshire at the Common Man Inn & Spa for lunch.
PS I went to college here in Plymouth! This is an incredible restaurant for your pit stop, you lucky duck.
The return trip has a couple more stops before pulling back into Meredith; this is one of those fall foliage train rides that is simply unforgettable.
Book a Lake Winnipesaukee cabin or book a room at one of the great inns in the area. Meredith's Mill Falls at the Lake would be perfect for a couple looking for a romantic place to stay!
Click Here to Check Prices & Book!
Sleeping Giant State Park, Connecticut
Located in Hamden CT near the Southern shore of the state, Sleeping Giant State Park is a fantastic place to enjoy New England fall foliage! With 1500 gorgeous acres to be explored, there are plenty of lovely hiking trails to immerse yourself in the fall colors, but there's an added bonus here too: The Tower Trail.
The Tower Trail leads to a four-story stone observation tower that feels positively medieval and gives the opportunity for expansive autumn color views. This is a fantastic vantage point to take in all the gorgeous fall color all around you at this popular state park, and it is a must-visit if you're looking for fall foliage views in CT!
This Connecticut state park is just about a fifteen-minute drive to New Haven, so be sure to spend some time exploring this cool college town. There always seems to be something fun happening in New Haven, and a wide variety of great restaurants and coffee shops to check out, too.
If you're looking for where to stay in this area, check out The Blake. This trendy boutique hotel hosts interesting entertainment events throughout the year, and their rooftop bar and restaurant is spectacular!
Click Here to Check Prices & Book!
Mount Mansfield, Vermont
The highest point in the Green Mountain State, Mount Mansfield offers some fairly impressive fall foliage views! In fact, there's even a toll road that you can drive up if you're not in the mood for a strenuous hike, and a strenuous hike it is. There's just no "easy" way to get to the top of a mountain like Mount Mansfield!
But if it is expansive fall foliage views in New England you're looking for, look to Mount Mansfield. You'll see beautiful autumn colors extending out as far as the eye can see, whether you hike or drive up.
Alternatively, you can also opt to take a Stowe Gondola Skyride up to the top, but heads up, this daily experience offering typically ends in mid October.
Of course, Stowe is full of great places to stay, but if you're on a couples leaf peeping trip, consider booking a room at the adults only Stone Hill Inn! The property is surrounded by forestry and is absolutely stunning in fall.
Click Here to Check Prices & Book!
Salem, Massachusetts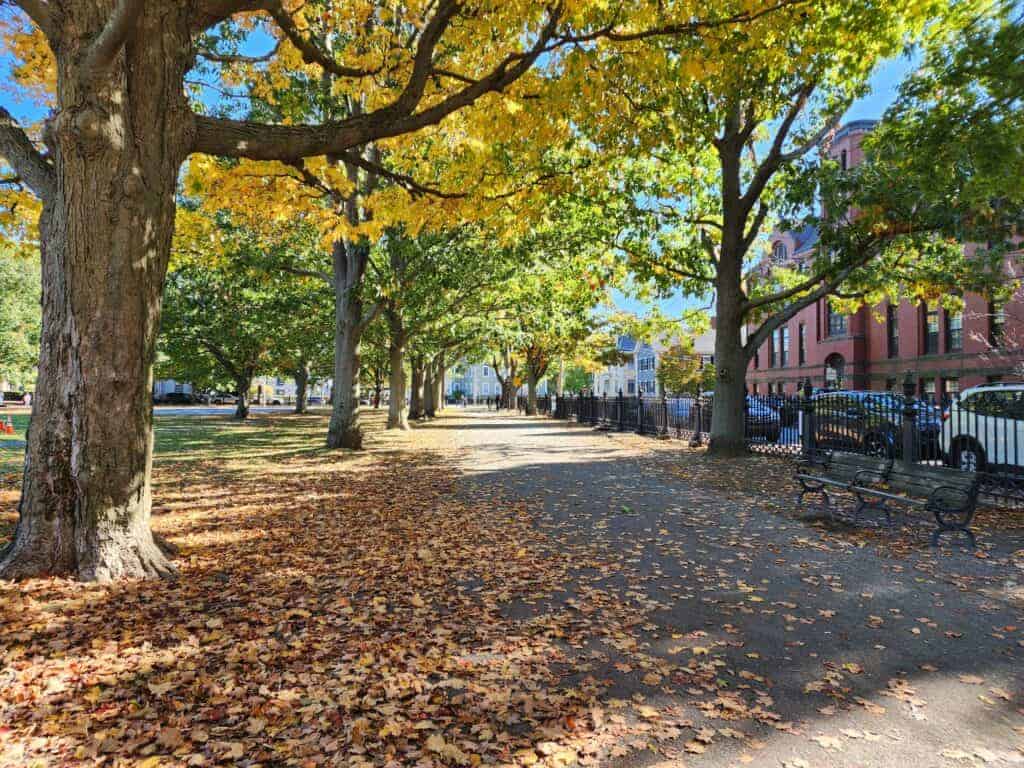 Salem is one of the most popular destinations for fall in New England due to its infamous association with the witch trials that lend themselves very well to Halloween festivities and ghost tours, but it also has beautiful fall foliage!
Salem is one of the most interesting historic towns in New England, and fall is a lovely time to visit. In addition to all the beautifully preserved historic streets that are lined with trees, you've got lovely greenspaces and parks that are great for leaf peeping.
Visit the Salem Woods, 160 acres of uplands, woods, marshes, and fields, and experience the scintillating landscape of autumn color! There are maples that provide vivid crimson colors, birches that turn a bright, sunny yellow, and plenty of shades in between. This is a beautiful place to go for an autumn walk on a sun-soaked day in October.
Salem is home to great restaurants, bars & breweries, cool airbnbs, and plenty of ways to get out and explore the town. There are lots of great guided tours in Salem, but one that includes history of the Salem Witch Trials and beyond is a must.
There are lots of great places to stay in town, including some haunted inns if that's your thing! If you'd rather visit Salem's most haunted spots during the day and stay in a non-haunted place, consider booking a room at the Hotel Salem. The property is lovely and we absolutely adored having cocktails at their rooftop bar!
Click Here to Check Prices & Book!
PS Don't forget to check out some of the now iconic Hocus Pocus filming locations in town, too!
The Sky
Seriously! One of the most magnificent ways to enjoy fall foliage in New England is by getting as high as you can and seeing the autumn colors from above.
You can opt to enjoy a scenic chairlift ride from one of your favorite ski resorts in New Hampshire, Vermont, and beyond that offer fall foliage rides, or you can really head up high with a hot air balloon ride or a seaplane tour! Companies like A&A Balloon Rides in New Hampshire fly year-round.
For a seaplane tour that offers out of this world fall foliage views, check out Jack's Air Service at Moosehead Lake – what a uniquely thrilling way to take in autumn views!
New England is home to some of the most stupendous fall foliage views, with its varying landscapes of mountains, valleys, lakes, woods, and coasts. There are so many gorgeous scenic drives and ready-made fall foliage tours you can take, as well, like this private fall foliage sightseeing cruise out of Portland, Maine.
We hope this guide to fall foliage in New England has helped you plan your autumn trip. Happy leaf peeping!
Read These Next: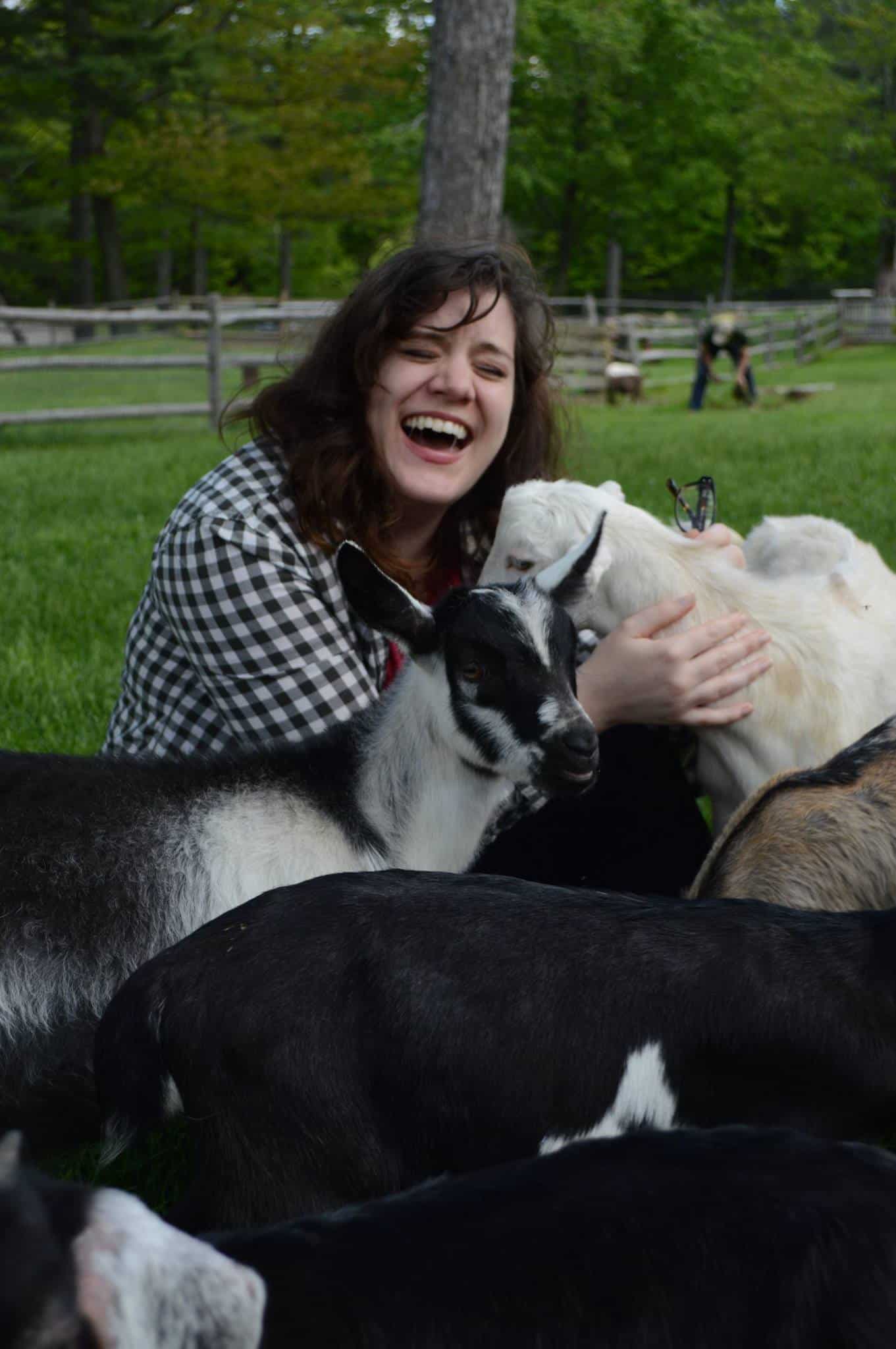 Amy Hartle is the founder and Editor-in-Chief of New England With Love, a comprehensive resource for travel in the New England region. Amy has been exploring New England since 2001. She lived in Vermont for many years and is a graduate of Plymouth State University in New Hampshire. Amy has been writing about travel for over a decade. On this site, Amy aims to share her love of New England and help you to have the best possible adventures!
Amy has been a full time blogger since 2012, and is also the publisher of Two Drifters, where she writes about couples travel and relationships, as well as Let's Adventure Baby, a family travel site. When not traveling the world or creating epic blog content, Amy can be found cuddling with her husband, son, and cats, & drinking a maple latte.