If you're planning a trip to Boston, you're in luck. This is one of the best walkable cities in New England – seriously, almost all of the top attractions in the city are within walking distance of one another. So, when visiting, why not reserve a spot on one of the best walking tours in Boston?
From touring Boston's own North End (or "Little Italy" to tourists) to walking the Freedom Trail, this list of the best walking tours in Boston has got it all.
Plus, there's even a tour that is solely for visitors to explore Fenway Park! Boston's sports culture is unlike any other city.
Without further ado, here are all of the best Boston walking tours, ranked in no particular order.
PS have you looked into getting a Go Boston Card or a Boston CityPASS? We've got the scoop here: Go Boston Card vs Boston CityPASS: Which is Better?
Walking Tours in Boston
First up is a small-group food and history Freedom Trail walking tour. No trip to Boston is complete without checking out the Freedom Trail because it brings visitors to some of the most historic spots in the city.
PS: While you can definitely do a free walking tour of the Freedom Trail on your own, the benefit of having a knowledgeable local guide can't be overstated!
This tour starts at 10 a.m. and includes so many stops. The itinerary consists of the Rose Kennedy Greenway, Faneuil Hall Marketplace, and Old North Church & Historic Site, just to name a few.
Plus, this tour also includes a quick stop in Boston's own North End, which is sort of like the city's Little Italy. If you're a fan of cannolis, you're in luck. Stop by Modern Pastry or Mike's Pastry for a delicious treat!
Read Next: Where to Find the Best Cannoli in Boston
If you're a sports fan, then you can't miss out on touring Fenway Park. That is… unless you're a Yankees fan. The Yankees and Red Sox rivalry runs deep!
This 1-hour tour is the perfect introduction to Fenway Park, and it's great because it runs even out of season. This means if you're visiting when the Sox aren't playing, then you can still visit and check out the park in at least some capacity.
Tickets for the tour are significantly less than a game at the stadium. This is the perfect way to get up close and learn more about one of the United States' oldest baseball parks!
To learn more about Boston's history without just walking the Freedom Trail, check out the Boston: Revolutionary Story Walking Tour. This half-day tour is the best way to learn more about the Revolutionary history in the city.
On average, the tour lasts about 3.5 hours. The tour is capped at a low number, so you can feel like you're having an intimate tour experience, which means you'll be able to chat with your tour guide too.
The tour starts at City Hall Plaza and includes stops at the sites of the Boston Tea Party, the Midnight Ride of Paul Revere, and even the Boston Massacre. You'll also receive a historical map with a timeline so you can easily place the time of each event spot that you visit.
Do you love Italian food? Then this one's for you! One of the best walking tours in Boston is a tour of Boston's North End. This part of the city really has its own authentic feeling, and the Italian culture runs deep.
This tour starts right at the North End, where you'll spend two hours walking around. The tour guide will bring you to a few of the best places to get pizza in the North End, including some restaurants that have even won awards for their pizza alone.
After exploring the North End, you'll be brought around some other historic spots in the area, like North Square Park and The Paul Revere House.
For a sole history tour, check out this 2-hour historic walking tour that will mainly bring you through downtown Boston's most historic sites.
On this tour, you'll visit some parts of the Freedom Trail and explore other historic Boston areas, like Beacon Hill and Back Bay. Plus, you'll be able to see all of the beautiful brownstones that Boston is so well known for up close.
This is a heavy walking tour (you visit many sites) so make sure you bring your best comfortable walking shoes. Book it here!
One of the best guided tours in Boston that's incredibly unique is Boston's Movie Mile Walking Tour! During this tour, you'll be brought to some popular filming locations that are located in Boston. Some of these locations are ones that people don't even really know about!
The tour lasts approximately 1.5 hours and includes stops at locations used in Legally Blonde, The Departed, Good Will Hunting, and Cheers. Plus, the tour is led by a local actor. What more could you want?
During the tour, you'll be able to sit on the park bench that has become famous because of Good Will Hunting and even cheers with a drink at the original Cheers!
Read Next: 15 Fantastic Pet Friendly Hotels in Boston | 13 Best Hotels in Boston for Families

Boston is pretty famous for its seafood, so one of the best walking tours in Boston has to do with seafood! If you're a fan of seafood and want to see what all of the hype is about, then this is the tour for you.
The tour starts in the North End, and the tour guide will bring you to some of the top places to try local dishes. You'll also get to visit Boston's Harborwalk, Quincy Market, and Fanueil Hall along the way.
During the tour, you'll enjoy clam chowder, oysters, crab cake, a lobster roll, and even a classic dessert from one of the best bakeries in the North End.
For a small group experience that covers some of the best historical sites in Boston, check out this tour. With more than 100 5-star reviews, this is easily one of the best walking tours in Boston.
The tour lasts approximately 2 hours and focuses on capping at a specific number, so you really have an intimate experience during your tour. Don't worry about keeping up with a tour guide holding a flag on this tour!
During the tour, you'll be able to try a local treat (surprise!), learn more about Beacon Hill's beautiful architecture, and even check out some famous sites on the Freedom Trail.
Are you the type of person that would rather do a self-guided walking tour? You're in luck. This Boston Harborwalk & Tea Party tour is the perfect way to avoid crowds and peacefully visit some great sites in the city without a tour guide.
The tour is very cheap and includes audio access to a recorded guide that will walk you through all of the sites you're visiting. It covers about 1.5 miles near Boston Harbor, so you'll see some beautiful parts of the city.
Along the tour, you'll be able to learn more about Revolutionary Boston and even walk in the very footsteps of history. Make sure you have your phone because you'll get access to a live GPS on your phone to follow along, so you don't get lost.
Read Next: 15 Unique Boutique Hotels in Boston to Book | 9 Fabulous Boston Hotels with an In-Room Jacuzzi
You don't have to be a student to want to scope out one of the most prestigious universities in the country!
Harvard University is essentially an American educational institution, and the campus is actually very pretty. It's also the oldest university in the country, and this tour covers lots of the significant historical and cultural influences that it has had on Boston and the US across the centuries.
Read Next: How to Spend One Day in Boston: 24 Hours of Boston Fun!
Walking tours that are self guided via an easy to download app like this one are so convenient! Just download the app on your smartphone, and voila! Instant guided Freedom Trail tour that you can take at your own pace.
Use code newenglandwithlove for a discount on this tour.
Last but not least is one of the most unique tours that is available in Boston: a ghost-themed self-guided walking tour! This is another affordable tour if you'd rather explore on your own with just an audio guide while walking around.
There are so many ghost stories around Boston because the city is so historic. You'll be able to learn all about the haunted sites on this audio tour. It includes stops at Boylston Street Station, the Central Burying Ground, and even the Omni Parker House, a truly haunted hotel in Boston.
To have a real creepy and authentic experience, consider doing this tour in the evening. You might just have chills!
Ever wonder what significance Boston had to the Underground Railroad? This self guided Underground Railroad walking tour in Beacon Hill is perfect for those looking to explore and learn at their own pace. This tour is offered through WalknTours, so download the app on your smart phone to get started.
Use code newenglandwithlove for a discount on this tour.
—
As you can see, there are so many amazing walking tours in Boston. Ranging in price, length, and even subject, hopefully you've found at least one tour that piqued your interest.

Luckily, many of these tours are run year-round; just make sure you reserve your spot ahead of time to ensure that you get to go. Boston is especially busy in the summertime, but spring, fall, and winter hold their charm, too!

What tour do you most want to go on?
---
You might also like:
---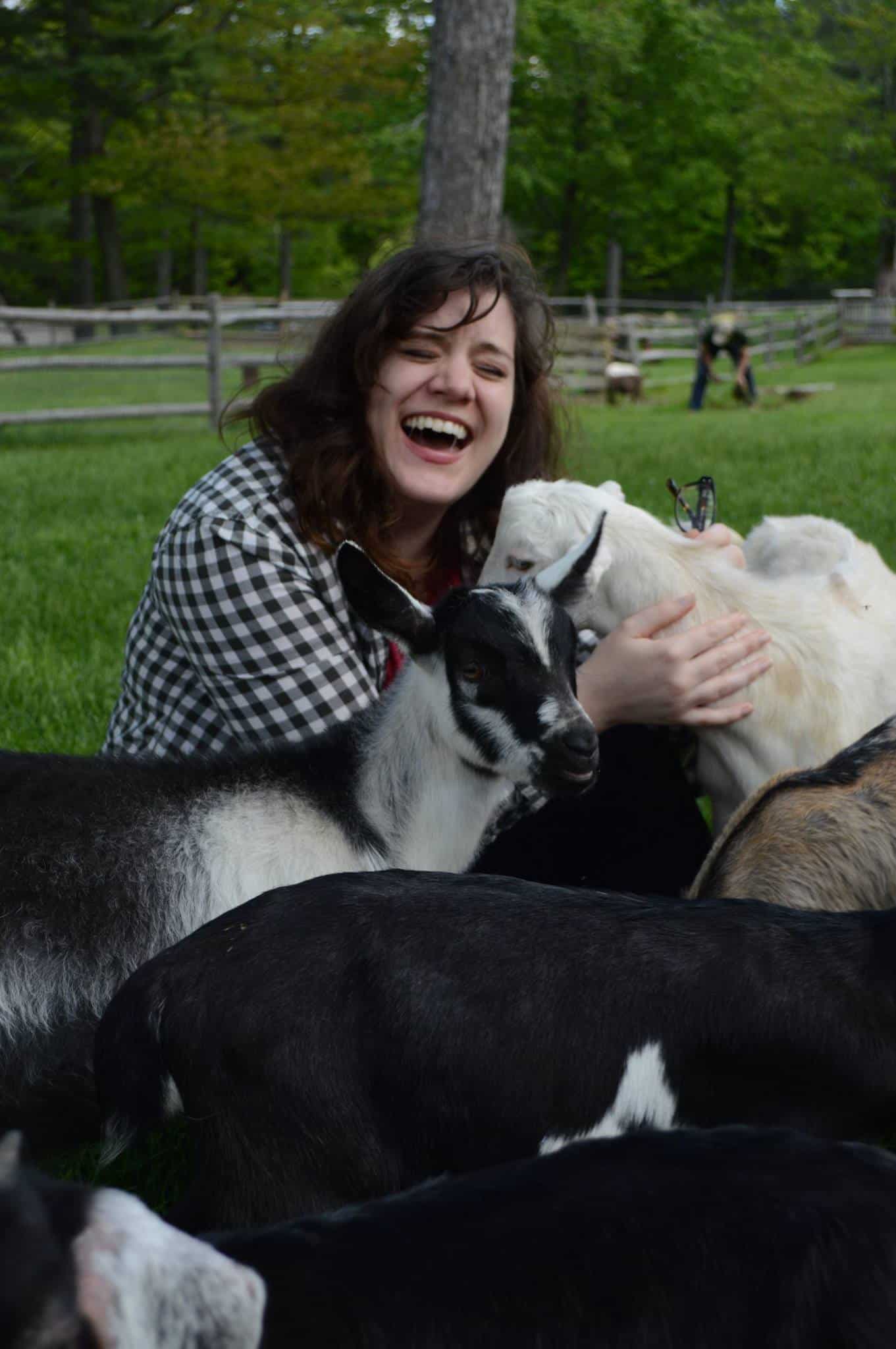 Amy Hartle is the founder and Editor-in-Chief of New England With Love, a comprehensive resource for travel in the New England region. Amy has been exploring New England since 2001. She lived in Vermont for many years and is a graduate of Plymouth State University in New Hampshire. Amy has been writing about travel for over a decade. On this site, Amy aims to share her love of New England and help you to have the best possible adventures!
Amy has been a full time blogger since 2012, and is also the publisher of Two Drifters, where she writes about couples travel and relationships, as well as Let's Adventure Baby, a family travel site. When not traveling the world or creating epic blog content, Amy can be found cuddling with her husband, son, and cats, & drinking a maple latte.