---
*Links in this article may be affiliate links, from which we may earn commission. See our
Privacy Policy
for full details.
---
As one of the major cities of New England, it's genuinely impossible to miss out on Boston when visiting the area! It's located right on the coast and is filled with great attractions, food, and American history. Of course, while exploring, you should also be sure to stop by the best photo spots in Boston!
Throughout this post, you'll learn all about the top places to take a picture in Boston, in no particular order. Another thing to keep in mind is that this is by no means a comprehensive list, but this is some of the best of the best! Truthfully, no matter where you look in Boston, you can usually find a beautiful spot to take a picture.
Here are all of the best Boston photo spots!
Tatte Bakery & Cafe
First up on this list is a place you may not have even considered since it's actually a regional chain: Tatte Bakery & Cafe. This chain came to Boston a few years ago and immediately caused a scene because of how photogenic the cafes were, and their food is incredible.
One of the best things to do to get a photo at Tatte Bakery & Cafe is to order one of the items from their menu and sit inside. The interiors are incredibly well decorated, and then you can get an epic foodstagram that is genuinely drool-worthy!
There are also quite a few different locations throughout the city, and it doesn't matter which one you choose to eat at if you're looking for a picture. They're all decorated quite beautifully. The most popular one to eat at is the one in the Fenway area.
Boston Common
The Boston Common is one of those locations in the city that's truly impossible to miss because of its location. It's the central, historic park within the city, and it's located right downtown near the Park, and Boylston T stops. In fact, Park is the most popular and busiest train station in the city!
The Common is filled with spots to take pictures. Just take the time to walk around and see what different things you can find. You can really mess around with having the city skyscrapers as the backdrop or even just using different fun things around the park in your picture.
For a fun photo, consider stopping at one of the many food trucks that set up shop around the area. Grab some food from them and then take a picture of it in the park! One of the best food trucks you can often find in the area is The Cookie Monstah, which serves up cookie ice cream sandwiches.
Cambridge/Harvard
While it's not technically in the city, Cambridge is absolutely worth visiting for some photos. It's just a short T ride across the Charles. This quaint city is known for being home to both Harvard and MIT and is filled with gorgeous spots worth exploring.
Start by checking out the college campuses, especially Harvard. The green spaces there are absolutely impeccable, and the buildings are beautiful for a backdrop. You could also consider going on one of the Harvard tours if you wanted to learn more about the school.
Once you're done exploring the schools, take the time to just walk around Cambridge. Many local shoots and hidden gems, including Roxy's Grilled Cheese, which even features an arcade inside that most people don't even know about! The Porter Square area, which is closer to Somerville, is also great and worth checking out, including Porter Square Books.
Acorn Street
Acorn Street is one of the best photo spots in Boston, and it's one of the most famous! This small, cobblestone street is lined with red brick buildings and beautiful architecture all around. The street dates back to colonial times, and now it's near impossible to get a house on Acorn Street. In fact, the people who live there are said to be some of the most affluent in the city!
No matter what time of year you visit Boston, you'll be able to take great photos on Acorn Street. It's excellent in the winter, lined in snow, and also beautiful in summer when it's filled with people. Try to get there earlier in the morning if you want to snap a photo without as many people there. It's a very popular tourist street, so it gets busier as the day goes on. Plan wisely!
Boston Harbor
Another spot that's near impossible to miss in Boston that's super photogenic is the Boston Harbor. There's nothing better than relaxing by the water and taking in the view of the boats going in out and out of the harbor!
The best spot to go to get some photos of the harbor is downtown, sort of near where the North End (the Italian neighborhood of Boston) is. Try to visit either around sunrise or sunset to get some photos that are scroll stopping on the 'Gram!
Note that this spot near the harbor is a very popular spot for community events to be held, so be sure to check online to see if any events are being held during your trip. You'll want to plan wisely to try to get there around the event unless you have really good Photoshopping skills!
Boston Public Library
The Boston Public Library is easily one of the best photo spots in Boston! While there are many branches, it's the primary building in Copley that you won't want to miss. It's truly the most photogenic because it features the old, original building and architecture mixed with the newer parts of hte building where it was expanded.
Photos are allowed to be taken within the library, so be sure just to bring your camera and get ready to pose! There are giant lion sculptures, beautiful rooms with green lights, and other breathtaking spots throughout the library. The best thing to do is just explore; you never know what you'll find.
Unlike other spots on this list, keep in mind that the library is supposed to be quiet. Please be mindful while taking your photos, as many locals and college students will work at the library during the day.
Brattle Book Shop
Brattle Book Shop is one of those places that should be on every article about the best photo spots in Boston! This small bookshop sells antique books and is situated entirely outdoors, tucked away in a small spot near Boston Common.
This spot used to be a hidden gem but is definitely gaining in popularity now. The area is well worth exploring, especially to take a photo while you're in the city. Be sure to check out the street art right near the bookshop, too; there are giant painted book spines on the walls, which are perfect for a backdrop if you want a photo of yourself! It may very well be one of the best bookstores in New England.
Downtown Crossing
Downtown Crossing is one of the spots that is often overlooked as one of the best photo spots in Boston. This picturesque spot is filled with spots to go shopping and is almost always busy, even at night. (Keep in mind that this spot is definitely safer in the morning or mid-afternoon – it's not recommended to visit late at night.)
The area where Downtown Crossing is located is filled with tons of photogenic spots. Just walk around the area, and you'll see beautiful backdrops, like the Paramount Theater. This entire area completely lights up and will take your breath away. Be sure to check out Washington Street!
Rose Fitzgerald Kennedy Greenway
The Rose Fitzgerald Kennedy Greenway is one of the up-and-coming spots in Boston that you won't want to miss out on. It's incredibly photogenic and is located near downtown and the harbor, so it's not that hard to get to. Similar to Boston Harbor, this is a popular spot for city-wide events, often filled with food vendors.
The green space is filled with fun spots to take photos. Just walk around and see what you find! This is another spot where you'll definitely take better photos if you visit earlier in the morning to avoid the crowds.
Boston Burger Company
One of the most underrated best photo spots in Boston is Boston Burger Company. This restaurant is one of the top places to eat, especially among college kids in Boston and all the local foodies.
Boston Burger Co serves up gigantic burgers. Seriously, you have to squish them before you eat them because they're layered so thick! They also have tons of giant milkshakes that they decorate over the top. The food is so amazing, and the presentation is incredible, which makes it perfect for taking a photo.
Be sure to ask what the seasonal items on the menu are. Usually, the milkshakes change throughout the year, so no matter when you visit, you'll be able to try something different. For instance, they typically have a peppermint drink around the holidays!
Similar to Tatte, there are many different locations, and it doesn't matter which one you eat at.
This post was all about the best photo spots in Boston! Hopefully, it's helped you map out where to go to get a fantastic photo during your trip to the city. Don't forget to explore the rest of the area while you're there. Boston is truly magical!
—
You might also like: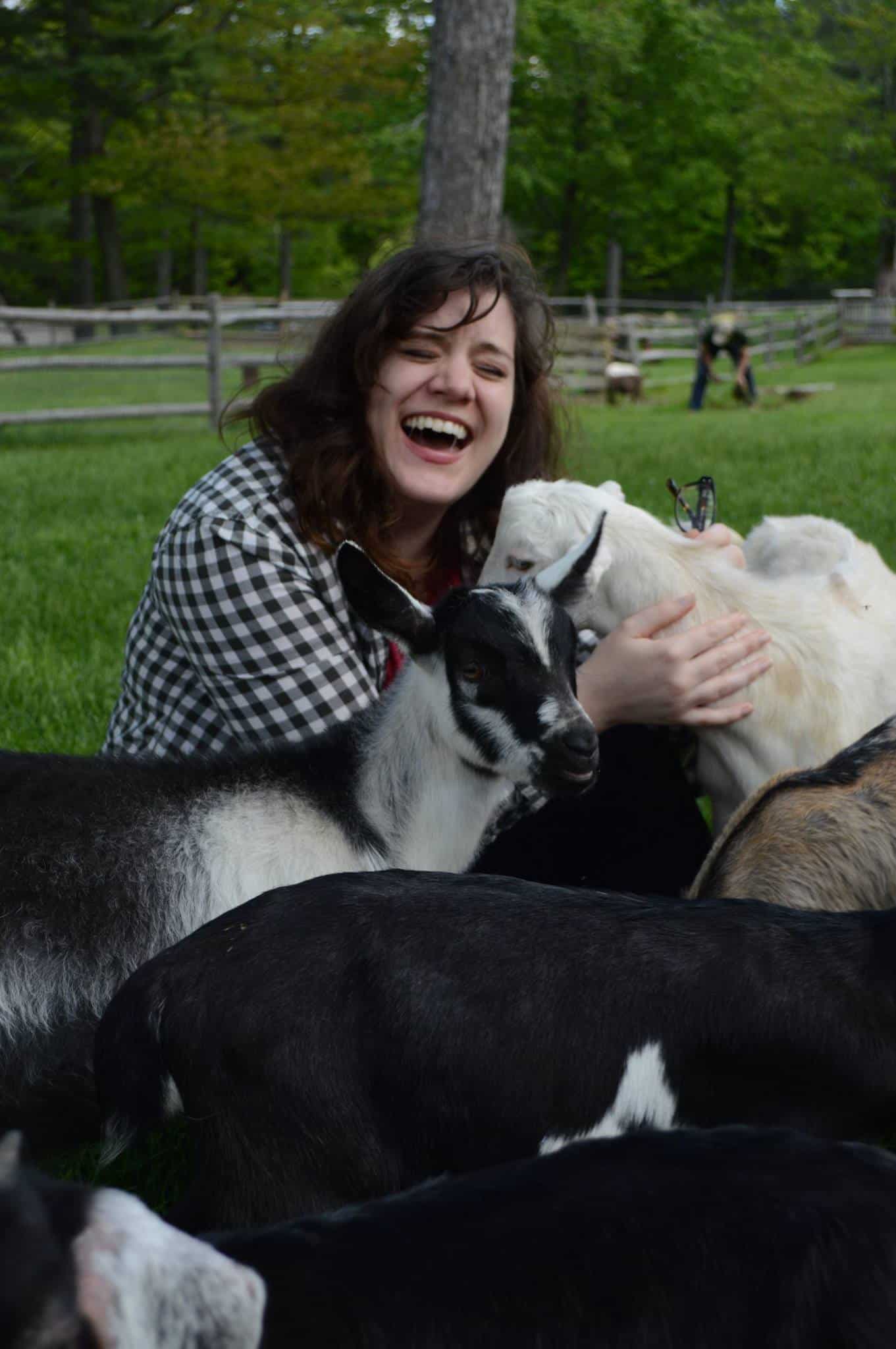 Amy Hartle is the owner and editor of New England With Love, a comprehensive resource for travel in the New England region. Amy lived in Vermont for 15 years, attended Plymouth State University in New Hampshire, and continues to travel regularly around the entire New England region. On this site, Amy aims to share her love of New England and help you to have the best possible adventures!
Amy has been a full time blogger since 2012, and is also the publisher of Two Drifters, where she writes about couples travel and relationships, as well as Let's Adventure Baby, a family travel site. When not traveling the world or creating epic blog content, Amy can be found cuddling with her husband, son, and cats, & drinking a maple latte.